Vegetarian Mexican Recipes: 30 Healthy Meals
This post may contain affiliate links. As an Amazon Associate, I earn from qualifying purchases. Please read my disclosure.
These 30 healthy and nutritious vegetarian Mexican recipes are full of flavor and absolutely delicious! With a rich blend of spices, lots of vegetables, and plant protein, you'll have a satisfying meal everyone in your family will love!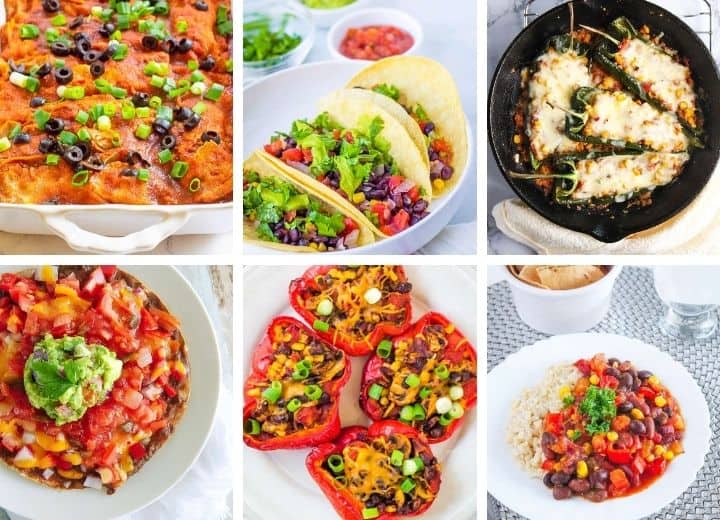 Mexican food is both my and my husband's favorite cuisine! It's so full of flavor, and we can adjust the spice level to suit our taste. It's also something I know the kids will always eat too!
Growing up, along with Indian recipes we ate at home, Mexican was another staple cuisine for our whole family.
As an ethnic cuisine, it is very conducive to vegetarians, and vegans as well as so many dishes are made with black beans or refried beans.
The key to making a vegetarian Mexican meal healthy is to load it with fresh vegetables while reducing the overall cheese, and oil. Consider adding fiber-rich sweet potatoes to your favorite recipes. Opt for pico de Gallo for flavor instead of sour cream. Skip the tortilla and make burrito bowls instead!
The combination of chili peppers, fresh ingredients, and just the right amount of crunch and cheese, makes these Mexican vegetarian recipes healthy, nutritious, and totally family-friendly!
Ingredients Used in Mexican Cuisine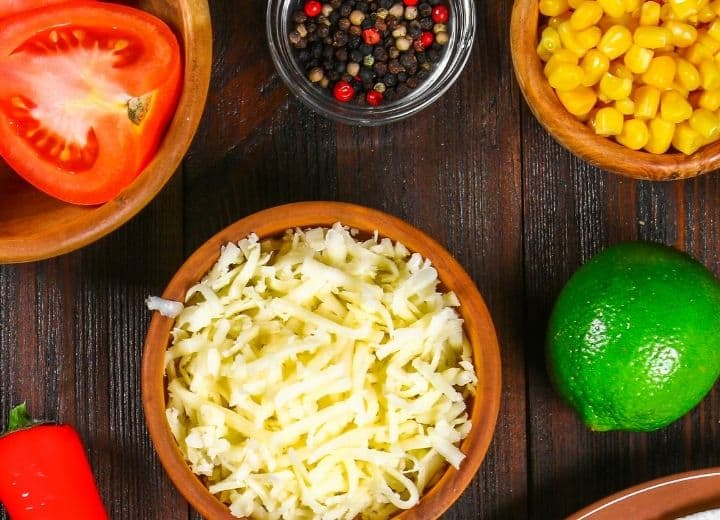 Mexican recipes are great for vegetarians. Meat was not plentiful in Mexico before the Spaniards came. As a result, Mexican dishes included beans, corn, chili peppers, and spices to give their food a rich and deep flavor.
If you are inspired to make Mexican recipes regularly, these are the ingredients you will want to keep on hand.
Chili Peppers: Chilis add great spice and flavor. There are a variety of chili peppers with different levels of spice. They have been included in Mexican recipes for thousands of years because they grow in Mexico. Some of the most common types of chilis include serrano, ancho, and jalapeño.
Beans: A staple ingredient that gives Mexican recipes the bulk of their nutrition is beans. Black beans and pinto beans are the most common. Sometimes they are made into refried beans but are also included in soups and salads.
Corn: Corn is the main grain that is used in Mexican cooking. It is used to make tortillas, tamales, and is also added in its whole kernel form in rice, soups, and salads.
Avocado: Avocado gives a natural creaminess to recipes. It is used as a dip, such as guacamole, as a garnish on top of tacos, and in salads, and soups. Hass avocados are grown in Mexico.
Tomatoes: Used to make salsas, and as a topping or filling in tacos, and burritos. However, tomatoes are also cooked and roasted to create rich sauces that are used to smother enchiladas.
Bell Peppers: Added to fajitas, rice recipes, tacos, and more.
Cheese: When you think of Mexican recipes, you likely think of foods smothered or stuffed with cheese, like enchiladas, and quesadillas. There's a Mexican cheese blend you can buy in stores. However, cheese was not as widely used in recipes until recently. Some of the more traditional cheeses include queso Blanco, queso fresco, cojita, and panel.
Tortilla Chips and Tortillas: You'll need some healthy tortilla chips and whole wheat or corn tortillas to make your favorite nachos, tacos, and burritos.
Rice: As a side dish, folded into burritos, or added to bowl recipes, rice isn't just used for rice recipes. Mexican yellow rice, red rice, and more.
Less Common Ingredients: Other ingredients that are commonly used in Mexican recipes that are not as widely used in the United States include tomatillos, jicama, and sometimes cactus. Tomatillos are similar to tomatoes in size and shape, but are green in color, and have a more sour taste. Jicama is a root vegetable, with a nice crunch, and a slightly sweet flavor.
What Are The Most Commonly Used Spices in Vegetarian Mexican Recipes?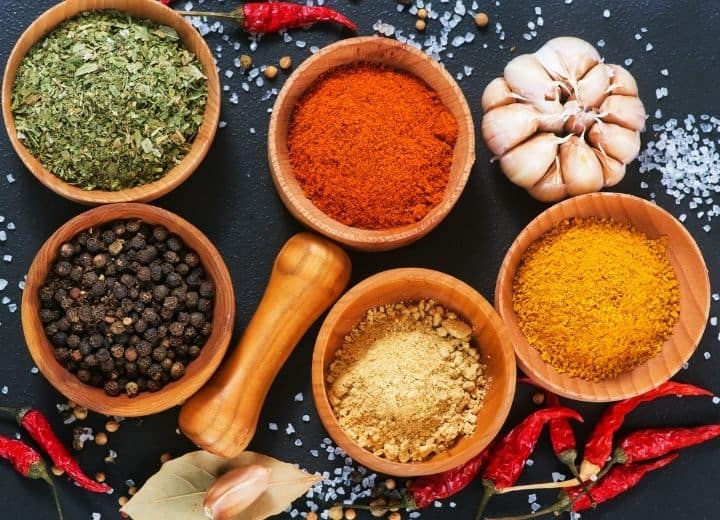 Keep these spices in stock in your pantry to have at the ready when making your favorite Mexican recipes!
Herbs: Fresh and dried herbs are used to add flavor. The most commonly used are cilantro and Mexican oregano. Cilantro adds a nice bright color, and fresh flavor on top of tacos, burritos, soups, and salads. Oregano adds a bit of a citrus flavor to dishes.
Garlic: While you may not think of garlic as a spice, it is what adds a great deal of flavor to many recipes.
Onion: Sometimes sautéd and other times used raw, onions add a bit of flavor. Using red onions is most common.
Chipotle Powder: Made from roasted jalapeños that have been ground. This adds some spice to your dishes.
Chili Powder: A blend of spices that often includes smoked paprika, sweet paprika, garlic powder, onion powder, cumin, cayenne, and oregano. It is used to spice chilis, beans, and soups.
Cumin: With an earthy warm flavor, cumin is both bitter, and slightly sweet. It is used to season tacos, beans, rice, enchiladas, and other traditional recipes.
Cinnamon: Warm, spicy, and sweet, cinnamon is often used in desserts like churros.
Cloves: Often used with cumin and cinnamon in recipes, it has a warm and sweet flavor.
Anise: Most commonly used in dessert recipes, it's used to flavor cakes, cookies, and sweet bread. It has a licorice-like flavor.
Cocoa Powder: Used to make mole sauces, which are spicy, and smoky with a hint of sweetness.
Tools and Equipment You'll Need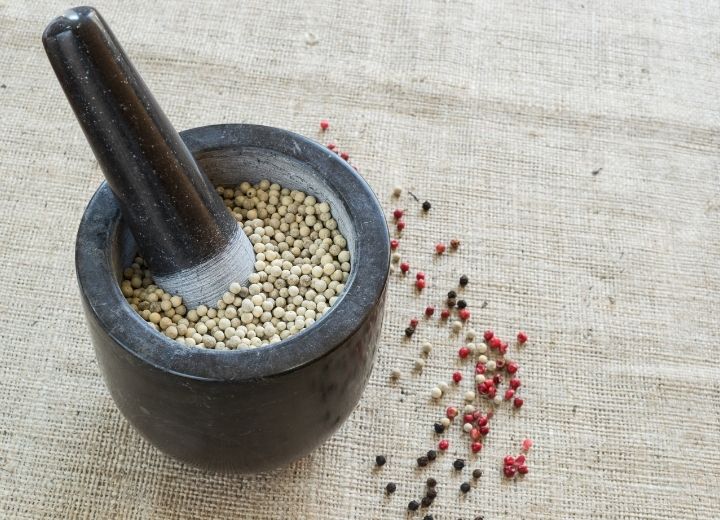 Blender or Food Processor: Creating rich Mexican sauces like moles, enchilada sauces, and even salsas, can be made quickly and easily if you have a blender or food processor.
Mortar and Pestle: A stone mortar and pestle are used to grind spices, and make guacamoles and salsas. Grinding with stones releases the natural oils of seeds and other spices.
Cast Iron Griddle: A flat cast iron griddle allows you to cook your own tortillas, make quesadillas, sauté vegetables, and more!
Heavy Casserole Dish: You'll use a large heavy casserole dish to make enchiladas, Mexican casseroles, and chilaquiles.
Top Tips for Making Vegetarian Mexican Recipes
Dry roast your vegetables for added flavor. Dry roasting involves cooking over a flame. You can dry roast peppers, garlic, chiles, and other ingredients.
Don't add too much cheese. If you want to make your recipes taste more authentic, add a modest amount of cheese. That way you'll be able to taste the spices.
Make your own home-cooked beans. It really brings out their flavor in a whole new way! And it's much less expensive than canned.
When you're cooking with chiles, use care. I recommend working with gloves. The oils from spicy chiles will burn your hands if you're not careful! Avoid touching your eyes, or face after working with chilis if you do not wear gloves.
Pack your recipes with tons of veggies for added texture, flavor and nutrition.
Don't forget to use salt and pepper to season your dishes!
How Do You Make Mexican Recipes Healthier?
Be modest with the cheese. Restaurants add way more cheese than necessary. This adds loads of fat and calories that aren't necessary.
As mentioned above, use the dry roasting technique when making salsa. You will not to add extra fat in the form of oil, because the natural heat and flavor will be enough.
Use agave syrup or maple syrup as a sweetener for desserts. It is less refined than white sugar. I also recommend reducing the overall sugar content of dessert recipes.
Load on the spices. Use those authentic spices to add flavor. You won't need to rely on oil, or cheese to do it for you.
Opt for corn tortillas or whole wheat tortillas rather than white flour tortillas. They are more nutrient-dense.
Be sure to add lots of fresh vegetables to your dishes for added nutrients.
Use beans to your advantage. They are full of protein, fiber, vitamins, and nutrients.
If you're looking for a bit of added crunch, top your dishes with pumpkin seeds! These seeds are nutrient-dense and add a nice flavor and texture.
How Do You Make Mexican Recipes Vegan?
Traditional Mexican food is often made with cheese, which means that in order to accommodate vegan diets you will need to either eliminate the cheese or use vegan cheese instead. I find that a great way to add flavor and texture to vegan Mexican recipes is to use guacamole or diced avocado, with pico de Gallo, and rich mole sauces. An easy recipe for vegan tacos can be made using cooked and sliced portobello mushrooms in a tortilla of your choice topped with chopped iceberg lettuce, salsa verde, and diced avocado with fresh lime juice.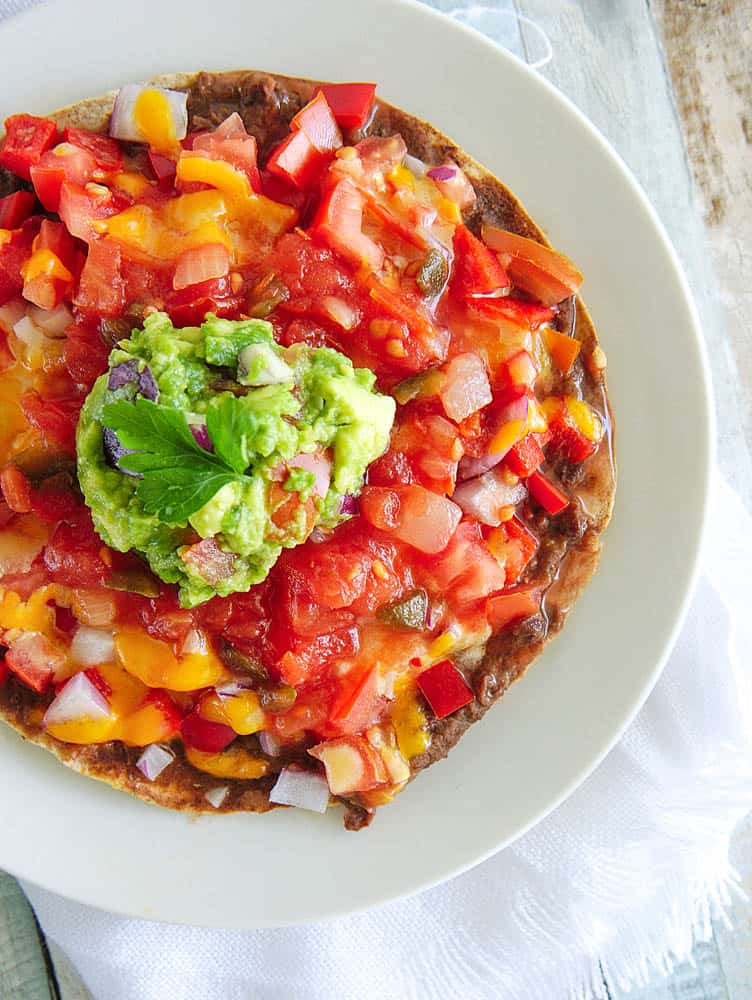 Most Popular Vegetarian Mexican Recipes
The recipes we know as Mexican in America compared to the most popular recipes in Mexico differ slightly. Whereas in America we tend to use flour tortillas, in Mexico, corn tortillas are used. Not as much cheese is used in authentic Mexican dishes. Quesadillas are stuffed with vegetables and other fillings, not just cheese! Save these comfort foods for your Meatless Mondays!
In both Mexico and America, these are some of the most popular recipes made.
Burritos
Wrapped in a flour tortilla and stuffed with savory fillings, burritos when made vegetarian often include beans, rice, and vegetables. Sometimes they are served topped with a rich sauce and cheese.
When I make burritos, I prefer to lose the tortilla, and just include the filling like in this vegetarian burrito bowl!
Quesadillas
Often made with a flour tortilla, yet in Mexico more commonly a corn tortilla, is stuffed with small amount of cheese, along with vegetables, and maybe even beans. It's topped with guacamole or salsa for added flavor.
Enchiladas
Need a main course for a crowd? How about enchiladas? Corn tortillas are stuffed with a variety of fillings then covered in a rich red sauce and baked. Sometimes they are topped with cheese or other fresh ingredients.
Chili, Soups, and Stews
There are so many varieties of chili recipes. They can be filled with a variety of beans, and vegetables, with a combination of smoky spices. Chili Con Carne is a traditional Mexican chili, but a vegetarian version can easily be made with black beans, pinto beans, or a combination to create a hearty spicy and satisfying meal!
Tacos and Fajitas
Tacos are not only reserved for Taco Tuesday! When it comes to Mexican recipes, tacos are often the first thing that comes to mind. Instead of crunchy hard shells, soft corn tortillas are the traditional shell. Here are some of my favorite taco inspired recipes!
Chilaquiles
A traditional dish in Mexico, this recipe is made with layers of tortillas simmered in red or green sauce. It is often eaten as a breakfast, or made to use up leftovers!
Posole
Posole or pozole is a traditional Mexican stew. It is made with hominy. Hominy is made from corn or maize. It is processed with alkali to create a meaty like texture.
Tostadas
Tostadas are characterized by crispy corn tortillas that are topped with beans, cheese, and veggies. They are a quick and easy meal you can pull together when you have little time, and are always a big hit at dinner time!
Mexican Stuffed Peppers
While stuffed peppers aren't traditionally Mexican, when flavored with Mexican spices and using traditional ingredients they are an easy healthy veggie packed meal!
More Favorite Vegetarian Mexican Recipes
If you're on the lookout for more Mexican inspired recipes, give these a try!
I hope you were able to find some inspiration for creating healthy and nutritious vegetarian Mexican recipes at home! Whether it's Cinco de Mayo, Taco Tuesday, or your family's Mexican night, these easy dinner recipes are sure to satisfy!
Check Out These Other Vegetarian Round-Up Posts!
If you have tried any of these vegetarian Mexican recipes or any other recipe on my blog, then please rate it and let me know how it turned out in the comments below! You can also FOLLOW ME on FACEBOOK, TWITTER, INSTAGRAM, and PINTEREST to see more delicious, healthy, family friendly food!
8 responses to "Vegetarian Mexican Recipes: 30 Healthy Meals"