113 Vegan Meal Prep Ideas
This post may contain affiliate links. As an Amazon Associate, I earn from qualifying purchases. Please read my disclosure.
Meal prepping has never been easier! This list of easy, vegan meal prep ideas is the best and has recipes that are perfect for vegan breakfast, great snacks, delicious vegan recipes for lunch, and nutritious food that will last you the entire week. These easy meals are high-protein, made with fresh fruit, whole grains, our favorite veggies, and other fresh ingredients! You will find something for the entire family on this list of delicious vegan recipes.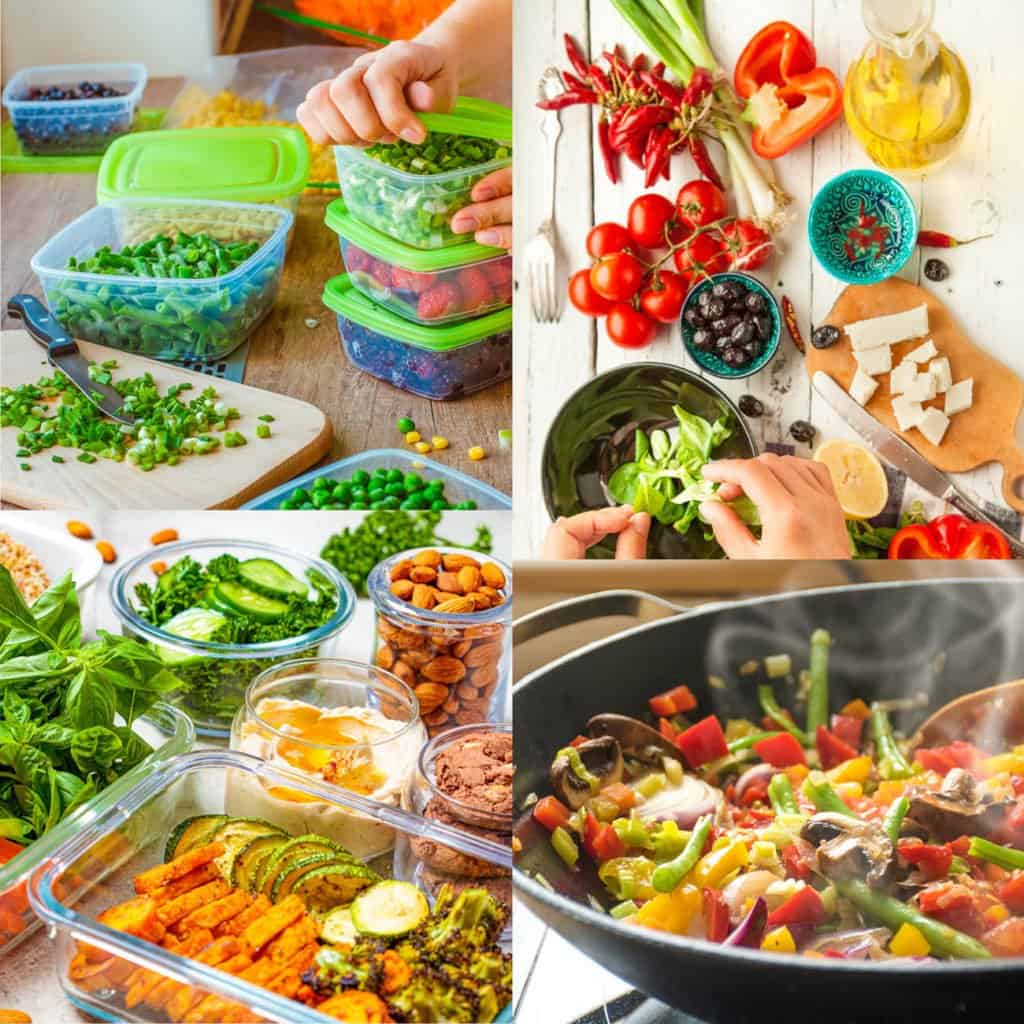 When it comes to healthy meal prep recipes, we love to make sure we have plenty of dishes to serve the family whenever we are trying to save on time and money. These vegan meal prep ideas are cheap, perfect for the freezer, easy enough for beginners, and great for breakfast, meal prep bowls for lunch, and easy plant-based dinners at home.
From low-carb to gluten-free recipes, these easy vegan meal prep recipes are filled with different ways to prepare simple ingredients like sweet potatoes, black beans, overnight oats, pasta sauces, and more. You will find the perfect recipe from this list of healthy vegan meal prep ideas to suit your vegan breakfast or side dishes that is not only delicious but nutrient-dense, too!
We are always looking for new ways to make preparing meals a little easier – especially for the kids. The best thing about meal prep is that you make a big batch of whatever you are preparing, then serve it in different ways throughout the week. Although meal prepping may seem like a lot of hard work, it is a very easy way to cut down on time in the kitchen in the long run and allows you to spend more time with your family.
You will find 113 meal prep ideas in this list of recipes! There are so many different types of recipes to choose from which range from all types of cuisines.
How Do Vegans Meal Prep For A Week?
With just a few steps and some extra time, anyone can meal prep for the week! Here are some meal prep tips to get started:
Invest in meal prep containers that are plastic, glass, or mason jars.
Use an Instant Pot, slow cooker, or air fryer while you meal prep so you prepare several recipes at once.
Make zoodles for gluten-free noodle options like zucchini noodles.
Use peanut butter or other nut butters like cashew butter, almond butter, or pistachio butter.
Prepare different recipes from canned beans like black beans, garbanzo or chick peas, kidney beans, navy beans, etc. You can use dried or canned beans.
Chop up a bunch of fresh veggies and fruit to store in the refrigerator to have as snacks throughout the week.
Stock up on different nuts and seeds such as sunflower seeds, cashews, peanuts, almonds, etc.
Make dairy-free milk at home like oat milk, almond milk, or cashew milk.
Keep dried goods in the pantry such as pasta, rice, quinoa, dried fruit, and other grains.
Why You'll Love These Recipes
Great for vegans and those who are wanting to eat less meat!
Many of these recipes have no added sugar or can easily be made without it.
These vegan meals are filled with delicious foods!
Prep at beginning of the week and eat all week long!
This list of plant-based easy recipes contains foods that are healthy, fiber-packed, dairy-free, and filled with protein.
Great for the entire family!
Best healthy vegan recipes ever!
113 Vegan Meal Prep Ideas
This list of vegan meal prep ideas is guaranteed to give you inspiration for months to come! Feel free to mix and match recipes from this list and customize them to your tastes and preferences!
Breakfast Meal Prep Recipes
These easy vegan bagels will satisfy even dedicated bagel lovers! This bagel recipe is super simple and delightfully chewy – just how bagels should be! Serve bagels with vegan cream cheese, hummus, and fresh veggies or make sandwiches with them!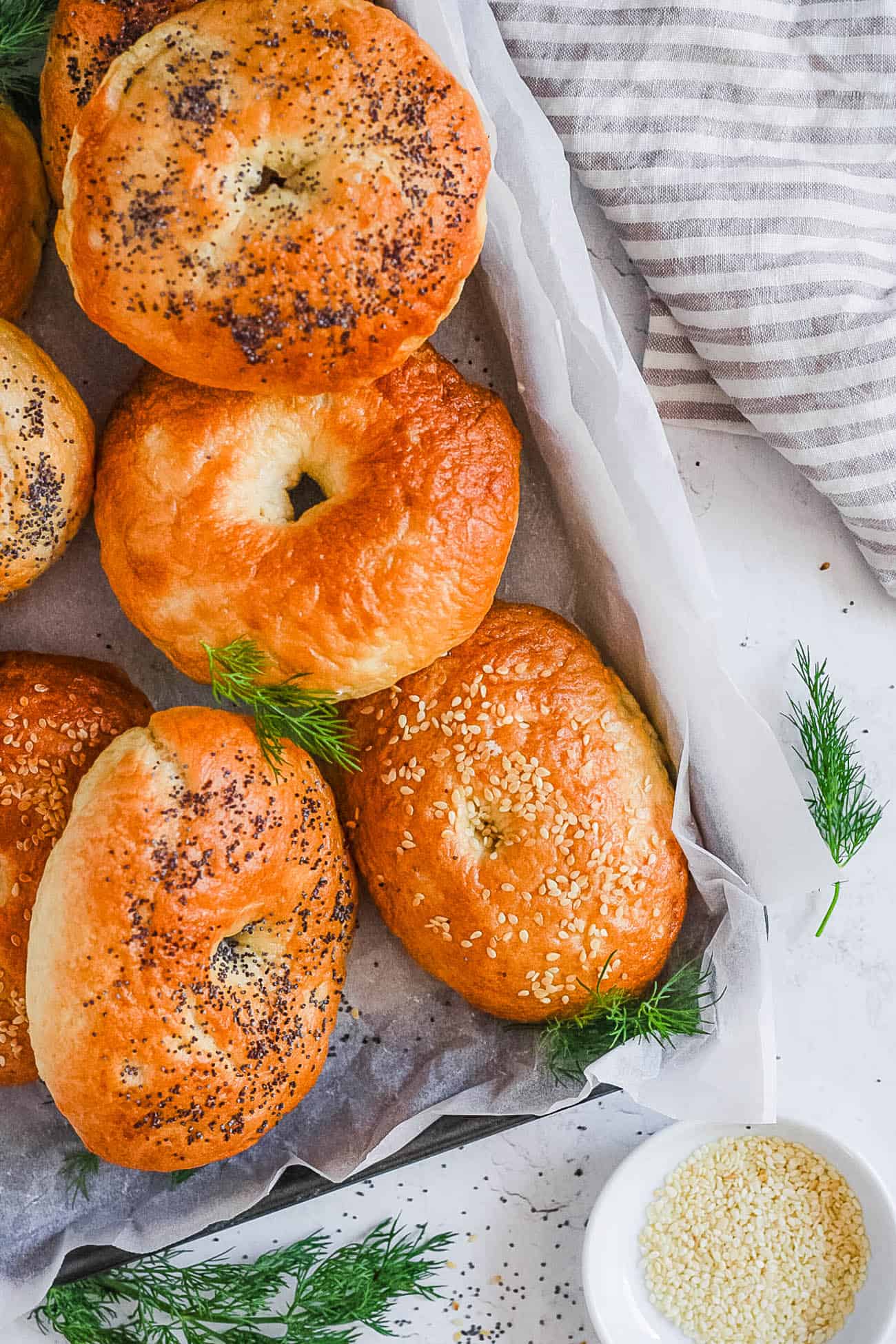 This recipe for vegan graham crackers is the best! These graham crackers are the perfect amount of crunchy with sweet flavors. Delicious with nut butter and fruit, crumbled up with desserts, vegan s'mores, and just having around as snacks!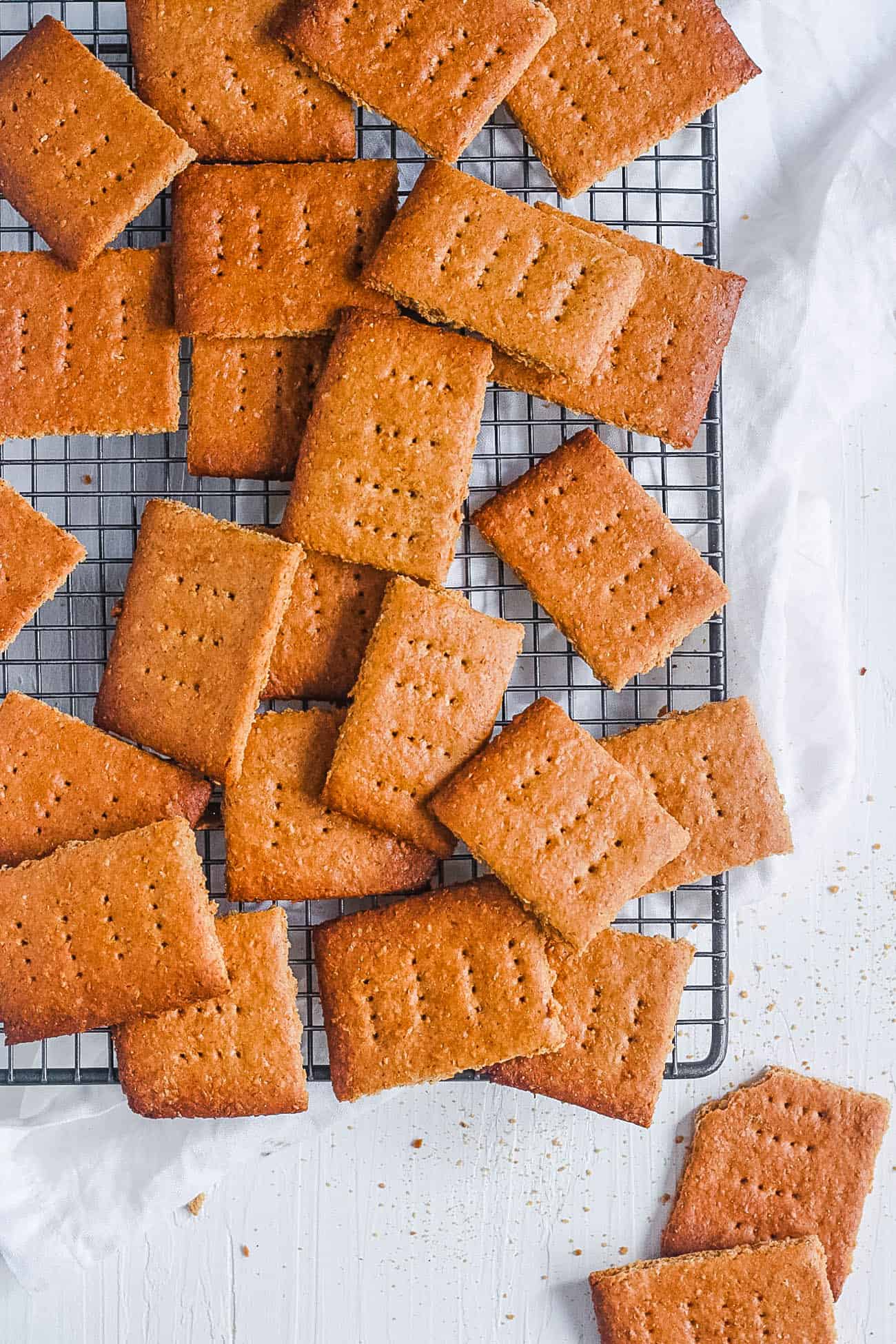 This soft and moist vegan pumpkin bread is filled with amazing warm aromatic flavors that scream autumn. So easy to make in less than an hour, this baked bread is perfect for a sweet breakfast, dessert, or snack. Prepare more than one loaf at freeze the others for later!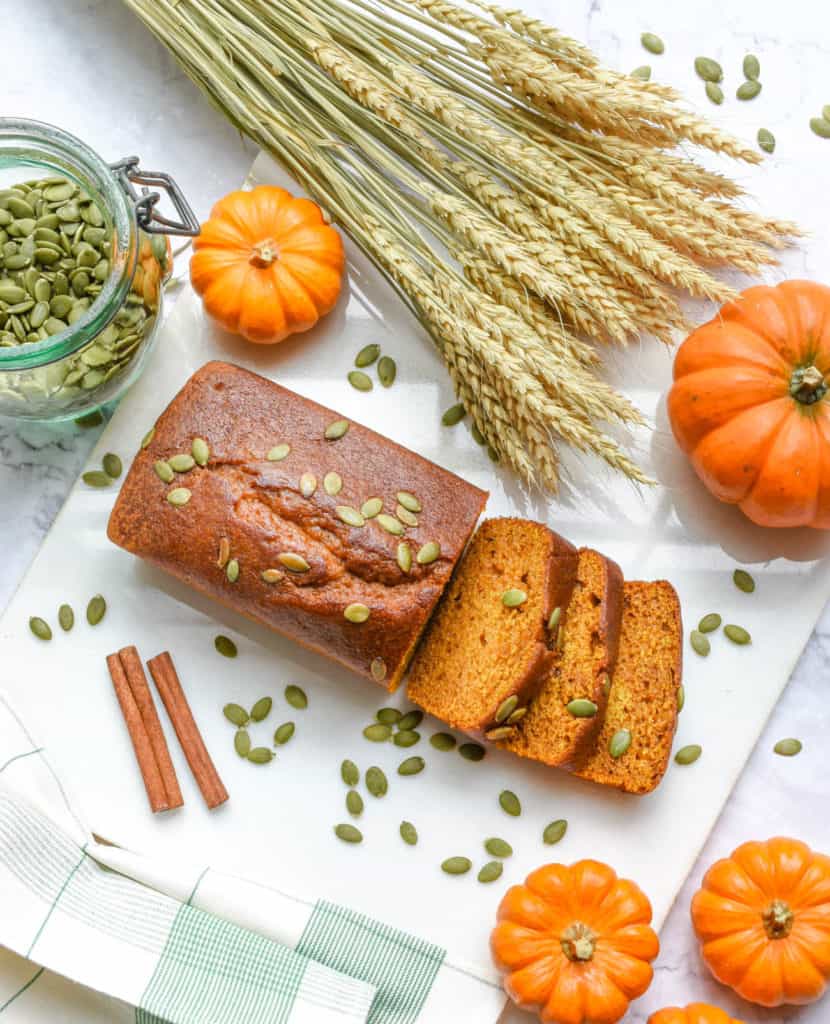 French toast is super easy to meal prep! Simpy prepare a batch of French toast slices all at once and store the leftovers in an airtight container in the refrigerator. It will be so easy to grab some French toast out of the fridge and reheat for a quick breakfast at at home!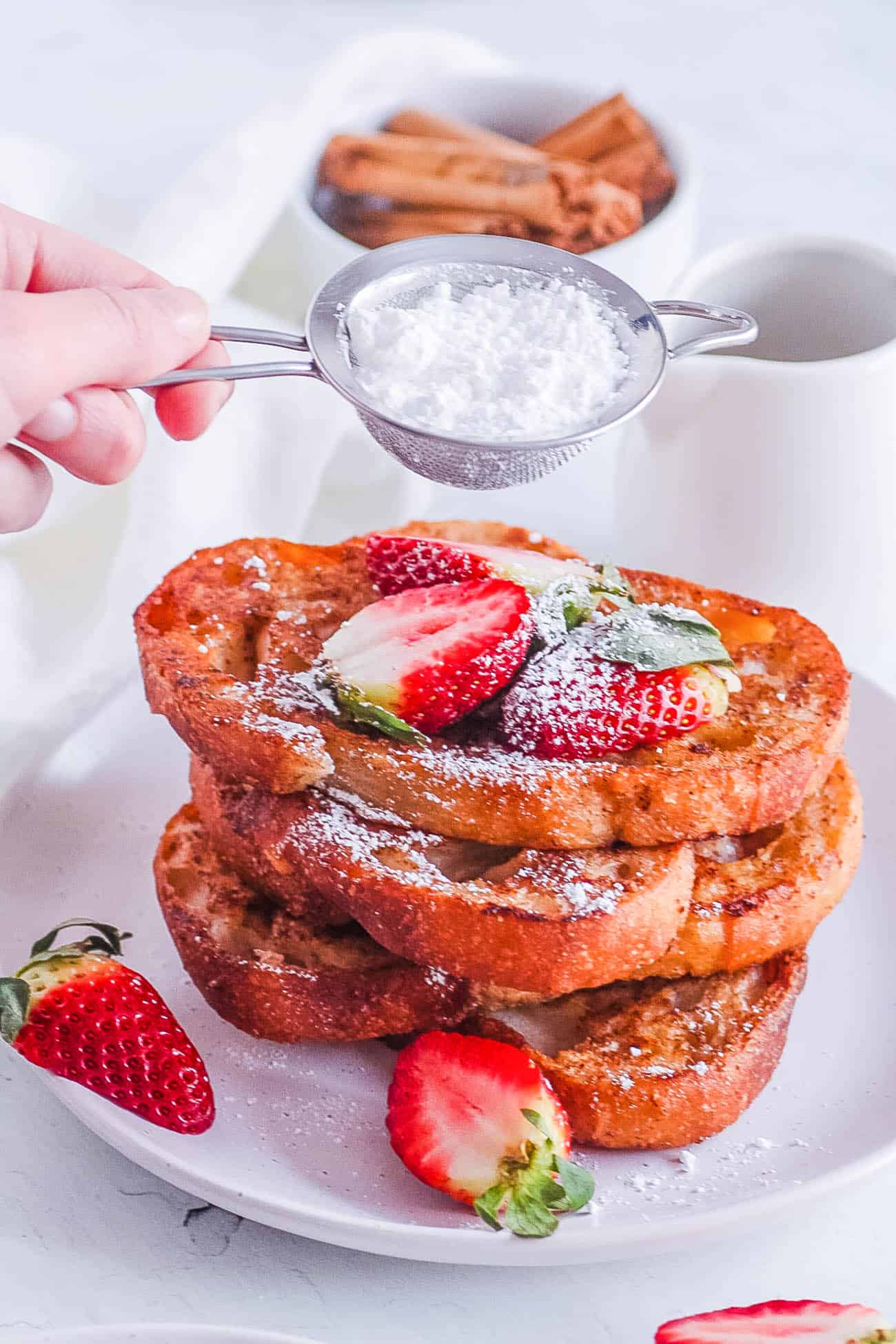 Just use maple syrup instead of honey in this easy recipe to keep it fully vegan! Granola is perfect for keeping around as a healthy snack at home. We like to make some of this sweet granola to store in airtight containers in the pantry! Granola is delicious with vegan yogurt, dairy-free milk, vegan ice cream, and other yummy things.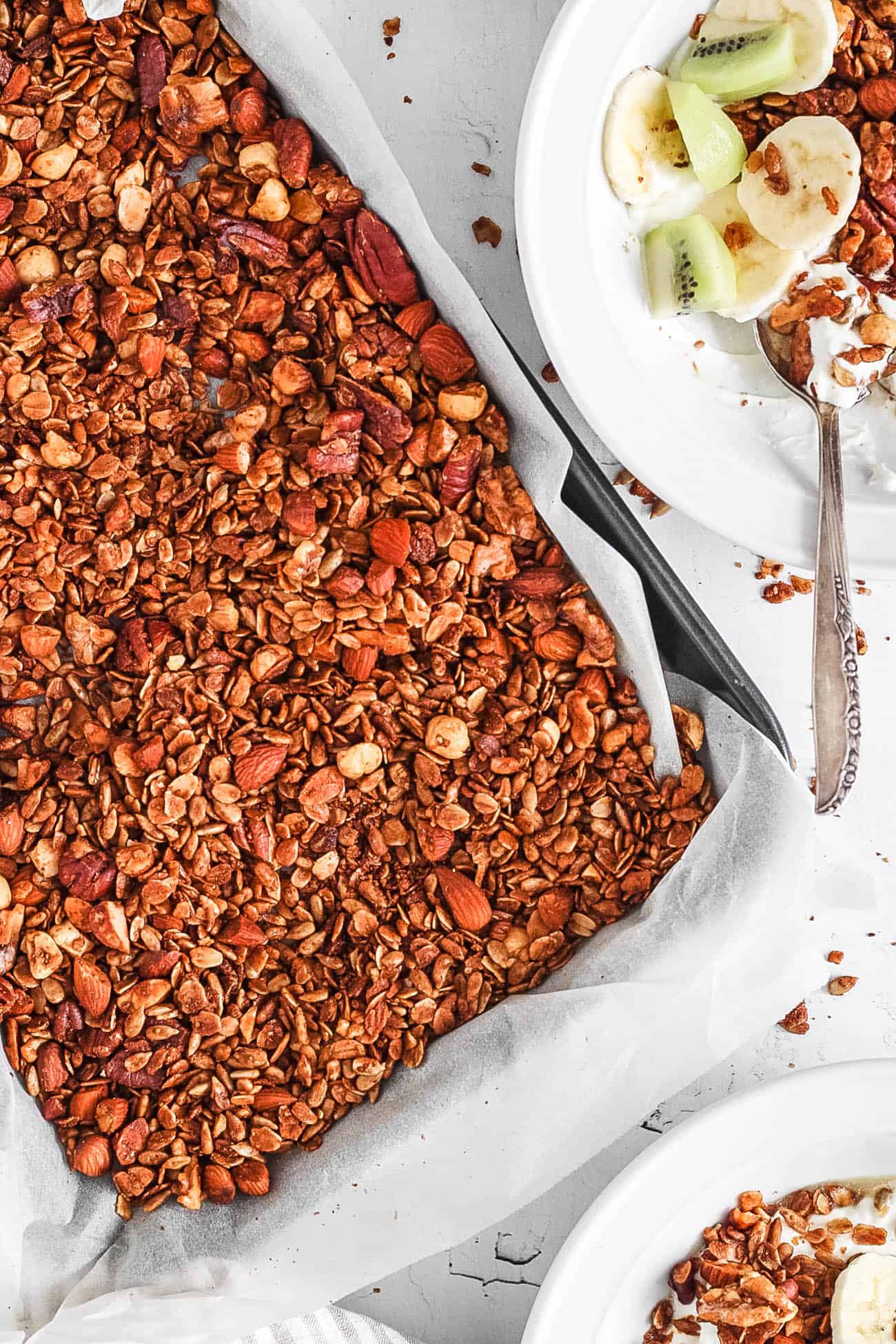 Get creative and switch up different berries for this vegan baked oatmeal recipe. Baked oatmeal is full of fiber and protein and is a perfect breakfast option for meal prep. You can freeze the leftovers and enjoy this baked oatmeal either warm or cold.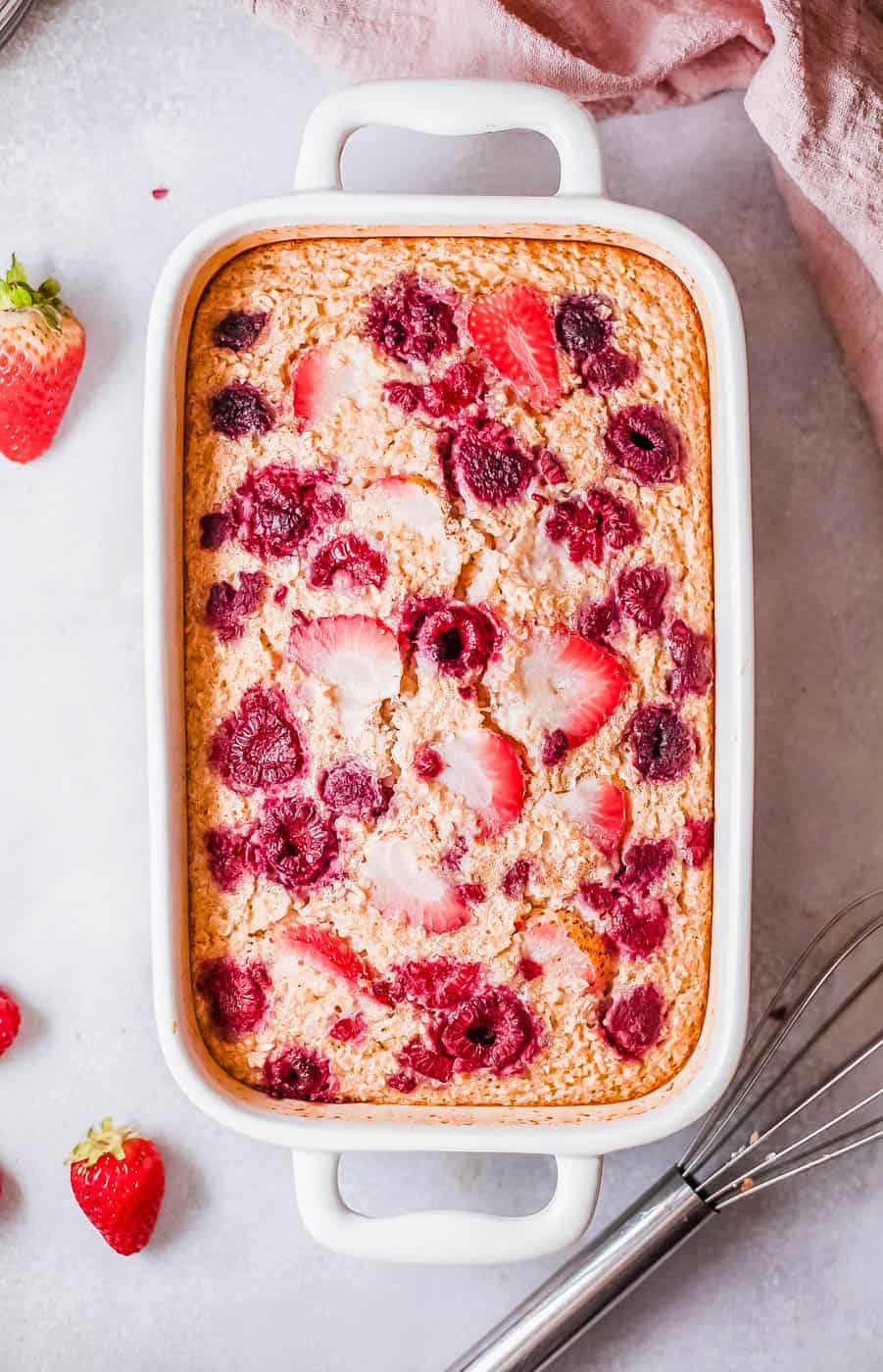 Vegan sweet potato casserole is great to make ahead of time to enjoy as a yummy breakfast, a great side dish, or snack at home. Completely dairy-free and filled with delightful notes of cinnamon, pecans, and sweetener.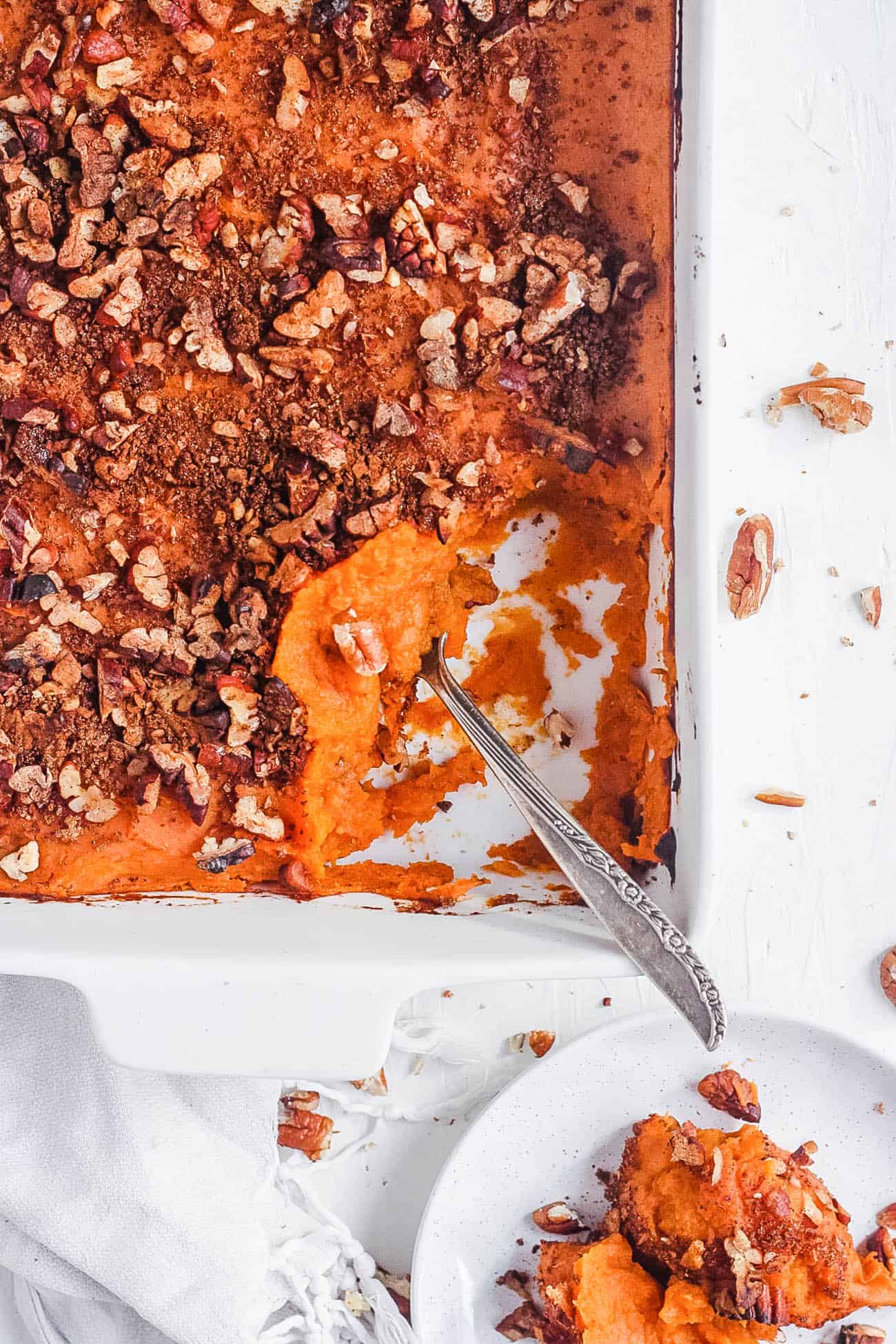 To make these matcha tea muffins vegan friendly, simply substitute the egg with ¼ cup apple sauce and add an additional ½ tsp of baking powder to the original recipe (total of 1½ tsp baking powder). You can substitute the eggs with flax eggs, too.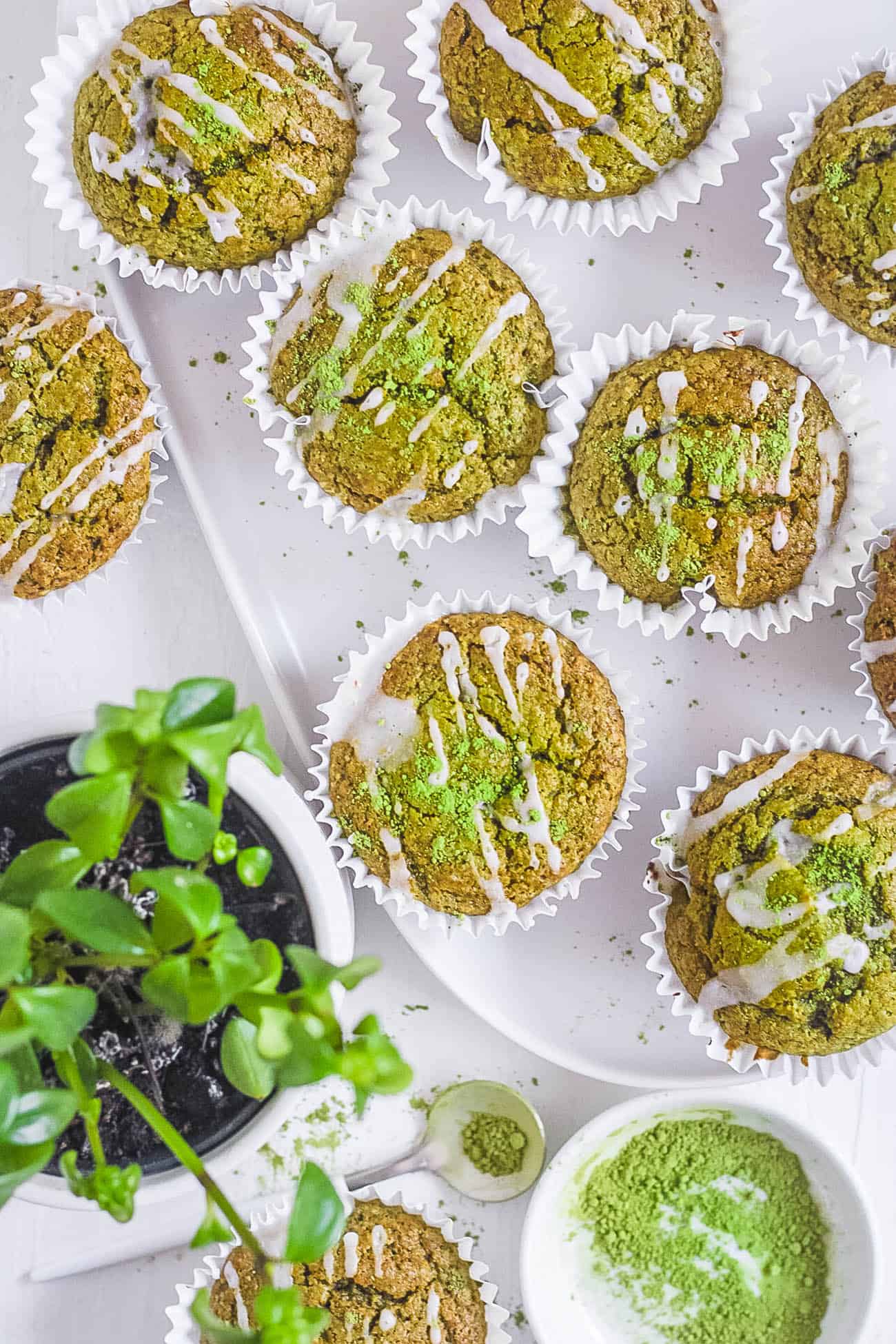 Savory fried potatoes are perfect for breakfast, lunch, or dinner and can be prepared in different ways! Add some vegan parmesan for extra flavor or use different herbs. Potatoes will last in the refrigerator for a few days for you to simply grab and reheat!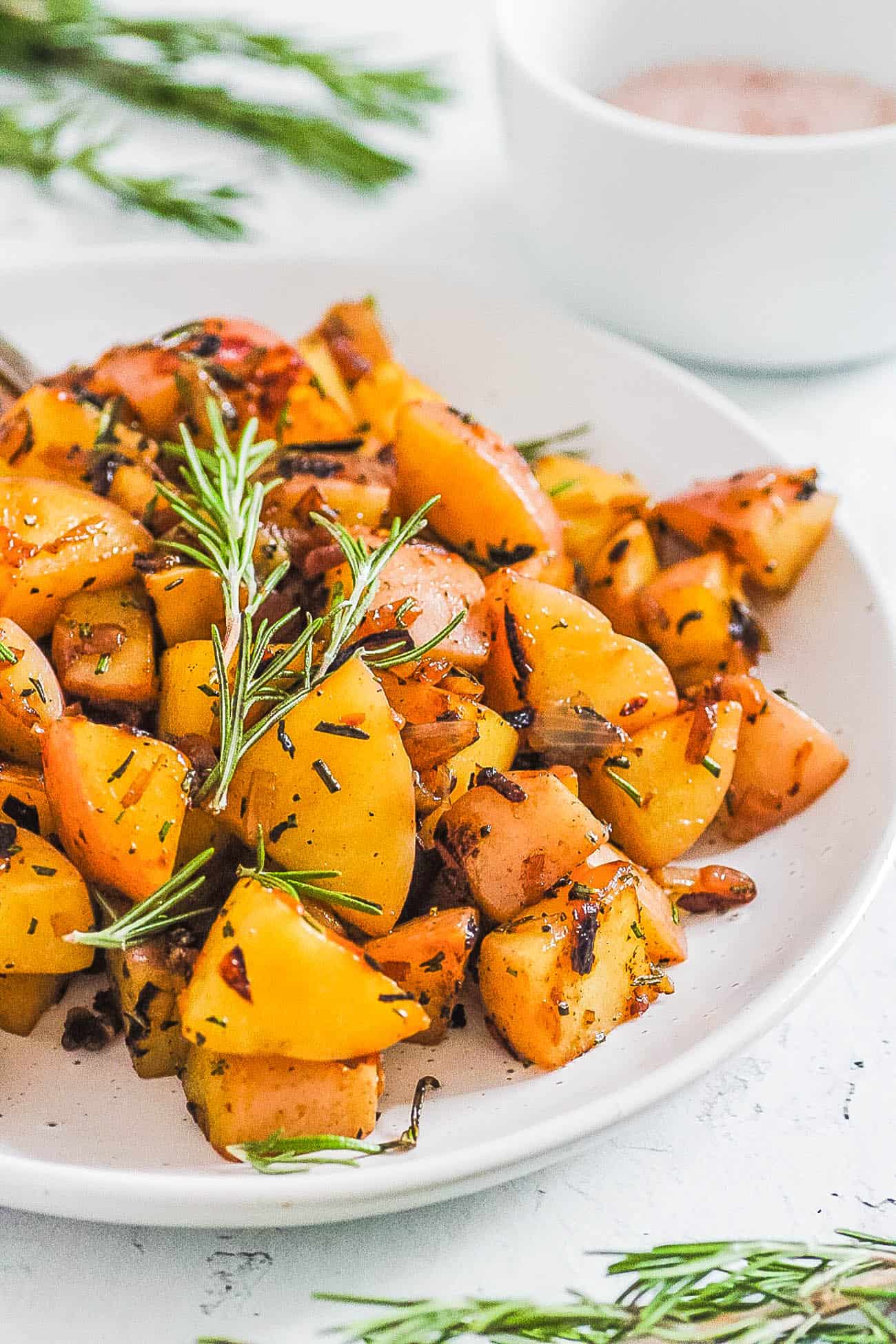 Flaky, sweet, vegan pop tarts are a wonderful option for kids' breakfasts and snacks. These healthy pop tarts are made with a sweet strawberry jam filling and topped with a smooth glaze. We like to keep these on hand to pop in the oven or toaster whenever we have a sweet tooth!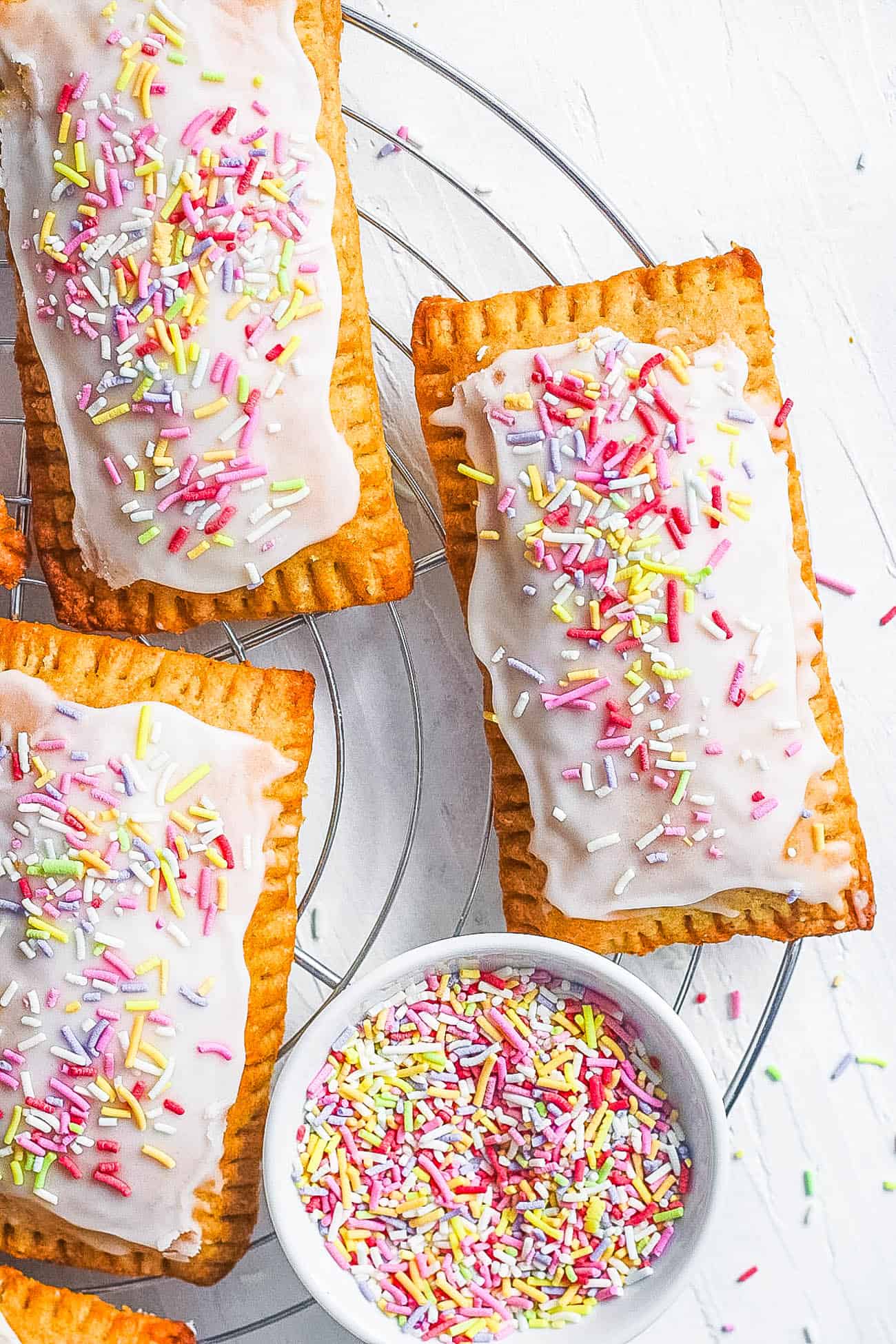 Fluffy apple cinnamon pancakes are healthy and filling! To make these pancakes vegan, you'll have to make two substitutions: Use extra virgin olive oil instead of the butter and use flax eggs in place of the eggs in this recipe. Pancakes are freezer-friendly and so easy to grab from the fridge on those busy mornings!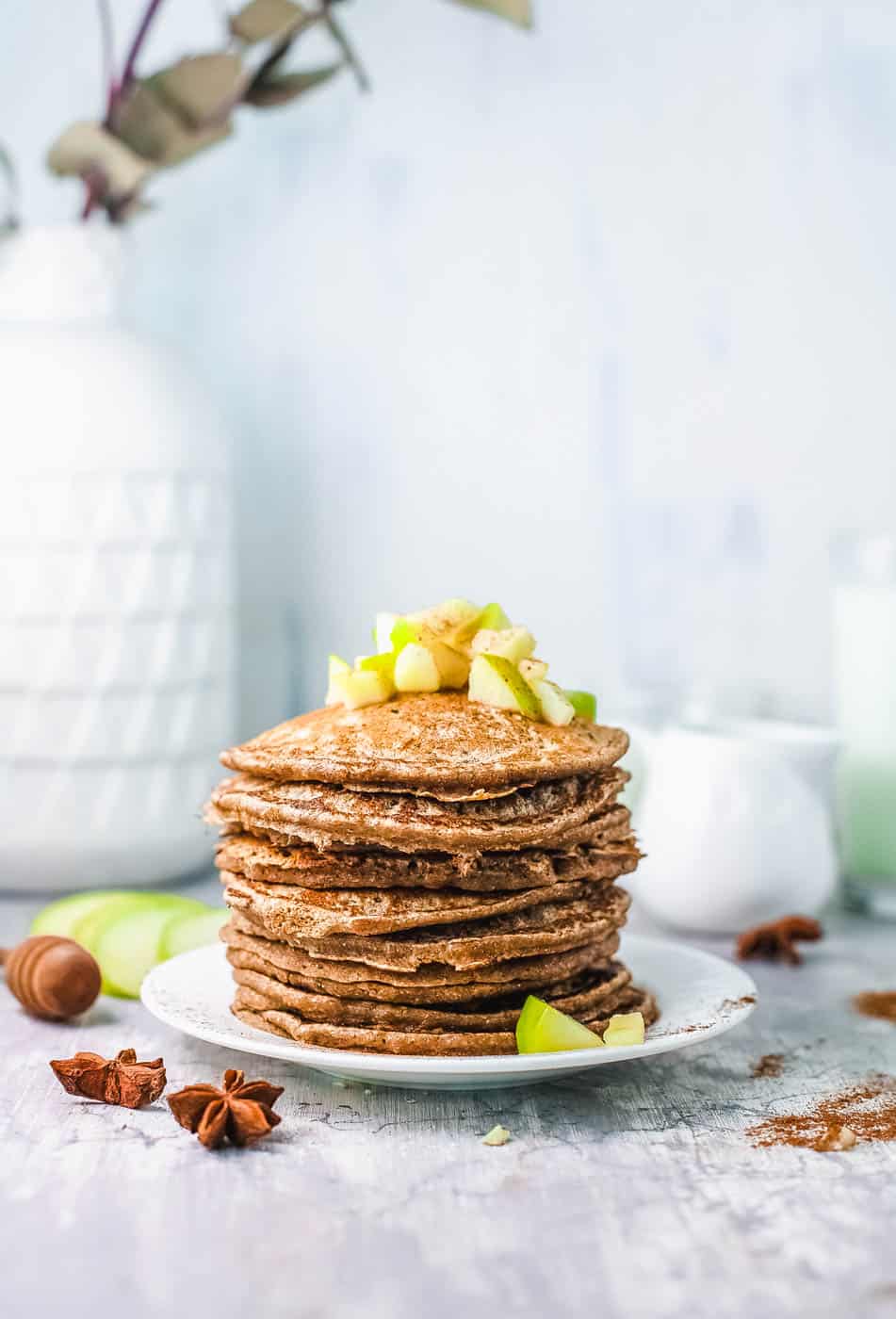 Hearty and filling quinoa oatmeal is nutty and filled with light fresh flavors. Use your favorite dairy-free milk and maple syrup to round up this healthier oatmeal. Quinoa oatmeal is great for leftovers!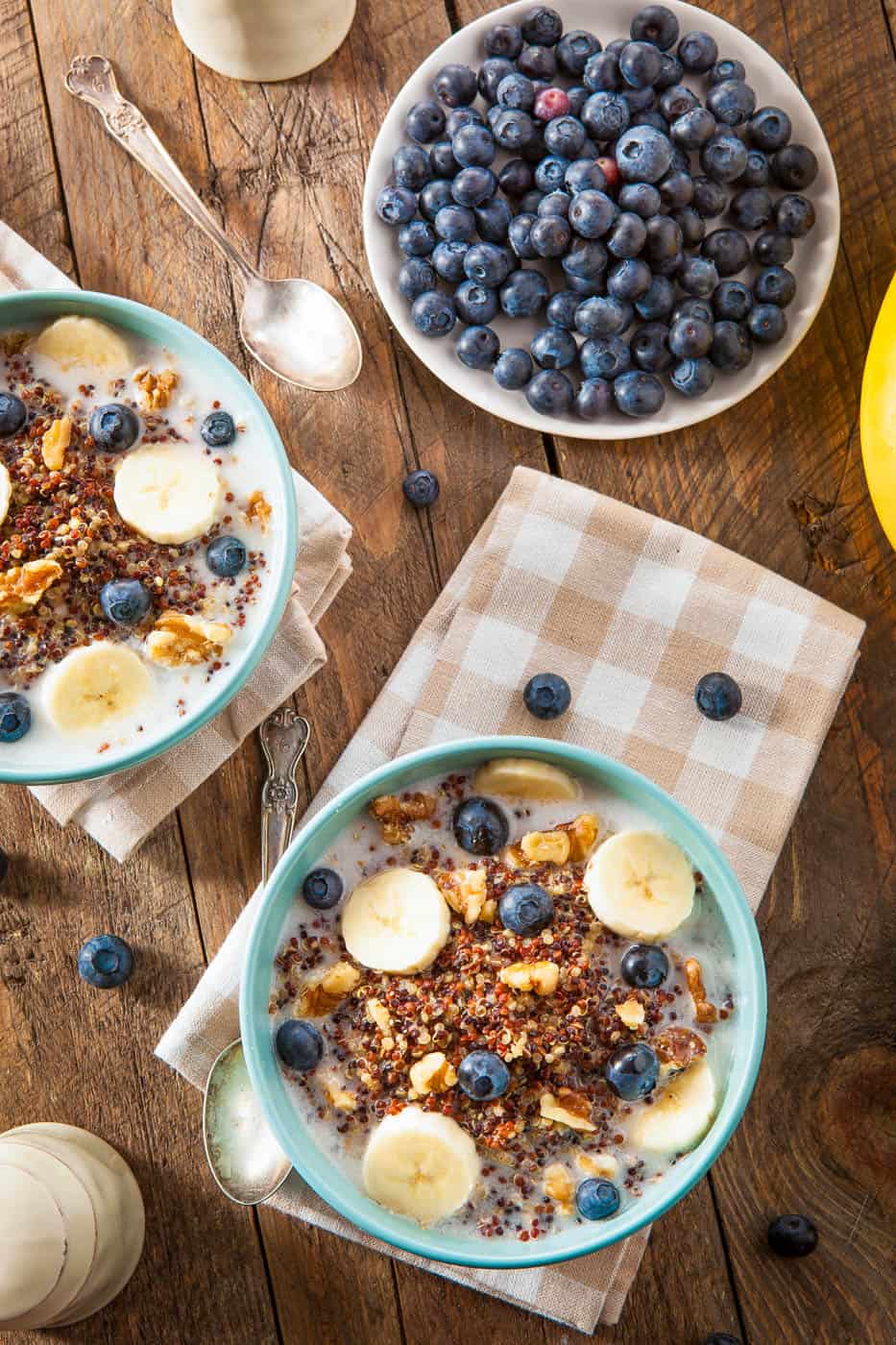 These mini silver dollar pancakes are a must! Make a batch of these soft pancakes to keep in the fridge and freezer until you're ready to enjoy them again. Make breakfast at home easy–especially before school or work!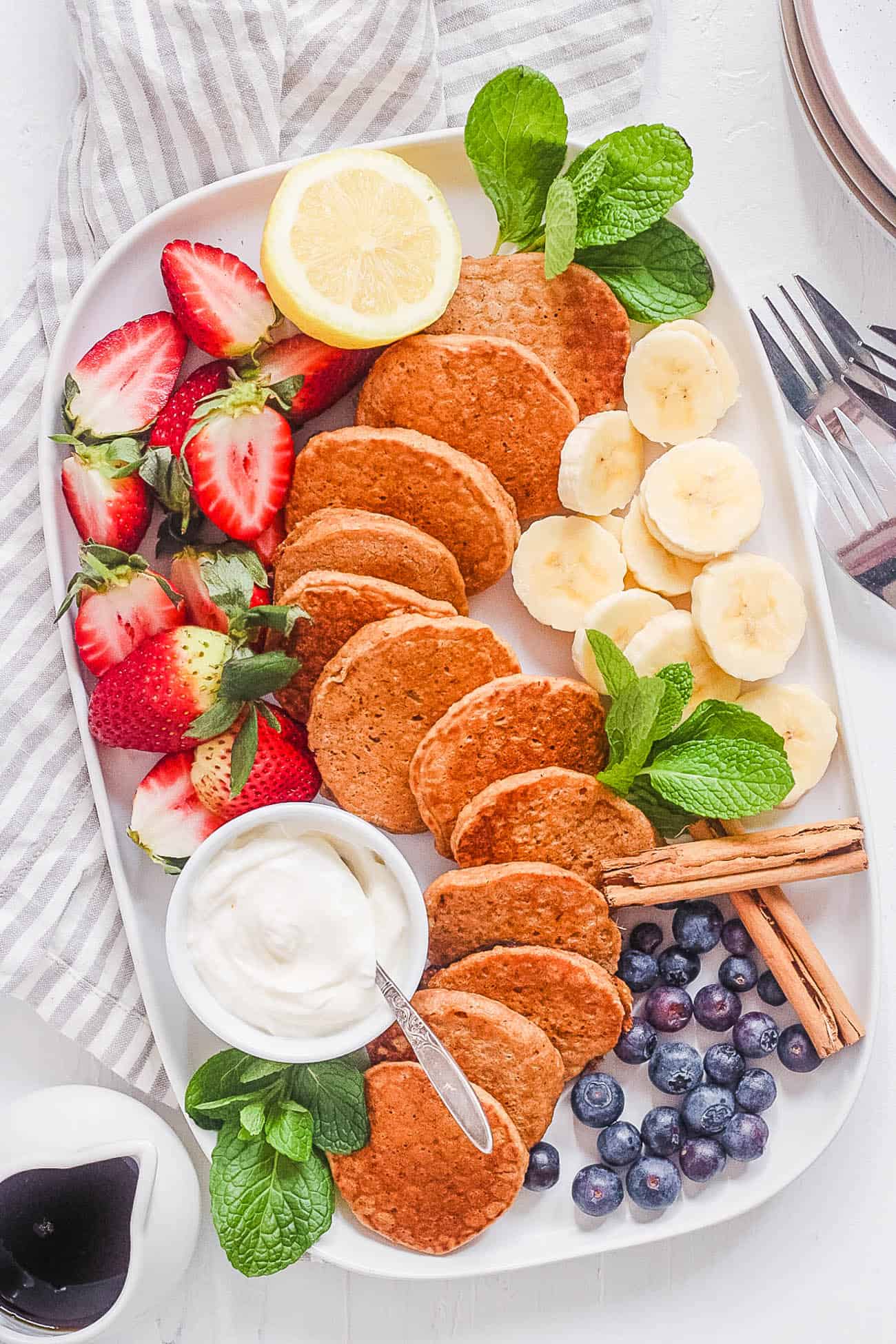 Chewy banana breakfast cookies are naturally sweet and filled with nutritious ingredients. Use ground flaxseed or chia seeds to make a flax egg or chia seed egg instead of the egg whites. You'll need two flax eggs to replace the egg whites in this recipe. You'll love the sweet notes of dried cranberries and raisins!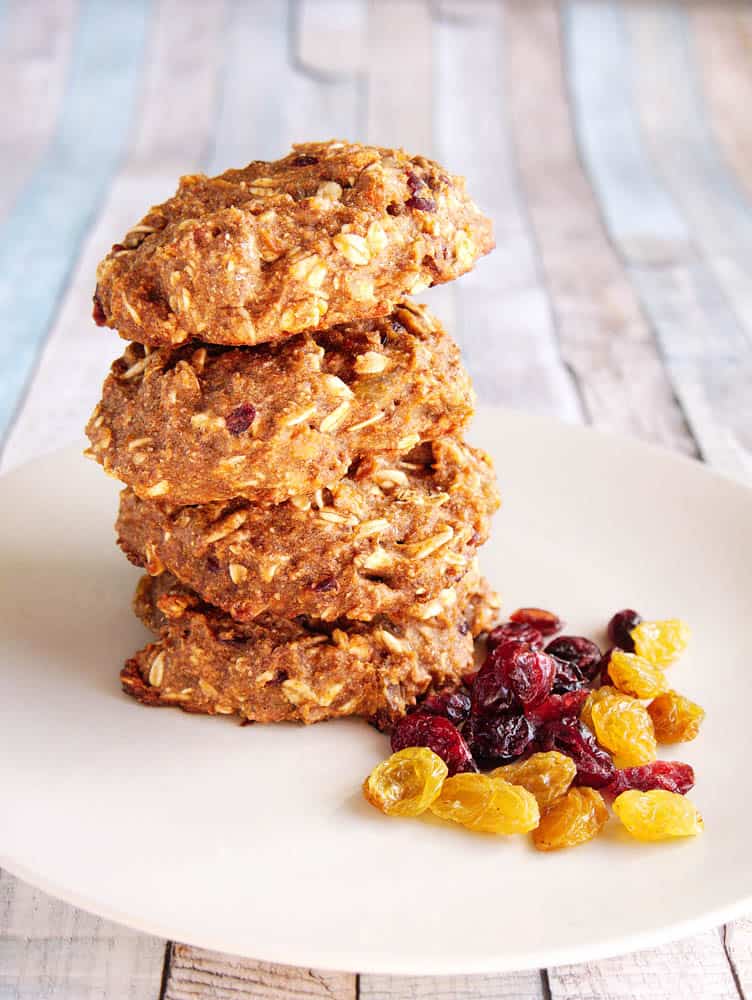 Moist and dense vegan banana bread is sweet and filled with comforting flavors. Keep the banana bread slices around to enjoy as breakfast throughout the week and freeze any remaining slices for next time. Be sure to thaw the bread before reheating!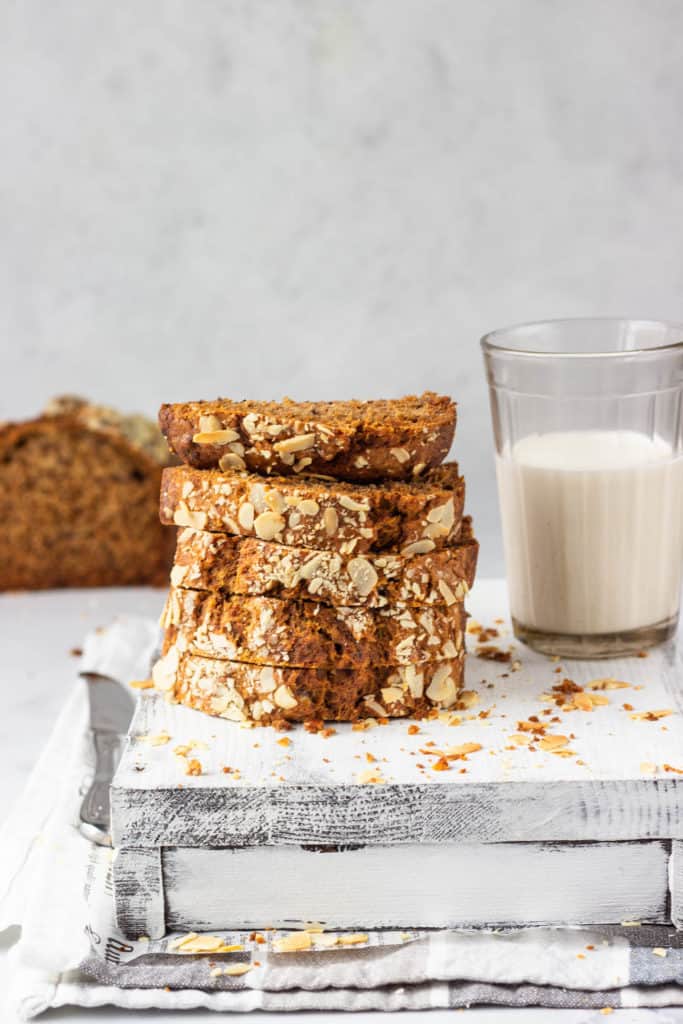 This chocolate banana nice cream is the perfect blend of sweet, creamy, and smooth. Rich chocolate flavors are mixed with fresh sweet banana flavors for a delicious combination. Top with nuts and dairy-free chocolate chips for extra crunch. We usually always have some of this ice cream in the freezer for dessert or breakfast!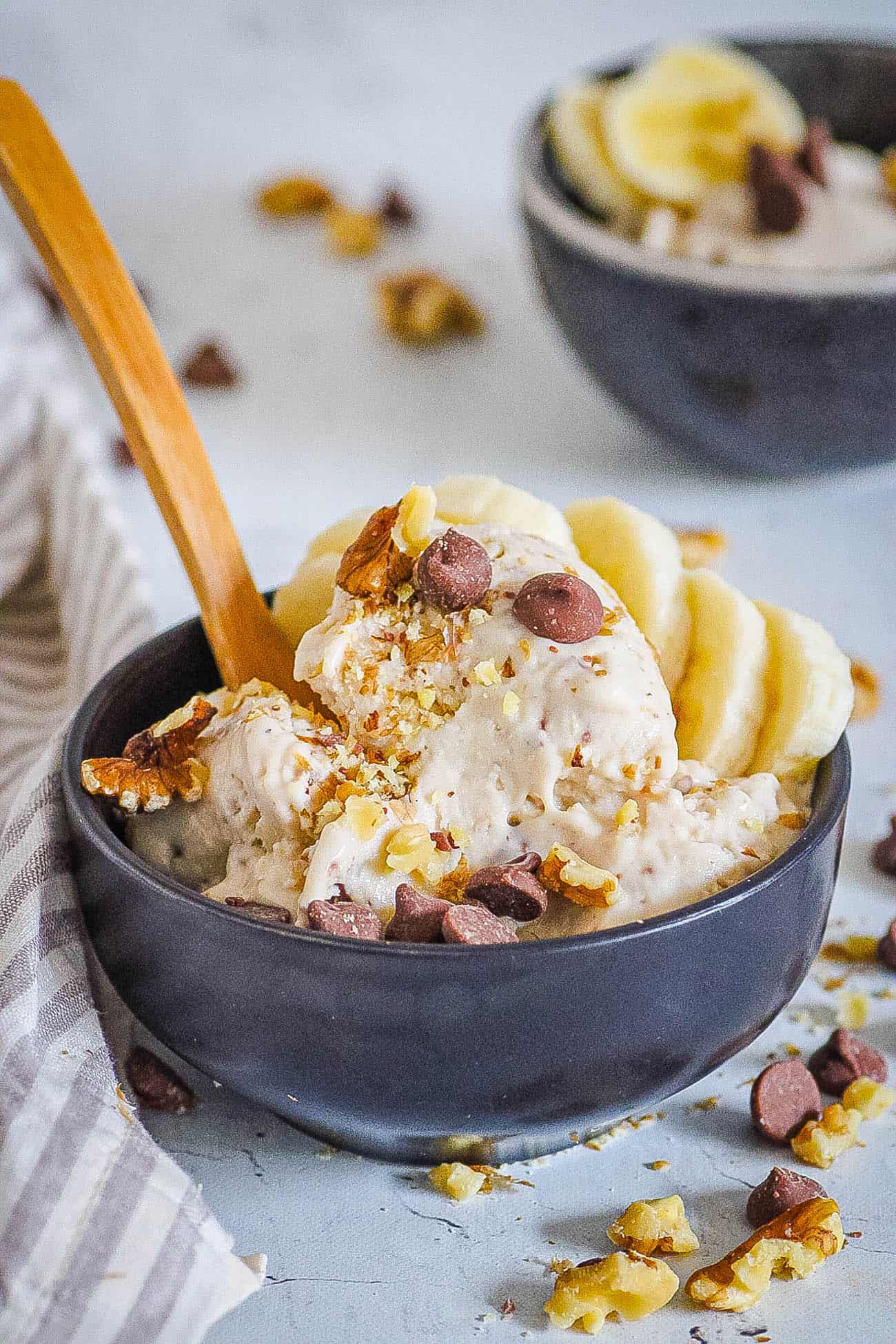 These sweet and spicy carrot and apple muffins are so delicious and healthy. Use flax eggs in place of real eggs to keep these muffins vegan and use whatever types of apples you have! This recipe is great for whenever you need to use up any carrots and have snack planned for the week.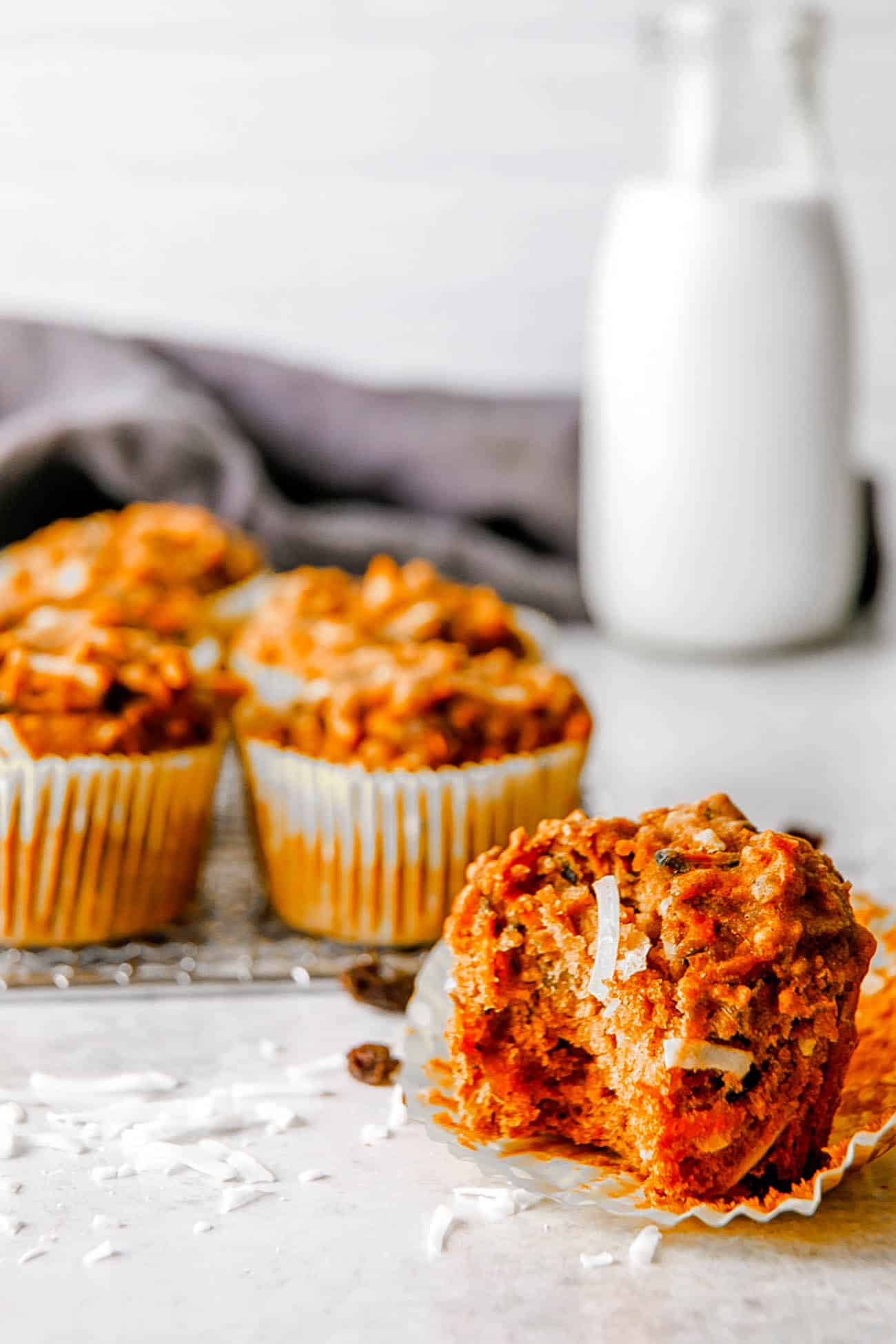 Rich and smooth chocolate oatmeal tastes just like your favorite chocolate milk mixed with soft oats. Oatmeal is great for meal prep and will last in the refrigerator for days! Enjoy the oatmeal either warm or cold!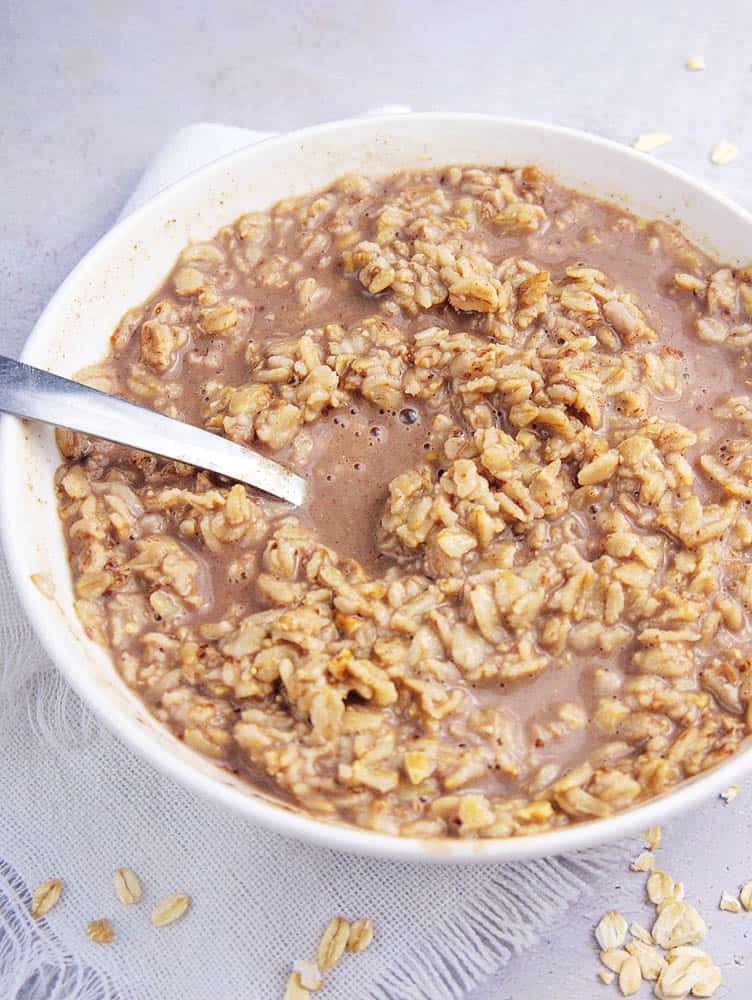 This Indian-inspired oatmeal is inspired by kheer pudding and is filled with classic aromatic spices such as saffron, turmeric, cinnamon, and more. A healthy option for breakfast and even more delicious with almonds.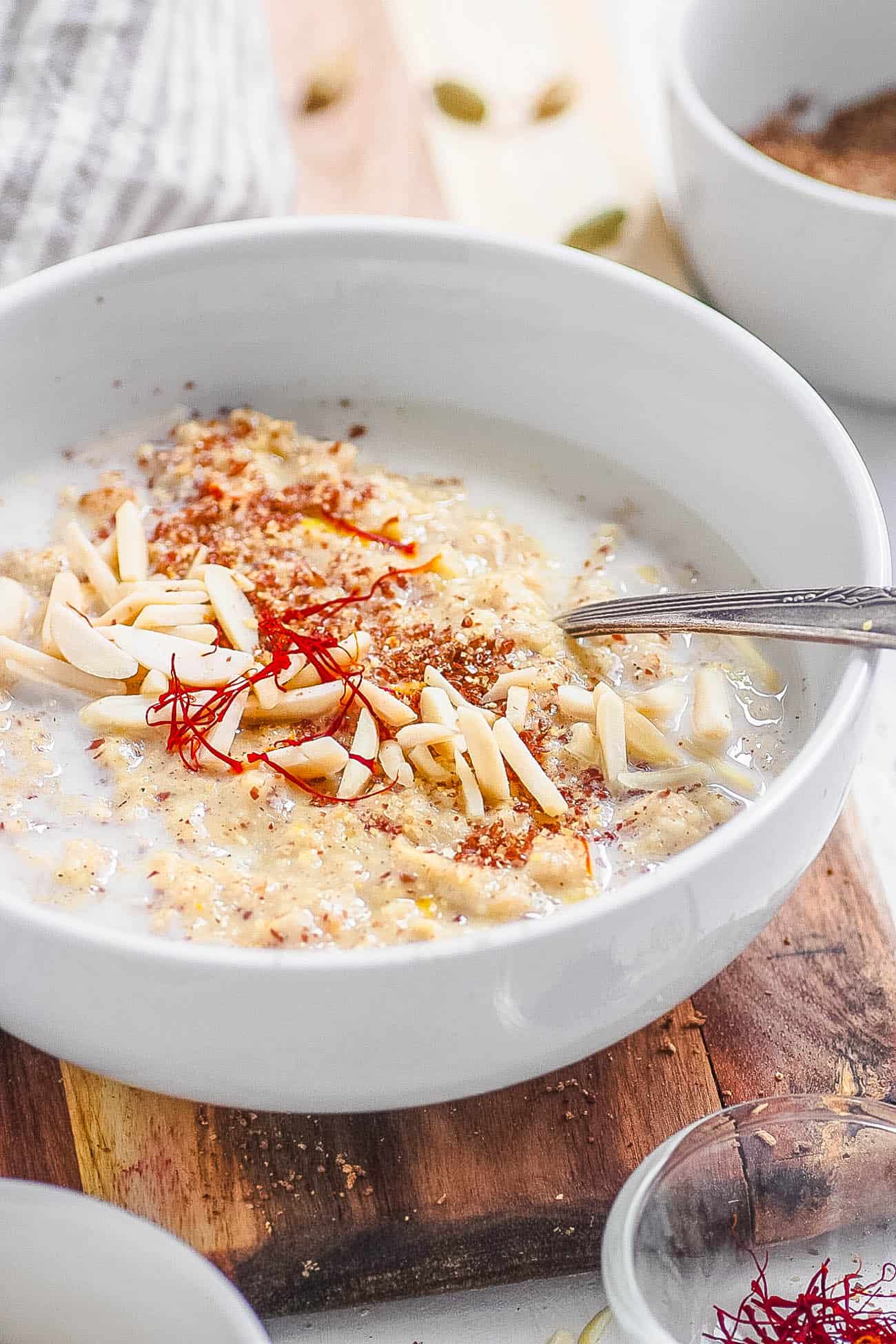 Sweet oatmeal cookies are easy to make for meal prep and are perfect for freezing, too. Healthy cookies can be a great snack when you need something sweet to munch on, and when you need to make sure lunchboxes are full!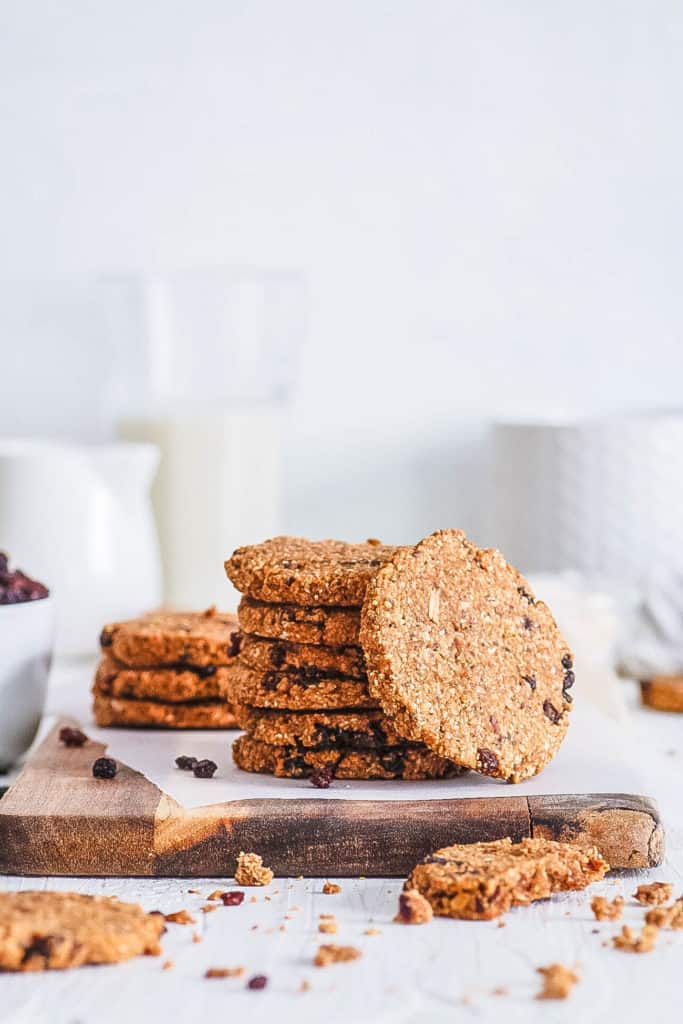 This sweet and creamy Nutella is great for having around at home! This recipe is super easy to prepare and tastes delicious with fruit, bagels, toast, and more.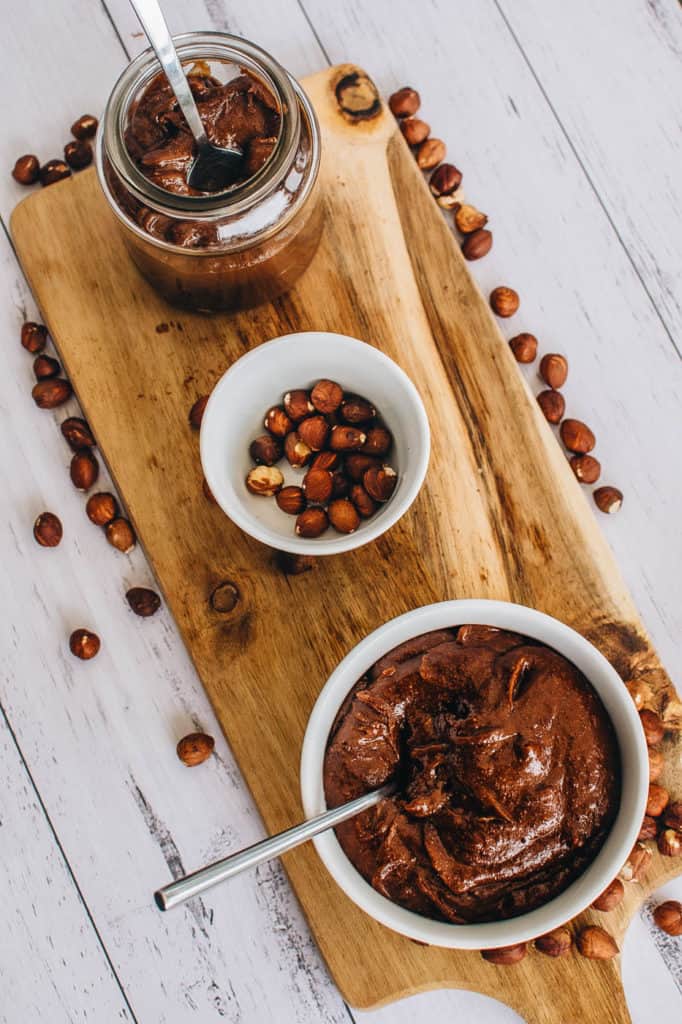 These protein-rich overnight oats are the key to simple breakfasts. Prepare a handful of jars filled with overnight oats one night at home and keep the jars in the fridge for quick breakfasts!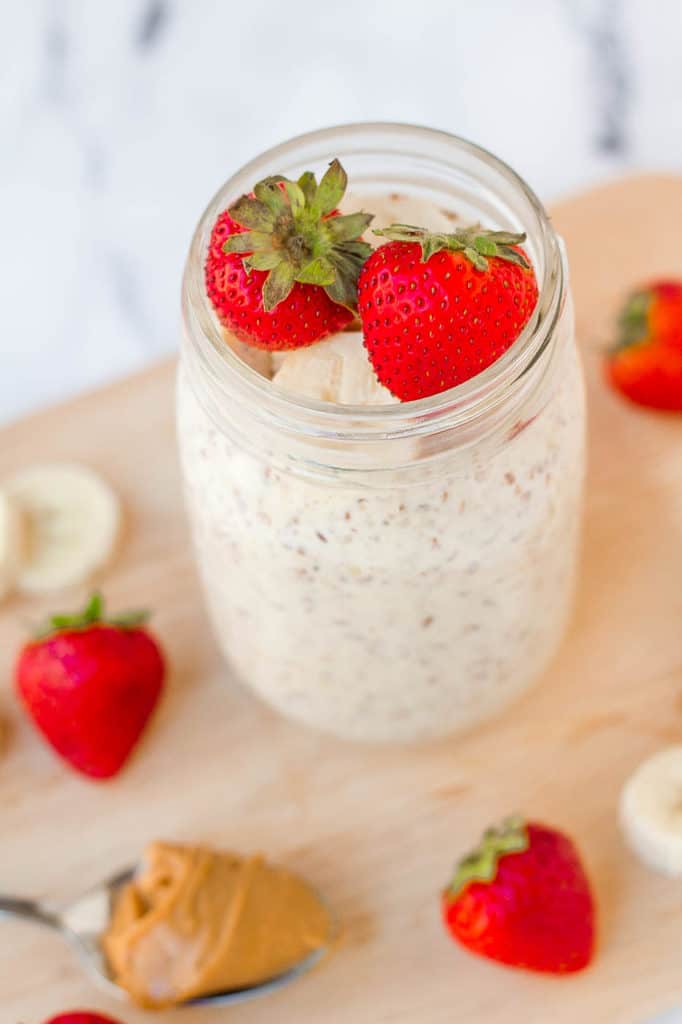 If you love strawberries, then you will love this creamy oatmeal recipe. Sweet and healthy, this filling oatmeal is another great breakfast option for meal prep whenever you have a lot of oats to use up.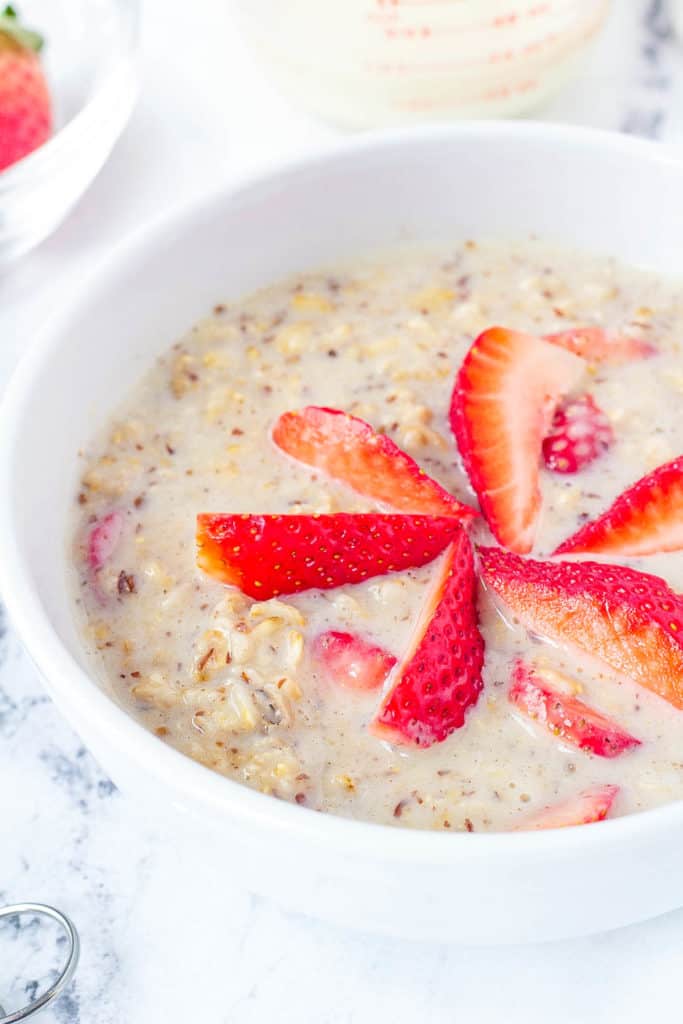 Banana lovers will love this sweet and healthy oatmeal recipe. The longer the oatmeal sits, the creamier it gets!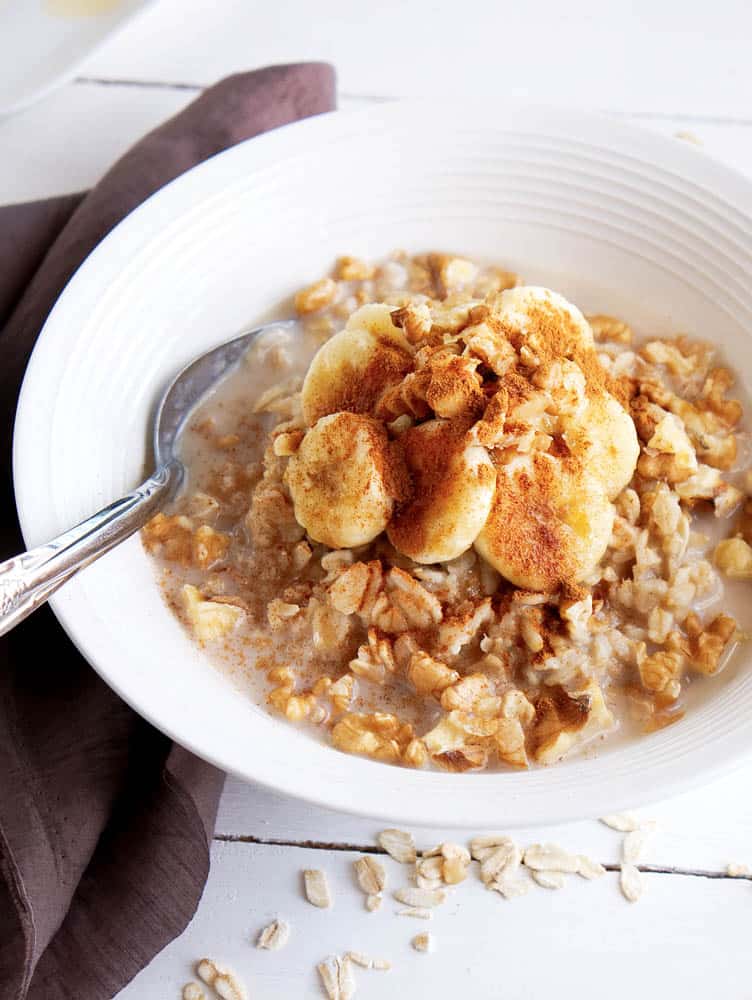 Be sure to use vegan yogurt to keep this sweet bread vegan! Healthy chocolate chip bread is freezer-friendly and so easy to make at home for delicious breakfast or dessert recipes.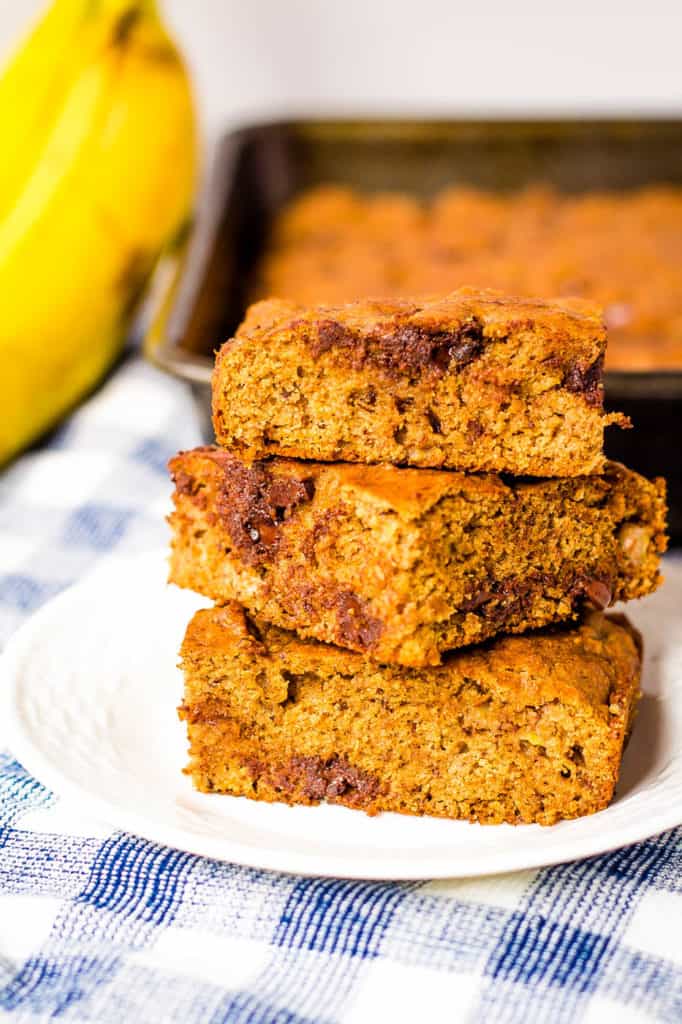 These nutty flapjacks are healthy, gluten-free, and great for keeping around as snacks or easy breakfasts. You will love this recipe because it is freezer-friendly, too!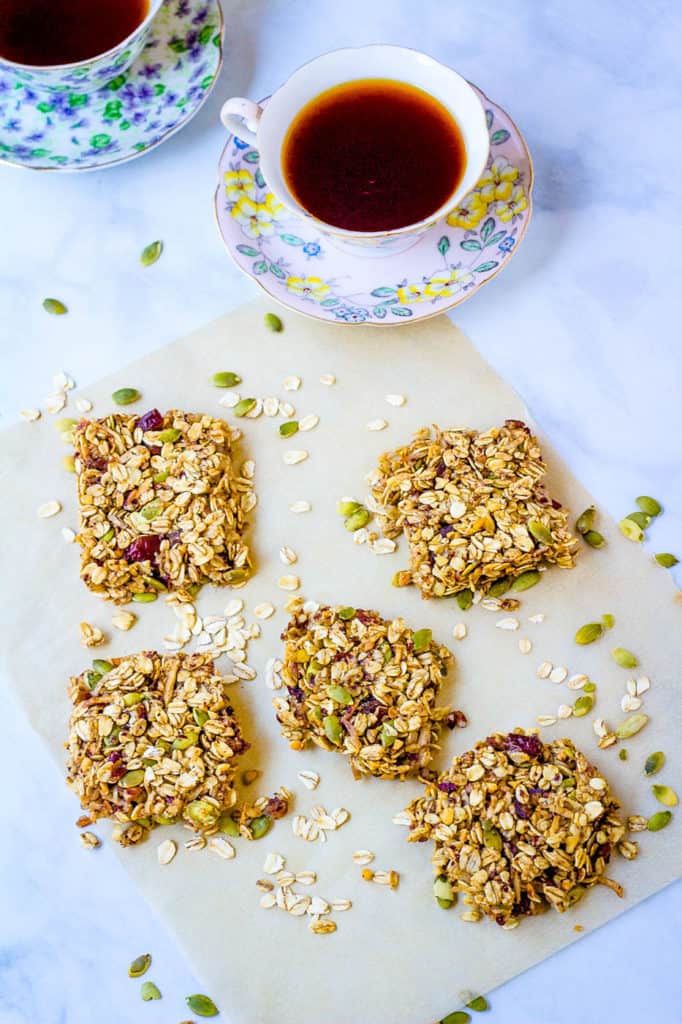 Making this healthy biscuit recipe vegan is super easy! Just replace the buttermilk with vegan sour cream (or plain, unsweetened vegan yogurt) + water. Use ¾ cup vegan sour cream (or yogurt) mixed with ¼ cup water, whisk together, and then use just ¾ of that combined mixture for this recipe.
Sweet potato biscuits are soft, fluffy, and delicious for breakfast or dinner.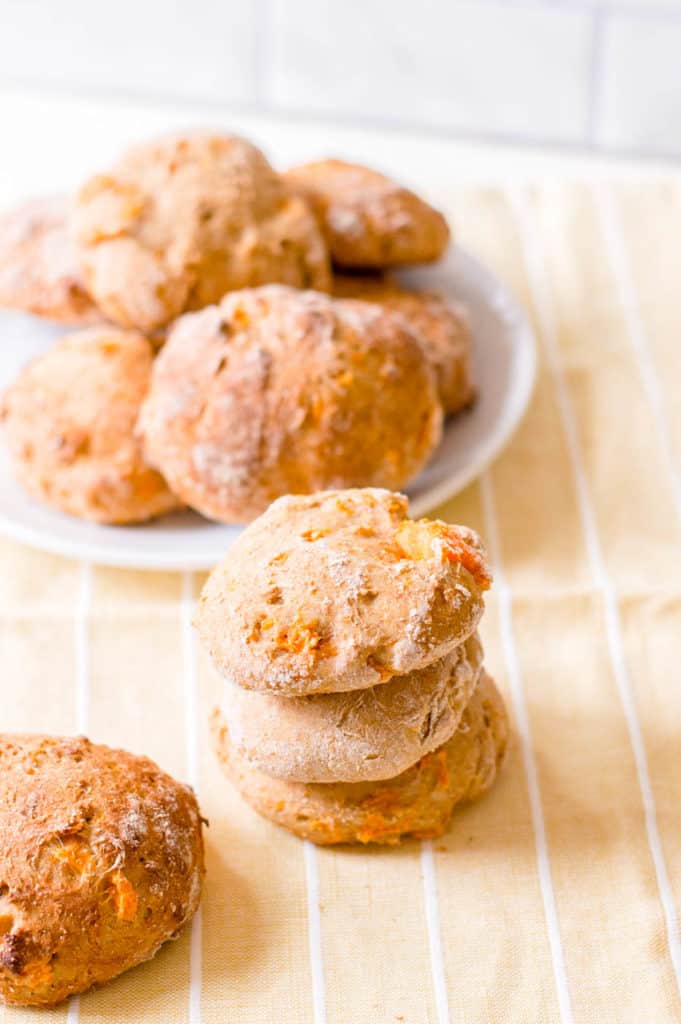 Use dairy-free cheese or omit to keep this scramble vegan! Tofu scramble is great for making ahead of time and using any fresh veggies you may have from the fridge. Filling and savory!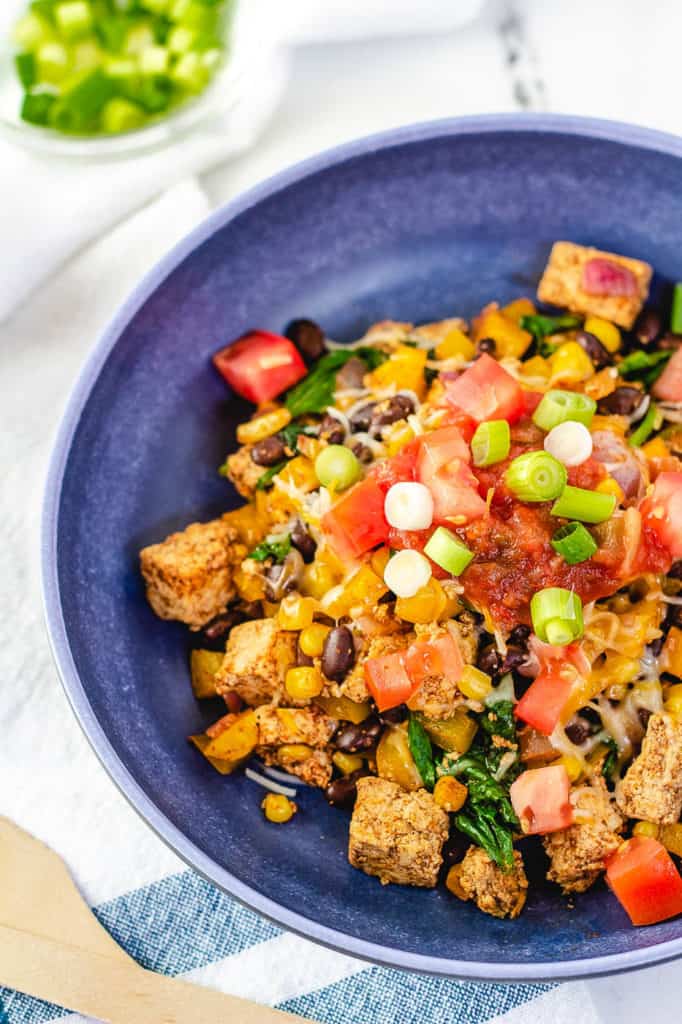 Sweet banana oatmeal cookies are filled with protein and so easy to make for meal prep. Just grab and go for a healthy filling snack!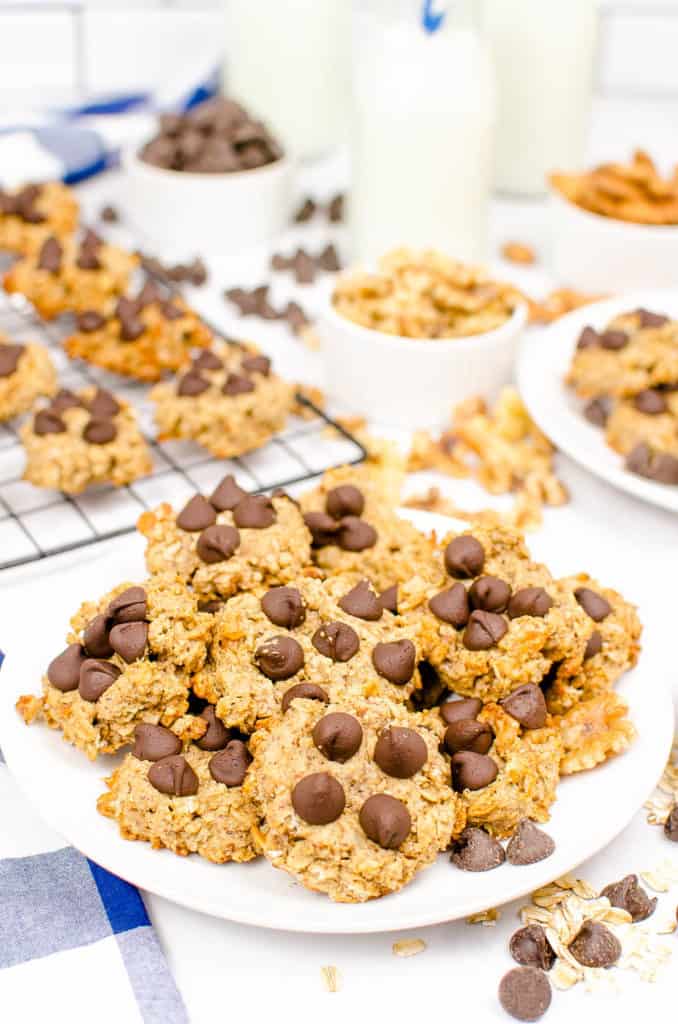 This healthy granola recipe is another great option to keep in the pantry. Granola is great for cereal, granola bars, yogurt, and more!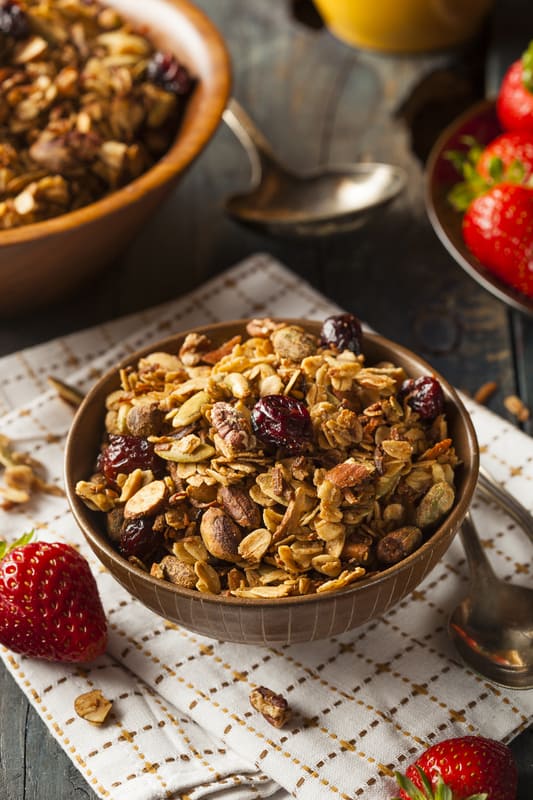 These roasted potatoes are simple but full of fresh flavor. Rosemary gives these potatoes extra yumminess but can be swapped with other fresh herbs.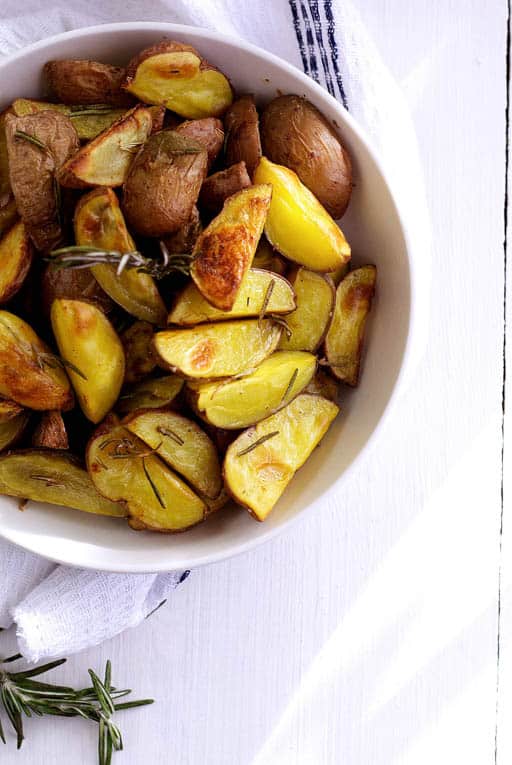 Use vegan cheese or omit for this sweet potato breakfast hash. Potato breakfast hash recipes are perfect for making ahead of time and great for reheating for breakfast!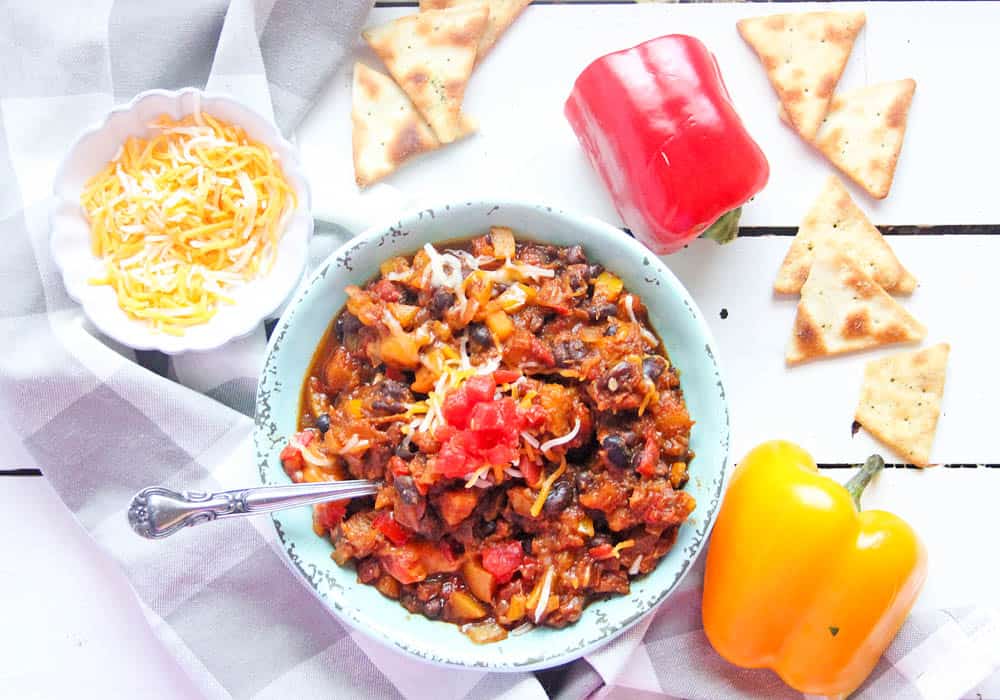 Vegan Smoothies
Smoothies are perfect for meal prep because you can portion out all of your fruit and veggies in individual bags or containers, freeze until ready to use, then just throw in the blender with the other necessary ingredients!
This antioxidant-rich smoothie is made with tropical mango and banana for natural sweet flavors. Use dairy-free yogurt to keep it vegan and enjoy. It's one of the best vegan meal prep recipes because you can literally prep once and eat 5 times!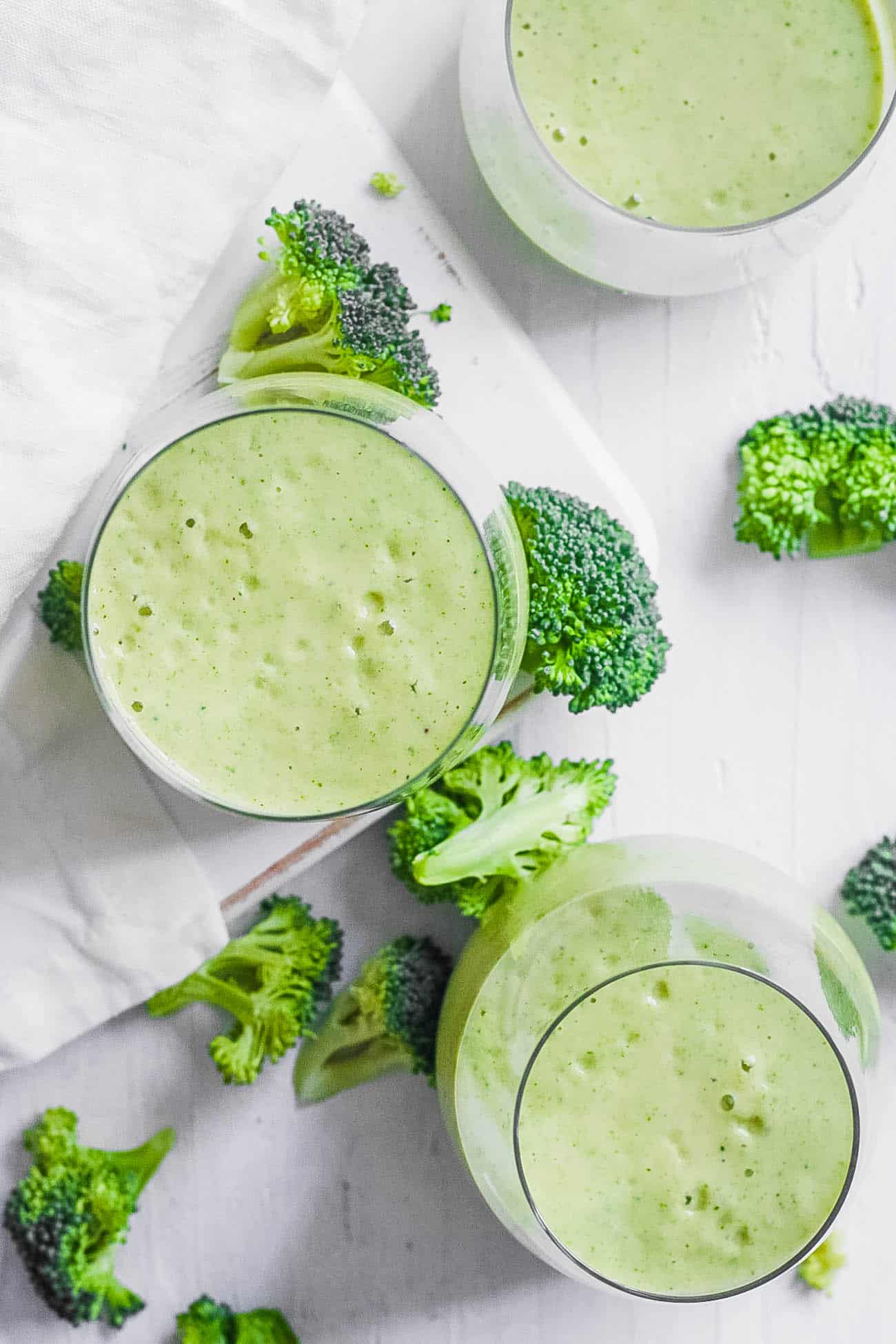 This sweet smoothie is full of fresh fruity flavors! If you love strawberry and banana, you'll love this smoothie!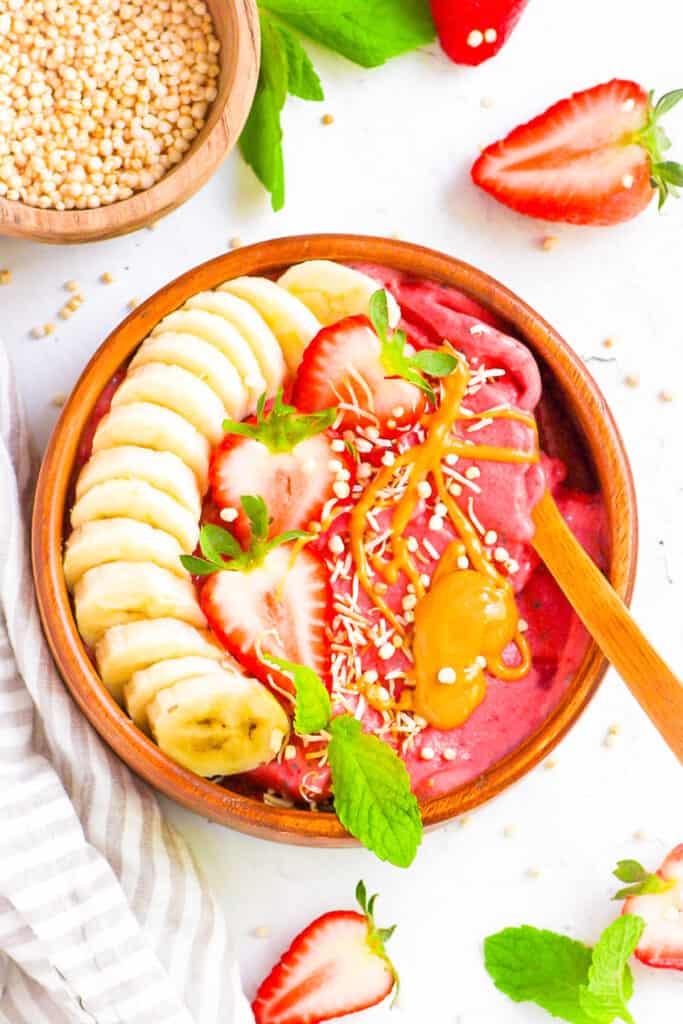 Bright and sweet banana peach smoothie is so delicious! Use vegan yogurt to keep it dairy-free and enjoy this smoothie whenever you need a punch.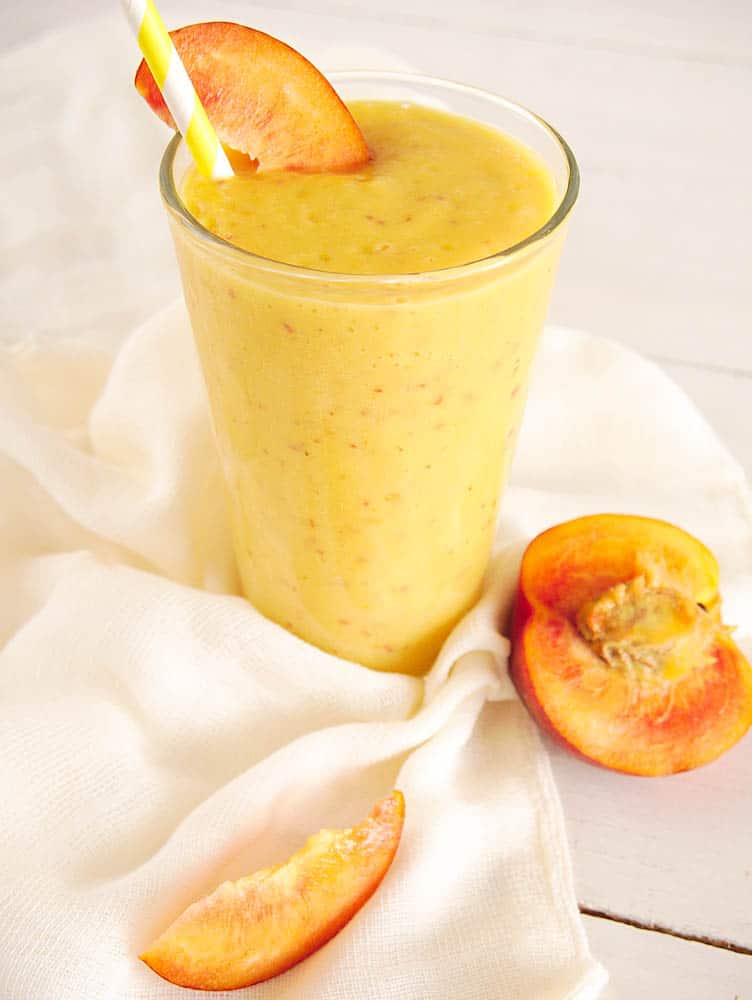 This kale smoothie is loaded with iron and great for whenever you want to sip on something detoxifying. Made with apples, pears, almond butter, and almond milk: yum!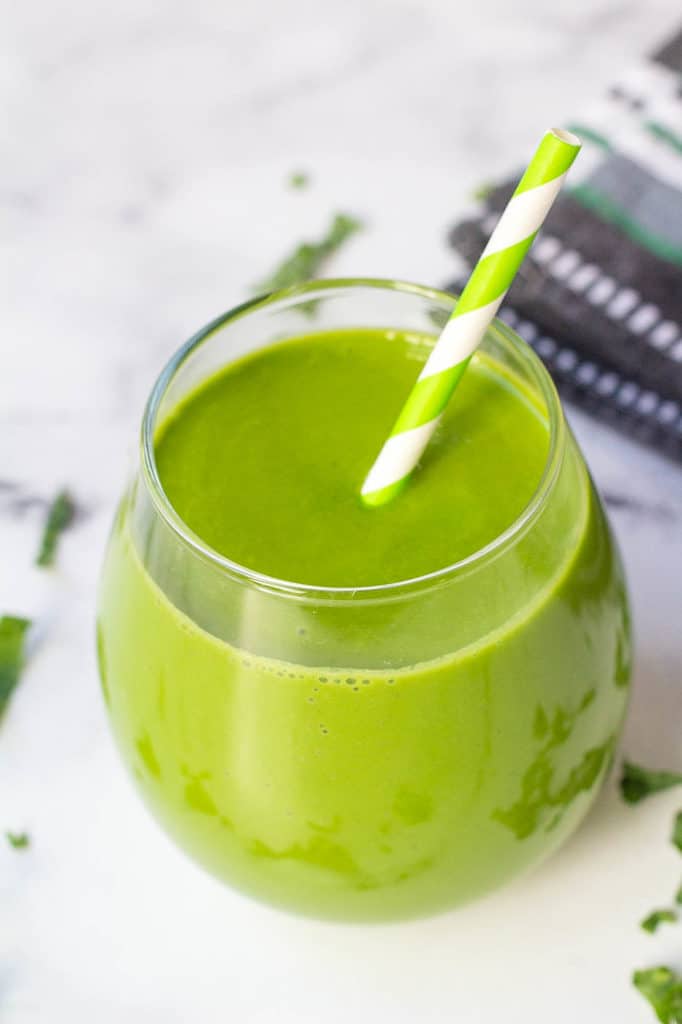 In the mood for pumpkin pie? You will love this spiced sweet pumpkin pie smoothie bowl. Freeze the ingredients until ready to use!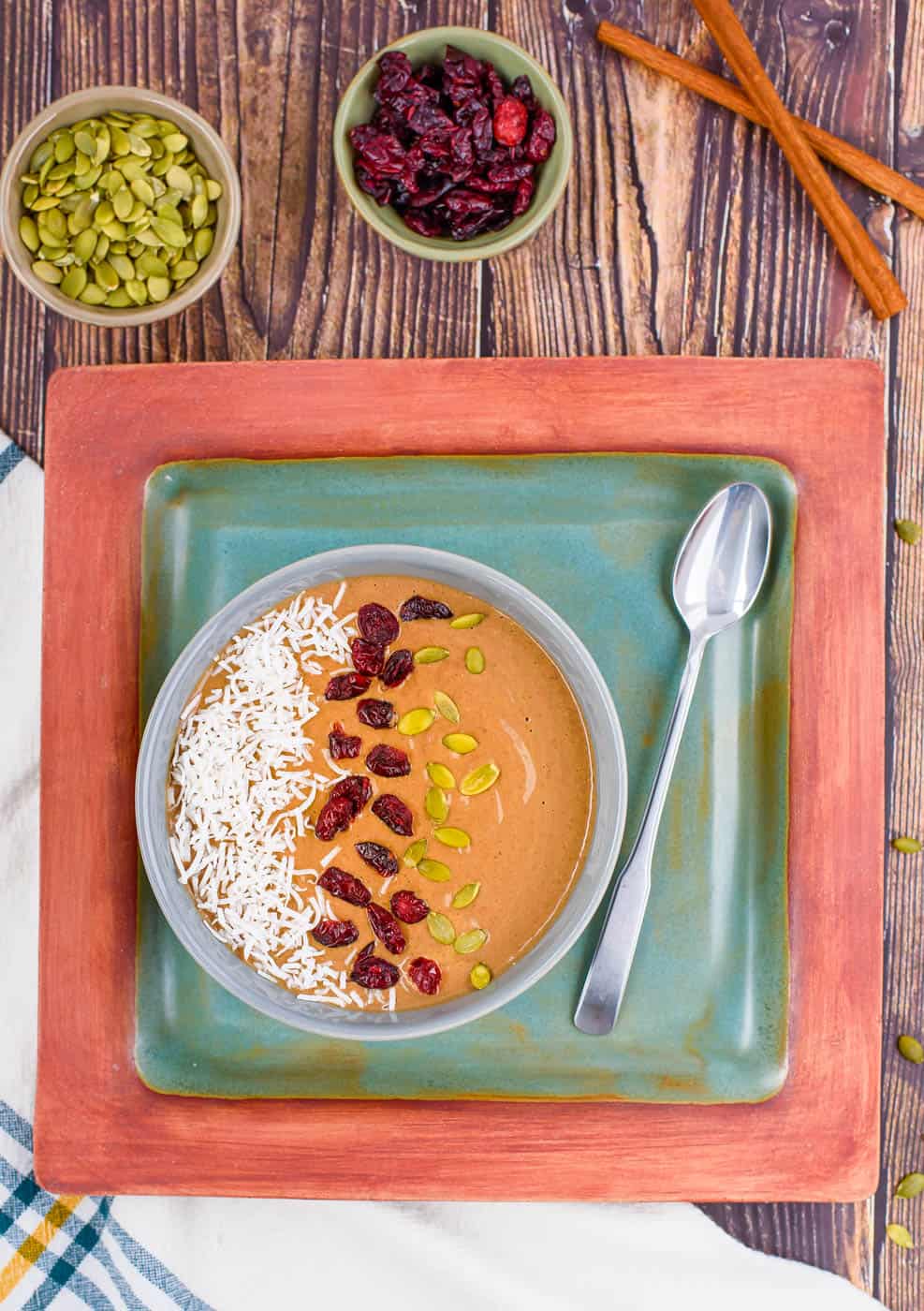 This simple berry smoothie is tasty, creamy, and contains no added sugar! Naturally sweet and full of antioxidants, this smoothie makes a healthy breakfast breakfast, snack, or dessert. Even for kids!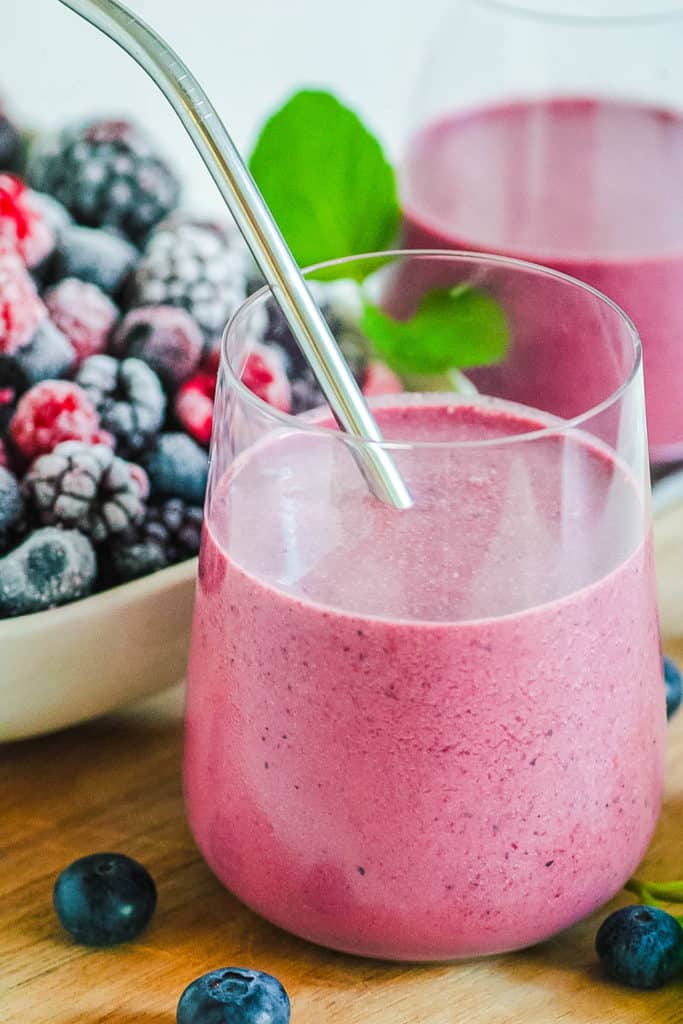 Meal Prep Ideas For Snacks And Appetizers
Creamy, sweet, pumpkin seed butter is filled with healthy protein and fats for a filling snack. Serve this homemade seed butter with toast, apple slices, bagels, crackers, and more.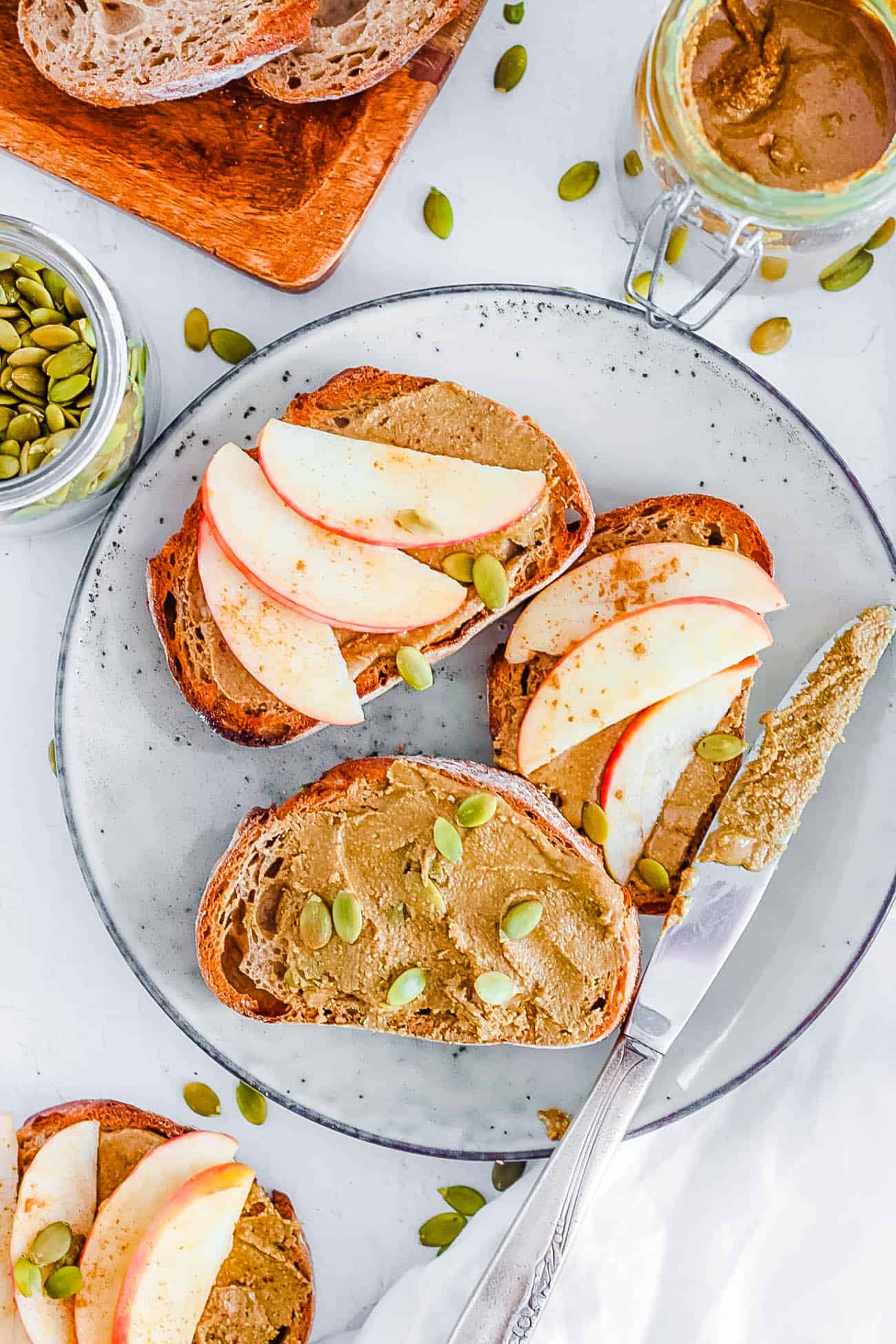 Use vegan parmesan to keep these fries cheesy but plant-based! These crispy fries are easy to make in bulk to keep in the fridge throughout the week.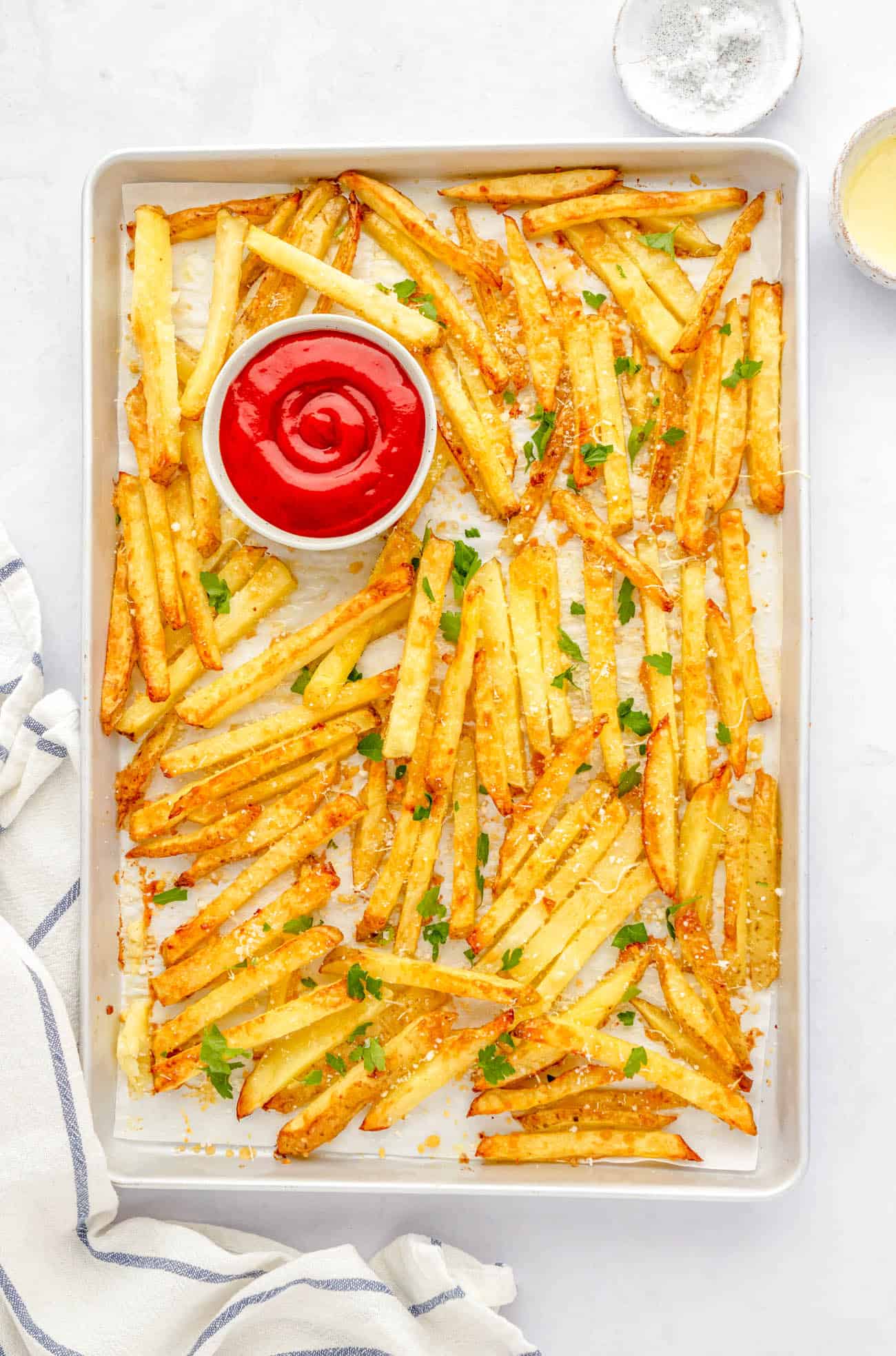 These chewy and sweet Rice Krispie Treats are filled with notes of pumpkin! Make a batch of these treats to keep on hand for a quick dessert or snack throughout the week.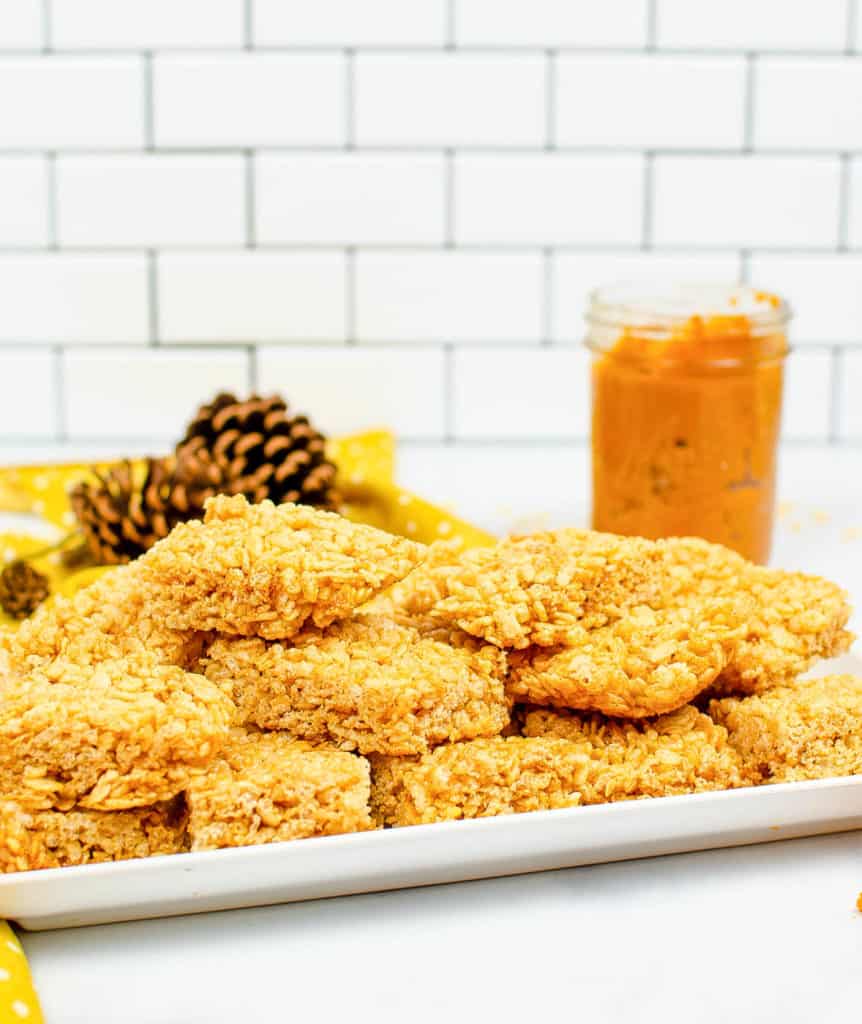 These crunchy air fryer banana chips are so easy to make! We love to prepare a large batch to keep in the pantry to munch on while we're home! Great for lunchboxes, too!
Crispy kale chips are great to make for easy snacks. Use vegan parmesan or omit–your choice!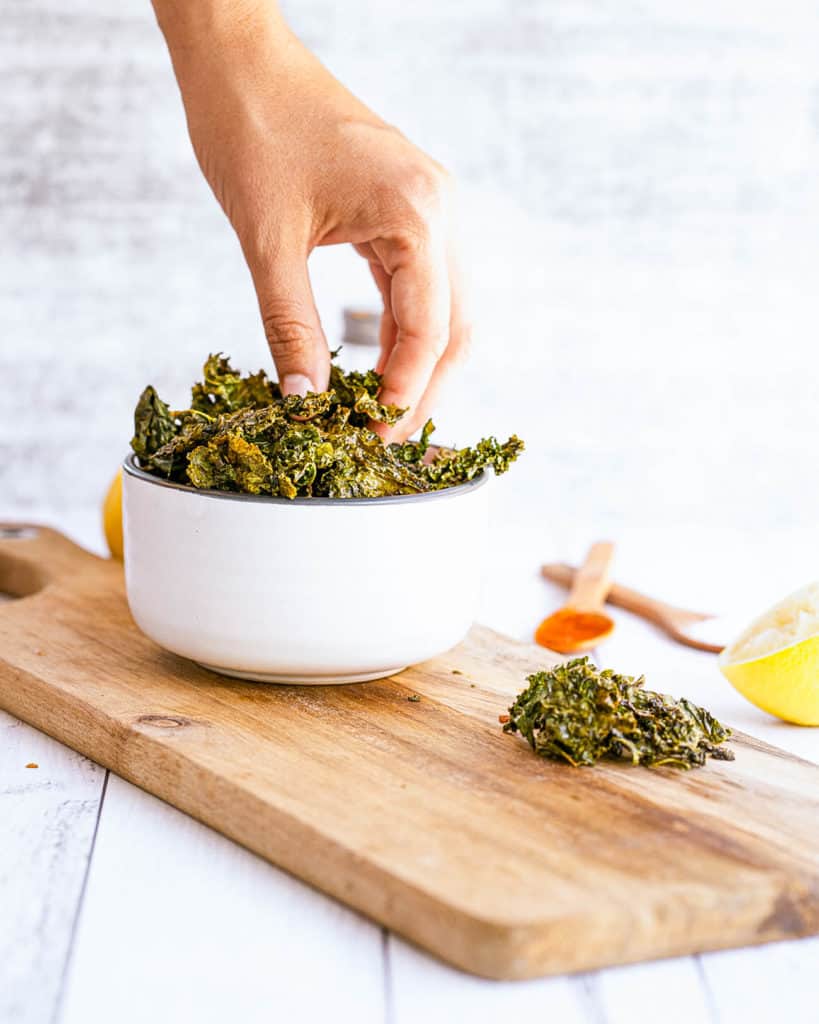 These savory and tender crispy fries are everything you could ever hope for. Made in the air fryer, this easy recipe is a must for meal prep.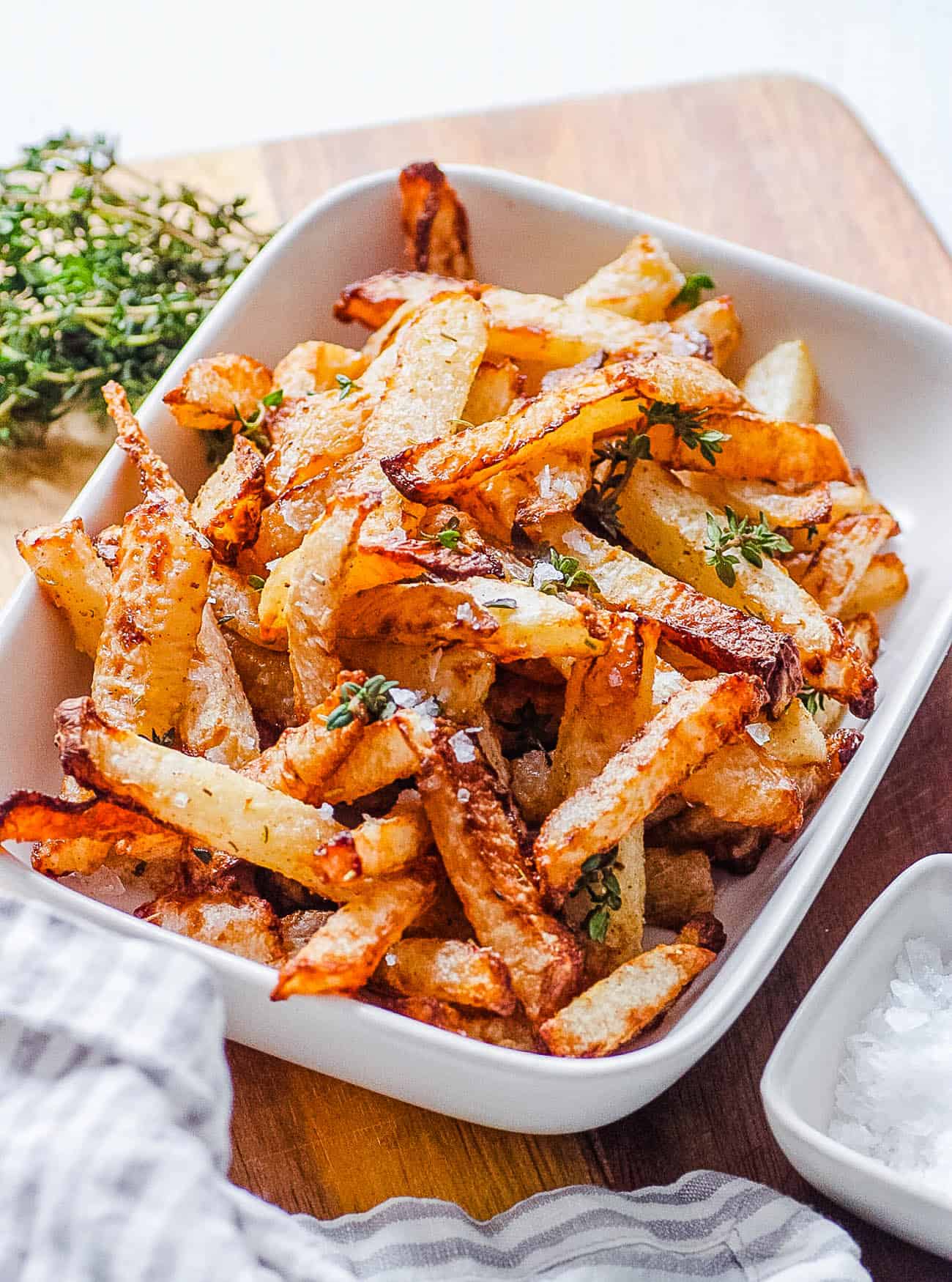 These homemade air fryer pizza rolls are great for meal prep because the kids will love them! Ready to reheat within minutes, this quick recipe is great for pizza lovers. Use dairy-free cheese!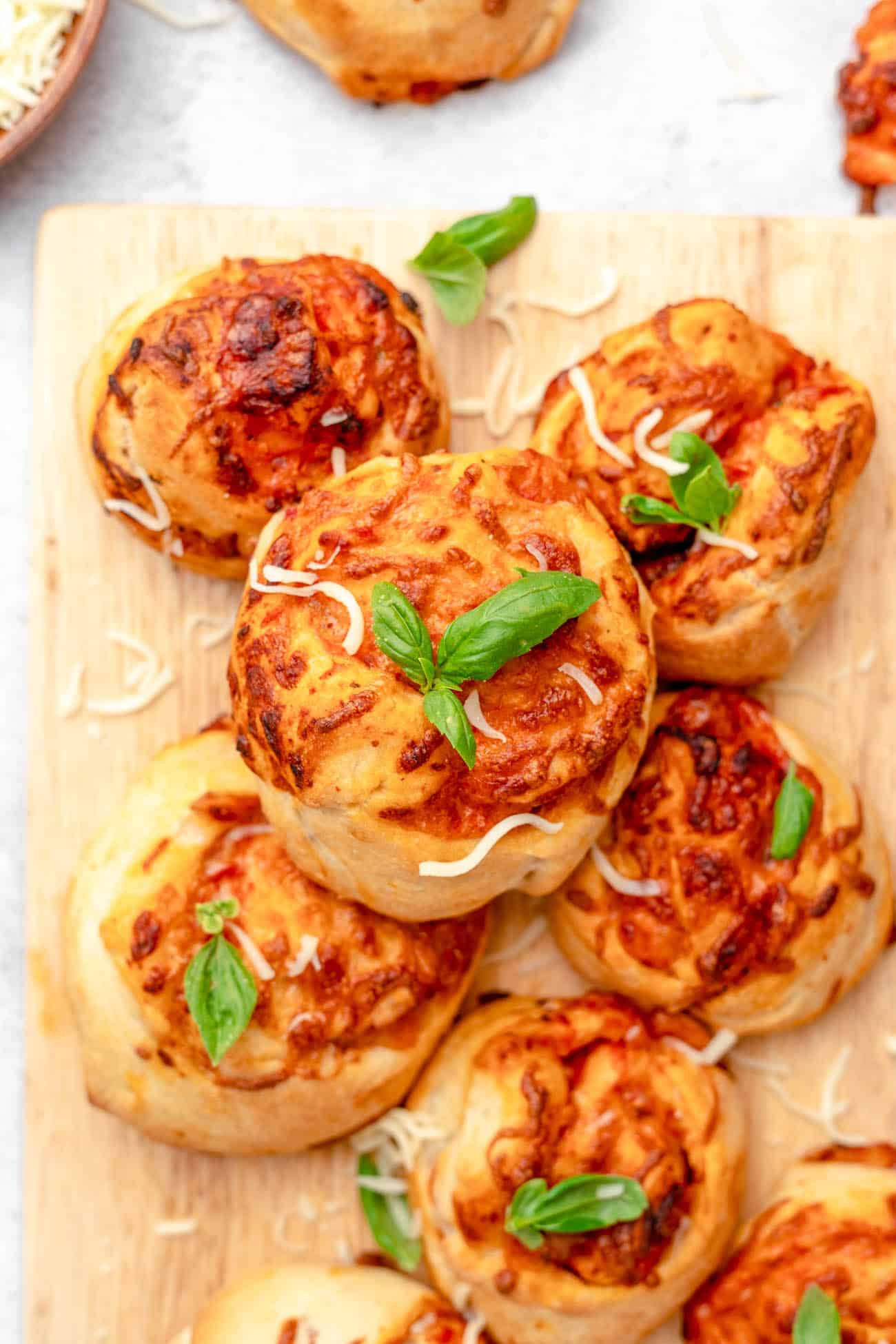 Substitute the milk for non-dairy milk such as almond milk, or soy milk, remove the eggs and substitute with ½ cup of apple sauce, an additional teaspoon of baking powder (3 tsp total), and ¼ cup of sugar instead of honey. You can use flax eggs instead of applesauce by mixing flax meal and water together and letting sit for five minutes.
You can make a batch of cornbread to enjoy with your meals throughout the week and freeze individual squares for later!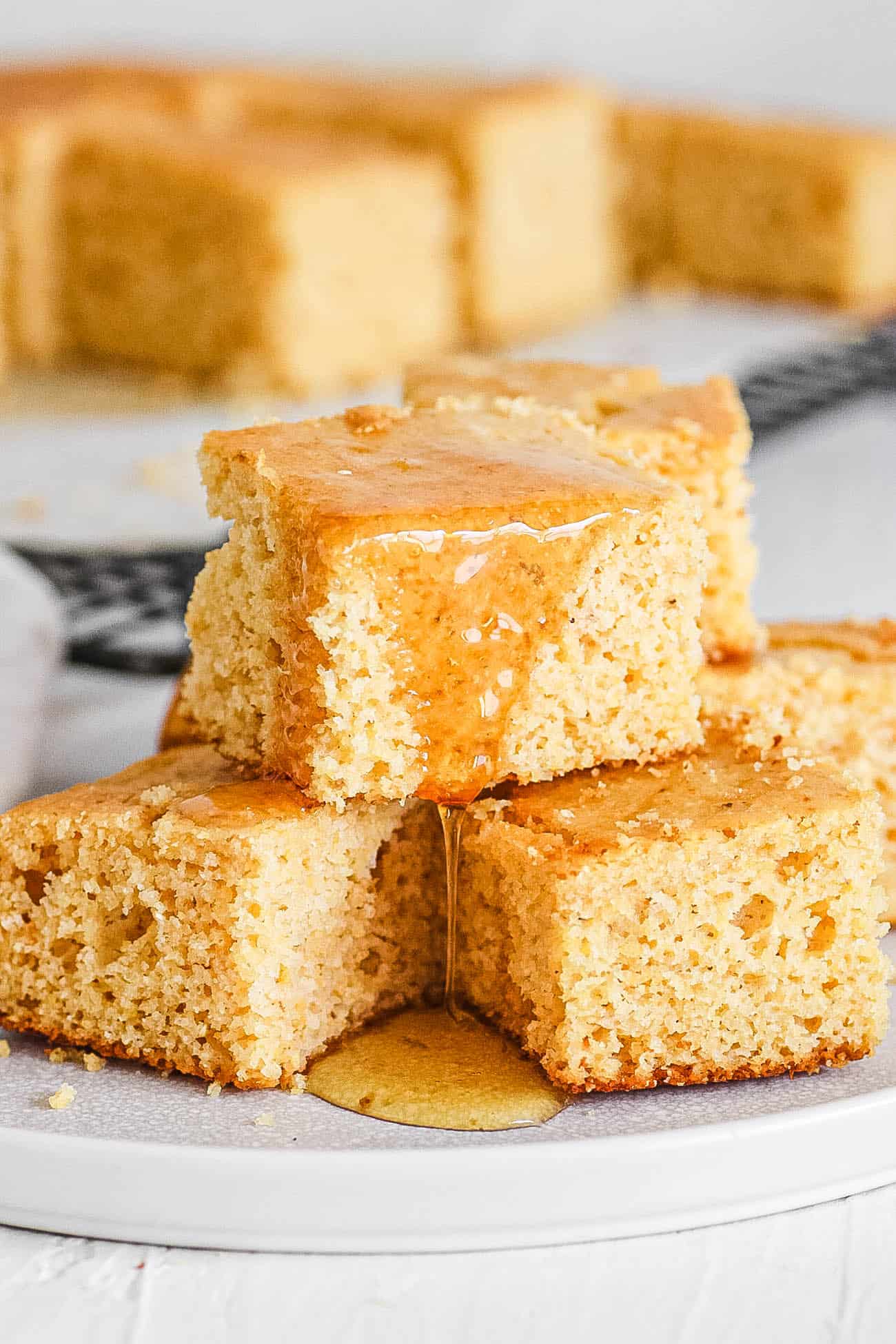 Rich with dark chocolate chips, this edible vegan cookie dough is a tasty treat that will be hard to stay away from! Prepare a large serving of this cookie dough to keep in the refrigerator or freezer!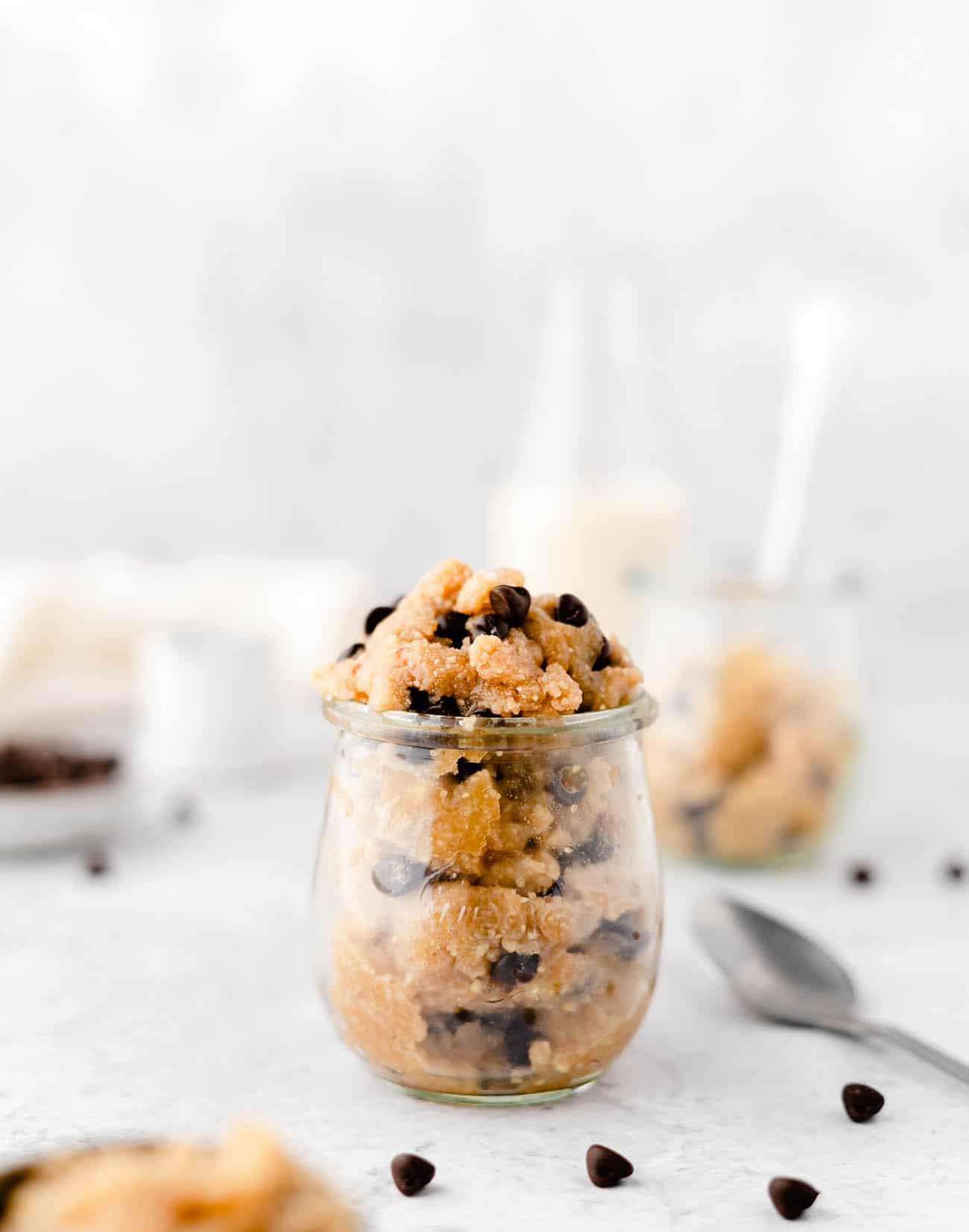 Crispy air fryer tortilla chips are easy to make using tortillas and take no time to cook! Serve these chips with soups, dips, salsa, hummus, guacamole, vegan queso, and more.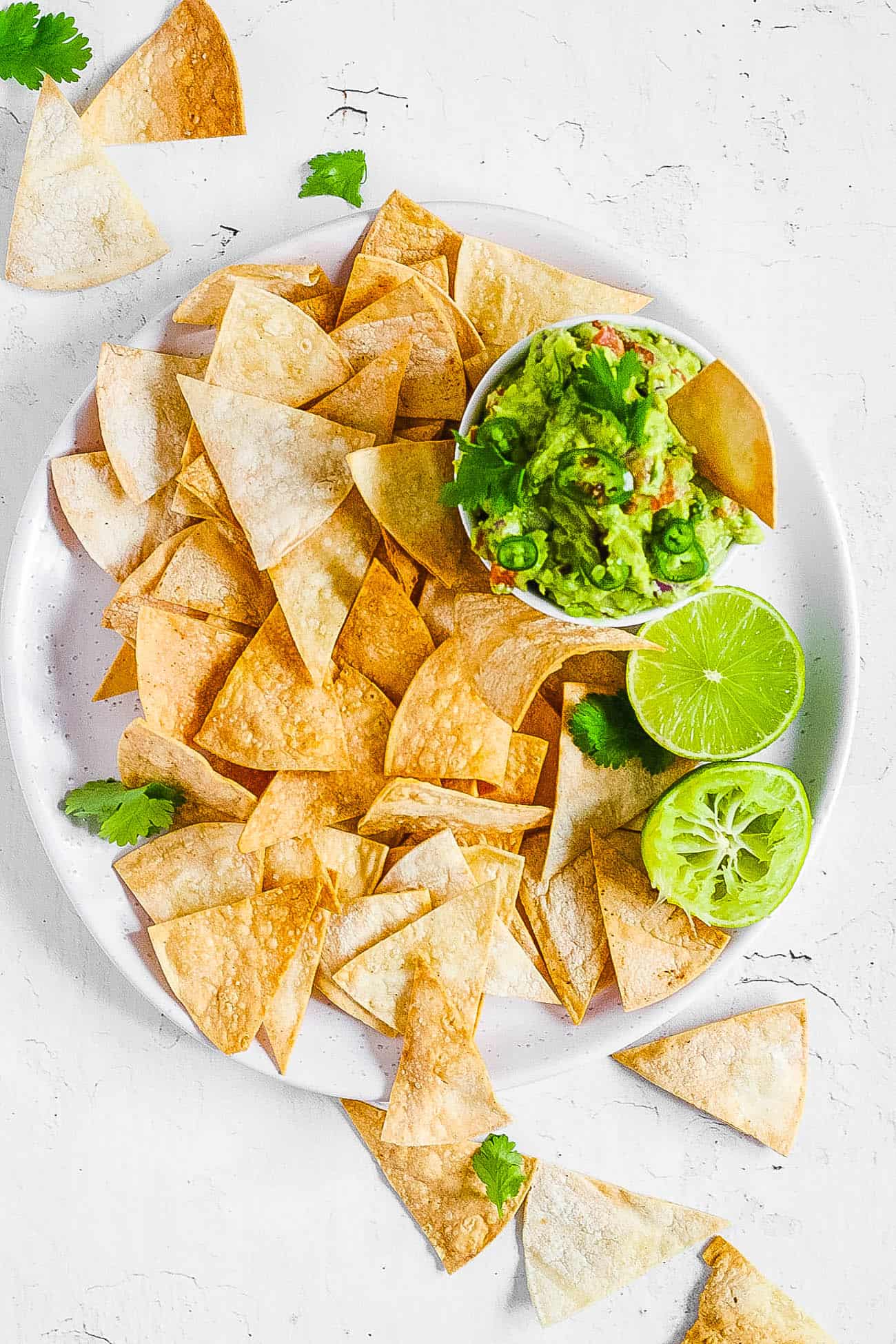 Rich with protein and healthy flavors, these chocolate truffles are sweetened with dates and great for breakfast or snacks. Pop these truffles in the freezer to enjoy later!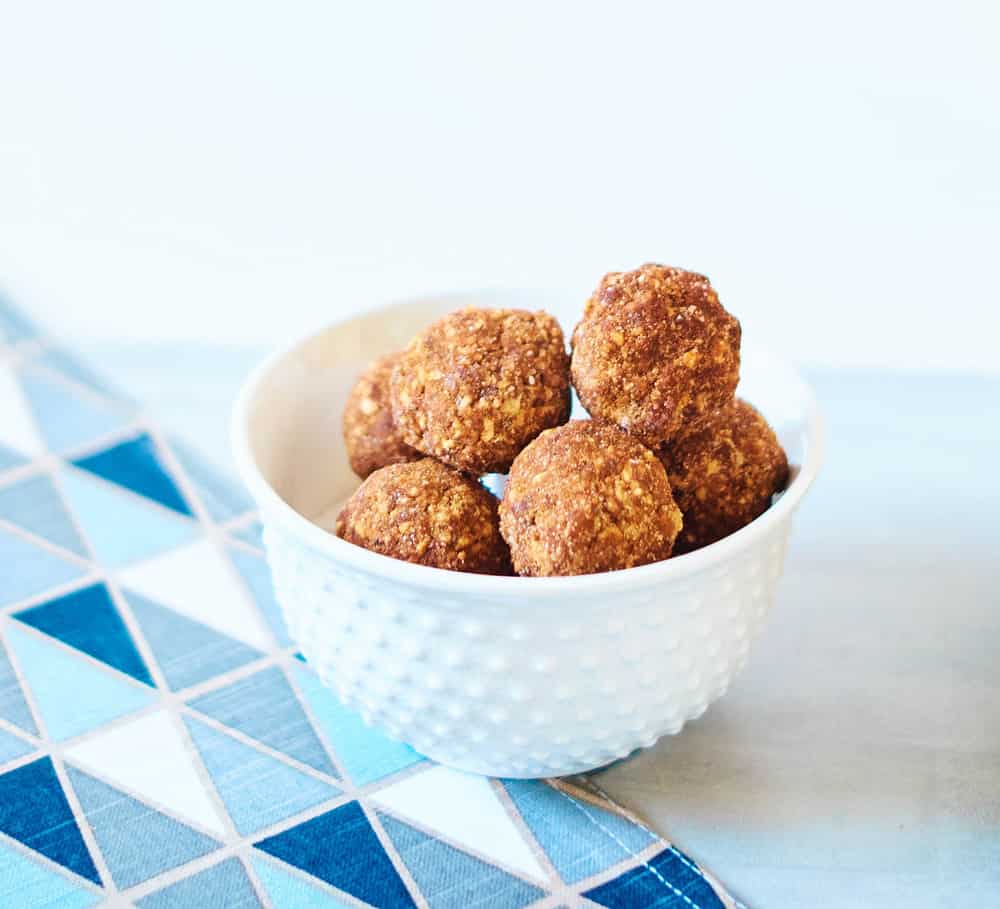 Make some servings of this gooey mug cake with either chocolate, vanilla, or peanut butter flavors. Mug cakes are great for whenever you don't want to make an entire cake!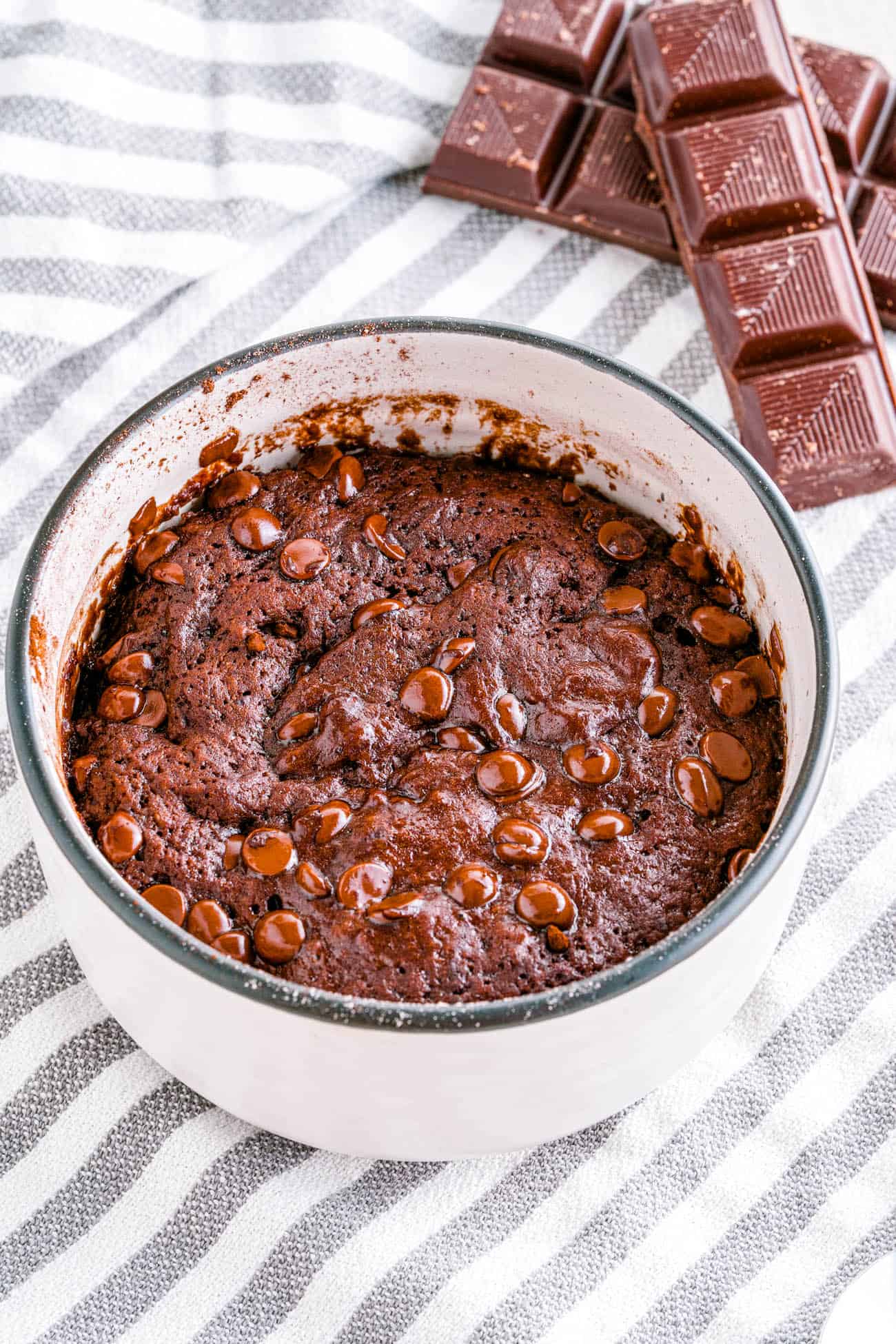 These freezer-friendly bars are no-bake and taste just like a homemade Lara bar. Chewy, sweet, and nutritious, these date bars are the perfect solutions to easy snacks and morning hunger!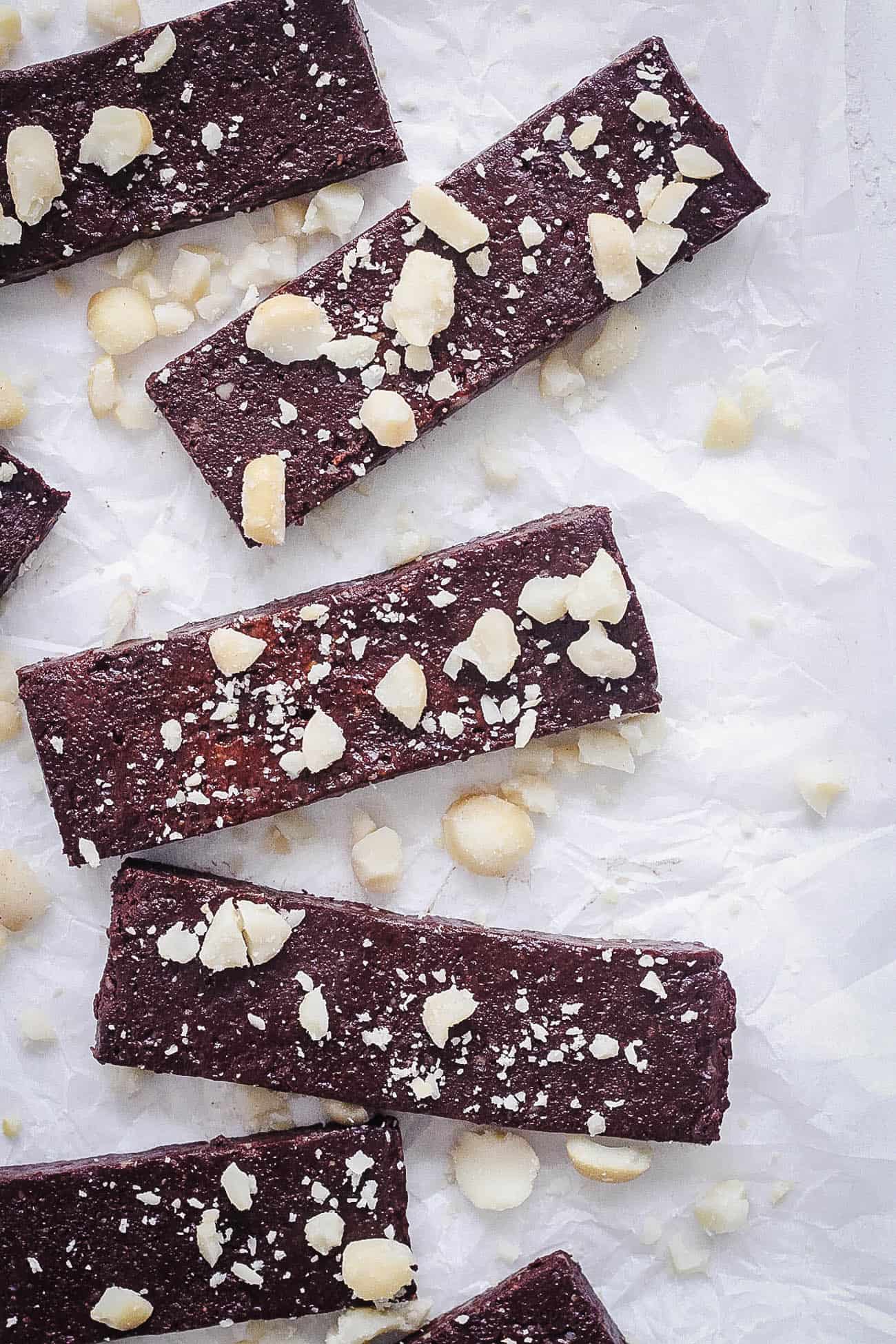 Frozen french fries are easy to prepare for meal prep whenever you are looking for something with minimal steps and ingredients. Just place these fries in the air fryer basket and cook until crispy!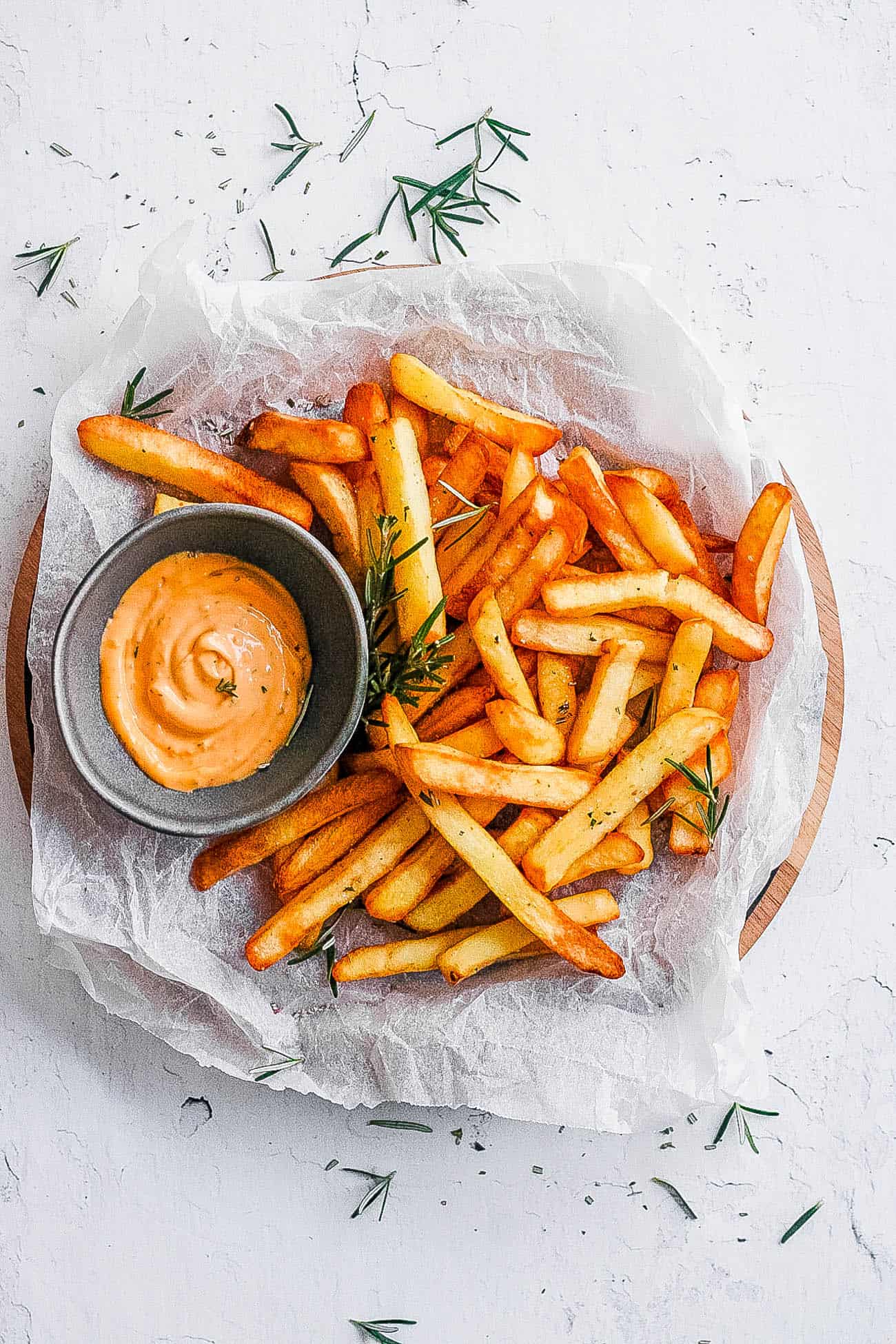 Soft chocolate banana muffins are delicious for breakfast and dessert and store well in the freezer. To make these muffins vegan, use melted coconut oil instead of the butter (as a 1:1 replacement), use 1 flax egg in place of the regular egg, and use unsweetened almond milk instead of regular milk. Make sure your chocolate chips are dairy-free as well.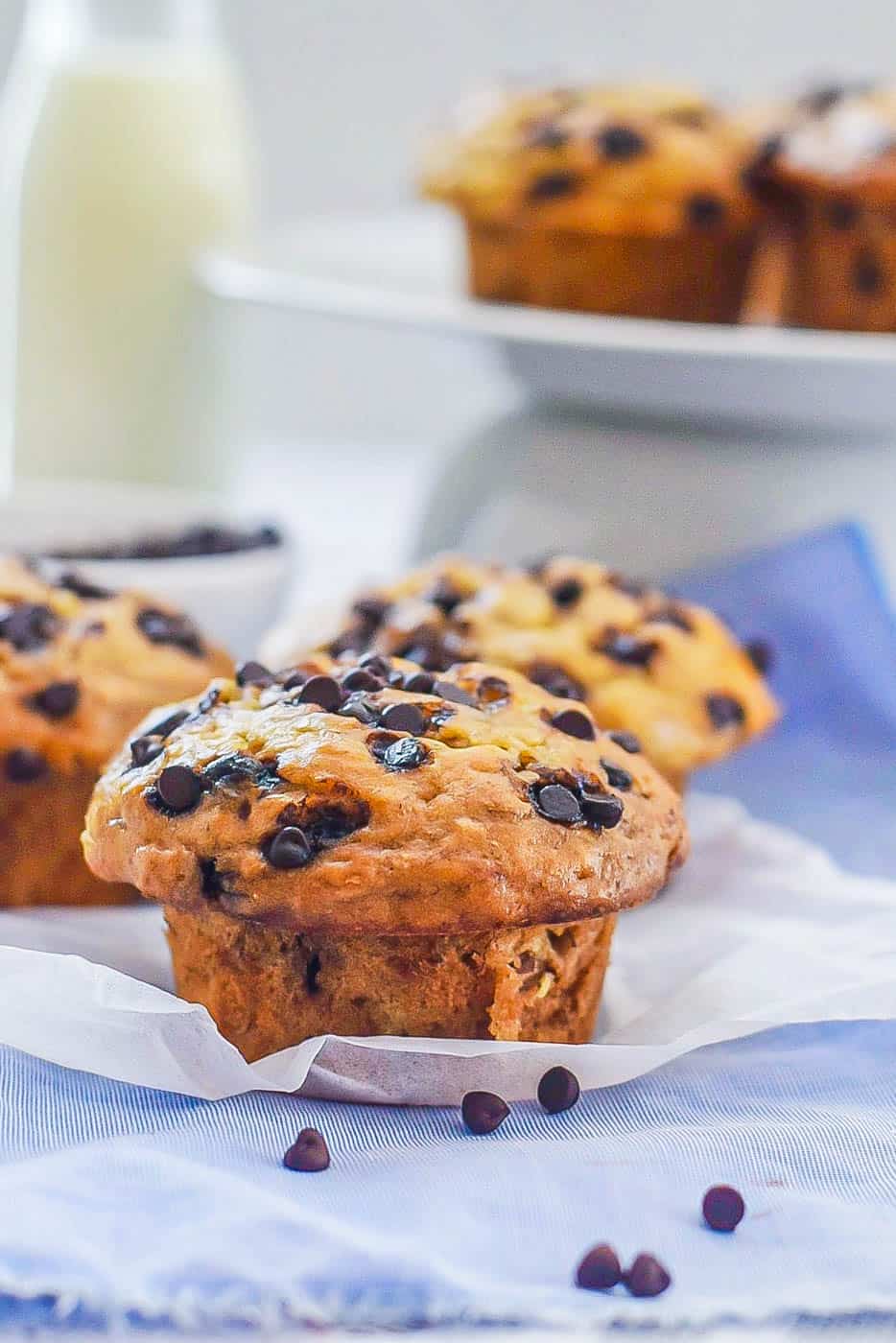 Filled with classic chocolate chip cookie flavors, these healthier cookies are easy to make and great for having on hand whenever you need something sweet.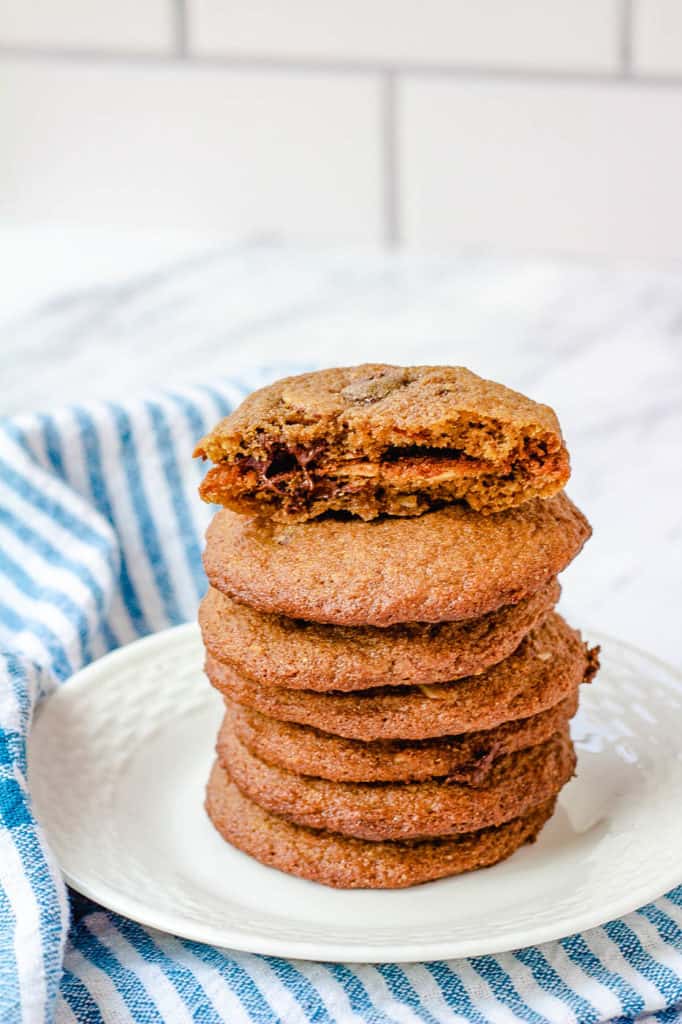 These healthy date balls are filled with protein and sweet flavors that are yummy and filling. Make a batch of these energy balls for meal prep!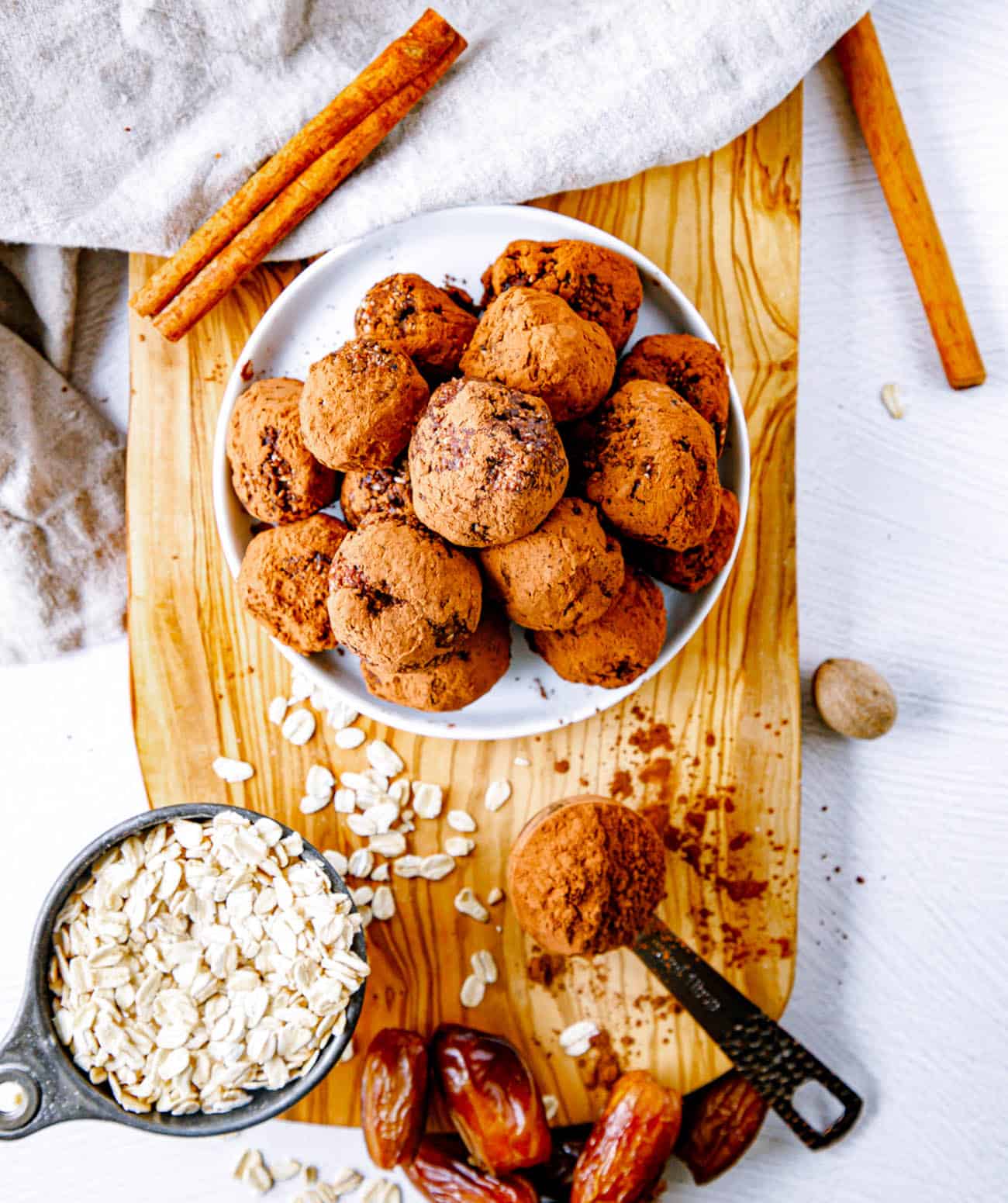 Making chocolate pudding at home is super easy and simple to store in the refrigerator to have for later. Rich with chocolate and creamy textures.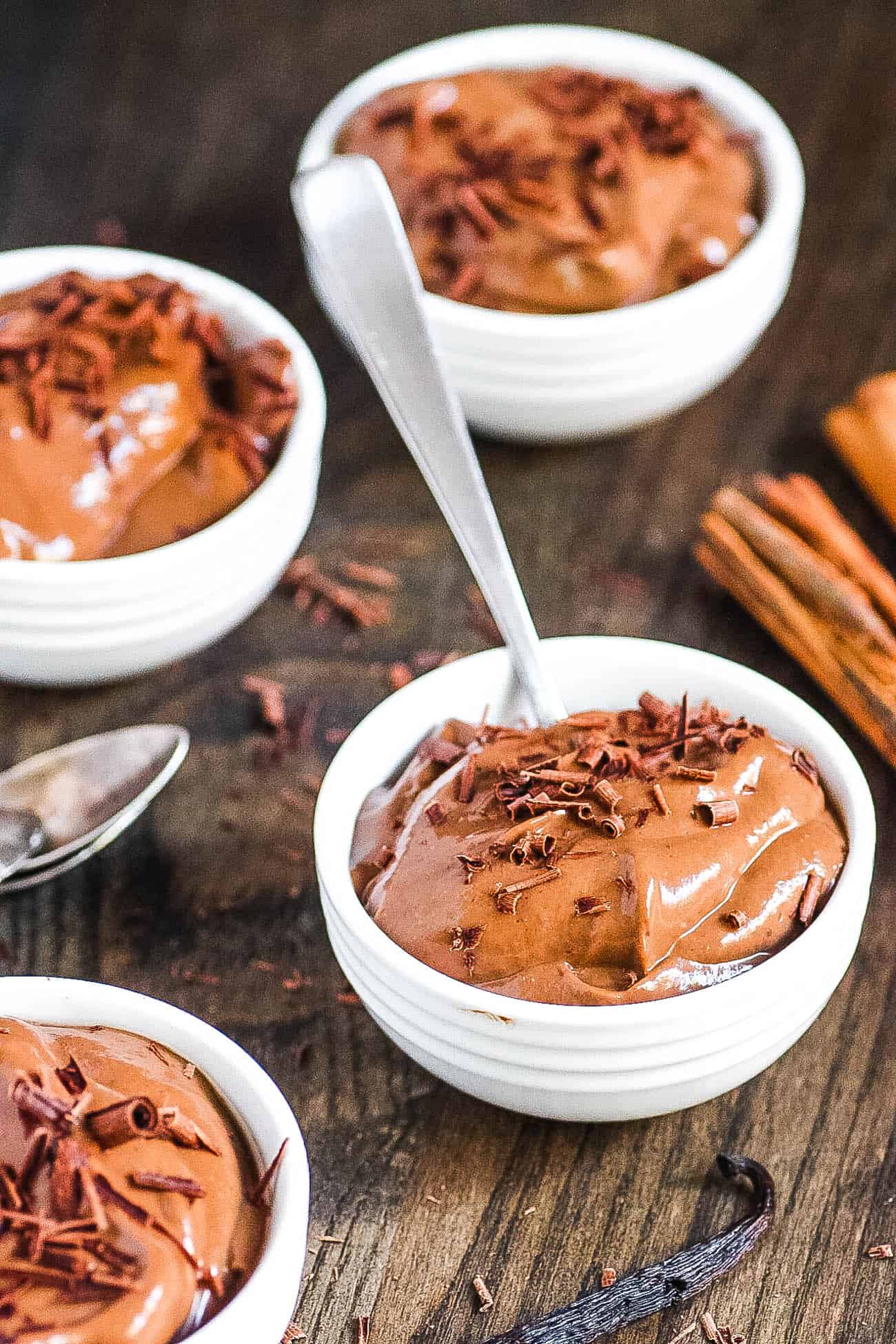 Assemble a bunch of s'mores at once and reheat them in the air fryer or oven to enjoy the deliciously warm and crispy flavors later.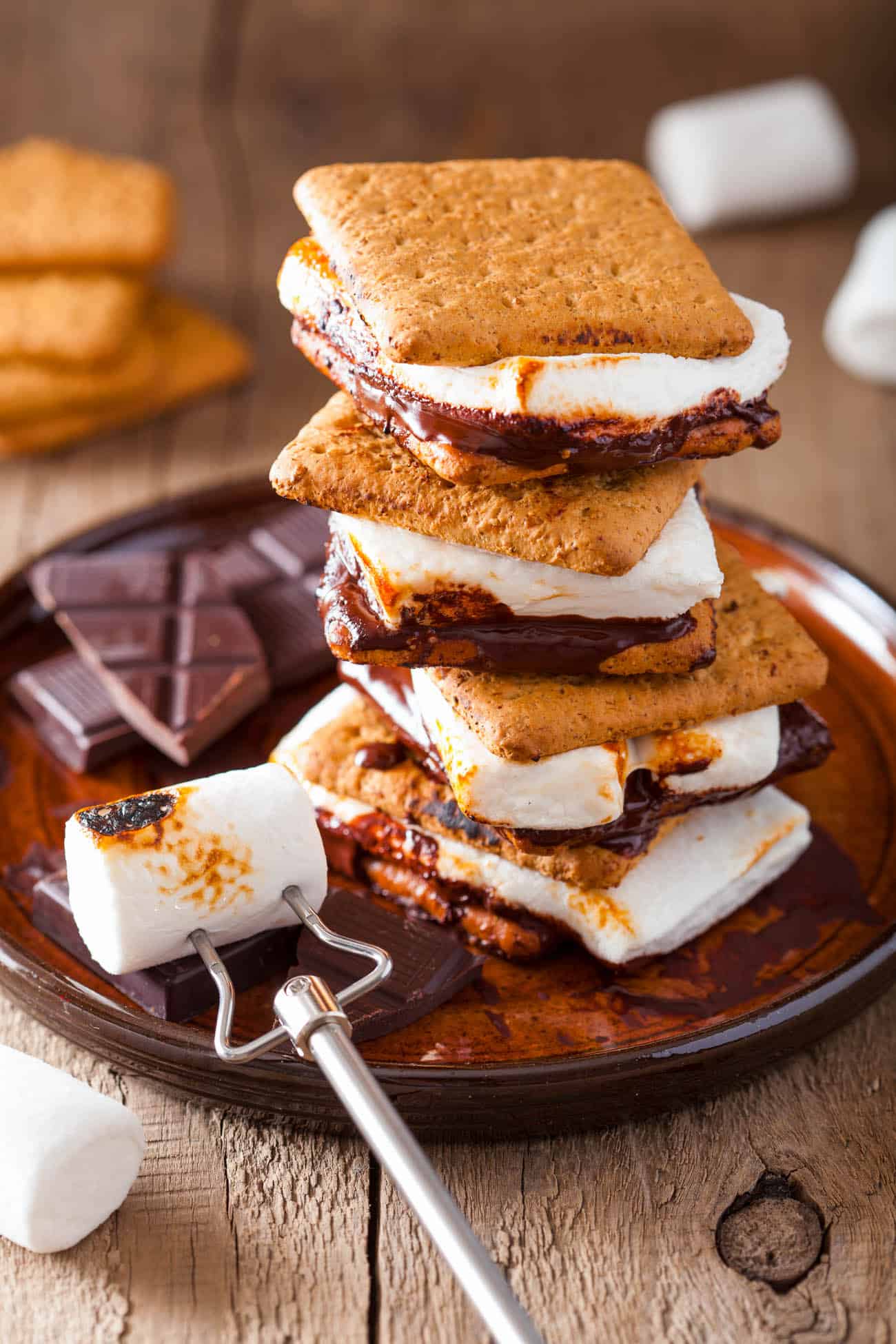 This guacamole recipe with made with edamame beans so it is naturally filled with healthy plant-based protein and flavors. You'll love this fresh dip!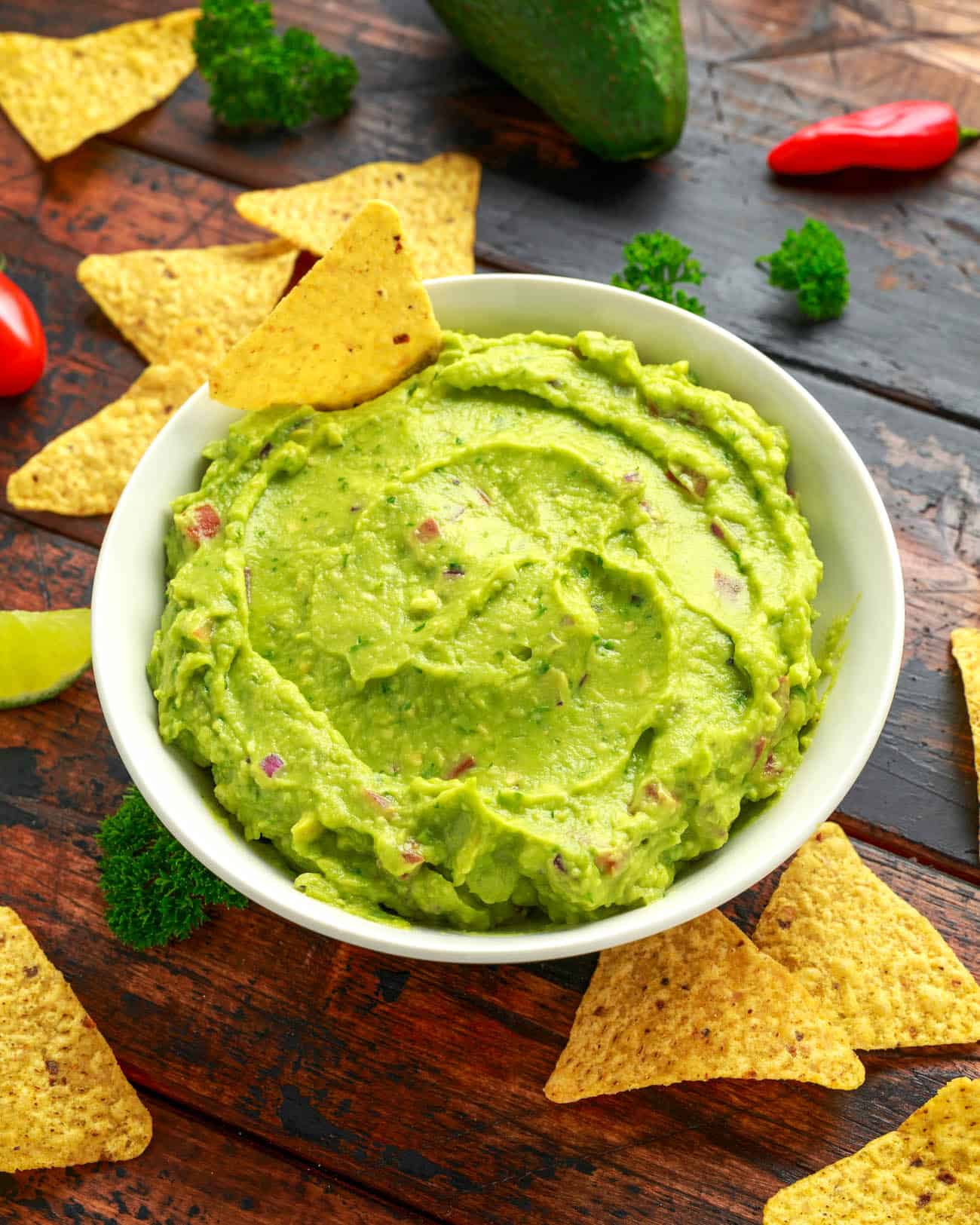 Sweet and fruity fresh flavors are filled in this Mexican fruit salad recipe. Tropical and bright, you will love this recipe because it is filled with the tastiest fruit out there!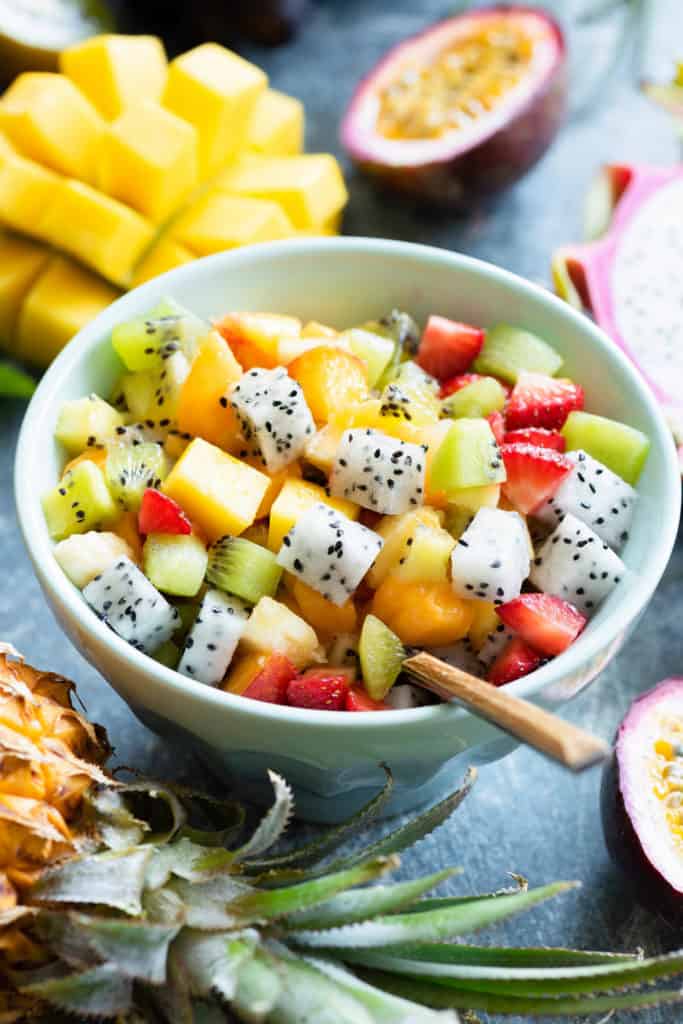 Crispy air fryer tofu is the best and is perfect to reheat for a healthy lunch or dinner throughout the week whenever you're wanting something simple and effortless. The vegan ranch is the best part!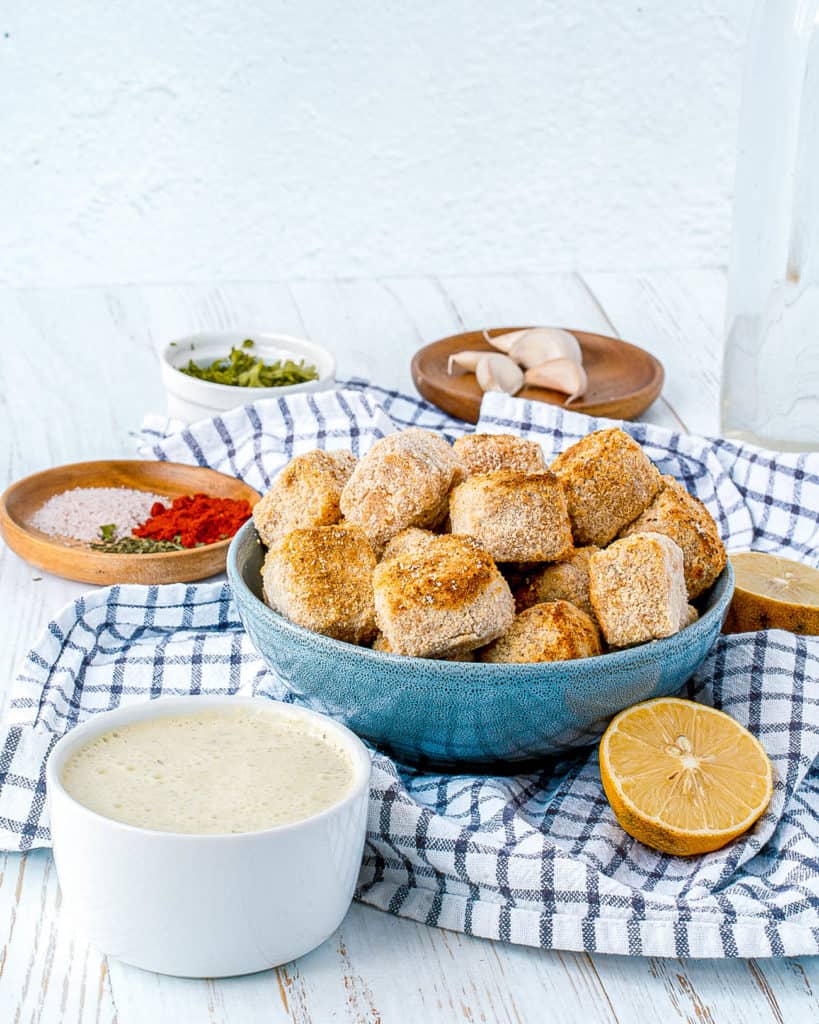 Spicy and bold, these cauliflower "wings" are made with cauliflower florets and filled with the best buffalo flavors. Make a large batch of this plant-based recipe whenever you need some extra heat. Serve with your favorite vegan blue cheese or vegan ranch from above.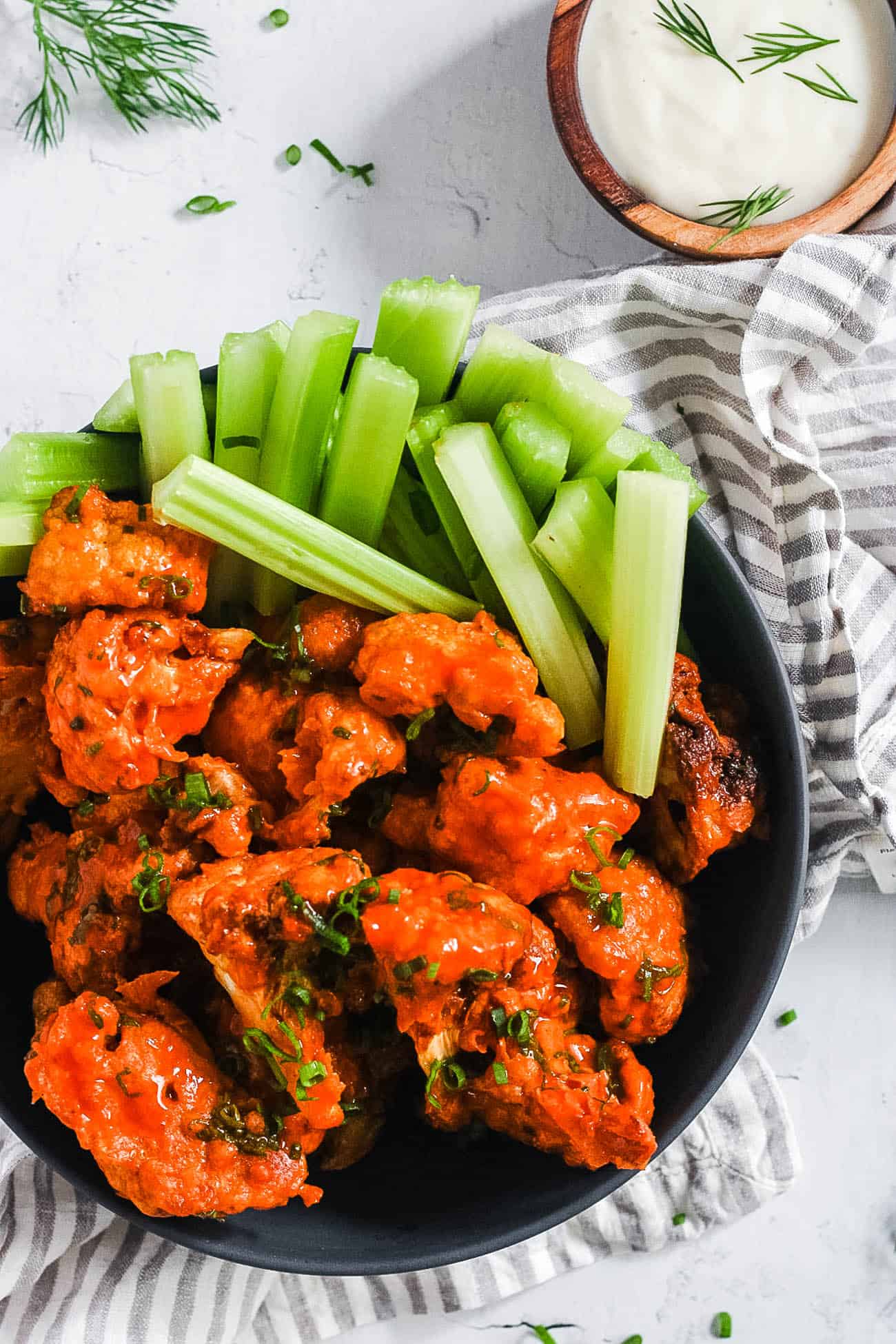 This creamy, sugar-free, chocolate mousse is healthier than your average chocolate recipe! Rich with protein, chocolate, nutty flavors, and fresh fruit, this healthy dessert is perfect to have on hand for whenever you need a late night snack.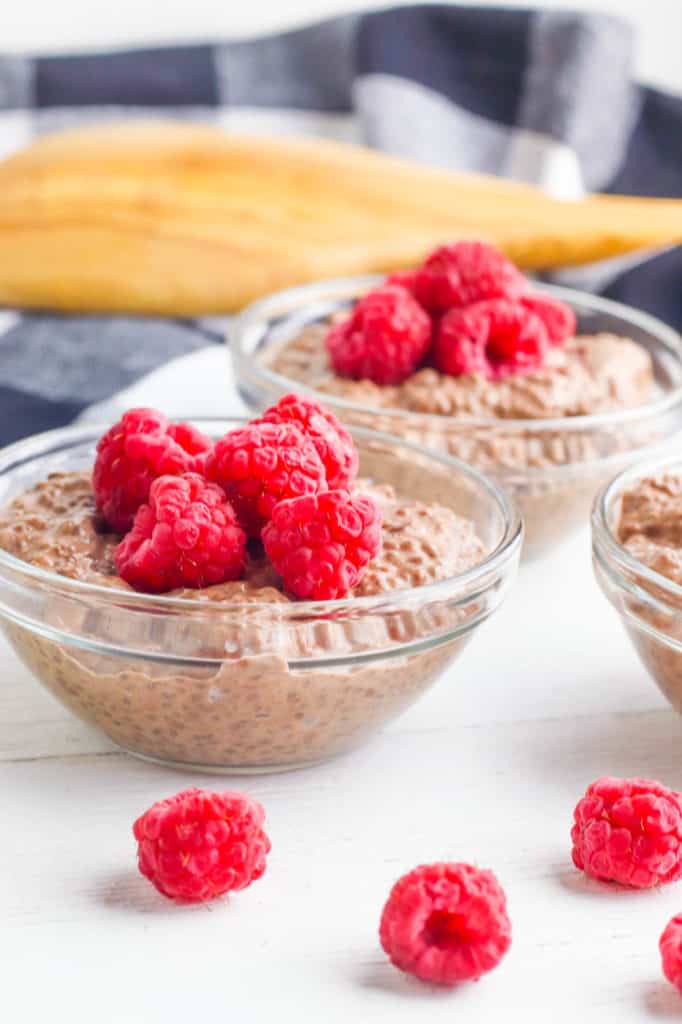 You'll never believe these fudgy brownies are made with black beans! These rich and chewy brownies are perfectly moist and simple to make. Use flax eggs to keep them vegan and freeze any leftovers in the freezer!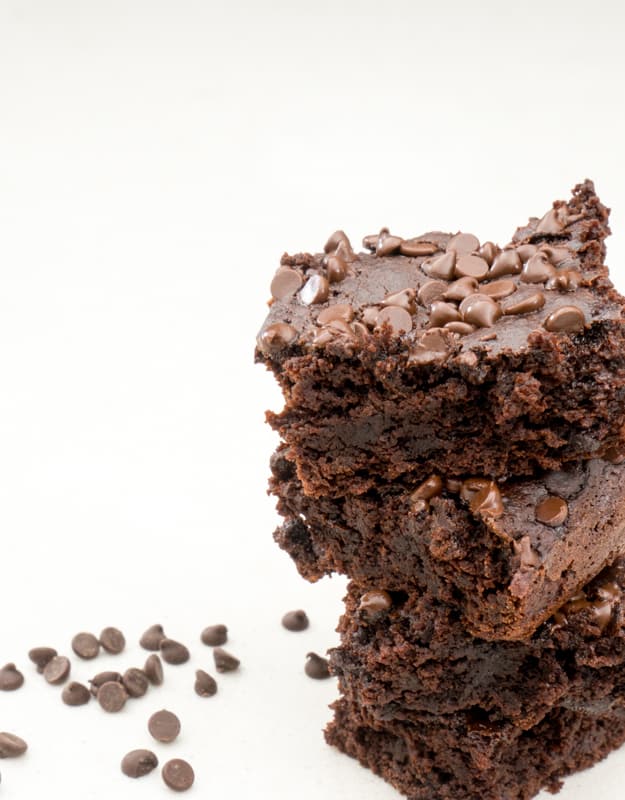 Nutty peanut butter balls are made with protein, oats, dairy-free chocolate chips, and a sweetener for healthy delicious flavors. Energy balls can be frozen and can last a week or two in the refrigerator!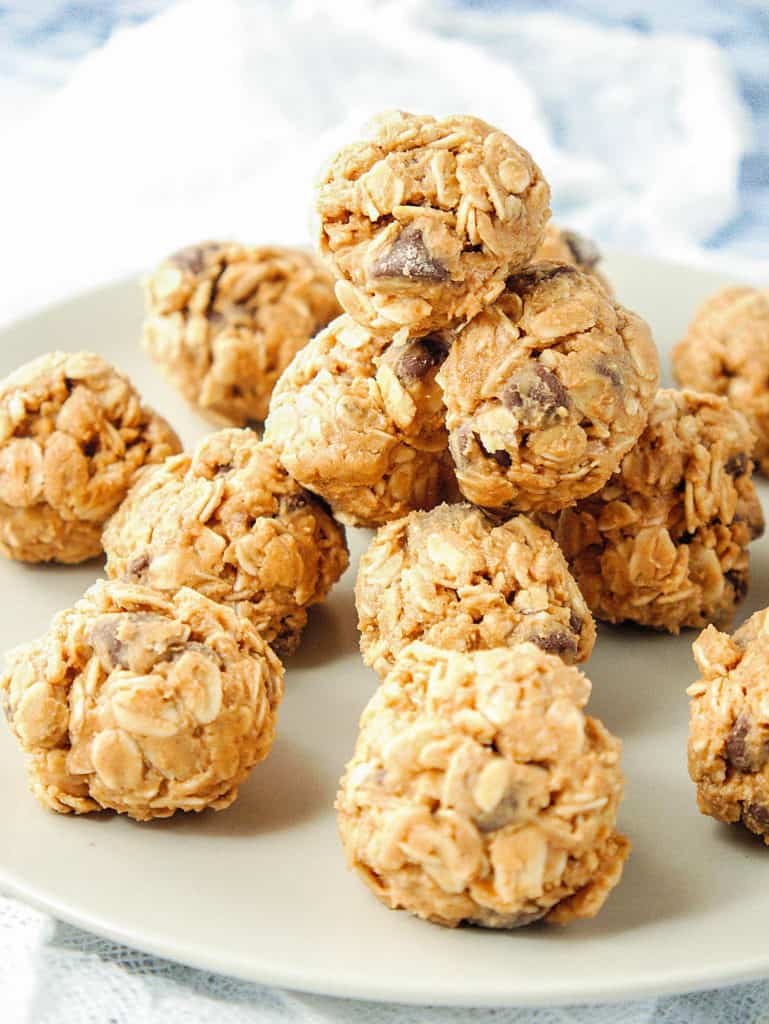 These oatmeal cookies are made with tahini and rich chocolate chips for a healthy cookie recipe! Tahini adds a bit of nutritional value to these cookies!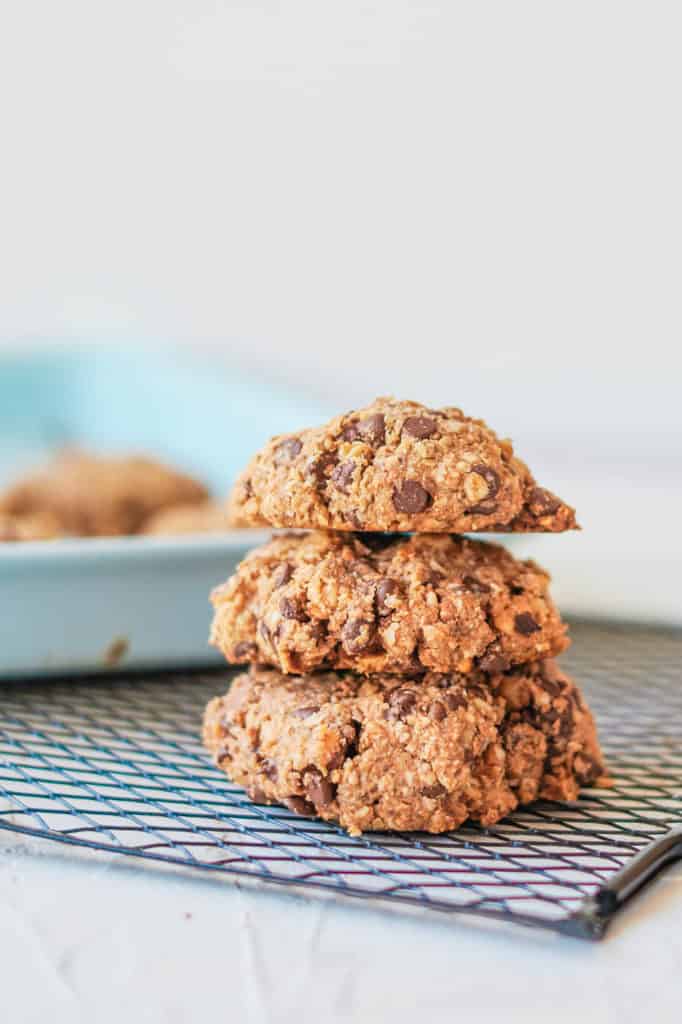 Chunky and fresh homemade guacamole is super easy to make and delicious with your favorite tortilla chips and veggies! You can keep a batch of guacamole in the refrigerator for only two to three days to be sure to quickly enjoy it!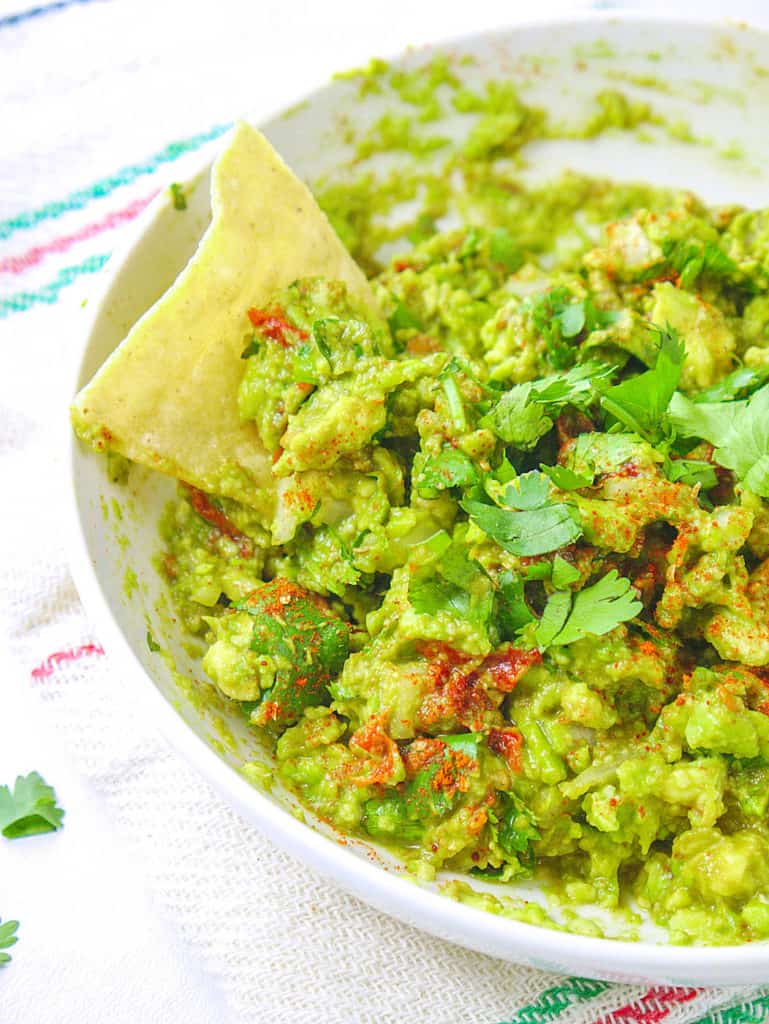 Tater tots are the perfect snacks for those who love potatoes and want something simple. Perfectly crispy and fluffy, these potato puffs are great for making in bulk to reheat throughout the week.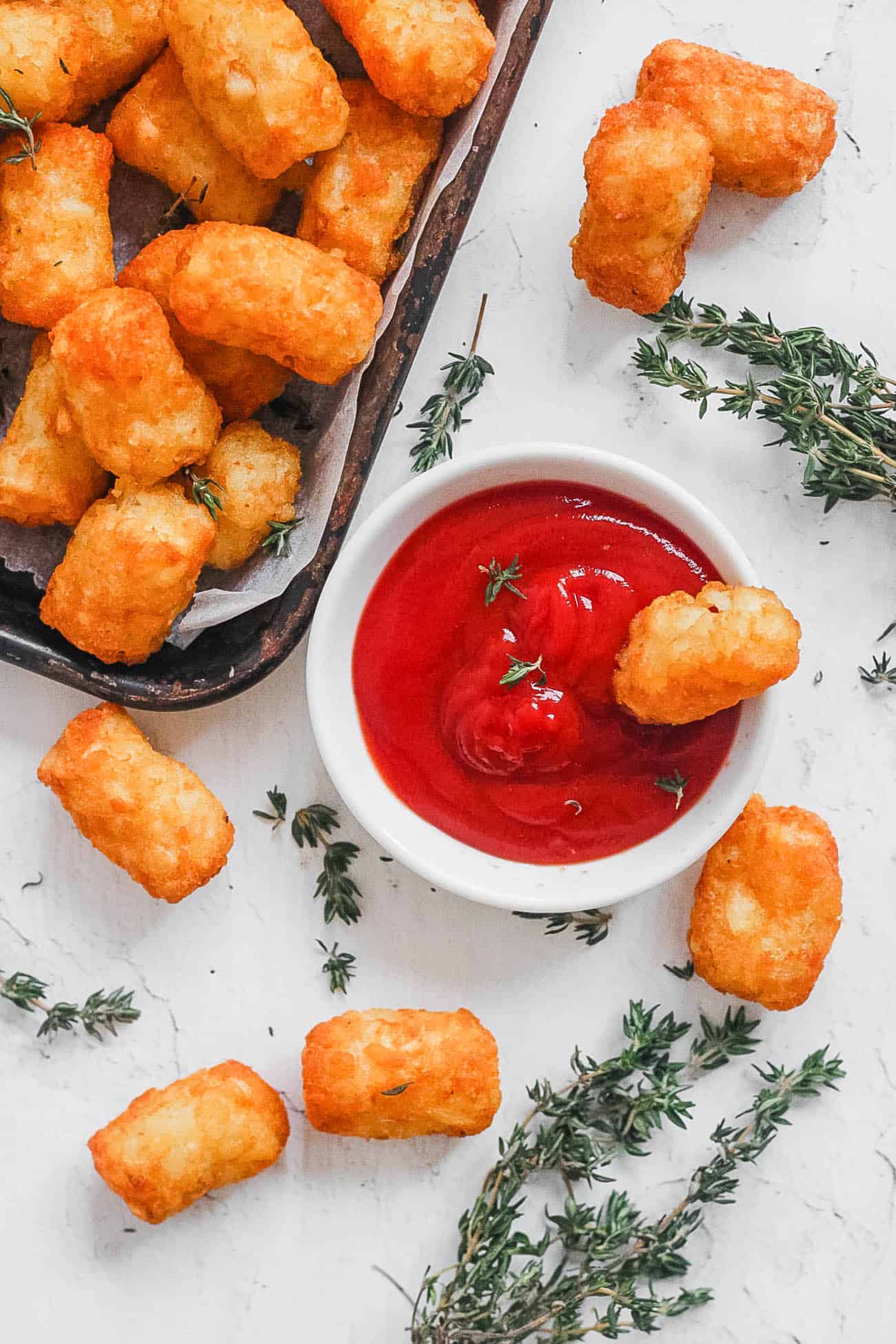 Quinoa cakes made with black beans are full of protein and a great gluten-free option for lunch or dinner. Omit the feta for vegan quinoa cakes or use your favorite vegan feta cheese. You can enjoy these quinoa cakes in several ways throughout the week!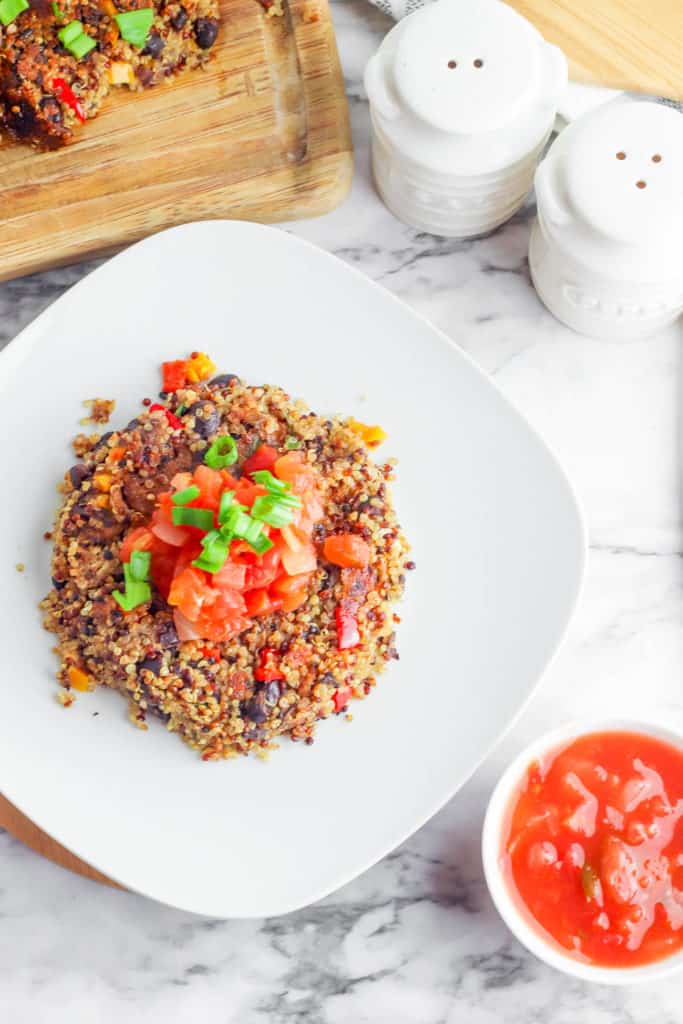 Fresh grape salad is perfect for meal prep! Use maple syrup in place of the honey and leave the cheese out for a vegan grape salad recipe. You can enjoy grape salad for breakfast, snack, lunch, or even dessert.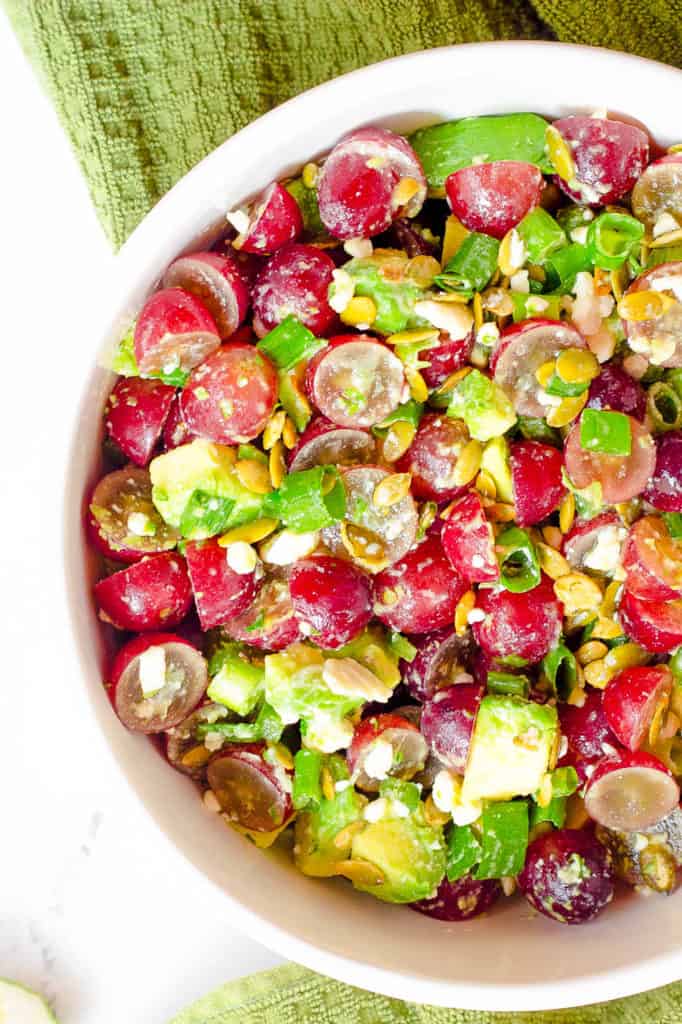 Fluffy masked potato cakes are easy to make with kale and onions. If you have leftover mashed potatoes, then you can easily turn them into potato cakes! Be sure to use dairy-free ingredients to keep them vegan!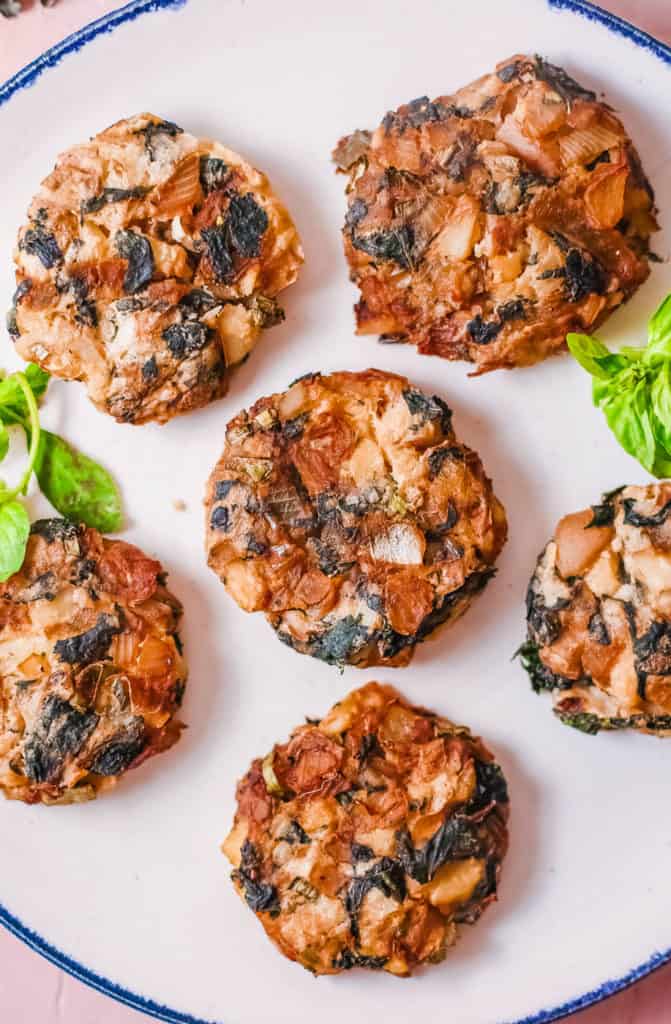 Lunch And Dinner Vegan Meals For Meal Prep
Tender baked asparagus is a great healthy option to keep on hand in the refrigerator. Crunchy and flavorful, fresh asparagus is filled with lots of nutrients and plant power your body loves! Use vegan parmesan cheese or leave it off entirely.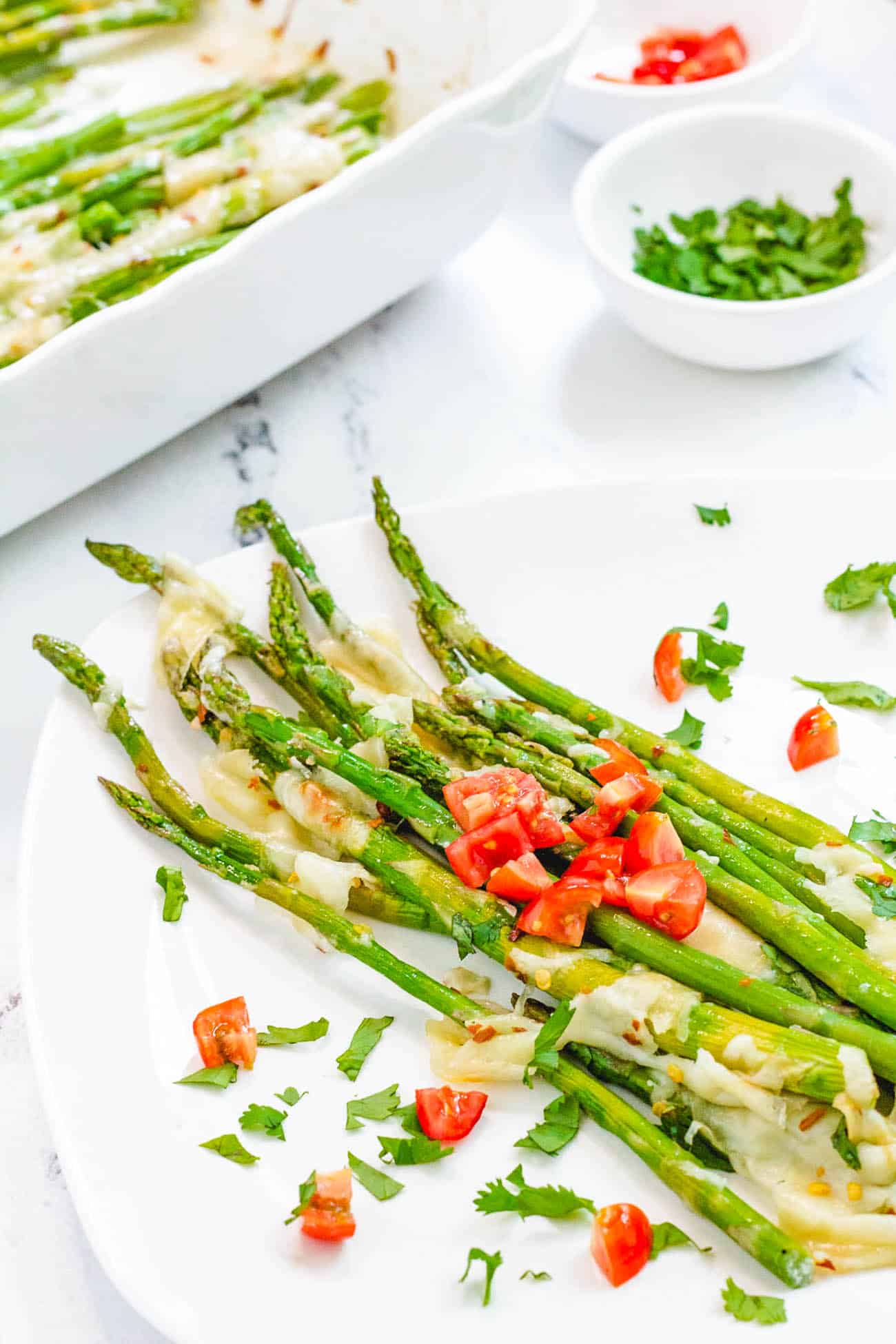 This light and creamy mushroom soup is made without cream but with milk instead. Use your favorite dairy-free milk for this tasty and aromatic soup filled with chunks of tender earthy mushrooms. Freezer-friendly, too!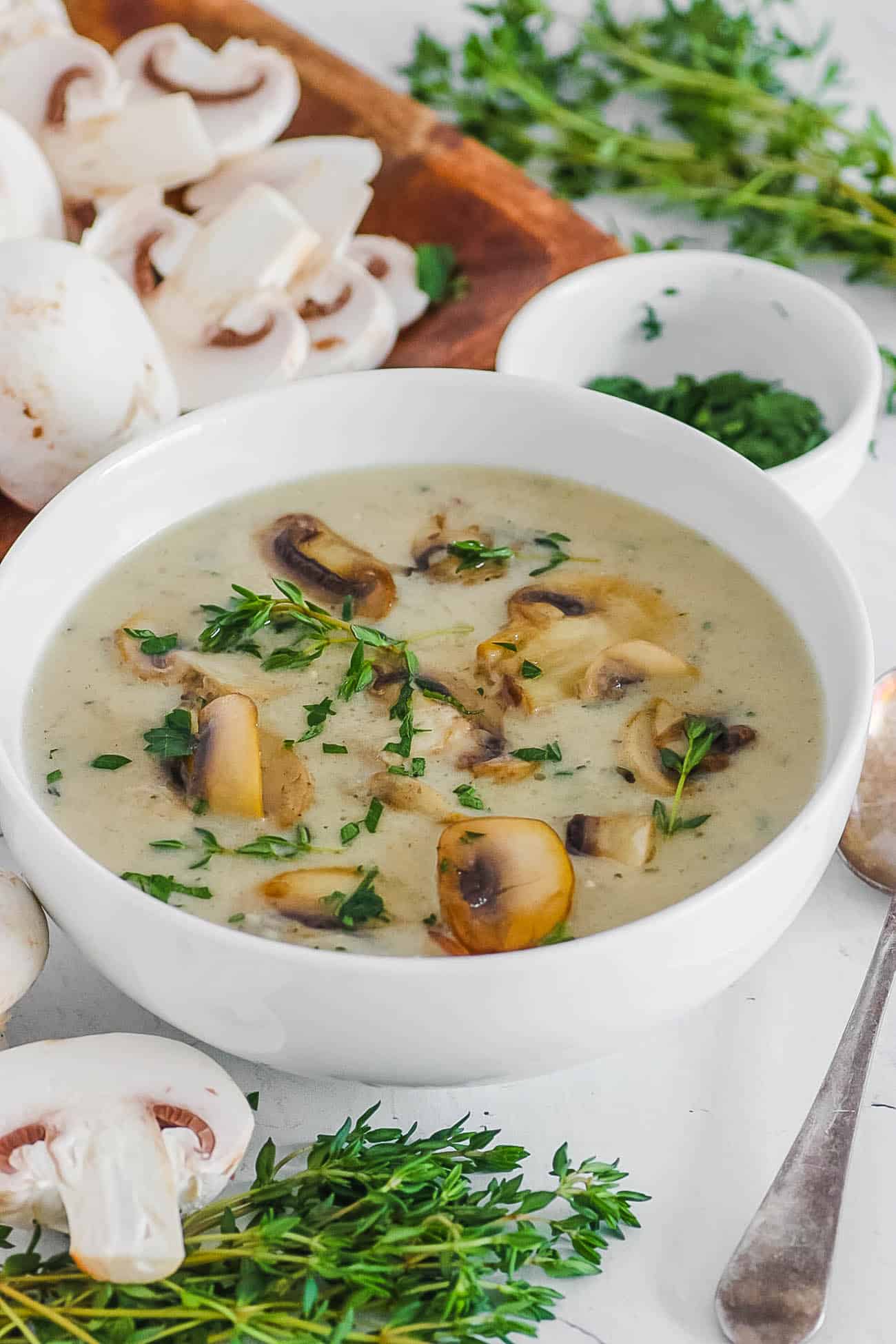 The pizza lovers out there will love this gluten-free zucchini recipe. Prepare the zucchini ahead of time and assemble the boats just before serving to prevent the zucchini from getting soggy. Use vegan mozzarella cheese!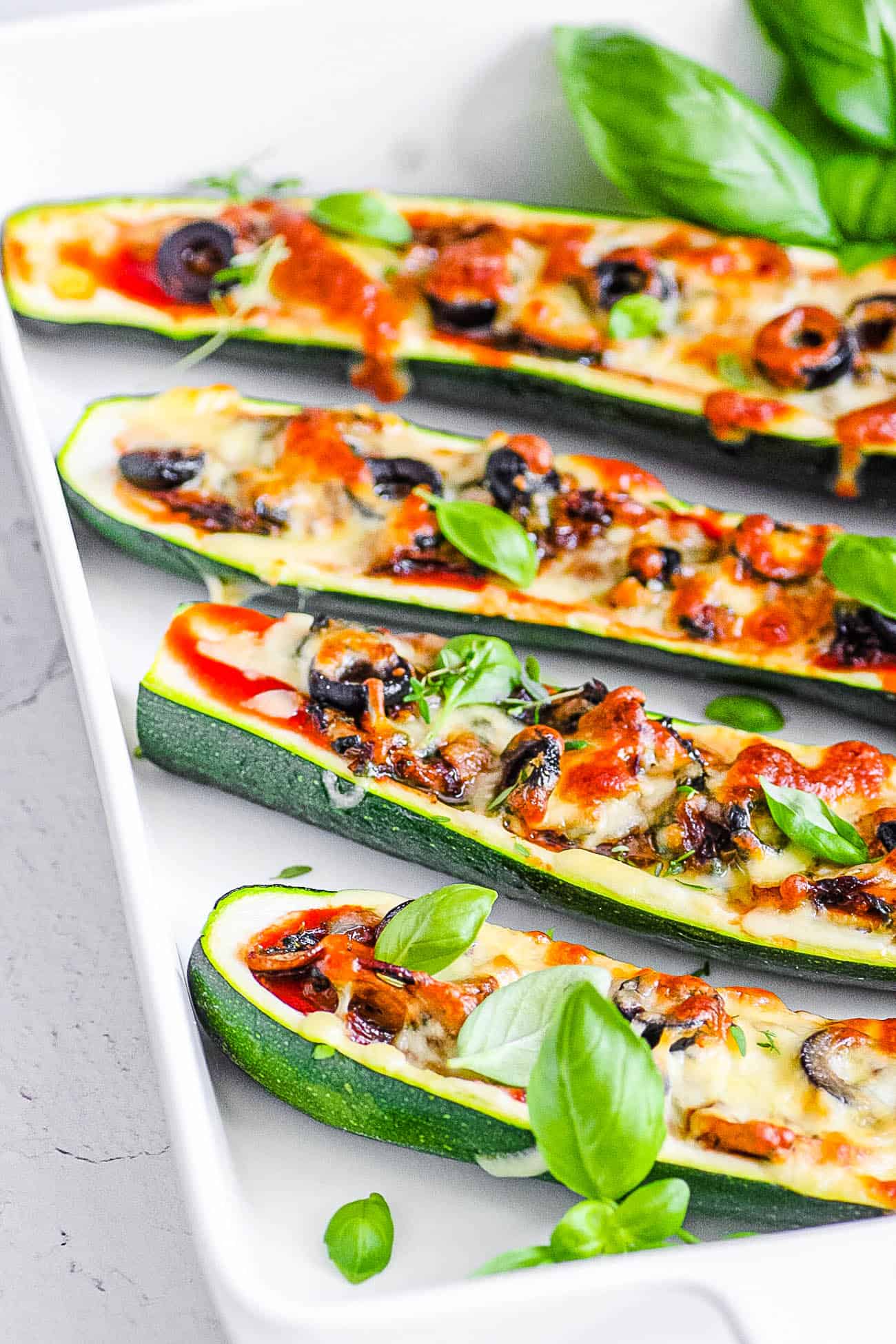 This sugar-free marinara sauce is great to have on hand in the refrigerator for all of your favorite vegan pizza and pasta recipes. Made with fresh tomatoes and herbs, this robust and flavorful tomato sauce is the best and freezes well, too!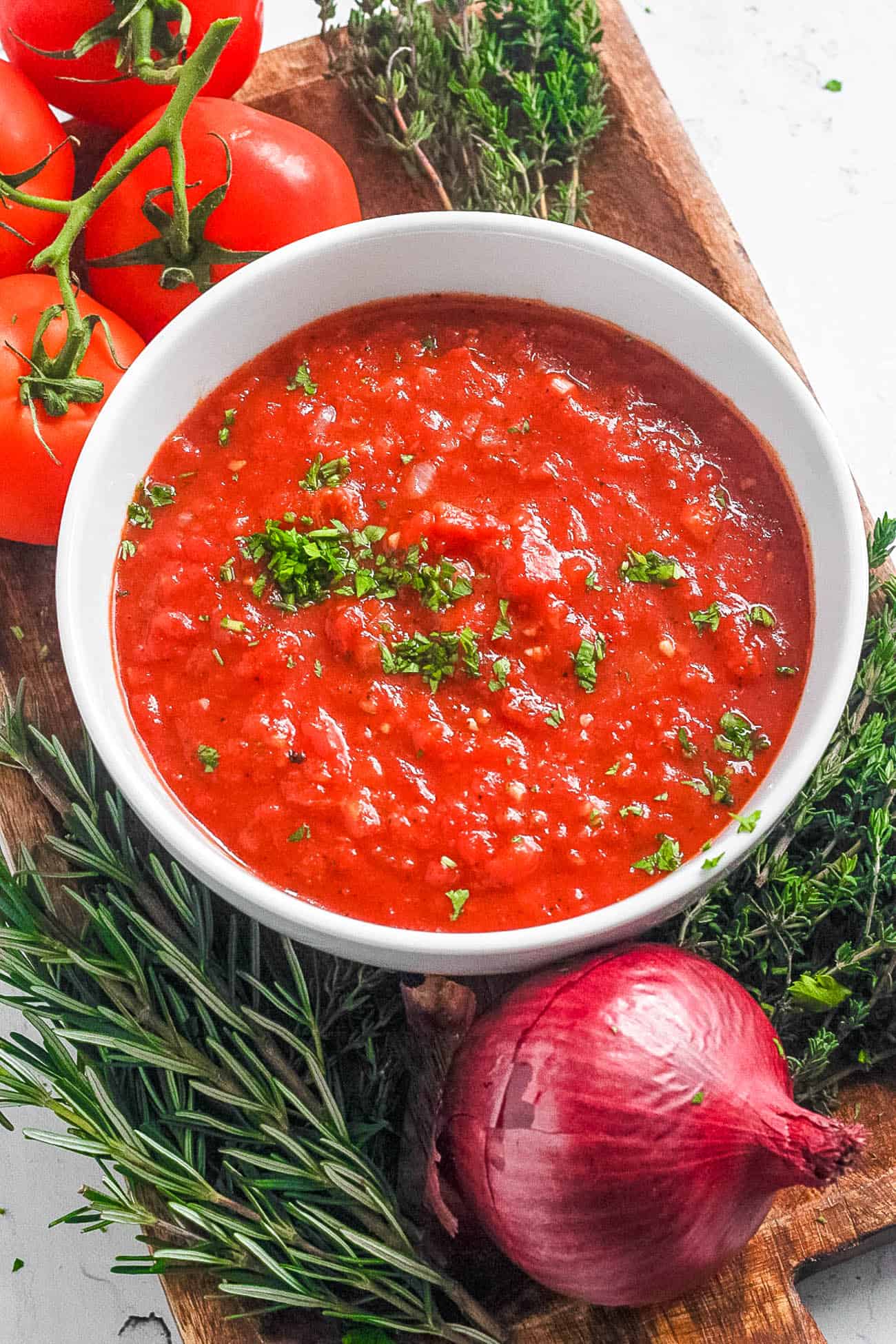 Crunchy colorful vegetables such as green beans, corn, carrots, and peas are mixed with warm Indian spices that deliver so much flavor. Cooked vegetables are great to make for meal prep because you can serve them with a variety of things such as brown rice, tortillas, soups, casseroles, or just by themselves.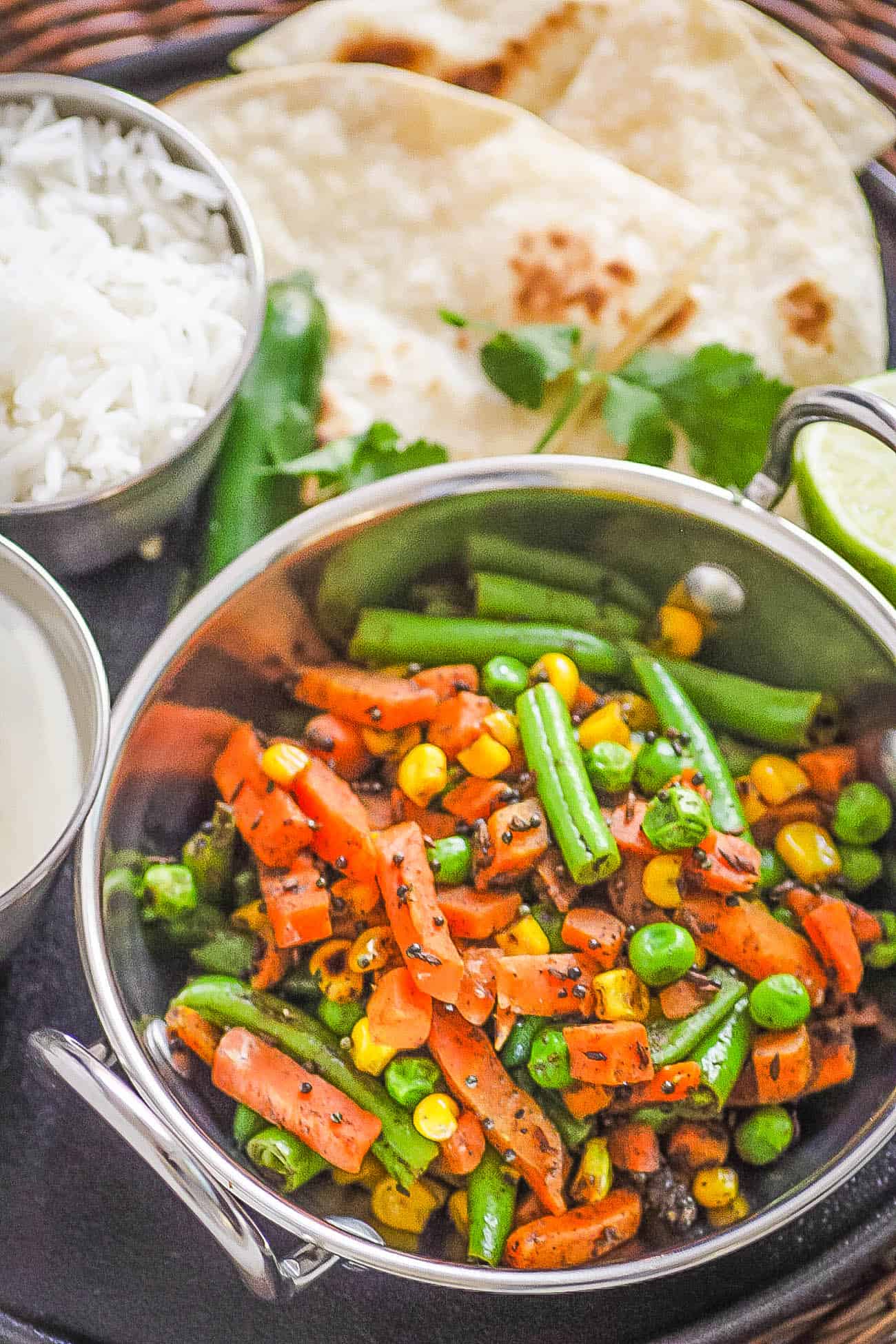 This pumpkin and sweet potato is creamy and sweet and so easy to make. Vibrant and healthy, this soup is loaded with fresh ingredients and great for storing in the freezer for later.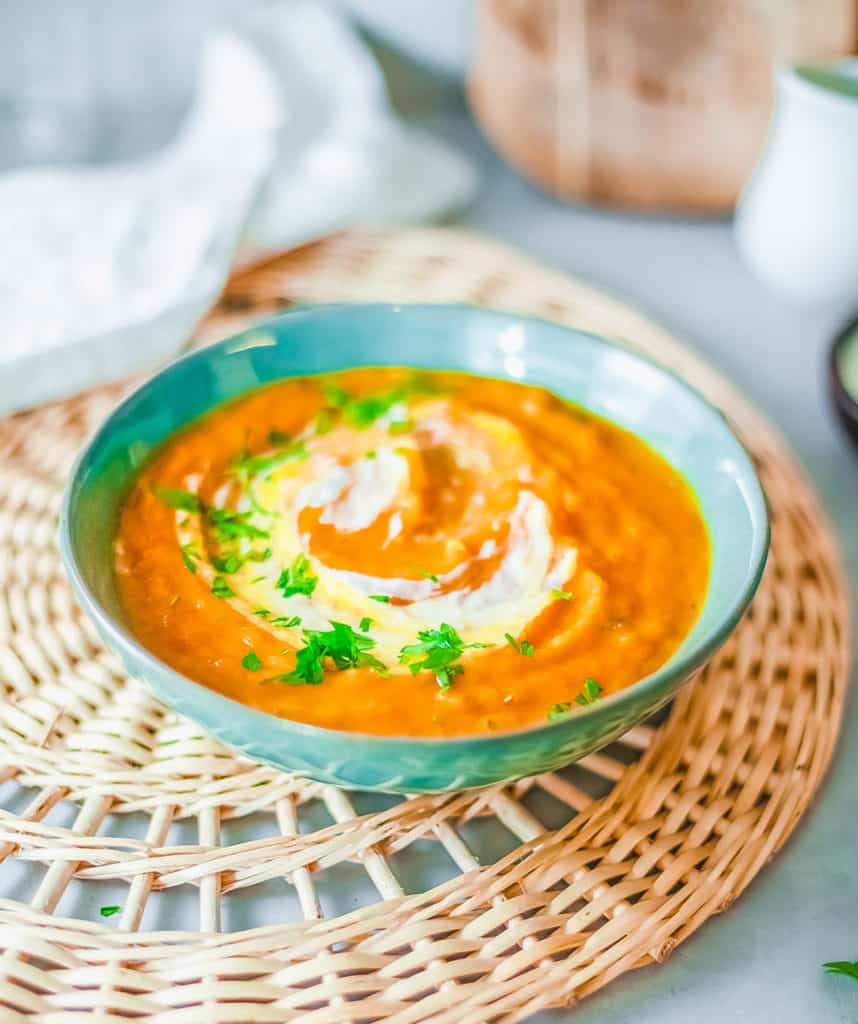 Instant Pot broccoli and cheddar soup is a classic soup recipe that is just so nourishing and comforting! Use vegan cheddar and almond or coconut milk in place of the heavy cream to keep it 100% vegan. Soups are great for freezing so you can easily freeze this soup, too!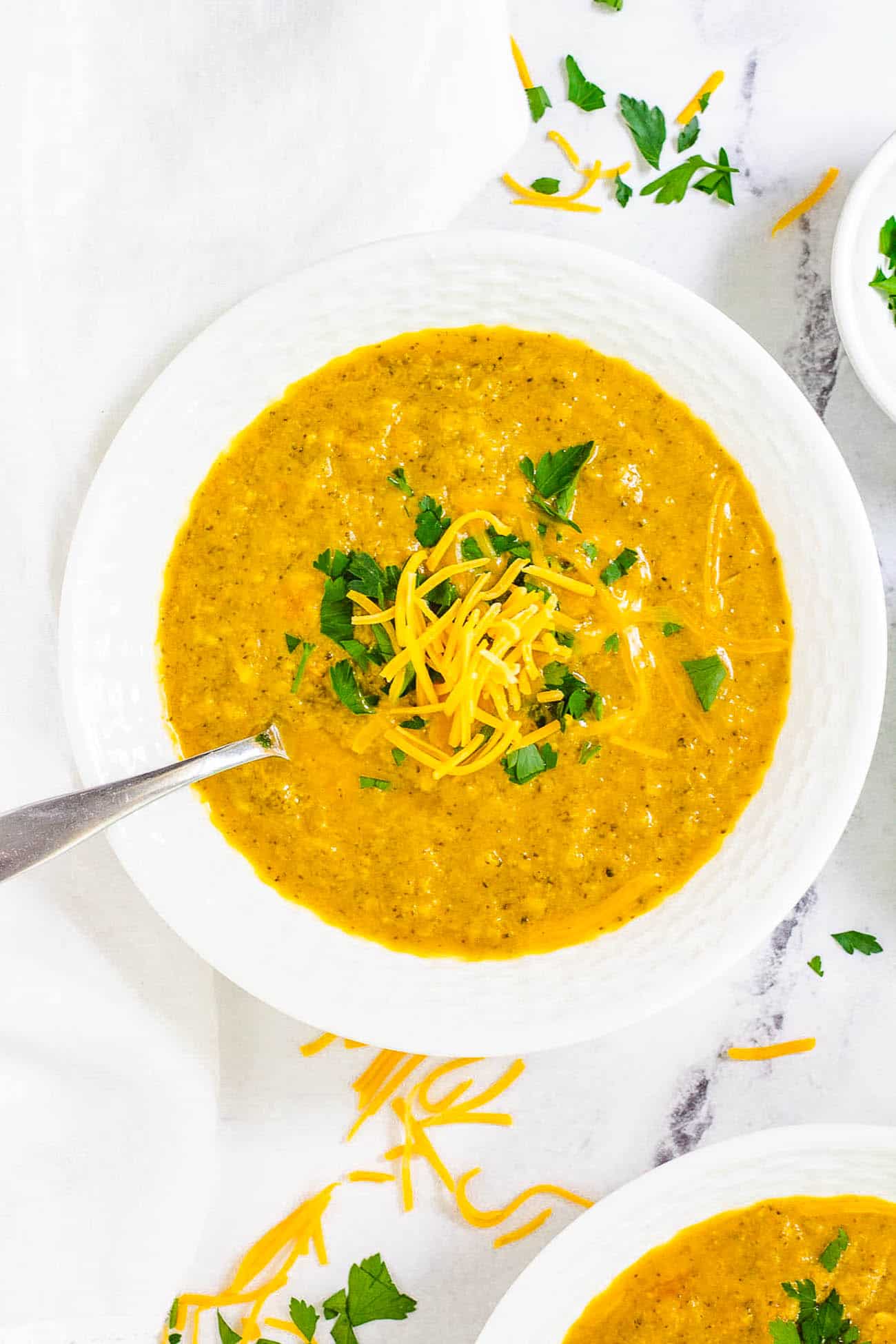 This recipe is filled with healthy plant protein, loaded with yummy Mexican flavors, and filled with spices like cumin and chili powder! Use vegan sour cream or yogurt for this yummy casserole and enjoy the leftovers because they are even more delicious.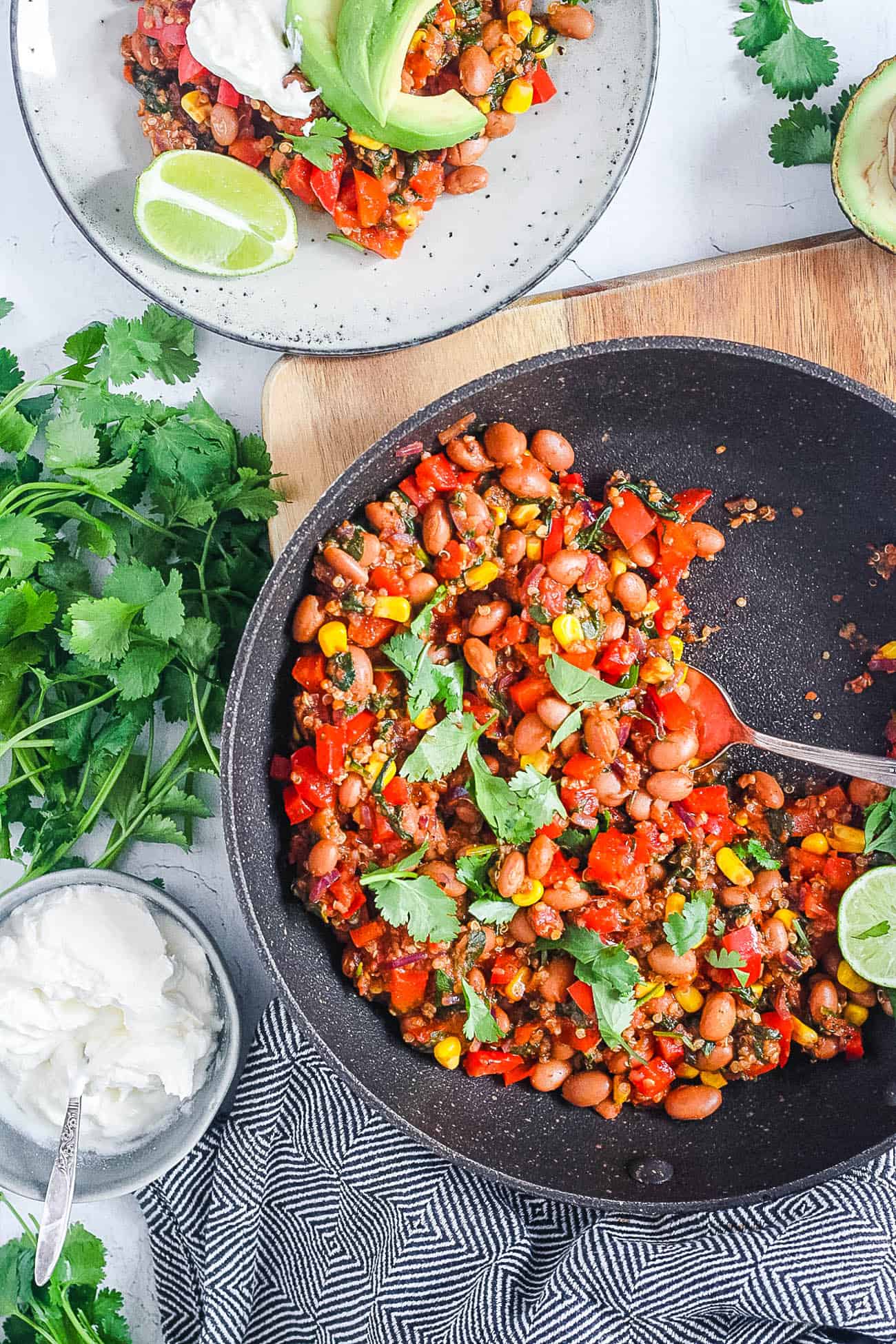 Sweet butternut squash is filled with warm curry flavors that are balanced with a nutty sweetness. Butternut squash is easy to make in bulk and great for the leftovers, too.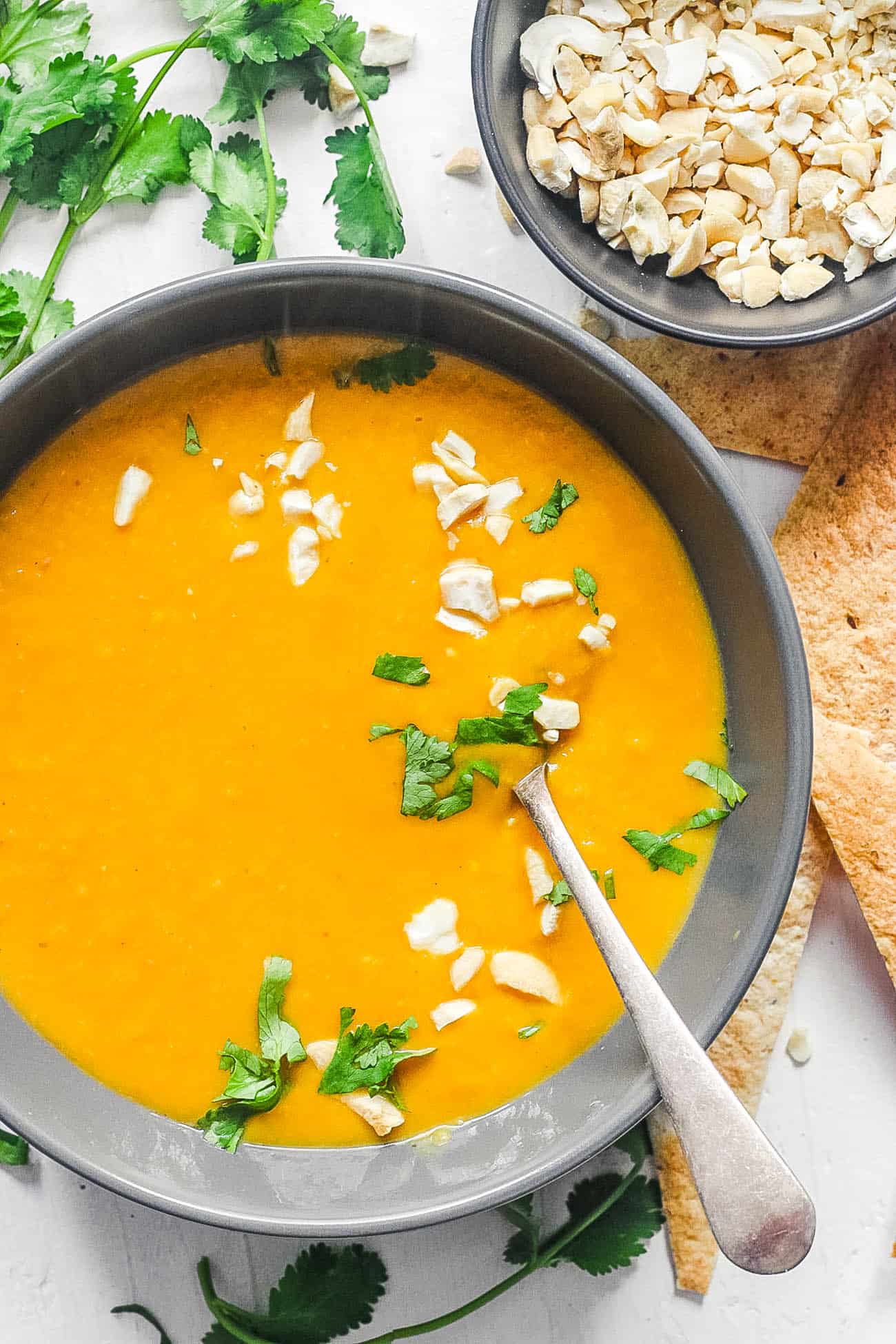 This classic tomato soup recipe is hearty, great for cold weather, and perfect with a vegan grilled cheese or vegan garlic bread. Use unsweetened coconut milk for the cream and be sure to freeze any leftovers. This soup is a must!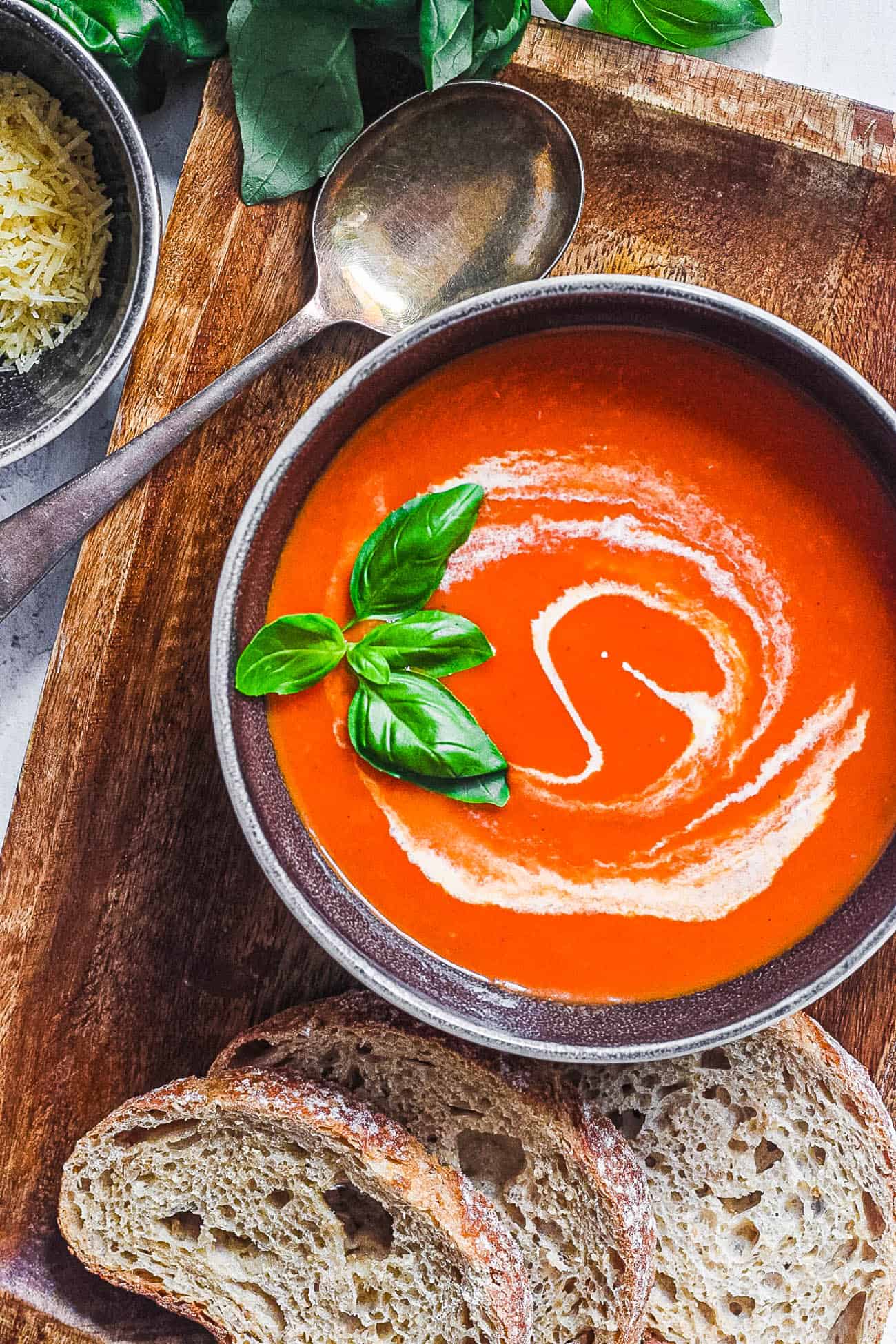 Fresh pesto pasta is made with bright basil and is the perfect option for an easy lunch or dinner. Pasta recipes are great for making in bulk because the leftovers are so tasty! Use vegan cheeses or omit entirely.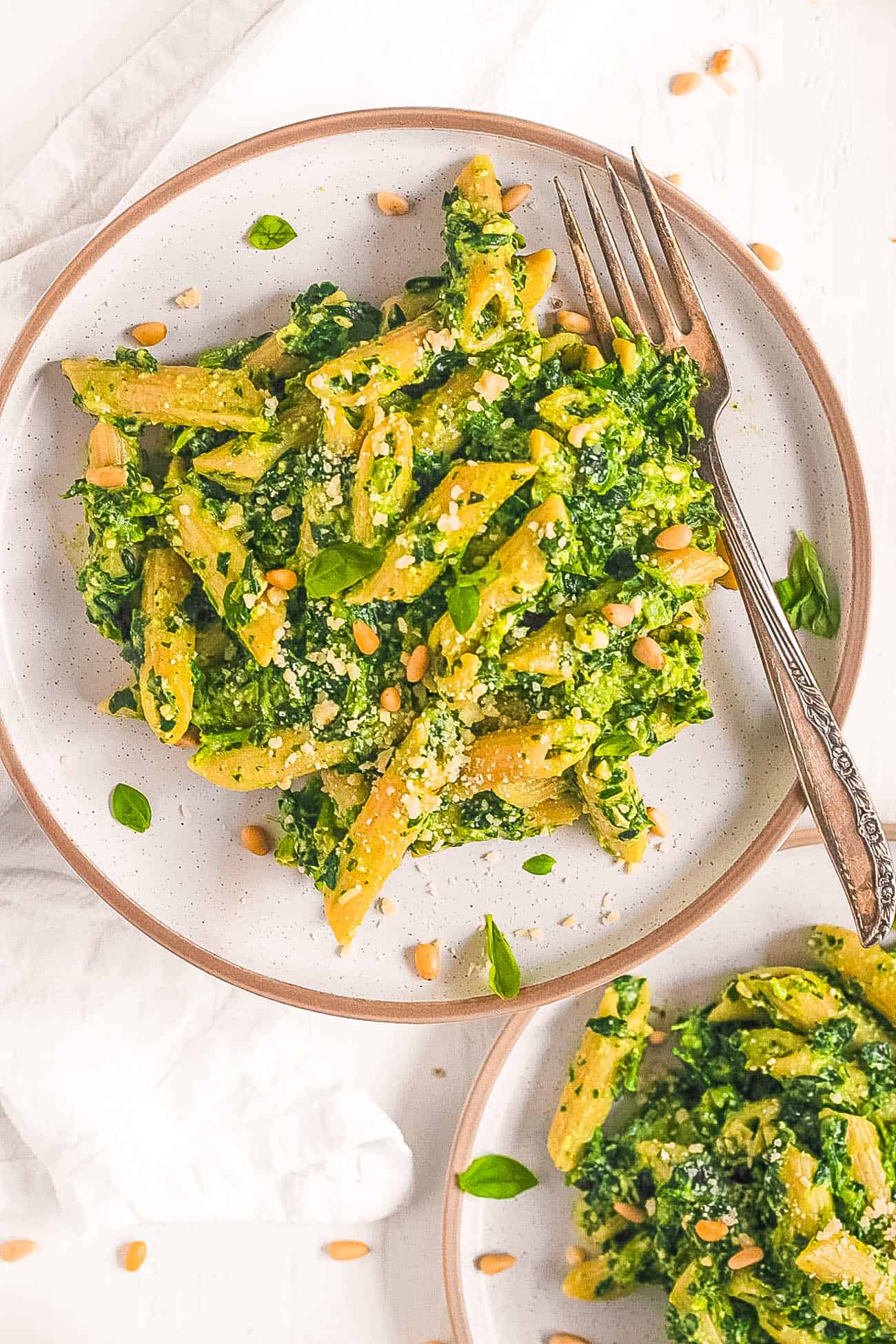 Made with chickpeas or garbanzo beans, this hearty protein-rich soup is super simpe to make and great for meal prep! Portion the soup in individual containers to freeze for later or store in the refrigerator. Be sure to use vegan parmesan cheese!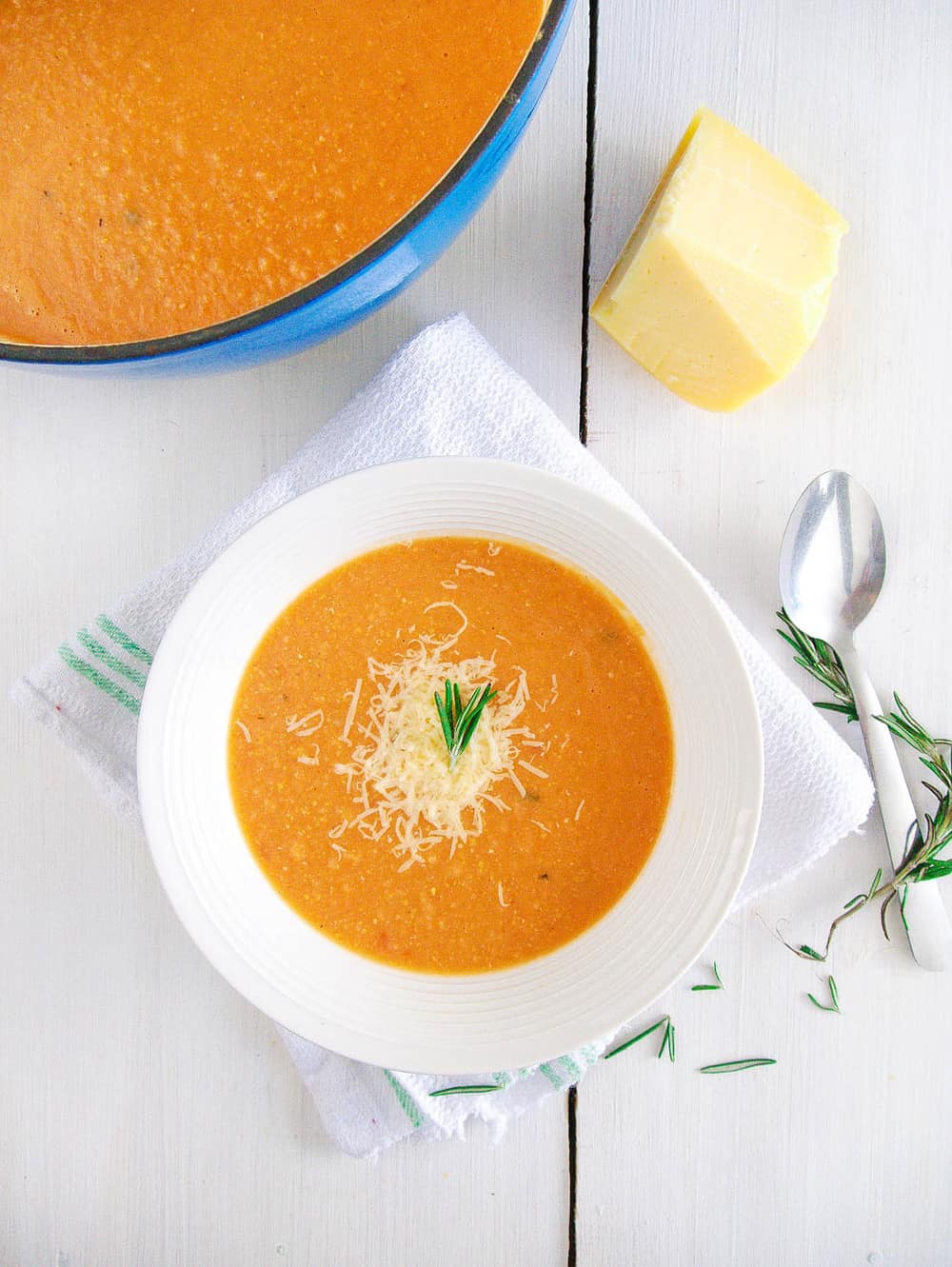 This recipe is a great way to get some fresh veggies like sweet potatoes and cauliflower that are cooked until tender. The curry spices bring these veggies to a whole new level!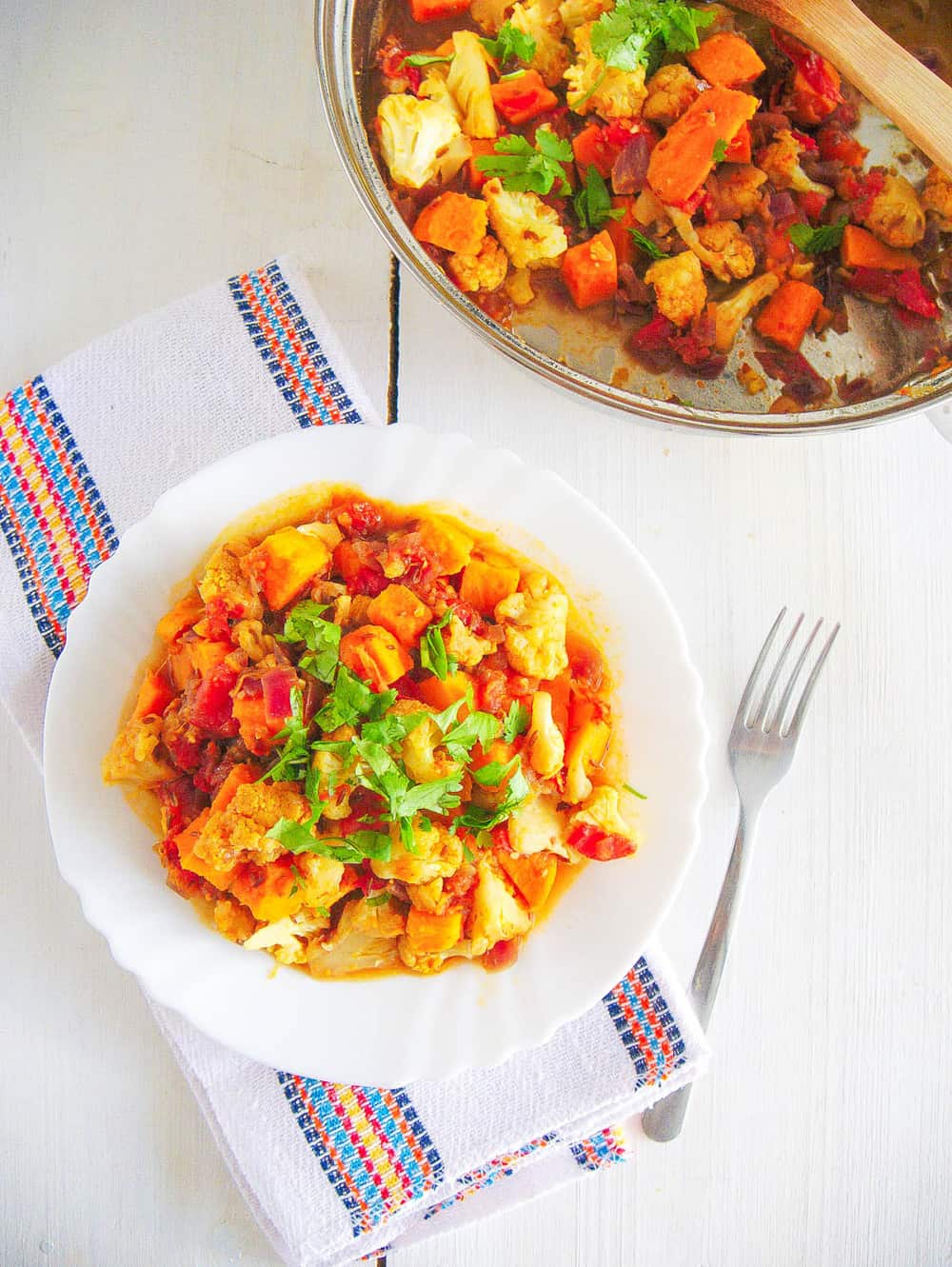 Make some servings of this garlic bread grilled cheese to get ahead on lunch for the week! Use your favorite vegan cheeses.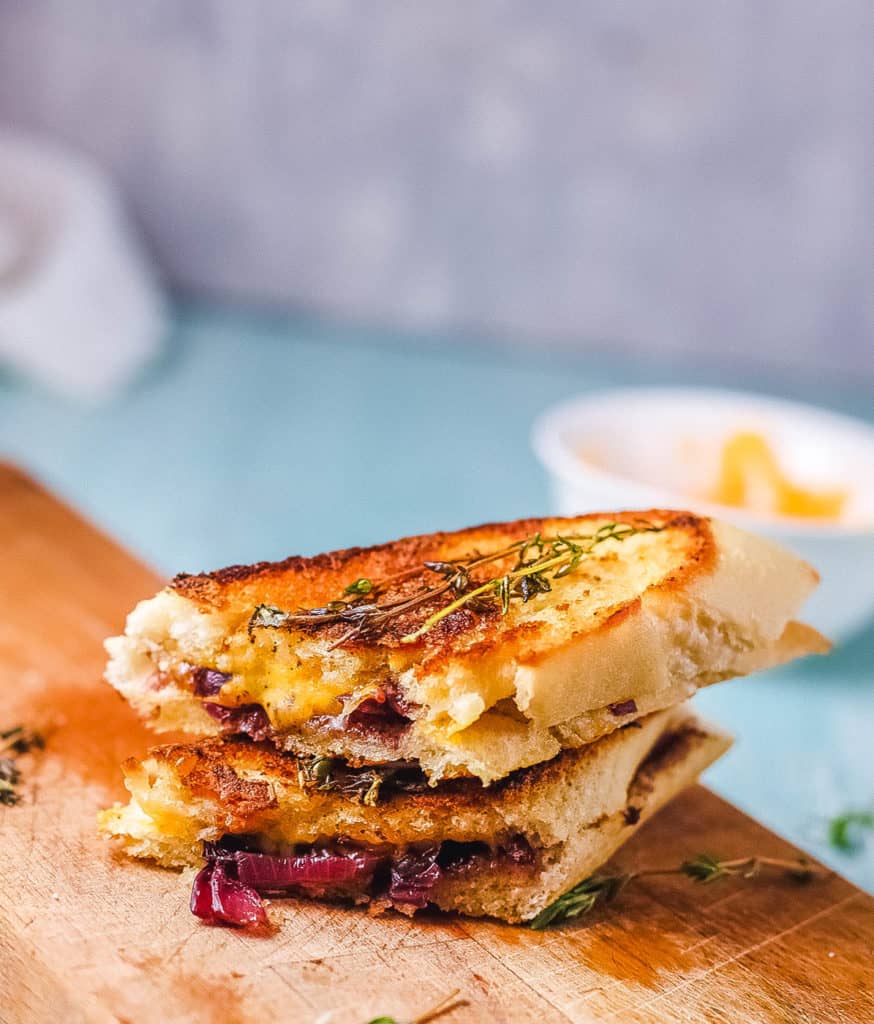 This cauliflower soup is spicy and creamy! Soup is one of the best vegan meal prep ideas you can make because it only tastes better the longer it sits in the fridge. The curry flavors are rich and pungent in this soup and taste so delicious for whenever you are craving something warm and hearty.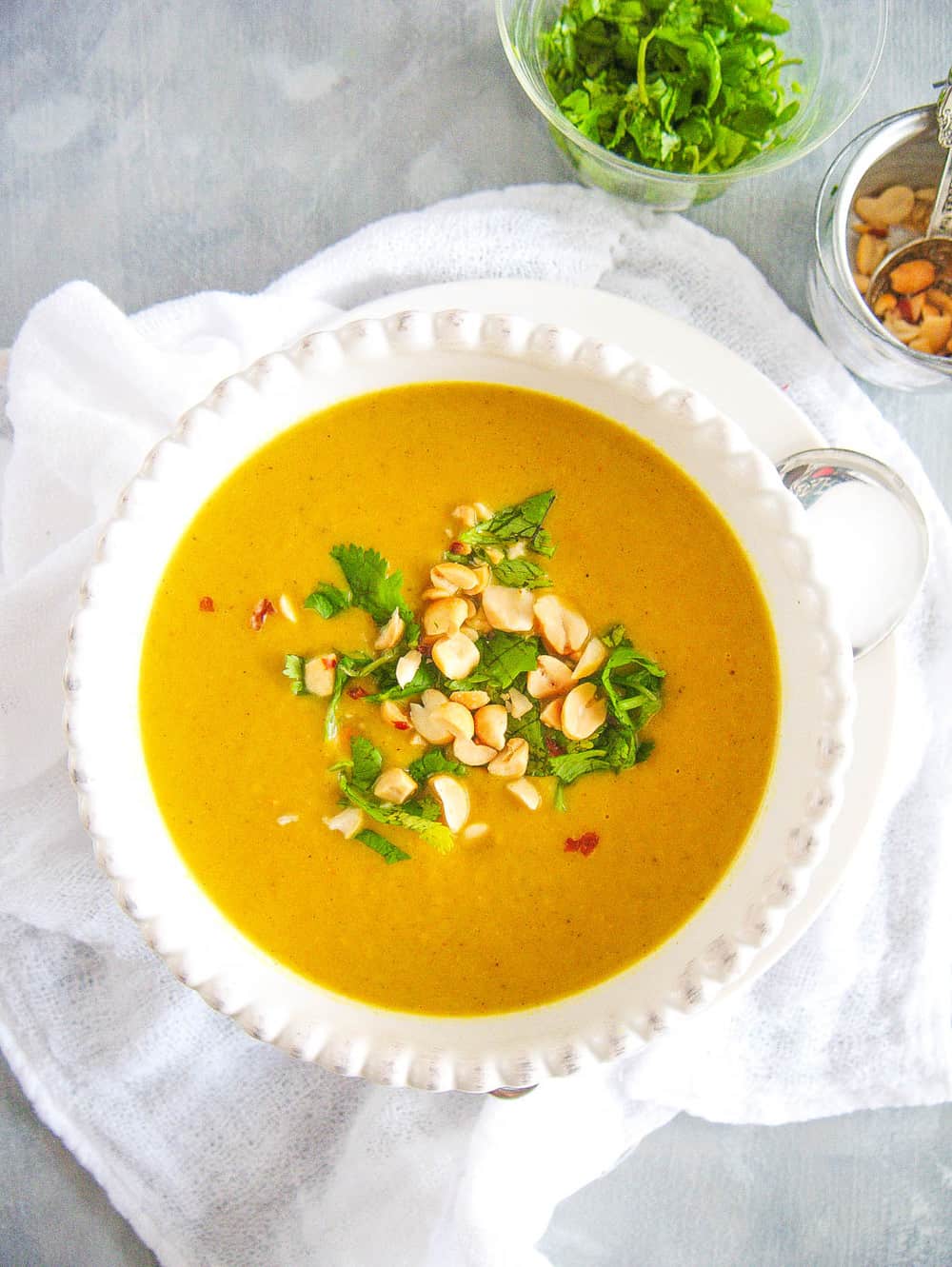 These lentil quesadillas are rich with healthy protein and veggies for whenever you are wanting something a little more nutritional! Use your favorite vegan cheese!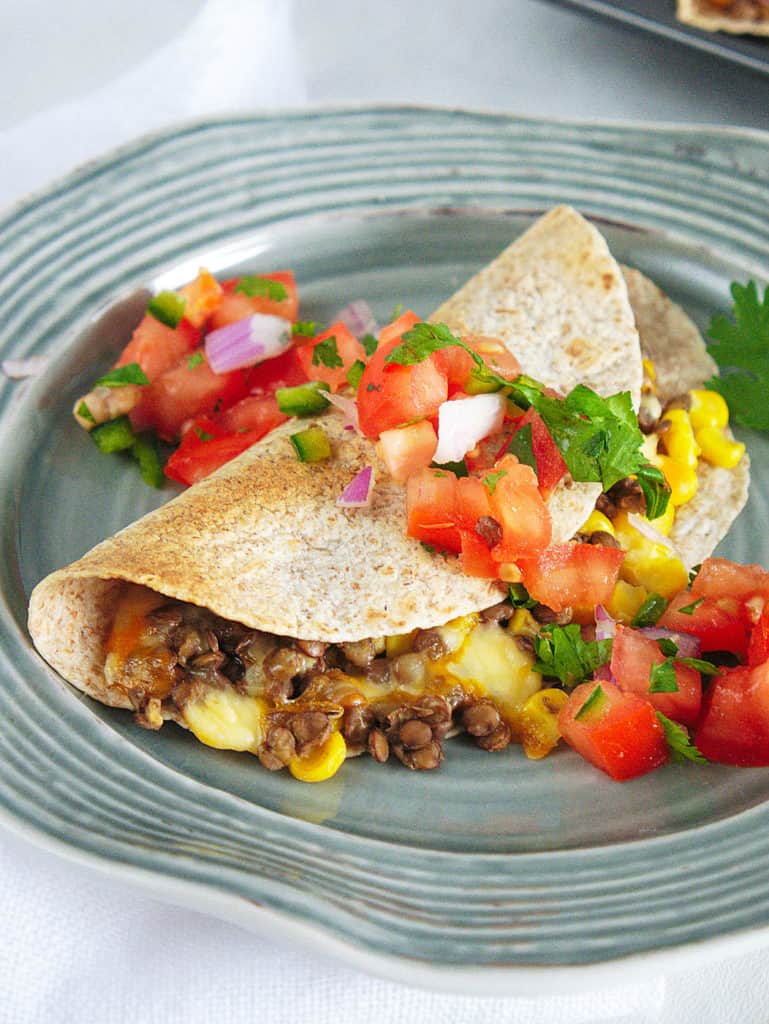 Refreshing and creamy cucumber gazpacho is a traditional Mexican recipe that is filled with fresh ingredients. Super easy to make and great for lunch or dinner! Freezer-friendly, too!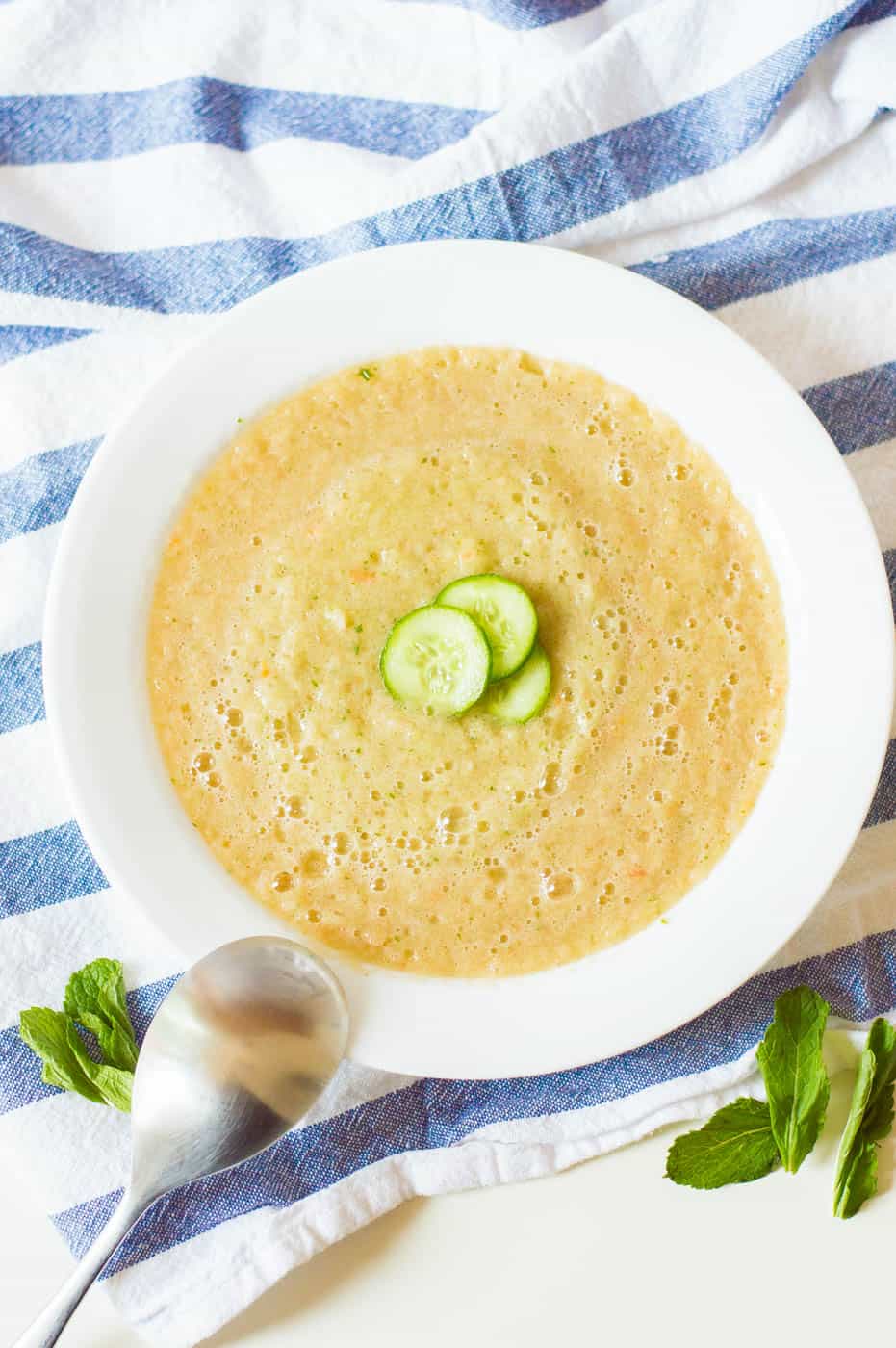 This hearty and tasty flatbread is made with BBQ sauce, corn, black beans, and tomatoes for yummy flavors! Use vegan cheese or omit and make sure the pizza dough is vegan.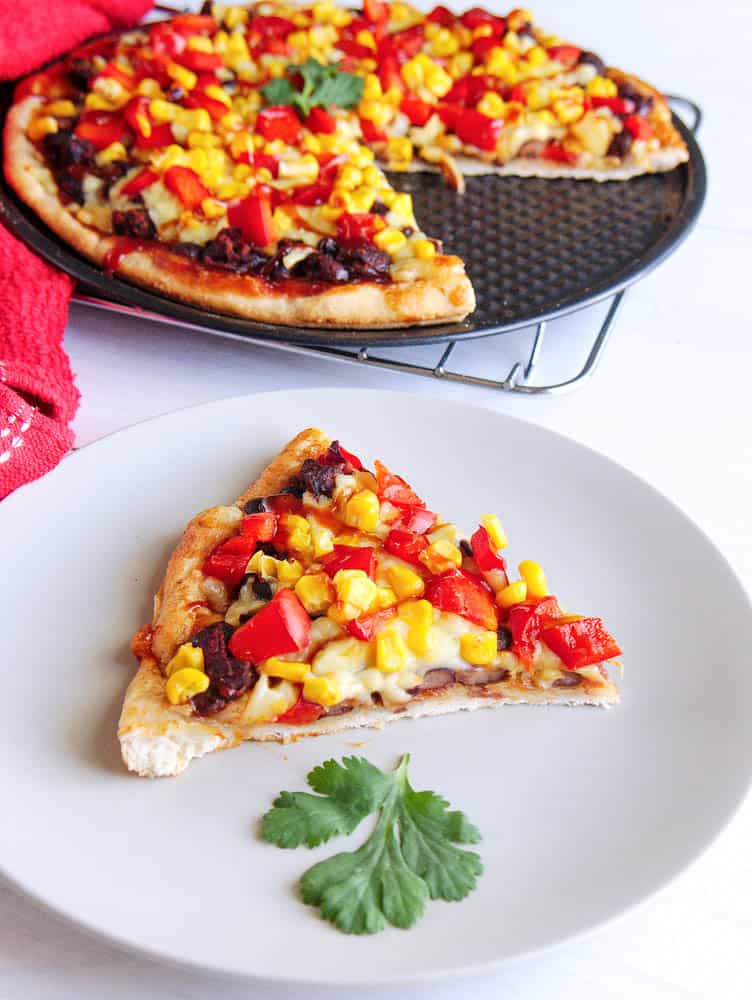 These vegan quesadillas are easy to make and perfect for lunch or dinner. Use your favorite tortillas and stuff them with your favorite fresh ingredients like butternut squash and kale. Quesadillas are freezer-friendly, too!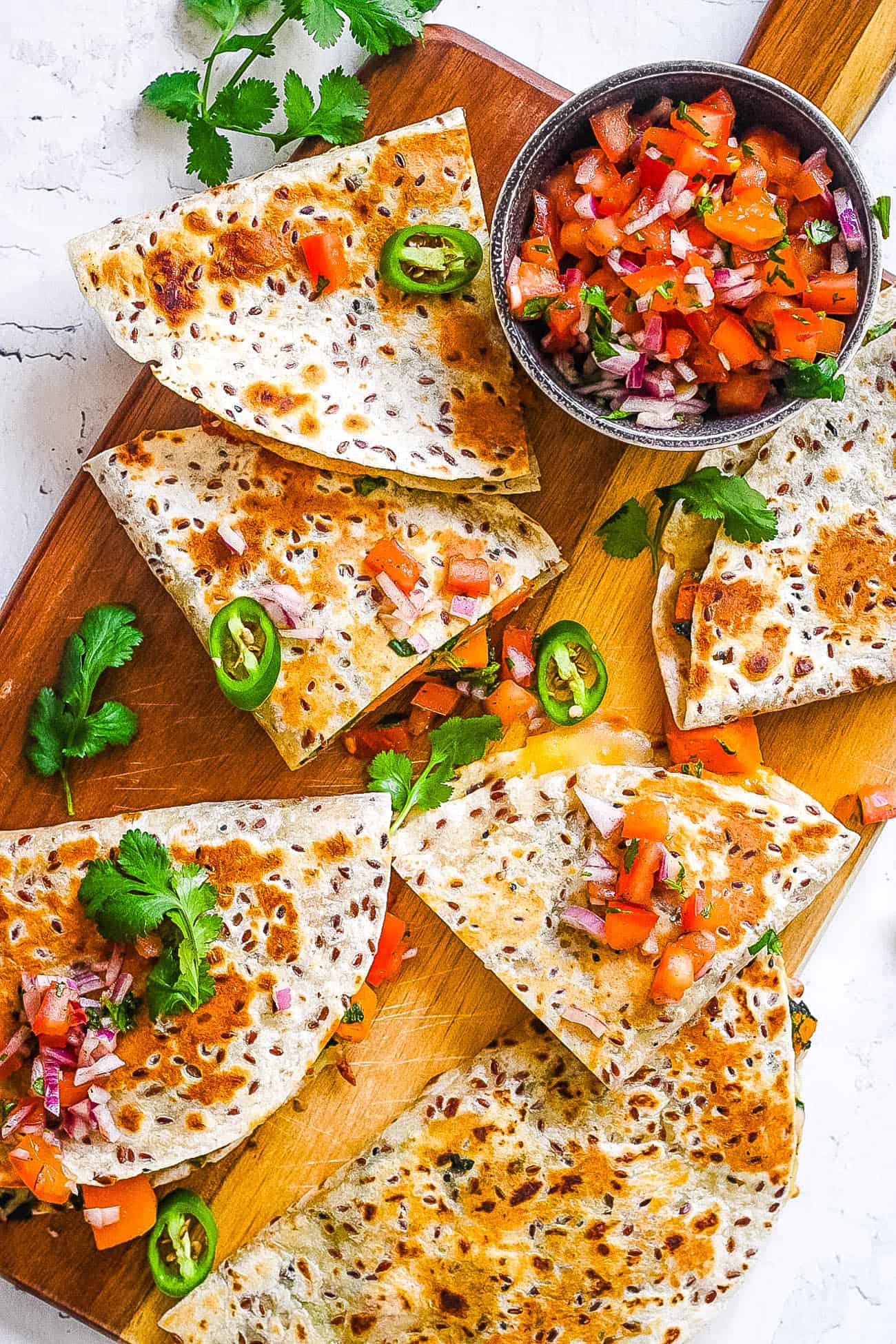 Flavorful and bright black bean fajitas are an easy plant-based option for meal prep! Prepare the fajita mixture and store separately from the tortillas in the refrigerator until ready to serve!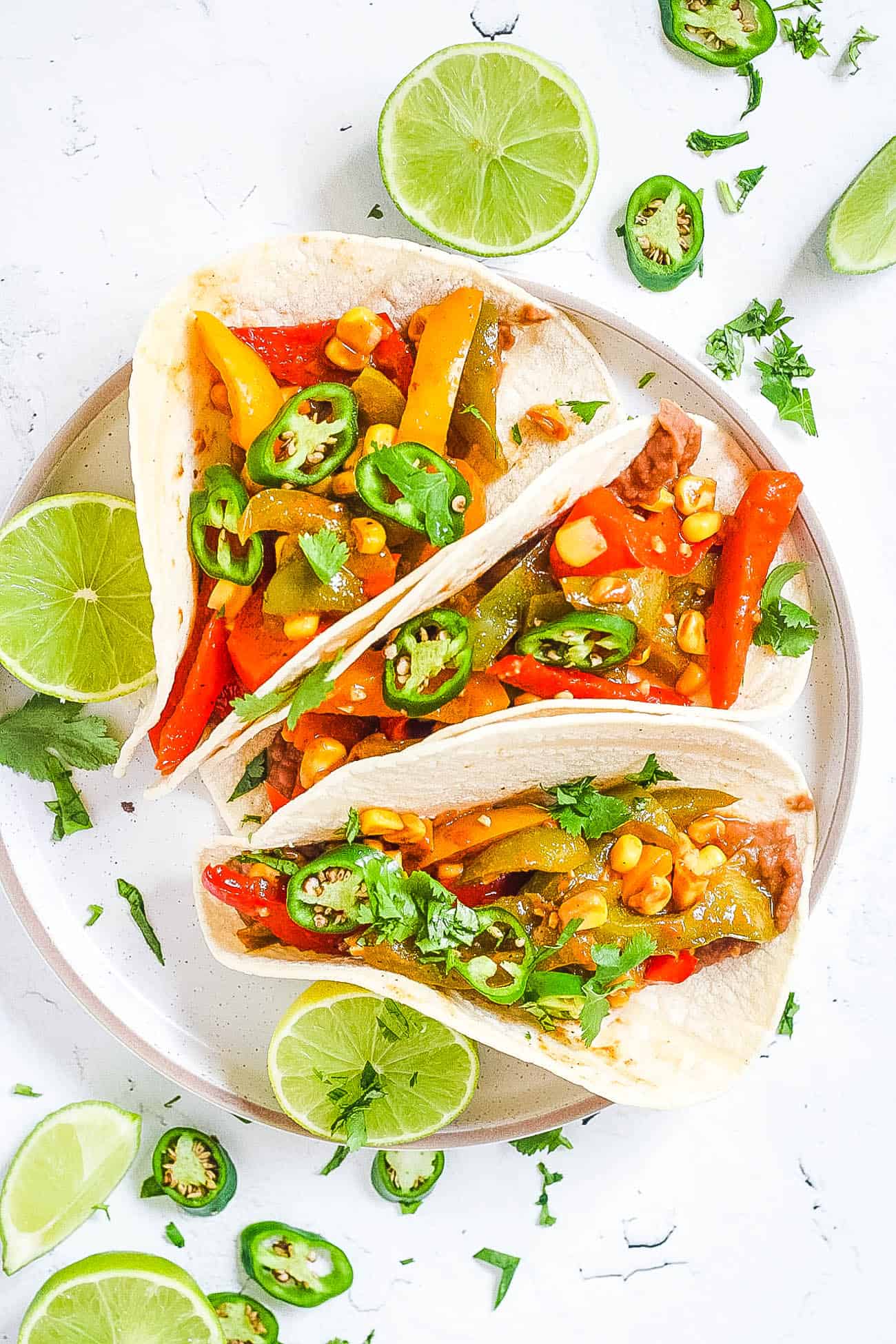 Veggie quesadillas are super easy to make and made simple healthy ingredient slike corn, bell peppers, and black beans. Use dairy-free cheese and cook these quesadillas until crispy! Quesadillas are super easy to reheat in the air fryer, microwave, or oven.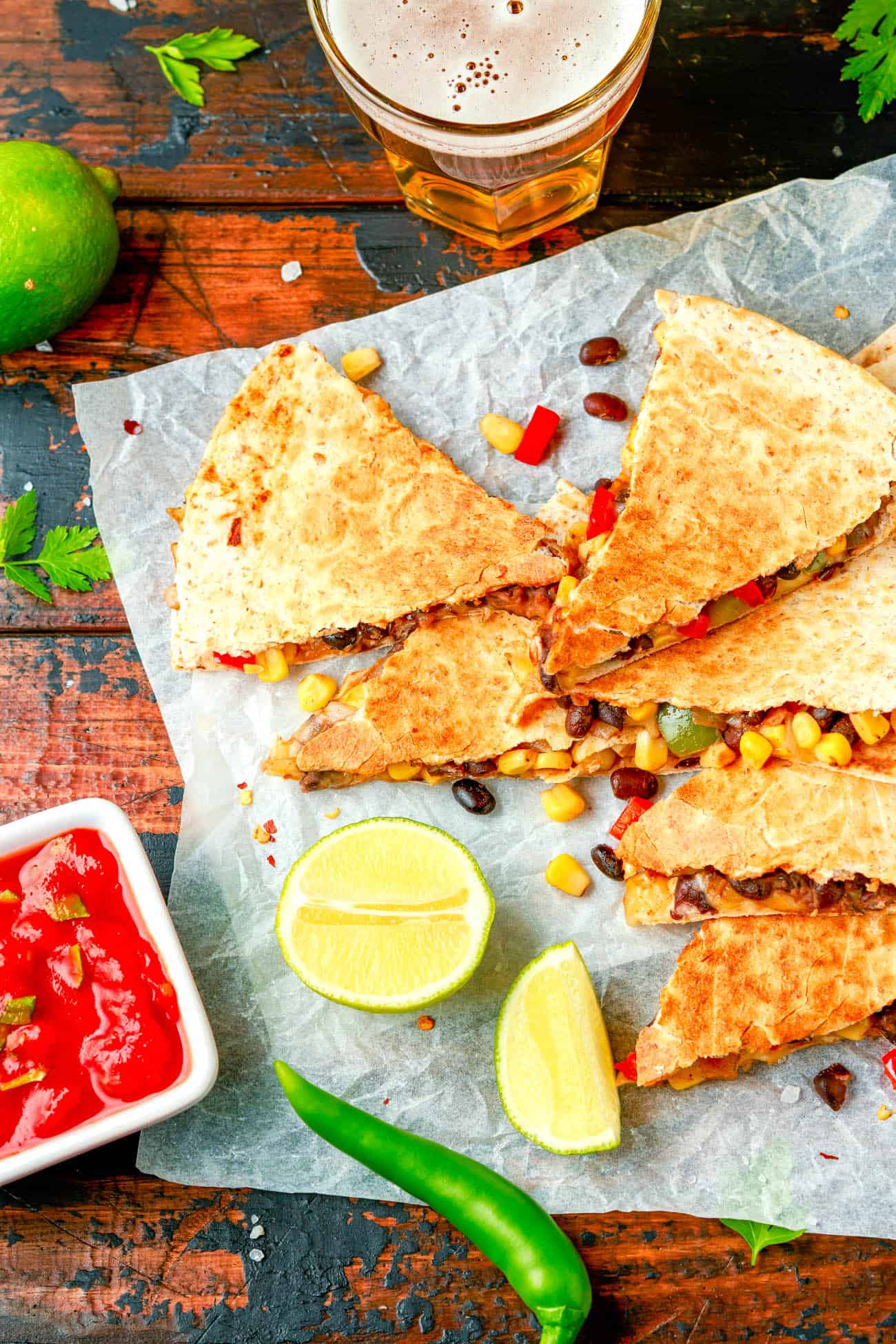 Fluffy Instant Pot quinoa is easy to prepare and ready within minutes. Quinoa is a healthy option to have in the refrigrator for a quick lunch or dinner mixed with veggies and spices.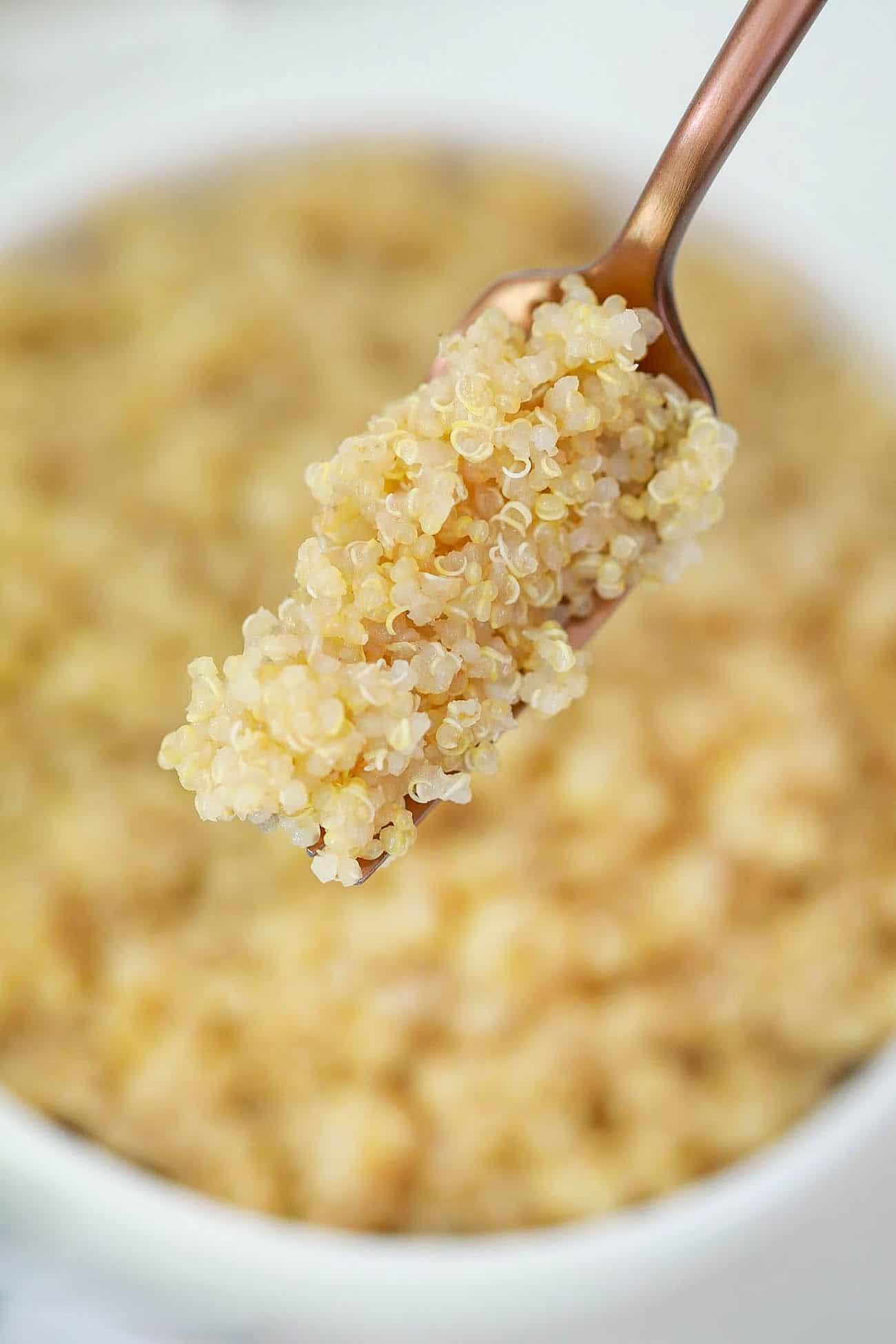 Spicy and crumbly vegan chorizo is great to make in bulk because you can make so many things with it: tacos or taco bowls, burritos, quesadillas, enchiladas, burrito bowls, and more. Just store and reheat!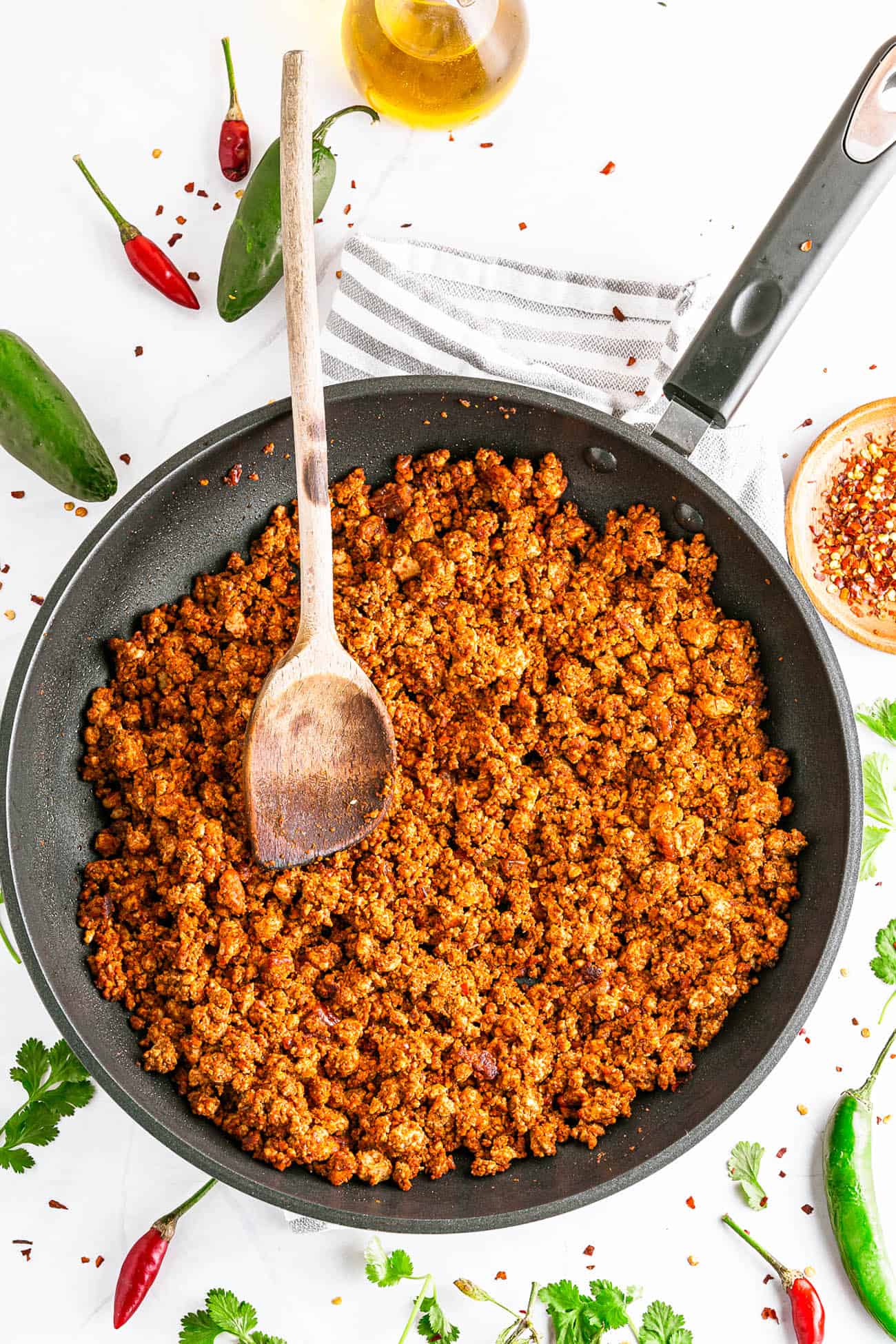 Smoky sweet BBQ sauce is the perfect sauce to have an abundance of because you can use it for vegan jackfruit BBQ, burgers, dipping sauces, marinades, and more. This BBQ sauce is the best!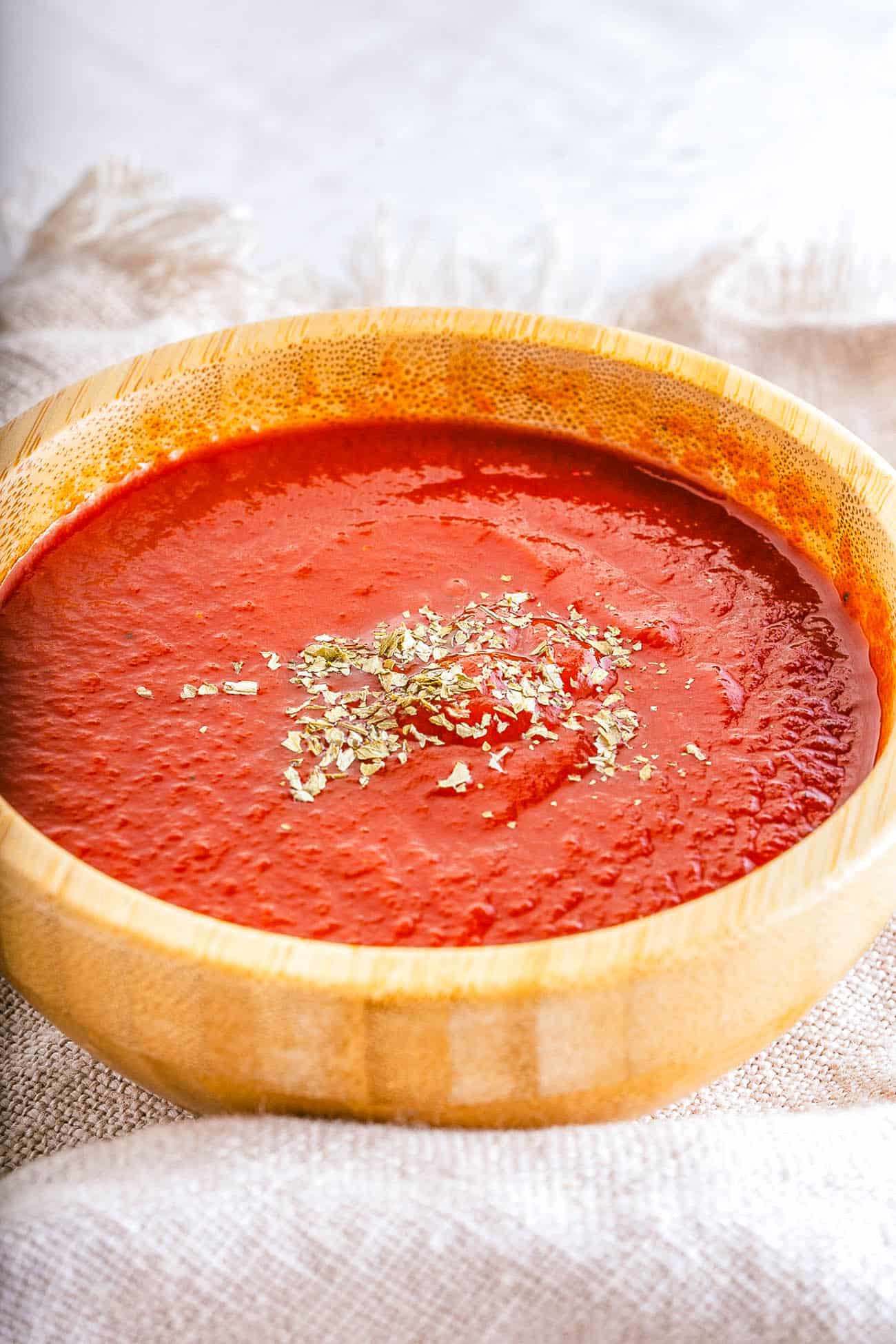 This hearty white bean soup is made with kale, onions, celery, and more for delicious fragrant flavors. Serve this soup with vegan parmesan or omit. This soup is great for freezing!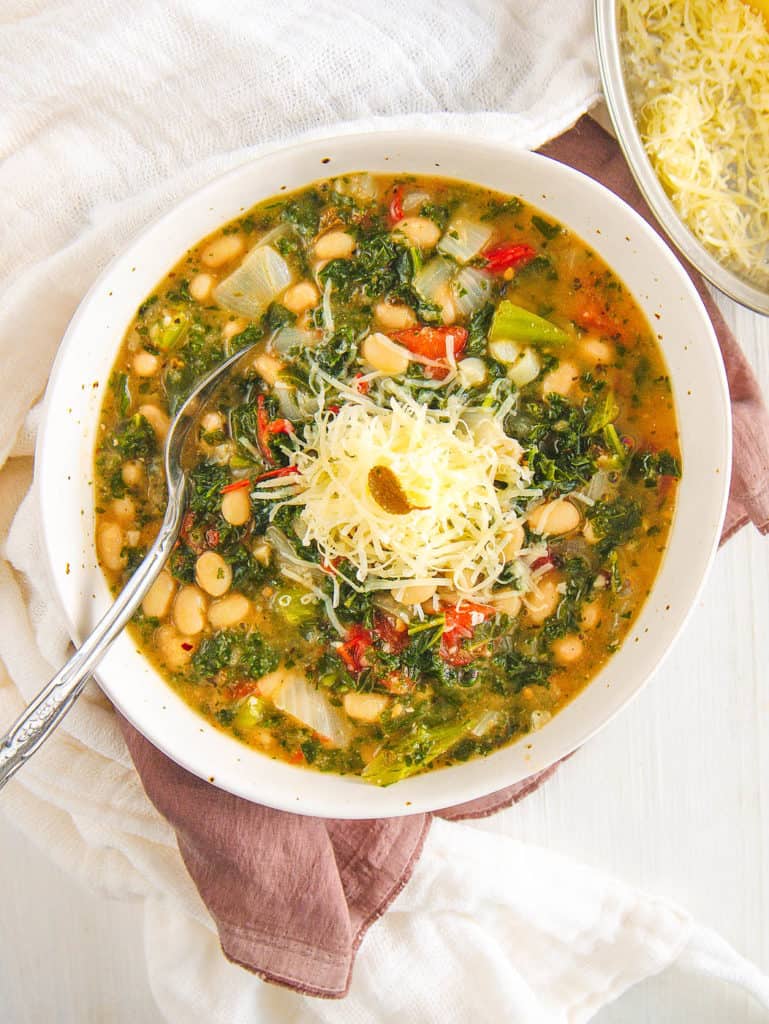 Sticky sweet peanut sauce is great for all types of things including noodles, tofu, veggies, spring rolls, vegan sushi, and more. You can serve it with so much and keep the leftovers in the fridge or freezer.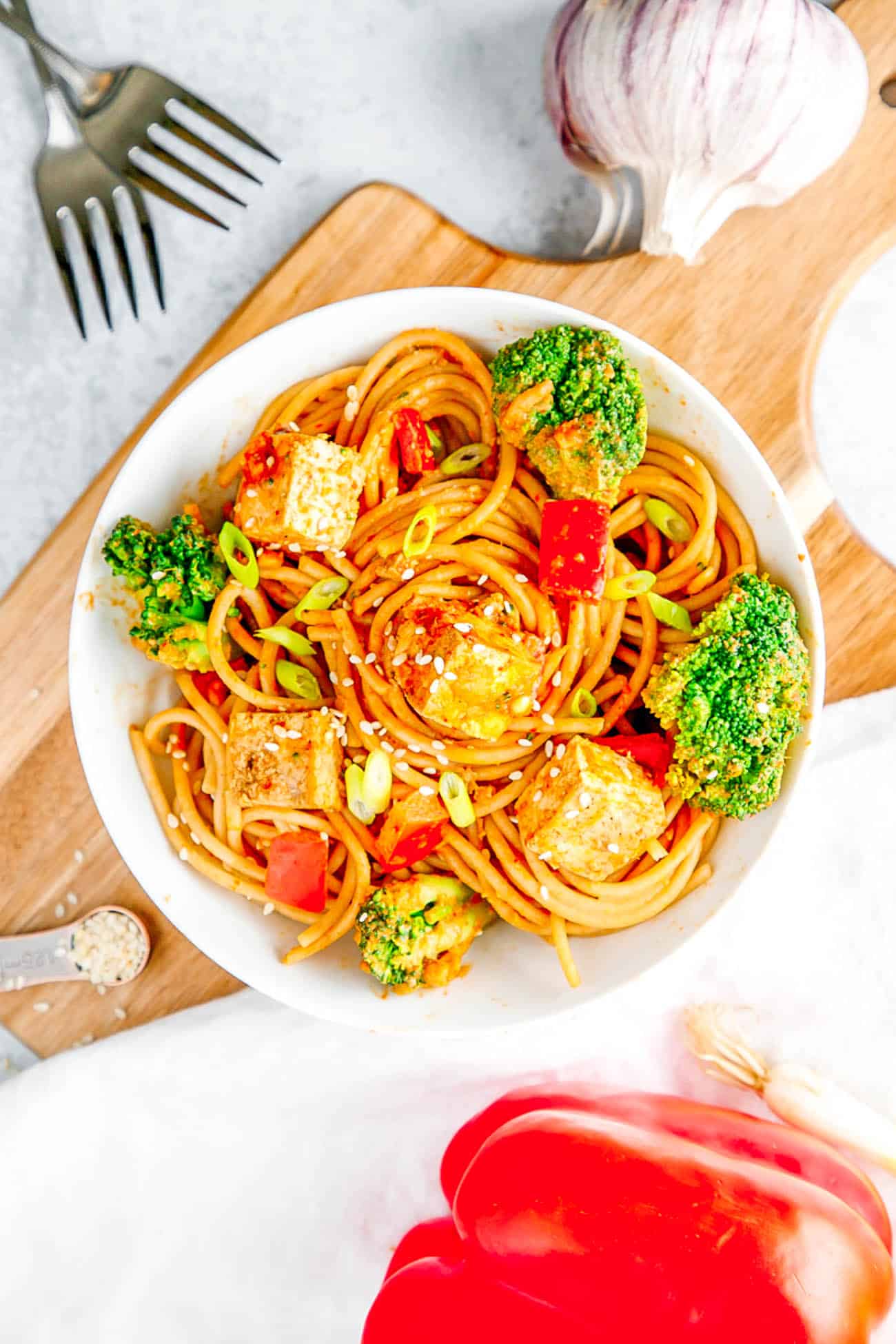 Rich and creamy mushroom stroganoff is the ultimate comfort pasta dish. Tender mushrooms are cooked with onions and veggie broth to create a delicious savory recipe. Use vegan cheese!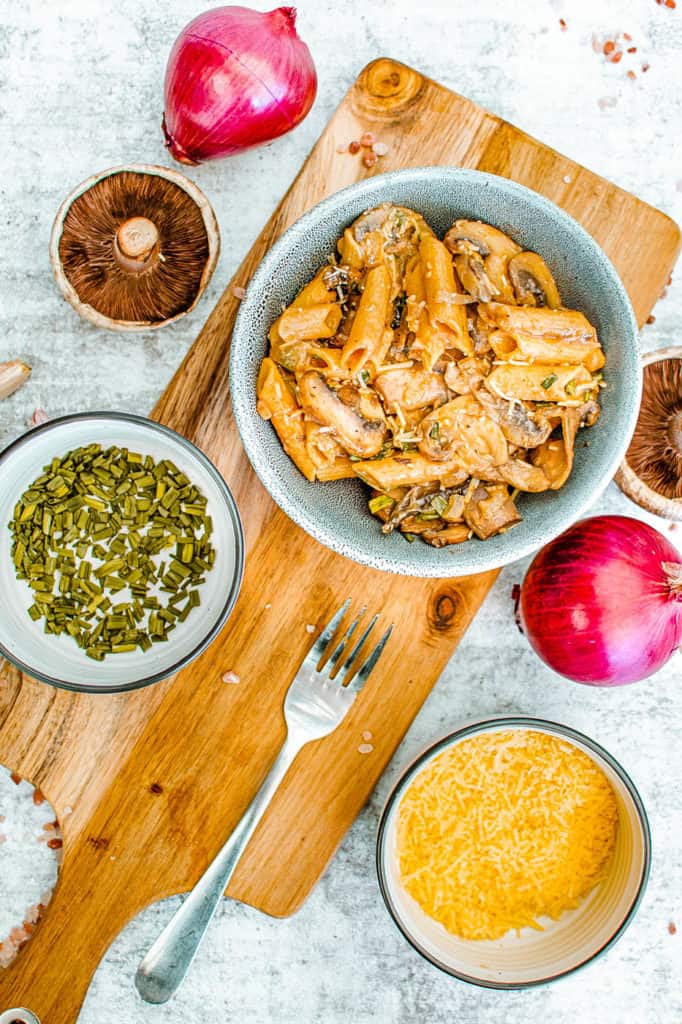 This shawarma is loaded with veggies and made with marinated tofu that is so flavorful. Prepare the filling and store it separately from the wrap to prevent it from getting soggy.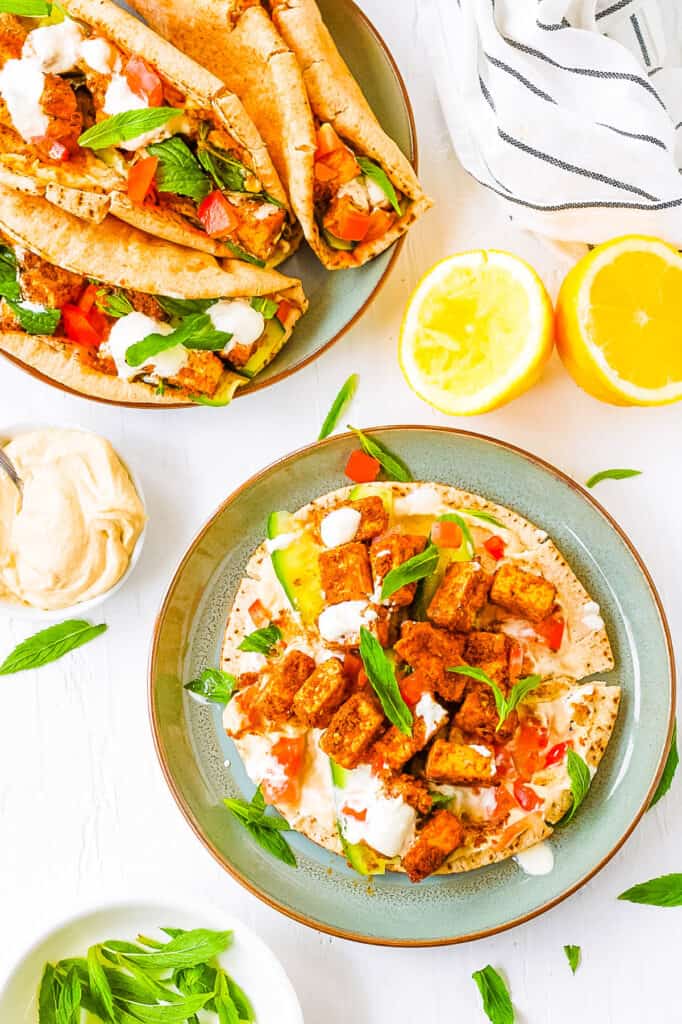 Fresh cauliflower is mixed with bold spices and peas and carrots for a yummy Indian-style recipe. Cauliflower sabji is great to store in the refrigerator to serve with a variety of things such as rice, noodles, or this easy vegan red lentil dal!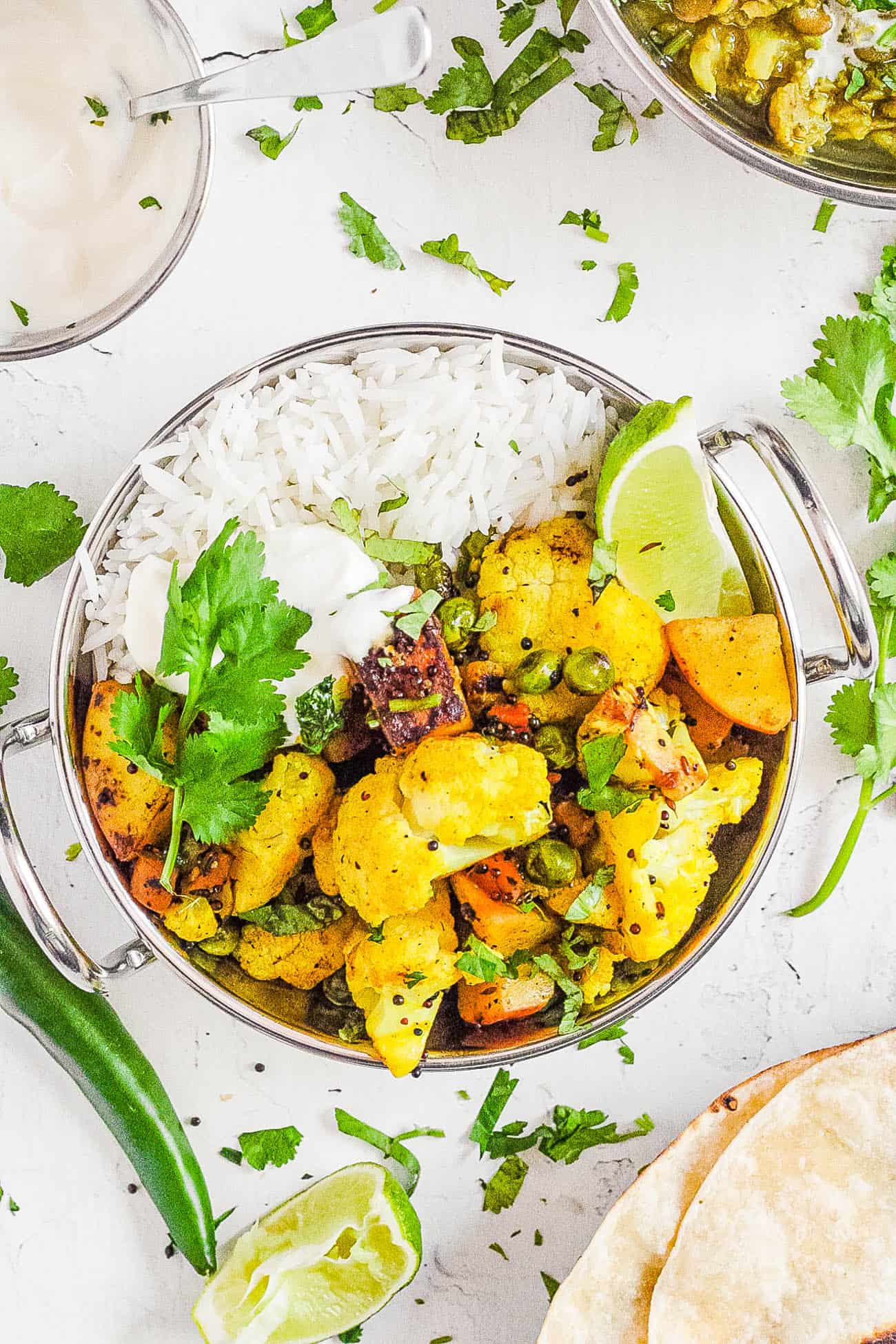 This warm and flavorful panang curry is aromatic and made with the perfect blend of citrus, herbs, garlic, shallots, veggies, and a smooth silky broth. Delicious with rice!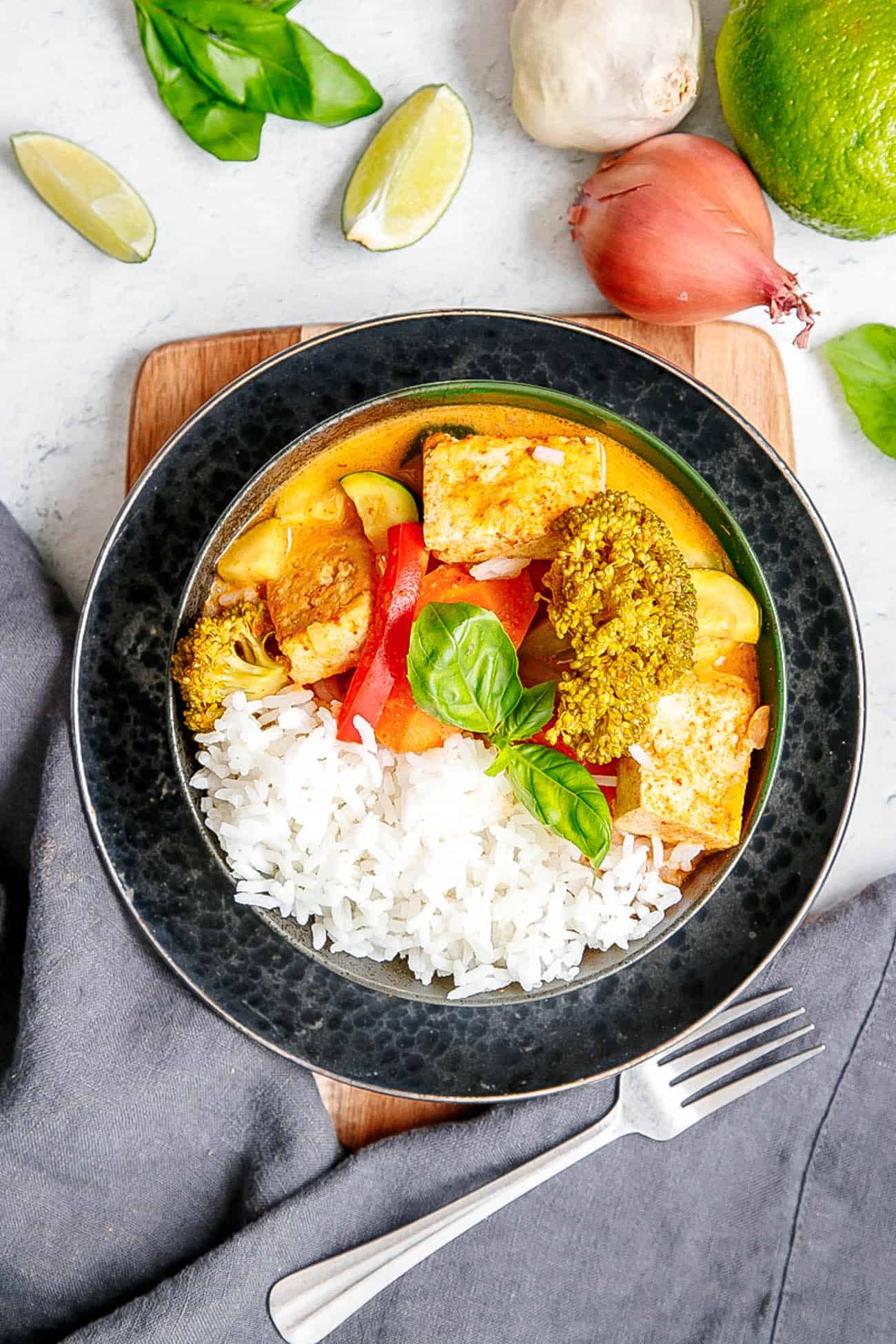 Creamy and savory pinto bean soup is super easy to make in one pot and served with soft pasta. Rich and hearty, this filling soup is delicious served warm with fresh parmesan cheese.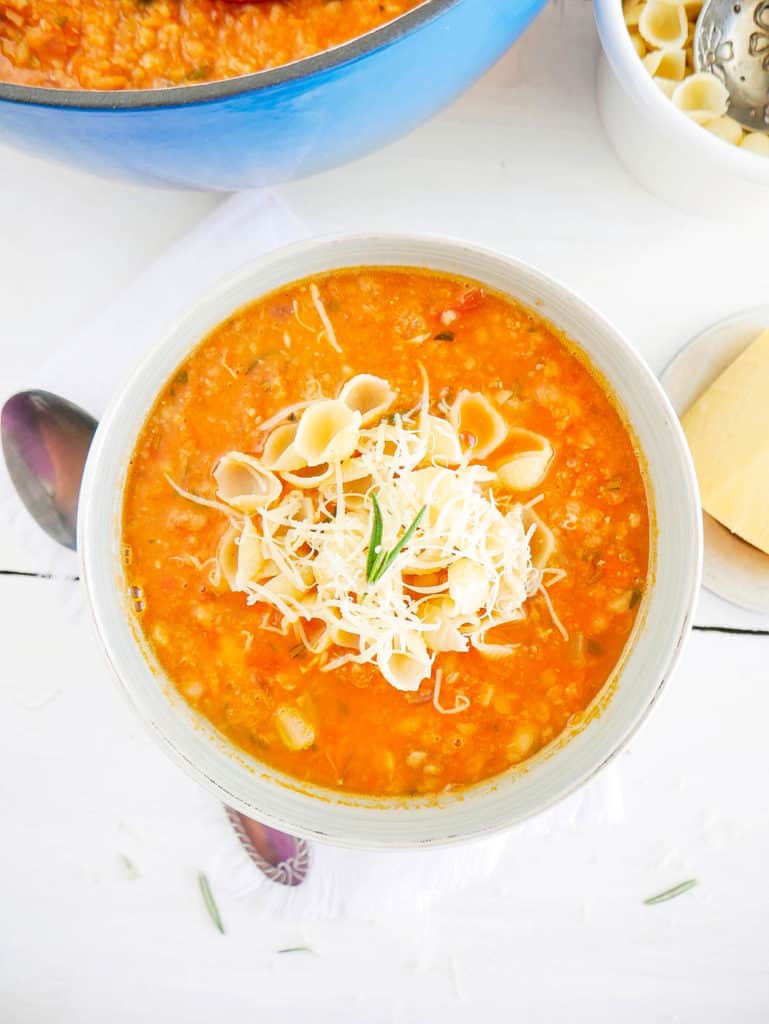 Veggie pizza is perfect for meal prep because it is easy to reheat and freeze. Make with your own variety of fresh veggies and use vegan cheese!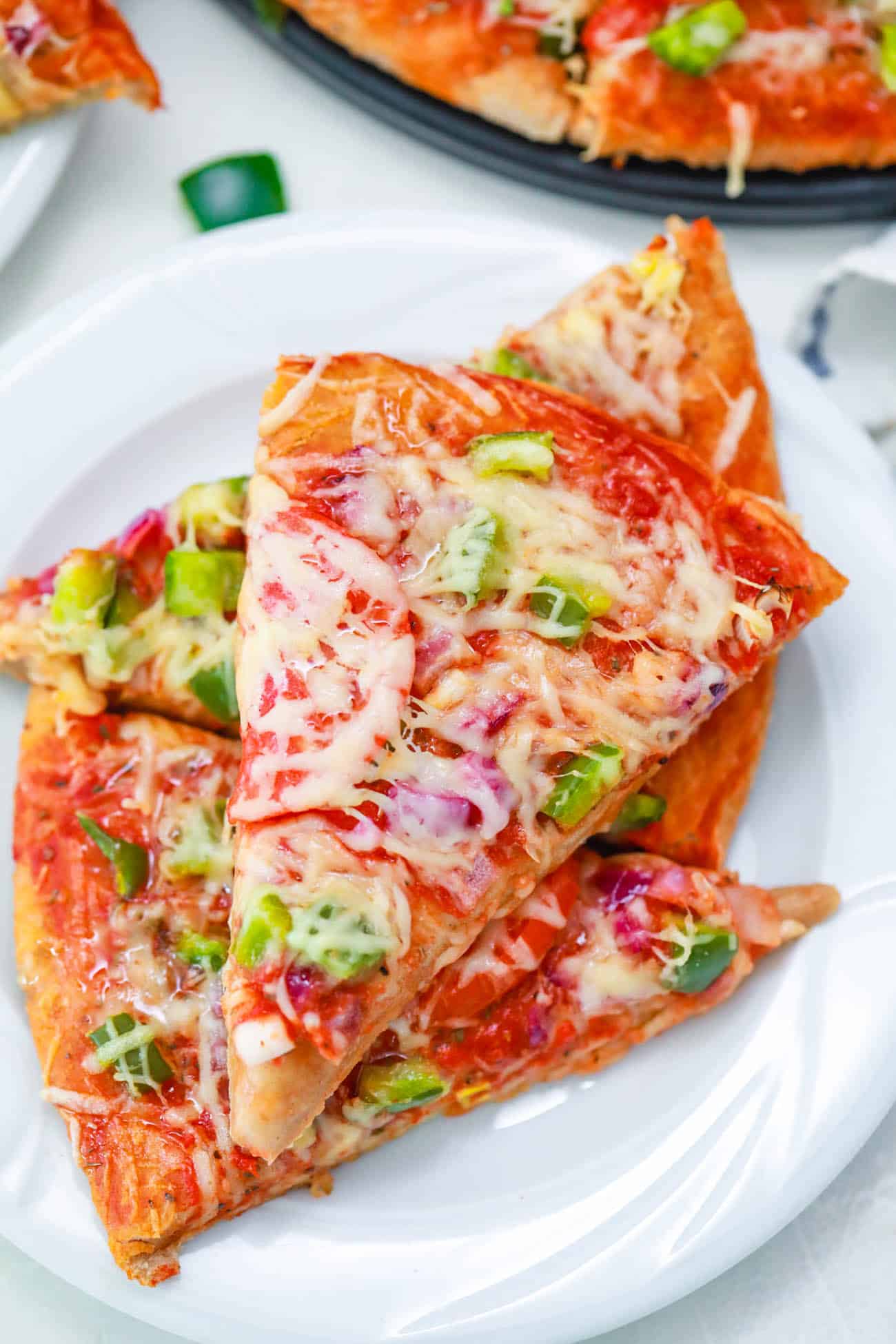 Bold with flavor, these Instant Pot lentils are made with nutty tahini, carrots, and red onions for fragrant notes! Easy to make and ready within minutes!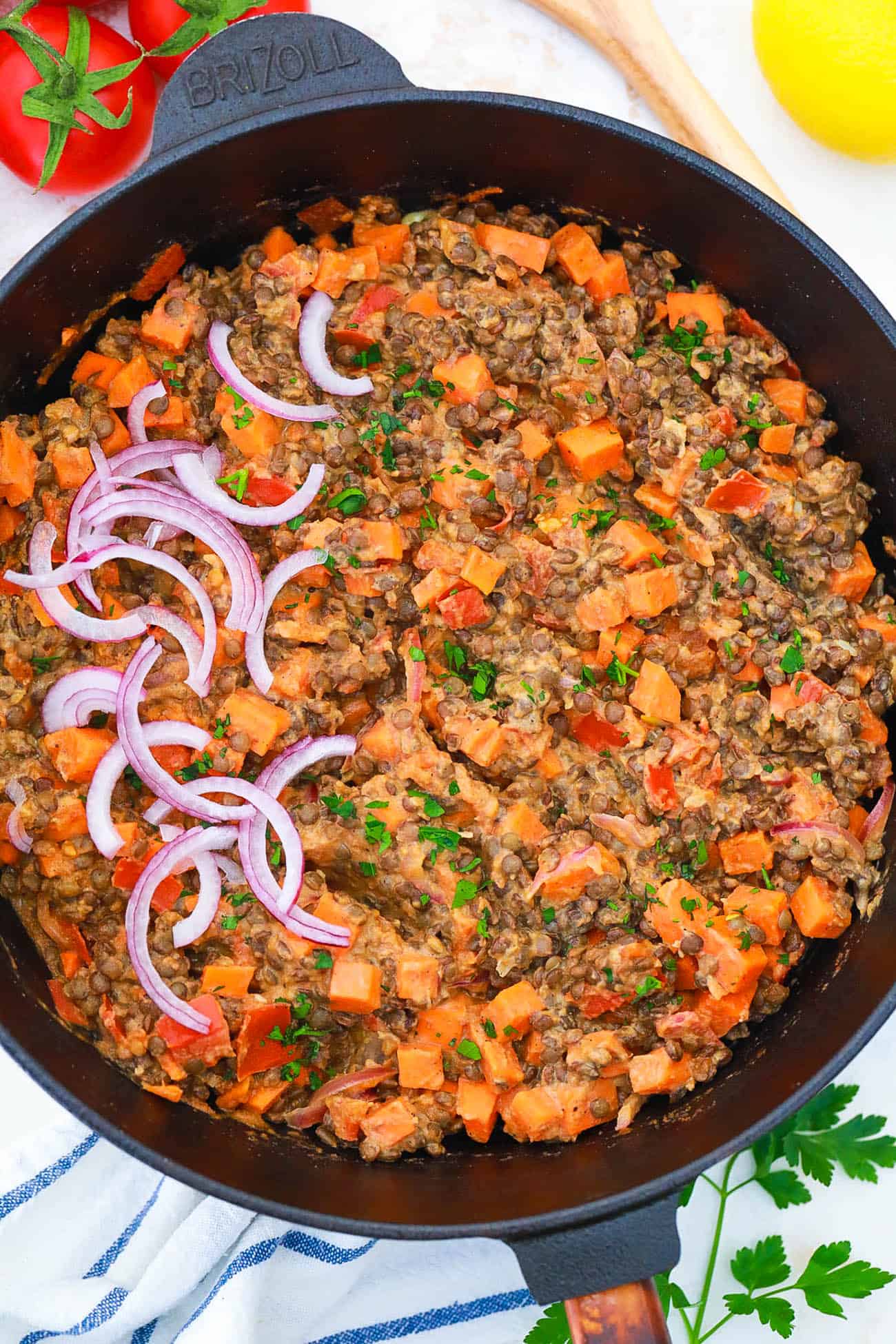 Tender pungent cabbage is cooked with Indian spices and served with green peas for a healthy, gluten-free side dish. So easy to make and store!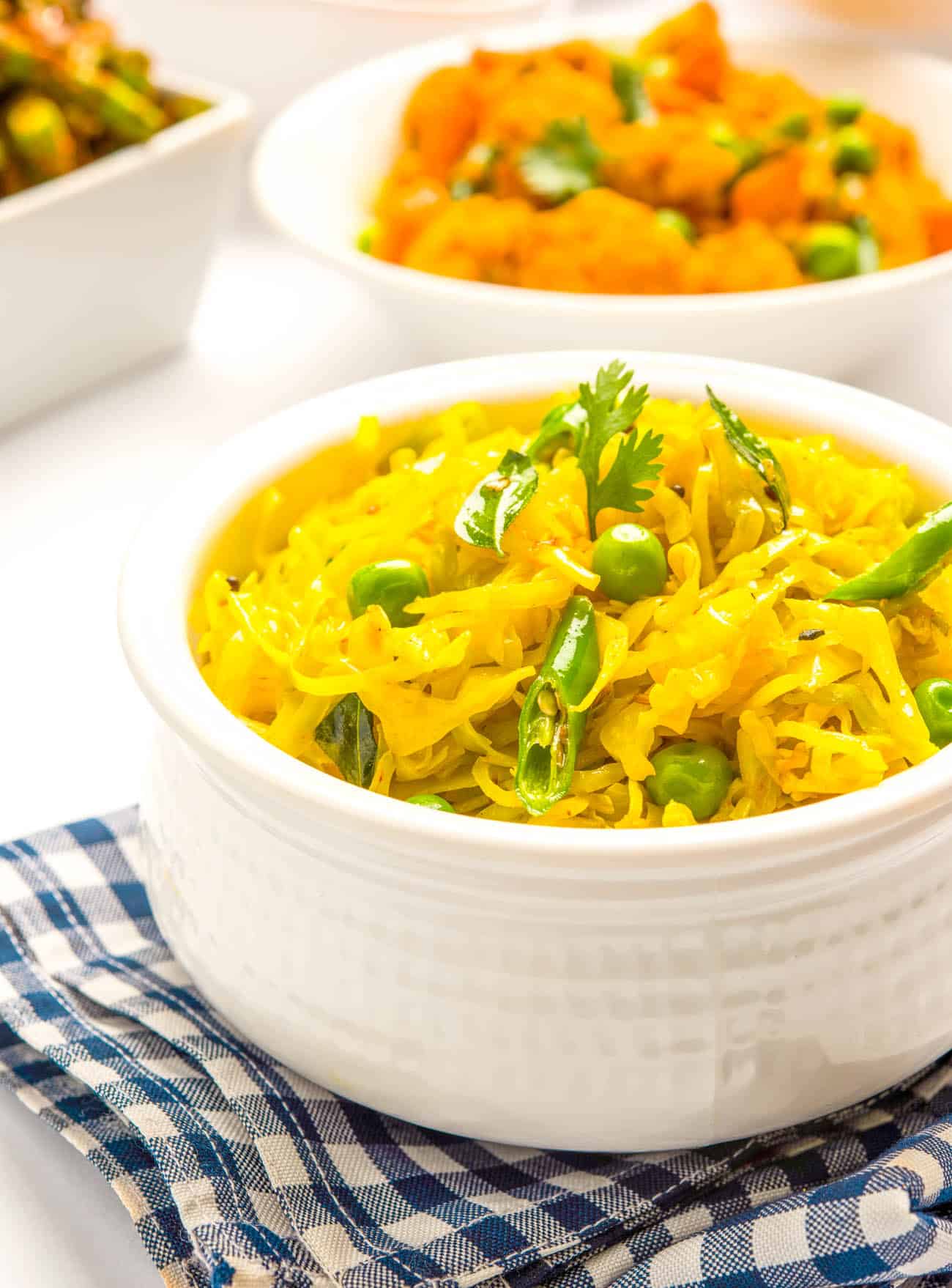 Veggie-filled pasta primavera is a classic pasta dish made with flavorful ingredients. Made with zucchini, tomatoes, tender pasta, fresh basil, and more, you will love this easy dish! The leftovers are even better. Be sure to use vegan cheese or leave it out entirely!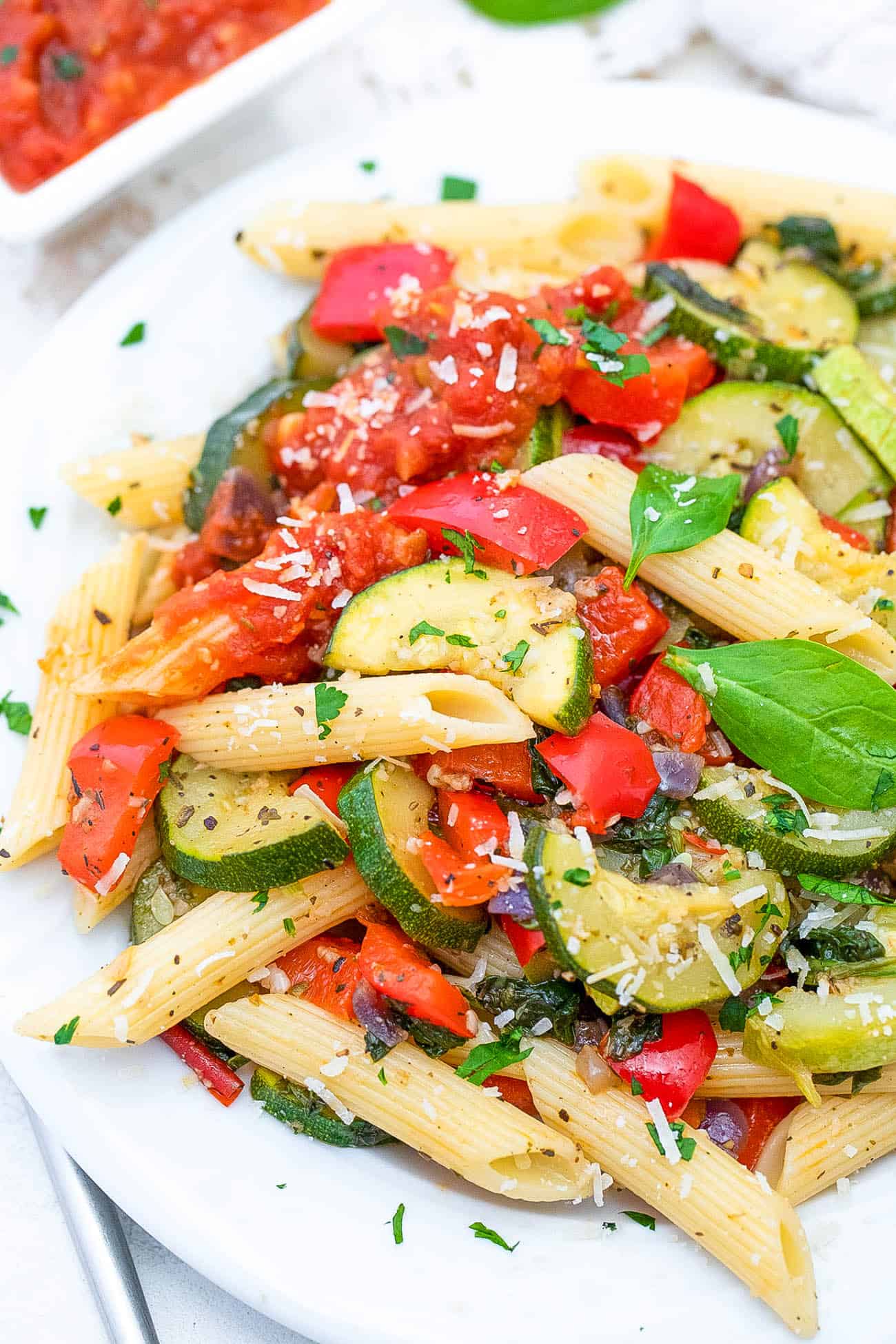 Black bean quesadillas are easy to make for meal prep and stuffed with veggies like corn, peppers, and tomatoes. Quesadillas are great for easy lunches at home and for packing in lunchboxes for work or school. Use vegan cheese!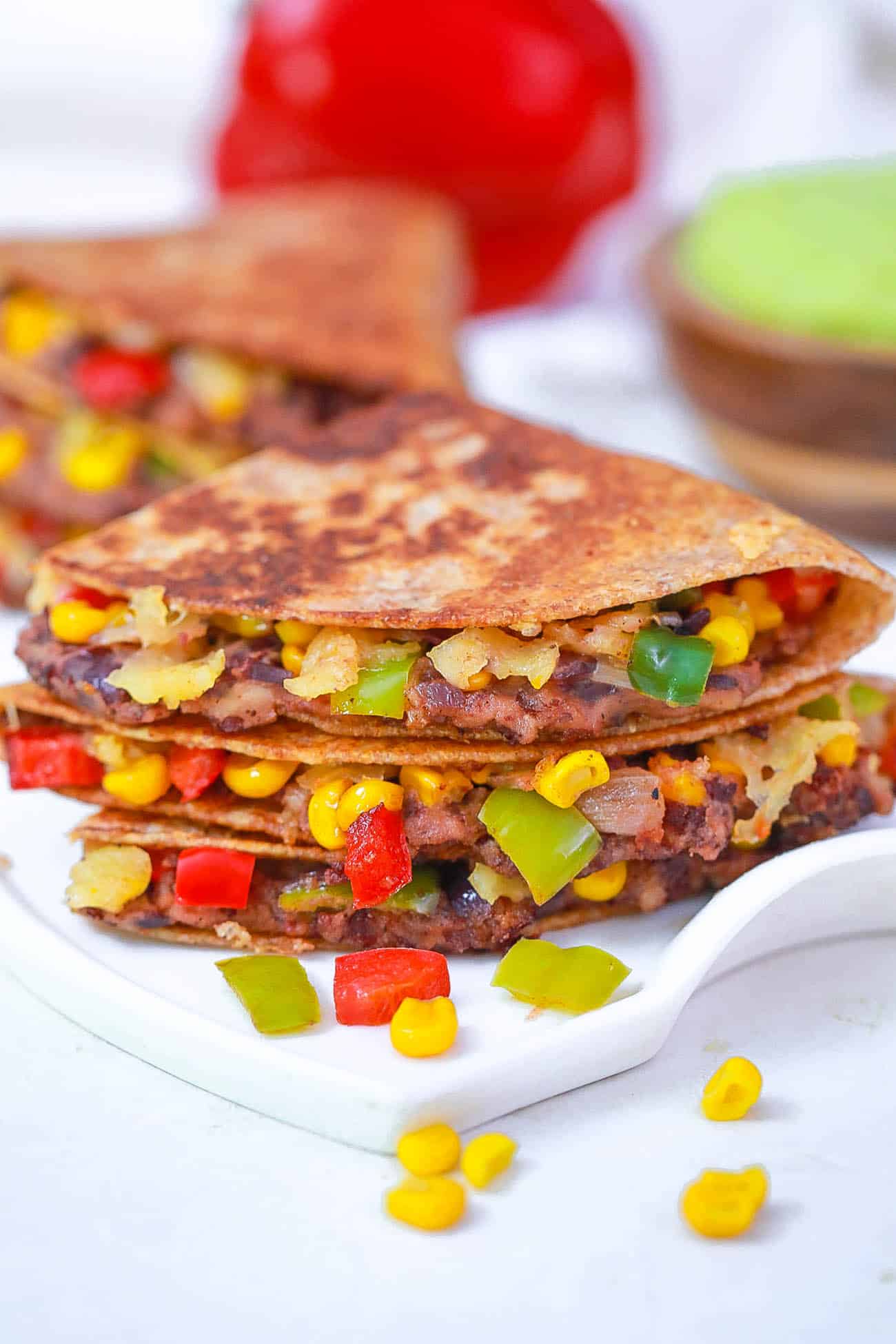 Crunchy green broccoli is cooked with a yummy sesame noodles and flavorful tofu for an easy pasta dish you will love! These noodles are the perfect combo of healthy and comforting!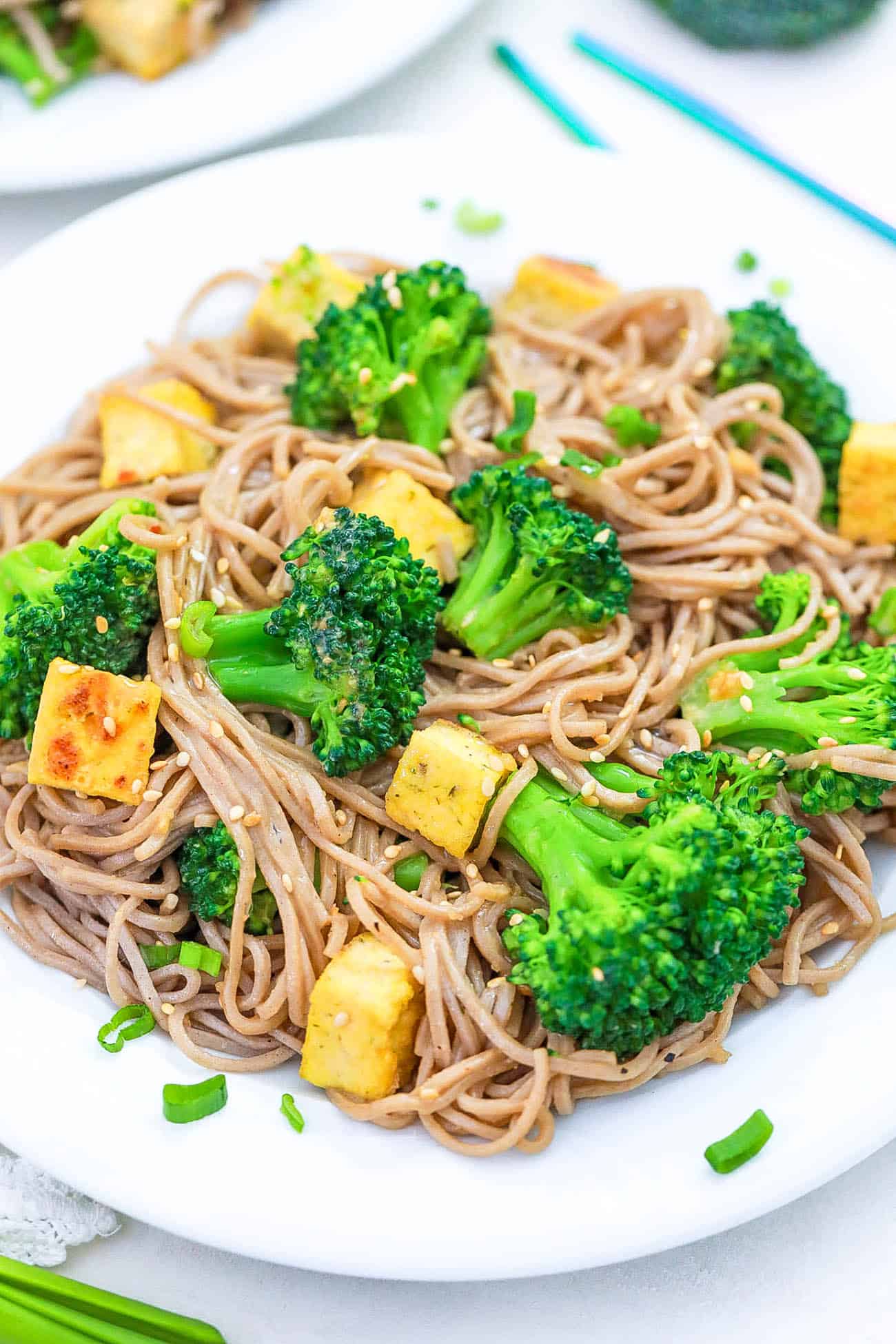 These hearty pumpkin burgers are easy to make and filled with so much protein! We like to make a batch of these black bean pumpkin patties to keep on hand in the refrigerator and freezer for easy lunches and dinners! You can do so much with them and they are so delicious!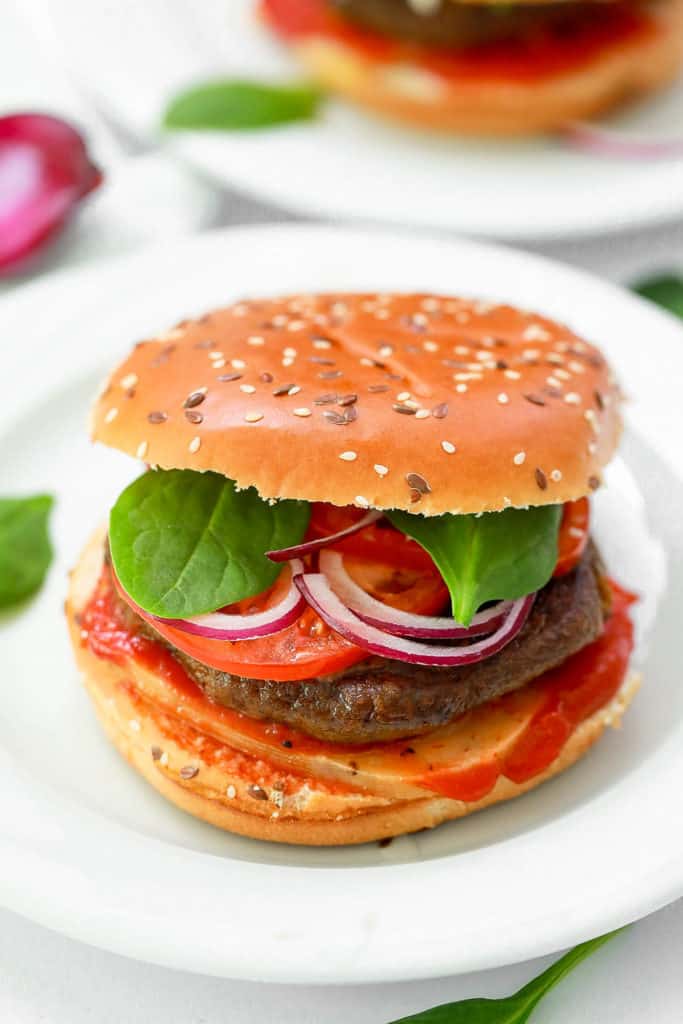 These tasty and mouthwatering channa masala is a classic recipe that is loaded with flavor! Made with cooked chickpeas and tomatoes and a yummy spiced sauce. It's simple to make and is perfect for easy weeknight dinners!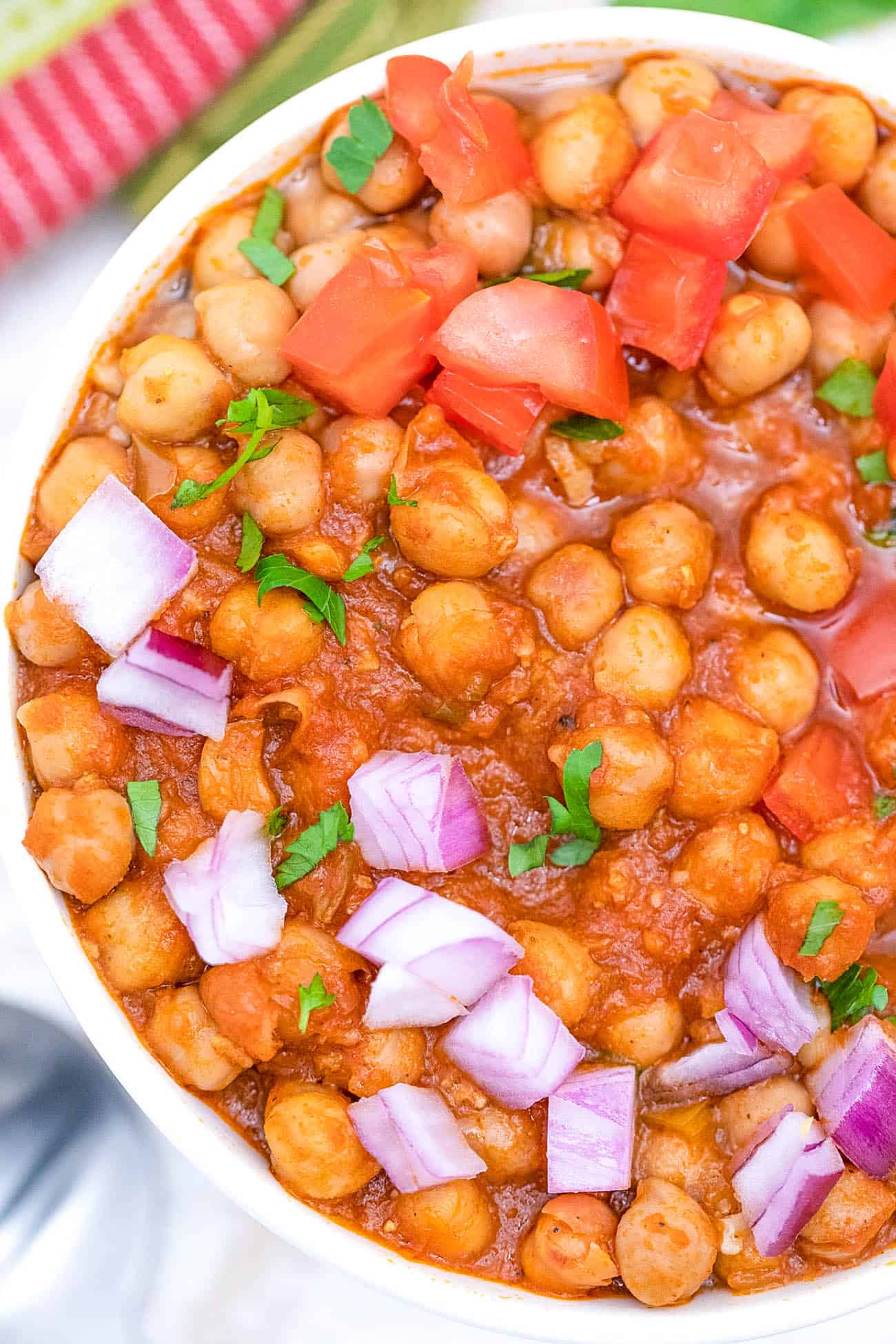 Fluffy Southwestern quinoa salad is a healthy option for lunch or dinner. Make a batch of this quinoa to keep in an airtight container in the refrigerator to serve over fresh greens or as a base for easy vegetarian quinoa burrito bowls!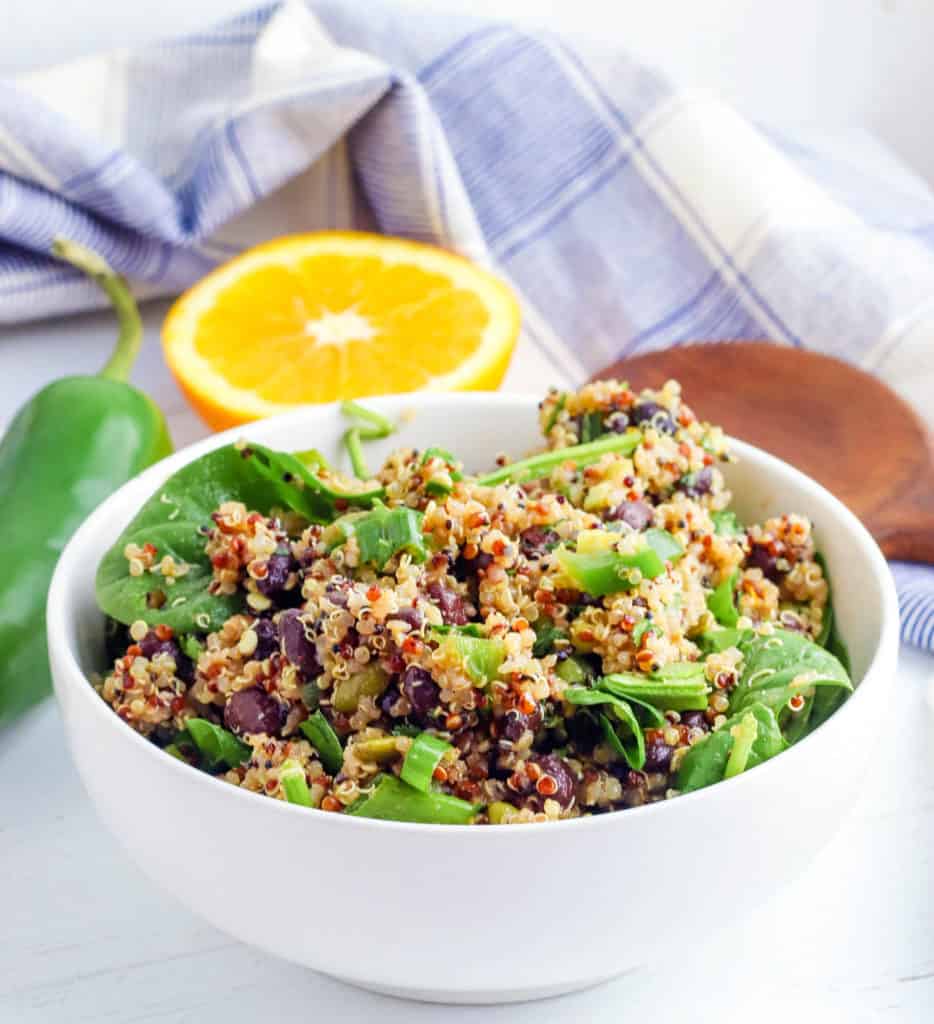 Fresh veggies are great to keep around and this stir fry is yummy with tasty tofu! Just reheat and serve these veggies with quinoa, rice, or noodles!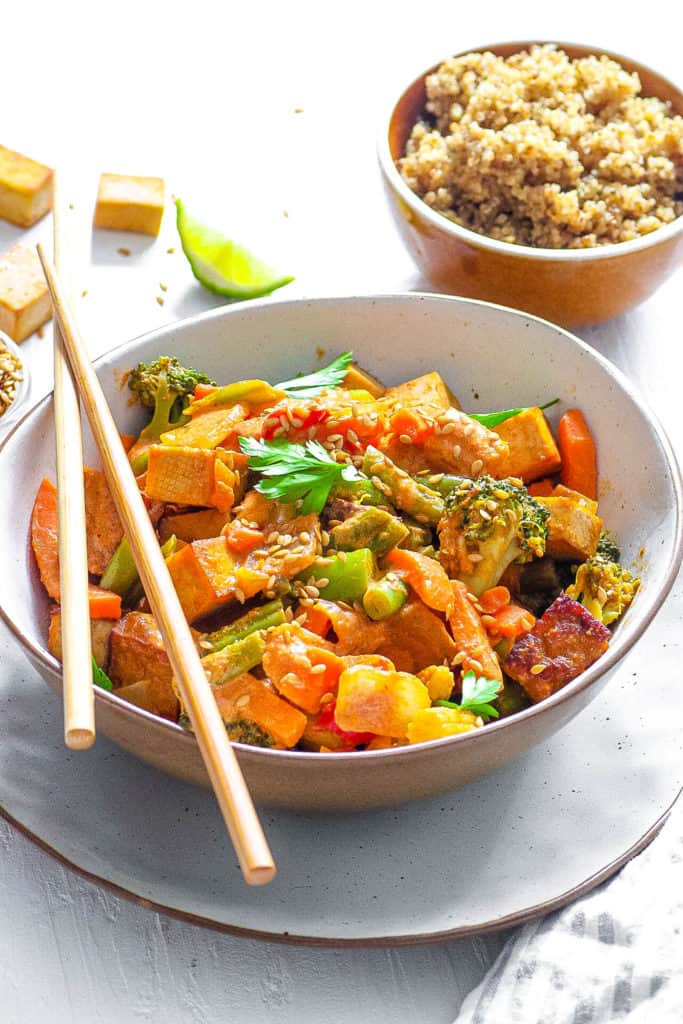 Fragrant Indian fried rice is a healthy recipe to keep around whenever you want a bowl of comfort and fresh veggies! Asparagus, bell peppers, and more are filled in this aromatic rice.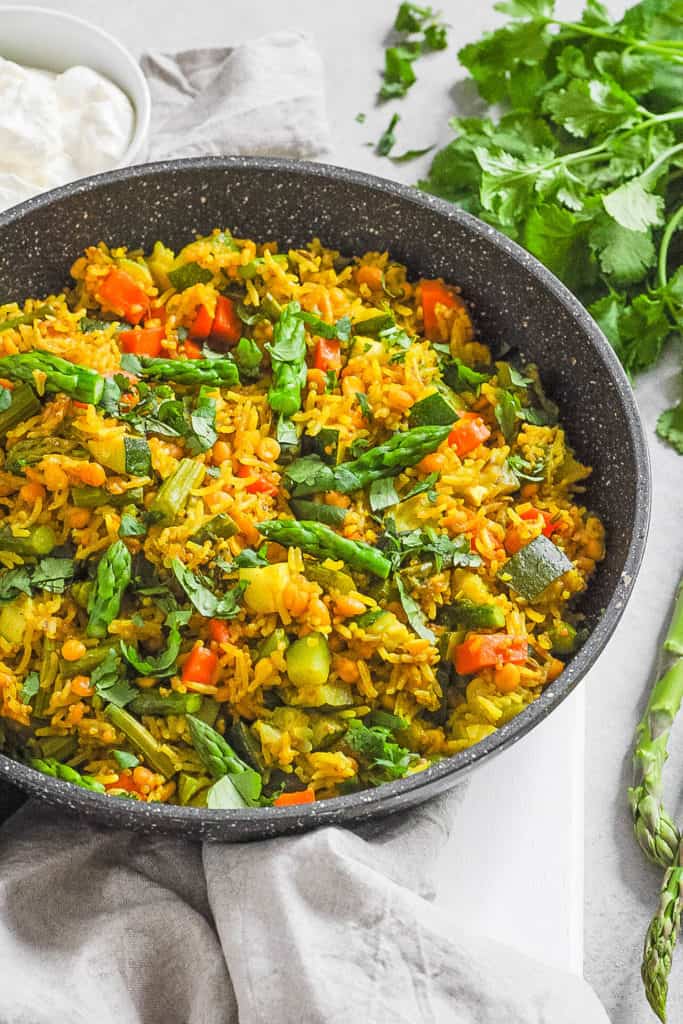 Black bean burrito bowls are esy to make and great for meal prepping! Make a batch of rice, black beans, salsa, and whatever else you want to assemble in a bowl with fresh ingredients like cilantro, lime, rice, and tomatoes. Use vegan sour cream or yogurt!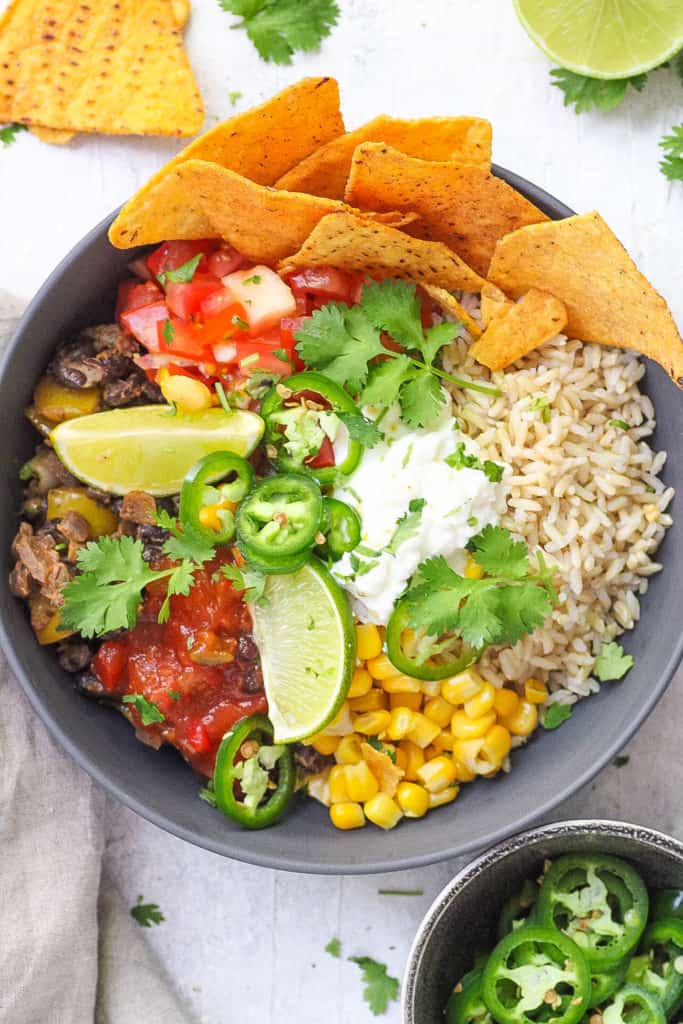 Vegan Meal Prep FAQs
How long does vegan meal prep last?
These easy meal prep recipes can be made up to 4-5 days in advanced and stored in the fridge! If you want your meal prep to last longer, you can store most recipes in individually portioned airtight containers in the freezer for up to 3 months.
How do you keep meal prep fresh? How do you store prepared meals?
Here are some tips for storing prepared meals and keeping them fresh:
1) Let the dish cool completely before storing it. Then transfer to an airtight container and put in the fridge or freezer immediately after it has cooled.
2) Always pack in an airtight freezer safe container or ziptop bag.
3) For baked goods, separate each one with a layer of parchment paper before refrigerating or freezing and storing.
How do you reheat meal prepped foods?
To reheat from the fridge, typically the microwave or oven works well. If you're microwaving it, I recommend reheating in 1 minute intervals until it's the temperature you desire. In the oven, typically 10-20 minutes at 350 degrees will work. To reheat from frozen, I recommend defrosting in the fridge overnight, and then using either the microwave or oven to reheat.
Is meal prepping healthy?
Absolutely! Meal prepping is super healthy for a few reasons:
1) It allows you to eat whole food based recipes throughout the week instead of relying on fast food
2) You can control the portions and ingredients, allowing for low calorie and low sugar meals
3) Meal prepping usually involves lots of nutrient rich fruits, veggies, and lean protein – all of which store and reheat well – so it helps you make healthier choices without trying!

Final Thoughts
I hope you found some healthy vegan meal prep recipes to try from this post. Whether you're following a vegan diet, want to eat more whole foods, or just want to learn more about meal prep, many of these recipes could be perfect for you!
If you have tried any of these recipes or meal prepping tips, then please rate it and let me know how it turned out in the comments below!
You can also FOLLOW ME on FACEBOOK, TWITTER, INSTAGRAM, and PINTEREST to see more delicious, healthy, family-friendly food!
8 responses to "113 Vegan Meal Prep Ideas"