Vegetarian Italian Recipes: 25 Healthy Meals
This post may contain affiliate links. As an Amazon Associate, I earn from qualifying purchases. Please read my disclosure.
These healthy and nutritious vegetarian Italian recipes are simple and satisfying. You'll find pastas, pizzas, soups, and appetizers that are big on Italian flavors, high in nutrients, and low in calories and fat!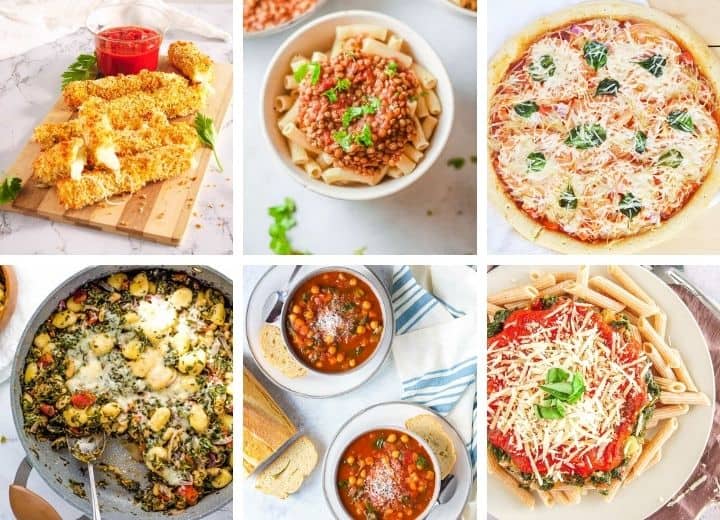 I'm always in the mood for Italian food! When done right, it's got rich depth of flavors, fresh herbs, and it's just so warm and comforting.
I mean, who doesn't love a big bowl of pasta!?
But the problem with Italian food is often the portion size, and the amount of refined carbs. Whether that's in white pasta noodles, or crusty pizza dough, when you think of Italian, you most definitely associate it with a carb overload.
While carbs are actually not at all bad, when you eat too much refined carbohydrates in the form of white bread, and pastas, it turns straight to sugar in your body, and has no nutritional benefit.
That is often why Italian food gets a bad rep, for not being the healthiest of meals.
However, with a few adjustments, and reducing the overall portion size that you find in many restaurants, you can enjoy a delightful arrangement of vegetarian Italian recipes without any of the guilt!
These recipes are chock full of vitamin rich vegetables, whole grain carbohydrates, and reduced oil and cheese.
The result is a lighter take on some of the Italian classics we all know and love!
What Are The Staple Ingredients in Vegetarian Italian Recipes?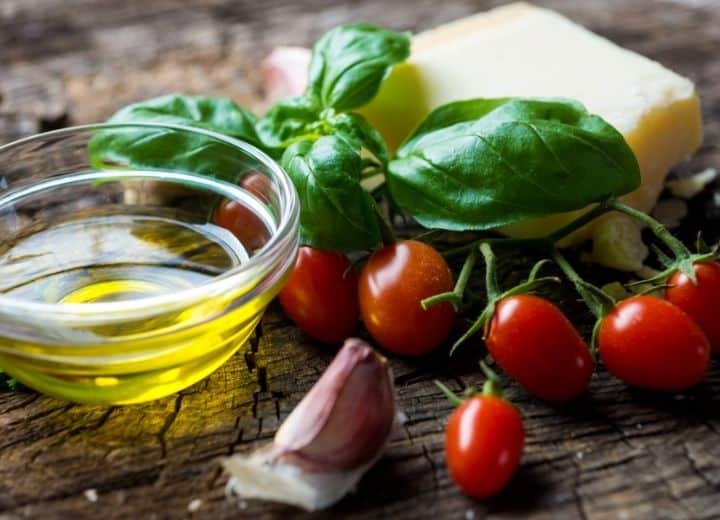 When you're stocking your pantry to create easy Italian recipes at home, you'll need some staples. This will help you create these healthy vegetarian Italian recipes in no time at all, without having to make a special trip to the grocery store.
Extra Virgin Olive Oil: A good quality EVOO is in virtually every Italian recipe. It is used to sauté vegetables, make vinaigrettes, drizzle over grilled vegetables, you name it, it's in everything.
Balsamic Vinegar: Balsamic vinegar originates from Italy. It is used to create marinades and dressings.
Whole Wheat Pasta: Instead of keeping the typical white pasta on hand, I suggest keeping whole wheat pasta, lentil, or chickpea pasta in your pantry. These pastas are higher in fiber, and nutrients. Lentil and chickpea pasta also have the added benefit of added protein, which is a great addition when you're making vegetarian recipes.
Canned Tomatoes: Canned tomatoes in the form of diced, crushed, or whole, will help you make tomato based sauces in no time at all.
Fresh Tomatoes: Just like canned tomatoes, fresh tomatoes are also good to keep at the ready. Although, fresh tomatoes are not in season all year. However, when in season, fresh tomatoes can be used to make sauces, or chopped fresh for bruschetta, or sliced on top of pizza.
Onions: Another staple vegetable, onions add a great deal of flavor to sauces.
Mushrooms: Many vegetarian Italian recipes use mushrooms both in their sauces or sautéed.
Pasta Sauce: If you don't have time to make your own pasta sauce, having a good quality authentic pasta jarred pasta sauce is good to keep in your pantry. You can quickly sauté some vegetables, cook some whole wheat pasta, and toss it together with your pre-made pasta sauce.
Italian Cheeses: Parmesan is the most widely used cheese that it grated on top of pastas, and other Italian dishes. However, some other Italian cheeses to consider keeping in your fridge include pecorino, mozzarella, ricotta, and mascarpone.
What Are The Typical Spices and Herbs Used for Vegetarian Italian Recipes?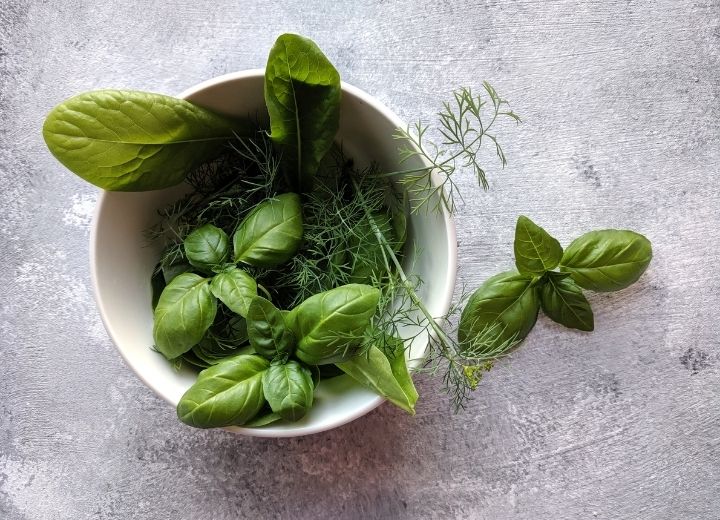 Garlic: Used in a variety of dishes, garlic is often sautéd in olive oil with onions to create a base to many recipes.
Basil: Fresh basil is used in sauces, both tomato based, and pesto sauces. It's also added to salads, and used as a garnish.
Oregano: Added to marinara sauces, pizza sauce, combined into salad dressings, and added as a seasoning to vegetables, oregano is a staple Italian herb.
Rosemary: Added to breads like foccacia, or as an herb in soups or casseroles, rosemary is a woodsy, aromatic herb that contains elements of citrus and mint.
Capers: Capers are pickled flower buds that have a salty and briny flavor. They are added to puttanesca sauce.
Tools and Equipment You'll Need to Make Italian Recipes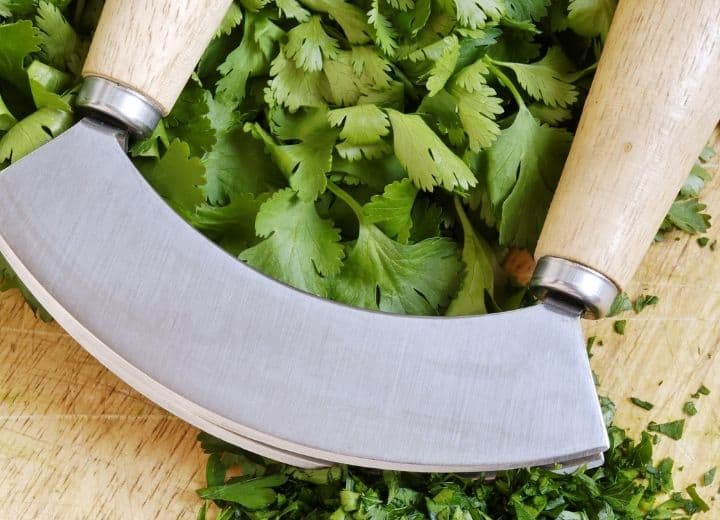 Dutch Oven: A Dutch oven is used to create stews and soups. The thick walls of a cast iron Dutch oven keep the food inside warm, so it also doubles as a serving dish!
Large Sauté Pan: You'll need a large sauté pan to sauté vegetables, create amazing sauces, and toss your pasta. A sauté pan has a large flat bottom, with higher sides than other pans. It makes it ideal for making risottos, and gnocchi.
Large Baking Dish: If you plan to make lasagna, stuffed shells, or cannelloni, you'll need a large baking dish.
Pasta Roller: If you plan to try to make your own homemade pasta, you'll need a pasta roller! This will help you create perfectly thin and even pasta.
Mezzaluna: A mezzaluna is a double handed curved knife. It's perfect to use to chop herbs, onions, garlic, and leafy greends.
Food Mill: If you plan to make your own homemade pasta sauces, having a food mill will make quick work of peeling tomatoes. It is also great to use for making soups, sauces, jams, and ricing potatoes.
Top Tips for Making Vegetarian Italian Recipes
Use seasonal vegetables in your pastas, lasagnas, and salads. This will give your dishes a nice fresh flavor. When you enjoy vegetables at their peek of freshness they are more flavorful. As a result, you can go lighter on the cheese and oil.
Don't overcook your pasta. When boiling your pasta cook it until al dente. It's also a good idea to add salt to your water before adding the pasta. This will keep your pasta from sticking together.
Use a quality extra virgin olive oil. Olive oils can differ greatly depending on quality. Go for the best you can afford. As a result, you won't need to use as much, and it will last longer.
Don't add too much sauce to your pasta. As Americans we tend to add way more sauce to our pastas than Italians. Lightly coat your pasta in sauce.
Instead of topping your pasta with sauce, add your pasta to the sauce and toss to combine.
How Do You Make Italian Recipes Healthier?
Use less olive oil. Italian recipes call for quite a lot of olive oil. In my opinion, it's more than you need. While olive oil is a healthier oil to use compared to others, it is still dense in calories and fat. By reducing the amount of olive oil you use, you will drastically reduce the overall calories and fat in your recipe.
Don't use white pasta. There are so many nutrient rich pastas out there. Try whole wheat pasta, lentil pasta, chickpea pasta or others. These pastas are high in fiber, protein, vitamins and nutrients. Whereas, if you opt for white pasta you are just consuming empty calories.
Use lots of fresh vegetables. When cooking vegetarian, make sure that you're not just adding pasta and sauce. Load your pastas with fresh vegetables for added nutrients, and more density. The fiber in the added veggies will help keep you fuller longer too!
Reduce your portion size. When we go to Italian restaurants we get a huge heaping bowl of pasta which is probably meant to serve 4 not 1. Stick to portion control when it comes to the amount of pasta, or pizza, and load up on the vegetables.
Most Popular Vegetarian Italian Recipes
Pasta
When it comes to Italian recipes pasta is one of the first dishes that comes to mind. Pasta comes in so many forms. Enjoy it stuffed with cheese and spinach in a ravioli, or tucked round fluffy potato in a ghocchi. It can be layered and baked in a lasanga, or tossed in sauce. There are so many shapes of pasta including angel hair, linguine, rigatone, and more!
Here are some of my favorite pasta recipes!
Pizza
Make a healthy homemade pizza using whole wheat pizza dough, and keep the cheese light. Top with your favorite vegetable toppings including mushrooms, fresh herbs, tomatoes, peppers, olives, capers, and more!
These easy pizza recipes are family friendly, and so much healthier than delivery!
Soup
When it comes to Italian soups, plenty of herbs and vegetables make them shine. Adding beans, and pasta shells makes these soups hearty enough to create a complete meal!
Appetizers and Snacks
These appetizers, snacks, and side dishes are simple and totally full of Italian flavors. Classic bruschetta gets a twist with the addition of white beans. Creamy polenta is served with summer squash, and zucchini flowers get to be the star when stuffed with ricotta!
I hope you were able to find some healthy vegetarian Italian recipes that you would like to make for your family!
Check Out These Other Vegetarian Dinner Recipe Round-Ups!
If you have tried any of these vegetarian Italian recipes, or any other recipe on my blog, then please rate it and let me know how it turned out in the comments below! You can also FOLLOW ME on FACEBOOK, TWITTER, INSTAGRAM and PINTEREST to see more delicious, healthy, family friendly food!
6 responses to "Vegetarian Italian Recipes: 25 Healthy Meals"