Vegan Chorizo Recipe (Homemade, Easy)
This post may contain affiliate links. As an Amazon Associate, I earn from qualifying purchases. Please read my disclosure.
This vegan chorizo recipe is the best! Super flavorful and full of protein, this easy recipe is a great way to make traditional plant-based chorizo. Made with crumbled firm tofu, tomato paste, paprika, and chili powder, you will love this chorizo sausage that is perfect for taco night, breakfast burritos, burrito bowls, and so much more!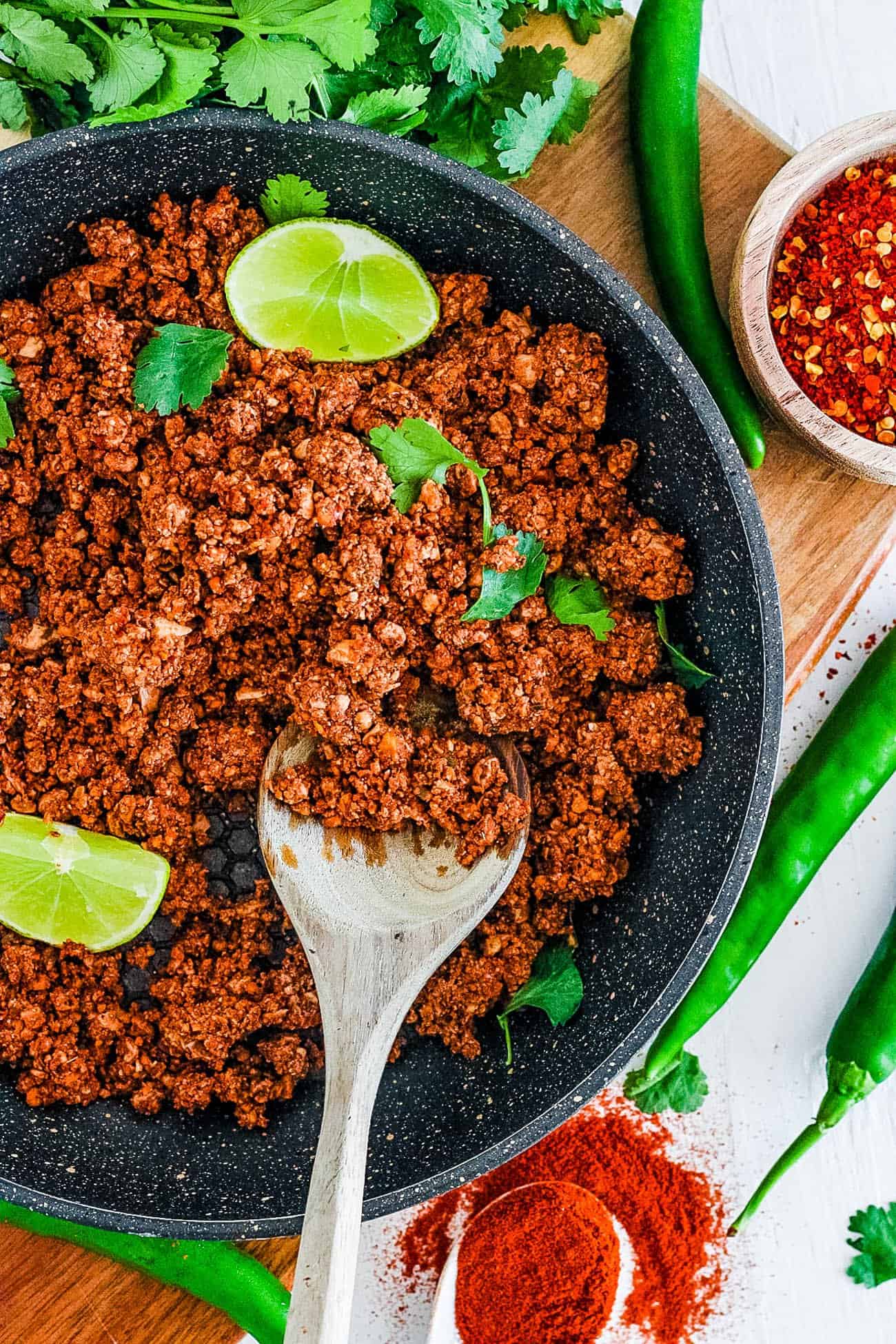 A great addition to any weekly rotation, this vegan chorizo recipe is one for the books. Tender, zesty, and filled with warm spices, this spicy "sausage" is loaded with yummy flavors and is the perfect way to squeeze in a plant-based meal.
Traditional chorizo is made with red meat like ground pork, which isn't the healthiest thing to have on a regular basis. This chipotle copycat vegan chorizo is made with plant based ingredients that are much more heart healthy but equally delicious!
Latest Recipe Video!
This tofu recipe is cooked to perfection and is way better (and healthier!) than Trader Joe's soy chorizo. You'll love this recipe because it is loaded with all the flavors you enjoy about Mexican cuisine. It tastes like the real thing, but is way healthier and totally plant-based.
The main ingredients for this recipe are pretty basic and straightforward! I like to make this plant based chorizo crumble for weekly meal prep because the leftovers are so yummy the next day. This is a great recipe for adding to vegan breakfast tacos, taco salad, or even potato tacos. There are all kinds of different ways to eat this spicy vegan chorizo – so feel free to customize it however you like!
👩🏽‍🍳 Why This Recipe Works
Meat free chorizo is vegan & gluten-free! Perfect for meatless taco nights!
Super versatile, use in a variety of dishes and recipes such as soups, burritos, or even taco boats.
Easy to make vegan recipe, comes together within minutes.
Heart healthy
Kid friendly
So satisfying and hearty even meat eaters will love it!
Best vegan chorizo ever!
🥘 Ingredients
This Mexican chorizo recipe calls for just a basic ingredients list that can easily be found at your local grocery store or online! Many of the ingredients you may already have at home because they are pantry staples. For ingredients details and nutrition info, see the recipe card below.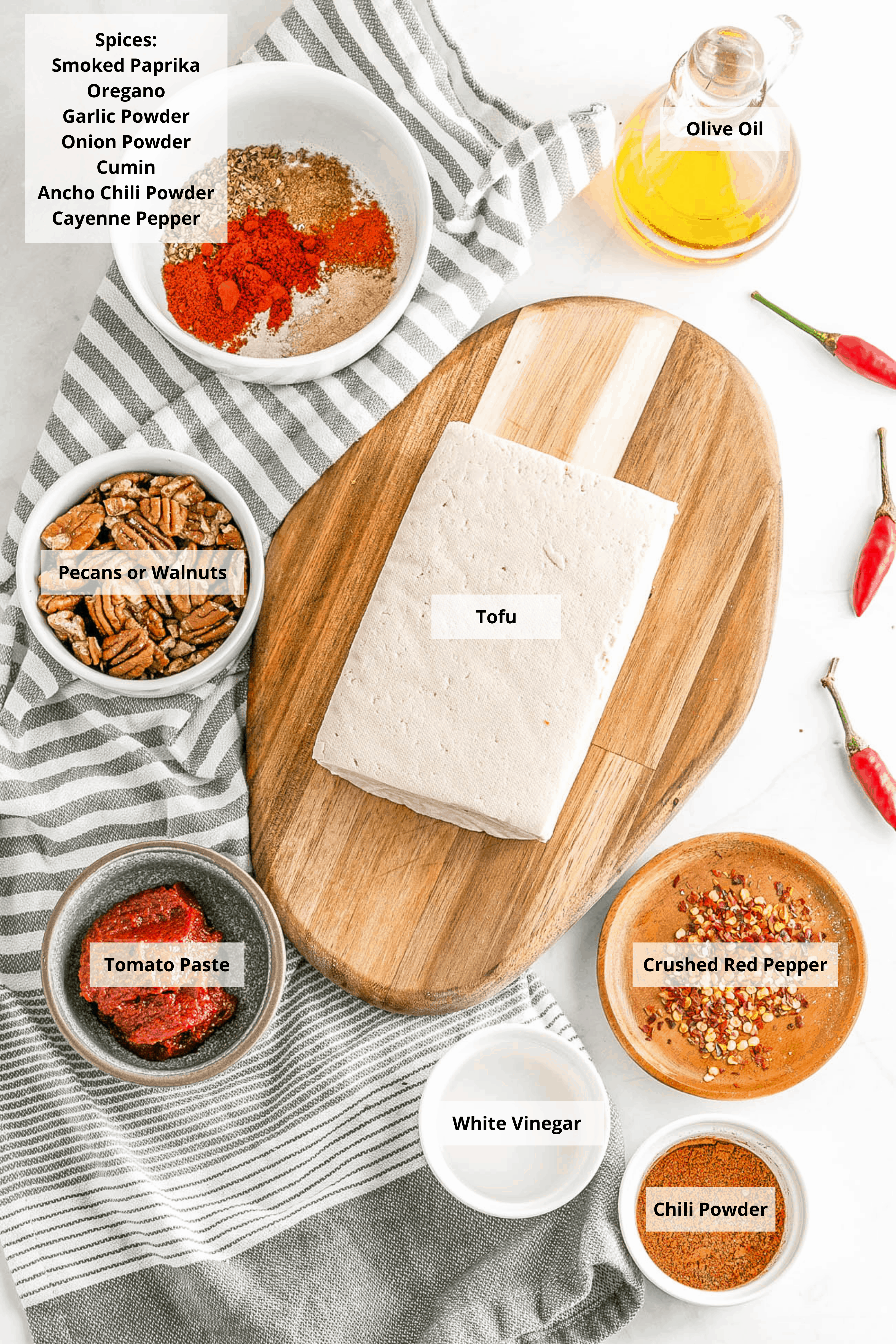 Tofu: This soy product is the key ingredient to this recipe. You will need 16 ounces of extra firm tofu – make sure you drain it properly before cooking and press it, so it doesn't have too much excess water.
Oil: We used olive oil for this recipe, but you can use any type of neutral vegetable oil like coconut oil.
Tomato Paste: This ingredient can be found at most local grocery stores in the canned food section. The tomato paste in this recipe gives this dish its rich and tangy flavors.
Nuts: Either pecans or walnuts will work for this vegetarian chorizo.
Vinegar: White vinegar is the perfect addition to this recipe because of it offers savory flavors for this low calorie healthy chorizo.
Spices: For this recipe, you will need a variety of spices such as chili powder, smoked paprika, dried oregano, garlic powder, onion powder, ground cumin, ancho chili powder, cayenne pepper (optional), and chili flakes (optional). You'll also want to use salt and black pepper to taste. You can adjust these seasonings to your preference if you like mild or medium heat.
📖 Variations
Add Veggies: Feel free to add some veggies to this vegetarian chorizo to turn it into a stir-fry. You could add broccoli, red onion, red bell pepper, green bell peppers, squash, kale, and so much more. Want some additional protein? Add some black beans or garbanzo beans!
Deeper Flavor: To enhance the flavors of this recipe, feel free to add more heat! Dried ancho chiles, crushed red pepper flakes, hot sauce, or chipotle chili powder would all work great in this recipe.
Substitute: If you do not have white vinegar, then you may substitute with apple cider vinegar.
Papas Con Chorizo: The traditional version of this dish literally means potatoes and sausage, so create a vegan version by adding diced potatoes into the tofu mixture to make vegan papas con chorizo!
For Kids: Just reduce the amount of overall spices in the recipe, and omit any "hot" spices. With those changes, kids will gobble this up!
🔪 Instructions
Read the recipe card for the full details for this easy recipe.
Dry the Tofu: First, wipe the excess water from the tofu. You may want to also press your tofu to remove any additional water.
Chop Tofu: Next, chop the tofu into crumbles and place them in a medium or large bowl.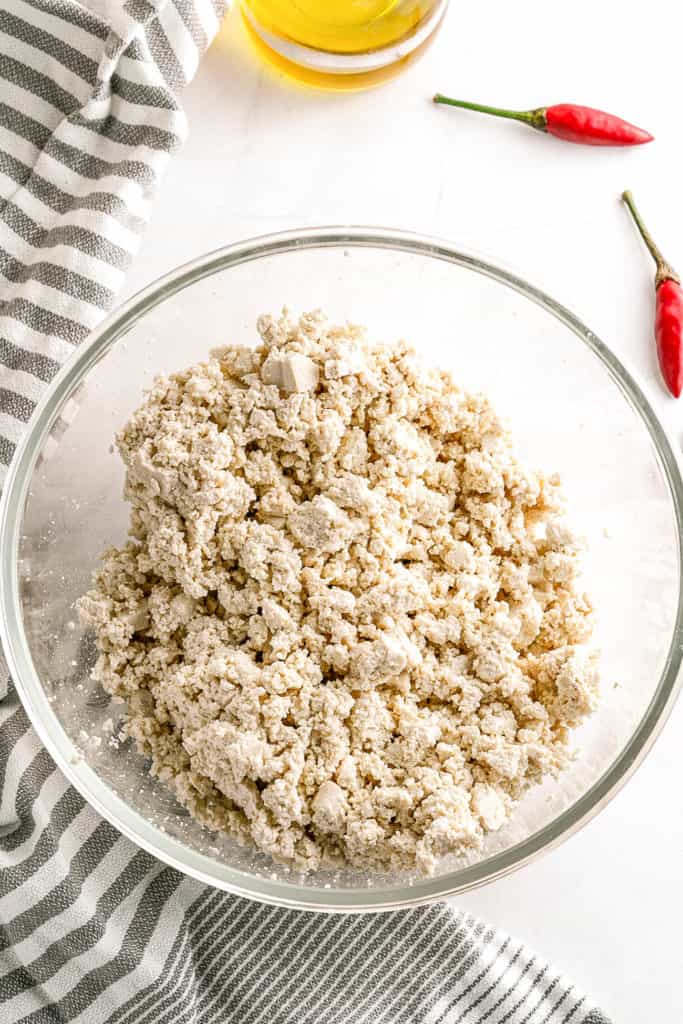 Chop the Nuts: Place the nuts in a food processor and chop until they are like a "meat-like" consistency.
Add Spices: After that, add all the spices, oil, vinegar, chopped nuts, and tomato paste to the tofu crumbles. Stir mixture until combined.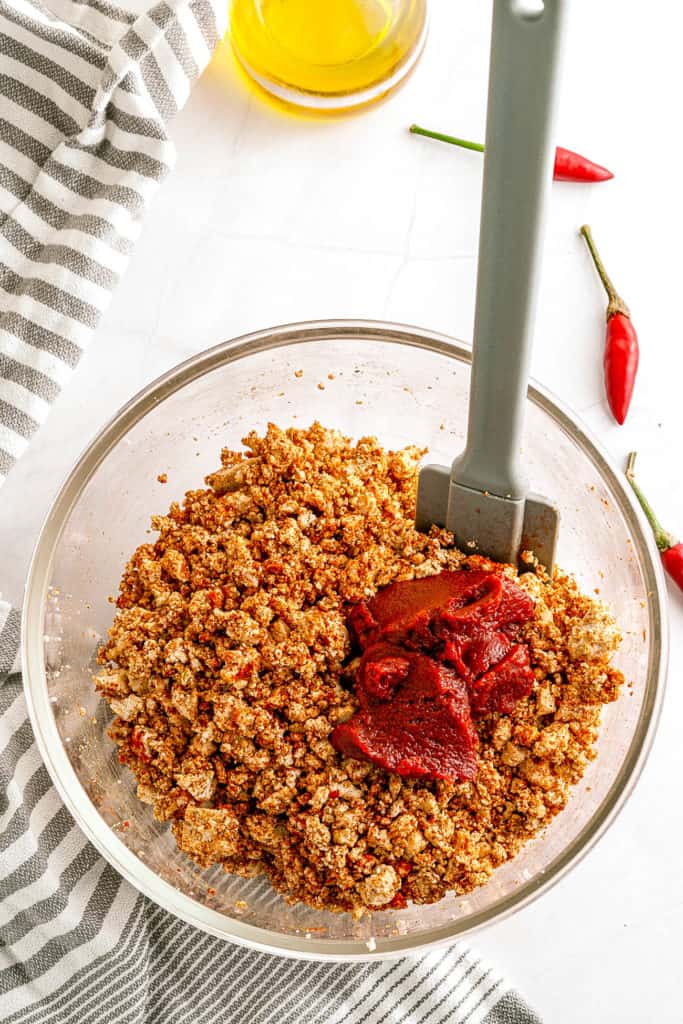 Heat Skillet: Next, sautè the plant based chorizo in a large skillet over medium heat to medium-high heat, until golden brown and all the water has evaporated, five to seven minutes.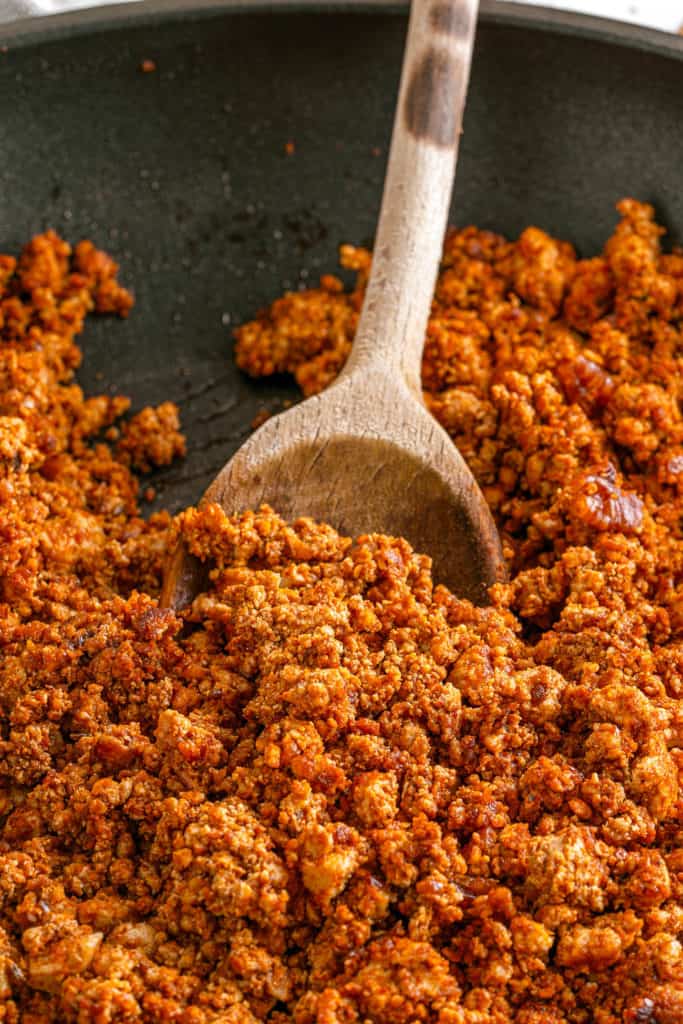 Serve immediately, as a filling for tacos, on top of nachos, or however you like!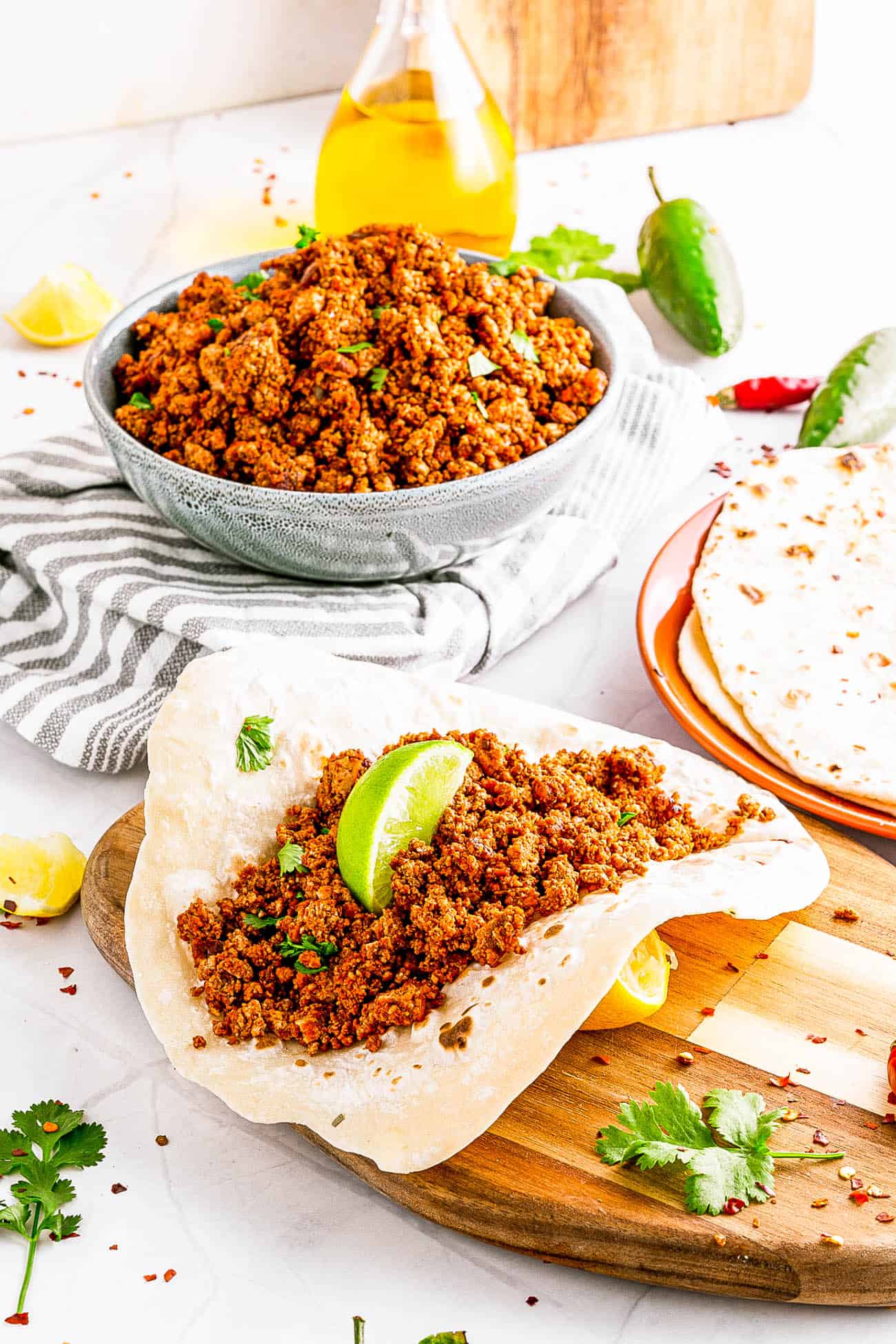 ❓Recipe FAQs
What is vegan chorizo made of?
Meatless chorizo can be made of a variety of things! Mainly, vegan chorizo is made from soy products like tofu, tempeh, etc., but you could even use coarse chunks of garbanzo beans.
Is vegan chorizo healthy?
Absolutely! It's made with heart healthy plant protein (instead of red meat), is low in calories, high in protein, and isn't made with any artificial preservatives, TVP (highly processed textured vegetable protein), .sweeteners or additives like store bought soyrizo often is.
How long does plant based chorizo last?
This healthy chorizo will last in the refrigerator in an airtight container for up to seven days. I don't recommend freezing it, as the texture will change once it's frozen and defrosted.
What can replace chorizo?
Any vegetable proteins can be a replacement for chorizo. I prefer plant proteins such as nuts, tempeh, and seitan – since you can achieve that chorizo like texture. But ingredients like chickpeas, beans or even jackfruit, would all work if crisped up slightly and spiced.
👨‍👩‍👧 How To Serve
As Taco Filling: Make vegan chorizo tacos by taking warm corn tortillas or flour tortillas, topping them with a healthy helping of this spicy chorizo, and then adding your favorite fresh ingredients like fresh cilantro, salsa, guacamole, vegan sour cream, diced tomato, lime wedges, and white onion.
For Fajitas: Saute up some veggies, warm some tortillas, and serve this low fat chorizo as a filling for your fajitas with some mango salsa and vegan shredded cheese!
For Breakfast: Serve this delicious chorizo as a side with your scrambled eggs and toast in the morning!
💭 Expert Tips
Store the leftovers in an airtight container. You will love how the flavors mend together after this vegan chorizo has been sitting in the refrigerator.
To make this less spicy, just reduce the amount of chili powder in this recipe. To increase the spice, add cayenne pepper or red chili flakes.
Make sure to remove the excess water from the tofu with a clean tea cloth. You may also want to press your tofu before crumbling it up.
Feel free to lightly chop the tofu in a food processor to save time.
You want the crumbled tofu to get mostly dehydrated while cooking in the pan, so feel free to cook on low heat, stirring every couple of minutes, until the water from the tofu has evaporated.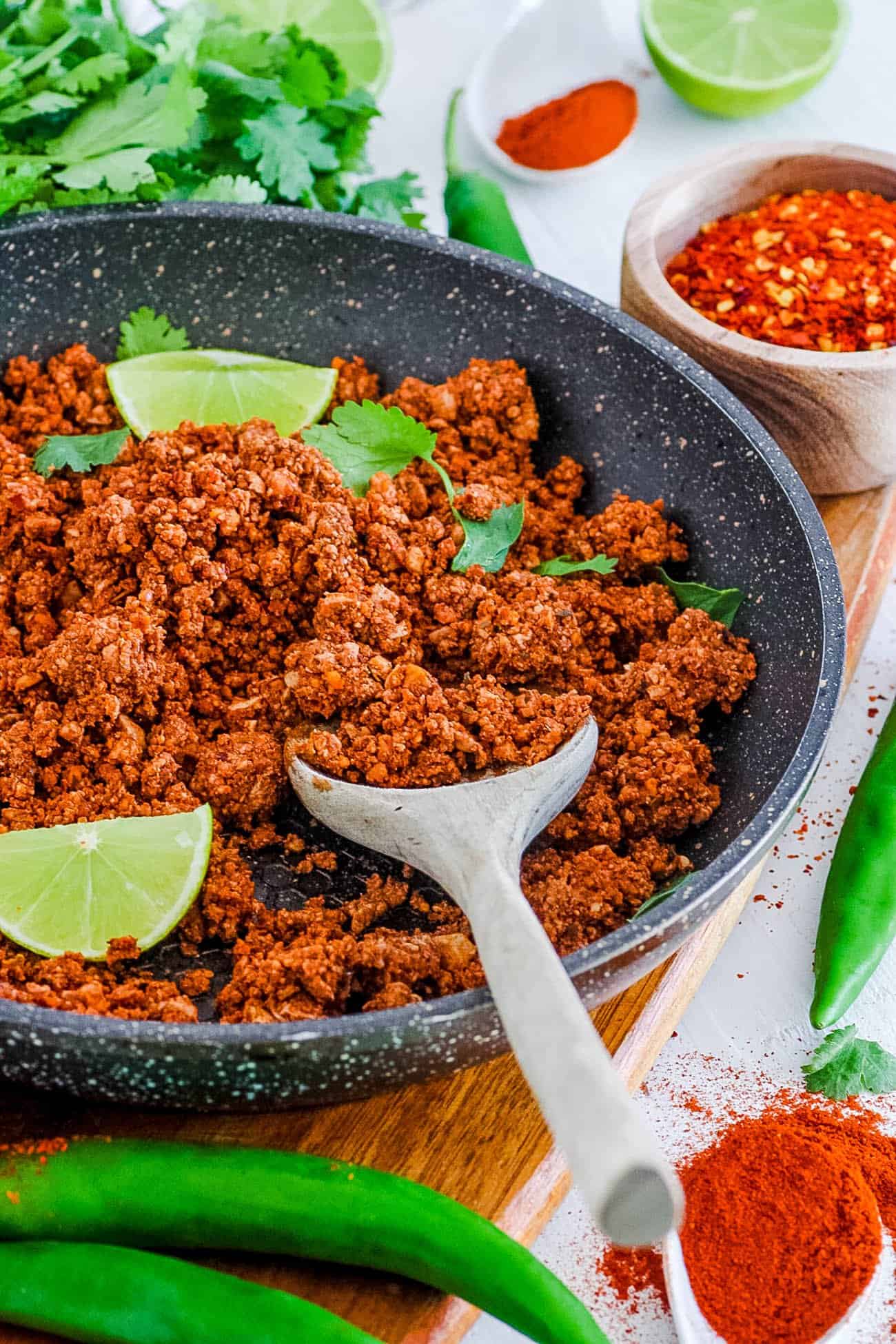 🍲 More Easy Vegan Recipes!
LOVE THIS RECIPE? Please leave a 5-star rating 🌟 in the recipe card below and/or a review in the comments section further down the page!
You can also FOLLOW ME on FACEBOOK, TWITTER, INSTAGRAM, and PINTEREST to see more delicious, healthy, family-friendly food, and if you have any questions, I'm here to help!
📋 Recipe Card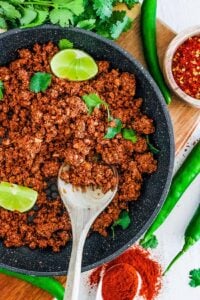 Print Recipe
Vegan Chorizo
This vegan chorizo is the best! Super flavorful and full of protein, this easy recipe is a great way to make traditional plant-based chorizo. Made with crumbled firm tofu, tomato paste, paprika, and chili powder, you will love this chorizo sausage that is perfect for taco night, breakfast burritos, burrito bowls, and so much more!
Instructions
Release excess water off the tofu with a clean tea cloth and press the tofu to remove any remaining water.

Next, chop tofu into crumbles and place them in a medium bowl. Place the nuts in a food processor and chop until they are like a "meat-like" consistency.

Add all the spices, olive oil, vinegar, nuts, and tomato paste to the tofu. Stir to toss.

Sautè the mixture in a large skillet until golden. This will take five to seven minutes and the result will be a delicious spiced vegan chorizo.

Keep this chorizo in the refrigerator for up to seven days.
Notes
Store the leftovers in an airtight container. You will love how the flavors mend together after this vegan chorizo has been sitting in the refrigerator.
To make this less spicy, just reduce the amount of chili powder in this recipe. To increase the spice, add cayenne pepper or red chili flakes.
Make sure to remove the excess water from the tofu with a clean tea cloth. You may also want to press your tofu before crumbling it up.
Feel free to lightly chop the tofu in a food processor to save time.
You want the crumbled tofu to get mostly dehydrated while cooking in the pan, so feel free to cook on low heat, stirring every couple of minutes, until the water from the tofu has evaporated.
Note: 1 serving is 1/2 cup
Nutrition
Serving:
0.5
cup
|
Calories:
132
kcal
|
Carbohydrates:
4
g
|
Protein:
6
g
|
Fat:
11
g
|
Saturated Fat:
1
g
|
Polyunsaturated Fat:
3
g
|
Monounsaturated Fat:
6
g
|
Sodium:
191
mg
|
Potassium:
101
mg
|
Fiber:
2
g
|
Sugar:
1
g
20 responses to "Vegan Chorizo Recipe (Homemade, Easy)"