Prune Puree Baby Food (Easy First Food)
This post may contain affiliate links. As an Amazon Associate, I earn from qualifying purchases. Please read my disclosure.
This simple recipe for homemade prune baby food puree will quickly become one of your baby's favorites. Full of healthy antioxidants and dietary fiber, prune puree helps keep baby regular!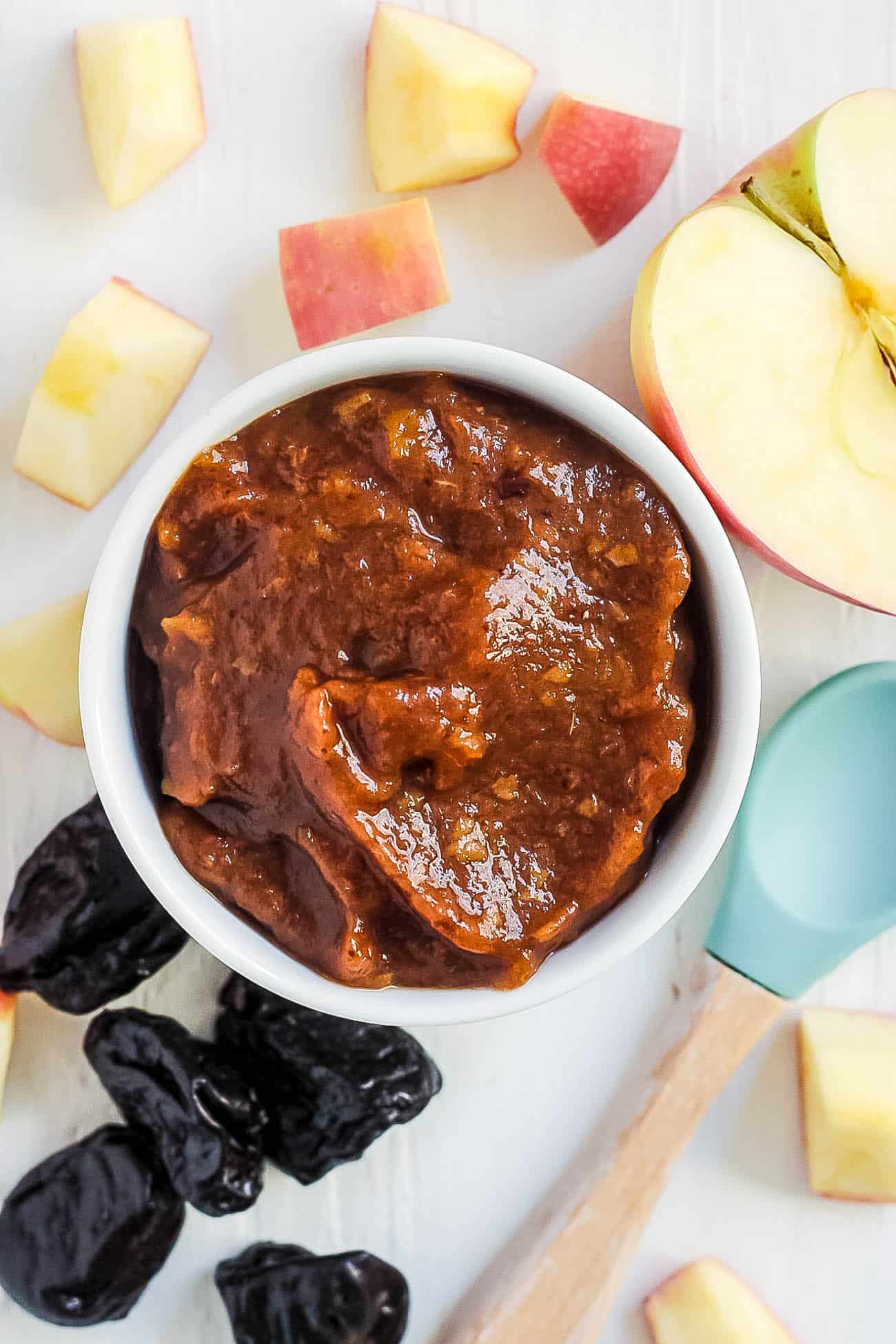 Ah, prunes. Prunes get such a bad rap – but they're actually quite delicious! They're basically just dried plums – and they look like massive raisins.
When I started solid foods for my kids, around 5-6 months of age, I gave them small amounts of this prune baby food to help keep them regular. You can make just plain prune puree, but I found that with the addition of Fuji Apples, this quickly becomes a favorite puree recipe for most babies!
Latest Recipe Video!
This is a super easy to make puree – and you can mix it into oatmeal, yogurt, with other veggies, etc.
Prunes are the number one source of antioxidants for babies and they also help keep things moving along, so if your baby is prone to constipation, a couple cubes of this a day incorporated into your baby's diet should help keep them regular!
👩🏽‍🍳 Why This Recipe Works
Simple homemade baby food recipe
Healthier than store bought baby food pouches
No artificial colors or flavors
Made with organic ingredients
Easy to store in the refrigerator or freezer
Sweet with no added sugar
Babies love it! The addition of apples helps to balance the flavor of the prunes
Best home remedy for baby constipation
A natural way to keep baby regular (works for the whole family for regularity too!)
Full of antioxidants
Best prune puree recipe ever!
🥘 Ingredients
This baby food prune puree blend uses simple ingredients easily found at your local grocery store!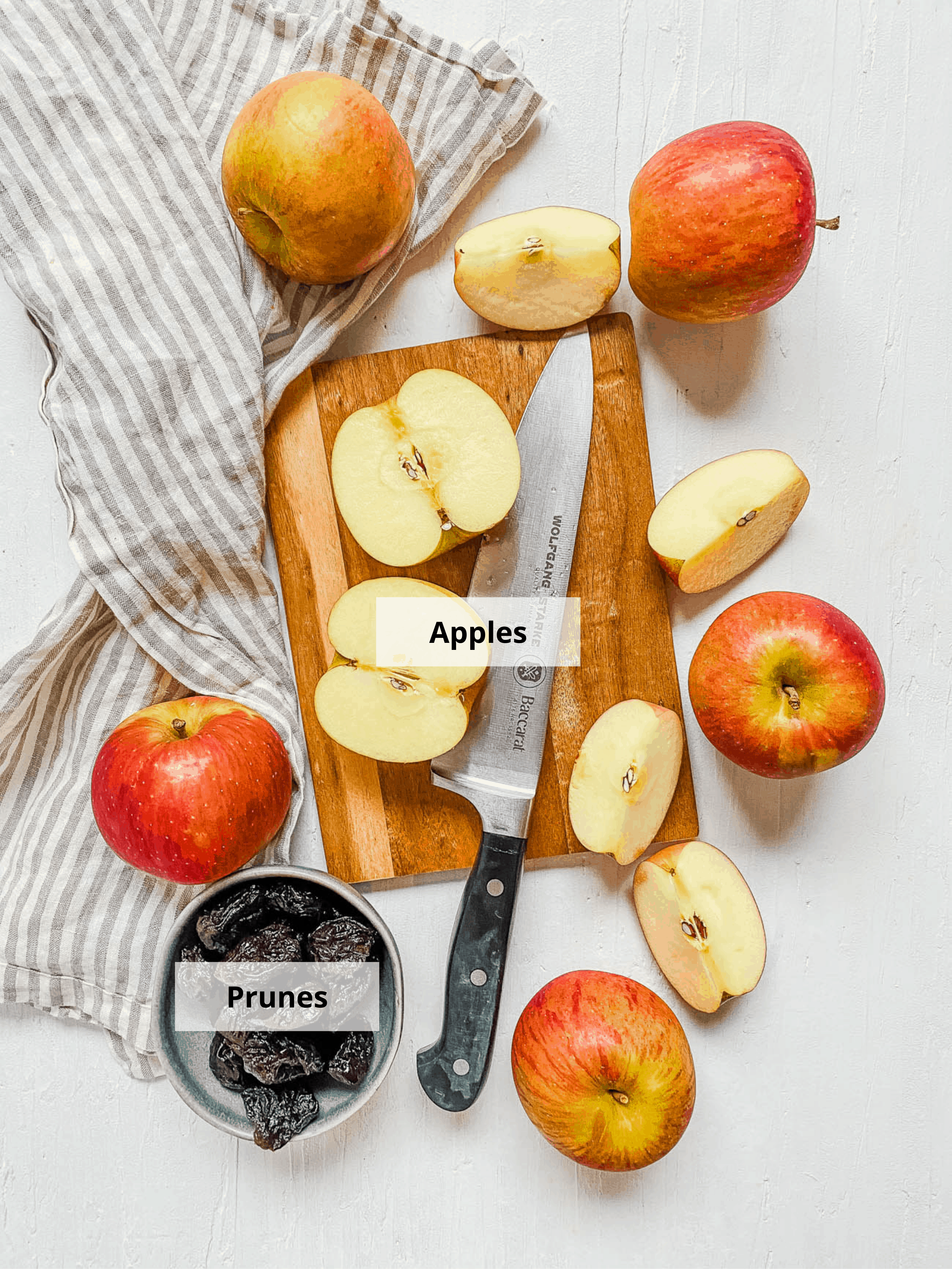 Organic Prunes: I recommend using dried prunes with no sugar added (you should only see one ingredient on the package – prunes!), but if you have fresh prunes you can use those too. A prune is just a dried plum, so all of the health benefits of plums apply to prunes too!
Organic Fuji Apples: You don't have to include apples in this puree, but I found that it mellows out the flavor and makes it a lot more palatable for your baby. When buying apples, especially for your baby, it is important to get organic. Apples are one of the fruits on the EWG's Dirty Dozen list of high pesticide fruits and vegetables. Fuji apples are a great choice for this puree. They have a pinkish flesh, white center, and sweet flavor. It pairs nicely with the prunes.
Water: The added water helps to soften and cook the prunes and apples, and gives this apple prune puree for baby a smooth consistency that baby can easily eat.
📖 Variations
Mash Or Lightly Blend Into Chunks: If your baby is older, instead of pureeing the prunes, you can mash them or blend until chunky. They can then feed themselves the chunks, and mash with their gums.
Mix With Breast Milk Or Formula: Before you serve to your baby, stir in some breast milk or formula for added calories and nutrition. Do not add breast milk or formula before freezing or storing in the fridge (as it will spoil) — add it right before serving. If you choose formula, I recommend using one of these best organic baby formulas for the cleanest ingredients, and a close formulation to breastmilk.
Prune Baby Food Combinations: You can mix baby prunes with all kinds of other fruit blends! Some of our favorites include: A different type of apple puree, or try adding pureed banana, peaches, nectarines, or pear. You can also make this a single-variety fruit puree and just use prunes and water!
Add New Flavors: If your baby is ready for more flavor, add a pinch of different spices. Try cinnamon, cardamom, pumpkin pie spice, or nutmeg!
🔪 How To Make Prune Puree
Making prunes for baby is actually super easy! Here's how you do it:
Prep Your Fruits, Add To The Pot: Wash the apples. Cut in half and remove seeds and stems. Cut each half into 4-6 pieces. Remove pits from prunes (or – timesaver: get pitted prunes!). Put apples, prunes, and water into a large pot. Cover with a lid and turn the burner on high.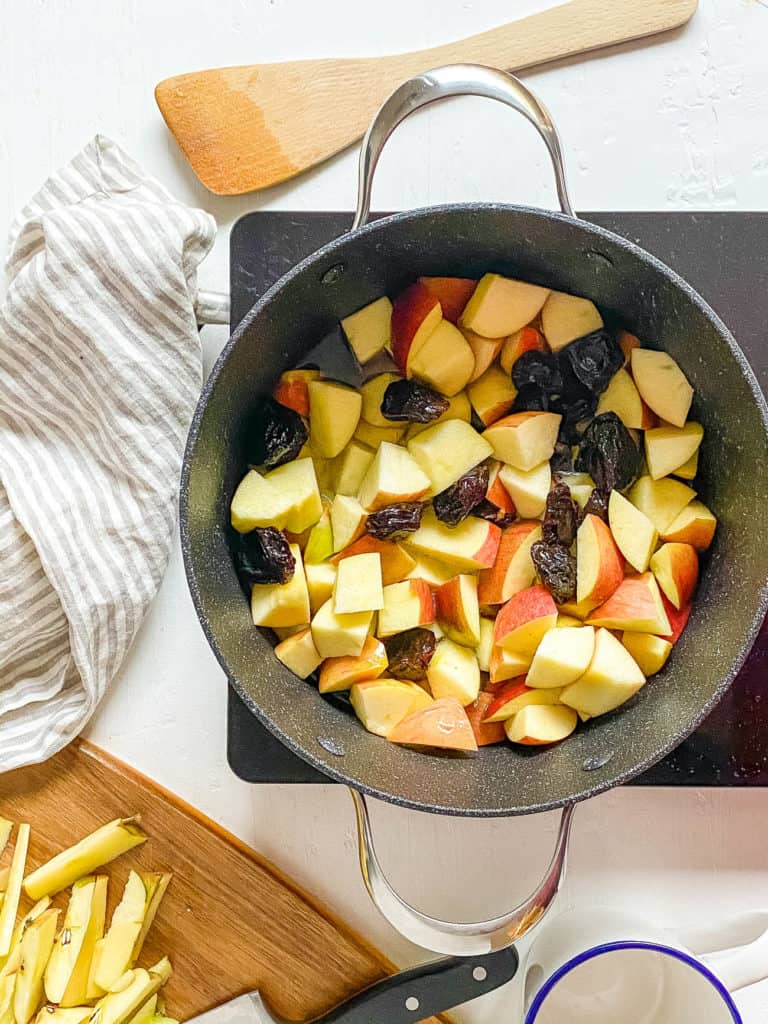 Cook Until Soft: Cook for 8 minutes until tender, stirring occasionally.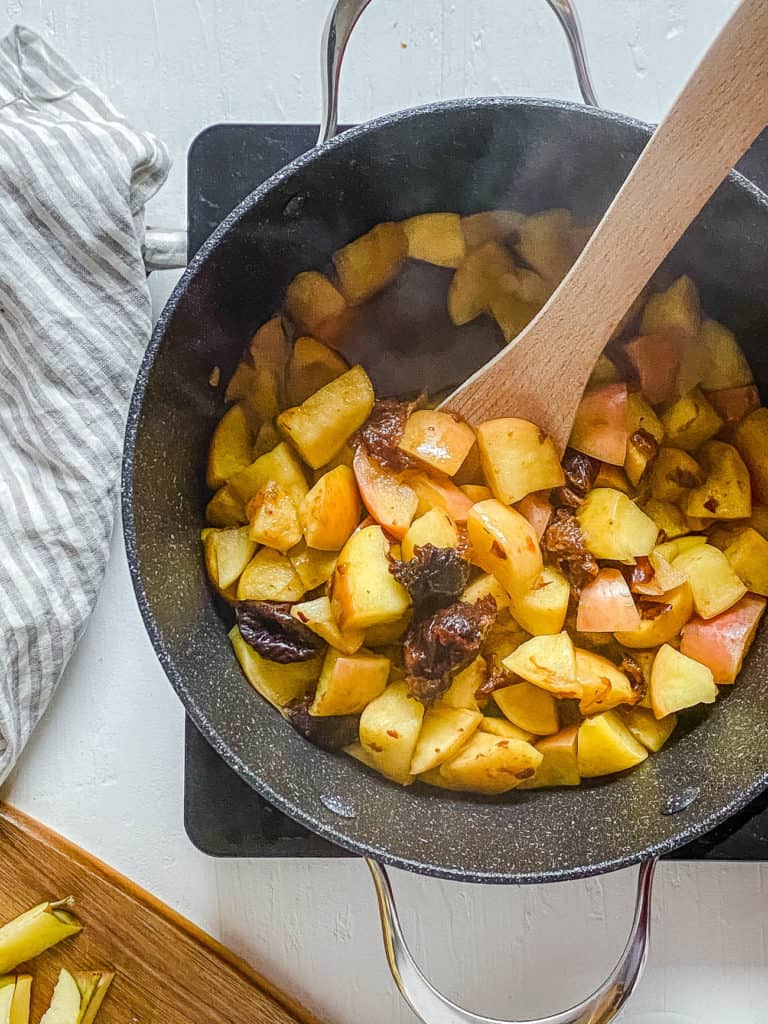 Add To Blender And Puree: Pour everything into a blender, puree prunes and apples (if using) until smooth. For babies 4-8 months, a totally smooth puree is the ideal texture you're looking for. Once your baby gets older (9-12 months) you can make a chunkier puree.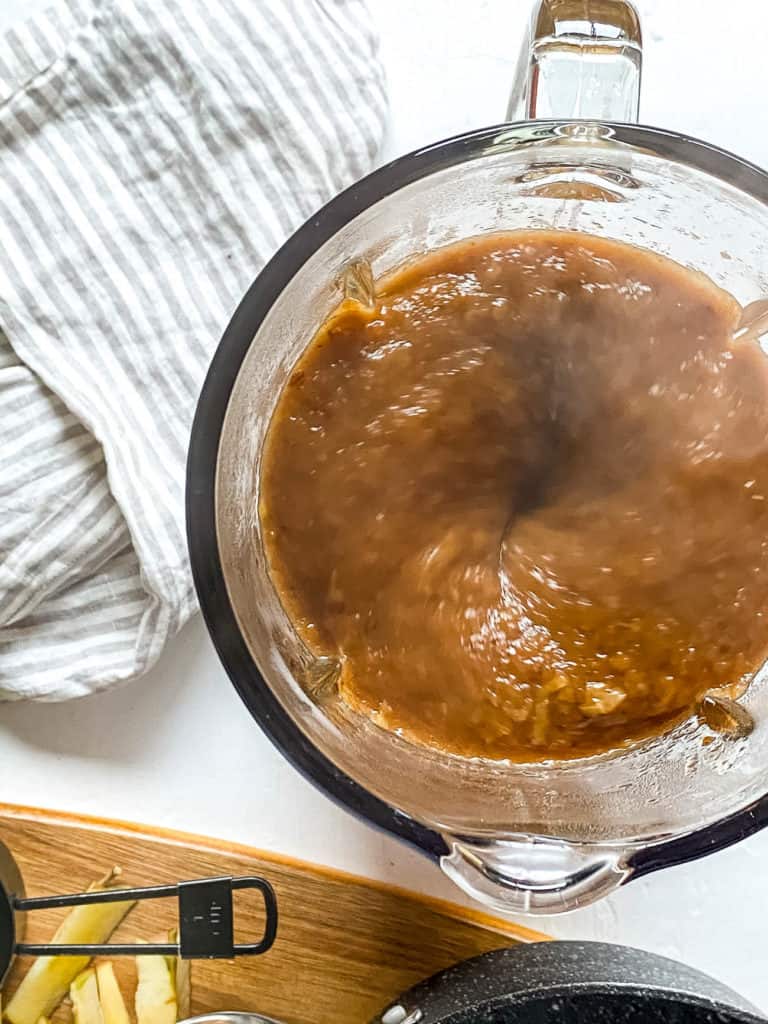 Store And/Or Serve! Pour the smooth puree into ice cube trays and allow it to cool. Cover/wrap, and freeze.
Note: Thaw this prune baby puree in the fridge the night before use, or thaw by putting the ice cube in a bowl over a bowl of hot water on the counter to defrost.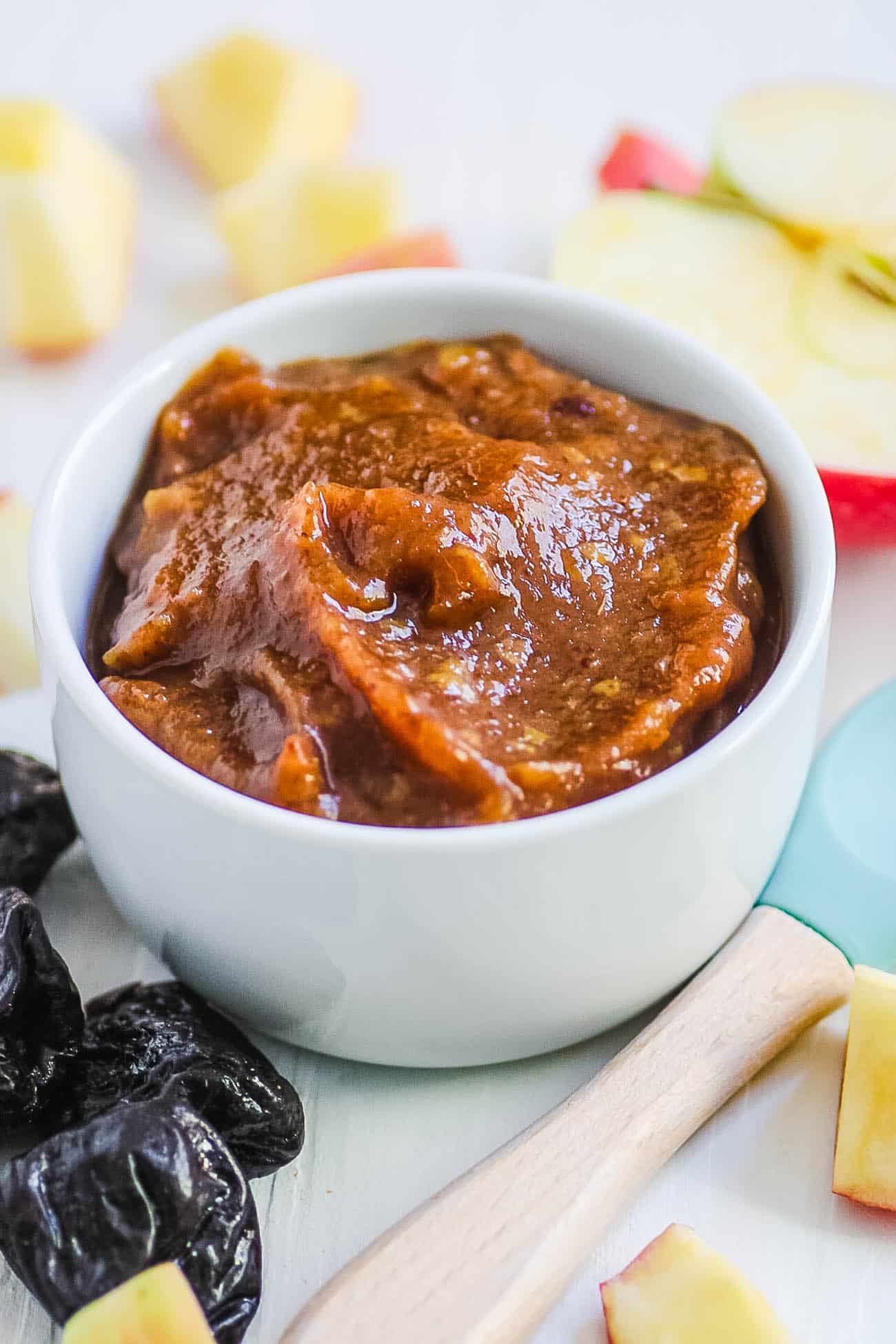 ❓Recipe FAQs
Are prunes healthy for babies?
Yes! Prunes for babies are super healthy. Prunes are dried plums, so like plums they are high in vitamins and nutrients, and also help baby stay regular (1 cup of whole prunes have 12 grams of fiber).

Some of the other health benefits of prunes include: they are an excellent source of protein, fiber, Vitamin A, Vitamin B6, potassium, vitamin K, and antioxidants. Vitamin B6 helps the body process protein, while potassium helps to balance fluid levels in the body. Vitamin K contributes to healthy blood, and antioxidants help to fight free radicals.

However, prunes are high in natural sugars, so allow baby to enjoy this apple prune puree in moderation.
When can babies eat prunes?
Babies can start eating prunes as soon as they start on solids, typically around 4-6 months of age.

I generally recommend saving this prune baby food recipe after you've introduced a few mild veggies first (like carrots, sweet potatoes, green beans, peas) so that your baby gets used to less-sweet solid foods as their first foods.

This will help to ensure your baby doesn't reject the vegetables because they don't taste as sweet. Babies already know sweet tastes, since breastmilk and formula are both naturally sweet! Typically, I recommend giving this apple and prune puree to your baby after they've tasted about 4-5 veggies first.
Does prune baby food help with constipation?
Yes, prune baby food can help your baby when they are constipated. Prunes help with constipation because they are high in fiber and they also contain sorbitol, which helps get things moving and pulls water into the digestive tract, which eases baby constipation.

When it comes to how much prune puree for baby constipation, I recommend starting with 2-3 tablespoons of this baby food with prunes first, and increase as needed. If you're wondering "how long does prunes take to work for constipation?" – typically it will take 12-24 hours for the prunes to take effect.

Note: I like using pureed prunes better than prune juice to ease constipation since it works just as well but won't typically cause diarrhea the way prune juice might!
Do you have to cook prunes for baby?
Yes, you do need to cook prunes before feeding them to your baby. Prunes are thick and sticky, and difficult to chew. By cooking the prunes, you make them softer, and easier to mash in their gums. I recommend cooking and pureeing your prunes with water so that your baby can easily swallow them.
Are prunes a choking hazard for babies? Can toddlers eat dried prunes?
Pureed prunes are not a choking hazard. But dried prunes are a choking hazard for babies under 1 year of age, similar to how raisins or grapes might be – because they're sticky and hard to chew.

If your baby is over 1 year of age, and you want to give your toddler dried prunes, I recommend soaking the dried prunes in water to rehydrate them, and then mashing or chopping them into small pieces to reduce any risk of choking.
How to serve baby food prunes?
You can serve this puree on on a spoon, on top of pancakes, mixed with other purees, in yogurt, or even oatmeal!
How do you store prune baby food? Can you freeze prunes?
Yes you can freeze prunes! You can also store this organic prunes baby food in the fridge.

To store in the fridge: Transfer the entire puree to an airtight container and place in the fridge. It will keep for up to 5 days. You can just just scoop out a small quantity of these prunes baby food every time you serve it to your budding eater.

To freeze: Let this healthy prunes puree cool, then transfer to an ice cube tray (or trays), that has an airtight or fitted lid. You can also wrap your ice cube tray in plastic wrap and store in the fridge. Pop out the cubes and thaw in the fridge or warm gently in the microwave or on the stovetop before serving (you want it to be just room temperature so it's not too hot for your baby).
💭 Expert Tips
Make a large batch – To save on prep time for your baby's meals on a daily basis, I recommend using baby food freezer containers or ice cube trays to store these healthy prunes for baby. That way you can make one large batch that will last you and your baby for several months!
For a smooth consistency – Use a good blender, or food processor to easily blend the fruit puree.
Use pitted prunes to save yourself time from removing the pits yourself.
Keep skins on – If you remove the apple skin you will lose some of the fiber and nutrients, so keep the skins on! They will blend easily once cooked down.
For a store bought recommendation – If you run out of this puree, and have to buy store bought, there are two brands that I recommend: Plum Organics Stage 1 Prunes, and Happy Baby Prune Puree.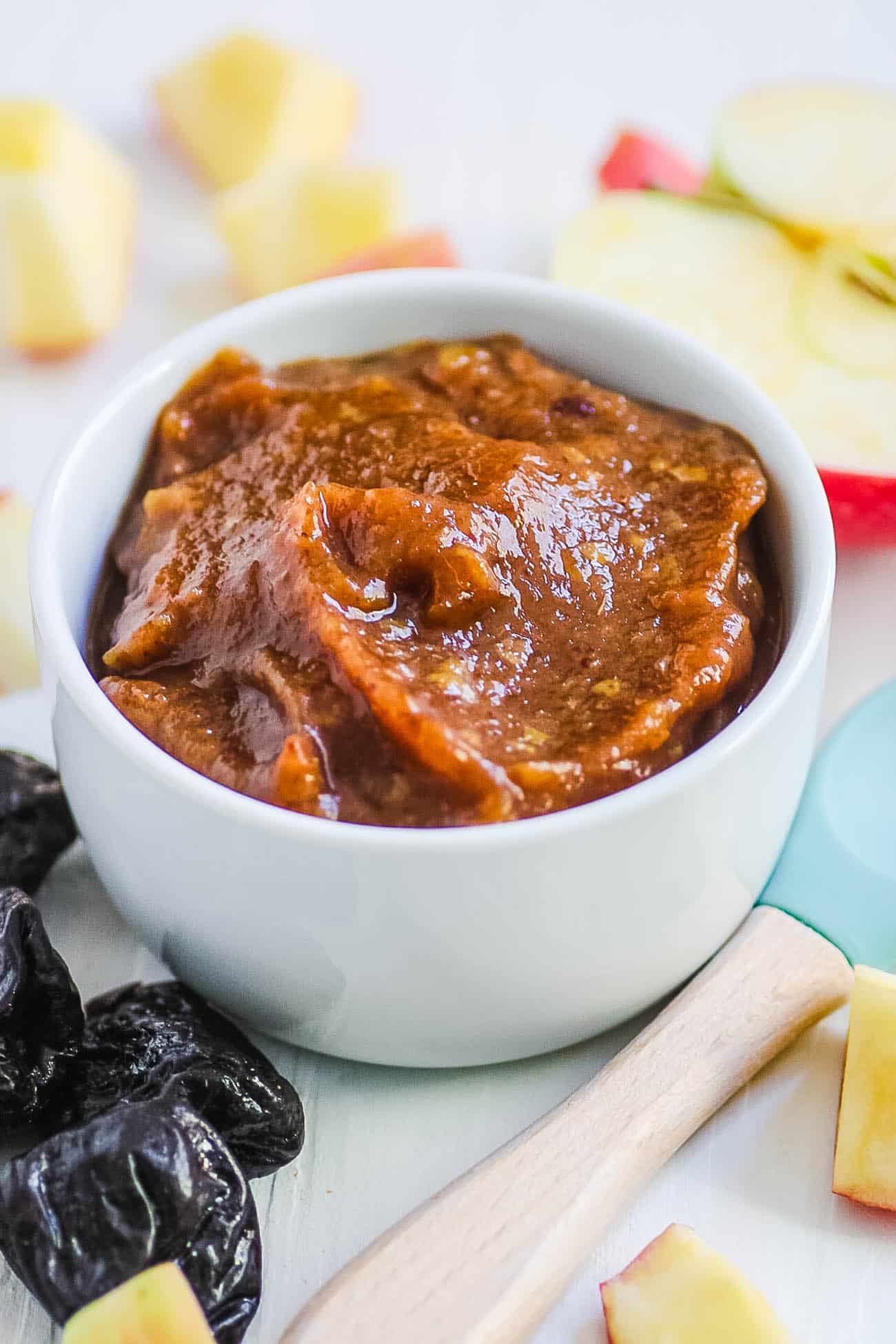 🍎 More Homemade Baby Food Recipes!
LOVE THIS RECIPE? Please leave a 5-star rating 🌟 in the recipe card below and/or a review in the comments section further down the page!
You can also FOLLOW ME on FACEBOOK, TWITTER, INSTAGRAM, and PINTEREST to see more delicious, healthy, family-friendly food, and if you have any questions, I'm here to help!
📋 Recipe Card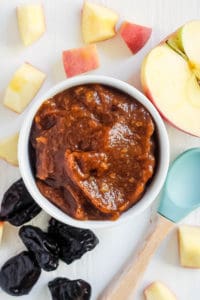 Print Recipe
Prune Puree Baby Food
This simple recipe for prune baby food puree will quickly become one of your baby's favorites. Full of healthy antioxidants and fiber, prune puree helps keep baby regular!
Ingredients
8

Organic Fuji Apples

20

Organic Prunes

dried plums

8-10

oz

water

for a thicker puree, use less water
Instructions
Wash the apples. Cut in half and remove seeds and stems. Cut each half into 4-6 pieces.

Remove pits from prunes (or – timesaver: get pitted prunes!)

Put apples, prunes, and water into a large pot.

Cover and turn the burner on high. Cook for 8 minutes, stirring occasionally.

Pour everything into a blender, puree until smooth.

Pour into ice cube trays and allow to cool. Cover/wrap, and freeze.
Notes
Expert Tips
Use baby food freezer containers or ice cube trays to store this baby food. That way you can make one large batch that will last you and your baby for several months!
Use a good blender, or food processor to easily blend the fruit puree.
Use pitted prunes to save yourself time from removing the pits yourself.
If you remove the apple skin you will lose some of the fiber, so keep the skins on! They will blend easily once cooked down.
Thaw in the fridge the night before use, or thaw by putting the ice cube in a bowl over a bowl of hot water on the counter to defrost.
Spice up your baby's food! Add a pinch of cinnamon, nutmeg, or allspice to this recipe!
1 ice cube = 1 oz of food
Adapted from BabyLove
Nutrition
Calories:
77
kcal
|
Carbohydrates:
21
g
|
Protein:
1
g
|
Fat:
1
g
|
Saturated Fat:
1
g
|
Sodium:
2
mg
|
Potassium:
189
mg
|
Fiber:
3
g
|
Sugar:
14
g
|
Vitamin A:
147
IU
|
Vitamin C:
4
mg
|
Calcium:
11
mg
|
Iron:
1
mg
30 responses to "Prune Puree Baby Food (Easy First Food)"