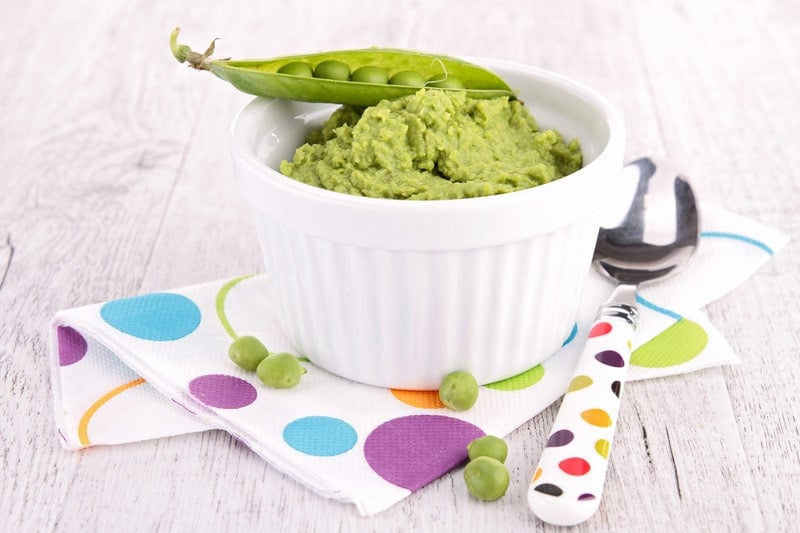 Full disclosure: pea puree has to be one of Layla's least favorite purees. I made a bunch of it and then decided to just start mixing it with fruit, because she did not like it. The fruit + peas was more palatable though 🙂
Peas are a great source of Vitamin K, which is important for maintaining bone health. They also contain folic acid and Vitamin B6 which are good for heart health.
Another little tip for cooking green veggies – it's key to not overcook them. All of your green veggies should remain bright green after they have been cooked. It's all about saving the chlorophyll in these vegetables. If the veggie is exposed to heat over too long a period, the chlorophyll spills out of the vegetable (you'll notice that the cooking water turns green) – and if that happens you lose a lot of the nutrients in the veggie. Two ways to ensure you don't overcook: 1) steam the veggies for just 3-5 minutes or 2) if you're cooking them in water, cook for 3-5 minutes and then "shock" the vegetables by dumping them into a bowl filled with cold water and ice.
Homemade Baby Food Recipes: Pea Puree
1 ice cube = 1oz of food!
Ingredients
2

bags organic frozen peas

usually about 2 lbs

8

oz

water
Instructions
Steam your peas for 3-5 minutes

Once the peas are green and soft, pour them into a blender and add 8oz water. Puree until smooth.

Pour into ice cube trays, allow to cool, wrap/cover, and freeze.

Thaw in the fridge the night before use, or thaw by putting the ice cube in a bowl over a bowl of hot water on the counter to defrost.
Notes
Mix with your baby's favorite fruit or some sweeter veggies (butternut squash works great) to make peas more palatable!
TAGS: baby food recipes
11 responses to "Homemade Baby Food Recipes: Pea Puree"