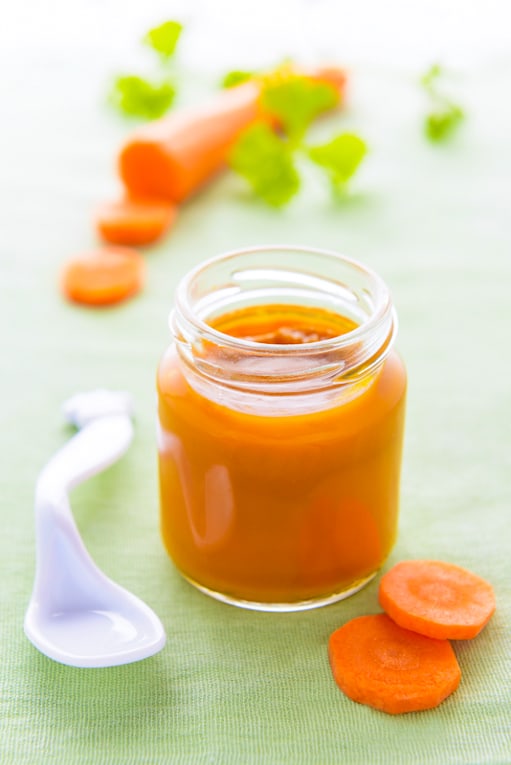 This carrot puree is another one of Layla's favorites. And it is super easy to make! Just peel the carrots, cook for 6-8 minutes, and puree. You can mix carrots (which are a sweeter veggie) with less sweet veggies (like the green ones) to make them more palatable.
Carrots are packed with Vitamin A, which is terrific for your skin and your eyes. It's also a great first food for little ones because it's less likely to cause allergies and is very easy to digest.
Baby Food Recipes: Carrot Puree
1 ice cube = 1oz of food!
Ingredients
2

lbs

organic carrots

2-2.5

cups

of water
Instructions
Wash and peel your carrots, cut off stems.

Cut carrots lengthwise and cut each half into 8-10 pieces.

Throw the carrots into a large pot with the water and cook for 6-8 minutes until the carrots are tender.

Pour the carrots and water into a blender, puree until smooth.

Pour into ice cube trays, allow to cool, wrap/cover, and freeze.
Notes
Spice up your baby's food! Serve carrots with basil and garlic, or with a pinch of cinnamon and nutmeg. Adapted from
BabyLove
TAGS: baby food recipes
3 responses to "Baby Food Recipes: Carrot Puree"