Gluten Free Pasta Salad With Olives And Herbs
This post may contain affiliate links. As an Amazon Associate, I earn from qualifying purchases. Please read my disclosure.
If you're looking for an easy, make-ahead dish, then this Gluten Free Pasta Salad with Olives and Herbs is for you! Packed with flavor, low in fat and filled with nutrients, you won't buy store bought pasta salad again!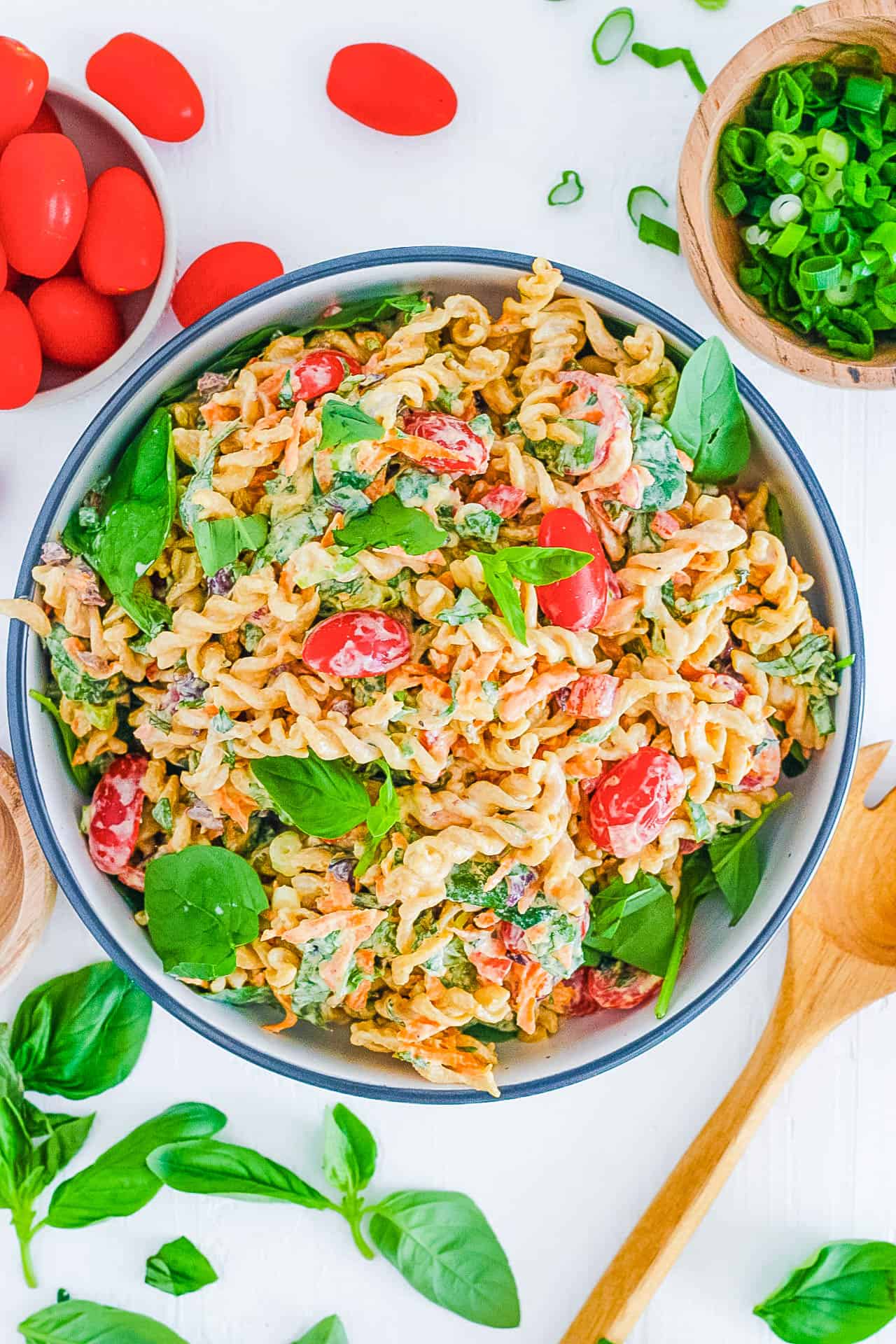 Pasta salad is one of my favorite spring and summer dishes! It's perfect for summer picnics or a quick and easy weeknight meal. I typically avoid the pre-packaged version because it's loaded with refined grains, unhealthy fats, and lacks nutrients. But the good news is – it's easy to make a delicious AND healthy version of this classic dish at home!
A nutritious pasta swap, a light dressing, and tons of veggies give this classic Italian recipe a healthy upgrade! Add a little parmesan cheese or baked tofu to mix things up as well. For this gluten free pasta salad recipe, I chose chickpea pasta because it's high-protein and low-carb!
Latest Recipe Video!
It takes less than 30 minutes to throw it together and even less time to devour it! Creamy dressing, crunchy veggies, and peppery basil take this healthy Italian pasta salad over the top. I like to serve it alongside vegan black bean burgers.
👩‍🍳 Why This Recipe Works
Classic pasta salad made gluten-free!
Made with fresh herbs and fresh vegetables
Perfect for a healthy lunch
Super easy recipe
A perfect meal prep recipe
Crowd-pleasing side for summer barbecues
Cold gf pasta salad with crunchy veggies
Lots of variations – customize however you like!
🥘 Ingredients
This gluten-free cold pasta salad uses everyday ingredients you can find at your local grocery store!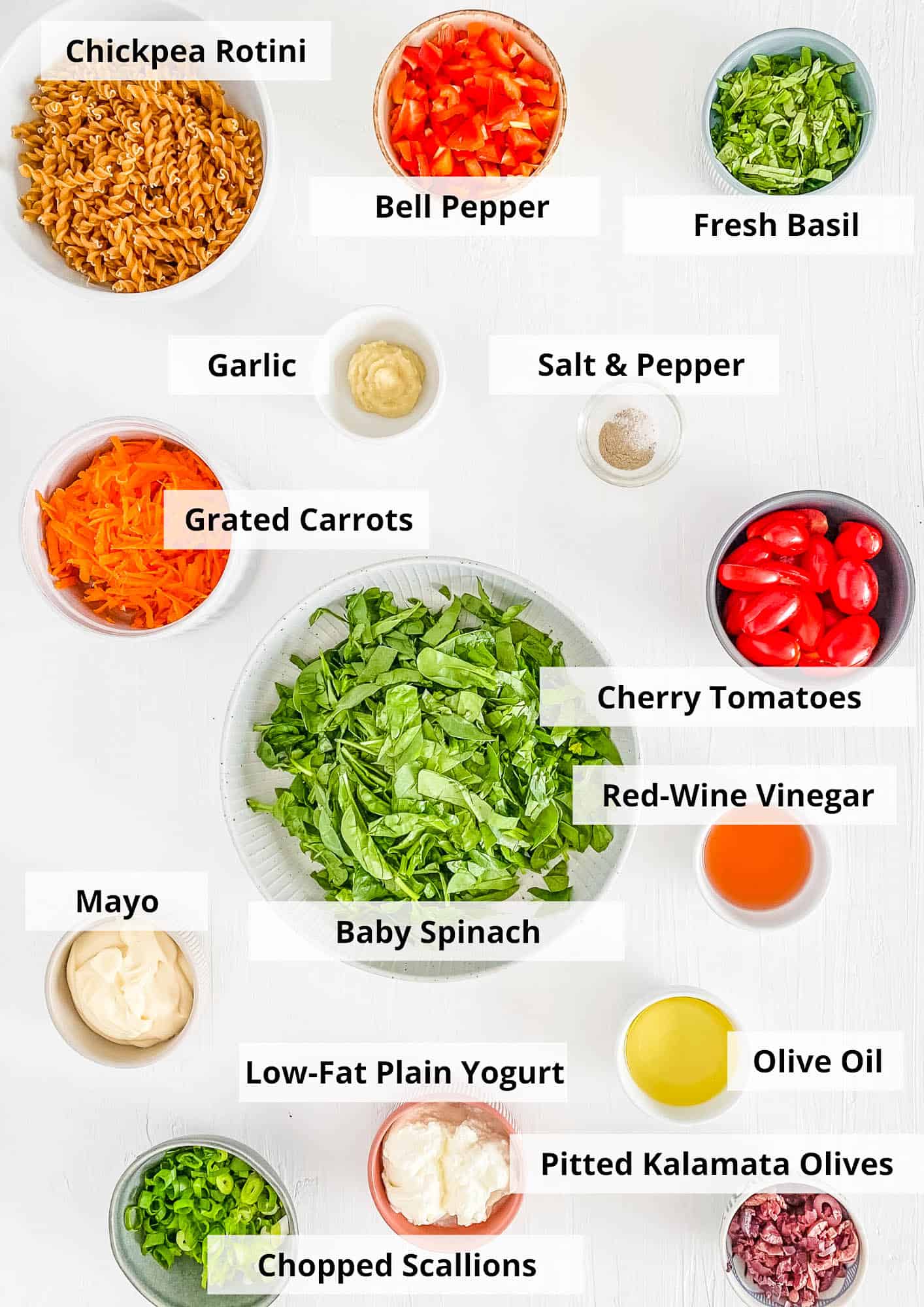 Gluten-Free Pasta: Legume-based or bean pastas are high in plant-based protein and fiber, and are so much healthier than regular pasta! I like Barilla's chickpea rotini but you can use your favorite brand of gluten-free pasta. Brown rice pasta is a great option too! Be sure not to overcook it, or it can become mushy. You can also use GF macaroni to turn this into a gluten-free macaroni salad!
Mayo & Yogurt: Low-fat plain yogurt and mayo are the creamy base for the italian dressing. Yogurt lightens it up some!
Extra-Virgin Olive Oil: Heart-healthy olive oil adds a nice flavor to the dressing.
Red Wine Vinegar: An acid is essential for any good dressing. It adds a bright and tangy flavor that complements the fat in the oil and mayo. Apple cider vinegar or lemon juice also work. Avoid strong flavored vinegars like balsamic vinegar.
Garlic: If you're not in love with garlic, reduce the amount of garlic cloves or omit them altogether.
Salt & Black Pepper: Don't forget to season! Seasoning takes a dish from flat to flavorful.
Fresh Veggies: Kalamata olives, cherry tomatoes, green onions, red peppers, spinach, and carrots add fresh flavors, and a sweet and salty crunch. Red onions, black olives, artichoke hearts, and English cucumbers are great options too!
Basil: Fresh basil has a peppery bite to it. It pairs well with fresh tomatoes! Sometimes I throw fresh parsley in too!
📖 Variations
This gluten-free Italian pasta salad is easy to customize! Try a few of these delicious variations to switch things up.
Dressing: Replace the creamy dressing with a light vinaigrette or Italian vinaigrette.
Gluten-Free Dairy-Free Pasta Salad: Replace the yogurt with unsweetened dairy-free yogurt. You can also swap it out for mayo.
Veggies: Switch up the veggies! Bell peppers, roasted red peppers, red onions, cucumbers, zucchini, and banana peppers are delicious options!
Vegan Gluten Free Pasta Salad: Replace the yogurt and mayo with vegan alternatives. Just be sure to use unsweetened vegan yogurt. I prefer Sir Kensington's vegan mayo for its superb taste.
Gluten-Free Pesto Pasta Salad: Replace the dressing with a store-bought or homemade pesto.
Low-Fat Pasta Salad: Use fat-free yogurt and fat-free mayo!
Cheese: Feta cheese, parmesan, mozzarella cheese add protein and a creamy bite!
High Protein Pasta Salad: Legume-based pastas like lentil or chickpea contain lots of protein. Cheese, tofu, or deli meats also add protein.
Low Cal Pasta Salad: Swap out the creamy dressing with a low-calorie vinaigrette.
🔪 Instructions
The best gluten free pasta salad shouldn't be complicated! Thanks to the chickpea pasta it's filling enough for a main meal, but can be the perfect side dish for feeding a crowd too.
Boil the Pasta: Bring a large pot of water to a boil. Cook pasta until it's tender but slightly al dente, according to package instructions. Gluten-free pasta noodles get mushy when overcooked! Drain pasta and rinse under cool water.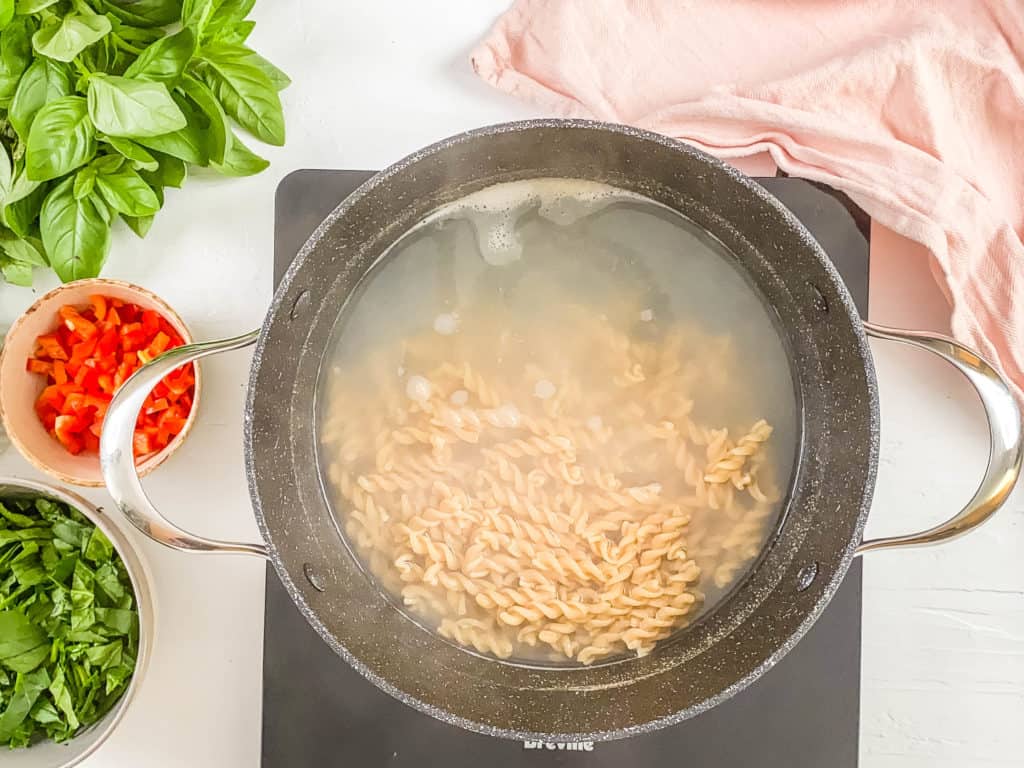 Make the Dressing: Stir together mayo, yogurt, oil, vinegar, garlic, salt and pepper in a large bowl until smooth.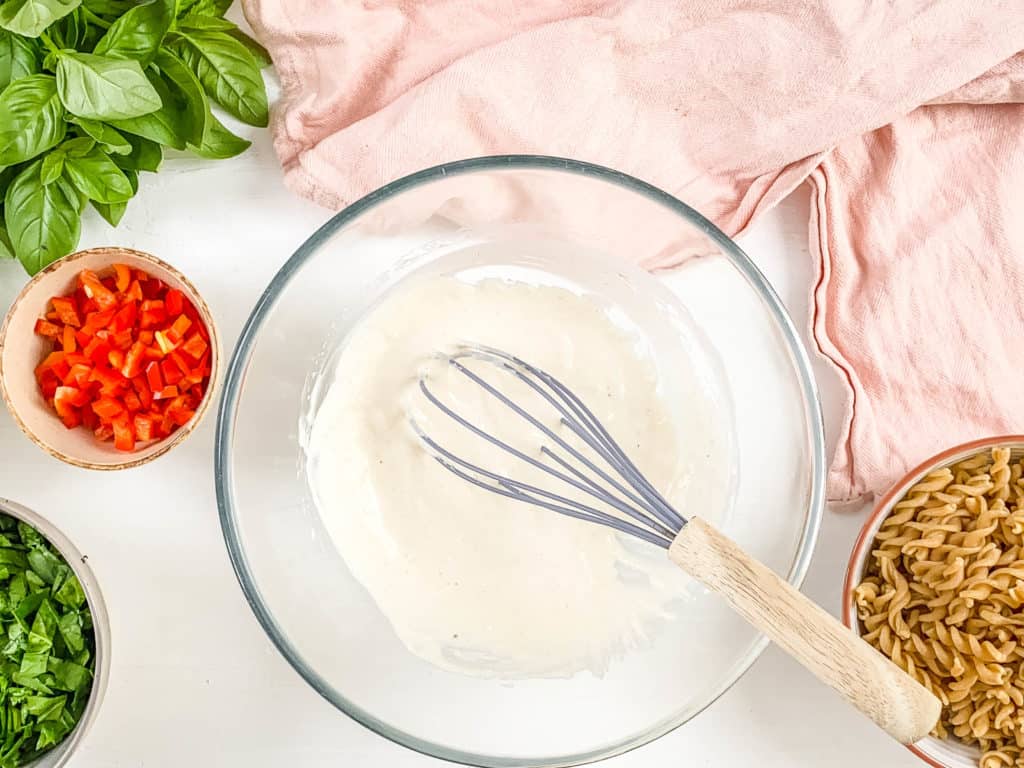 Toss with Pasta: Add the cooked pasta to the dressing and toss to coat.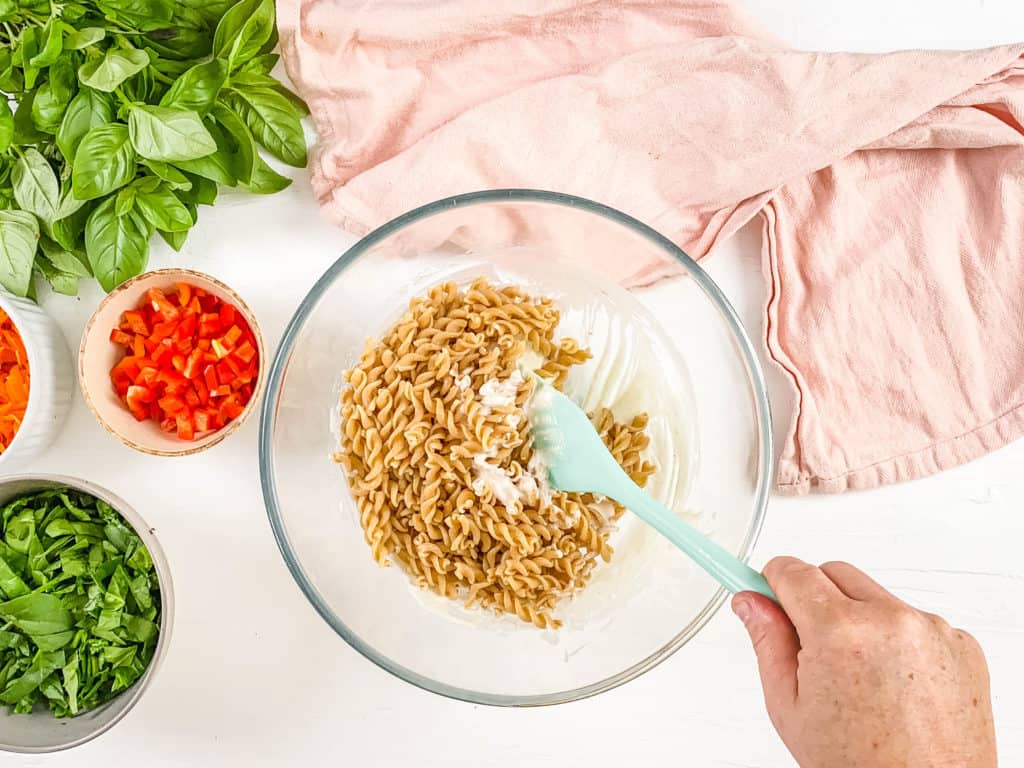 Add Fresh Veggies: Add the fresh veggies and basil to the pasta. Toss again to coat all the ingredients.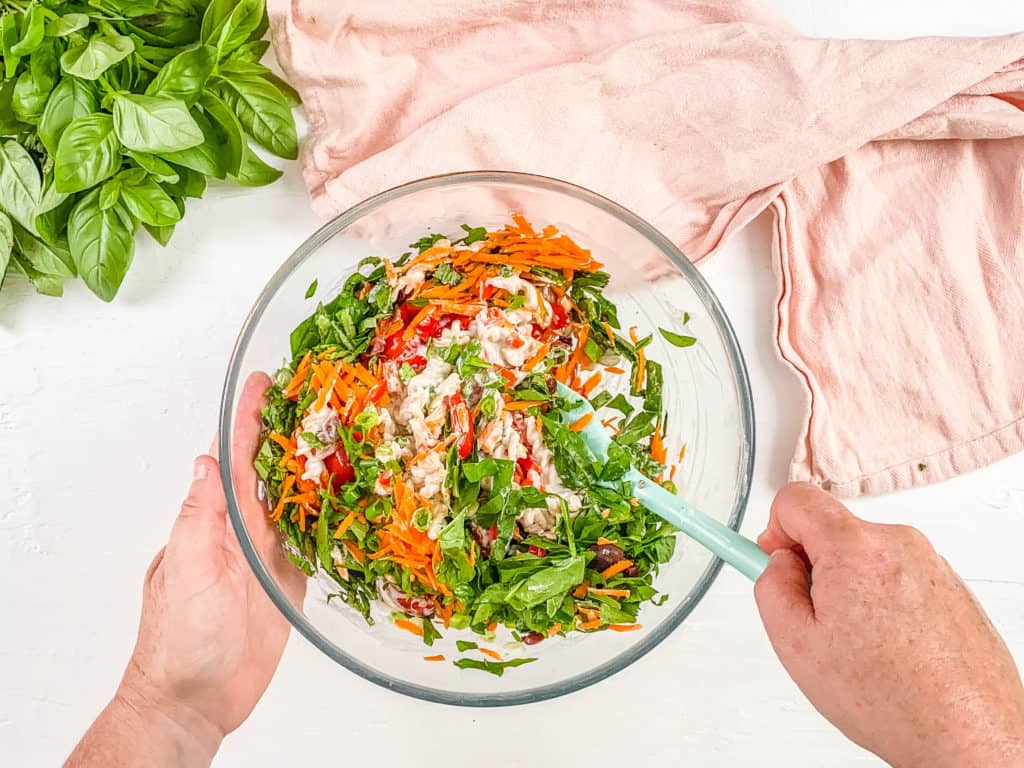 Serve: Serve cold or at room temperature with fresh parmesan!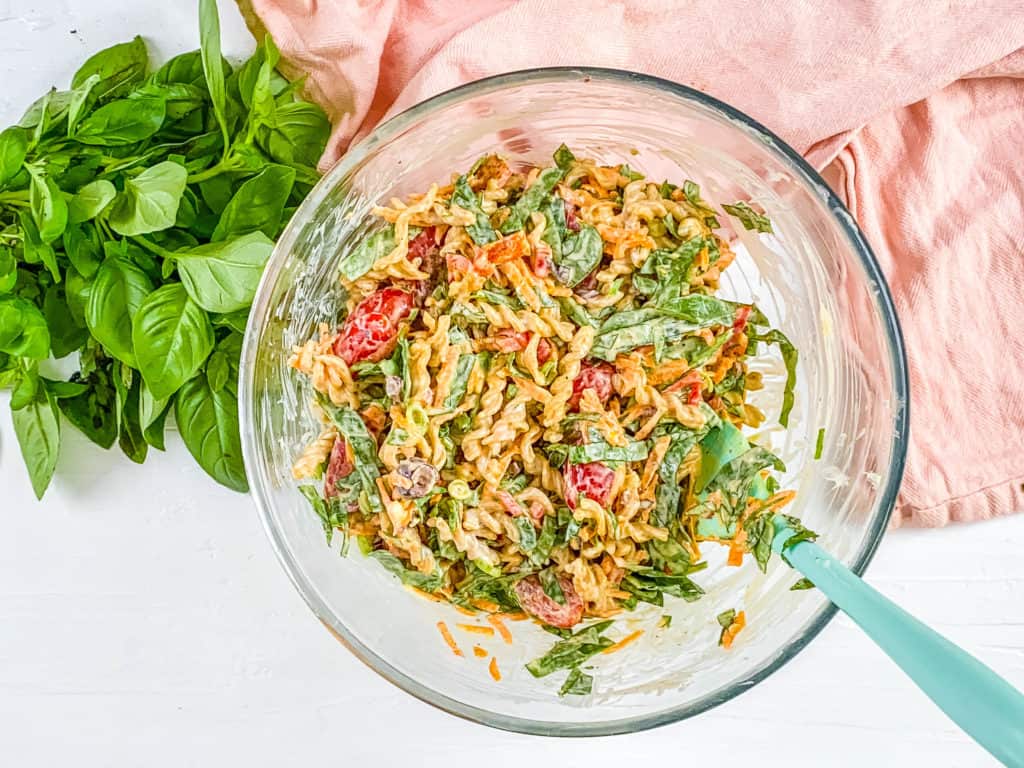 I'm confident that this easy gluten free pasta salad with olives and herbs will be making an appearance on your dinner table more than once! It's bursting with Mediterranean flavors, great as a side dish but nutritious enough to serve as a main dish.
❓ Recipe FAQs
Should you rinse gluten free pasta?
It's not necessary but can be helpful in cold pasta dishes. It removes the excess starch, which prevents the pasta from clumping and sticking together. Cold water also stops the cooking process, which keeps the pasta from overcooking.
Can you make this easy pasta salad ahead of time?
Yes! You can make this gluten-free recipe up to 24 hours in advance and store it covered in the fridge – which makes it a perfect option for meal prepping. It's great for a summer picnic or party, where you can make it before the guests arrive!
Is gluten free pasta healthy?
Not all types of gluten-free pasta are healthy. Some brands contain processed ingredients with minimal nutrients. But many gluten-free pasta varieties, such as quinoa, chickpea, or lentil can be healthier than whole wheat pasta, thanks to their lack of refined grains and high protein content!
Does gluten-free pasta get mushy?
If you cook gluten-free pasta too long, it will get mushy! It's important to watch the pasta and taste test it early. You want to drain the pasta from the hot water when it's slightly al dente. It will continue to cook some once you drain it.
Is pasta salad healthy?
Typically no, most pasta salad recipes are not healthy because they are high in fat & refined carbs (since they use tons of mayo and white pasta!) But this delicious pasta salad recipe is super healthy!

Here's why: swapping white pasta for chickpea pasta makes this dish gluten-free and removes all refined carbs. It has more protein and fiber than whole wheat pasta. Each serving has 22 grams of protein and 13 grams of fiber! We also bulk up the salad with tons of veggies for added vitamins — tomatoes, bell peppers, carrots, spinach and olives add antioxidants and nutrients!
💭 Expert Tips
Use dry pasta, not fresh: dry pasta won't get mushy sitting in the dressing.
This recipe will last 3-5 days in the fridge and can be made the day before serving.
Dress the pasta while it is still slightly warm. This will help the dressing adhere to the pasta.
The best pasta salad is one that's made with your favorite veggies! Swap out any veggies you don't like.
During the summer months, transport the salad in a cooler or in a bag with an ice pack.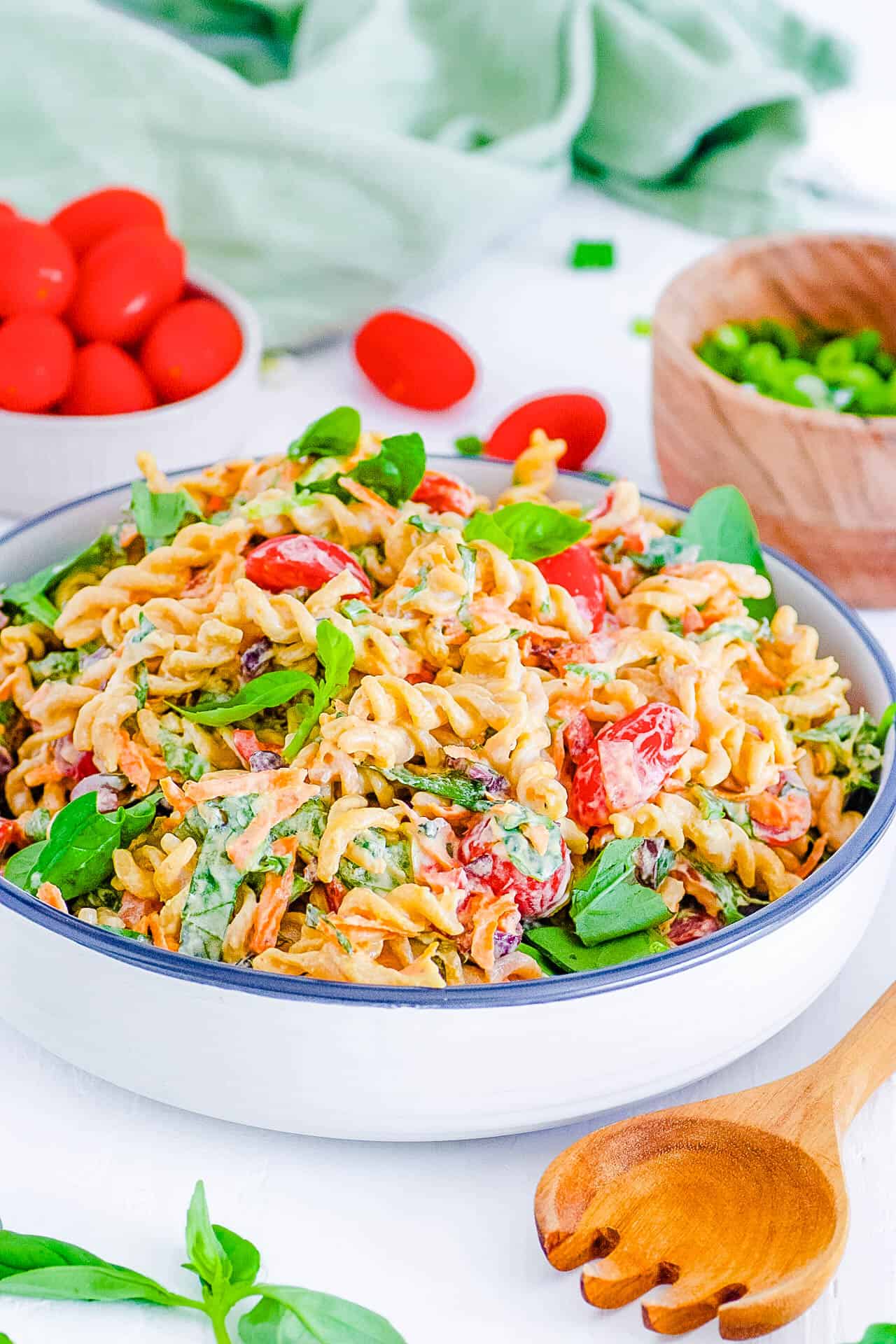 🍝 More Healthy Pasta Dishes!
LOVE THIS RECIPE? Please leave a 5-star rating 🌟 in the recipe card below and/or a review in the comments section further down the page!
You can also FOLLOW ME on FACEBOOK, TWITTER, INSTAGRAM, and PINTEREST to see more delicious, healthy, family-friendly food, and if you have any questions, I'm here to help!
📋 Recipe Card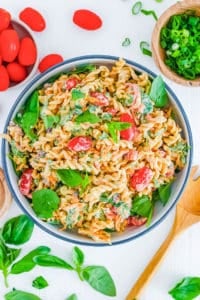 Print Recipe
Gluten Free Pasta Salad With Olives and Herbs
If you are looking for an easy, make-ahead dish, then this Gluten Free Pasta Salad could be for you!
Instructions
Bring a large pot of lightly salted water to a boil. Cook pasta, stirring occasionally, until just tender, 8 to 10 minutes, or according to package directions. Drain and refresh under cold running water.

Whisk mayonnaise, yogurt, oil, vinegar (or lemon juice), garlic, salt and pepper in a large bowl until smooth.

Add the pasta and toss to coat.

Add spinach, tomatoes, bell pepper, carrots, scallions, olives and basil

Toss to coat until all of the ingredients have combined. Season with salt & pepper to taste.

Serve cold topped with some grated parmesan if you like!
Notes
Top tips for this High Protein Pasta Salad with Olives and Herbs
Cook the pasta al dente (with bite).
Use dry pasta, not fresh: dry pasta can withstand both cooking and hanging out in dressing without getting mushy.
Pasta salad will last 3 – 5 days in the fridge and can be made the day before serving.
Dress the pasta while it is still slightly warm.
Don't rinse your pasta after you cook it! You want to keep all that starchy water with your pasta, which will help it hold onto the dressing.
Recipe modified from EatingWell.com
Nutrition
Serving:
1.5
cup
|
Calories:
433
kcal
|
Carbohydrates:
51
g
|
Protein:
22
g
|
Fat:
20
g
|
Saturated Fat:
2
g
|
Polyunsaturated Fat:
6
g
|
Monounsaturated Fat:
6
g
|
Trans Fat:
1
g
|
Cholesterol:
6
mg
|
Sodium:
330
mg
|
Potassium:
272
mg
|
Fiber:
13
g
|
Sugar:
10
g
30 responses to "Gluten Free Pasta Salad With Olives And Herbs"