Protein-Packed Lentil Pasta with Superfood Marinara Sauce!
This post may contain affiliate links. Please read my disclosure.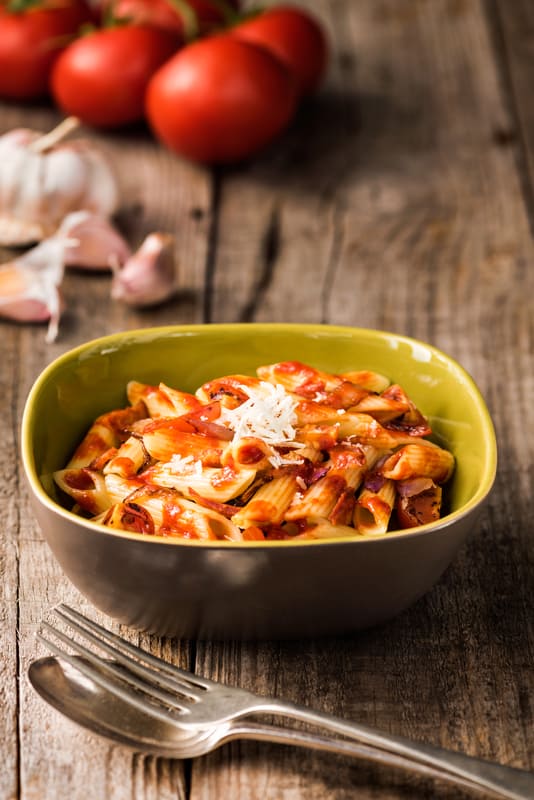 During the week, I'm always looking for meals that I can throw together with almost no effort at all. But most throw-together-meals lack fresh veggies and tons of produce. This week in particular was super hectic because of my book launch (!!!) which is available NOW on Amazon! And so I found myself in the kitchen on many nights at 6pm with a starving toddler and no meal in sight.
Enter: this amazing, veggie and lentil packed pasta (but you wouldn't know it by looking at it!) This is the perfect recipe for kids who refuse to eat anything but pasta with red sauce because there are lentils, veggies and protein hidden in this recipe.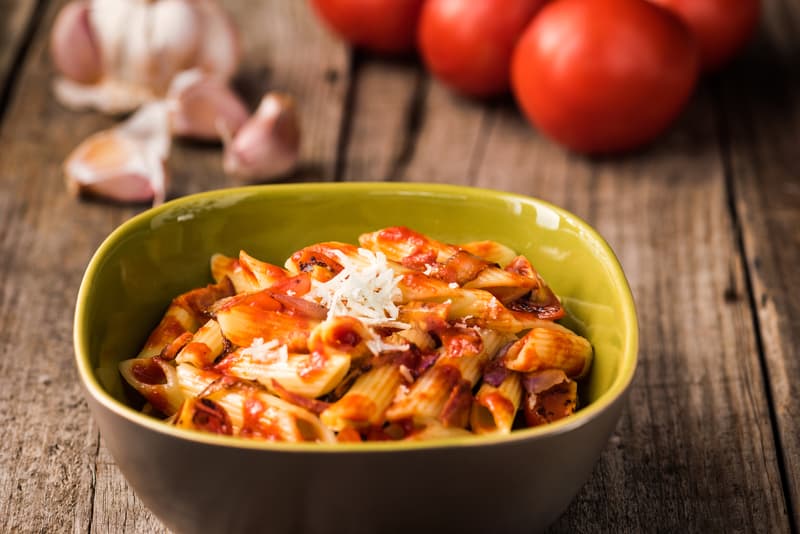 So how did I do it? With the help of two very specific products: Tolerant Penne Pasta (which also comes in a green lentil version), and Cucina Antica Tomato Basil Sauce.
Let's start with the pasta. I LOVE Tolerant pasta because it's literally just made with 1 ingredient: lentil flour – but it tastes JUST like regular pasta! By making pasta from lentil flour, the pasta is gluten free and vegan, and has 11g fiber and 21g protein per serving! Talk about protein-packed. It looks like pasta, but you're getting all the benefits of eating lentils. Score.
Now for the sauce.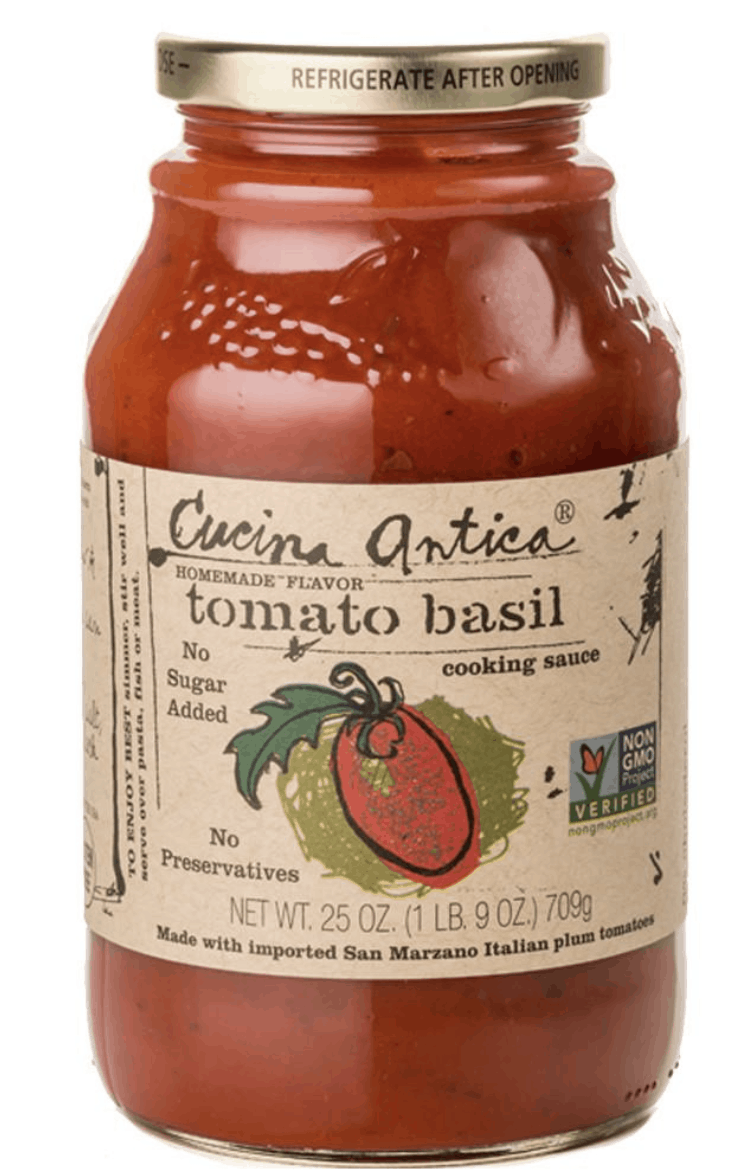 I love Cucina Antica's sauces because they are non GMO, have no sugar added, and are made with all natural ingredients. The Tomato Basil sauce is only 35 calories per serving and only has healthy fats added to it – which is perfect! I used it as the base for my superfood sauce.
To the cucina antica sauce I added: 1 box of baby spinach, 2 red peppers, 1 zucchini, 1/4 of an onion, 5 cloves of garlic, italian seasoning, salt & crushed red pepper to taste. I pureed it all together and it looked like this: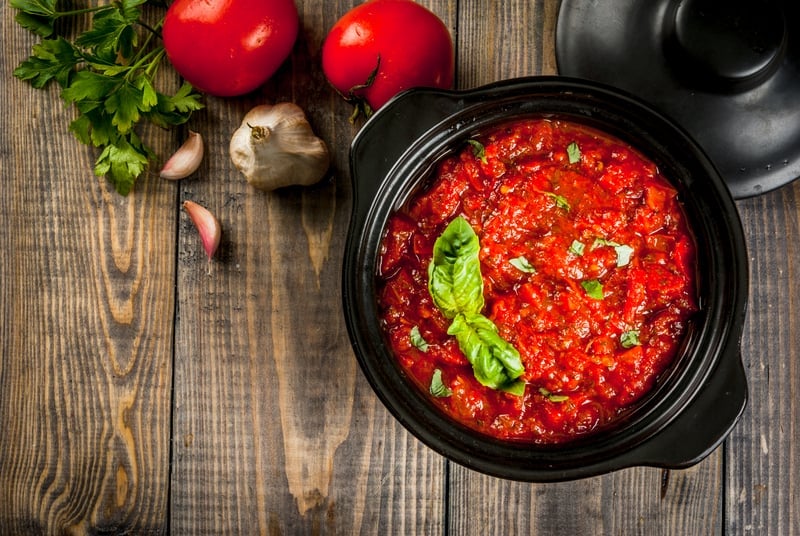 How good does that look? And you can't even tell there are a ton of veggies mixed into the sauce!
Then I topped it with parmesan cheese, and Layla gobbled it up and then asked for seconds.
The best part: all of it took about 20 minutes. And it was SO SO good.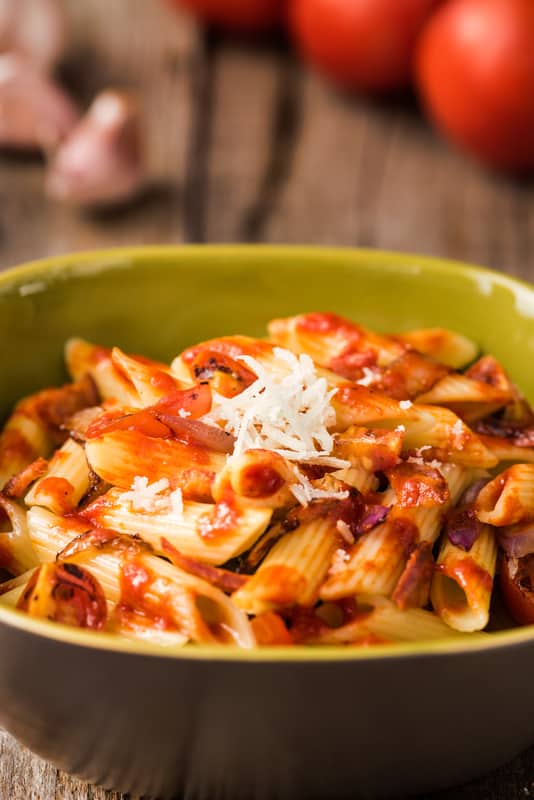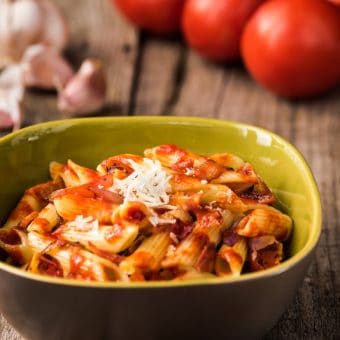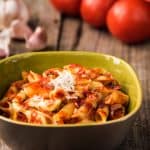 Print Recipe
Protein-Packed Lentil Pasta with Superfood Marinara Sauce!
I love this lentil pasta. It literally only contains lentils so it provides a protein punch to a vegetarian meal.
Ingredients
8

oz

of Tolerant Red or Green Lentil Penne

25

oz

jar of Cucina Antica Tomato Basil Sauce

6

oz

box of Baby Spinach

chopped

2

Red Bell Peppers

diced

1/4

of a Red Onion

diced

1

zucchini

diced

5

cloves

garlic

minced

Italian seasoning - to taste

Salt & crushed red pepper - to taste

Parmesan cheese

2 tbsp per serving
Instructions
Cook the pasta according to package directions.

In a medium sized pot, saute the peppers, onion, zucchini, spinach, garlic and spices (italian seasoning, salt, crushed red pepper) for about 5-10 minutes until soft.

Combine the cooked veggie mixture with 1 jar of Cucina Antica Tomato Basil Sauce in a blender. Blend until smooth. (Alternatively you can add the Cucina Antica sauce to the pot, and use an immersion blender to blend it together).

Combine the cooked pasta with the superfood sauce mixture. Top with parmesan cheese and serve.
Nutrition
Calories:
305
kcal
|
Carbohydrates:
35
g
|
Protein:
17
g
|
Fat:
5
g
|
Sodium:
630
mg
|
Fiber:
10
g
|
Sugar:
10
g