Best Organic Baby Formulas: 2023 Guide
This post may contain affiliate links. As an Amazon Associate, I earn from qualifying purchases. Please read my disclosure.
This in-depth, parent-friendly guide will help you find and buy the best organic baby formula. You will learn why you should consider organic formula, what ingredients to avoid in formula, and where you can reliably purchase the best organic baby formulas. This guide is updated monthly to ensure that all of the information below is recent and accurate!
Click here to see the 10 best organic baby formulas!
What Is Organic Baby Formula?
Organic baby formula is formula made with at least 95% organic ingredients. This means all of the ingredients in the formula have to adhere to organic standards which include:
No GMOs (Genetically Modified Organisms)
No growth hormones or steroids
No antibiotics (or used extremely rarely – only when an animal is extremely sick and no other options will resolve the issue)
No artificial colors or flavors
All animals are fed an organic diet
No synthetic / artificial preservatives
No pesticides or insecticides
In Europe, these standards are more heavily regulated than in the US, and additional considerations are added like:
No sugar or syrup solids
Requires at least 30% of calories from lactose (the naturally occurring carbohydrate in milk)
No synthetic nutrients extracted with chemical solvents
Note: Certified organic is different than "made with organic ingredients." If a package has the label "made with organic ingredients" it means that 70% of the ingredients are organic, not 95%.
Is Organic Baby Formula Better For Your Baby?
The benefits to buying organic baby formula are similar to buying organic foods in general. By buying organic baby formula, you can guarantee that your baby's formula is made without growth hormones, genetically modified ingredients, pesticides, herbicides, fungicides, antibiotics, etc.
Most organic baby formulas also have the added plus of not using ingredients like syrup solids, carrageenan, etc. that aren't beneficial for your baby.
Many doctors will say that there isn't enough research on the topic of whether infant organic formula provides your baby with a clear, long term health advantage (vs. conventional formula). Organic milk formula also tends to be more expensive.
That said, if you can afford organic all natural formula, those added benefits might be worth it to you, provided that the cost of organic formula brands fits your budget.
Luckily, there are some budget friendly organic formula options available (see our quick picks below). And if you can't afford an organic formula, I recommend choosing a non organic formula that meets our criteria for choosing the best formula overall (so while you may not be able to find an organic formula that fits your budget, you may still be able to find a non-organic clean formula for babies that does not include syrup solids, carrageenan, etc. that you can afford).
Some of the items below were given to me to review by the manufacturer or as part of an affiliate program. I may receive commissions if you make a purchase through the links provided. I only recommend products I've actually evaluated, I believe are the highest quality, and can do the most to help you and your family. By purchasing any of these products from the links below, you help keep this blog running, so thanks for your support!
Keep in mind that every person & situation is different, especially yours, so make sure to talk to your doctor and see how these guidelines and tips can help you. These tips are not a substitute for professional medical advice, diagnosis, or treatment. Never disregard or delay in seeking professional medical advice because of something you read here!
What Are The Different Types Of Baby Formula?
Organic Cow's Milk Based Formula: Most of this type of clean infant formula found at the grocery store is made from cow's milk, and organic milk formula assures that at least 95 percent of all the ingredients and processing aids are organic and that the product is free from preservatives, toxins, artificial colors, and artificial flavors.
Non-Organic Cow's Milk: Non-organic cow's milk formula is still made from cow's milk (hence the name), yet it might contain hormones, chemicals, and pesticides since it is not organic.
Organic Goat's Milk Baby Formula: Goat milk is very similar to dairy-based formulas in terms of nutrients. But, because it's made from goat milk which contains the A2 milk protein (vs. A1 for cow's milk), it may be easier for some babies to digest who are intolerant to cow's milk. Organic goat's milk is non-GMO and free from preservatives, toxins, etc. Learn more: Goat Milk Formula vs. Cow Milk Formula and Benefits Of Goat Milk Formula.
Non-Organic Goat's Milk: Non-organic goat's milk is more common than its organic counterpart. However, it is a popular option because non organic goat milk still has the A2 vs. A1 milk protein.
Partially Hydrolyzed (Hypoallergenic Formula): Hydrolyzed formulas have partially (or completely) broken down milk proteins, which may help babies with a milk protein allergy or who just have more sensitive tummies.
A2 Milk: A2 milk is an alternative to regular cow's milk that is often easier for babies to digest. A2 milk can come from goats, or from a small population of cow's that happen to produce A2 vs. A1 milk.
Soy Based: These formulas don't contain any milk and use soy protein as the base. They are a non dairy formula option. Note: You should always consult your pediatrician before considering a soy formula for your child, due to research that shows it may not be suitable for all babies.
Toddler Formula: While most toddlers don't need formula, toddler formula is designed to be consumed after a child's first year of life. Essentially, it is a kind of transition formula, and can be used to supplement a picky eater's diet with critical nutrients.
Plant Based Baby Formula: Plant-based formula is made without using animal products. Basically, you can think of it as being a dairy free baby formula or vegan formula option. Formulas like Else and Baby's Only Pea Protein are common vegan formulas available in the US. See this guide for the best dairy free and vegan baby formula.
Powder Vs. Liquid: Most all natural infant formula comes in a powdered option, where you have to mix the water before serving. Some powdered formulas will also have a liquid option, which means the formula is already pre-mixed and pre-made so you can feed it to your baby immediately. Liquid formulas are also known as "ready to feed" formulas. There are some organic ready made formula options, but they may have more stabilizers than powdered versions to keep them shelf stable.
Below, I have summarized my research to help answer the question: what is the best organic baby formula available today? Later in the post, I cover what to look for in choosing an organic baby formula, the main ingredients to avoid in baby formula, provide an analysis of each top formula, include a detailed chart that ranks all of the organic formulas available, and list a few reliable places to buy formulas online.
The 10 Best Organic Baby Formulas (Details)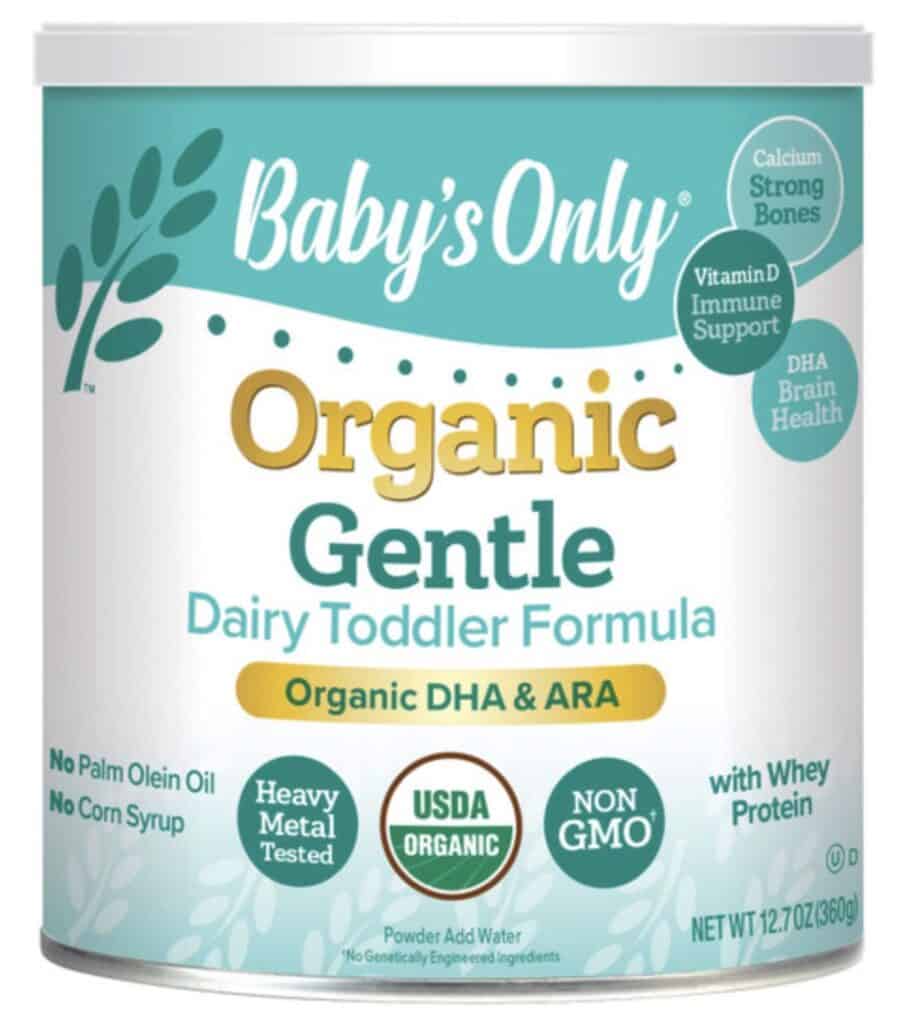 Why I love it: Baby's Only with Whey is the one of the best cow's milk-based formulas available in the US. It is made with organic skimmed cow's milk, and organic whey. It has no added sugars, and is free of synthetic ingredients, and has naturally extracted DHA (from eggs).
Keep in mind: This is technically a toddler formula but similar to Kabrita, it meets the nutritional requirements for an infant formula. It also has no pre/probiotics so you would have to supplement with that separately. As with all formula, be sure to consult your pediatrician before using this for your baby.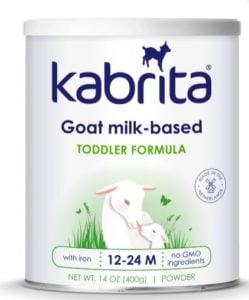 Why I love it: There are a lot of benefits to Kabrita USA. It is FDA registered, has a super clean ingredients list, is certified glyphosate free, it contains no added sugars, no maltodextrin, no syrup solids and has the right composition of fatty acids to be gentle for babies' tummies to digest.
Keep in mind: Kabrita is technically not organic, but it does follow European standards and is non-GMO. It's also technically a toddler formula, but it does meet the nutritional requirements of infant formula (so just make sure your pediatrician is comfortable with you using it).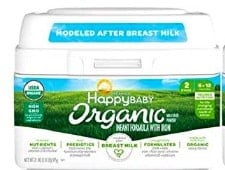 Why I love it: This is one of the best infant formulas made in the US, and doesn't have gluten or corn syrup. It's Non-GMO, and is designed for easy digestion. It contains DHA, pre and probiotics. And it's also the best organic infant formula available in the US (since Baby's Only is technically a toddler formula).
Keep in mind: This American made baby formula does contain soy oil, which is less ideal. It also has a thinner consistency that not all babies might like.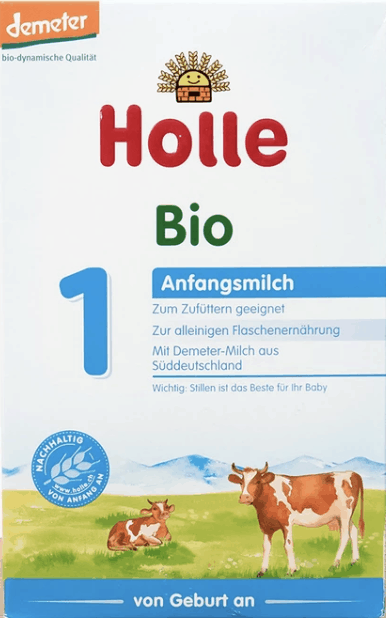 Why I love it: Holle organic baby formula is very comparable to Lebenswert in ingredients, and is also a great option for parents who don't want pre/probiotics added to their natural organic formula and want to supplement with that separately.
Holle baby formulas are Demeter biodynamic certified, which has even more stringent and careful regulations than Bioland. This organic cow milk formula has the purest, non-GMO ingredients, the highest standards for animal welfare, and a commitment to biodiversity and sustainability.
Keep in mind: Again, with Holle options, parents would need to supplement pre/probiotics since it is not included in the formula (DHA/ARA is included in this non toxic formula). Holle Stage 1 also has maltodextrin added.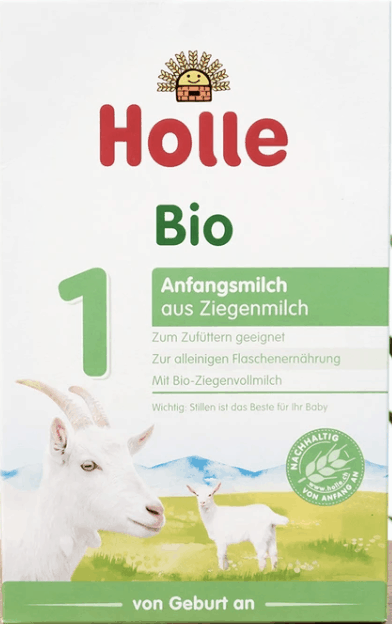 Why I love it: Holle Goat is the only goat milk formulas that is organic. Holle's goat formula is also suitable for infants. Some evidence suggests the protein ratios in goat milk more closely resemble that of breast milk. There is also research that suggests goat's milk is more easily and completely digestible by infants than cow's milk is. This means that goat's milk formula may be perfect for a baby with sensitivities to cow's milk formula.
Keep in mind: Unlike Kabrita, Holle goat milk formula does not contain added whey (so the whey:casein ratio in Holle might be constipating for some babies). This organic infant milk also includes maltodextrin to balance the sweetness of the milk. It also contains no added pre/probiotics (DHA/ARA is included in the new formulation).
The Best Hypoallergenic Formulas For Babies
If you're looking for detailed information about the best hypoallergenic baby formulas, our guide outlines the best options as well as what ingredients to look for to find the best fit for your baby. I have included a short summary of the top 3 hypoallergenic formulas below as well!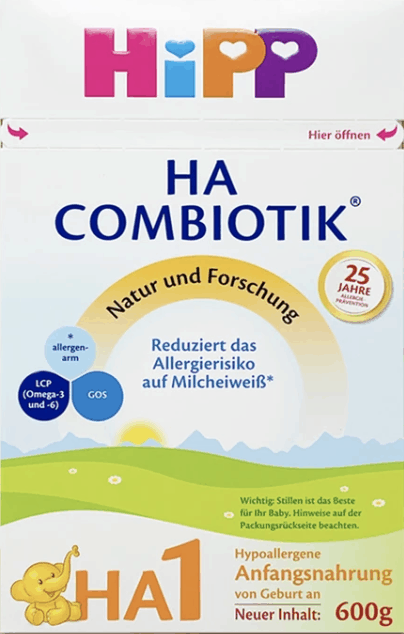 Why I love it: HiPP Hypoallergenic baby formula is free of casein and contains protein hydrolysates that break down proteins for infants who have sensitive stomachs. It also contains pre and probiotics and DHA. Try this gentle formula without corn syrup if your baby has a cow's milk allergy or sensitivity and you haven't tried another hypoallergenic option (or you're trying to move away from the US hypoallergenic options because of concerns over ingredients). Has extensively hydrolyzed protein, (86-87% broken down), 100% whey (no casein), but with the same lactose content as a non-hypoallergenic baby formula. So if your baby has severe lactose intolerance, this may not work well for them. (Learn more: Lactose Free Baby Formula)
Keep in mind: HiPP Hypoallergenic is not technically organic, because hydrolyzing the milk protein requires more processing. However, all other ingredients included are still organic.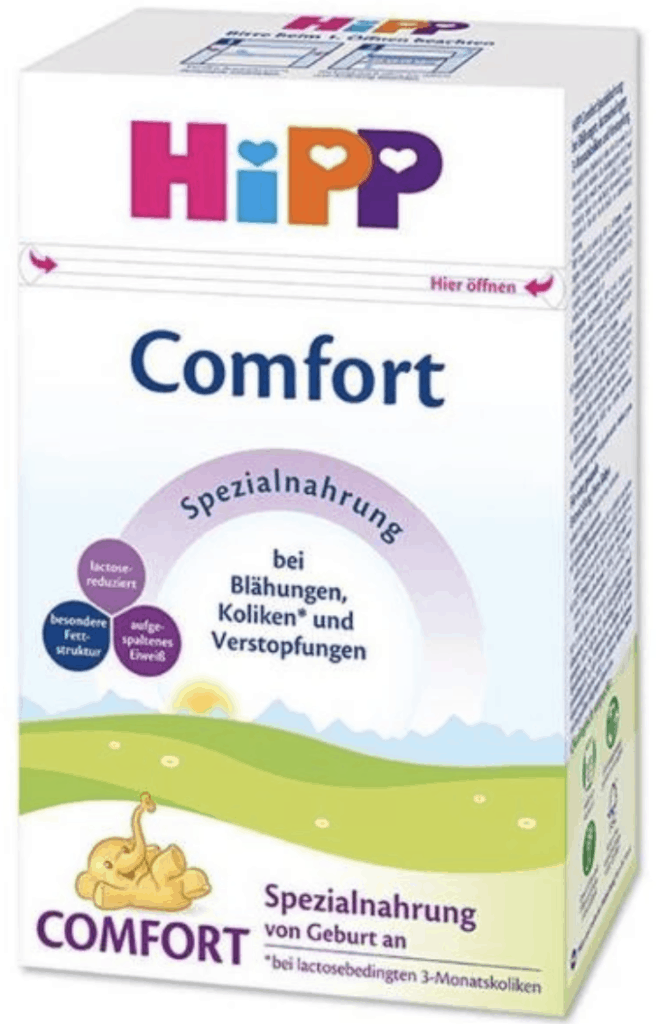 Why I love it: This is the most gentle formula from the EU, and is worth trying for babies who don't do well on HiPP HA. It is the most similar to a US hypoallergenic formula and is more broken down than HiPP HA. It contains extensively hydrolyzed protein, (86-87% broken down), 100% whey (no casein), reduced lactose content and modified fats. While technically, HiPP HA is a hypoallergenic formula and Comfort is not specifically a hypoallergenic formulation but rather indicated for gassiness, colic and constipation, we have found parents seeking a "hypoallergenic" formula have been successful with Comfort. But, their success may be due to the reduced lactose content in addition to the hydrolyzed protein.
Keep in mind: HiPP Comfort is not technically organic, because hydrolyzing the milk protein requires more processing. However, all other ingredients included are still organic. Also, while HiPP Comfort is the closest to a US hypoallergenic formula, it's still not as broken down as Alimentum or Nutramigen (which is 93% hydrolyzed). The US hypoallergenic formulas are usually suited for babies who have a medical condition s called CMPA (cow's milk protein allergy). So if your baby can't tolerate Comfort you will have to move to a US hypoallergenic formula.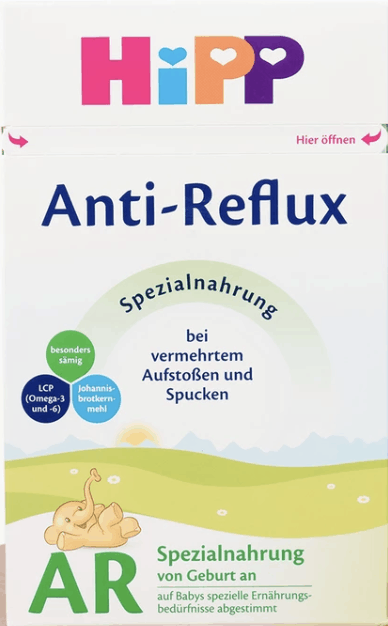 Why I love it: HiPP Anti-Reflux formula is EU certified organic, and it is a good choice for babies with sensitive tummies. This formula uses 100% whey (and no casein) to prevent reflux or spit up. It can be one of the best formulas for gas due to its lack of casein. It contains DHA, and also contains prebiotics and probiotics to benefit your baby's digestive system.
Keep in mind: HiPP Anti-Reflux contains organic maltodextrin (in addition to lactose). This is to help in easing digestion for little ones.
Best Organic Baby Formulas Comparison Chart
Below is a detailed chart ranking all of the best organic baby formulas, based on each of the ingredients in baby formula. You can see the differences between Kendamil vs. Hipp vs. Holle vs. Bobbie along with all of the other best baby formula brands. At the top of the chart, I've included a hypothetical line for the "ideal" cleanest formula. Use this line as a way to measure all of the other formulas against, to find the right baby formula for your child.
For anyone looking for a goat milk formula specifically, I have a separate organic formula comparison chart in What's the Best Goat Milk Formula for Your Baby?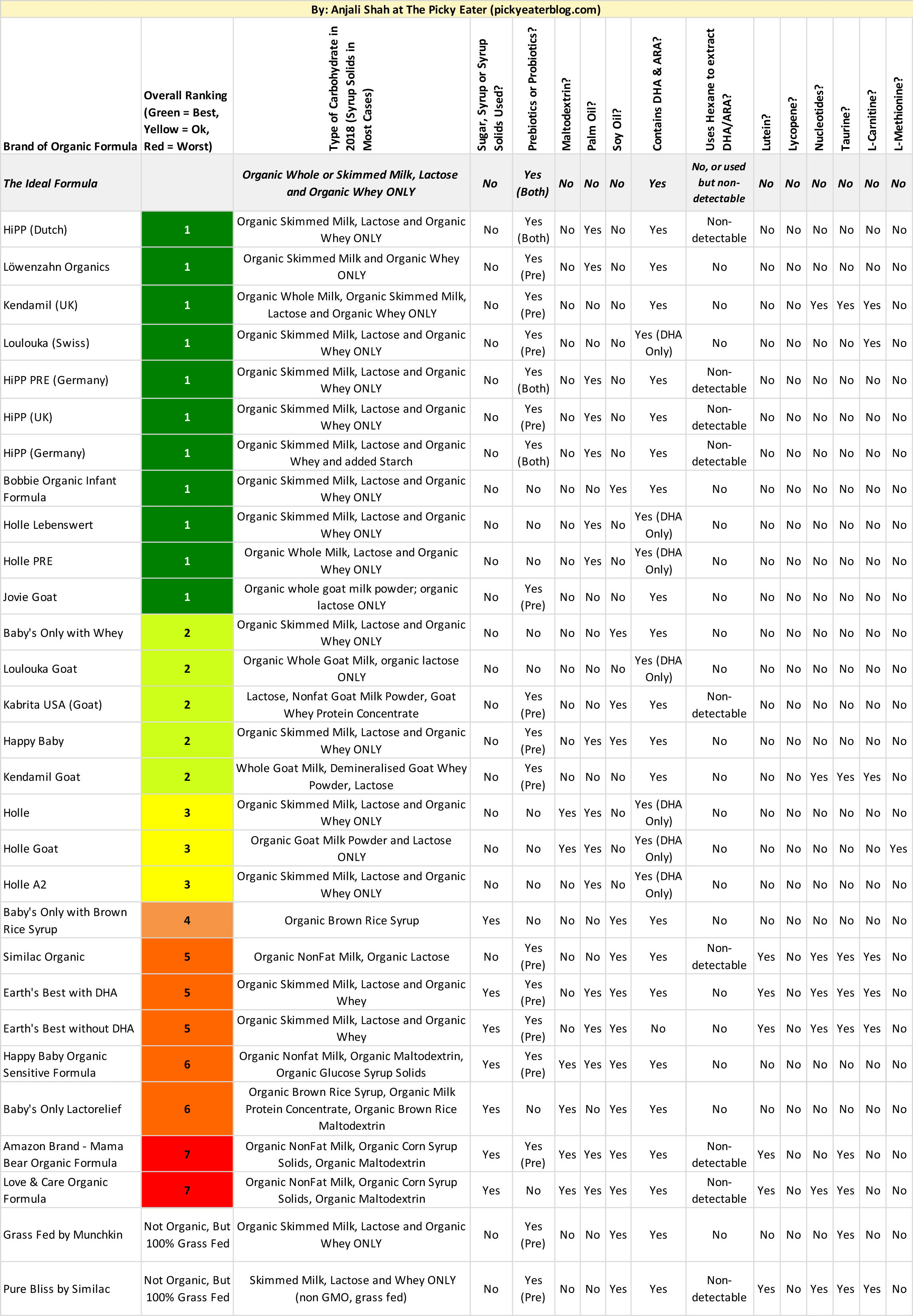 Note: Regarding GrassFed and PureBliss – while they are popular formula brands, they are not part of my best organic baby formulas list (since they are not technically organic). But they are non GMO and antibiotic free, and their ingredients list is relatively clean, so I would say they are better than all of the non-organic formulas available in the US today.
Discontinued Baby Formulas
There are a few baby formula brands I had to remove from the chart above, due to them being discontinued. They are:
The Honest Company Organic Formula: Founded by Jessica Alba, The Honest Company was created to develop high quality baby products with clean ingredients and budget friendly prices. They had two stages of Honest organic formula, but have since discontinued both.
Plum Organics Infant Formula: We don't know why Plum Organics discontinued their infant formula, but it no longer appears in our guide since it's no longer available.
Happy Tot Toddler Formula: Has been discontinued as of a few years ago.
Gerber Organic Formula: Also has been discontinued
Note: Due to formula shortages, Loulouka has been difficult to find, but it has not been discontinued, it's just perpetually out of stock right now! We will update this post as soon as we hear more about Loulouka's availability. Additionally, Similac Organic Baby Formula also seems to be out of stock, likely due to the formula shortage. It's not one of our top picks, but it is worth mentioning since it can be a more budget friendly option.
A Note On Breastfeeding Vs. Formula Feeding
We've all heard the advice: "Breast is best." For a few moms, that advice is easy to follow. Unfortunately for many moms, it's not.
The truth is, breastfeeding is HARD.
Not hard as in "oh this is hard, I don't feel like doing it," but hard as in: My baby won't latch; I have low milk supply; My nipples are sore/bleeding/blistered; I have no place to pump at work; I have mastitis; I've seen dozens of lactation consultants, and I'm still having problems.
And then there are all of the moms who can't breastfeed because of a medical reason, or because they are adoptive parents (or had their children via a surrogate).
That's all to say – if you love breastfeeding, great. But if you need to supplement or switch to formula, that's okay!
Many moms feel guilt over weaning early or not being able to breastfeed as much as they'd like. But honestly, the most important thing is the love you give to your baby, and that you and your baby are happy and healthy. Breast isn't best; FED is best.
For me, nursing my daughter was one of the most physically and emotionally challenging parts of new motherhood. Many of the early days ended in tears. When I weaned her after 8 months of emotionally taxing nursing and pumping, I needed to select a baby formula. Using my background in nutrition, along with extensive research (both reading articles and speaking with doctors and fellow mothers), I was able to arrive at this list of the best formula for baby in this guide.
Where Can You Buy The Best European Baby Formula In The US?
If you want to buy HiPP, Lebenswert, or Holle online, I have found a few online retailers who are either based in the US or ship to the US in a reliable and safe manner! I'm in personal contact with the owners of all of these companies, I feel comfortable recommending all of them to you.

The Milky Box is the only online retailer I've found that literally has every European formula you can think of. They are dedicated to ensuring that organic European formulas are available to any parents who want them in the US! And their supply chain is so robust they virtually guarantee that they are always in stock of HiPP Dutch, HiPP UK, HiPP Germany, Holle, Lebenswert, Goat milk formula, and the sensitive formulas (HiPP HA, Comfort, Anti-Reflux).
And, they even carry more specialty formulas like Jovie Goat Milk, HiPP Goat Milk, Stage 3 and Stage 4 formula from HiPP, Holle, Jovie, Kendamil, Lebenswert, Kabrita, Nannycare, Premibio, and organic vegan baby formulas like Bebe M!
What Makes The Milky Box Stand Out?
Guaranteed availability of ALL the European formulas
They offer one of the largest varieties that is also the most expansive. They carry stages up until 2 years old, so that moms have the option to continue offering high quality milk to their toddlers.
They have multiple warehouses across the world, including in Europe and North America, to ensure formula gets to you ASAP.
A reputable supplier of Kendamil (one of two suppliers) & the only supplier of Jovie Formulas
Free standard shipping on all 6, 8, & 12 pack orders!
A comprehensive mixing guide for every formula listed on their website in case customers lose their instructions.
A subscribe & save option (up to 5%) with delivery every 1-2 months. And, you can buy bundles to save more!
Amazing customer support (turnaround within 24 hours)
Receive an additional 10% off using the code "PICKY10" at checkout!
You can read more about The Milky Box's story here!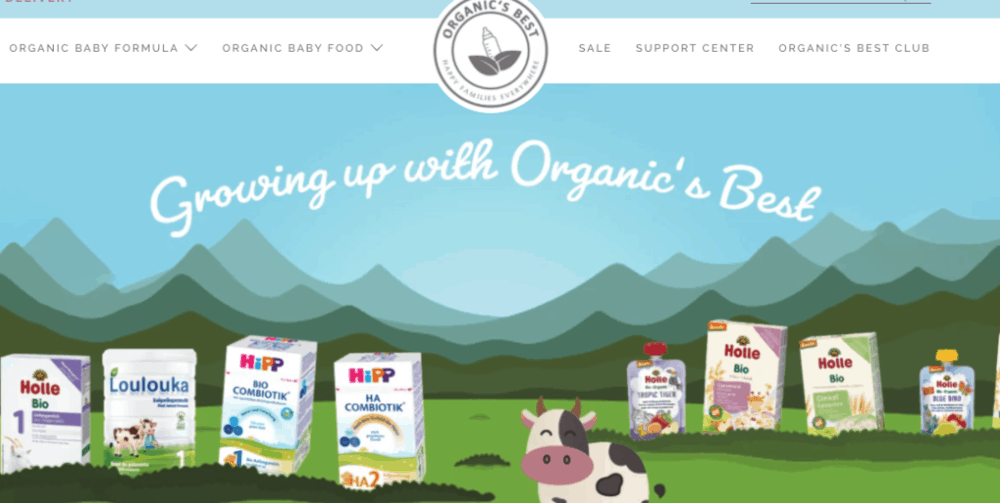 Organic's Best is based in Germany, and is passionate about making organic baby formula and baby food available internationally (to any family who wants it!) They carry the top organic formula options like HiPP Dutch, HiPP Germany, HiPP UK, Holle, Lebenswert, and Loulouka. They also carry HiPP HA, HiPP Comfort, and HiPP AR.
One thing that makes this company unique is that they have free shipping for all orders over $25 and they will guarantee express delivery between 1-4 business days to the US. Additionally, every new customer also receives two free boxes of formula! They have low prices, and they include free shipping insurance for every order, and they guarantee availability of all formulas – so you never have to worry about your favorites being out of stock!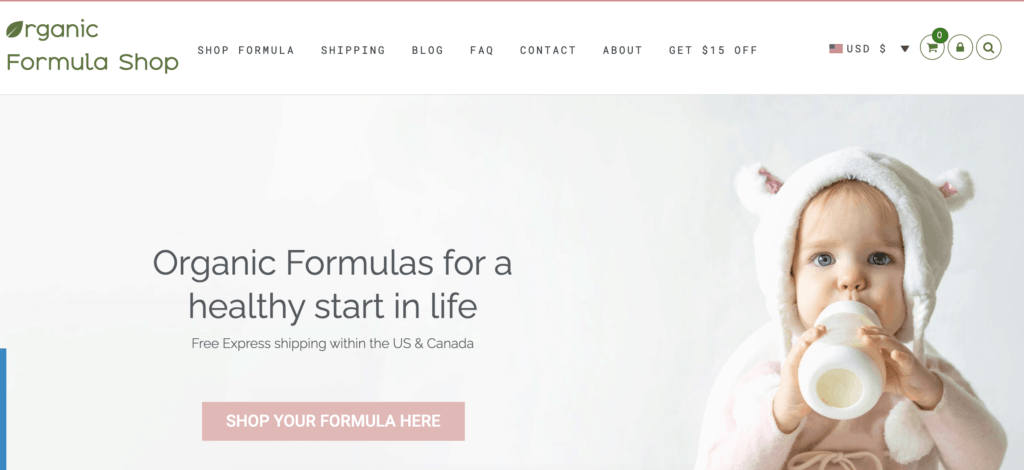 Organic Formula Shop is a solid company that offers a reliable and convenient shopping solution for HiPP, Holle, and Lebenswert anywhere in the United States. Based in the Netherlands, their mission is to share their gathered knowledge about European Formulas with parents and caretakers globally via their website and excellent 24/7 customer support. They also recently launched a new online store for the Indian market.
They carry some of the best clean baby formula brands like HiPP Dutch, HiPP German, Holle and Holle Goat's milk formulas. They also carry the sensitive formulas HiPP HA & HiPP Comfort.
Some things that make this company unique include: no matter your order size, all orders are delivered for free via Express Shipping within 3 to 5 business days. If the formula you order doesn't work for your baby, Organic Formula Shop will work with you to find the right option immediately. They are one of the lowest-priced resellers out there and allow bulk purchasing with a 20% discount. Lastly, they even offer a Single Parent Scholarship designed to support a single mother or father with their college or graduate education! I would highly recommend them as a reputable place to order your HiPP and Holle formulas.

When it comes to affordability, Bottles & Burps is the lowest priced US retailer I have found that sells some of the best organic formulas for babies like HiPP, Holle, Lebenswert and Kendamil. They can get all of these products to most US households in 5 days from their warehouses.
If you're looking to save even more, you can order bundles direct from their warehouse in Germany (with free, express 2-5 day shipping to the US). Express shipping from Europe is important because the alternatives can take upwards of 30 days and suffer additional customs delays.
They are committed to bringing high quality, European formula to parents in the US at an attractive price. Bottles & Burps is also offering a $10 discount code using the code PICKYEATER10 (just enter it manually in the checkout process!)

Organic Baby Food is a reputable, online retailer based in the EU who has fast shipping to the US! They have the best organic formula brands like HiPP, Lebenswert, and Holle, along with Hypoallergenic formula and Goat's Milk formula. They have reasonable prices, reliable shipping (within 1-3 business days!), amazing customer support, and I have been in contact with the owner personally.
In addition to baby formula they also have a variety of organic cereals and snacks for babies from HiPP/Holle/Leb, as well as a line of baby care products (shampoo, lotion, calendula) that are gentle and free of any synthetic ingredients so they are perfect for babies!
A few other great things about this company: guaranteed delivery within 2 days, money back if your shipment is delayed, dedicated customer support (a few hours turnaround time for emails or direct phone support at 1-800-701-4303), and deep discounts up to 60% off sometimes! They are also giving readers of The Picky Eater a 10% off coupon code at checkout – just use the code: PICKY and you will get the discount!
Baby Formula FAQs
Final Thoughts
Not every baby likes every formula. Some formulas constipate or irritate some babies, yet keep other babies' tummies perfectly happy. If you try the formulas I recommend and they don't work for your baby – that is ok!
There is no perfect formula, but some are still much better than others. If you can afford it, the best organic baby formulas are HiPP, Lebenswert, and Holle – so I'd recommend shipping your formula from Europe whenever possible! Organic infant formulas are more expensive than regular formula, and not every parent has the financial means to buy organic formula for their little ones – and that's ok, too! Just do the best you can for your baby. No judgments here.
Overall, I advocate a world of no judgments when it comes to breastfeeding or formula feeding. All you can do as a mom is your best. Whether you breastfeed for a year, or 6 months or 1 month, or 0 months doesn't make you a better or worse mother. A happy healthy mom and happy healthy baby is all that matters.
I hope this post helped you find the right baby formula for you and your little one!
Keep in mind that every person & situation is different, especially yours, so make sure to talk to your doctor and see how these guidelines and tips can help you. These tips are not a substitute for professional medical advice, diagnosis, or treatment. Never disregard or delay in seeking professional medical advice because of something you read here!
My recommendations are based on the manufacturer's claims and ingredients list, and what I feel best giving to my own family. Your individual results may be different based on your overall diet, exercise, age, weight, family history, or pre-existing conditions.
Appendix: More Info on Hexane Extracted DHA/ARA in Formula
I spoke with an expert who has her BS in Biology with a minor in Chemistry, who worked in an organic chemistry lab for 2 years and worked with many solvents used in extractions, compound purification, and analysis, and then went on to get an MS in Biochemistry and Molecular Biology. She is extremely knowledgable when it comes to hexane and extraction methods, so I asked her for her thoughts on how concerned we should be about hexane-extracted DHA/ARA in the best organic baby formulas on this list. Here is the summary:
Hexane is often used as extraction solvent for extracting fats. This is because it has a low boiling point when compared to most fats, which makes it easy to get rid of post-extraction – leaving the fat behind.
To get rid of Hexane, chemists use a large apparatus called a "rotary vap" that gets rid of the solvents and you end up with a pure powder substance (usually a chemical compound). The next step is to check the purity of the compound using a machine called an NMR or MS, which tells you whether you have any of your solvent left.
This woman told me that she never, ever found an issue with having hexane still present after drying her sample.
Since formulas are a powder, they are heated to the point of water removal, and therefore the hexane should be all gone. It is unlikely that hexane is left in properly treated formula, but you are placing trust in the formula and manufacturing industry that all formula is being properly prepared.
Note: All oils that don't have a cold-pressed process are extracted using hexane – this includes corn oil, soy oil, vegetable oil, etc. (unless otherwise specified on the bottle). Hexane is also used during the development process for drugs – many drugs are purified in a hexane solvent and then it is dried off. So if you are going to question hexane, you need to be aware of the other areas where it is used in our regular food and drug supply!
When it comes to being concerned about hexane vs. other questionable ingredients in organic formulas – maltodextrin, soy oil, etc., I'd be more concerned about maltodextrin vs. hexane extracted DHA. This is because maltodextrin's glycemic index is much higher than table sugar and I personally believe a lot of issues today come from sugar and inflammation, and even when hexane is used it should be gone by the time the formula is packaged.
Unfortunately, there is no formula out there that doesn't have at least one of the "offending" ingredients in formula milk that I have listed above! For me personally, I would choose hexane-extracted DHA over maltodextrin or soy oil for example. This is because soy oil is also extracted using hexane, and maltodextrin has an extremely high glycemic index. In addition, formulas that contain soy oil or maltodextrin are 100% guaranteed to contain these ingredients, versus hexane which is likely not traceable in a formula that has used it as a method to extract DHA/ARA before the formula has been prepared!
1,234 responses to "Best Organic Baby Formulas: 2023 Guide"