The Best Hypoallergenic Baby Formulas
This post may contain affiliate links. As an Amazon Associate, I earn from qualifying purchases. Please read my disclosure.
This in-depth, parent-friendly guide will help you find and buy the best hypoallergenic baby formulas. You will learn what types of hypoallergenic baby formulas are available, what ingredients to avoid in formula, and where you can reliably purchase the best hypoallergenic baby formula. I update this post monthly to ensure that all of the information below is recent and accurate!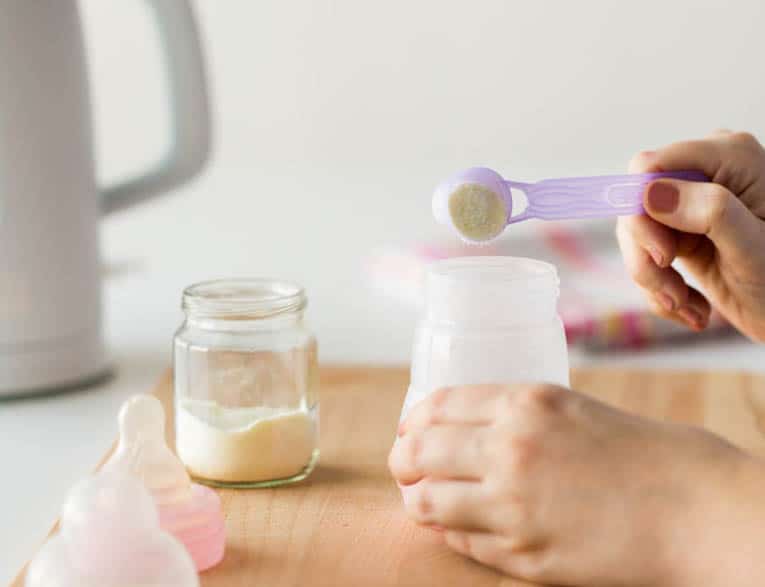 Finding the safest and healthiest formula for your baby can be a stressful process! I've heard from many of you that my guide to the best organic baby formula has been helpful in making that process a bit easier.
But navigating the world of hypoallergenic formulas can be even more stressful – because on top of trying to find a healthy solution, you know that your baby is getting sick from the milk protein in regular formula!
I was lucky enough to have two kids who didn't have any allergies, but I have talked to so many moms who are frustrated with the lack of options for healthy, safe, organic, hypoallergenic baby formulas. So that's why I created this article!
Some of the items below were given to me to review by the manufacturer or as part of an affiliate program. I may receive commissions if you make a purchase through the links provided. I only recommend products I've actually evaluated, I believe are the highest quality, and can do the most to help you and your family. By purchasing any of these products from the links below, you help keep this blog running, so thanks for your support!
Keep in mind that every person & situation is different, especially yours, so make sure to talk to your doctor and see how these guidelines and tips can help you. These tips are not a substitute for professional medical advice, diagnosis, or treatment. Never disregard or delay in seeking professional medical advice because of something you read here!
Below, I have listed the best hypoallergenic baby formula on the market today, followed by more details on each. Click on the formula name to go to the best online retailer of the formula.
The 16 Best Hypoallergenic Baby Formulas: 2021 Guide
While no hypoallergenic formula is perfect, the 16 hypoallergenic baby formulas below are considerably better than the rest. You can click on the formula name in the table below to find the best online retailer of the formula.
What types of hypoallergenic formulas are out there?
Soy Formulas
While these are an alternative to cow's milk formulas, 8-14% of infants with a cow's milk allergy will react to soy. On top of that, too much soy for infants hasn't been studied in terms of its long term effects – so I don't like recommending soy formula, especially non-organic soy formula, for babies with a cow's milk protein allergy.
Goat Milk Formulas
This can be a good option if your baby has a cow's milk sensitivity vs. a diagnosed cow's milk protein allergy. For Goat Milk formulas, I'd recommend: Kendamil Goat, Kabrita USA or Holle Goat. For more details on goat milk formula, check out this guide to the best goat milk formula and this guide comparing goat milk formula vs cow milk formula.
Partially Hydrolyzed Formulas
These take a cow's milk protein whey and break it up into large pieces. But this can still trigger an allergic reaction in babies who are allergic to cow's milk.
Extensively Hydrolyzed Formulas
These are hypoallergenic. They are made for infants who can't digest or are allergic to intact cow's milk protein. These formulas break the casein (the cow's milk protein) into pieces.
The healthiest options in this category actually come from Europe.
HiPP Comfort is most similar to a US hypoallergenic formula. It has extensively hydrolyzed whey protein (86-87% broken down) and does not contain casein (100:0 ratio). In addition, HiPP Comfort has a reduced lactose content. What's interesting about HiPP Comfort is that while, in formulation, it is the closest to a US hypoallergenic formula and is more broken down than HiPP HA, it's technically not labeled as a hypoallergenic formula in the EU for regulatory reasons. Comfort is typically indicated for gassiness, colic and constipation. (Learn More: Best Formula For Gassy Babies). We do, in practice, find that parents seeking a "hypoallergenic" formula have been successful with Comfort, so for those who have babies who are sensitive to both whey and casein, this may be the formula for you!
HiPP HA or HiPP HA PRE is another fantastic option, because it does contain extensively hydrolyzed whey protein (86-87% broken down), and it doesn't contain casein (100:0 ratio), but it does not have a reduced lactose content. The difference between HA PRE and HA is that PRE has no starch added.
Common Extensively Hydrolyzed formulas in the US include Alimentum® or Nutramigen®, which are about 93% broken down – so slightly more than Comfort/HA. Gerber HA is 100% hydrolyzed, so it's the most hydrolyzed formula that I've found. But if your baby tolerates HA or Comfort I would choose those over Alimentum/Nutramigen for a variety of reasons (more on that below!) Note: If you are looking for more information US baby formulas and you don't need a hypoallergenic option, I'd recommend looking at this post on the best baby formula made in the US.
Amino Acid Based Formulas
These are hypoallergenic. These don't include whole protein molecules at all. Instead, they contain all the basic amino acids, which are the building blocks of protein. These are the most expensive and are used when babies react even to extensively hydrolyzed formula. Common and Amino Acid Based formulas in the US include Neocate® or EleCare®. These don't have great ingredients, but there isn't a better option that I've found out there!
What makes European hypoallergenic formulas better than US formulas?
No processed or refined sugars (syrup, syrup solids, maltodextrin, sugar, brown rice syrup, etc).
Minimal synthetic nutrients: this includes lutein, lycopene, nucleotides, l-methionine. I won't go into details on each nutrient listed above, but essentially – many are processed with neurotoxic solvents or are either themselves listed as a toxic ingredient.
They taste much better than the US hypoallergenic formulas! US hypoallergenic formulas are notorious for tasting and smelling horrible – and that can make it even more challenging to get your baby to drink them. But because they're made with whole food and minimally processed ingredients the European formulas are usually well tolerated by babies in terms of taste and smell.
They're pretty comparable in price, and sometimes even cheaper than the US hypoallergenic formulas.
Note: while most HiPP formulas are organic, HiPP Comfort and HiPP HA are technically not certified organic because the hydrolyzed protein is not available in an organic form.
So are the US formulas really that bad?
Even if you just look at the sugar content and ignore the highly processed ingredients, yes. Look at the ingredients from some of the most popular brands – and you'll see that over 50% of the ingredients are literally just sugar. That's just like spoon feeding your infant table sugar! It's ridiculous. And the two options without a high amount of sugar (Nutramigen® and Alimentum® ready to feed versions) have carrageenan added.
Alimentum®: Corn Maltodextrin (35%), Casein Hydrolysate [Derived from Milk] (18%), Sugar (15%), High Oleic Safflower Oil (10%), Medium-Chain Triglycerides (10%), Soy Oil (8%).
Neocate®: Corn Syrup Solids (51%), Refined Vegetable Oil (Medium Chain Triglycerides (8%), High Oleic Sunflower Oil (6%), Sunflower Oil (4%), Canola Oil (4%)), Fructooligosaccharides (Oligofructose (4%), Inulin (0.5% )
Nutramigen®: Corn Syrup Solids (48%), Vegetable Oil (Palm Olein, Coconut, Soy, and High Oleic Sunflower Oils) (26%), Casein Hydrolysate (Milk) (16%)*, Modified Corn Starch (4%)
If you compare that to the Ingredients in HiPP Comfort or the Ingredients in HiPP HA – you'll see that there is zero added sugar for both of these formulas!
So if your little one is allergic to cow's milk protein, I'd definitely recommend trying HiPP Comfort or HiPP HA before any of the US based hypoallergenic formulas.
As for where to purchase these formulas, I'm in personal contact with the owners of all of these companies: The Milky Box, Bottles and Burps, Organic Formula Shop, Organic's Best, and Organic Baby Food, and I feel comfortable recommending them to you as options!
I hope this post helped you navigate finding best hypoallergenic baby formulas available today. If you have any questions, don't hesitate to leave a comment or contact me here – I respond to every message I get!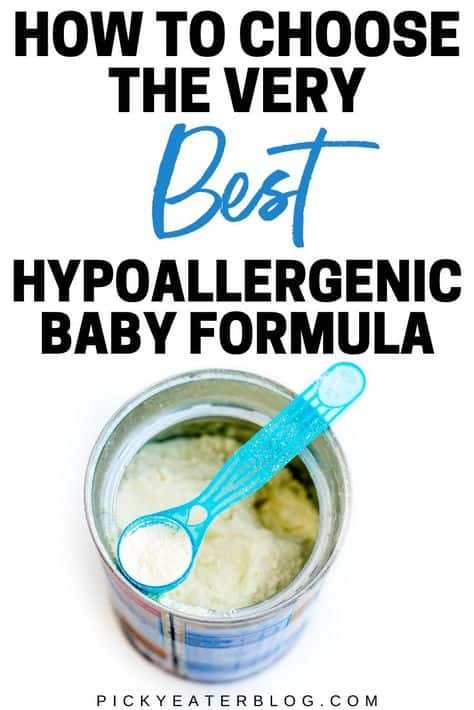 364 responses to "The Best Hypoallergenic Baby Formulas"