The Best Goat Milk Formula (2023 Guide)
This post may contain affiliate links. As an Amazon Associate, I earn from qualifying purchases. Please read my disclosure.
This in-depth, parent-friendly guide will help you find and buy the best goat milk formula for your baby. You will learn why you should consider goat milk formula and why it can be a great alternative to cow's milk, what ingredients to avoid in formula, and where you can reliably purchase goat formulas for your baby. I update this post monthly to ensure that all of the information below is recent and accurate!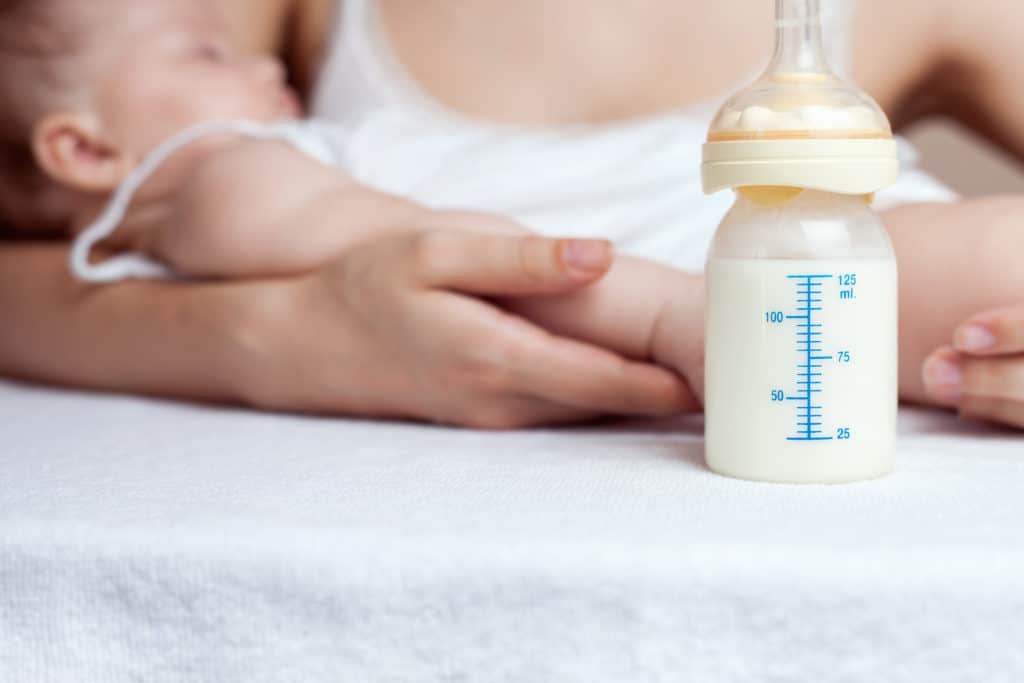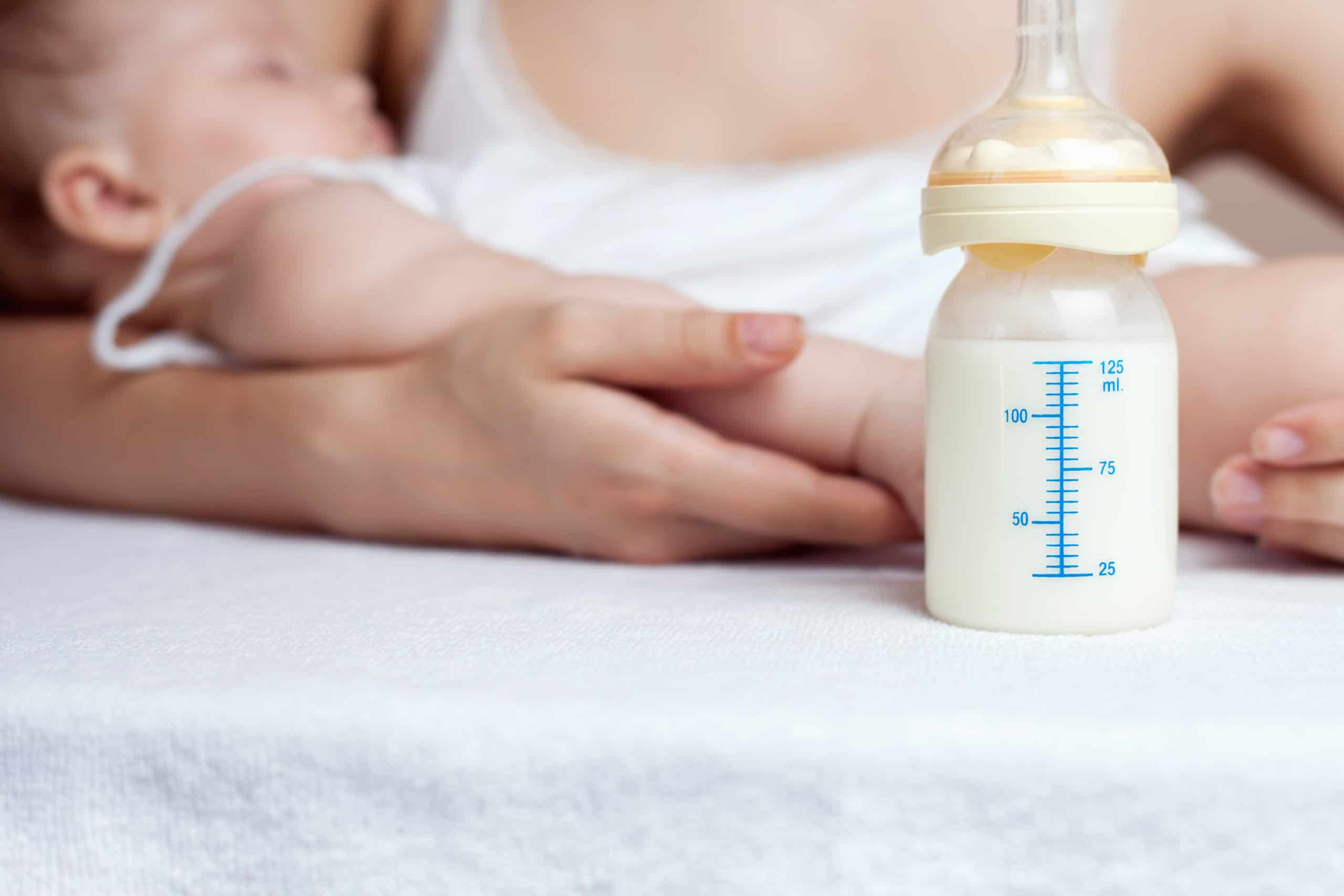 So many of you have come across my best organic baby formula post – and I'm so glad that post has been helpful! One of the most common questions I get when it comes to baby formula is: What about goat milk formula? Is it better than cow's milk formula? And which one is the best?
In general, goat milk formula can be a good option for babies – especially for babies who just aren't tolerating cow's milk formula well. I always recommend choosing an organic baby formula, and therefore an organic goat milk formula whenever possible to avoid GMOs, synthetic ingredients, pesticides and hormones.
Read on to find out everything you need to know about goat milk based infant formula, the different brands of goat milk formula available, and which one is the best option for your baby!
What Is Goat Milk Formula?
Goat milk formula is a type of infant formula that is made from goat's milk instead of cow's milk. It is formulated to meet the nutritional needs of babies who are either exclusively formula fed or who require supplemental feeding in addition to breastfeeding.
There are also goat milk toddler formulas which are meant to meet the nutritional needs of toddlers (typically aged 12-24 months) instead of infants (aged 0-12 months).
Goat milk based formula contains a blend of essential nutrients, including protein, fat, carbohydrates, vitamins, and minerals (including iron), that are necessary for a baby's growth and development. Goat milk formula is safe for newborns – a recent study showed that goat milk formula for newborns worked just as well as breastmilk when it came to growth and safety.
Goat milk infant formula may be recommended for babies who are allergic to cow's milk or who have difficulty digesting it, as goat's milk is considered to be more easily digestible than cow's milk for some babies. But it's not solely meant for babies with sensitive digestive systems, as it's not a hypoallergenic formula and is formulated for all babies.
Note: If you are considering switching to goat milk formula (or before using any infant formula), make sure to speak with your pediatrician first!
How Is Goat Milk Formula Different Than Cow's Milk Formula?
Goat milk formula and cow's milk formulas are very similar in nutritional content. They both contain the right balance of vitamins, minerals, proteins, fats, and carbohydrates that are important for your baby's growth and development.
There are a few differences between the two types of formulas that may make goat milk based formula a better choice for your baby:
First, goat milk contains less lactose than cow milk, making it easier to digest, especially for babies with a lactose intolerance.
Goat milk is made up of A2 casein protein vs. A1 casein protein in cow's milk, and A2 protein is supposed to be easier to digest as well when compared to A1.
Goat milk has smaller fat globules (medium chain fatty acids), compared to cow's milk which has more long chain fatty acids – which can be harder for your baby's digestive system to break down.
And finally, goat milk is often considered a more ethical and sustainable alternative to cow milk, as goats require less land, water, and feed than cows to produce the same amount of milk.
For more details on what the pros & cons are of goat milk vs. cow milk formula, check out our guide to Goat Milk Formula vs. Cow's Milk Formula.
Is Goat Milk Formula Better For Babies?
The answer is: it depends! Goat milk formula can be a better option for some babies, but not for others, and it all depends on each baby's individual needs and circumstances such as allergies, digestive issues and nutritional needs.
Goat milk formula is designed to provide excellent nutrition to all babies, and some babies will do better on goat milk formula because of the reduced lactose, easier to digest fats, and A2 milk proteins. For babies who do not tolerate cow milk-based formula well, goat milk formula may be a good alternative. However, some babies may not like the taste of goat milk formula, or they may get constipated on goat milk vs. cow milk formula. If your baby is doing well on cow milk formula, there may be no need to switch to goat milk formula (and vice versa).
But ultimately, there is no way to really know whether goat milk formula will be better for your baby without a little bit of trial and error. Just make sure to consult your pediatrician first!
Quick Picks: Best Goat Milk Formulas
Here is our "at a glance" view of the best goat milk baby formula based on different needs. Looking for a budget friendly clean baby formula? A goat milk toddler formula? A European goat milk formula? The best overall? We have you covered.
We chose these formulas based on: over 100 hours of research, speaking with thousands of parents on what has worked for their children (along with personal experience with my own two kids), reviewing the ingredients of every goat formula brand on the market, speaking with doctors and pediatricians, and reviewing countless articles and peer reviewed studies. There aren't as many goat's milk formula options as there are cow's milk. That said, there are a few high quality goat milk formulas.
Further down in this guide you will find a detailed list of the top 10 best goat milk formulas, one runner up (good formula brands that didn't make our top list), and why we love each of those options.
Which Goat Formula Is Best?
Of these formulas,Jovie Goat Milk Formula is by far the best goat milk baby formula (and the best best organic goat milk formula) on the market today. (Note: go to this post on the best baby formulas made in the US if you're interested in a US based formula!)
If I was going to give my own child a goat milk baby formula, I would choose Jovie Goat Formula.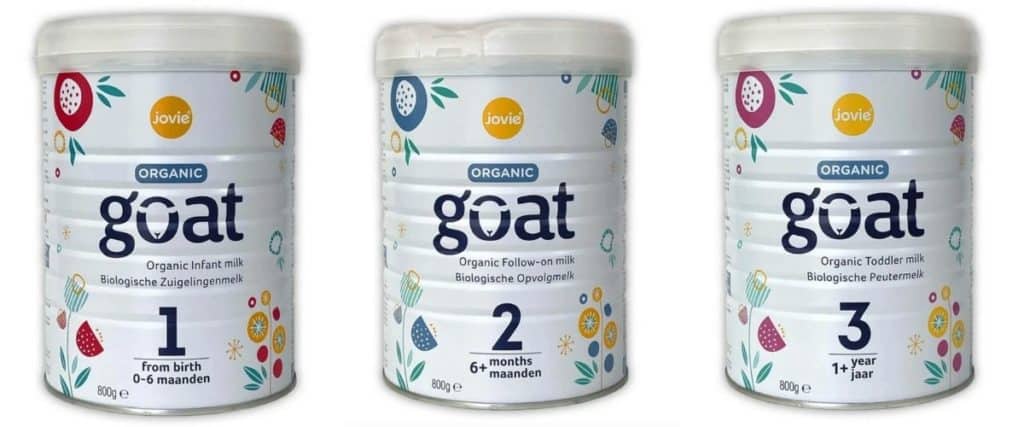 Why Is Jovie Goat Milk Formula The Best?
Jovie Goat Milk Formula is a great product, ideal for healthy development for a few reasons:
Made with whole A2 Goat Milk instead of skimmed milk like most other formulas. This 100% full cream goat's milk is also loaded with prebiotics. Goat milk protein is also easier to digest than cow's milk protein.
No Palm Oil or coconut oil (so is allergen friendly)
Contains essential fatty acids DHA & ARA (note: uses fish oil so is not vegetarian. For a vegetarian goat milk formula, I recommend Kendamil Goat.
No hexane extraction
Produced in the Netherlands, adhering to the highest organic standards
Contains natural prebiotics similar to breastmilk – boosting your baby's immune system.
No added sugars, synthetic preservatives, no wheat soy, maltodextrin or peanut ingredients, GMO free
Main carbohydrate is lactose, mimics the whey:casein ratio of human breast milk
Contains essential vitamins such as: folic acid, vitamin d3, vitamin b12, vitamin b6, vitamin a and vitamin e.
Important Note: If your child has had an allergic reaction to cow's milk or cow milk formula, or is completely lactose intolerant, then you likely need a true hypoallergenic formula and goat milk may not work for your child.
Ideal Goat's Milk Formula Ingredients
✅ Ideally organic, or at least Non-GMO. If the milk is imported from the EU or NZ that's even better, because you end up with higher standards for the treatment of animals and the processing of milk. Holle Formulas, Jovie and HiPP are all organic.
✅ Primary carbohydrate is lactose. No syrup solids, sugar, glucose syrup, maltodextrin, or other added sugars used.
✅ 60:40 whey:casein ratio. Breastmilk has a 60:40 whey to casein ratio, so it's ideal for formulas to mimic this same ratio to avoid digestion issues, constipation, gas, discomfort in babies. Goat milk naturally has a 20:80 whey casein ratio, so many goat milk formulas will also end up with that same ratio. Breast milk contains more whey than casein – and goat milk contains much more casein than whey – so a formula that adds goat whey protein will be easier for babies to digest. An alternative is for formulas like Jovie which don't have a whey:casein ratio that matches breastmilk to add other ingredients like healthy fats and prebiotics that aids in digestion.
✅ Addition of Omega 3 & 6 fatty acids (DHA/ARA). For healthy brain development, and to match what's naturally found in breastmilk.
✅ Prebiotics added. For gut health, as well as immune system support. Ideally, probiotics are added as well, but you can also supplement with probiotics for formulas that don't contain it (but it's much harder to supplement with prebiotics for infants).
✅ No highly processed ingredients. This includes: carrageenan, soy protein (soybean oil is ok), no nutrients extracted with hexane (this applies to DHA, but also any other nutrients added to the formula), etc.
✅ Easy to mix, babies tolerate it well (based on parent reviews).
✅ Gluten free. Most formulas are already naturally gluten free, but it's important for the manufacturing facilities the formulas are produced in to not have any cross contamination issues as well.
A note about palm oil and soy lecithin: These two ingredients are not ideal and are more processed, but are not as "harmful" as something like glucose syrup solids or GMO ingredients added to the formula. It can sometimes be impossible to find a formula that both meets your budget and all of the criteria above. So if you find a formula that meets the criteria above, but happens to include either palm oil or soy lecithin, but works well for your baby, I would still recommend using it. The reason I have ranked Jovie Goat Milk formula as #1 is because it's the only formula I have found that meets all of these criteria and also does not include soy lecithin or palm oil!
Ingredients To Avoid In Goat Formula
❌ Synthetic DHA and ARA: DHA and ARA is naturally found in breast milk. When added to a formula it is often extracted using hexane. DHA and ARA that are extracted using a different process is preferred.
❌ GMOs: Look for formulas that are certified non-GMO. If you buy an organic formula, it is automatically non-GMO. GMOs are concerning because they are genetically engineered crops that are made to be resistant to glyphosate / roundup – the residue of which can end up in food.
❌ Carrageenan: This ingredient has been banned in Europe but is still used in formulas in the US. It is know to cause inflammation in the intestines.
❌ Soy or Soy based products: Too much soy given to infants can lead to health complications in the future.
❌ Palm Oil: Palm oil is in most US formulas. It is not environmentally friendly, and can cause digestive issues in some babies. But, like I mentioned above, this one is hard to avoid for the most part!
The 10 Best Goat Milk Formulas (Details)
The list below describes the 10 best goat milk formulas on the market today and the pros and cons of each! You can click on the product name to find a reliable distributor of the formula.
Some of the items below were given to me to review by the manufacturer or as part of an affiliate program. I may receive commissions if you make a purchase through the links provided. I only recommend products I've actually evaluated, I believe are the highest quality, and can do the most to help you and your family. By purchasing any of these products from the links below, you help keep this blog running, so thanks for your support!
Keep in mind that every person & situation is different, especially yours, so make sure to talk to your doctor and see how these guidelines and tips can help you. These tips are not a substitute for professional medical advice, diagnosis, or treatment. Never disregard or delay in seeking professional medical advice because of something you read here!
My recommendations are based on the manufacturer's claims and ingredients list, and what I feel best giving to my own family. Your individual results may be different based on your overall diet, exercise, age, weight, family history, or pre-existing conditions.
Goat Milk Formula FAQs
Can babies drink goat milk?
No, regular plain goat milk is not safe for babies aged 0-12 months to drink. Regular goat milk is very different than goat milk baby formula, which is modified heavily to be nutritionally appropriate for babies to drink (especially with respect to vitamins, salts, and the amount of water). The same goes for regular cow's milk vs. cow's milk formula – babies under 12 months of age should not drink regular cow's milk (but cow's milk formula is ok). But after your baby turns 1, goat milk can be incorporated into their diets because their digestive systems have matured enough to be able to handle it.
Is goat's milk formula safe for babies?
Yes! Any goat's milk formula that's made specifically for infants and meets the FDA or European Commission nutritional standards for baby formula should be safe for your baby to drink. But make sure, before starting any new formula, to check with your pediatrician first!
Is goat milk formula FDA approved?
The answer is, it depends on the formula! Goat milk formulas made in the US are approved or regulated by the FDA. Goat milk based formulas that are made in Europe, or Australia, or another country are regulated by either the European Commission (for European baby formulas), or the equivalent regulatory body in the country the formula is produced in.

Additionally, under operation fly formula, the FDA has allowed for infant formula from other countries that meet US health and safety standards to be imported into the US. Those formulas aren't technically "FDA approved," but they are FDA regulated.
Is goat milk closest to breastmilk? What formula is closest to breastmilk?
Goat milk definitely has some similarities to breastmilk, but overall goat milk and cow milk are much closer to each other than either of them are to breastmilk. Goat milk is high in natural prebiotics, similar in protein levels to human breastmilk, and is low in lactose. However its whey:casein ratio does not match breastmilk and goat milk on its own is not nutritionally complete (the way breastmilk is) for infants. This is why both goat and cow milk have to be modified and fortified when they are turned into baby formula, so they can be as close to breastmilk as possible.
What are the benefits of goat's milk formula?
There are a few benefits to goat's milk when compared to cow's milk! They are:
1. Digestibility: Goat's milk contains smaller fat globules, less lactose, and A2 milk proteins vs. cow's milk (which has Q1 milk proteins and larger fatty acids) which may make it easier for some infants to digest.
2. Natural prebiotics: Goat's milk contains oligosaccharides, which are prebiotics that can help support the growth of beneficial gut bacteria in infants. (Although many cow's milk formulas can add this prebiotic in).
3. Sustainable: Goat's milk production is more sustainable than cow's milk production, as it requires less land, water, and feed.
More Helpful Formula Guides!
Final Thoughts
Overall, goat milk formula can be a great alternative to cow milk-based formula for infants who have difficulty digesting cow milk or who are allergic to it. Goat milk formula is rich in essential nutrients, including vitamins and minerals that are important for an infant's growth and development. It may also be easier to digest than cow milk-based formula for some infants.
However, it is important to remember that not all infants may benefit from goat milk formula, and that the best formula for each baby will be different depending on their individual needs. It's important to consider all aspects of a baby formula before choosing one – including the nutritional content, price, availability, and what works best for your baby when they actually try it! Make sure to consult with your pediatrician before trying any new formula, and remember that ultimately, the most important thing is a happy and healthy (and fed) baby!
I hope this helps you navigate the world of goat milk infant formulas! If you have any questions at all, please leave a comment below – I respond to every single one! 🙂
Love this helpful guide? Please leave a comment or any feedback you have in the comments section further down the page!
You can also FOLLOW ME on FACEBOOK, TWITTER, INSTAGRAM, and PINTEREST to see more delicious, healthy, family-friendly food, and if you have any questions, I'm here to help!
154 responses to "The Best Goat Milk Formula (2023 Guide)"