The Best Goat Milk Formula For Your Baby
This post may contain affiliate links. As an Amazon Associate, I earn from qualifying purchases. Please read my disclosure.
This in-depth, parent-friendly guide will help you find and buy the best organic goat milk formula for your baby. You will learn why you should consider goat milk formula and why it can be a great alternative to cow's milk, what ingredients to avoid in formula, and where you can reliably purchase goat formulas for your baby. I update this post monthly to ensure that all of the information below is recent and accurate!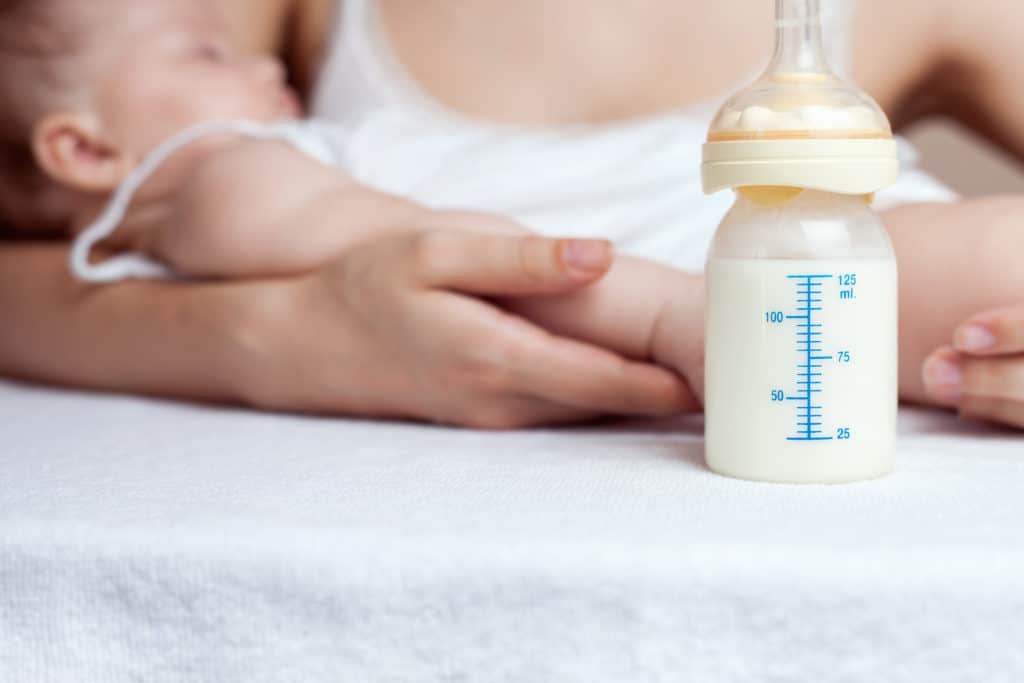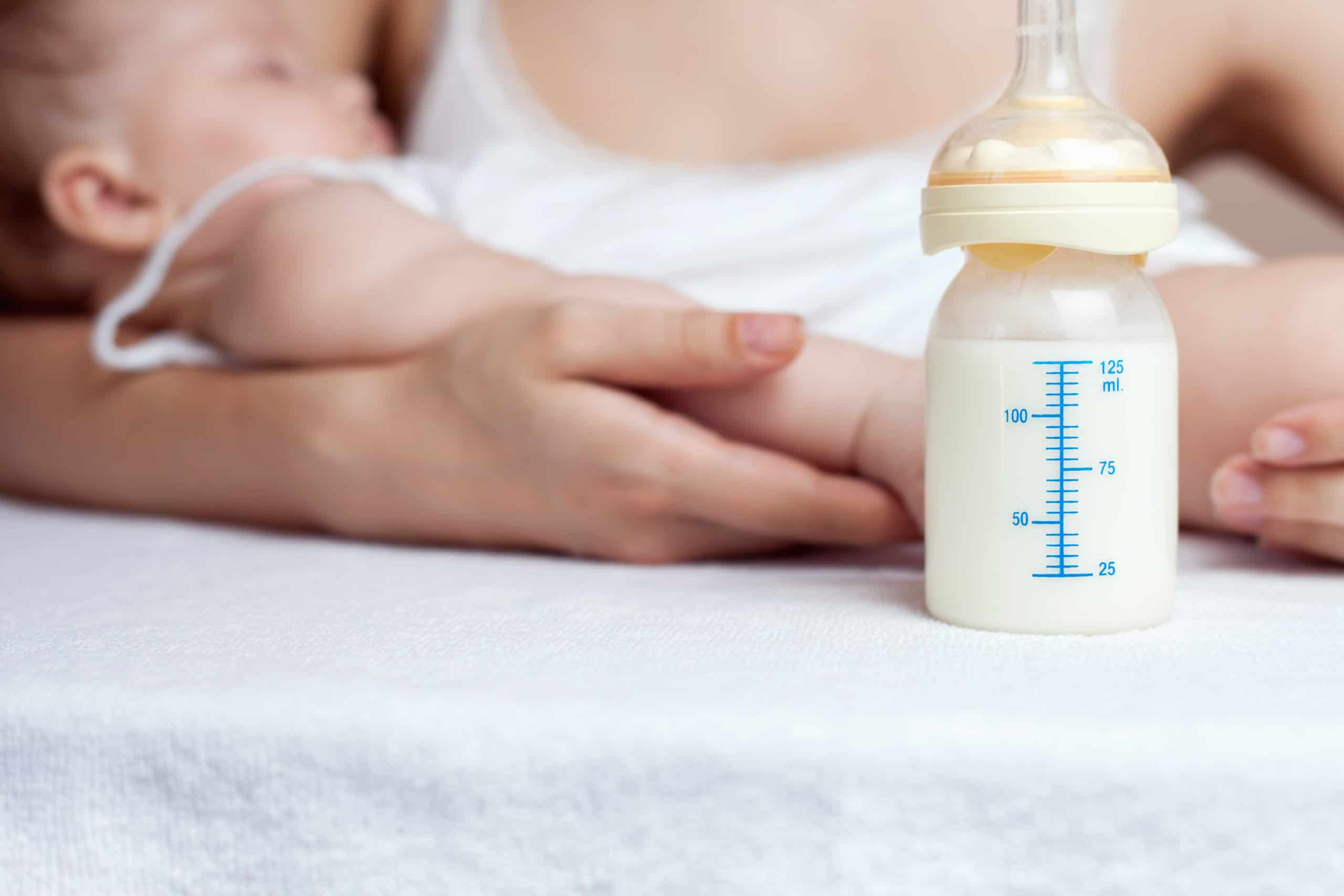 So many of you have come across my best organic baby formula post – and I'm so glad that post has been helpful! One of the most common questions I get when it comes to baby formula is: What about goat milk formula? Is it better than cow's milk formula? And which one is the best?
In general, goat milk formula can be a good option for babies – especially for babies who just aren't tolerating cow's milk formula well. For more details on what the pros & cons are of goat milk vs. cow milk formula, check out Is Goat Milk Formula Healthier than Cow's Milk Formula?
What Goat Milk Formula Is The Best?
There aren't as many goat's milk formula options as there are cow's milk. That said, there are a few high quality goal milk formulas. The top seven that I've found are Jovie Goat Milk Formula, Kendamil Goat, Loulouka Goat, Kabrita USA, Holle Goat Milk Formula, NannyCare, and Sammy's Milk.
Of these formulas,Jovie Goat Milk Formula is by far the best goat milk baby formula on the market today. (For more details on the best baby formulas made in the US, go to this post!)
If I was going to give my own child a goat milk baby formula, I would choose Jovie Goat Formula.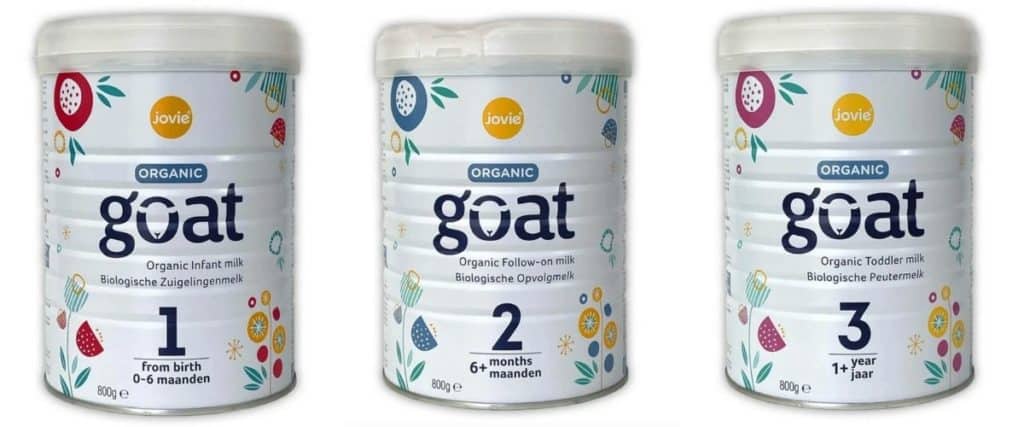 Why Is Jovie Goat Milk Formula The Best?
Jovie Goat Milk Formula is a great product, ideal for healthy development for a few reasons:
Made with whole A2 Goat Milk instead of skimmed milk like most other formulas. This 100% full cream goat's milk is also loaded with prebiotics. Goat milk protein is also easier to digest than cow's milk protein.
No Palm Oil or coconut oil (so is allergen friendly)
Contains essential fatty acids DHA & ARA (note: uses fish oil so is not vegetarian. For a vegetarian goat milk formula, I recommend Kendamil Goat.
No hexane extraction
Produced in the Netherlands, adhering to the highest organic standards
Contains natural prebiotics similar to breastmilk – boosting your baby's immune system.
No added sugars, synthetic preservatives, no wheat soy, maltodextrin or peanut ingredients, GMO free
Main carbohydrate is lactose, mimics the whey:casein ratio of human breast milk
Contains essential vitamins such as: folic acid, vitamin d3, vitamin b12, vitamin b6, vitamin a and vitamin e.
What To Look For In A Goat's Milk Formula
Ideally organic, or at least non-GMO/Free-range. If the milk is imported from the EU or NZ that's even better, because you end up with higher standards for the treatment of animals and the processing of milk. Holle Formulas, Jovie and Loulouka are all organic.
A formula that simulates breast milk with their whey/casein ratio: This is ideal, but most goat milk formulas will not meet this criteria. Ideally you have a 60:40 whey casein ratio to avoid digestion issues, constipation, gas, discomfort in babies, but most goat milk formulas will have a 20:80 whey casein ratio. Breast milk contains more whey than casein – and goat milk contains much more casein than whey – a formula adds goat whey protein will be easier for babies to digest. However, formulas like Jovie which don't have a whey:casein ratio that matches breastmilk add other ingredients like healthy fats and prebiotics that aids in digestion.
Addition of lactose, to simulate breastmilk. Breast milk contains more than one and a half times the amount of lactose as goat milk. So, it's essential that goat's milk formula adds carbohydrate to meet babies' needs.
No maltodextrin or syrup solids used.
DHA/ARA and Prebiotics added for healthy growth and development, as well as immune system support.
Important Note: If your child has had an allergic reaction to cow's milk or cow milk formula, then you likely need a true hypoallergenic formula and goat milk may not work for your child. Additionally, since these formulas do contain lactose, they would not be suitable for a child with lactose intolerance.
Ingredients To Avoid
Synthetic DHA and ARA: DHA and ARA is naturally found in breast milk. When added to a formula it is often extracted using hexane. DHA and ARA that are extracted using a different process is preferred.
GMOs: Look for formulas that are certified non-GMO. If you buy an organic formula, it is automatically non-GMO. GMOs are concerning because they are genetically engineered crops that are made to be resistant to glyphosate / roundup – the residue of which can end up in food.
Carrageenan: This ingredient has been banned in Europe but is still used in formulas in the US. It is know to cause inflammation in the intestines.
Soy or Soy based products: Too much soy given to infants can lead to health complications in the future.
Palm Oil: Palm oil is in most US formulas. It is not environmentally friendly, and can cause digestive issues in some babies.
The 8 Best Goat Milk Formulas
The list below describes the seven goat milk formulas on the market today and the pros and cons of each! You can click on the product name to find a reliable distributor of the formula.
Some of the items below were given to me to review by the manufacturer or as part of an affiliate program. I may receive commissions if you make a purchase through the links provided. I only recommend products I've actually evaluated, I believe are the highest quality, and can do the most to help you and your family. By purchasing any of these products from the links below, you help keep this blog running, so thanks for your support!
Keep in mind that every person & situation is different, especially yours, so make sure to talk to your doctor and see how these guidelines and tips can help you. These tips are not a substitute for professional medical advice, diagnosis, or treatment. Never disregard or delay in seeking professional medical advice because of something you read here!
My recommendations are based on the manufacturer's claims and ingredients list, and what I feel best giving to my own family. Your individual results may be different based on your overall diet, exercise, age, weight, family history, or pre-existing conditions.
More Helpful Formula Guides!
I hope this helps you navigate the world of goat milk infant formulas! If you have any questions at all, please leave a comment – I respond to every single one! 🙂
150 responses to "The Best Goat Milk Formula For Your Baby"