45 Delicious and Healthy Pizza Toppings
This post may contain affiliate links. As an Amazon Associate, I earn from qualifying purchases. Please read my disclosure.
Pizza can be much healthier if you use the right toppings. Check our list of 45 healthy pizza toppings to enjoy (including vegetarian and vegan) & ones to avoid.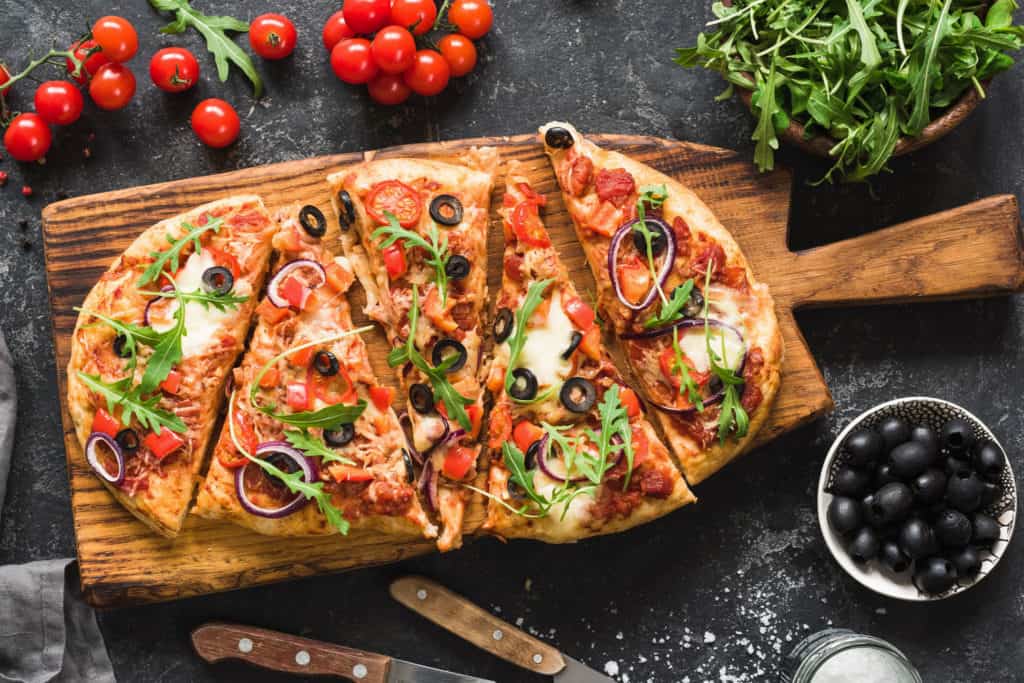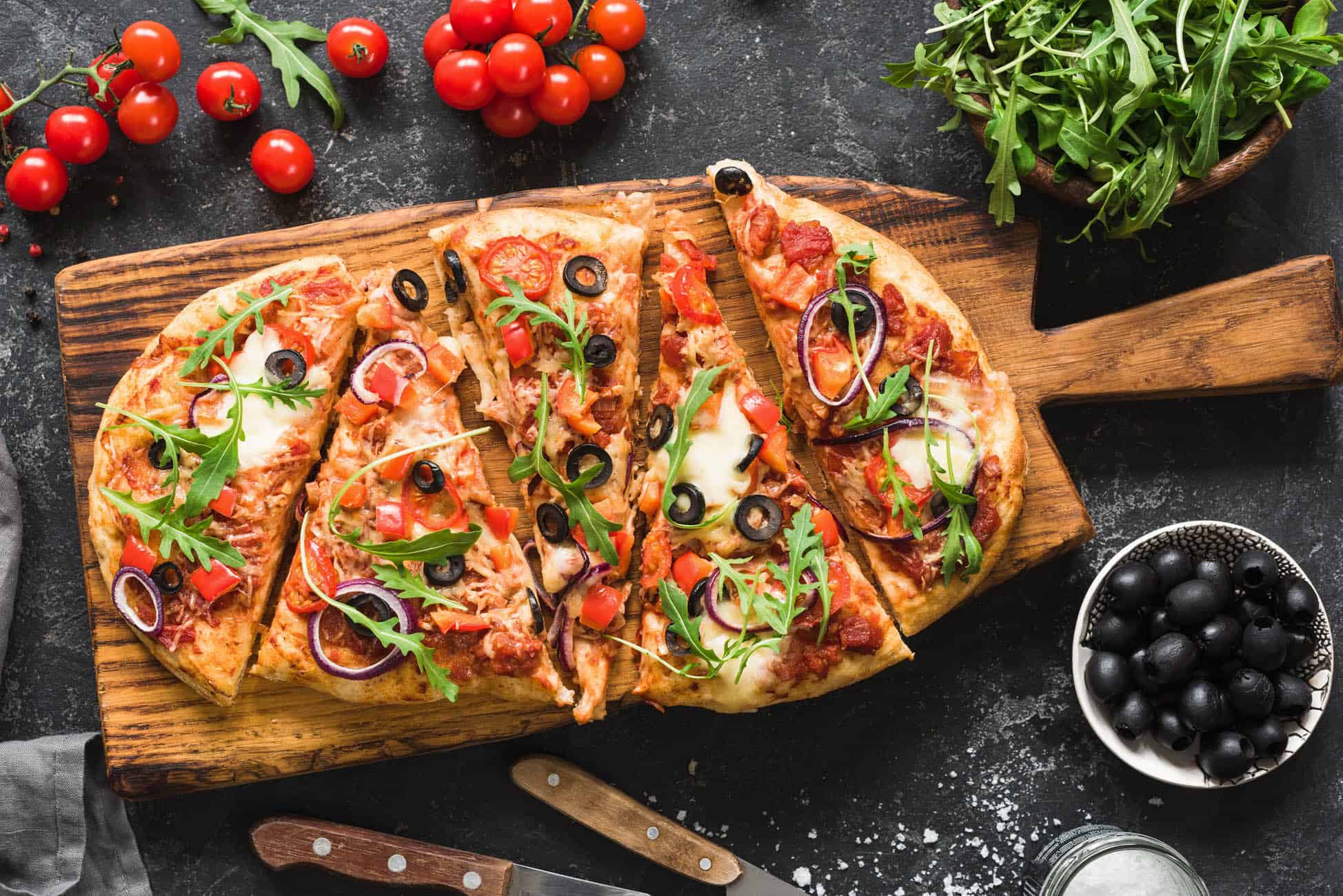 It is possible to enjoy pizza when you choose healthy pizza toppings. Who doesn't love pizza? For many of us it is our favorite food!
I love pizza so much, I have an entire category of pizza recipes! But for many believe it isn't possible to have the words healthy and pizza in the same sentence. I'm here to change your mind.
It is totally possible to enjoy healthy pizza options that taste amazing, by making some simple swaps that align with a healthy diet!
Healthy Pizza Topping Ideas Organized by Category
Pizza is so simple to make! At it's core, it's made of crust, sauce, cheese, and toppings. Here I'll go through each pizza ingredient, and show you how to improve the nutritional value, while also reducing the fat and calories of the typical pizza.
Healthy Pizza Base and Crust Alternatives
The first ingredient of any good pizza is the crust. However, the typical pizza crust is made from white flour, and has no nutritional value. It is also high in carbs, that turn straight to sugar in your body. Healthier pizza crust options are the first step in building a nutritious pizza!
These healthier pizza crust ideas increase the protein content, reduce the carbs, and in some cases give you an extra serving of vegetables. A healthy pizza base is key to a delicious and nutritious pizza!
Be sure to come back to these healthy pizza base ideas when you get a craving for your favorite indulgence!
Cauliflower Crust
A simple cauliflower crust is an excellent choice to reduce the fat and calories in your pizza while increasing the nutrient content. You can buy pre-made cauliflower crusts to help you save time. I like the brands Cali'Flower Foods crust, or Outer Aisle Plant-Power Pizza Crusts made with cauliflower.
You can also make your own cauliflower crust.
Mashed Chickpeas
Chickpeas are high in protein, and low in fat and calories. They also have other nutrients such as fiber, folate, and iron. This crust can turn out nice and crispy. Banza makes a plain chickpea crust. They are on the small side, 9 inches in diameter, but make the perfect size for a personal pizza!
Whole Wheat Pita
Using whole wheat pita bread as a pizza crust is an easy way to get more fiber into your diet. There's also no prep! Just buy whole wheat pita at the store and add your sauce and toppings. Check out my post on the healthiest breads for more ideas!
Whole Wheat Tortillas
Same goes for whole wheat tortillas. It's a healthier way to enjoy a crust. Be aware that tortillas are very thin, so I recommend crisping them up in the oven or toaster oven so they hold the sauce & toppings better.
Portobello Mushrooms
Ever thought of using a portobello mushroom as a base for your pizza! These make delicious personal pizzas. The portobello mushroom is thick and meaty, and tastes great with added sauce, cheese and veggies.
Whole Wheat English Muffins
Did you ever make English muffin pizzas as a kid? I sure did! Bring back this fun way to enjoy pizza night, by using whole wheat English muffins for added fiber. It's a fun make your own pizza night meal for the family!
Zucchini Boats
Another healthy alternative, zucchini boats are a nutritious vehicle for delivering your pizza craving! Zucchini are low in carbs, and high in vitamin A.
Quinoa
Make a pizza base using quinoa! Quinoa is a high protein grain that is actually a seed. Follow this recipe for an easy quinoa pizza crust to make your own!
Thin Whole Wheat Bagels
Another options, similar to English muffins are whole wheat bagels. Opt for the thin bagels for a thinner crust!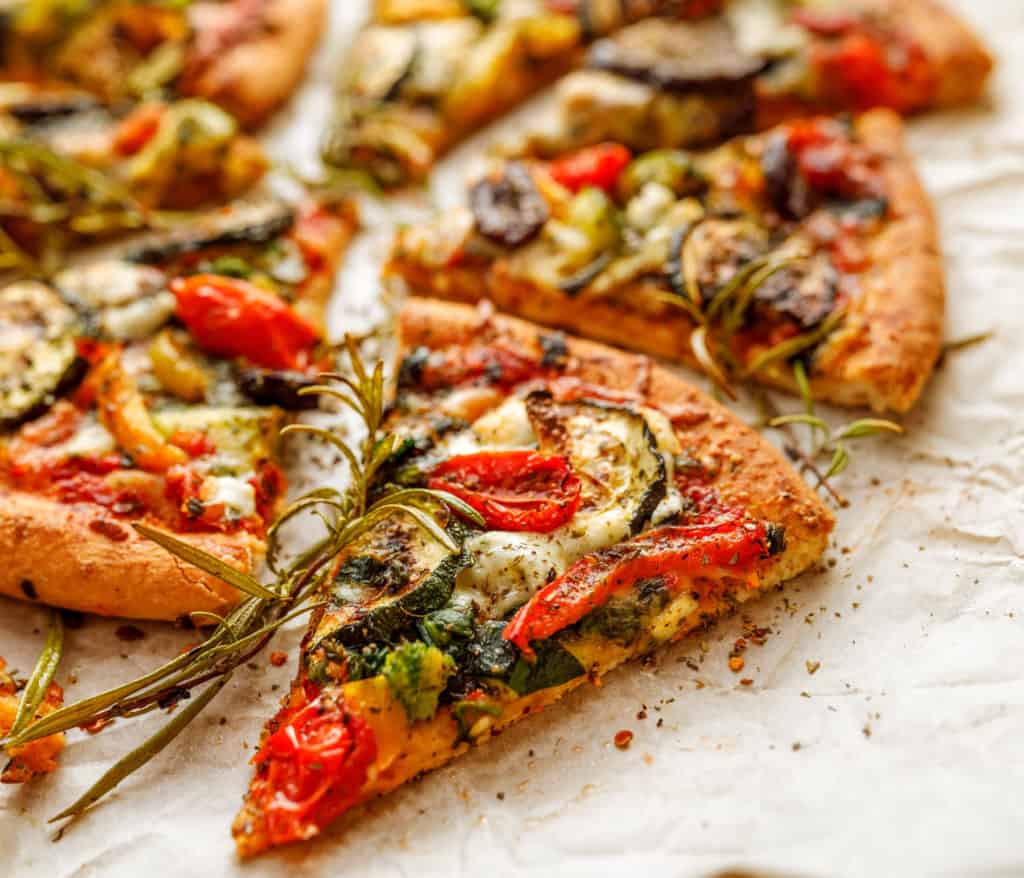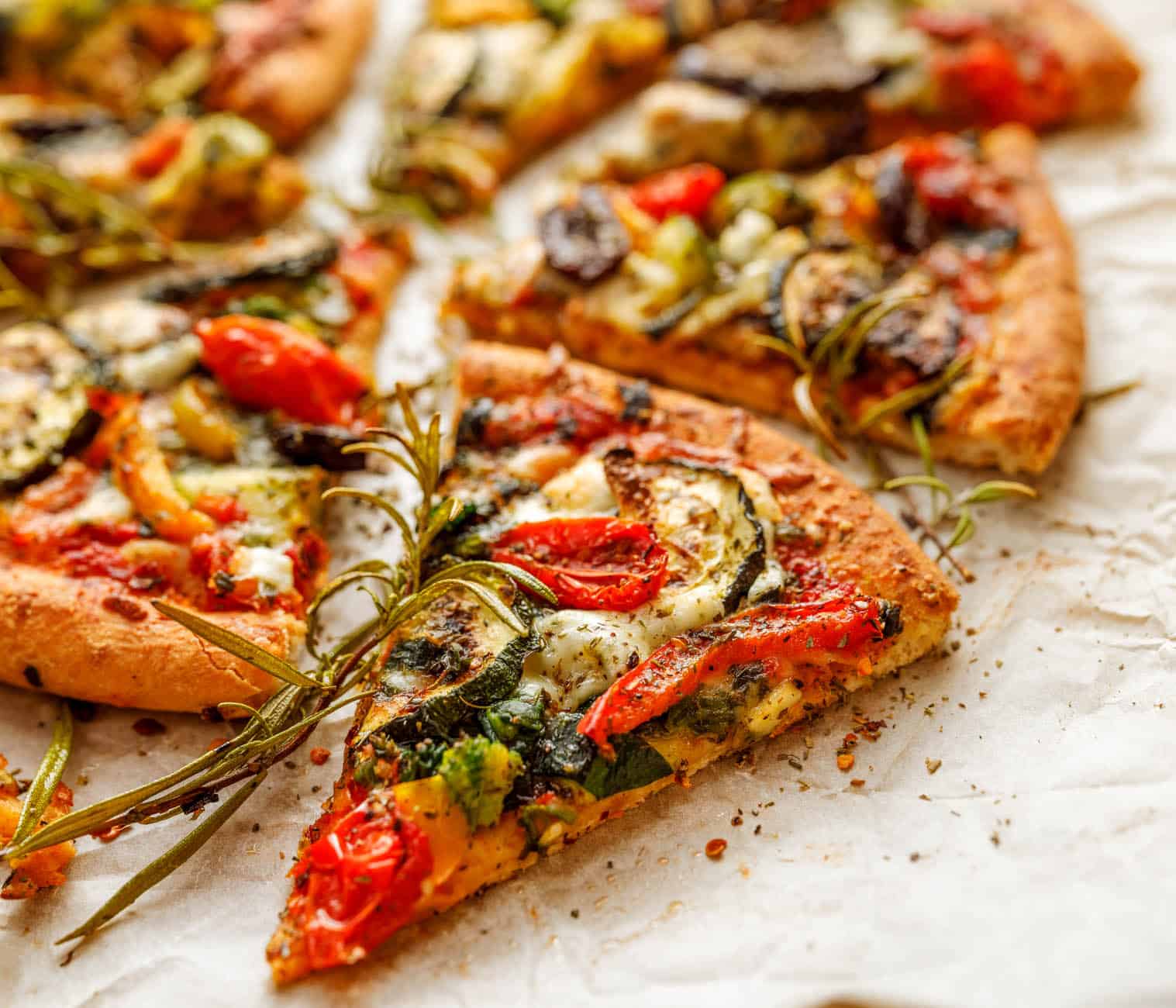 Better Pizza Sauce Options
Next comes the sauce! You don't have to always opt for marinara! These healthy pizza sauce ideas will bring new flavors as well as some added nutrition.
Traditional Tomato Base Without Sugar
Traditional pizza sauce is a great option, and you can surely use it to make your own healthy homemade pizzas. The problem is many pizza sauces have added sugar. If you're buying store bought, make sure to buy a pizza sauce that has no sugar added.
Pesto
Nutty and fresh pesto is made with quite a bit of olive oil, so use sparingly as a sauce. Or make your own pesto at home where you can control the amount of oil and fat in the recipe!
Crushed Seasoned Tomatoes
This is super healthy option to use. Crushed tomatoes don't have any other added ingredients, meaning you get just fresh tomatoes in sauce form.
Garlic Paste
For the garlic lover, garlic paste is an excellent choice. Spread on your crust then add your toppings. The smell is out of this world when it bakes!
Hummus
For a pizza you don't need to put in the oven, spread hummus over top of your crust. This would taste great when paired with whole wheat pita. Then add your favorite mediterranean toppings!
Salsa
For a Mexican inspired pizza try using salsa as the sauce. Top with a Mexican cheese blend, black beans, peppers, corn and onions, for a delicious take on pizza!
Pureed Vegetables
What better way to get more veggies in your diet than using it as a spread on your pizza. Take your favorite vegetable, or vegetable blend, steam it, then puree it in the food processor or blender with some salt, pepper and Italian spices. Spread on top of your pizza base for a healthy nutrient rich option.
Bean Spread
Consider other beans spreads or purees, like black beans, vegetarian refried beans, edamame spread, and more! It's a great way to add more protein to your pizza.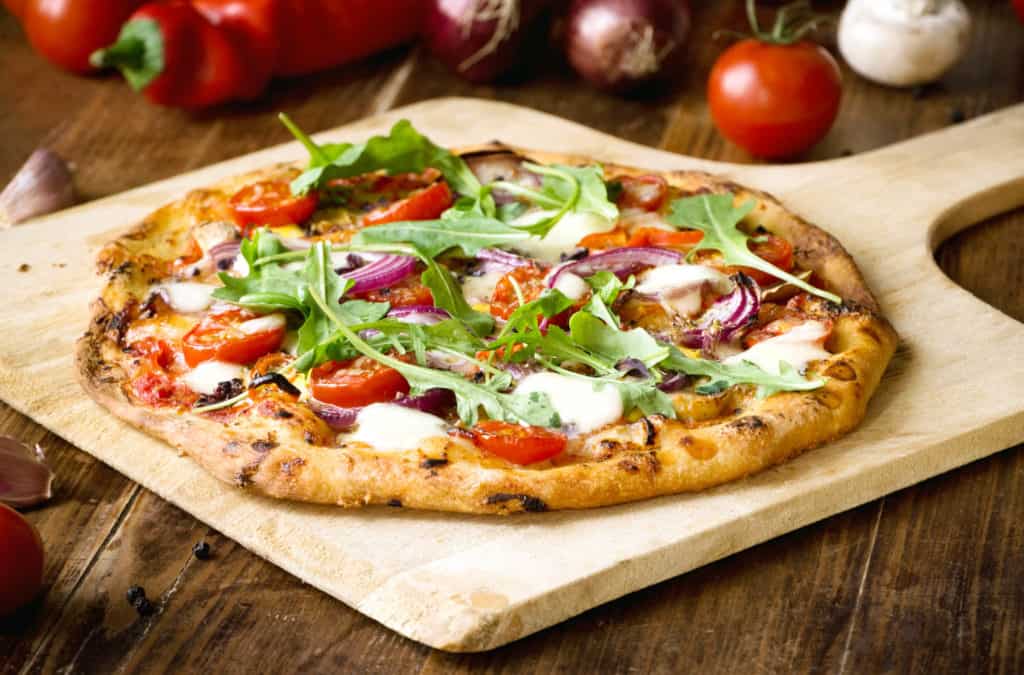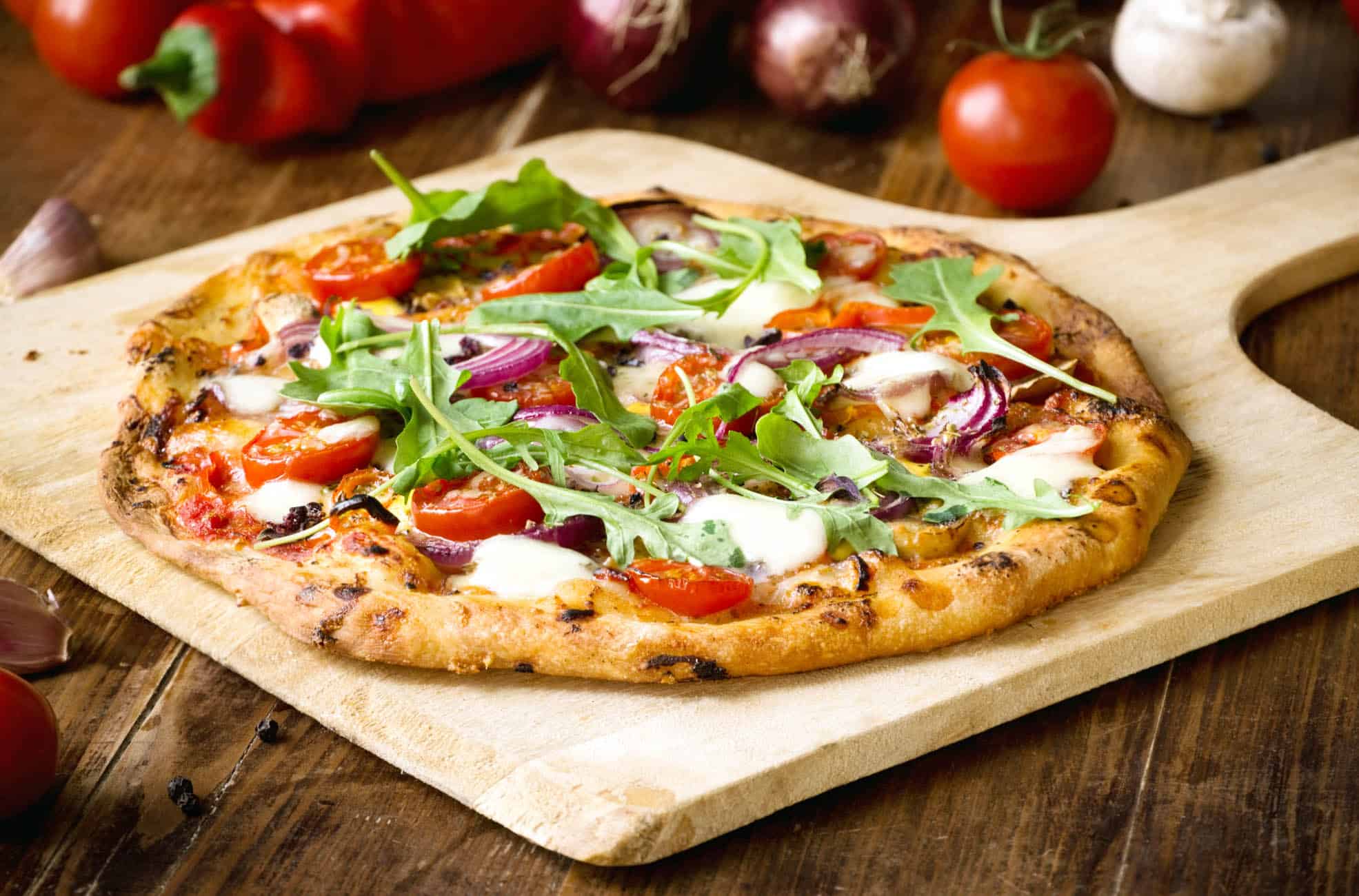 The Best Healthy Pizza Toppings
When it comes to choosing healthy toppings it's best to stick with vegetarian pizza toppings! Stick to fresh vegetables that are low in calorie and high in nutrients. Other options include high protein toppings like nuts, or even eggs!
When it comes to the best vegan pizza toppings opt for hearty vegetables, and toasty flavorful nuts.
Garlic
Garlic adds tons of flavor to any pizza without adding fat and calories. It's fragrant, and one of the best vegan pizza toppings around!
Onions
Next to garlic, onions are one of my favorite vegetarian pizza toppings. When baked in the oven they become roast up perfectly and give a nice sweet and savory flavor to your pizza.
Red Pepper
Another favorite, red peppers add color, and a slightly sweet and savory flavor. You can use fresh peppers or roasted red peppers.
Arugula
For a fresh touch when your pizza comes out of the oven, add a handful of arugula to top your pizza! It's nice and peppery!
Tofu
Ever thought about crumbling tofu on your pizza? It's high in protein, and takes on the flavors of the other ingredients. It's a great alternative to highly processed meats like sausage and pepperoni.
Black Beans
I love adding black beans to my pizza! Especially when I'm making a Mexican pizza! With added protein and fiber, this topping is super filling!
Figs
Have you tried fresh figs on you pizza? If not, you're in for a treat! It's a totally different kind of pizza when you pair it with goat cheese and honey, but it's out of this world when it comes to flavor! They also contain a variety of vitamins and minerals.
Black Olives
One of my favorites healthy pizza toppings, black olives are salty and briny, adding texture and flavor to any pizza. Perfect for the olive lover!
Mushrooms
Another favorite, mushrooms are hearty and meaty, yet low in calories! They add a nice texture to your pizza, and area a nice substitute to processed meats.
Summer Squash
A beautiful summer pizza needs to have summer squash! It brings bright color and seasonal freshness.
Butternut Squash
When it comes fall, try adding butternut squash to your pizza! It's sweet and savory, and pairs nicely with other autumn toppings. If you roast the squash before adding it to your pizza, it'll add a sweet caramelized flavor to your pizza.
Artichokes
Hearty and healthy artichokes are also a beautiful addition. Artichokes are low in fat while rich in fiber, vitamins, minerals, and antioxidants.
Spinach
Get your greens by adding fresh spinach to your pizza! It's recommended you get a serving of leafy greens everyday, so why not find a delicious vehicle like pizza to ensure your getting the nutrients you need. You can sauté the spinach before adding it to your pizza or use it as a raw topping – it tastes great either way!
Tomato Slices
Fresh tomato slices are amazing in the summer! Sweet ripe tomatoes paired with basil and a light amount of mozzarella, it's a dream come true in the pizza world.
Pineapple
For those Hawaiian pizza lovers, we can't forget about pineapple! The sweetness of the pineapple paired with savory ingredients of pizza make for a nice compliment to one another.
Broccoli
I'm a broccoli lover, so adding it to my pizza is a no brainer. In the oven it roasts up nicely, and has tons of health benefits. It's a good source of fiber and protein, and contains iron, potassium, calcium.
Eggs
Make a breakfast pizza with eggs! They're high in protein, and pair nicely when topped on a whole wheat tortilla.
Kale
Just like spinach, kale is another nice addition to your pizza. A great way to enjoy some healthy greens in your diet. For kale specifically, because it is a tougher green, I recommend sautéing it before adding it to your pizza.
Eggplant
Eggplant has a very mild flavor, but it pairs nicely with other typical pizza ingredients such as tomatoes, mozzarella, and pizza. It can even be used as a pizza base!
Sweet Potato
Chunks of sweet potato add some depth and heartiness to your pizza. Pair it with a cauliflower crust, and pureed vegetables.
Capers
Capers are briny and salty, and when added to your pizza brings a pop of flavor!
Grilled Peaches
A beautiful summer pizza with grilled peaches, goat cheese, and a drizzle of honey is my version of a dessert pizza!
Pear
Bring savory and sweet together by making a pear pizza! My favorite way to enjoy pears on my pizza is with gorgonzola and crunchy walnuts!
Walnuts
As mentioned above walnuts are delicious when paired with pears. They are also a hearty nutrient rich topping that you can sprinkle on your pizza to add some crunch and earthiness.
Cashews
Crunchy and full of protein and fiber, cashews are a mild nut that can add some nice texture and crunch to any pizza.
Whole Leaf Basil
Tomatoes, basil, and mozzarella are a match made in heaven. Add to any of your pizzas for a beautiful aroma, true freshness, and Italian flavors.
Corn
Top your Mexican pizza with corn, paired with black beans, salsa, and a Mexican cheese blend! Corn also tastes great on a pizza with fresh summer squash and other summer veggies.
Pine Nuts
Pine nuts are used in Italian cooking often. They add mild flavor and a nice crunch. I like to add them on top of my pesto pizza!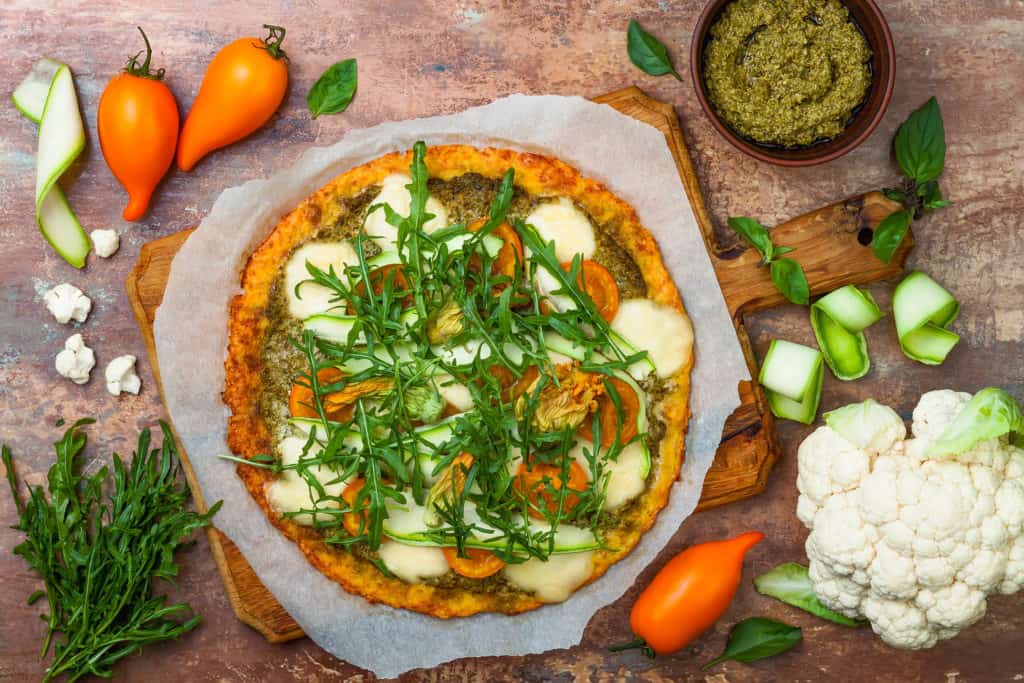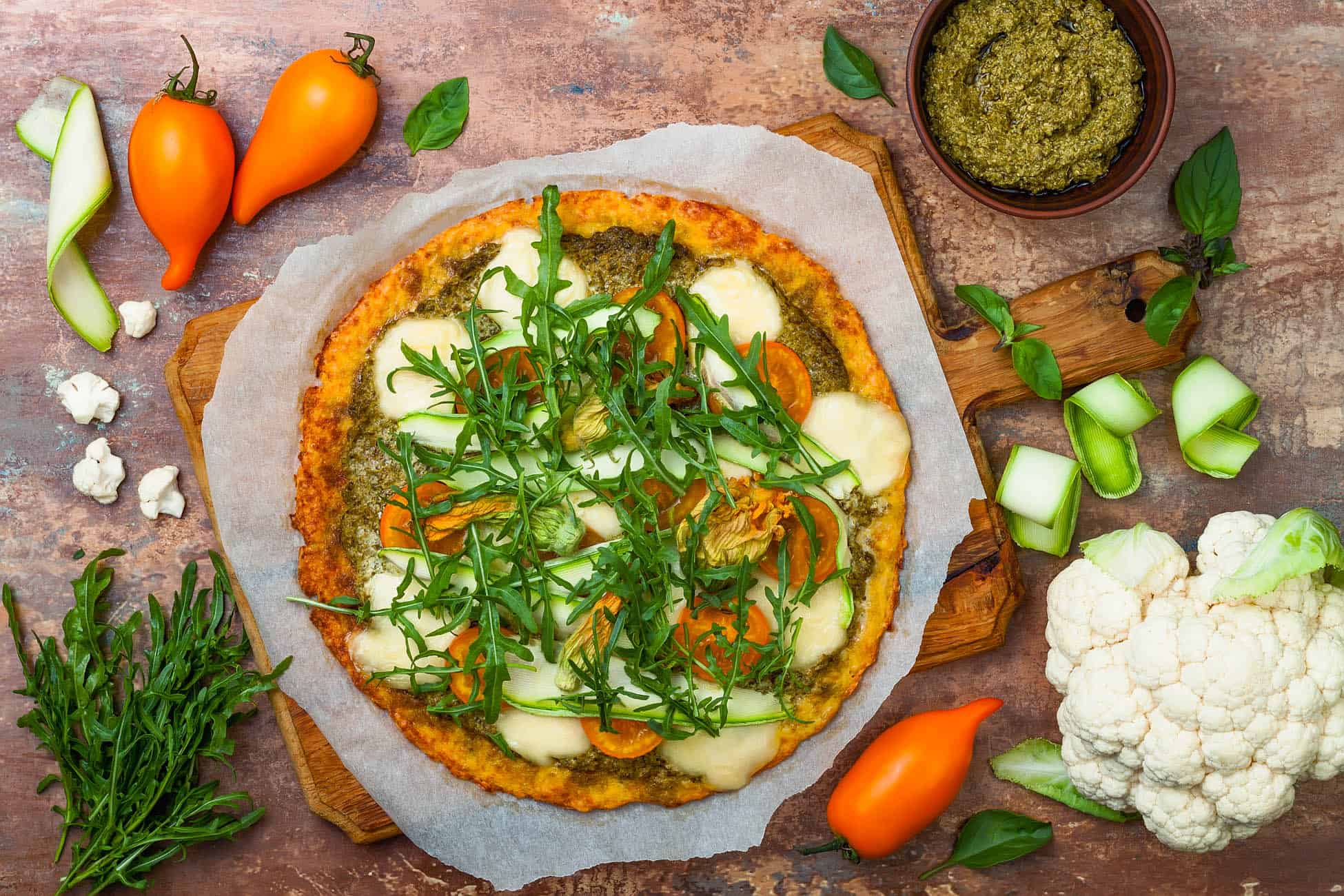 Unhealthy Pizza Toppings to Avoid
Just as there are numerous healthy pizza toppings as mentioned above, you can also easily go down the path of high calorie, high fat, nutrient deficient pizza if you make some of the choices below.
Alfredo Sauce
Rich and creamy, Alfredo sauce is high in fat. In fact, it is so high in fat, that one serving of Alfredo is too much for your system to break down according to some health experts. Made of cream and oil, it's an unhealthy combination you want to steer clear of.
Deep Dish
While deep dish pizza isn't a topping per say, it is important to note that choosing a deep dish pizza can make any pizza unhealthy just by sheer quantity and calorie overload. The structure of deep dish pizza will always end up with either too many carbs from the dough or too much cheese, so it'll be unhealthy no matter the sauce or the toppings.
Processed Meats
Processed meat is meat that has been preserved by curing, salting, smoking, drying or canning. Processed meat includes pepperoni, sausage, ham, and bacon.
While it might taste good, it contains nitrates that are are cancer-causing substances and is associated with high blood pressure, heart disease, bowel and stomach cancer.
Frequently Asked Questions
What is the healthiest pizza topping?
Veggies of any sort are the healthiest pizza toppings! This includes red peppers, spinach, tomatoes, onions, garlic, broccoli, kale, eggplant, squash, artichokes, mushrooms and arugula. These vegetables are high in vitamins and minerals, while being low in calories. They also pack tons of flavor!
What can I use as a healthy pizza base?
I recommend using whole wheat pizza dough as an alternative to traditional pizza dough. Other options include a cauliflower crust, whole wheat pita bread, or a chickpea crust. You can also use vegetables as a base for your pizza like zucchini, sweet potato, or eggplant.
What can I use in pizza instead of cheese?
If you can't have cheese, or if you're vegan, you can opt for a dairy-free cheese. Be aware that it doesn't melt in the same way as regular cheese.

Alternatively, instead of cheese, try using pesto, tahini, or hummus as the base. It is rich in flavor and doesn't need more cheese once all the toppings are added. Be aware that many store bought pestos include parmesan, so if you are avoiding cheese, you may want to make your own vegan pesto sauce.

Another option for a dairy-free pizza is try a dairy-free white sauce, paired with roasted vegetables, and a touch of olive oil.
What is the most unhealthy part of pizza?
The refined carbohydrates in the pizza crust, combined with the high fat and salt content of the cheese, plus the addition of processed meat, is what makes pizza unhealthy. When you change these things up, and use high fiber crusts, plus healthy pizza toppings, and cut back on the total amount of cheese, you're able to turn an unhealthy indulgence into a healthy meal!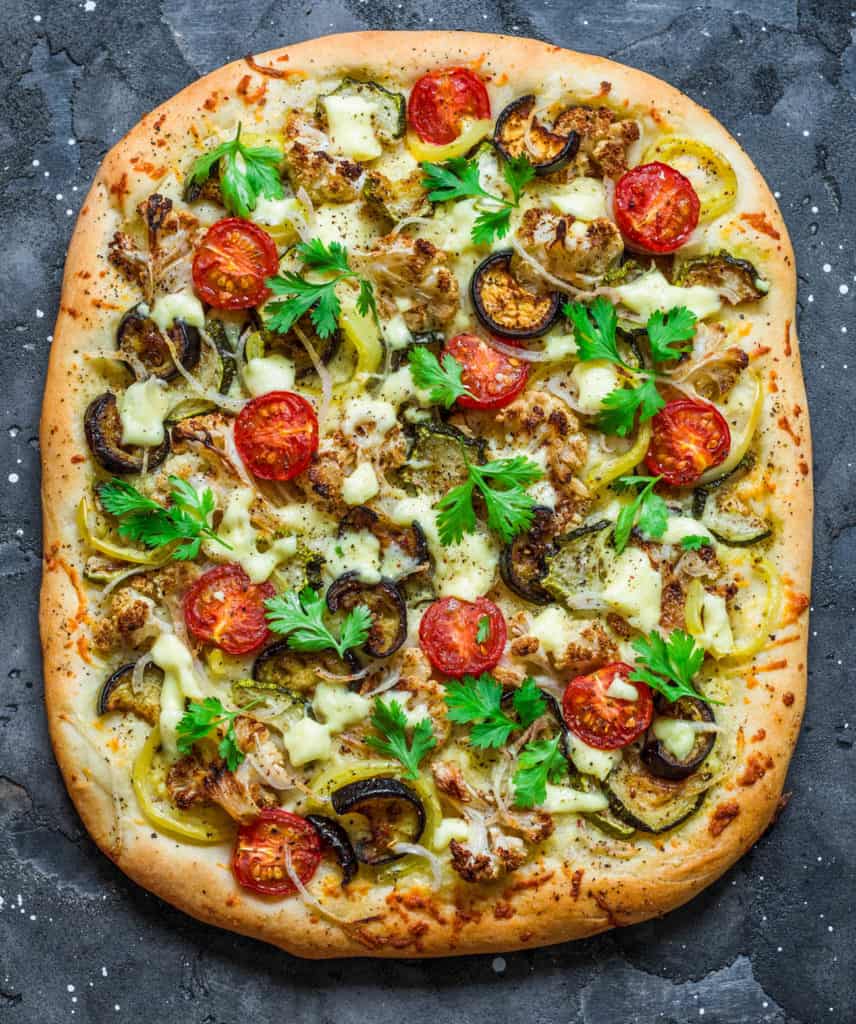 Need Inspiration? Try These Healthy Pizza Recipes!
2 responses to "45 Delicious and Healthy Pizza Toppings"