How to Make Pizza Healthy: 10 Tips and Tricks
This post may contain affiliate links. As an Amazon Associate, I earn from qualifying purchases. Please read my disclosure.
Learn how to make pizza healthy with these simple swaps for sauce, cheese, dough and toppings. With healthier options, you can even eat pizza on a diet!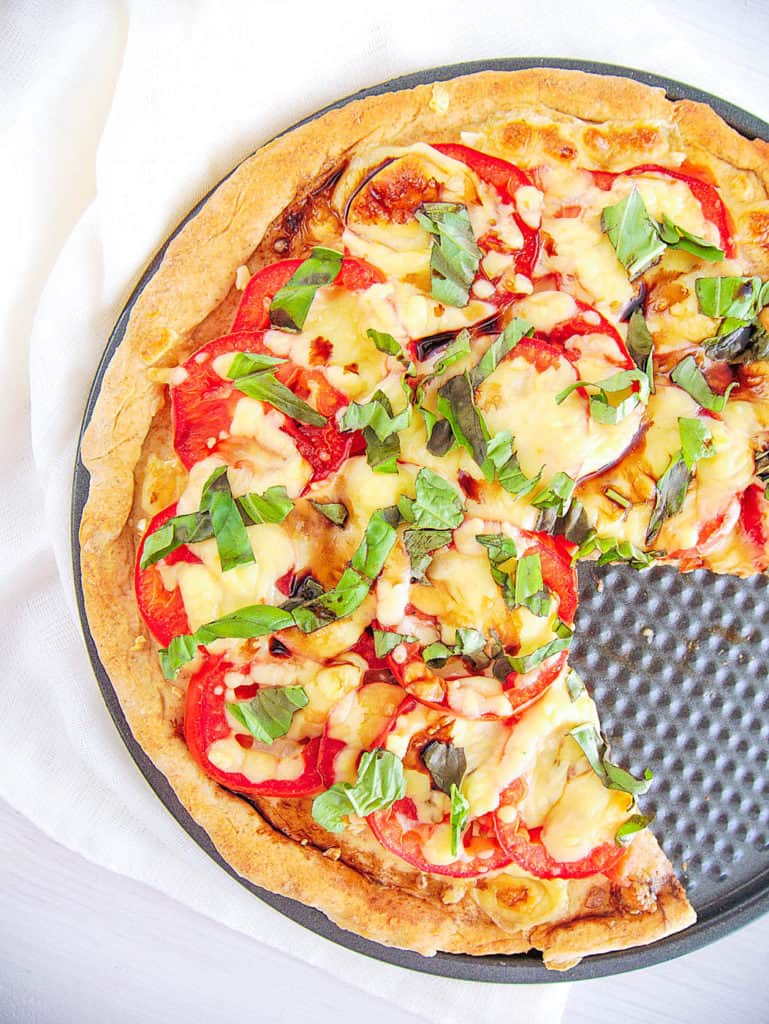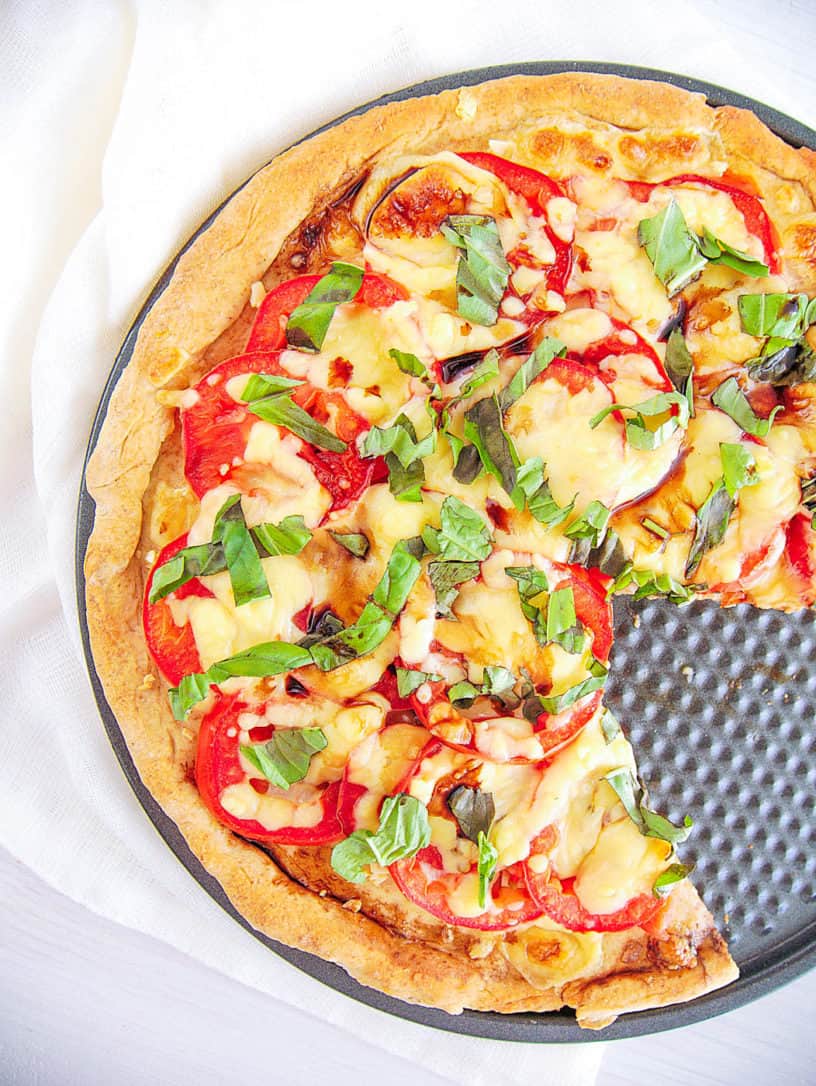 Pizza is my family's absolute favorite food in the world. Deep dish, thin crust, artisan-style, frozen — they don't discriminate, my husband and kids love them all.
So, in order to be able to have pizza night more than once a week, I knew I had to make pizza healthier!
After lots of trial and error, I can say I have had tons of practice in building a healthier (but still super tasty) pizza.
Italian pizza doesn't have to only be a guilty pleasure, you can have your pie and eat it too!
So first I'm going to share my favorite easy wins for making healthy pizza at home, then I'll break down special some things you can do to cut calories and boost nutrition with the sauce, dough, cheese, and more.
How to Make Pizza Healthy: 10 Quick Tips and Simple Swaps
Tip #1: Use a Whole Wheat Crust
Many stores like Trader Joe's and Whole Foods have started carrying fresh, whole wheat dough that you can roll out into a crust and make at home. You can also make your own dough at home using this simple recipe here.
If you're using fresh dough, consider buying a pizza stone – because it will make your pizza crust perfectly crisp on the outside and chewy on the inside!
Tip #2: Make a Thinner Crust
If you're using store bought dough (that usually comes in a 16oz pack), try using only 12oz of the dough and roll out a thinner crust. You'll save at least 30 calories a slice without losing any of the flavor!
Tip #3: Try Using Whole Wheat Pita Bread
Instead of using a traditional crust, make personal pizzas using whole wheat pita bread as your "crust"!
One ENTIRE pizza will only run you 276.5 Calories, 10g Fat and 31.9g Carbs; and will have 6g Fiber, 3.5g Sugar, and 16.9g Protein!
Tip #4: Load Up on Veggies
I will literally throw any veggies I have onto our pizzas. Kale and butternut squash; peppers, onions, zucchini, tomatoes; pear and arugula – the list of combinations could go on and on.
I love this recipe for a Barbecue Black Bean Pizza with Peppers and Corn. Veggies add tons of fiber, taste delicious, and help to bulk up your pizza (so you don't need as much cheese or fat).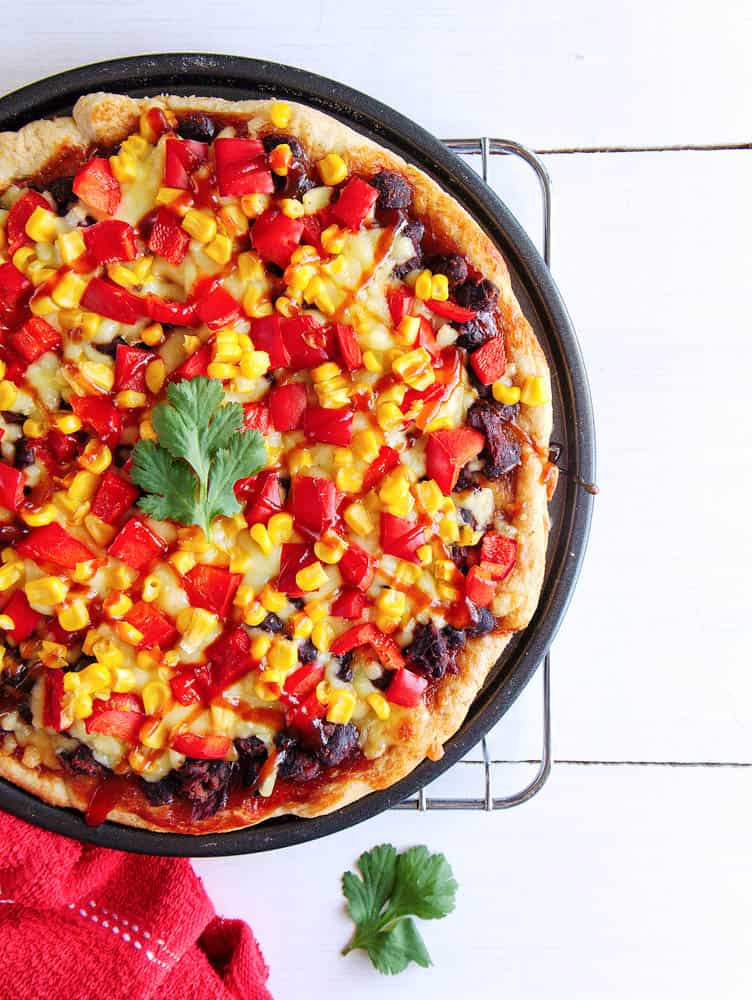 Tip #5: Cut Back on the Cheese
Opt for sharper tasting cheeses like parmesan, pecorino and part skim mozzarella so you can use less of it!
I use about 1 cup for an entire pizza (like in this Veggie Supreme Pizza) and it's more than enough.
Tip #6: Watch the Sugar in Pre-Made Sauces
If you're buying your pizza sauce, opt for a variety that has zero (or 1g) sugar, is low in sodium, and has no preservatives. Trader Joe's and Whole Foods both have great options.
Tip #7: Get a Smaller Size When Ordering Out
If you order carryout or delivery, get a 12 inch pizza – not a 16 inch one! This graphic (and this tip) was inspired by CookingLight.com.
Tip #8: Avoid Using Extra Oil
You don't need to add oil to your crust or pizza pan. A bit of cooking spray will do the trick and save you a ton of calories and fat.
And if you're sautéing your veggies before topping your pizza, use only 1 teaspoon of oil and tons of spices to amp up the flavor (oregano, garlic, crushed red pepper are some of my favorites).
Tip #9: Try Going Vegetarian (or Opt for Leaner Meats)
Instead of pepperoni, sausage, and salami try going meatless and bulking up your pizza with veggies, or choose grilled chicken or shrimp for protein.
Tip #10: Watch Your Portions
Usually 2 slices + some salad will be filling enough, and will guarantee that you don't end up eating more than 500 calories of pizza at dinner. Serving a side salad or steamed (or roasted) veggies along with your pizza will help keep you full and satisfied with just 2 slices!
Tips for Making Healthy Pizza Sauce
I touched briefly on the fact that store bought sauce is often loaded with sugar and sodium. The good news is that it is ridiculously easy to make your own healthy sauce at home.
All you need is tomato sauce, tomato paste, salt, and spices. Combine all the ingredients in a small pot, bring to a boil and then reduce to a simmer for 15 minutes. In terms of which seasonings to use, you can use any Italian herbs you like! Garlic, oregano, basil, rosemary or an Italian seasoning blend are favorites around here.
Pro tip: If you load the sauce with flavor (aka use more spices than you normally would), it counteracts the flavor you might be missing from using less cheese, less oil, and lower fat meats.
Best Cheese to Use to Make a Healthy Pizza
If I had to pick one I'd recommend part skim mozzarella. It's lower in both calories and sodium than most other cheeses, and it melts really well so you can use less of it and still get some melty cheese in every bite.
Other than that, go for the sharper cheeses as I mentioned earlier. They pack a lot of taste in a small amount, so you can save on calories without sacrificing flavor. Parmesan is an especially good option.
If you're vegan or dairy-free, you can also use dairy-free cheese. It just doesn't melt quite as well, so you will end up with a different texture than usual.
How to Find The Healthiest Pizza to Order
Who has time for homemade pizza every single week? Not this mama! So what about those nights you need takeout and everyone's begging for pizza?
We already talked about some general tips like ordering a 12-inch pizza instead of the extra large ones, but I looked at some national pizza chains for the healthiest options, and these are two of my favorite:
Pizza Hut Veggie Lover's Pizza – get it on thin crust and you'll enjoy less than 120 calories per slice and only 1 gram of sugar. The sodium is also a lot lower compared to other pizzas.
Domino's Pacific Veggie – again, stick with thin crust, and if you can swing it, ask for light cheese. This pizza is loaded with vegetables and very filling, which helps reduce the chance of overeating.
As for the healthiest frozen pizza, I love Amy's brand or Caulipower.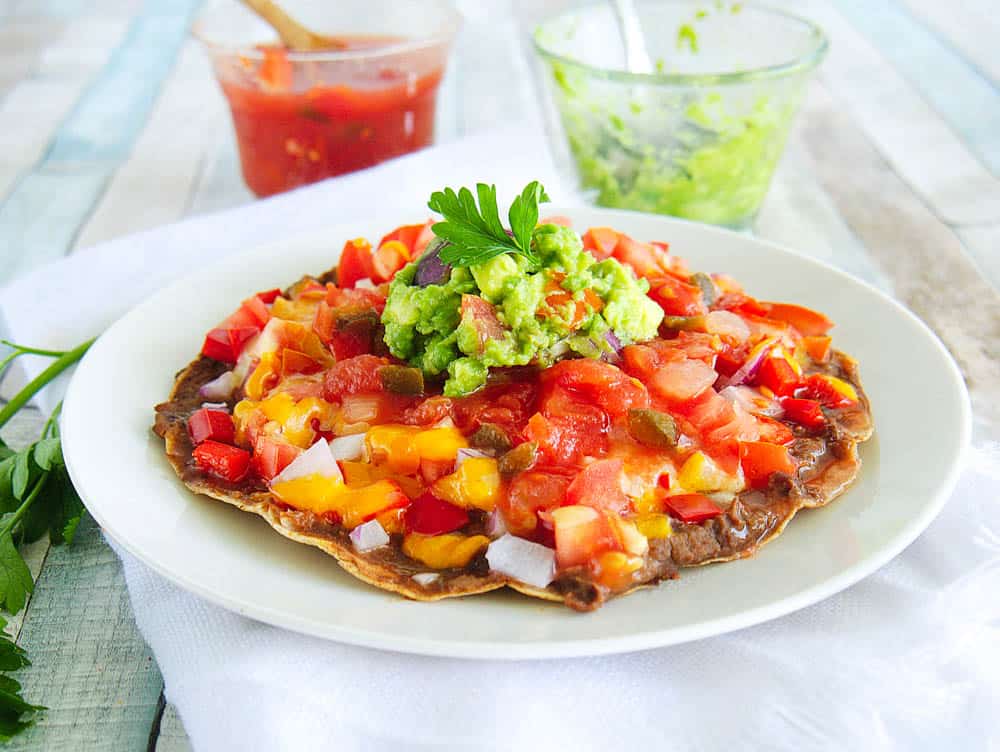 Frequently Asked Questions
Is pizza good for losing weight?
If you're thinking of traditional pizza recipes, no, most pizza isn't good for weight loss. However, you can use the tips in this post to make a diet-friendly version! I'd say the best healthy pizza for weight loss would be a thin crust pizza (or cauliflower crust pizza) with very light low-fat cheese and low-carb veggies. That is, of course, if you don't have any other dietary restrictions to follow. 
How can I eat pizza on a diet?
If you want diet-friendly pizza, focus your efforts on the cheese and dough. I'd swap traditional pizza dough for whole wheat pita bread or even a whole wheat tortilla. As for cheese, even though there are low fat / lower calorie options, have you ever eaten pizza without cheese? It's not bad at all! Especially when you have a sauce that's seasoned extra well and paired with roasted vegetables. 
What is the healthiest pizza you can eat?
That's hard to narrow down, but I'd say cauliflower crust pizzas loaded with veggies are the healthiest. 
Is margherita pizza healthy?
Your average margherita pizza doesn't have enough nutrients "as is" to be considered super healthy. It's certainly not the worst kind of pizza you could eat though. You can make it healthier by switching to a thin crust whole wheat dough and adding extra spinach. 
Want Some Healthy Pizza Recipes to Get You Started?
Try these lightened up versions of classic favorites:
That is it for today! I hope these tips encourage you to make healthy pizza at home with simple, smarter swaps. Now go throw yourself a pizza party that you can feel great about!
11 responses to "How to Make Pizza Healthy: 10 Tips and Tricks"