Vegan Taquitos
This post may contain affiliate links. As an Amazon Associate, I earn from qualifying purchases. Please read my disclosure.
This easy vegan taquitos recipe is always a huge hit at our house! A creamy, seasoned bean filling is wrapped in crispy, crunchy corn tortillas for a handheld treat that makes for a delicious dinner, snack, or side dish!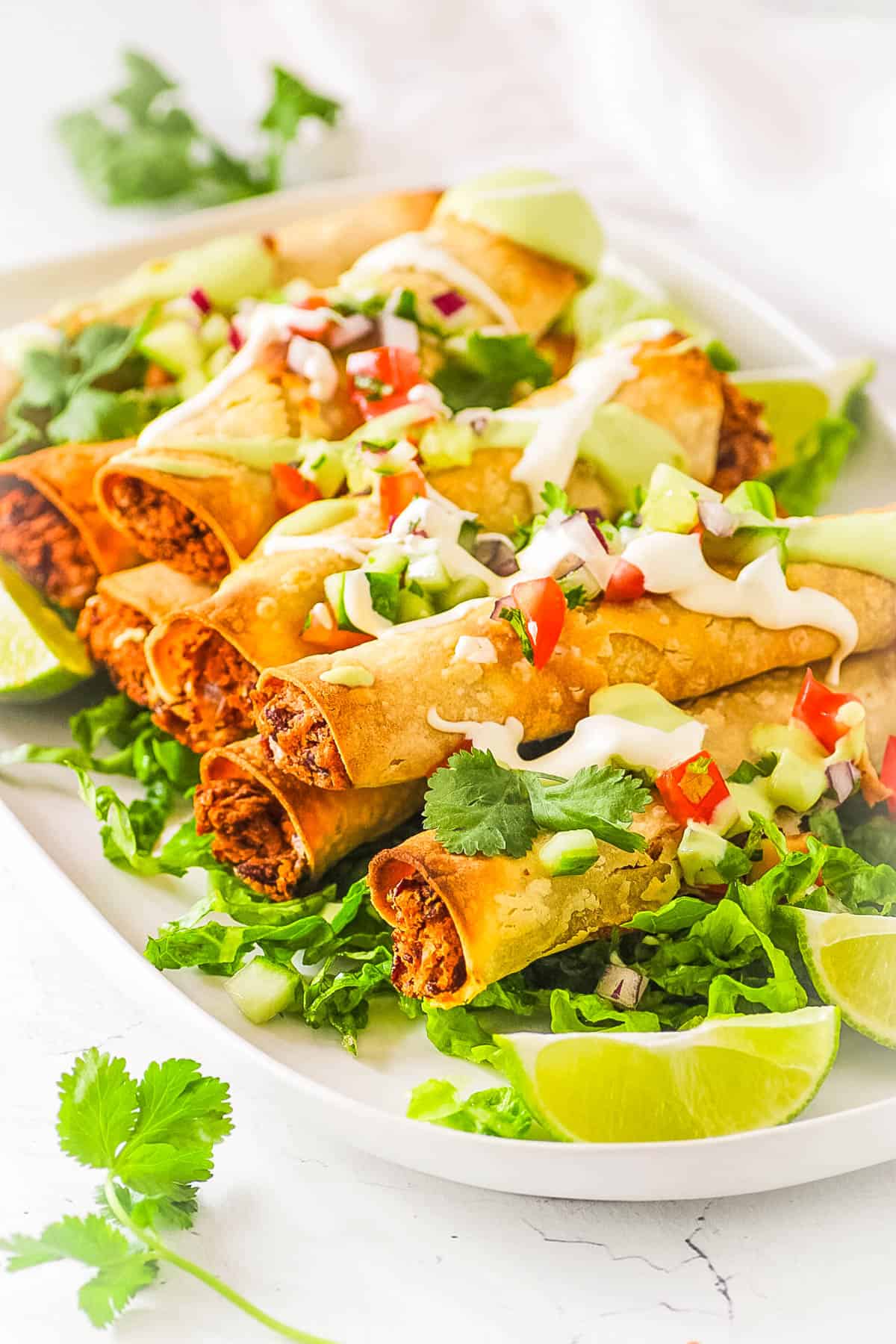 With a generous amount of seasoning that spans from earthy cumin and smoked paprika to spicy chili powder, these crispy vegan taquitos are full of amazing flavor. Since they're small, they are the perfect finger food for the whole family, and you can serve so many dipping options on the side, from salsa and guacamole to vegan sour cream.
The best part about these crunchy rolled tacos is that they are so customizable – you can turn the heat up if you like a spicy kick, or you can make them milder, too. You can also swap the beans for your favorite, or trade out the tortillas for the kind that you prefer.
These tasty taquitos can be a main dish or you can serve them alongside other dishes like soups or salads. If you've been looking for an easy dinner for Taco Tuesday (or any day of the week), this is it!
👩🏽‍🍳 Why You'll Love Vegan Taquitos
Easy To Make: This recipe only takes a few minutes to prepare before popping them in the oven.
Convenient Ingredients: All of the ingredients are super easy to grab at your local grocery store.
Versatile: You can make this Mexican dish as part of your meal prep for the week, but they're also an amazing party appetizer or for taco night. These really are the best taquitos!
Delicious & Healthy: With a super flavorful filling, this little taco rollup is tasty, spicy, and irresistible – with no need for deep frying!
Full of Protein: With lots of beans, there's plenty of plant-based protein in these vegetable taquitos.
Latest Recipe Video!
🥘 Ingredients
These simple ingredients are easy to keep on hand for whenever your veggie taquitos craving hits!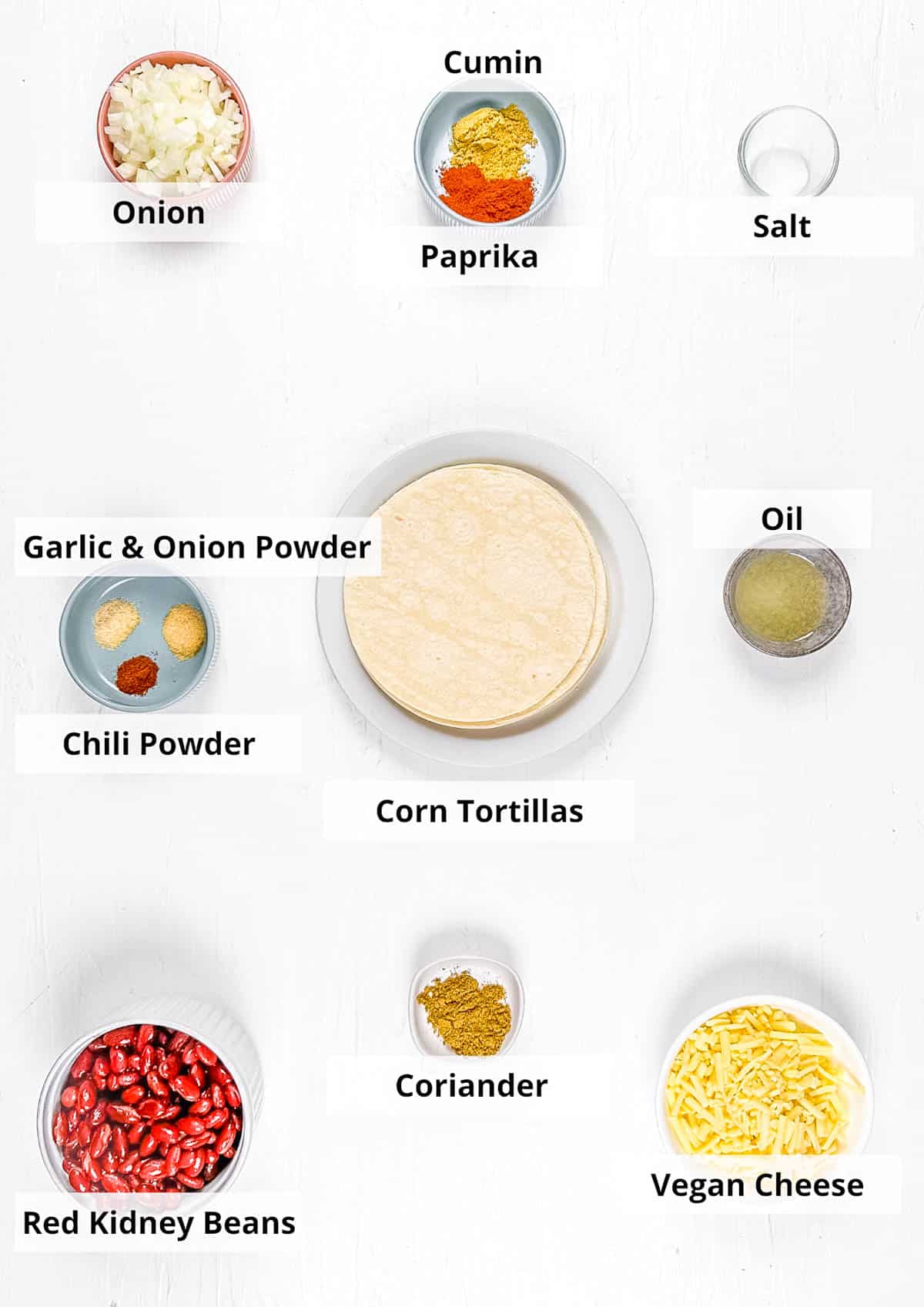 Olive Oil: This is my preferred oil for sautéing, but you can use any neutral flavored oil, like avocado oil, that you have handy.
Onion: Dice the onions finely to be sure they cook evenly and are easy to mix with the other ingredients. Red onion or yellow onion will work.
Red Kidney Beans: These hearty beans give these dairy free taquitos the perfect texture.
Spices: We used ground cumin, smoked paprika, ground coriander, chili powder, garlic powder, and onion powder, and salt to give the bean mixture filling its earthy, smoky, spicy flavor.
Vegan Cheese: This substitute for dairy-based cheese is a great alternative to help make sure the plant based taquitos still have a melty filling.
Mini Corn Tortillas: You can use any size you like, but I like to make them with the smaller tortilla for a snackable taquito.
To Serve: Guacamole or an avocado sauce, pico de gallo, vegan sour cream, vegan queso, salsa, fresh cilantro, shredded lettuce, or a squeeze of fresh lime juice all taste great on top of the taquitos.
🍲 Ingredient Substitutions
Beans: Instead of kidney beans, choose any kind that you prefer, from pinto beans and navy beans, to black beans.
Tortillas: Choose a different size to make larger taquitos, or substitute flour tortillas or whole wheat tortillas instead of corn.
Chili Powder: Feel free to adjust the amount for your palate to make it more or less spicy.
Garlic: Use finely minced garlic instead of the powder.
​Seasoning: Use your own preferred blend of seasonings or even a taco seasoning blend from the grocery store.
Seal: If you want to make an extra effort to prevent these vegan baked taquitos from unrolling, use a small swipe of vegan cream cheese to seal the tortilla closed. You could also use refried beans for the same purpose.
🔪 How To Make Vegan Taquitos
Here's how to make this easy vegan taquito recipe. For more detailed instructions and nutrition facts, see the recipe card below.
Sauté And Make Filling: Sauté the onions in oil over medium heat until soft, then add to a food processor with the remaining filling ingredients except for the cheese and blend together by pulsing until slightly chunky.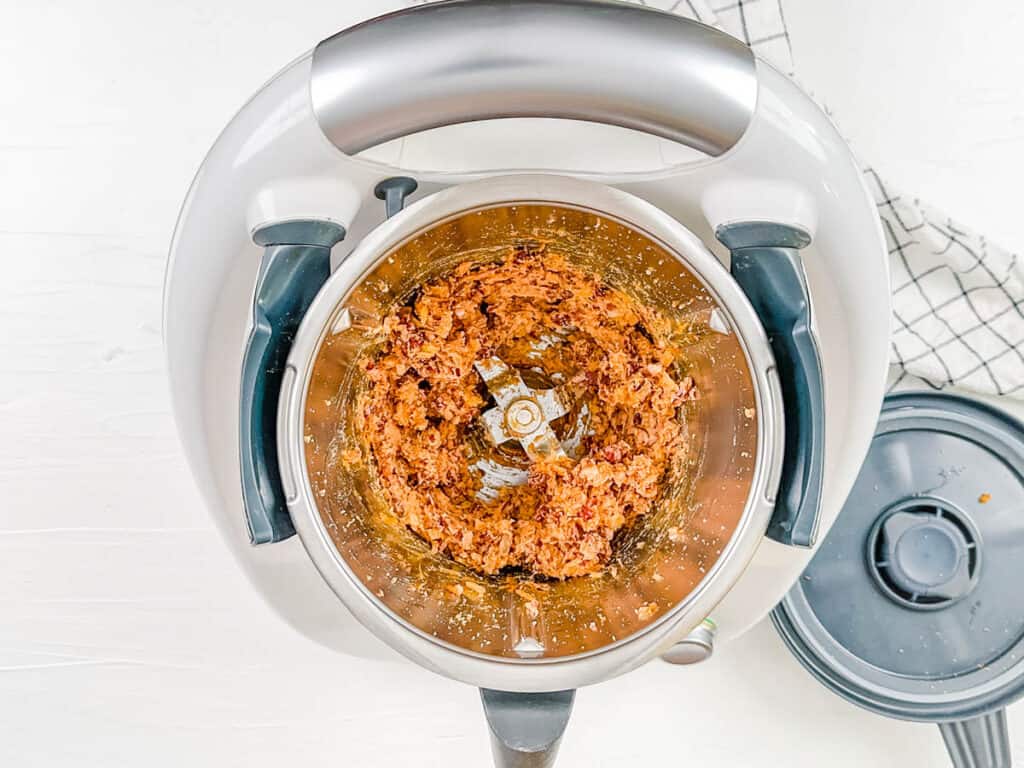 Fill Tortillas: Warm the tortillas before placing the filling inside and topping with vegan cheese.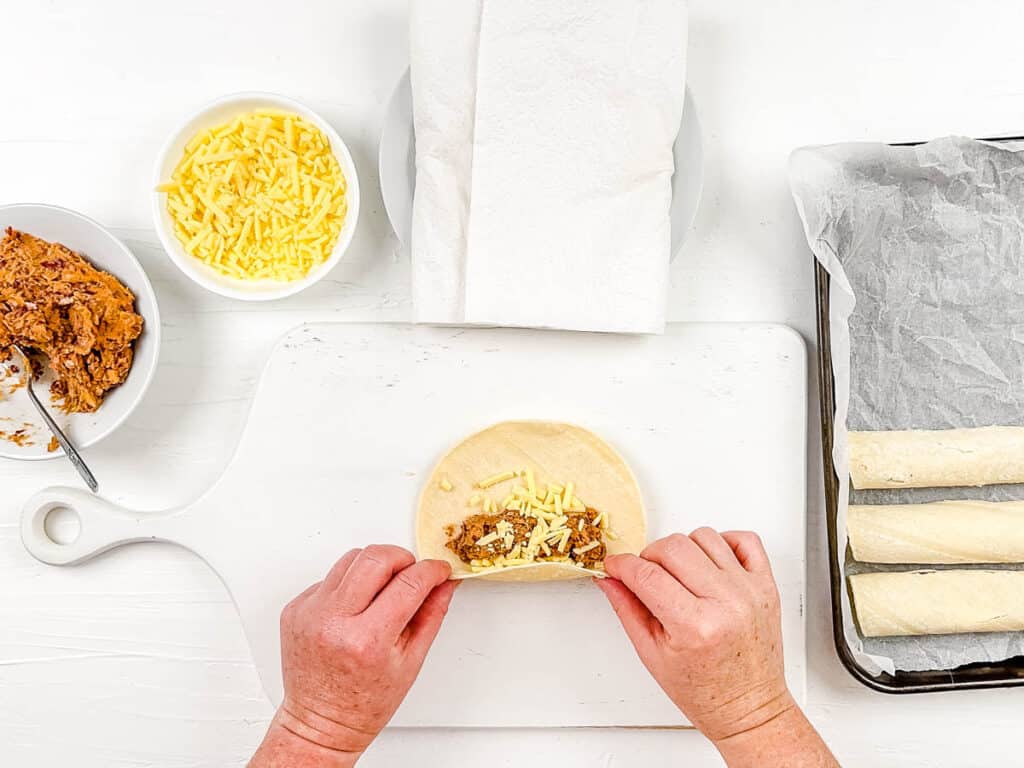 Prep Tortillas For Baking: Roll the filled tortillas and place them on the prepared baking sheet lined with parchment paper.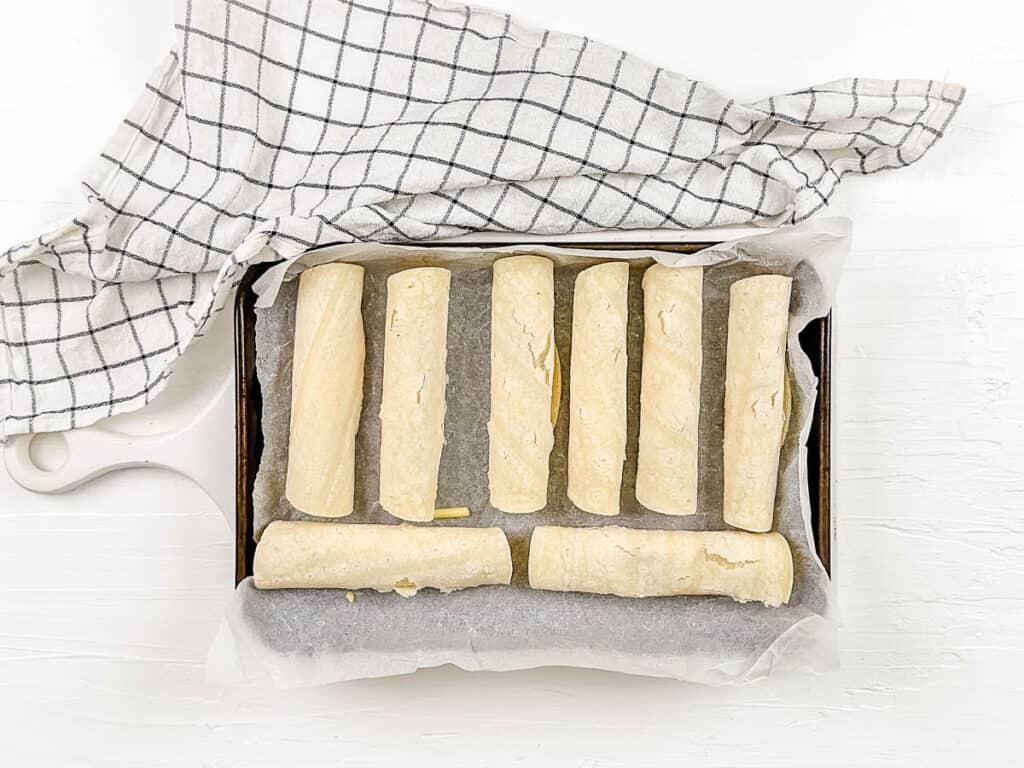 Bake Tortillas: Spray the tortillas with cooking spray (or using a pastry brush, brush with olive oil), and bake until light golden brown and crisp.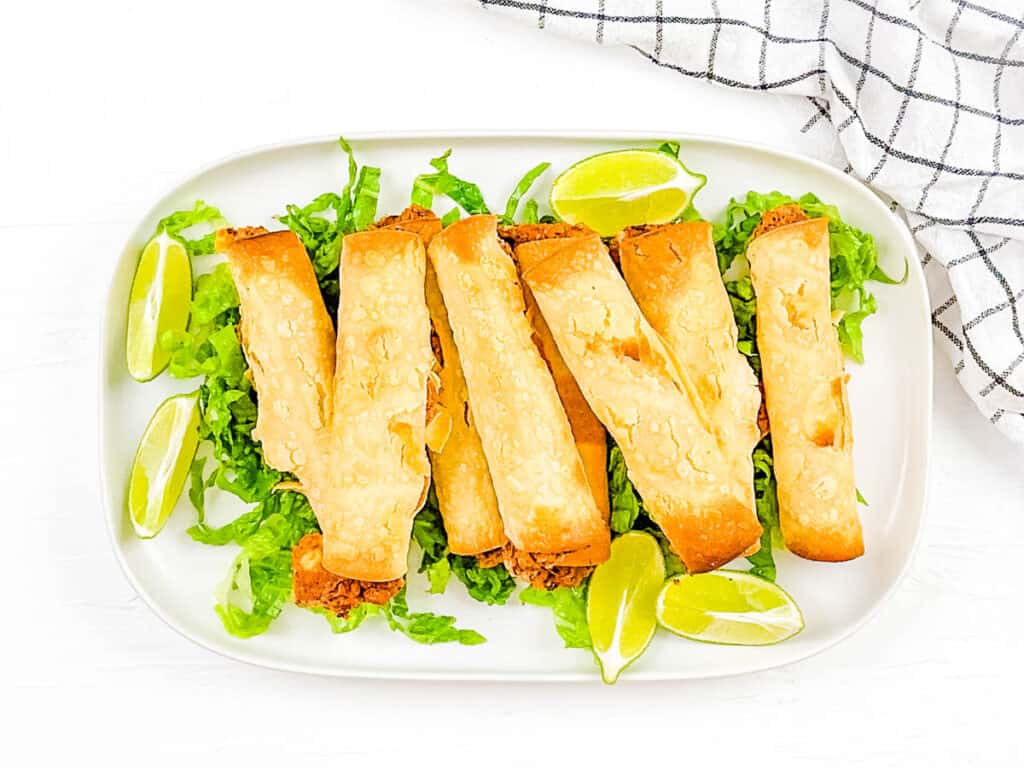 Serve Taquitos: Serve these vegetarian baked taquitos immediately with preferred garnishes.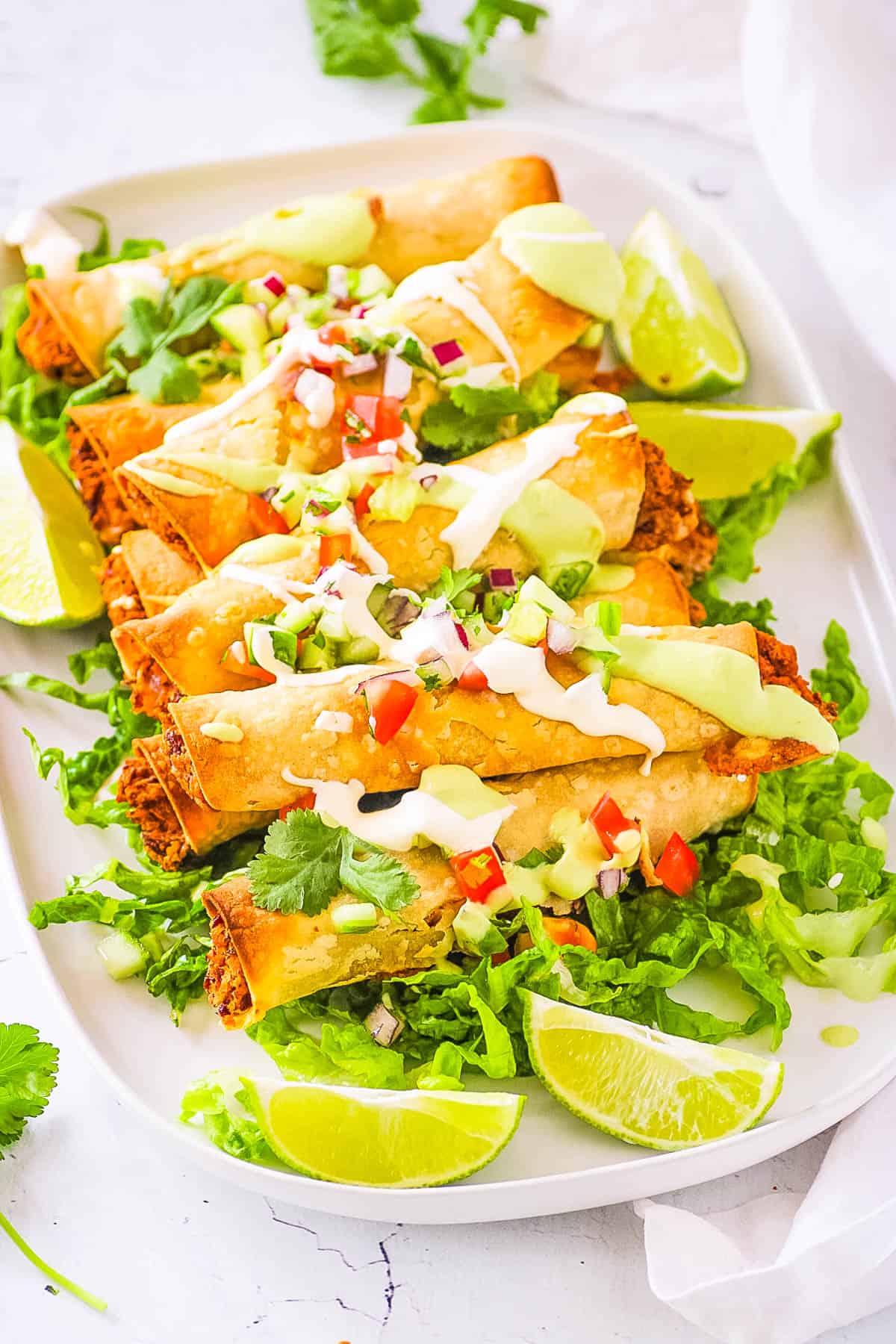 💭 Expert Tips
Roll Tightly: Be sure to tightly roll the tortillas so that they stay closed while cooking, but not too tight that you squeeze out the filling.
Prevent Unrolling: Place the tortillas with the seam side down to also keep them from opening when cooked.
Microwave Tortillas: Warming the tortillas before filling helps to make rolling and sealing easier.
Use A Paper Towel: When warming the tortillas in the microwave, cover them with a damp paper towel so that they are just the right texture.
Do Not Overfill: Avoid overfilling the tortillas so that they do not come open while baking.
📖 Variations
There are so many ways to modify these crunchy vegan taquitos! Here are some of our favorite ways to change things up:
Spiciness: Add cayenne pepper, red pepper flakes, or hot sauce to the filling for spicier taquitos. You an also add diced jalapenos or a pepper you prefer.
Quesadillas: Use larger tortillas and fold them over instead of rolling to make a quesadilla instead.
Meat Substitutes Options: Add your favorite plant-based substitute for a different filling in this vegetarian taquitos recipe! Try making black bean taquitos using black beans instead of kidney beans, vegan chicken taquitos using vegan chicken instead of beans, or try other vegan meats like vegan ground beef or lentil taco meat.
Veggies: Dice up a red bell pepper or green pepper, sweet potatoes, mushrooms, or other vegetables to place inside.
🍽 Serving Suggestions
You can serve these veg taquitos with traditional toppings or get creative. They make a great party food or finger food, but also can be a main dish along with some sides.
Traditional Toppings: Some of my favorite toppings are vegan sour cream, guacamole, and pico de gallo to dress up these crispy taquitos. You can also serve salsa, vegan cheese sauce, cilantro, lettuce, and lime.
Sauce: Add a few splashes of your favorite hot sauce on top or serve a sauce on the side like a ranchero sauce or an avocado crema.
Side Dish For Taquitos: There are lots of sides that work well with vegan homemade taquitos! Try vegan Mexican rice, cilantro lime rice, Mexican bean soup, or Mexican corn soup.
🙌 Dietary Adaptations
Gluten-Free Taquitos: Pick up some gluten-free tortillas to make this party snack entirely gluten free.
Lower-Carb Option: Choose your favorite low-carb or keto tortillas.
🫙 Storage Directions
Refrigeration: Once leftover taquitos have cooled to room temperature, store them in an airtight container for up to 4 days in the refrigerator.
Reheating: Place these healthy taquitos in the oven for up to 10 minutes to warm them.
Freezing: Wrap taquitos tightly in plastic wrap and freeze for up to 3 months.
❓Recipe FAQs
HOW DO YOU MAKE TAQUITOS NOT UNROLL?
The trick to making sure these easy taquitos stay rolled up is to roll them tightly and place them seam-side down on the tray. The great thing about his recipe is that they're much less likely to unroll since they are being baked instead of fried.
WHAT ARE TRADITIONAL TAQUITOS?
Traditional taquitos are essentially rolled crispy tacos – their name actually means "small taco." The tortilla is tightly rolled around a filling of meat, beans, or cheese and is then cooked either in the oven or by frying.
IS CORN OR FLOUR BETTER FOR TAQUITOS?
Corn tortillas are the more traditional type of tortilla used for taquitos. Its flavor pairs best with the fillings inside.
Why are my taquitos not crispy?
Typically, if your taquitos are not crispy, either you overfilled them and the tortilla got soggy, or you didn't cook them long enough. Make sure to bake these taquitos until they're golden and crispy on the outside.
Are taquitos healthy or unhealthy?
It depends on how they're cooked and what filling you use! Traditional taquitos filled with meat and deep fried are not healthy – they're full of fat, calories, and have minimal fiber. One traditional meat taquito could be up to 400 calories per taquito!

But these healthy vegan taquitos are really good for you! One taquito is only about 150 calories, is low in fat, and is filled with heart healthy fiber and plant protein.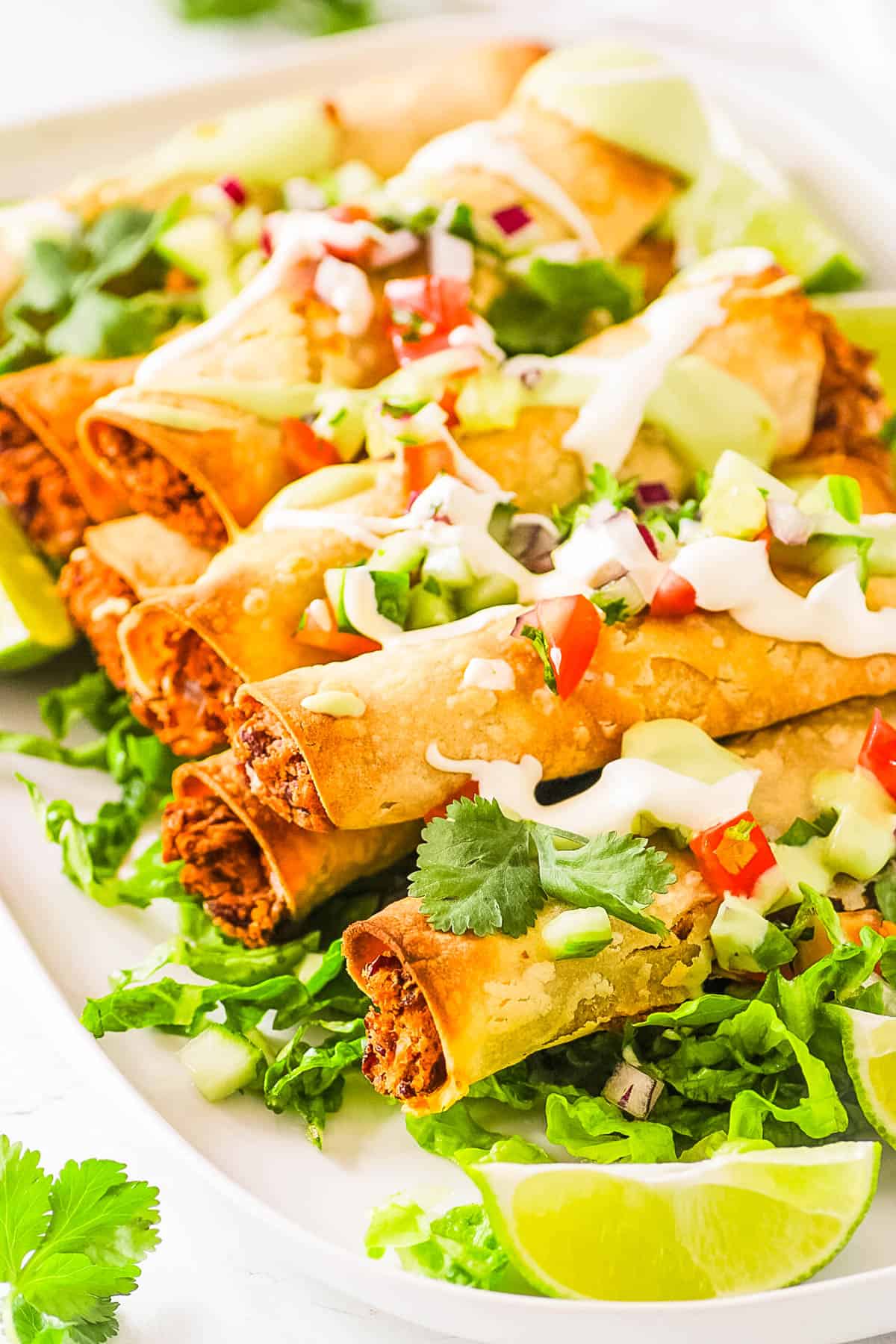 🌮 More Vegan & Mexican Recipes!
Love this plant based mexican recipe? Please leave a 5-star rating 🌟 in the recipe below and/or a review in the comments section further down the page!
You can also FOLLOW ME on FACEBOOK, TWITTER, INSTAGRAM, and PINTEREST to see more delicious, healthy, family-friendly food, and if you have any questions, I'm here to help!
📋 Recipe Card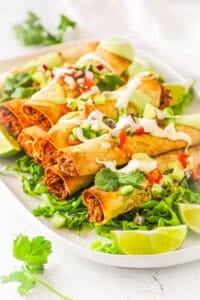 Print Recipe
Vegan Taquitos
This vegan taquitos recipe is always a huge hit at our house! A creamy, seasoned bean filling is wrapped in crispy, crunchy corn tortillas for a handheld treat that makes for a delicious dinner, snack, or side dish!
Ingredients
Options To Serve
guacamole

pico de galo

vegan sour cream

shredded lettuce
Instructions
Heat oil and sauté the onions until soft and translucent.

Remove from the heat and add to the bowl of a food processor, along with all filling ingredients from kidney beans through to salt.

Pulse several times. Mixture should still have some texture, not completely smooth.

Preheat the oven top 350 degrees F / 180 C. Line a baking tray with baking paper.

Warm the tortillas by wrapping them in kitchen paper towel and microwave for 30-40 seconds.

Place 2-3 tbsp of filling (depending on the size of the tortilla) into the center of a tortilla.

Sprinkle with vegan cheese and roll up tightly.

Place the filled tortilla onto the prepared baking tray, seam side down and repeat with remaining mixture and tortillas.

When all tortillas have been filled, lightly spray with spray oil and bake them in the oven for 30 minutes or until they're golden and crispy.

Serve with your favorite sides such as guacamole, salsa, pico de gallo, vegan sour cream etc.
Notes
You can use any of your favorite beans in this recipe such as black beans, pinto or even lentils.
Add more or less chili to suit your palate.
Roll the tortillas tight to prevent them from unrolling but not too tight that you squeeze out the filling.
Place seam side down stops the tortillas from opening when cooked.
Warming the tortillas before filling helps to make rolling and sealing easier.
Don't over fill the tortillas as this may cause the tortillas to tear and open when cooking.
Cooked taquitos can be sored in the fridge in an airtight container for up to 4 days or frozen for up to 1 month.
To reheat place the taquitos in the oven for 10 minutes to heat through.
Nutrition
Serving:
1
taquito
|
Calories:
150
kcal
|
Carbohydrates:
26
g
|
Protein:
6
g
|
Fat:
3
g
|
Saturated Fat:
1
g
|
Polyunsaturated Fat:
1
g
|
Monounsaturated Fat:
0.5
g
|
Sodium:
157
mg
|
Potassium:
274
mg
|
Fiber:
6
g
|
Sugar:
1
g
16 responses to "Vegan Taquitos"