Mexican Pizza Taco Bell Recipe
This post may contain affiliate links. As an Amazon Associate, I earn from qualifying purchases. Please read my disclosure.
This vegetarian copycat Mexican Pizza Taco Bell recipe is a real treat, and you wouldn't guess that it's healthy! Low in calories, made with whole foods, and ready in less than 30 minutes: my version of this classic Taco Bell dish means you can enjoy it without the guilt!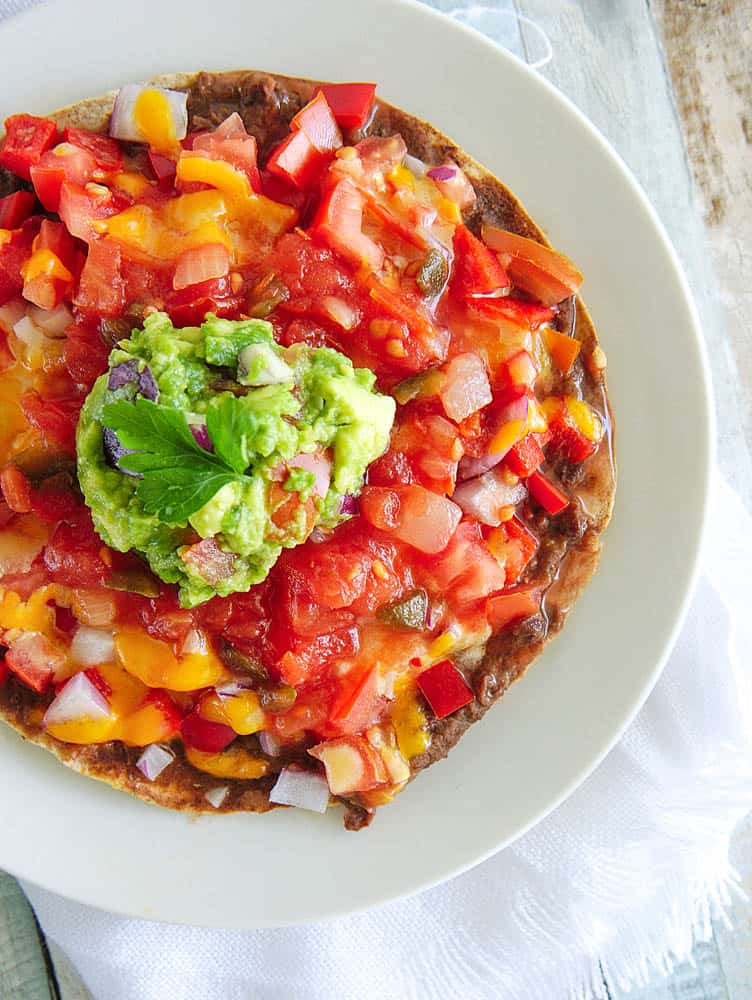 When I was a kid, we used to eat Taco Bell every single week.
And what was our go-to order at Taco Bell (since we were vegetarian)?
"Taco Bell Mexican Pizza, no meat, with beans instead of the meat."
Latest Recipe Video!
I always looked forward to Taco Bell night when I was a kid. I always wanted to order the same thing, Mexican Pizzas: with their crispy fried shells, and the salty well seasoned filling. (And, it's everything that makes this popular item so addictive!) Because I grew up vegetarian, we'd always ask them to replace their seasoned ground beef filling with beans – and it still felt like a treat every time.
Now I'm a little more health-conscious so Taco Bell Mexican Pizza isn't generally on the menu. In fact, most fast food isn't. While Taco Bell's Mexican Pizza has been discontinued, the original restaurant recipe had 540 calories for one tiny 6-7 inch pizza, with 30g fat and 990mg sodium.
It also had minimal fresh veggies and the ingredients list is a mile long with fillers and additives (fumaric acid, calcium propionate, potassium sorbate in the shell; maltodextrin and trehalose in the beans, etc.)
The flavor of Taco Bell Mexican Pizza might be great, but it definitely was not a great option to eat on a regular basis.
Since I love creating new recipes that are a healthy take on something indulgent I decided to give the vegetarian Mexican pizza a makeover in my kitchen. This copycat new recipe for Taco Bell Mexican Pizza has crispy tortillas and is as delicious as the original, but it only has 370 calories.
Since you can't get it at Taco Bell anymore, you might as well make a healthier version of this vegetarian Mexican pizza Taco Bell recipe at home! This recipe has at least 10 grams of fiber (even more depending on how much veggies/beans you use), and only 14.6 grams of healthy fats. And you won't find anything even close to "trehalose" in this pizza!
Instead of using a fried tortilla, we bake the tortilla in the oven until it's super crisp, so no vegetable oil is needed! Another option, is you could place the tortillas in the air fryer to achieve that extra crispy tortilla shell. If you feel like making a classic but light pizza check out my healthy pizza crust that you can use as a base!
This whole Mexican pizza recipe takes about 20 minutes to make, and is a delicious, filling, healthy easy dinner idea. Kid-friendly and fun for the whole family!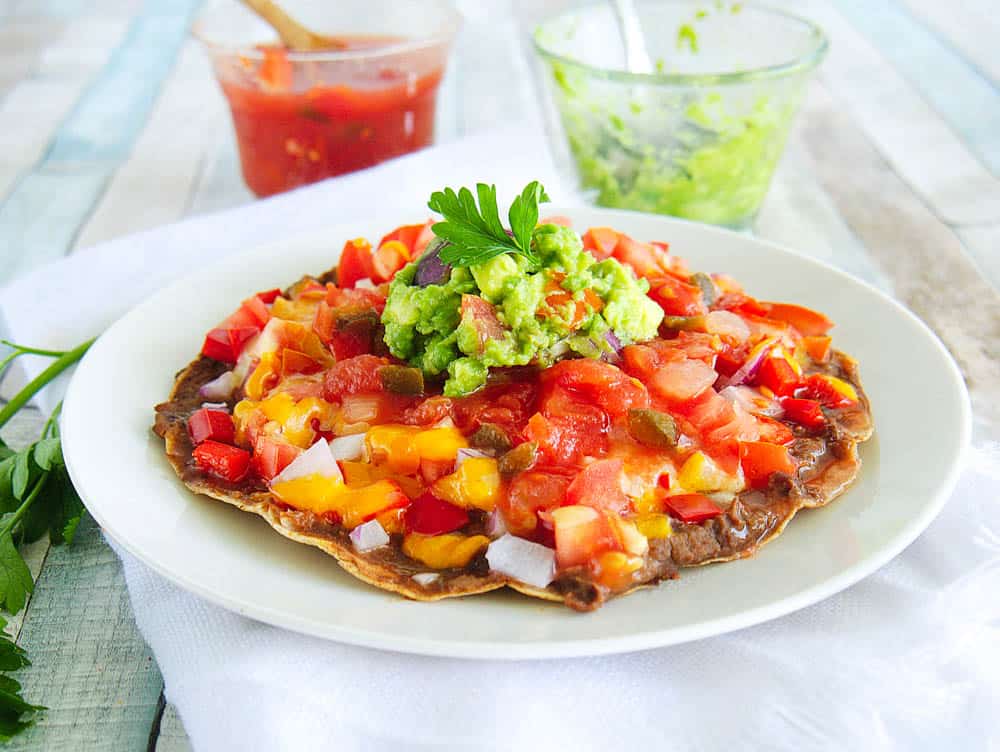 👩‍🍳 Why This Recipe Works
Healthy Mexican Food
A fun take on a traditional pizza!
Great Recipe for the Family
One of the Family Favorites
Low in Calories and Fat
High in Vitamins and Nutrients
Easy Mexican Pizza Taco Bell Recipe!
Super Flavorful
Easily Made Vegan
Better than the real thing!
We topped ours with salsa and guac (avocados are a great source of healthy fats and other important nutrients!) for added flavor — and this has become one of our weeknight staples for dinner! The kids absolutely love it, it's super filling, and makes you feel like you're having delicious takeout at home.
Not to mention it's pretty easy to make this copycat Taco Bell Mexican Pizza recipe. Your kids will love the taste and because it's so easy to make, it'll save you a little extra time in the evening as well.
🥘 Ingredients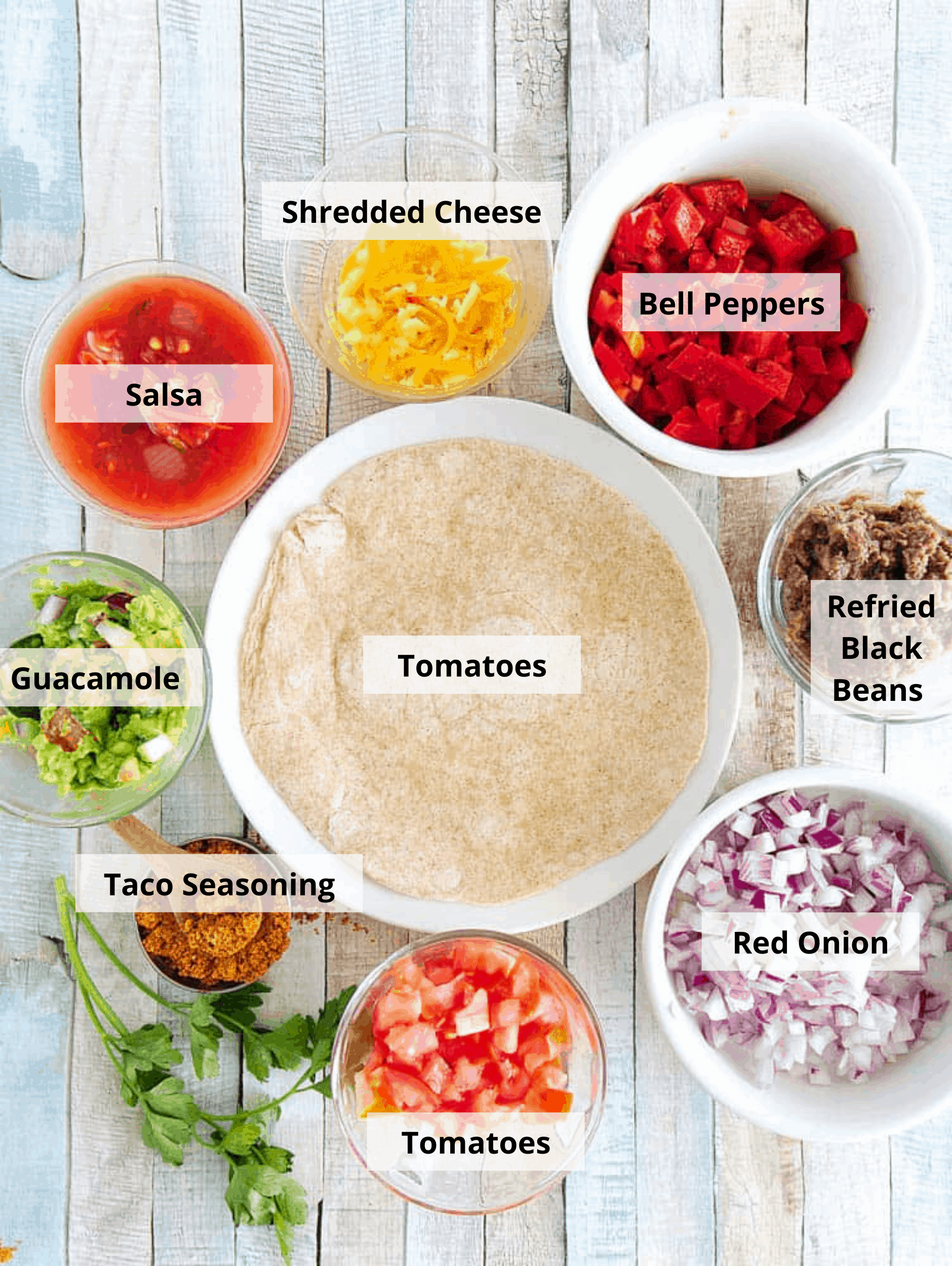 Refried Black Beans: Heated through with added taco seasoning. Feel free to add a little bit of chili powder, onion powder, and garlic powder for an extra kick. You can also make your own homemade refried beans.
Mexican Cheese Blend: Used to to top the beans. Any shredded three-cheese blend will work.
Diced Vegetables: A combination of diced red onion, roma tomato, and red bell pepper.
Whole Wheat Tortillas: Soft flour tortillas crisp up really well in the oven. I recommend using whole wheat or sprouted whole wheat tortillas instead of white flour tortillas to add fiber and nutrients to this dish. You can also use corn tortillas or homemade tortillas.
Salsa: I used a salsa from the grocery store as my Mexican Pizza sauce, but you can also make your own homemade version. Red enchilada sauce or taco sauce would also work well. If you have any Taco Bell sauce packets lying around your house, feel free to use that too!
Guacamole: Mashed avocado will also work.
🍽 Equipment
Baking Sheet
Large Skillet
Cutting Board and Chopping Knife
📖 Variations
For our pizza toppings, I used red onion, tomato and bell pepper, but you can easily use any fresh vegetables you have in your fridge. Some other options that would also work well are:
sweet corn
diced mushrooms
chopped baby spinach
diced zucchini
If you want something a little spicier, minced jalapenos are a great addition. Remember that traditional Mexican flavors are bright and zesty, so your Taco Bell Copycat Mexican Pizza should be the same.
If you're looking for brighter flavors after trying this recipe, consider topping your pizza with a little lime juice or cilantro just before you serve. Other toppings include:
Green Onions
Low-Fat Sour Cream or Greek Yogurt
Chunky Salsa
Black Olives
Hot Sauce
🔪 Instructions
Step 1: Crisp up the whole wheat tortilla in either a toaster oven or a regular oven at 350 degrees for 10 minutes (or until it's crispy like a chip and golden brown). You can crisp multiple tortillas at the same time if you need to, just make sure there's plenty of space on the baking tray.

Step 2: Heat up your beans in a large skillet on low to medium heat, and stir in the taco seasoning. This should only take a few minutes. Keep heating until you can smell the taco seasoning clearly to make sure your Taco Bell Mexican Pizza is as flavorful as possible.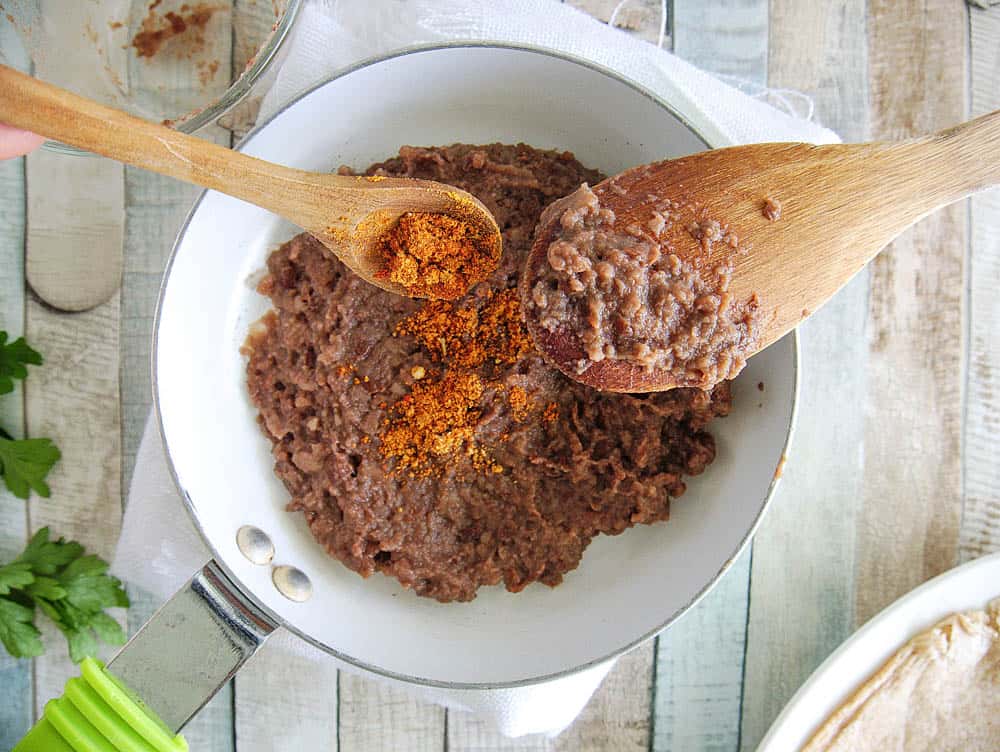 Step 3: Spread a layer of beans on the tortilla, then top beans with veggies. Use a little more beans for a heartier or more filling version of this delicious Taco Bell Copycat Pizza.


Step 4: Top the pizza with the cheese. Heat in a toaster oven (on medium-low) or under a broiler (on high for 2-3 minutes) until the cheese has melted. If you want a more browned top give it another 30 seconds to a minute until the cheese is a little darker.

Step 5: Top with your favorite salsa and guac, and enjoy! In fact, this Mexican Pizza Taco Bell copycat recipe is so easy and such a crowd pleaser that it can be a fantastic option for birthday parties and other occasions where you need a filling meal that feels special but doesn't need a lot of prep time.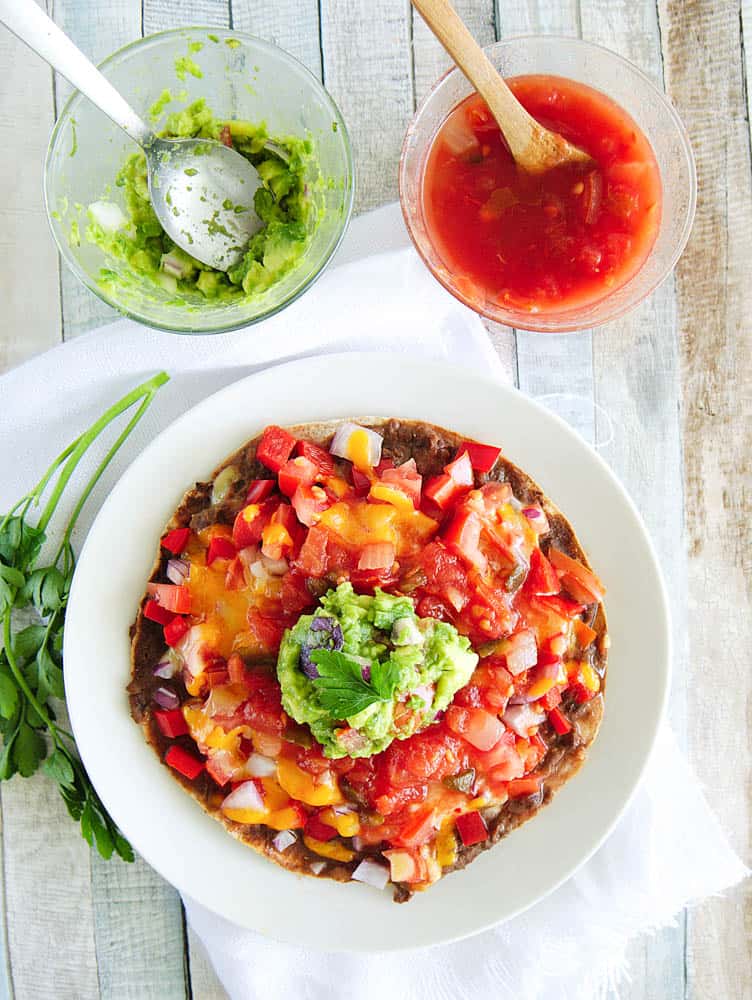 ❓Recipe FAQs
What is a Mexican pizza?
The base of a traditional Mexican pizza is a crispy (fried) corn tortilla, which is then topped with a mixture of toppings (tomatoes, cheese, seasonings). Seasoned beef is usually added as a filling, but this vegetarian version omits that and uses hearty, refried black beans instead. 
Is Mexican Pizza Healthy?
Unfortunately, no, the Taco Bell version is high in calories, fat and processed ingredients, making it unhealthy for you.

But despite its unhealthy fast food origins, my version of the Taco Bell Mexican pizza is a really well balanced meal with whole grains, fiber, protein and fresh veggies. Instead of adding an additional top tortilla, that adds more calories, this homemade Mexican pizza is open faced.

Here are the healthy swaps I made to make this Mexican pizza more nutritious, but just as delicious as the traditional version:

#1: Whole Grains: I used a whole wheat or sprouted wheat tortilla for the base for whole grains and added fiber. Instead of the traditional fried shell which adds unhealthy fats and tons of calories, you end up with a crispy base that is packed with nutrition.
#2: Fresh Veggies: This provides additional fiber, vitamins, minerals and antioxidants
#3: Plant Protein: Replace the red meat/beef (which has unhealthy fats) with lean, hearty, refried black beans which have both protein and fiber to keep you full.
#4: Less Cheese: Reducing the cheese lowers the total fat and calorie content while still keeping that same cheesy goodness Mexican Pizza has.
Can this recipe be made gluten free or vegan?
Absolutely! For a gluten-free version, just use a gluten-free tortilla for the base. To make this recipe vegan, omit the cheese or use a vegan cheese instead. 

Baking might be a little different with vegan cheese since it melts differently from regular cheeses. Feel free to experiment a little with baking times until you've got it right for your favorite brand.
Can You Make This Mexican Pizza on a Large Crust for the Whole Family?
I don't recommend making this pizza on a traditional larger pizza crust. You can if you pre-bake the crust slightly so it isn't soggy, but I don't think it tastes quite as good that way. The tortilla crust really adds a lot of flavor and makes this Taco Bell Copycat Mexican Pizza feel a little more authentic. 

Plus, a larger pizza would need a longer cook time. One of the best parts of this recipe is how quickly everything comes together into a delicious and healthy meal for your family.
💭 Expert Tips
Make sure you get your tortilla really crispy in your oven. That's critical to making this Mexican pizza taste great! You want the tortilla to be able to remain crispy even after it's been topped with the veggies/beans and cheese, so over crisping it a little at the start can help. I've found that a level "3" setting on my toaster oven works well, or baking it at 350 degrees in a regular oven can work too.
You want to eat these pizzas hot, fresh out of the oven. If they've cooled down a bit, just pop them back in the oven at 350 degrees for 2-3 minutes to heat them up again before serving.
This recipe makes 1 serving, but you can easily double/triple/quadruple it by just increasing the ingredients by that much (e.g. for 4 pizzas, use 4 tortillas, 4 tomatoes, 1 + 1/3 cup of refried black beans, etc.)
Try making your own taco seasoning at home using this Old El Paso taco seasoning recipe – it's cheaper and more flavorful than store bought!
Make your own guacamole (like this healthy guacamole recipe), rather than buying pre-packaged. This way you have more control over the freshness and flavor, plus you can get even more nutrients from the added vegetables. Ingredients like jalapenos, fresh lime juice, tomatoes, and green onion taste great and are good for you too!
Because you want to heat all the ingredients without making the tortilla too soggy, I recommend baking these pizzas one at a time. Trying to bake too many at once, even in a larger oven, can make the bottoms soggy and prevent the vegetables from heating all the way through.
Want to get the kids more involved in the kitchen? Try getting them to help you assemble their pizzas. Fast cooking times help keep their attention and make the cooking fun.
Place leftover tortillas in a damp paper towel to keep them moist and pliable.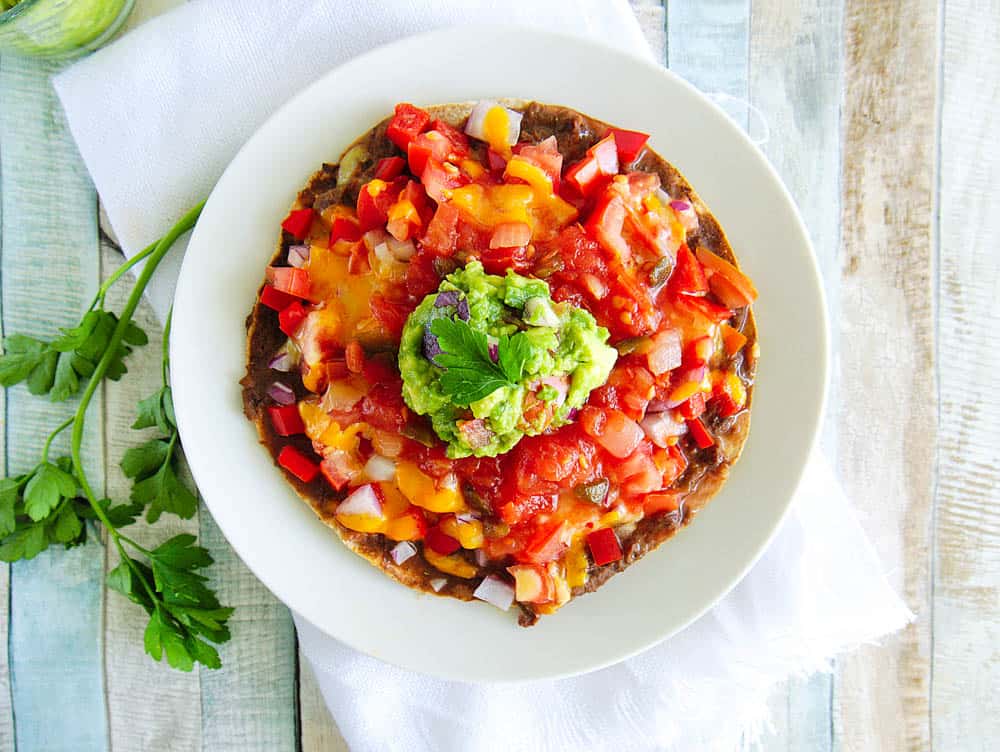 🍲 More Healthy Mexican Recipes!
LOVE THIS RECIPE? Please leave a 5-star rating 🌟 in the recipe card below and/or a review in the comments section further down the page!
You can also FOLLOW ME on FACEBOOK, TWITTER, INSTAGRAM, and PINTEREST to see more delicious, healthy, family-friendly food, and if you have any questions, I'm here to help!
📋 Recipe Card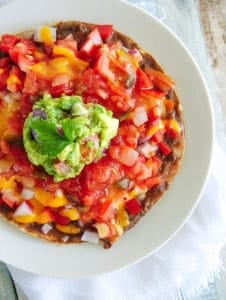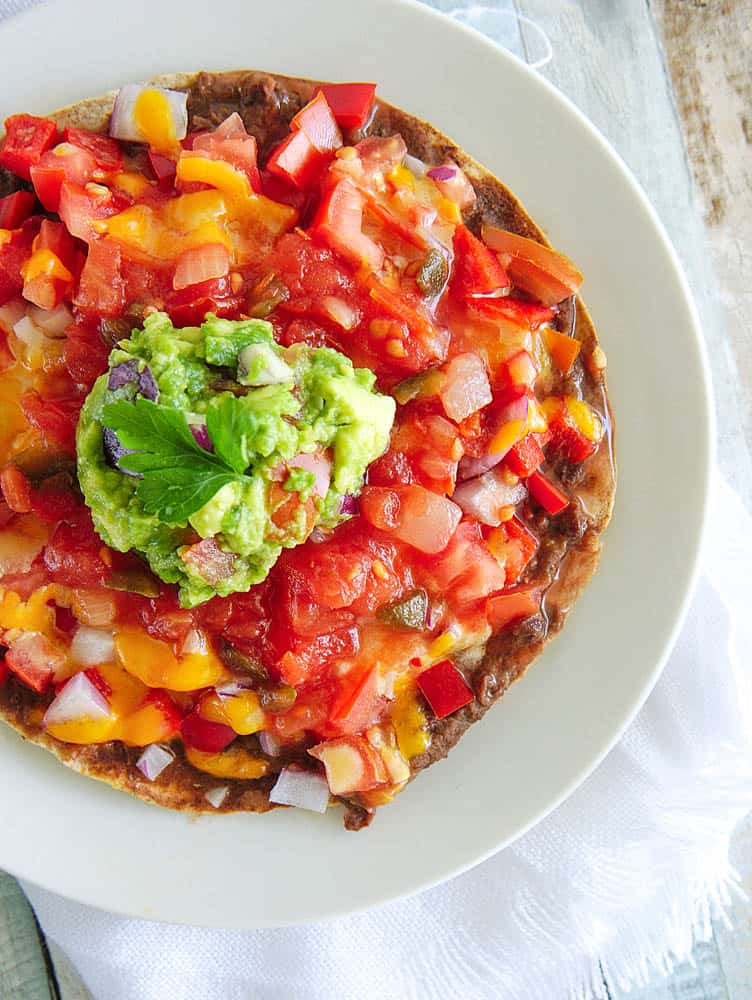 Print Recipe
Mexican Pizza Taco Bell Recipe
This vegetarian copycat Mexican Pizza Taco Bell recipe is a real treat, and you wouldn't guess that it's healthy! Low in calories, made with whole foods, and ready in less than 30 minutes!
Ingredients
⅓

cup

refried black beans

1

tsp

taco seasoning

more to taste

¼

cup

mexican 4 cheese blend

1

whole wheat or sprouted wheat tortilla

100-120 calories, with at least 5g fiber

⅛

cup

red onion

diced

1

roma tomato

seeded and diced

½

red (or orange/yellow) bell pepper

diced

2

tbsp

Salsa

2

tbsp

Guacamole
Instructions
Crisp up the whole wheat tortilla in either a toaster oven or a regular oven at 350 degrees for 10 minutes (or until it's crispy like a chip).

Heat up your beans in a small pot on low heat, and stir in the taco seasoning. 

Spread the beans on the tortilla, and then top with veggies.

Top the pizza with cheese. Heat in a toaster oven (on medium low) or under a broiler (on high for 2-3 minutes) until the cheese has melted.

Top with salsa and guac, and enjoy!
Notes
Make sure you get your tortilla really crispy in your oven. That's critical to making this Mexican pizza taste great! You want the tortilla to be able to remain crispy even after it's been topped with the veggies/beans and cheese, so over crisping it a little at the start can help. I've found that a level "3" setting on my toaster oven works well, or baking it at 350 degrees in a regular oven can work too. 
Use the freshest vegetables you have – the crunchier the better!
You want to eat these pizzas hot, fresh out of the oven. If they've cooled down a bit, just pop them back in the oven at 350 degrees for 2-3 minutes to heat them up again before serving.
This recipe makes 1 serving, but you can easily double/triple/quadruple it by just increasing the ingredients by that much (e.g. for 4 pizzas, use 4 tortillas, 4 tomatoes, 1 + 1/3 cup refried black beans, etc.)
Try making your own guacamole, rather than buying it pre-packaged
Nutrition
Serving:
1
pizza
|
Calories:
370
kcal
|
Carbohydrates:
42.2
g
|
Protein:
16.3
g
|
Fat:
14.6
g
|
Sodium:
900
mg
|
Fiber:
10.4
g
|
Sugar:
7.5
g
86 responses to "Mexican Pizza Taco Bell Recipe"