Lightened-Up Homemade Vegetarian Pizza
This post may contain affiliate links. Please read my disclosure.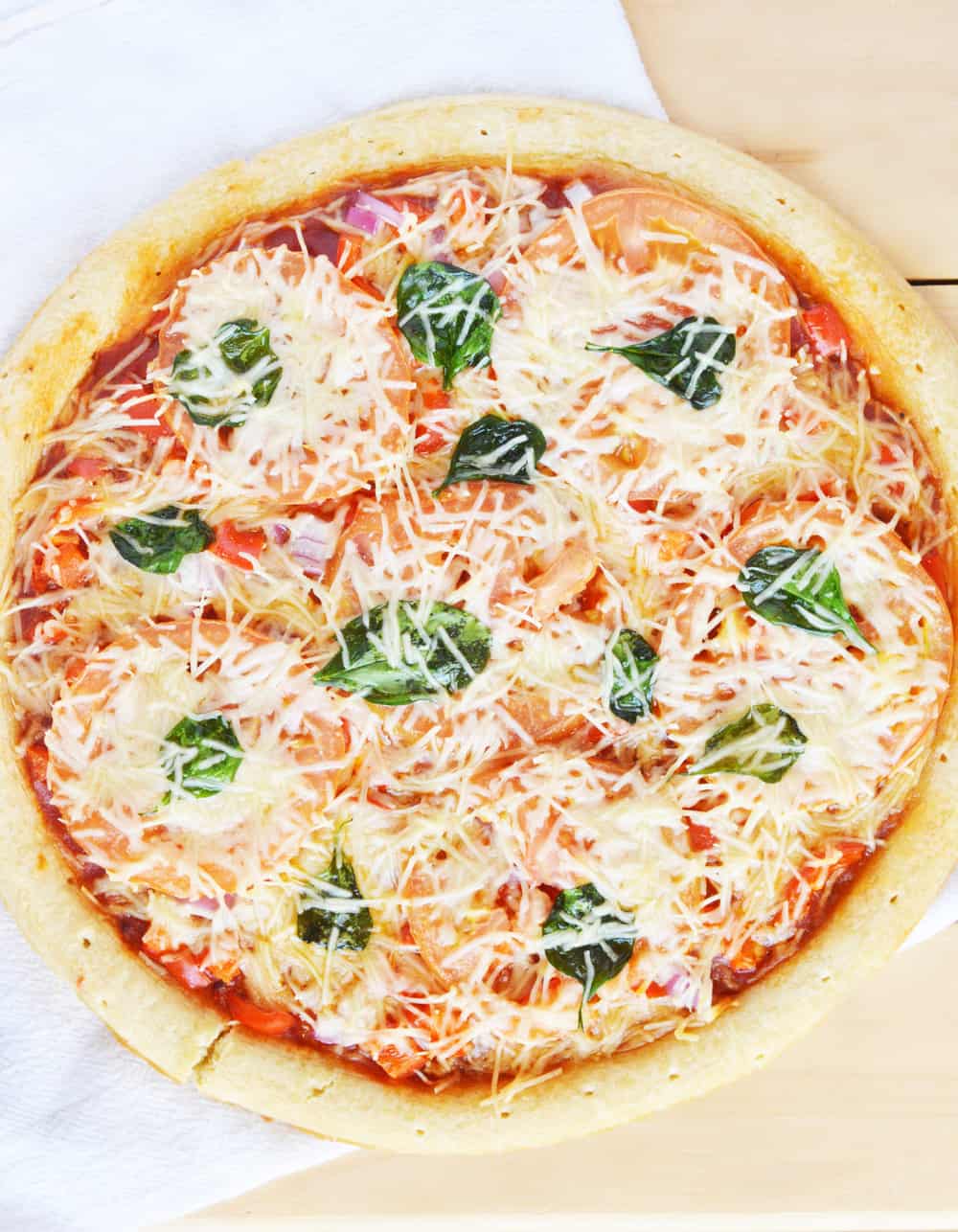 My husband LOVES pizza. He's like a pizza addict. I think there have been days when he has only eaten pizza. He does not discriminate: he likes anything from frozen pizza to the most delicate hand-tossed, wood-fired pizzas in Italy. I like pizza too, don't get me wrong, but I rarely ate it because it's not the healthiest option and always made me feel sluggish and low energy after. I also never knew how to make a healthy homemade vegetarian pizza at home – so I'd only eat it if we went to a restaurant.
But now…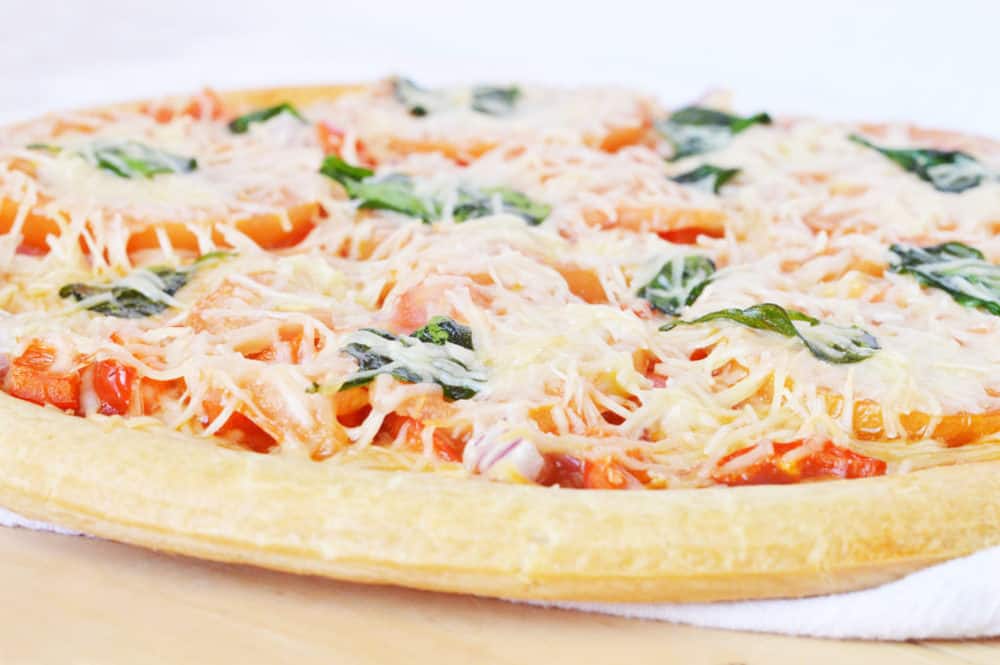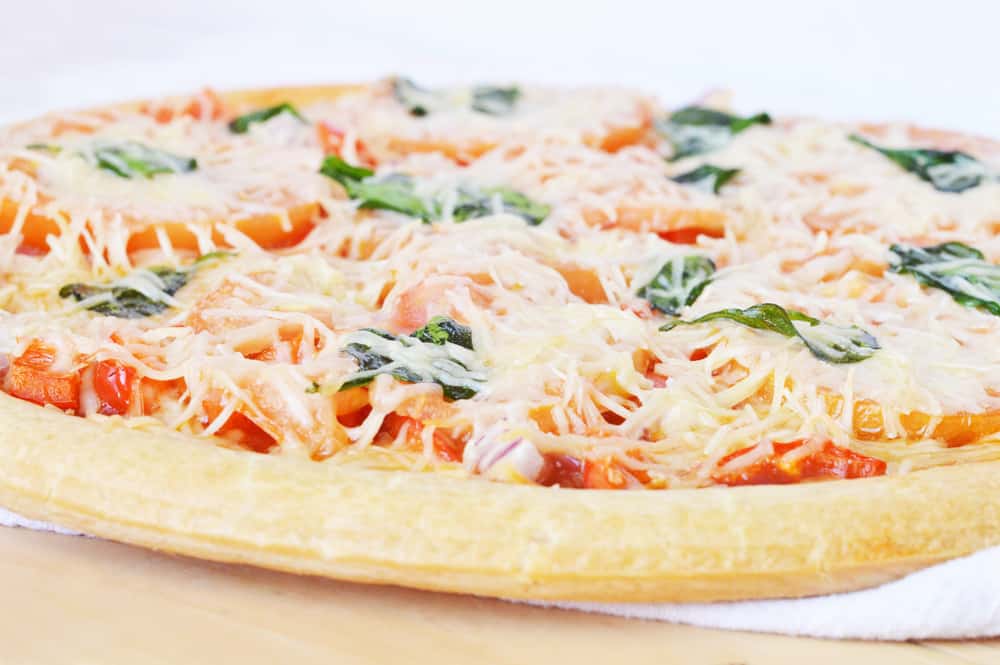 With the help of pre-made whole wheat (or even sprouted wheat) pizza dough, I have created an awesome recipe for healthy homemade pizza that is guaranteed to please even the pickiest pizza lover in your family!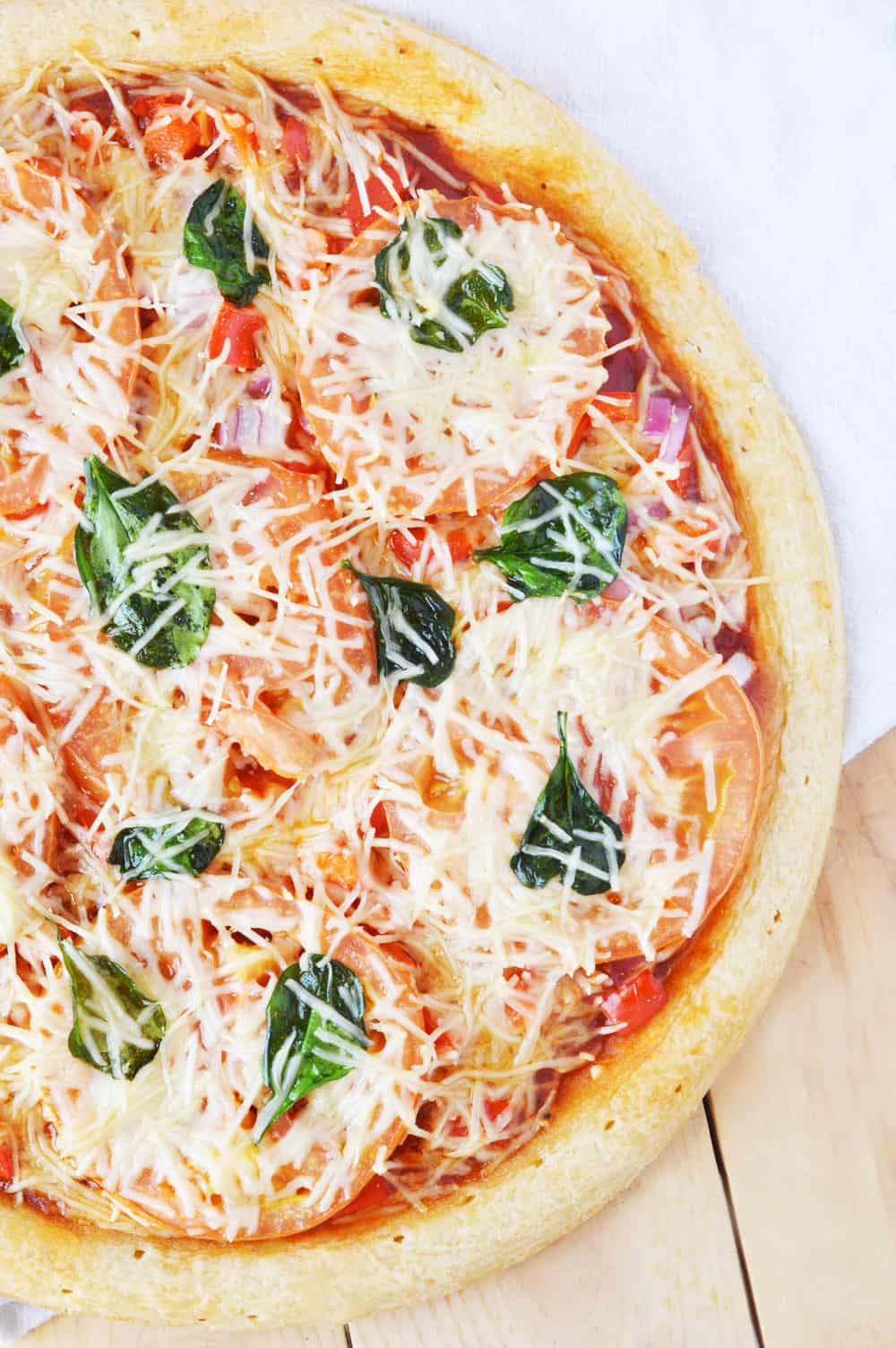 Ingredients for your Healthy Homemade Vegetarian Pizza
Fresh whole wheat pizza dough. If you have a Trader Joes near you – they carry a great version of this dough. 1/8 of the dough (which is basically one slice of pizza) has ~110 calories and 2-3g fiber! You can also find sprouted wheat pizza dough – Angelic Bakery makes a good one and I think Trader Joes has one now too.
Low-sugar pizza sauce: check the ingredients and make sure there's no added sugar! That's where all the unnecessary calories from pizza sauce comes from.
1-2 yellow, orange or red bell peppers diced
1/2 red onion (diced)
Baby spinach leaves (you can use up to 2 cups, chopped).
1 tomato (cut into thin slices)
2 cloves garlic (minced)
1 cup Fresh grated Parmesan cheese (you don't have to use the whole cup – that's the max amount we have ever used)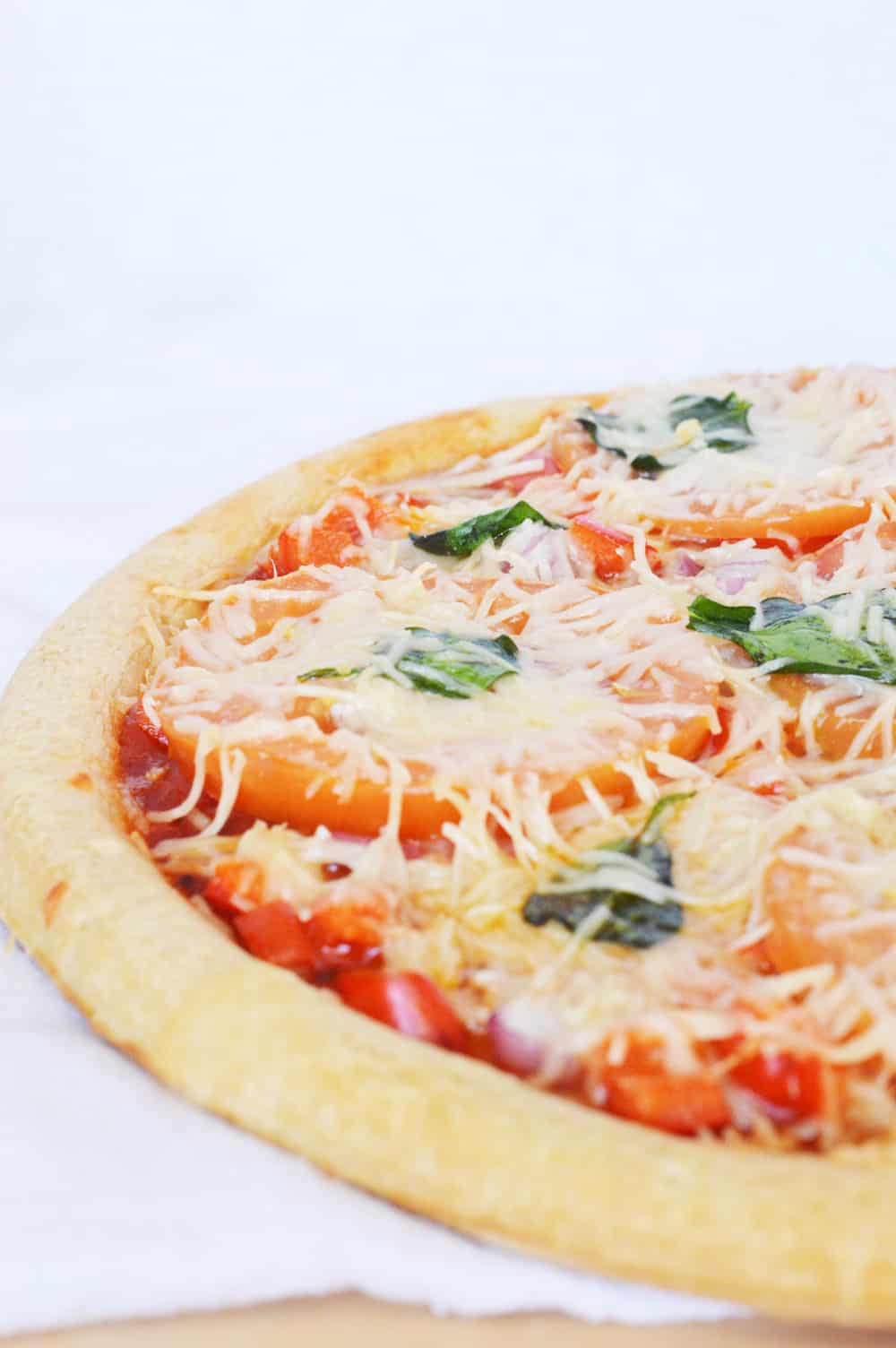 Here Are The Kitchen Tools We Used for This Recipe:
If you are a meat lover, you can always add meat as a topping for this pizza. And you can change up the toppings however you'd like!
This recipe makes 8 servings (1 serving = 1 huge slice of pizza). It freezes really well – just defrost it by popping it into the toaster oven or regular oven for a few minutes at 400-450 degrees. It's super kid friendly and really healthy too! For even more veggies, serve it with a side salad made with your favorite greens.
I hope you enjoy this recipe as much as we do! Friday night is always pizza night at our house!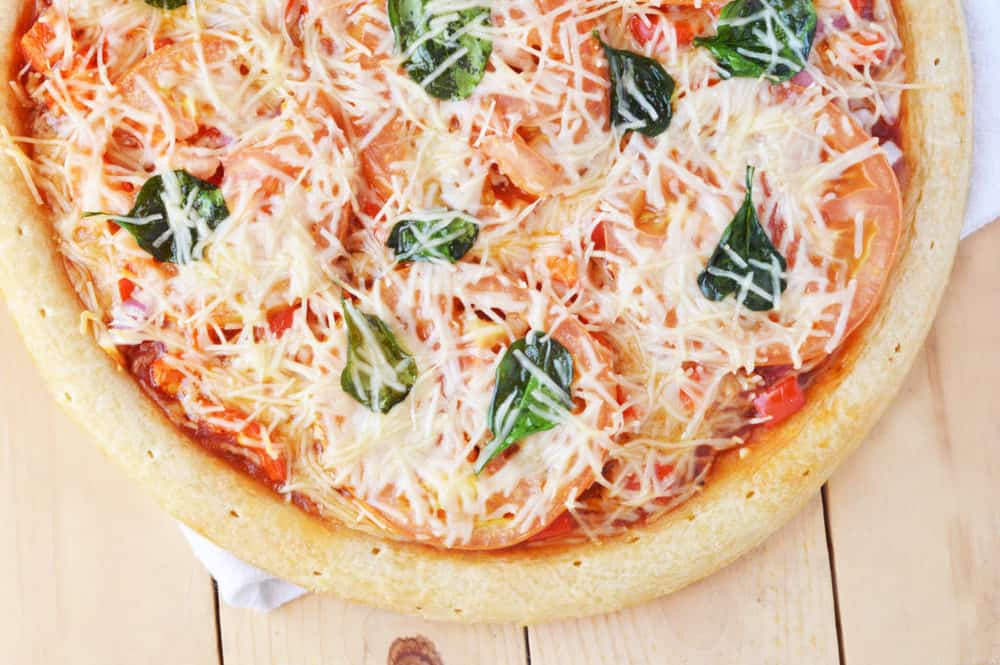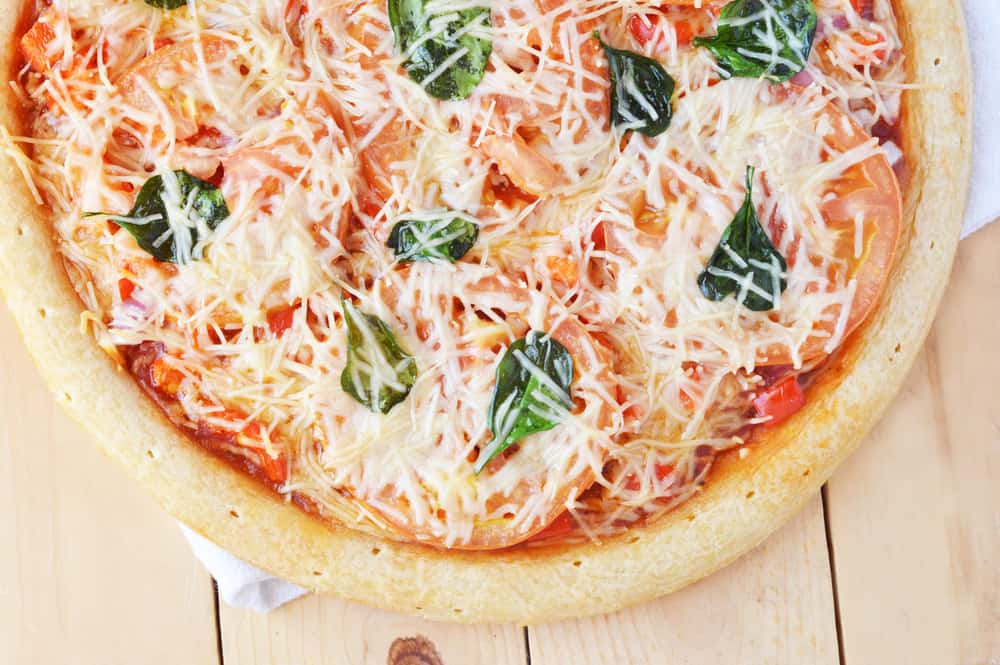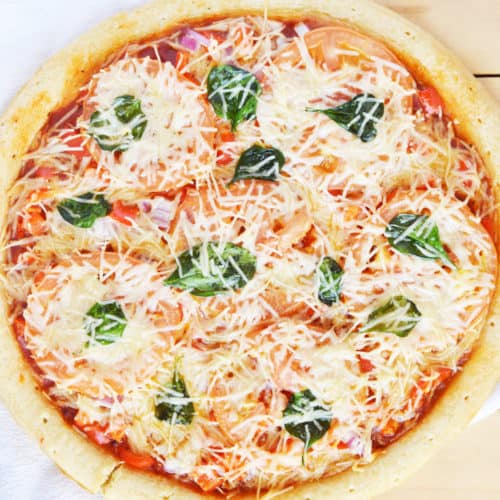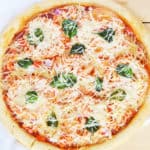 Print Recipe
Homemade Healthy Vegetarian Pizza
Nutritional Info Per Serving (1 serving = 1 slice): 190 Calories, 4.4g Fat (1.8g Saturated), 820.7mg Sodium, 30.4g Carbs, 3.3g Fiber, 0.7g Sugar, 8.1g Protein
Ingredients
1

bag

Fresh Whole Wheat Pizza Dough

Like from Trader Joe's

1

10oz container

Pizza Sauce

1-2

yellow, orange or red bell peppers

diced

1/2

red onion

diced

2

cups

baby spinach leaves

chopped

1

tomato

cut into thin slices

2

cloves

garlic

minced

1

cup

grated Parmesan cheese
Instructions
Preheat oven to 450 degrees

Lightly spray a pizza pan with cooking spray - use as the base to spread out the dough. One tip for spreading out the dough - don't try to use a rolling pin if you're using the Trader Joes dough! Use your hands (sprinkle flour on the dough and on your hands), knead it, and then spread it with the palms of your hands.

Once the dough is spread out, top with pizza sauce

Sprinkle garlic, red pepper, onion and tomato slices over the sauce

Top with grated Parmesan and spinach leaves

Bake in the oven for 10-12 min until the crust is golden brown and the cheese is bubbling/slightly golden
Nutrition
35 responses to "Lightened-Up Homemade Vegetarian Pizza"