HiPP Goat Milk Formula Review
This post may contain affiliate links. As an Amazon Associate, I earn from qualifying purchases. Please read my disclosure.
This in-depth guide will help you learn everything you need to know about one of the newest organic formulas on the market: HiPP Goat Milk Formula! You'll learn more about what HiPP Goat is, what the benefits are, how it compares to other organic baby formulas, and where you can find & buy it!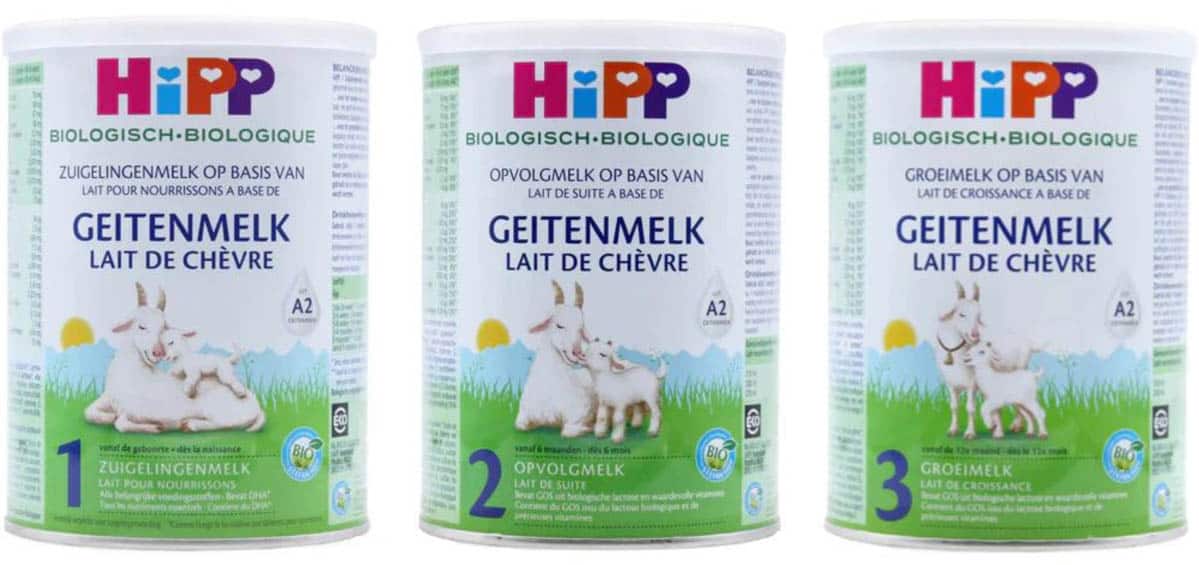 If your little one shows signs of a sensitivity or allergy to cow's milk, finding the right formula can be a challenge. While many of the US formulas found on the shelves are made from cow's milk, goat milk formula is becoming more readily available.
We all want the best for our kids, which sometimes means spending countless hours on the internet searching for the best option for a formula that doesn't upset our baby's digestive tract. Luckily for you, I've done the research for you!
HiPP goat milk formula is one of the best formula options for babies with lactose intolerance. Why? Well, HiPP is known for producing only the best when it comes to baby formula, and this goat milk variation is their best alternative to cow's milk formula.
This helpful guide will cover the good, the bad, and everything else you need to know about this organic goat milk formula. By the time you've finished reading, you will know whether this formula is right for your baby.
What Is HiPP Goat Milk Baby Formula?
HiPP Goat Milk Baby Formula is a goat milk-based formula that caters to babies with lactose intolerance, cow's milk allergies, or sensitive tummies. Coming in three different stages (infant, six months, and one year), HiPP baby formulas are designed to nurture your little one through their first year of life. HiPP Goat Milk is made in the Netherlands, and HiPP is one of the most trustworthy, oldest brands of European formulas available throughout Europe today.
What Ingredients Are In HiPP Goat Infant Formula?
Because HiPP goat milk formula is made for babies with either a cow's milk intolerance or a lactose intolerance, it uses goat's milk instead of the traditional cow milk. Additionally, HiPP formulas use organic ingredients that include vegetable oils (sunflower oil, palm oil, and rapeseed oil), goat milk powder, and a plethora of beneficial vitamins and minerals.
The Official Ingredients List For HiPP Goat Is:
Goat's milk, lactose, vegetable oils* (palm oil, rapeseed oil, sunflower oil), goat's milk powder, galacto-oligosaccharides* from lactose*, fish oil, choline, calcium carbonate, Mortierella alpina oil, L-tyrosine, sodium citrate, vitamin C, L-tryptophan, L-cystine, zinc sulfate, iron sulfate, copper sulfate, niacin (nicotinamide), pantothenic acid (calcium D-pantothenate), vitamin E, vitamin A, vitamin B, vitamin B6, folic acid, vitamin K, Potassium Iodide, Sodium Selenite, Vitamin D, D-Biotin, Vitamin B12.
What Is the Difference Between Goat Milk and Cow Milk Formula?
Wondering about the difference between a goat's milk and cow milk formula? Well, aside from the source, goat milk formula contains strictly A2 protein. While cow's milk contains A1 beta-casein proteins (aka the kind that tends to upset babies' sensitive stomachs), goat milk contains none of it.
HiPP goat-milk formulas also contain:
Tons of essential (and non-synthetic) vitamins and minerals
Prebiotics to support gut health 
No soy or added sugar (!) 
No GMOs, reflecting European formulas' strict standards for organic farming
Lots of omega-3 (DHA and ALA) supporting brain and nerve cell development. Learn more about brain vitamins for kids in my complete article.
Is Goat Milk Formula Healthier Than Cow Milk Formula?
Both formula types are healthy and nutritious for your baby as long as they are not allergic or sensitive to dairy. Goat milk is higher in some vitamins and minerals, while cow's milk has more folic acid and vitamin B12.
That being said, most formulas are fortified to include the necessary batch of vitamins and minerals to mimic breast milk. So, if you're looking for a high-quality formula that is bursting with good-for-you ingredients, you can't go wrong with either HiPP or Holle formulas.
What Should You Look For When Buying The Best Infant Formula?
Want to buy the best baby formula for your little one? When selecting your infant formula, I always suggest looking for organic standards. With organic baby formula, you can rest assured that it will be free from GMOs and additives. I am especially fond of European and German baby formulas, as they hold their organic farms to the highest standards. All European organic products contain a minimum of 95% organic materials.
Another thing to look out for when choosing the right formula is your baby's tolerability. If your baby is lactose intolerant or has dairy allergies, you'll want to select a formula with ingredients that won't upset their stomach. In this case, goat milk formula is a fantastic hypoallergenic alternative to regular cow's milk formula.
What Ingredients Should You Avoid?
When it comes to choosing a safe baby formula, it's as much about the bad stuff as it is about the good stuff. If you're on the hunt for the best baby formula, I recommend avoiding formulas that contain the following:
Non-organic ingredients. While an organic label alone won't make infant formula healthy, organic ingredients are always a good start. Traditional formulas may contain trace amounts of pesticides, but you won't have to worry about that with organic milk formula.
Soy. Soy formula is generally only recommended if your baby has a dairy intolerance. Because it is produced with hydrogen cyanide and other air pollutants, it is prohibited in organic European baby formulas.
Added Sugar: Ingredients like corn syrup, syrup solids, sugar, sucrose, glucose syrup, brown rice syrup, etc. are a lower quality carbohydrate than lactose (which is the carbohydrate found in breastmilk).
Preservatives. Some American formulas sneak synthetic preservatives into the oils in their formulas to prevent them from spoiling.
What Makes HiPP Goat's Milk Formula Different From Other Brands?
So, is HiPP goat baby formula really all that different from other popular brands? The answer is yes. When it comes to organic European baby formulas, HiPP's formula and Holle goat milk formula reign supreme. However, there are a few aspects that set HiPP goat organic formula apart from the rest.
HiPP is recognized within the industry as a goat milk formula with helpful additives (aka prebiotics) that maintain your baby's health. What do I mean by this? HiPP formula goat milk contains inositol, while Holle baby formula lacks it.
Unlike other carbohydrates, inositol isn't digested and used for energy but instead is absorbed and used as a building block for other compounds. Additionally, HiPP's organic goat milk contains galactooligosaccharides (GOS), which are short-chain galactoses that serve as an added benefit for developing Bifidobacteria and other healthy gut flora.
Now, there are several reasons why HiPP goat milk infant formula is one of the best organic formulas for your little one. Aside from being totally delicious (or so I've heard), there are several added benefits:
Highly digestible. HiPP's formula is easily digested by babies with sensitive stomachs. Not only that, but it aids constipation, bloating, gas, diarrhea, and vomiting.
EU certified organic. As a parent, you can trust that your baby is consuming 100% organic ingredients that are high-quality, wholesome, and free from GMOs and man-made additives.
Nutritionally complete. HiPP formula contains all the essential nutrients for a growing baby (vitamin A, vitamin E, vitamin B, vitamin D, vitamin K, Omega-3 fatty acids, prebiotic GOS, calcium, and LCPs). Additionally, lactose is the primary protein/sweetener – no added sugar here!
No heavy metals. Rest assured, new parents, HiPP has got your baby's health at the forefront of their minds – their formulas are tested for heavy metals and are screened rigorously before coming to market.
Cons: HiPP Goat Milk Formula
While HiPP organic goat milk formula is a great option for babies who are allergic to cow's milk, there are a few cons to be aware of:
Contains palm oil. Some studies link palm oil to reducing bone density or even some tummy troubles, which makes it a concern for some parents. While both HiPP and Holle formula contain trace amounts of it, the amount isn't high enough to cause harm to your baby.
Not widely available. Right now, you can only purchase this organic goat milk infant formula online via Organic Formula Shop.
Pricey. While HiPP is a terrific, high-quality option for organic goat milk formula, it is a bit pricey for some families.
Not a true hypoallergenic formula. While HiPP Goat Milk Formula is more hypoallergenic than all cow's milk formulas, due to the more easily digestible A2 milk proteins that goat milk contains, it's still not a hydrolyzed or hypoallergenic formula, so it may not work for children with severe cow's milk protein allergies. In that case, you'd want to try a formula like Hipp Hypoallergenic (also known as Hipp HA Combiotik) instead.
Goat Milk Formula FAQs
Below are the answers to some of the most frequently asked questions about goat milk formulas:
What are the benefits of goat milk formula?
The main benefit of goat milk formula is that it contains only A2 milk proteins, which are easier for little tummies to digest. Additionally HiPP Goat is a wonderful option because it contains no synthetic hormones, contains less lactose than cow's milk formula, is chock-full of essential nutrients (like Vitamin C — cow's milk has none), and boosts the immune system.
Is goat milk formula similar to breast milk?
While cow's milk formula is the most widely-used alternative to breast milk, goat milk is actually considered to be a closer match, as long as the whey:casein ratio in the formula is created to mimic breastmilk. This is partially due to the A2 milk proteins, and the naturally occurring prebiotic oligosaccharides.
Are goat milk formulas FDA approved?
Goat milk formulas for infants are not yet approved by the Federal Drug Administration (FDA) in the United States, but they are approved in the European Union. Many goat milk formulas will meet the nutritional requirements for growing infants, but as with any formula, be sure to get your pediatrician's approval before starting a new formula for your baby.
At what age can you give your baby goat milk?
Goat milk formulas are safe to consume from birth to 12 months of age. However, you should avoid feeding your baby fresh goat's milk (as well as any other pure milk / cow's milk that isn't a formula or breast milk) until they are at least one year old.
Is goat milk formula easier to digest?
Yes! Many parents will opt for goat milk formulas when their little ones are allergic or sensitive to cow's milk. Because goat milk contains less allergenic proteins than cow milk, the former is a hypoallergenic formula option that is less harsh on babies' tummies.
How Does HiPP Goat Milk Formula Compare to holle goat stage 1?
I have heard that Holle Goat (all stages) tends to constipate babies more than HiPP Goat, because the whey casein ratio is not as close to breastmilk as HiPP Goat's is. So while most of the ingredients are comparable, the anecdotal evidence is that HiPP Goat is easier to digest than Holle Goat.
Where Can I Buy HiPP Goat's Milk Formula?
Ready to take the plunge and start your baby on HiPP's goat milk formula? Because it is a European-based formula, these products are only available for purchase online through organic baby food retailers.
Right now, the only reputable distributor (with excellent customer service!) that I have found for HiPP goat formula is Organic Formula Shop. Organic Formula Shop is a family run company that delivers HiPP and Holle Bio formula straight from the Netherlands, which prevents the formula from being stored at multiple warehouses.
Organic Formula Shop was founded by two Dutch parents who both lived and worked in the US and Canada. While raising their families they realized there was a big difference in quality between the European and North American produced formulas. Their mission is to be able to provide parents in the US with the best formula options for their children!
Which Stage of Formula Is Best For My Child?
HiPP stages their formula according to the age of your baby because the nutritional complexity of breast milk changes to meet babies' needs as they age. The HiPP Dutch Goat stages are designed to reflect that. The stage of formula required by your child will depend on whether they are a newborn, infant, or somewhere in between.
This top-of-the-line formula is designed to help support your baby's nutritional needs from birth up to six months of age. It contains only A2 beta-casein, so it is gentle on tiny tummies. If your baby has a mild allergic reaction to regular milk or simply doesn't tolerate traditional formulas, this stage 1 formula is a great place to start.
HiPP stage 2 is ideal for babies six months and older who have already been on the stage 1 formula. Of course, it is also a good option for babies switching from a different formula brand or trying formula for the first time.
Designed to support your growing baby's nutritional needs, this formula can be used alongside breastfeeding or as a meal substitute for breast milk. Just like stage 1, this formula contains only A2 beta-casein and is full of essential vitamins and nutrients.
HiPP goat milk toddler formula is ideal for use by young ones at 12 months of age and onward. Packed with necessary vitamins and nutrients, this formula is perfect for growing infants who are reaching toddlerhood. As you can probably imagine, stage 3 is a terrific follow-up to HiPP stages 1 and 2 and can be used after age 1.
Final Thoughts
As a mom of two young kids, I understand how difficult it can be to select the best formula for your child. I hope that this review of HiPP Goat Milk Formula was helpful for those of you who may be considering a switch to goat milk formula. If you're looking for more information on bottle feeding in general, this guide will help. And if you're looking for more information about the best ingredients, brands, and healthy tips for your children, be sure to check out the Best for Kids section of my blog! And if you have any questions, please leave a comment below – I respond to every question I get!
2 responses to "HiPP Goat Milk Formula Review"