Löwenzahn Formula (Alternative Baby Formula Review)
This post may contain affiliate links. As an Amazon Associate, I earn from qualifying purchases. Please read my disclosure.
Löwenzahn formula is a European alternative baby formula created by German parents. Using the latest nutritional science, selective organic ingredients, and emphasizing the transparency of their production practices, Löwenzahn is a baby formula worth considering for your child. In this honest review I explain how this formula compares to other brands, the ingredients, the pros, and the cons, so that you can decide if this is the best baby formula for your child.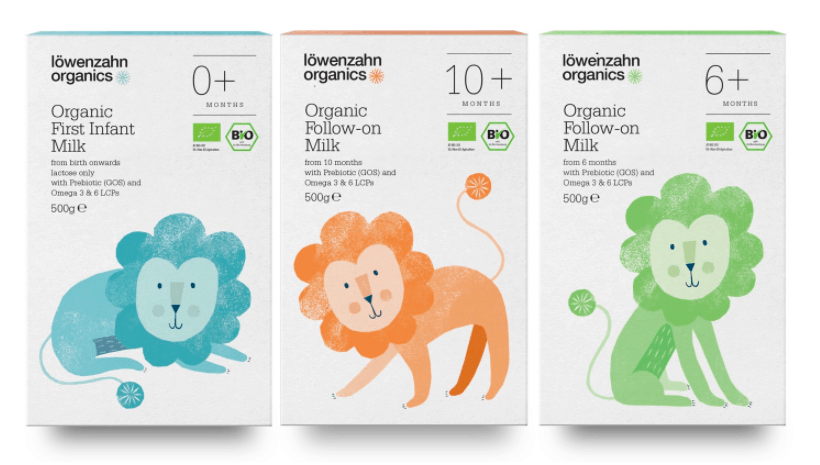 There is a wide range of the best organic baby formulas on the market today. The options and brands have expanded widely since I first started looking for the best formula for my daughter years back.
Commercial formula comes in many forms including soy formula, goat milk formula, hypoallergenic formulas, and more. When looking for milk alternatives, you want to be sure to give your child the best, as some infants have an allergic reaction to milk protein.
According to the American Academy of Pediatrics, having a cow's milk protein allergy accounts for one fifth of all food allergies. As your children grow older there are many safe milk alternatives if your child has lactose intolerance including soy milk, rice milk, coconut milk, hemp milk, oat milk, almond milk, and more!
But the first year of life for your child is such an important time of growth and development, that finding the best formula for your child that meets all of their needs can be a challenge.
While the best options for organic and traditional infant formulas has expanded, it can leave with you more questions than answers as you decide which is the right one for your child.
A new alternative baby formula has hit the market! Löwenzahn Organics is receiving positive reviews and feedback from parents around the world. This German made European baby formula is worth a look and your consideration as you make the choice for the best formula for your child. If you are wondering if Löwenzahn formula is worth the buzz, and meets the standards of a healthy organic formula, this post is for you!
What Is Löwenzahn Organic Infant Formula?
Lowenzahn organics baby formula was founded in 2017 by two German moms who wanted to produce a healthy, sustainable, organic, alternative baby formula. After researching formulas in the EU they felt they could not find a formula that was both produced in an ecologically fair manner and met the latest scientific findings for composition and health for infants.
Working with nutritionists and scientists for over two years, they came up with a formula that met their needs.
Löwenzahn organics formulas come in three different stages (Pre, Stage 2, and Stage 3). Löwenzahn Organics Pre is for children from birth to 6 months of age. Stage 2 is their next formula for ages 6-10 months, and Stage 3 is appropriate from 10 months to one year of age and beyond.
Löwenzahn (bio pre anfangmilch) uses ingredients, and scientific findings, to develop an age appropriate formula that meets the specific nutritional needs of your child for each stage of development.
This European formula brand is organic and meets the EU organic certified guidelines. The EU has stricter guidelines when it comes to sourcing organic ingredients than the United States. This means that all of the ingredients are responsibly sourced, have no genetically modified ingredients, and no pesticides of any sort.
They make both a cow's milk based formula, and a goat's milk based formula.
What Makes It Different From Other Brands?
Transparency of Production: If you want to know where every ingredient comes from and is sourced, you're in luck! On each package of formula is a code you can scan that will provide you with information about where the raw materials used for production are from so that you can trace the ingredients.
Focus on Gut Health: A healthy gut is imperative to a strong immune system and infant development, especially in the first 1,000 days of life. Their formulas are composed of high-quality raw materials in an optimal composition to support infant gut health.
Added Prebiotics: Prebiotics are found in breastmilk, and so it was important to the developers of Löwenzahn to have added prebiotics in their formula. Prebiotics nourish the good bacteria in the intestines which in turn supports a healthy immune system.
Developed by Parents: Unlike some other brands, Löwenzahn was developed by parents in accordance with nutritionists, and scientists to bring to you a quality formula without compromise.
What Alternative Milks Are Available For Baby Formula?
While there are lots of different types of formula, there are limited options if you're looking for cow's milk alternative formula for your baby. For vegan parents who are raising a vegan child, your best bet might be a soy milk formula (although that comes with other issues as too much soy in infancy may be linked to adverse effects later in life).
If you are formula feeding, I don't recommend using homemade baby formula, or using an alternative milk (like almond, coconut, oat, etc.) for your baby. Both of those options leave your baby at risk of malnutrition / nutrient deficiencies. Homemade formula recipes leave too much room for individual error, and plant based milk alternatives are not a good replacement for human breast milk or baby formula as they have a completely different nutritional profile.
The safest and best choice for most babies are either cow milk or goat's milk formulas – unless your baby has a cow's milk allergy, in which case going with a hypoallergenic formula or lactose-free formula is a good choice.
And of the cow's milk formulas, Löwenzahn Formula is one of the best options you can find!
Where Can I Find And Buy Löwenzahn Formula?
There is only one reputable online retailer who sells Löwenzahn Formula and that is Organic's Best Shop! They are based in Germany, and are passionate about making the highest quality organic baby formula and baby food available internationally (to any family who wants it!) They also carry HiPP Dutch, HiPP Germany, HiPP UK, Holle, Lebenswert, and Loulouka.
One thing that makes this company unique is that they have free shipping internationally, and they will guarantee express delivery between 1-4 business days to the US. Additionally, every new customer also receives two free boxes of formula! They have low prices, include free shipping insurance for every order, and they guarantee availability of all formulas – so you never have to worry about your favorites being out of stock! They are one of the most reliable online retailers for European baby formula that I've found!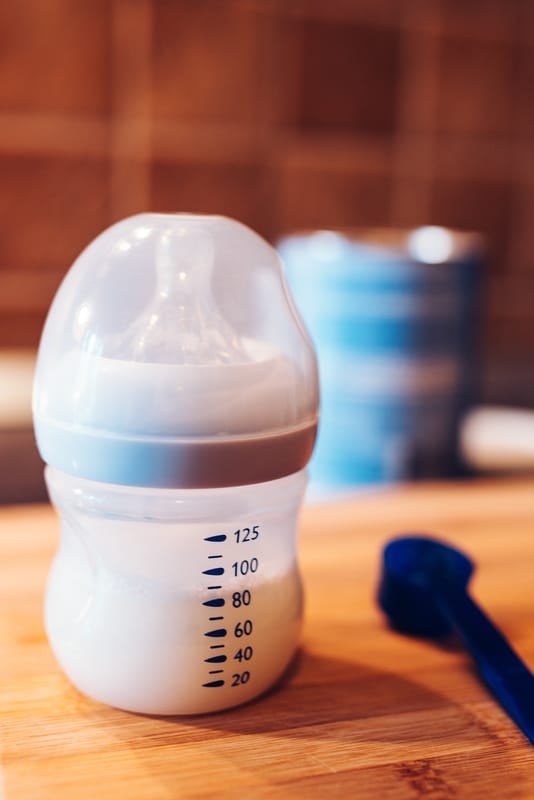 What Ingredients Are Included Lowenzahn Formula?
There are three different stages of formula, each with a slightly different main ingredients. See below for the specifics about each type of formula. However, their formulas do have the following in common.
Prebiotics (GOS): Prebiotic galacto-oligosaccharides (GOS) is added to serve as food for the good bacteria in the gut to improve digestion, and support a healthy immune system.
DHA/ARA: DHA and ARA are long-chain, polyunsaturated fatty acids. They help to contribute to healthy brain development, motor skills, and eye health.
Lactose: The main source of carbohydrates in all of the infant milk formula. It is easy to digest.
Essential Fatty Acids: Added sunflower oil and rapeseed oil are added to the formula because baby cannon produce their own fatty acids: α-linolenic acid and linoleic acid.
What Ingredients Are Excluded?
No Fish Oil: Plant-based oil from algae not only tastes better, but is also better for the environment. Other European brands use fish oil to add DHA and ARA. For those that follow a vegan diet or vegetarian lifestyle this elimination can be quite appealing. However, there is some controversy regarding M. Alpina Oil, which is the oil added from algae. In some cases hexane is used to extract these oils, and has been linked to diarrhea and other gastrointestinal issues.
Non-GMO: Only high quality organic materials are used.
No Pesticides: You can rest assured that there is no pesticide use in the ingredients added to their formula which minimizes the risk of a disruption to the immune system.
No Corn Syrup: Used in some formulas as a cheap form of carbohydrates, corn syrup is high on the glycemic index. The EU limits the use of corn syrup in baby formulas, and bans the use of corn syrup solids in organic formula.
No Soy: Soy isoflavones are often believed to negatively affect a baby's sexual, immune, or brain development, and has been linked to a higher risk of endometriosis.
No Added Sugar: You won't find any added sugar to increase the carbohydrates of the formula. Instead, you'll find lactose which is easily digestible.
Vitamin E
Vitamin C
Potassium Chloride
Calcium Carbonate
Magnesium
Chloride Sodium
Chloride Pantothenic Acid
Vitamin B6
Vitamin A
Copper Sulfate
Zinc Sulfate
Calcium Chloride
Manganese Sulfate
Microalgae Oil
Vitamin B3
Vitamin D
Vitamin B12
Vitamin K1
How Does Löwenzahn Formula Compare To Other Organic Formula Brands?
Holle is also an organic European baby formula made with sustainably sourced ingredients. It's free of added sugars, GMO ingredients, starch, soy, and synthetic nutrients and preservatives. It does not have added pre/probiotics, or ARA. However, it does have DHA in the form of fish oil. (Learn More: Holle Formula Review).
Löwenzahn also comes from sustainably sourced organic ingredients, but it does have added prebiotics, as well as DHA and ARA in the form of algae oil.
Lebenswert has the appropriate whey-to-casein ratio. It's free of added sugars, GMO ingredients, starch, soy, and synthetic nutrients and preservatives. It contains DHA in the form of fish oil, but it does not have ARA or pre/probiotics.
Löwenzahn on the other hand, has ARA, and prebiotics so you do not need to supplement your infant with anything else.
It has high quality formula ingredients including: a whey-to-casein ratio that mimics breast milk, uses vegetable oils for fat, contains prebiotics and probiotics, and contains DHA/ARA. It's also free of GMO ingredients, added sugars, starch, soy, and synthetic nutrients and preservatives.
Loulouka uses skimmed milk and contains no soy or palm oil! It's made in Switzerland and is the best option for parents who want a formula with DHA and prebiotics added (and are ok with supplementing with ARA/probiotics separately). Loulouka is also free of added sugars, GMO ingredients, starch, and synthetic nutrients and preservatives.
Pros: What I Like About This Alternative Formula
A European organic baby formula, meets strict European Union standards
Contains essential nutrients
Transparent about the production process, traceable organic products
Made with organic skim milk as the primary carbohydrate
Ingredients are sustainably sourced.
One of the best organic baby formulas you can find
Meets USDA, FDA (Food and Drug Administration), and European nutrition standards
No artificial ingredients
Gluten-Free
Soy Free
A great alternative baby formula if you are struggling to find a good fit for your child
Added omega-3 fatty acids (DHA) in the form of algae oil (mortierella alpina oil and c. cohnii oil). Their omega-3 source is vegetarian, which is a plus!
Added omega-6 fatty acids (ARA)
Added prebiotics in the form of GOS
Gentle on baby's tummy
Contains extra calcium
Added folic acid
Cons: Other Things To Consider
Uses palm oil in their oil mixture, which can cause some babies to inadequately absorb fat and calcium which results in lower bone density. (Learn more: Palm Oil In Baby Formula)
Maltodextrin is included in the formula for Stage 2 and Stage 3. It is used as a thickening agent. It is made from corn, however it is high in the glycemic index.
No probiotics included in their formula which also helps with balance of bacteria in the intestines.
Use of C. Cohnii Oil and M. Alpina Oil for added DHA and ARA. While these algae oils are vegetarian friendly, there is some controversy about the way they are extracted, and whether they increase gastrointestinal issues.
Added Starch: In the Stage 2 and Stage 3 formulas, there is added starch which is high in the glycemic index. It is used to supplement lactose in Stage 2, but it is used to replace lactose in Stage 3.
What Are The Differences Between Stage Pre, 2, And 3 Löwenzahn Formula?
Löwenzahn Organics goes beyond EU, and US requirements to include Omega fatty acids, amino acids, inositol, choline, and prebiotics. Sourcing from farms in Europe with organic farming practices and organic agriculture ensures the high quality of their organic infant formulas and toddler formulas.
Stage Pre is made with only lactose as it's form of carbohydrates. It has more choline and inositol than the other two stages. In addition, the vitamins and minerals come from slightly different sources. It has added prebiotics, omega-3 fatty acids, and DHA and ARA. It is meant for infants from 0-6 months, is free of soy products, and the composition of the formula is made for infants at this very important developmental stage.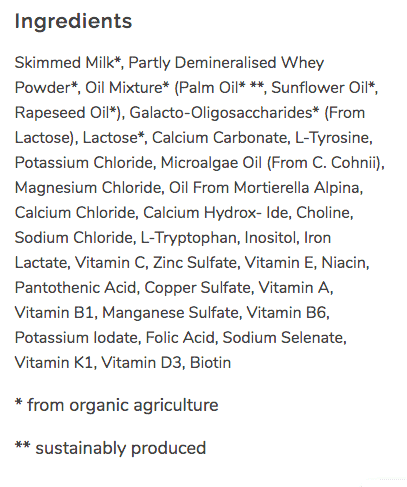 Stage 2 Ingredients
In Stage 2, some of the lactose has been removed and replaced with maltodextrin and starch. Stage 2 also removes choline and inositol. However, there are still vitamins and nutrients in Stage 2 that are in Stage Pre, and it includes prebiotics, omega-3 fatty acids, DHA and ARA.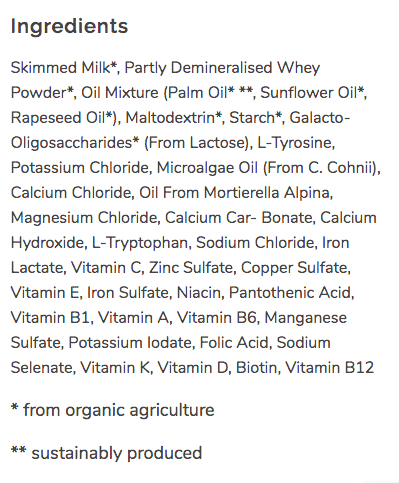 Stage 3 removes all of the lactose and replaces it with maltodextrin and starch as the form of carbohydrates. The combination of milk and whey powder still provide lactose in the recommended ratio. The removal of lactose is therefore about 10% less than Stage 2, and 20% less than Stage Pre.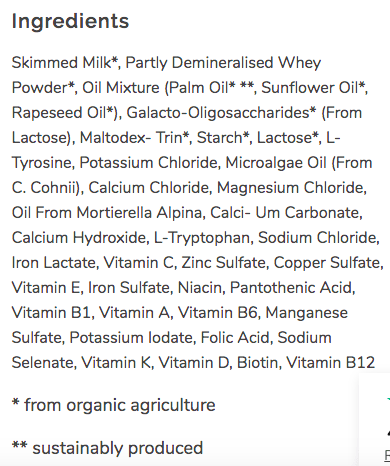 Is Löwenzahn Formula Right For My Child?
If you are looking for a quality organic European baby formula that provides prebiotics, omega-3 and omega-6 fatty acids, as well as DHA and ARA in plant form, this may be the formula for your child.
Their ingredients are sustainably sources and completely trackable through a code you can scan on your box that will tell you exactly where each ingredient is sources and the production process.
It meets the US, and EU standards for nutritional content, and goes above and beyond US organic guidelines, ensuring that each ingredient is pesticide free, and non-GMO.
If your child is starting with Stage Pre, it has all of the nutritional content needed, and none of the junk!
Stage 2 and Stage 3 lose some nutritional content. This is partly because they do not need as much as they get older, and begin eating solid foods. However, it may be a concerns that both Stage 2 and Stage 2 remove lactose, and instead add maltodextrin and starch for its carbohydrate profile.
More Informative Baby Formula Guides!
I hope you found this alternative baby formula review for Löwenzahn helpful. If you have any questions, please comment below. You can also FOLLOW ME on FACEBOOK, TWITTER, INSTAGRAM, and PINTEREST to see more delicious, healthy, family-friendly food!
2 responses to "Löwenzahn Formula (Alternative Baby Formula Review)"