Holle Formula Review
This post may contain affiliate links. As an Amazon Associate, I earn from qualifying purchases. Please read my disclosure.
In this Holle Formula review I take an honest look at the brand, diving deep into the key points and takeaways to guide you as you search for a new baby formula. Find out what makes Holle Formula unique, what customers have to say, and the main pros and cons so that you can determine if this formula is the best fit for your child!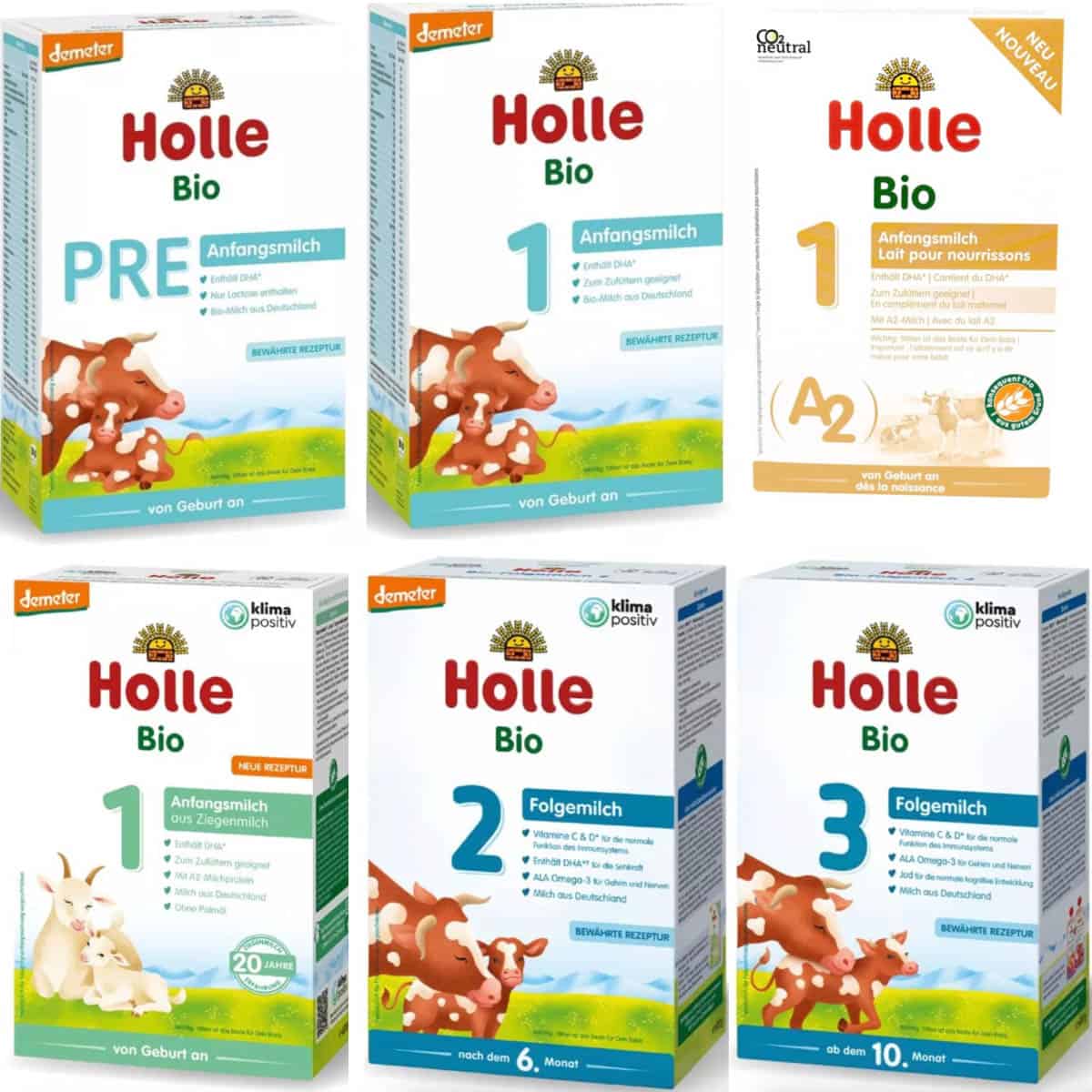 I get it, formula shopping can feel so overwhelming and confusing. There are so many different formula brands and types of formulas to pick from. It is hard to know where to start or what you even should be looking for in a formula!
As a mom of two, I know how important it is to feel knowledgeable and have peace of mind, knowing your little ones are getting the best nutrients with healthy ingredients. I hope this thorough review can help you feel confident before making your purchase.
This Holle Formula Review will cover all of the information you need to make an informed decision regarding whether or not this formula is the right choice for your baby! We will go over the types and stages of formula, nutrition requirements, where you can find the formula, and so much more!
What Is Holle Baby Formula?
To start this Holle infant formula review, let's first go over a breakdown of all the top points you should know! Holle baby formula is one of the cleanest on the market, sourcing from Demeter farms (organic & biodynamic). This is the highest organic certification in Europe.
With different stages to meet newborn age through 12+ months of age, this formula can be there to support your growing baby every step of the way. If you are not sure of the words on Holle's packaging, here is a quick translation:
Bio: Organic (organic ingredients sourced from biodynamic farms).
PRE: Contains no starch (maltodextrin, etc.), intended for newborns to 3 months of age (up to 6 months max).
Anfangsmilch: Starting Milk, intended for newborns and on.
Folgemilch: Follow-On Milk, intended for 6 months and on.
Holle's cow's milk formula contains organic skimmed milk, partially demineralized organic whey powder, organic lactose, and organic vegetable oils which include organic sunflower oil and organic rapeseed oil. It is formulated with essential vitamins and minerals to support healthy development. It also contains DHA and ARA for healthy omega 3 and 6 essential fatty acids to support brain and nervous system health.
The taste and smell is similar to breastmilk, with a natural sweetness. Most parents report that the taste is well-received and enjoyed by their little one's right away! The formula powder has a smooth texture that does not get too frothy upon mixing.
Customers love this formula thanks to the organic, simple ingredient list. Many parents have shared that they experienced a smooth transition with this formula and saw great improvements in their babies' comfort. Many report less spit up and no more tummy troubles.
On average, you'll spend around $26 per 400g box for PRE and Stage 1 formulas, while Stage 2, 3, and 4 will be $32 per 600g box.
If cow's milk formula isn't the right fit for your baby, Holle makes other formulas as well! Keep reading for my Holle A2 formula review and Holle goat formula reviews!
Featured Partner Offer
Shop Holle Organic Baby Formula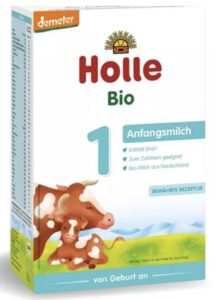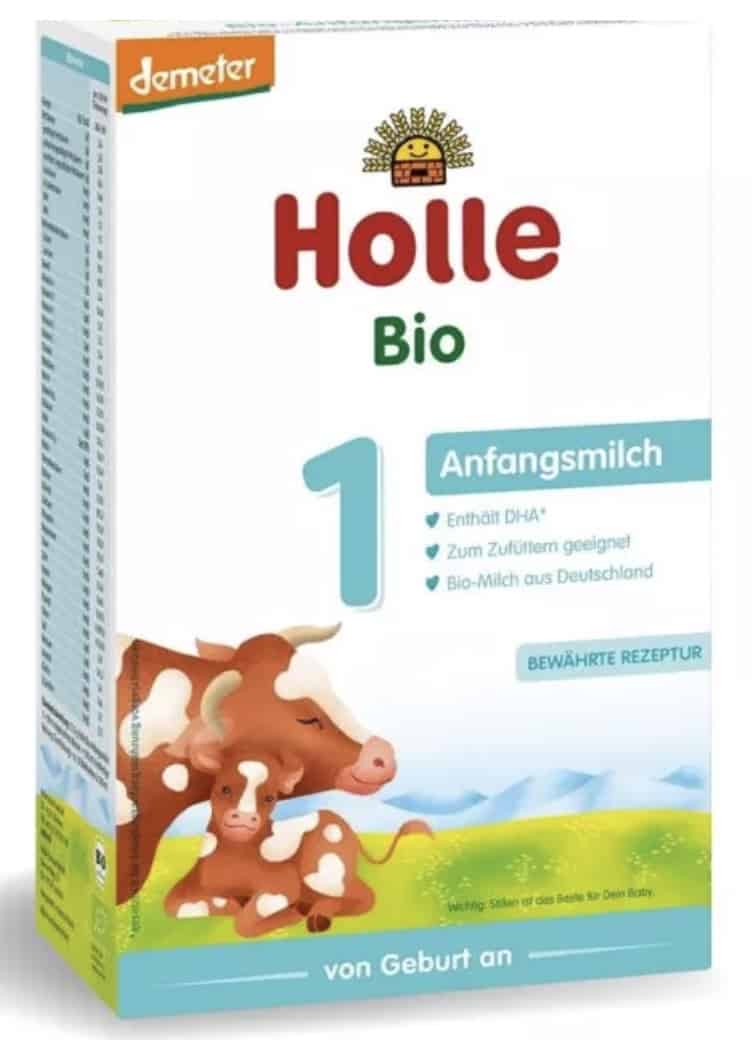 Organic, Non-GMO, Demeter certified, clean ingredients
Comes in a wide variety of options including PRE formula, toddler formula, goat milk formula, and A2 formula
EU infant formula, meets all EU regulations
No corn syrup or added sugars
Modeled after breastmilk, easy on tummies
What Are The Different Stages Of Holle Formula?
Holle offers formulas to meet requirements for different stages: Holle PRE, Stage 1, Stage 2, Stage 3, and Stage 4.
Holle PRE is designed for newborn to 6 months, while Stage 1 is also ideal for babies up to 6 months old.
Stage 2 is a follow-on formula crafted for babies 6 months and beyond, and has a little bit more iron than PRE & Stage 1.
Stage 3 is an additional follow-on formula perfect for 10 month old babies and beyond, and can be given as a standalone formula or mixed in with porridge or creamy oatmeal.
Holle's Stage 4 formula is exclusively a toddler formula meant for kids aged 1-2 years old, and is designed to meet the nutritional requirements of toddlers with a bit more calories, iron, and a different composition of vitamins and minerals compared to the other stages.
Holle Formula Ingredients
In this section of my Holle milk formula review, I'm going to walk you through the specific ingredient breakdown for each of the stages. As you'll see they are all very similar in composition, so your baby's tummy will easily adjust to each stage of formula as they grow. You will find no synthetic ingredients, as Holle's formulas meet Demeter standards! Find full Holle formula nutrition facts on their website!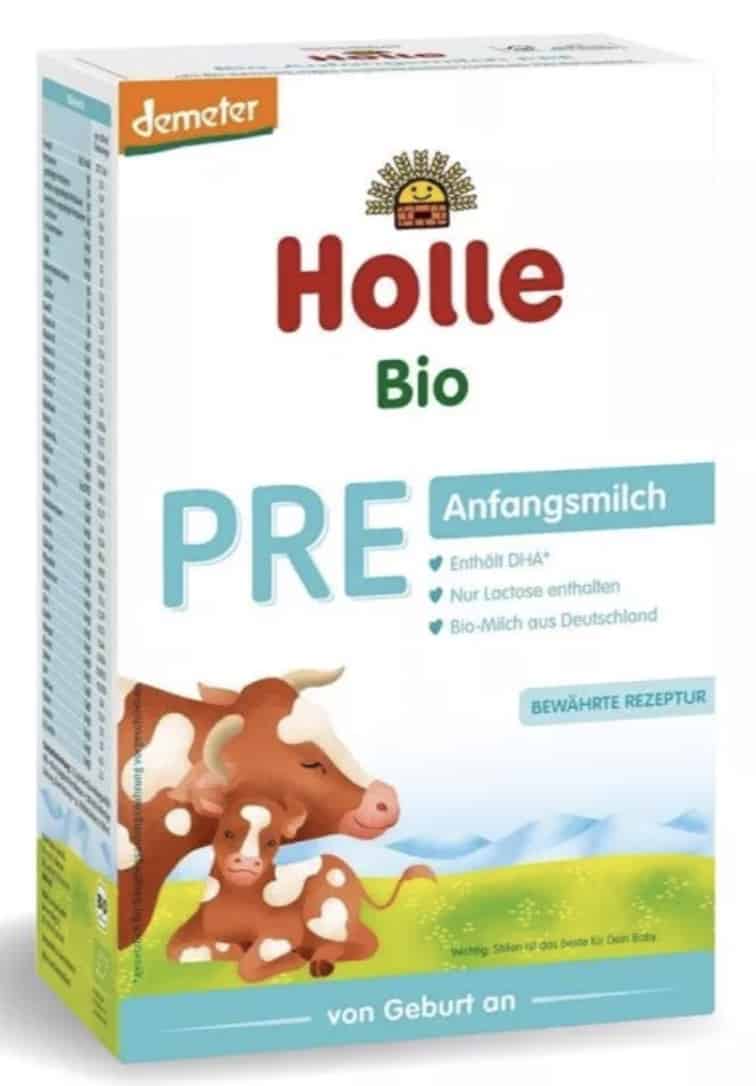 Whole milk**, whey product* (partially demineralized whey powder), lactose*, vegetable oils* (palm oil*3, sunflower oil*, rapeseed oil *), skimmed milk powder**, fish oil2, skimmed milk powder*, calcium carbonate, choline bitartrate, potassium chloride, sodium chloride, L-tyrosine, vitamin C, L-tryptophan, iron lactate, vitamin E, zinc sulfate, vitamin A, vitamin D, niacin, pantothenic acid, copper sulfate, vitamin K, folic acid, vitamin B1, vitamin B12, vitamin B6, manganese sulfate, potassium iodate, sodium selenate, biotin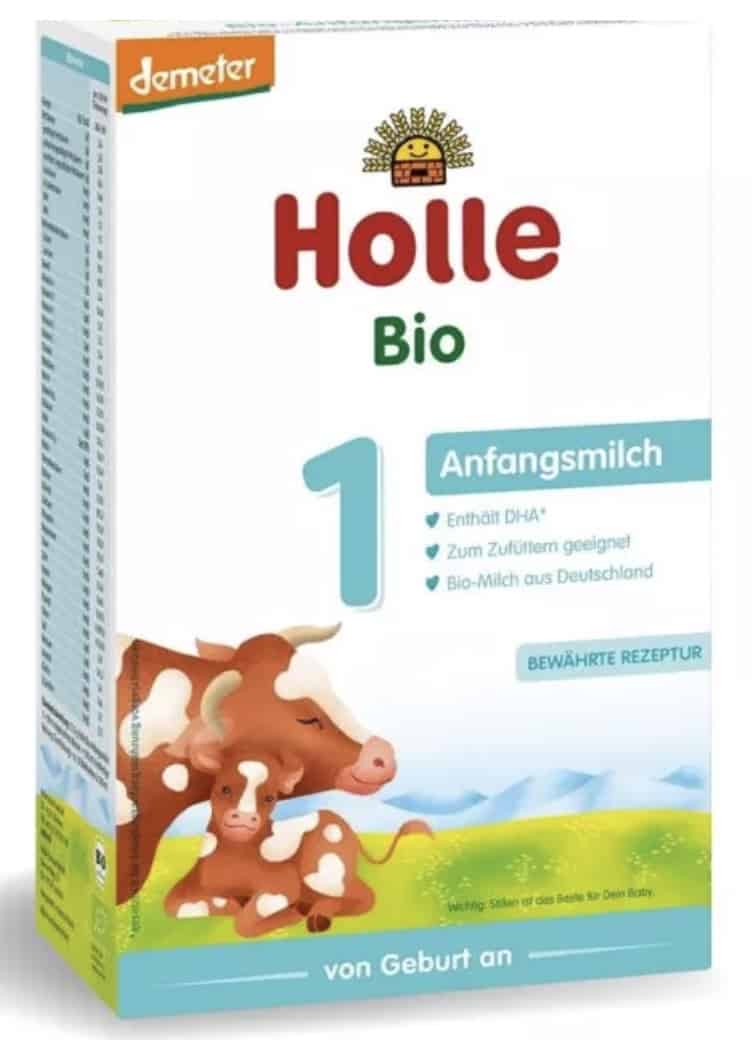 Skimmed milk**, whey powder* (partly demineralised), vegetable oils* (palm oil*3, sunflower oil*, rapeseed oil*), maltodextrin*, starch*, calcium carbonate, potassium chloride, oil from the microalgae Schizochytrium sp.2, vitamin C, calcium salts of orthophosphoric acid, L-tyrosine, potassium citrate, sodium chloride, L-tryptophan, ferrous sulphate, zinc sulphate, vitamin E, magnesium carbonate, niacin, copper sulphate, pantothenic acid, vitamin A, thiamin, vitamin B6, manganese sulphate, potassium iodide, folic acid, vitamin K, sodium selenite, vitamin D, biotin, vitamin B12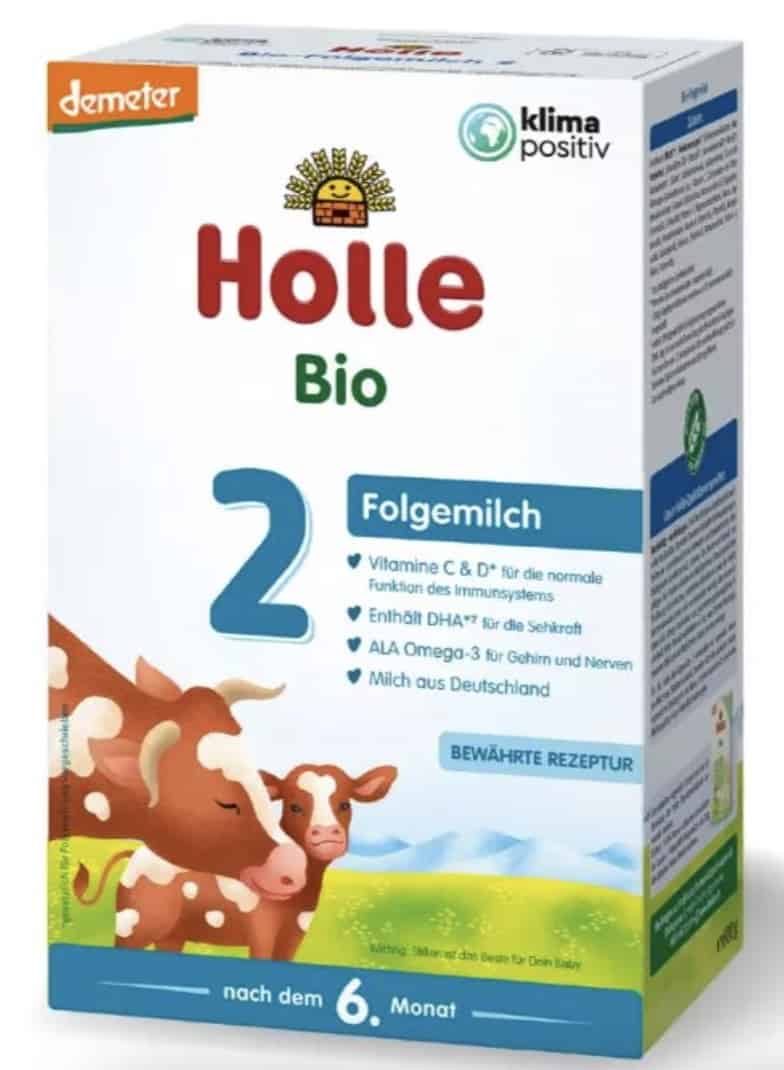 ​​Skimmed milk**, whey powder* (partly demineralised), vegetable oils* (palm oil*3, sunflower oil*, rapeseed oil*), lactose*, calcium carbonate, potassium chloride, oil from the microalgae Schizochytrium sp.2, Mortierella Alpina oil, choline bitartrate, calcium salts of orthophosphoric acid, vitamin C, L-tyrosine, sodium chloride, L-tryptophan, ferrous sulphate, zinc sulphate, vitamin E, magnesium carbonate, niacin, copper sulphate, pantothenic acid, vitamin A, thiamin, vitamin B6, manganese sulphate, potassium iodide, folic acid, sodium selenite, vitamin K, vitamin D, biotin, vitamin B12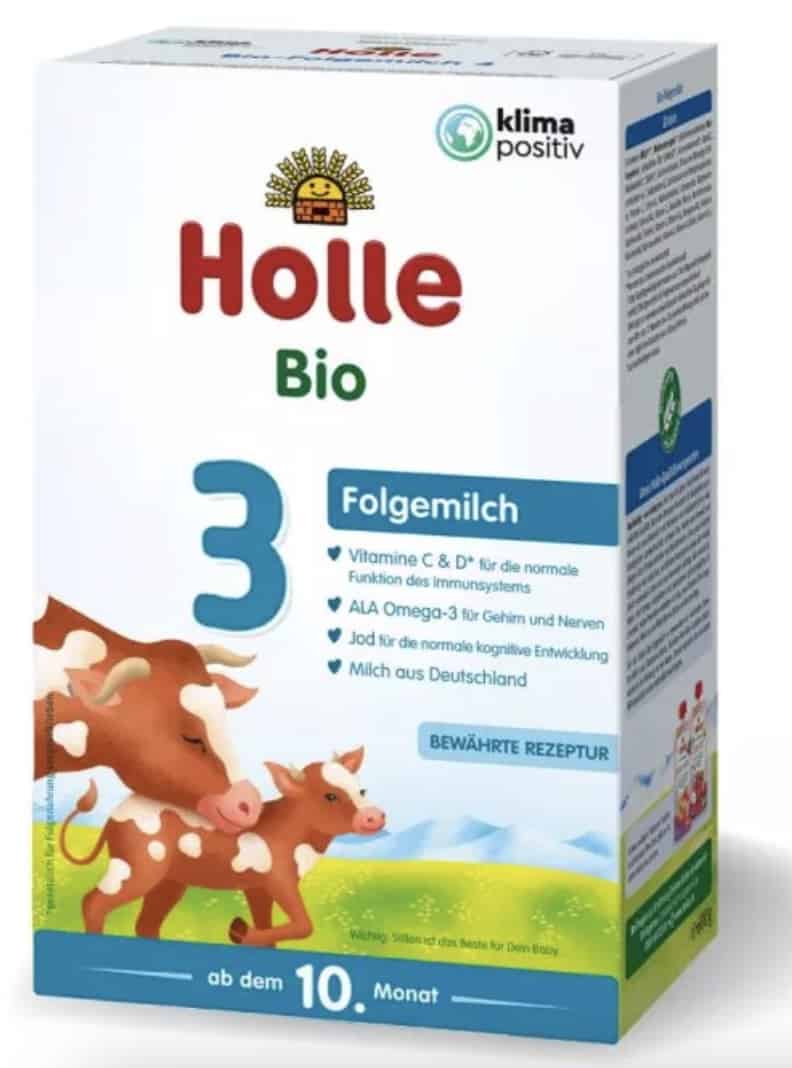 Skimmed milk**1, whey powder* (partly demineralised), vegetable oils* (palm oil*3, sunflower oil*, rapeseed oil*), maltodextrin*, starch*, calcium carbonate, potassium chloride, oil from the microalgae Schizochytrium sp.2, vitamin C, calcium salts of orthophosphoric acid, L-tyrosine, potassium citrate, sodium chloride, L-tryptophan, ferrous sulphate, zinc sulphate, vitamin E, magnesium carbonate, niacin, copper sulphate, pantothenic acid, vitamin A, thiamin, vitamin B6, manganese sulphate, potassium iodide, folic acid, vitamin K, sodium selenite, vitamin D, biotin, vitamin B12
[*] from organic farming
[**] Demeter (from biodynamic farming)
[2] contains DHA (as required by the legislation for all infant formula)
[3] from sustainable farming
Main Differences Between Holle PRE, Stage 1, 2, And 3
There are a few key differences between the stages that are important to note. First off, Holle PRE contains no maltodextrin and instead has a higher concentration of lactose as its source of carbohydrate. Second, Holle PRE formula contains whole milk, while the others use skimmed milk. Lastly, Holle PRE and Holle Bio Stage 1 are designed for birth onward, while Stage 2 is ideal to start at 6 months and Stage 3 is ideal to start at 10 months. Each has a slight difference in the amounts of each vitamin and mineral to tend to your baby's growing needs.
Does Holle Baby Formula Meet Infant Nutrition Requirements?
EU Infant Nutrition Requirements
European produced formulas are required to contain specific amounts of certain vitamins and minerals. Additionally, formulas must be free of artificial ingredients including preservatives or sweeteners. Holle meets both of these requirements! Holle formula also meets the EU requirement which states all infant formula must include DHA at ~0.33%-1.14% of total fat. On top of the strict nutrition requirements, there are also rules for the labeling of the products. They must provide detailed information on ingredients and nutrition facts.
US Infant Nutrition Requirements
In the United States, nutrition requirements look a bit different. While still being strict in some areas, overall the US has much looser regulations for baby formula compared to Europe. If breast milk is not available then an iron-fortified formula is recommended. While Holle is not as high in iron as some US baby formulas, it does meet many other US infant nutrition requirements. The FDA specifies 30 nutrients that are required to be included in baby formulas, with each nutrient having a minimum or maximum amount to be included.
What Are The EU's Organic Formula Standards?
European standards are stricter than those of the United States and ensure the best nutrition sources for your baby's formula. Holle products are non-GMO and include no added hormones and no unnecessary antibiotics. Milk is sourced from cows and goats with a 100% organic diet and each formula includes at least 95% organic ingredients, complying with the EU requirements.
Is Holle Formula Organic?
Yes, Holle Baby Formula is an organic formula, with Demeter Organic Certification which goes beyond the EU organic seal requirements. In addition to organic feed for animals and a ban on genetic engineering, synthetic chemical pesticides, ionizing radiation, and preventive use of antibiotics, Holle also adheres to rules set out by Demeter. The Demeter seal requires natural farming cycles, natural manures with compost, gentle processing and no use of chemical additives, and much more.
What Does Biodynamic And Demeter Certified Mean?
The Demeter association believes in the connection between agricultural practices and health. Demeter certified products source ingredients from organic, biodynamic farms to improve and regenerate soil health, diversify ecosystems, and prioritize animal welfare. The Demeter certification is a step up from EU organic standards, making Holle an excellent choice for your baby, the animals, and the planet!
Is Holle Formula Sustainable?
Yes! Holle makes it their mission to not only protect the environment but to also give back to nature, with sustainability as the backbone of the company. ​​They follow 6 seeds of sustainability including biodynamic agriculture practices, sustainable company management, ethical, long-term partnerships, conserving resources to protect the environment, focus on togetherness and social responsibility, and pursuing high quality standards for products.
Holle Baby Formula Customer Reviews
Most Holle infant formula reviews from parents are glowing! Parents and babies are happy with the clean ingredients, ease of mixing, and ease with which babies can digest this formula. Here's a sample of of what some parents had to say in their Holle organic formula milk reviews:
Easy On Baby
"From day one of using it with my newborn I could tell right away she no longer had tummy issues compared to other US organic brands we previously used. My baby is way less gassy and she poops so much easier now and that was my number one concern, I'm glad I have found a suitable formula for her." – Stefany
Great Product!
"I can rest easy knowing that the formula I'm giving my child is made with clean, organic ingredients! No fussiness or stomach issues have occurred." – Morgan
Amazing!!
"This formula is everything we've been looking for when we stopped breastfeeding! It didn't upset and the transition was super easy!! Would 100 percent recommend to all moms!" – Cristina
What Other Formulas Does Holle Have?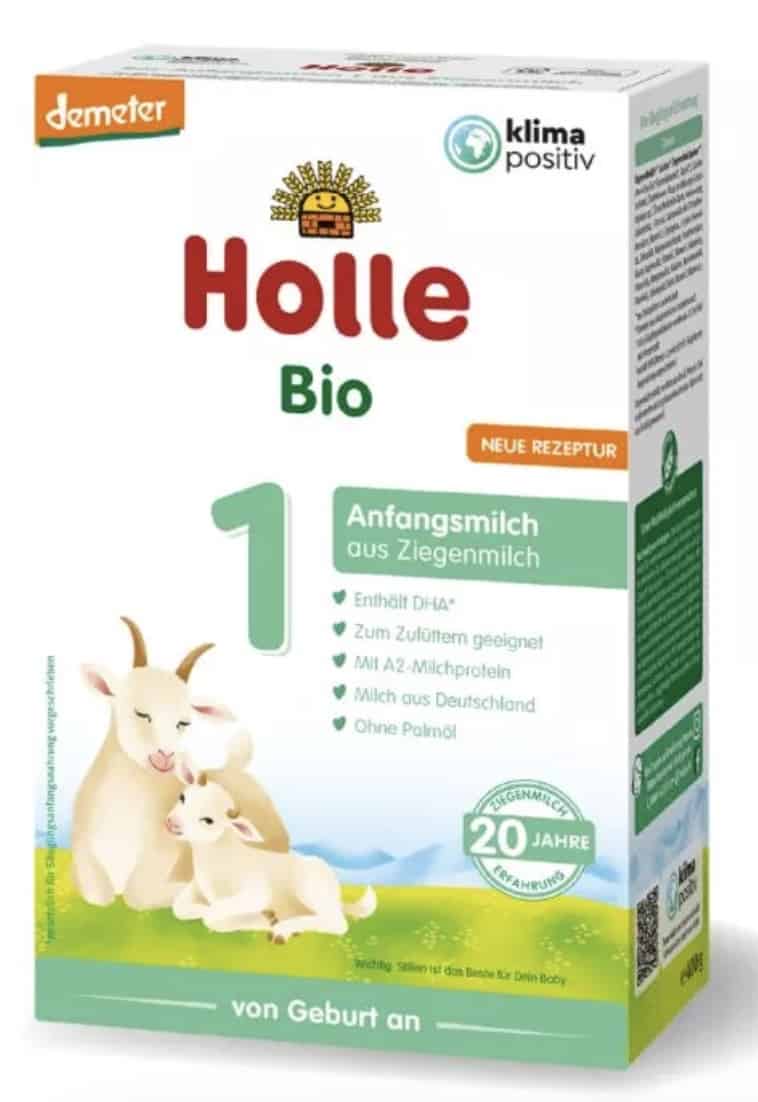 As some little one's cannot tolerate cow's milk I wanted to ensure I provided you with a Holle goat milk formula review, too! Holle offers an organic goat milk based formula with 4 stages, just like with their cow milk formula.
Their Organic Goat milk formula is made from Demeter certified, grass-fed goat milk and is suited for baby's with lactose intolerance, as the lactose levels are much lower in goat's milk. The information below mainly covers Holle goat milk formula stage 1 but the other stages are nearly identical with just minor adjustments in the balance of the formulation. They have both a German goat milk formula and a Dutch goat milk formula, the main difference between the two being the packaging (Dutch comes in a can, vs. a cardboard box).
Main Ingredients: Organic goat milk powder, organic maltodextrin, organic lactose, and organic vegetable oils are the base for this formula. It also contains vitamins and minerals, along with DHA and ARA.
Taste & Texture: This formula is pure and smooth in consistency, blending well with no chunks or smell. It does not get as frothy as some US brands when mixing. Customers have reported that it tastes slightly sweet, similar to the taste of mother's milk.
Customer Feedback: Customers share that this formula is gentle on their babies' tummies, alleviating gas and other stomach issues. They say it mixes well and appreciate the clean ingredients compared to many other formulas on the market. Some do complain of the cost, but overall they seem to think it is worth it for the high quality, organic ingredient list.
Price: $32 per 400g box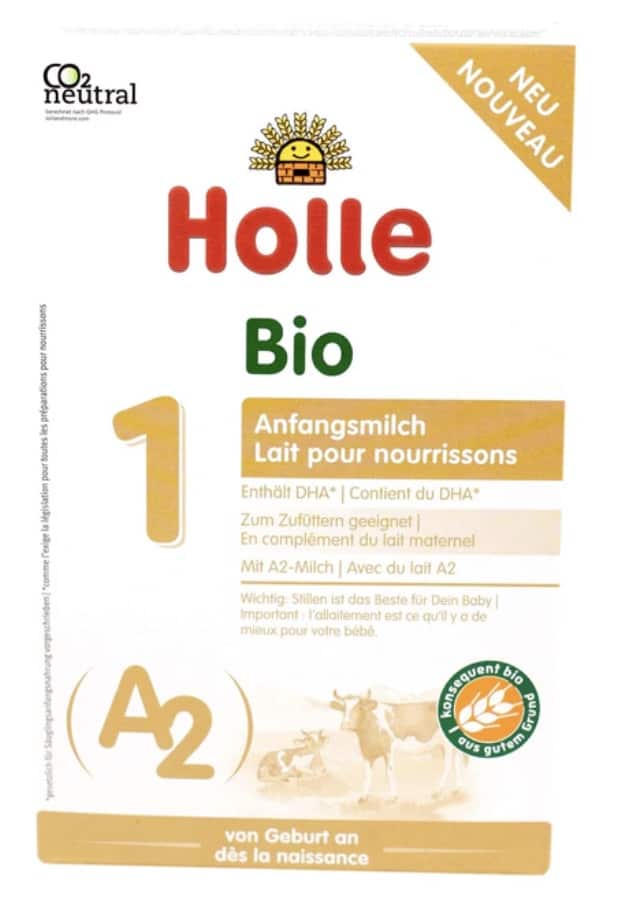 Now, let's move on to our Holle A2 formula review! Holle's A2 Cow's Milk Formula is a good choice for babies with sensitive tummies, as its formulation is closer to the natural composition of breast milk. It is EU certified organic and formulated without maltodextrin, corn syrup, or starch. It is gentle on the stomach to help alleviate digestive issues.
Main Ingredients: Skimmed A2 milk, partially demineralized whey powder, vegetable oils, and lactose make up the base for the Holle A2 formula. It includes essential vitamins, minerals, DHA, and ARA.
Taste & Texture: Holle's A2 formula mixes well and does not get frothy. It has a similar taste and texture to breastmilk, so even picky eaters tend to transition well.
Customer Feedback: Customers state that the A2 formula is soothing and super easy to digest. It has helped many babies with tummy troubles such as constipation, spit up, and gassiness. Babies seem to love the taste, and parents love the ingredients.
Price: $32 per 400g box
Holle Formula Pros: Benefits Of Holle Infant Formula
Demeter Certified Organic
No artificial sweeteners or added sugar
Free of preservatives
Non-GMO ingredients
Contains vitamin A, D, and E
Gluten-Free
Soy-Free
Short ingredients list
Contains DHA & ARA
Goat Milk option
A2 option
Holle Formula Cons: Other Things To Consider
Contains palm oil (sustainably sourced)
Most of the formulas contains maltodextrin (besides PRE & A2)
Infant formulas are only available online
Toddler formula can be hard to find in US stores
Is Holle Formula Right For My Baby?
Holle Bio Formula is nutritionally complete and organic, with different stages to accommodate the nutritional needs of your baby. If you're looking for a European made formula that meets the highest standards with Demeter certification, then Holle baby formula may be right for you and your child. Thanks to their goat milk formula, there is something for every baby, even those with sensitive tummies. Most Holle organic formula reviews from parents are glowing, as many babies both in Europe and the US do well on this formula. If you are still feeling unsure, you can always try a box to start, and adjust if needed!
Holle Formula FAQs
IS HOLLE BABY FORMULA FDA APPROVED?
Since Holle formulas are made in Germany, it is not technically FDA approved. The Food and Drug Administration regulates products that are manufactured within the U.S, so it doesn't regulate products made in Europe. So while Holle may not be FDA approved, the formula still has to go through its own set of thorough rules and restrictions from the European Commission. Not only does Holle meet all of the standards set out by the European Union, but they go above and beyond with their Demeter certification! As your baby grows, try out their US version toddler drink which is FDA approved!
IS HOLLE BABY FORMULA GOOD?
Holle is one of the healthiest options for baby formula. It is a trusted, reliable brand with pros vastly outweighing the cons. Holle is the first Demeter manufacturer of baby formula, using biodynamic and organic farming sources. You can rest assured, your little one is getting all their essential nutrients in a clean, wholesome formula.
WAS HOLLE FORMULA RECALLED?
Back in 2021, Holle's infant formula was recalled by the FDA for not containing enough iron, as it had less iron per serving than most US infant formulas. However, Holle infant formula has always met the standards for iron in Europe, which are less than the infant requirements for iron in formula in the US. Other European formulas within this recall (for the same reason) included HiPP, Lebenswert, and Kendamil. 
DOES HOLLE FORMULA CONTAIN DHA AND ARA?
Yes, as of 2020 Holle baby formula does contain both DHA and ARA! The PRE formula sources from fish oil, while the other stages source from microalgae.
DOES HOLLE FORMULA CONTAIN PREBIOTICS AND PROBIOTICS?
Unfortunately, Holle does not contain prebiotics or probiotics in their formulas. However, it is super simple to supplement with either, should you feel that is best for your baby.
DOES HOLLE USE HEXANE EXTRACTED DHA AND ARA?
Yes, Holle organic infant formula does use both hexane extracted DHA and ARA, but hexane is non-detectable in their formulas after the extraction process is complete. While it is ideal for DHA and ARA to be obtained without hexane extraction, this is only one minor flaw amongst so many pros for Holle.
DOES HOLLE FORMULA MIX WELL IN WATER?
According to customer reviews on Holle formula, it does mix well in water. It does not get too frothy, like others on the market. It will produce a smooth, pure consistency upon mixing.
DO YOU HAVE TO USE BOILED WATER WHEN PREPARING BABY FORMULA?
The American Academy of Pediatrics advises you to use either boiled or purified water when preparing baby formula. Boiling the water, along with using a sterilized bottle, ensures that your baby is getting the cleanest source of water, without harmful bacteria or chemicals.
DOES HOLLE FORMULA CAUSE CONSTIPATION OR GAS?
Every baby is different and may respond uniquely to the formula, but overall Holle is a very gentle formula that should not cause any constipation or gas. If your baby has cow's milk sensitivities, their goat's milk option will be better suited for them as it is lower in lactose and tends to be extra gentle on sensitive tummies.
HOW MANY BOTTLES DOES ONE BOX OF HOLLE FORMULA MAKE?
Holle PRE or Holle Stage 1 contains 400g of formula per box. This will make around 100 fl ounces of formula. Depending on your baby's feeding portions this should produce around 20 bottles. Holle Stage 2,3, and 4 contains 600g of formula per box. You should be able to get around 30-32 bottles.
Where Can You Buy Holle Formula?
You can buy Holle formula online through many trusted sources such as Organic Baby Food, Organic Formula Shop, Organic's Best, Bottles & Burps, or The Milky Box.
On Holle's US-based website you can purchase their toddler drink, but they do not currently sell their infant formula there. If you want to purchase through Holle's website, you can select a one-time purchase or you can use their subscription service to save 10% on your order. You will receive free shipping for orders over $40.
More Baby Formula Guides!
Final Thoughts
I hope that you found this Holle baby formula review to be helpful on your journey to find the best fit for your little one! Overall, Holle offers a great selection of formulas that are nutritionally complete and well-rounded to help your baby grow and develop through each stage. Holle is a reliable brand that you can feel good about giving to your baby, knowing they are receiving something that meets Demeter certified standards. With a nice taste and easy preparation, this could very well be the best formula for you and your family.
As with any baby formula, please consult your pediatrician before starting a new formula or switching between formulas.