Aussie Bubs Formula Review
This post may contain affiliate links. As an Amazon Associate, I earn from qualifying purchases. Please read my disclosure.
In this Aussie Bubs Formula review I take an honest look at each type of formula that the brand offers from their infant formulas to their toddler formulas. Find out what makes Aussie Bubs Formula unique, how it compares to other formula brands, as well as the pros and cons, so you can determine if this formula is the best fit for your child.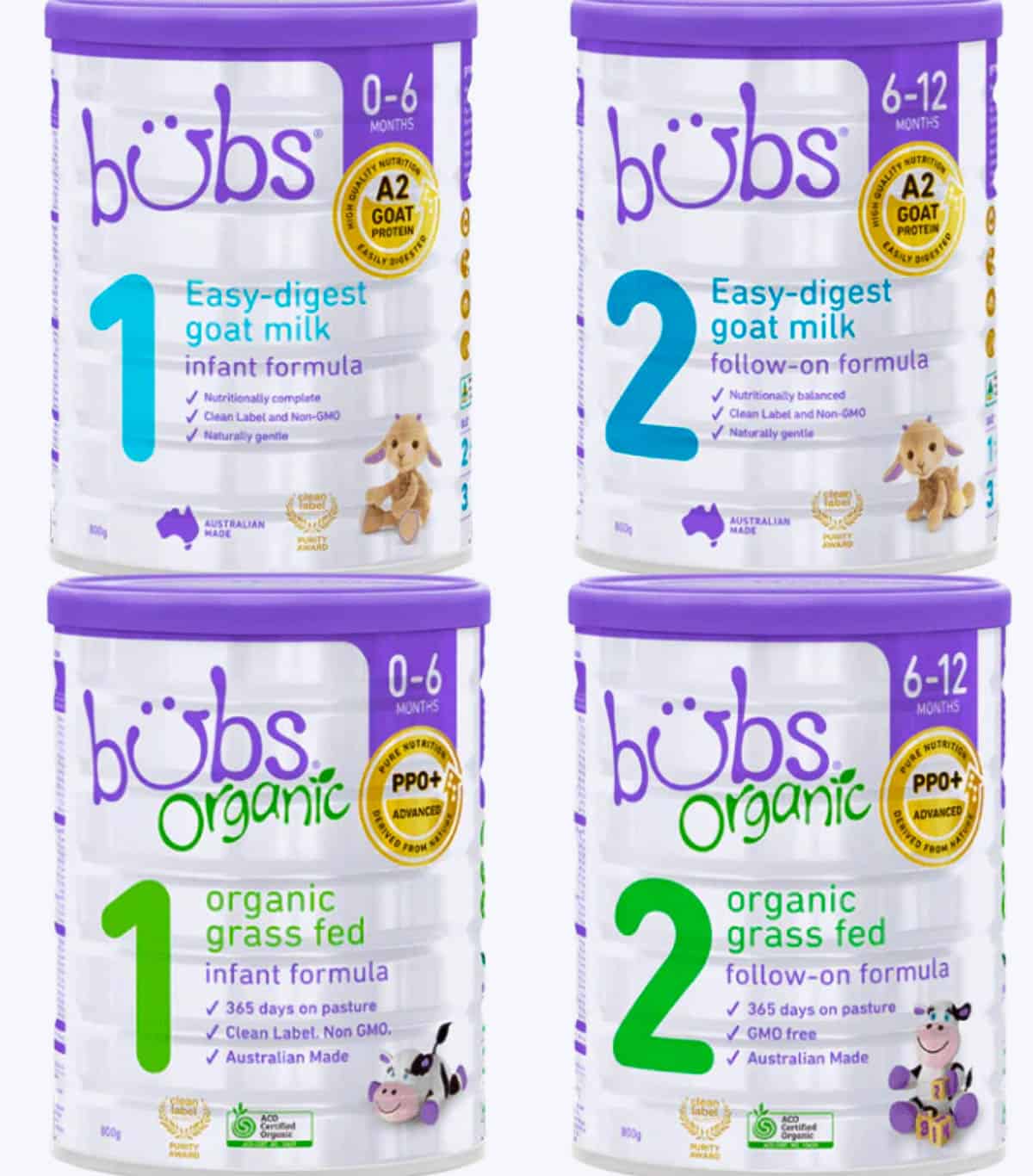 Finding the perfect formula for your baby isn't always easy. As a new mom, I spent hours upon hours researching brands online, talking to other moms, and speaking with my doctor. I wanted to feel positive that my babies were getting the best formula possible. Since then, so many new brands have come on the market, so I have continued to do research to ensure I'm offering the best advice to all of you – so you can continue to find the best formula for your little ones.
This Aussie Bubs Formula Review will cover all of the information you need to make an informed decision regarding whether or not this formula is the right choice for your baby! We will go over the types and stages of formula, ingredient lists, pricing, where you can find the formula, and so much more!
What Is Aussie Bubs Infant Formula?
Aussie Bubs Baby Formula offers NASAA Certified Organic and Non-GMO Grass Fed milk-based infant formulas, as well as Bubs Australian goat milk-based infant formula. Their products also have been independently tested for purity, and have received a Clean Label Project® Purity Award. The company was founded in 2006 by a mom of 3 wanting the best for her little ones. Their 365-day grass fed cows milk and their natural goat milk is sourced from local Australian goat dairy farms.
In my Bubs formula review, I have found that their products contain no corn syrup, maltodextrin, growth hormones, artificial sweeteners, chemicals, pesticides, colors or preservatives, and have more nutritional benefits thanks to sourcing organic grass fed cows milk instead of regular organic milk. With their grass fed formula you will find higher levels of omega-3 fatty acids, vitamin E, beta carotene, and CLA.
Aussie Bubs offers 4 categories of formulas:
Featured Partner Offer
Shop Aussie Bubs Infant Formula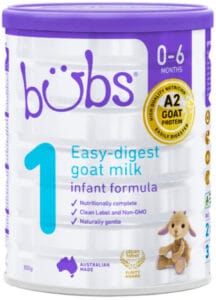 Organic grass fed cow milk and goat milk formula
Non GMO, Clean Label Purity Award
Meets all FDA requirements
Founded and led by moms
No corn syrup, maltodextrin, or sugar added
Easy for little tummies to digest
What Makes Aussie Bubs Formula Different From Other Formula Brands?
1. Founded By A Mom of 3 With Health In Mind
Bubs Australia was founded by Kristy Carr, a mom-of-three wanting the best for her babies. Back in 2006, there was a gap for premium organic baby food so Carr decided to do something about it! Amazingly, she started Bubs from her very own kitchen on Sydney's northern beaches! The brand has now grown and is able to reach parents and their babies across the world.
2. Sourced From 365 Day – Year Round – Grass Fed Cows and Goats
While there are other organic cow milk formulas out there, not all of them are sourced from grass fed cows! Not only does sourcing from grass fed cows provide better quality lives for the cows, it also ensures that the formula is higher in many nutrients. The nutritional benefits of milk from grass fed cows versus milk from grain fed cows are well known and documented. You will find higher levels of ALA, EPA, and DHA – all long chain omega-3 fatty acids that are easy to absorb in the body. In our baby formula review, we have found that grass fed provides a better balance between omega-3's and omega-6's with a 50/50 ratio, compared to grain fed where the omega-6 contain is drastically out of proportion.
3. Received Clean Label Purity Award, Are First 1,000 Days Certified (also from Clean Label Project)
All Bubs and Aussie Bubs formula products are certified clean with the Clean Label Purity Award, giving parents peace of mind. This evidence-based verification confirms that the formulas are free from any heavy metals, pesticide residues, plasticizers and other chemicals and toxins.
4. Certified Organic And Non-GMO Ingredients
There are a lot of formulas on the market that appear to have good ingredient lists, yet they are not organic. In our Bubs formula review, we found that Bubs Cow Milk Formula is dual certified organic in Australia with the Australian Certified Organic (ACO) & National Association for Sustainable Agriculture (NAASA) certifications. The brand is pursuing the USDA Organic certification.
5. Contains Prebiotics And Probiotics
Aussie Bubs formulas all contain prebiotics, while the Grass Fed and Supreme contain both prebiotics and probiotics. This helps with babies digestion, gut health, and immune support. Many formulas on the market do not contain any prebiotics or probiotics, making Aussie Bubs stand out from the rest. (Learn More: Prebiotics For Kids).
6. High Quality Ingredients
Aussie Bubs prides themselves on using the very best ingredients sourced from nature. They strive for high-quality food for little ones, and nothing less. Their Australian made products are made clean with no additives commonly found in other formulas. Parents can have peace of mind, knowing that their children are getting the proper nutrients they need to grow and stay healthy.
Aussie Bubs Baby Formula Ingredients
Organic Grass Fed Dairy
As I've mentioned, Aussie Bubs source their cow's milk from organic, grass fed cows from New Zealand. The grass fed Aussie Bubs Infant Formula includes organic lactose, organic whole milk powder, organic whey protein concentrate, and organic skim milk.
Goat Dairy
The Aussie Bubs Goat Milk formula includes goat full milk solids and goat whey protein concentrate, along with naturally occurring A2 goat protein. Goat's milk is an excellent choice for babies with sensitive tummies and supports gentle digestion. The goat milk is sourced from high quality Australian farmers that have been carefully selected for quality and transparency.
If you want to see a more detailed Bubs goat milk formula review in comparison to other goat milk formulas, check out my Best Goat Milk Formula Guide.
Omega-3's And Healthy Fats
You'll find omega-3's and omega-6's in these formulas! Ingredients include Docosahexaenoic Acid (DHA) sourced from algae, Linoleic Acid, Arachidonic Acid, and Alpha-Linolenic Acid. Fats come both from the whole milk and a blend of high oleic sunflower oil, coconut oil, soy oil, and canola oil. There is no palm oil in the Organic Grass Fed formula.
Vitamins & Minerals
The Aussie Bubs formulas contain a well balanced dose of critical vitamins and minerals to support your baby's health. The Organic Grass Fed formula has vitamin C and D to support the immune system and bone development. There is also an array of B vitamins, along with vitamin A, E, and K! In addition, there are many minerals including iron, magnesium, selenium, zinc, and potassium.
Prebiotics & Probiotics
Not many formulas contain both prebiotics and probiotics, but Aussie Bubs Grass Fed Formula and Supreme Formula do! There is Galacto-Oligosaccharides (GOS) and Fructo-oligosaccharides (FOS) for the prebiotics and 80 – 150 million cfus of probiotics sourced from the strain, Bifidobacterium longum BB536.
Check out their ingredient list for a complete list of Aussie Bubs formula nutrition facts. Each formula varies with different ingredients and amount per mL.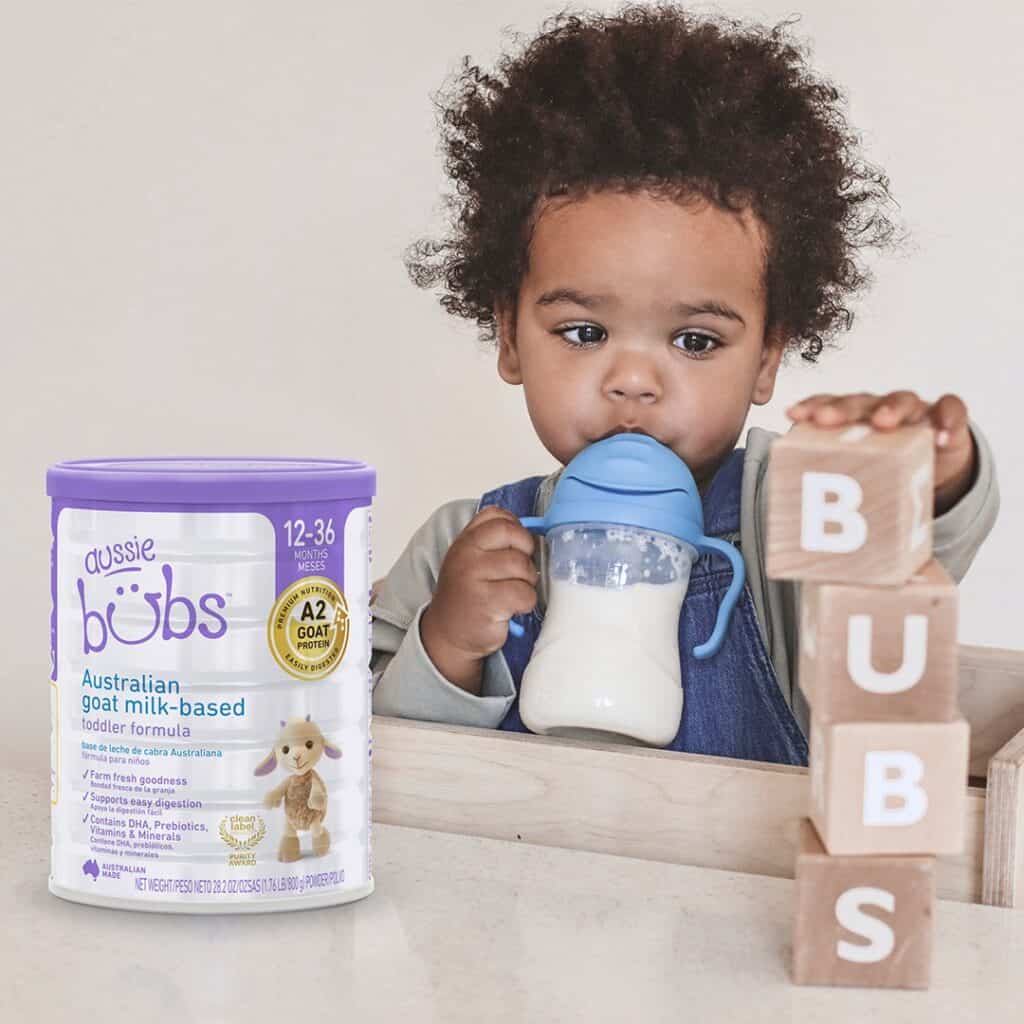 Bubs Formula Review: Details Of Each Formula
How To Prepare Aussie Bubs Formula
Wash your hands with soap and water, and get a clean, sterilized bottle.
Use potable, previously boiled water. Pour the required amount of cooled boiled water into the bottle.
Add required number of softly packed level scoops according to the feeding guide using the provided scoop and built-in leveler. You will add 1 scoop of powder for each 60 mL of water.
Shake well until the powder is dissolved. Test temperature of water on your wrist before feeding. It should feel lukewarm, not hot. Serve immediately.
Pros: Aussie Bubs Baby Formula Review
Clean Label Project Purity Award
Offers formulas with prebiotics and probiotics
Uses dairy from 365-day grass fed cows
Uses goat milk from local Australian goat dairy farms
Dual Organic Certifications for Grass Fed formula
High standards ensure safety, quality, purity and nutrition
Options for sensitive tummies (goat's milk)
Bubs Supreme™ is made with natural A2 beta-casein protein cow milk
Uses a fat blend that includes coconut oil
No Corn Syrup
No Maltodextrin
No growth hormones
No artificial sweeteners
No preservatives
Non-GMO
Company is founded by a mom
Subscribe & Save option for 10% off and convenient delivery
Cons: Other Things To Consider
Not all formulas are certified organic
Some formulas contain palm oil
Some formulas contain canola oil and soy oil
No probiotics in goat milk formula
How Does Aussie Bubs Formula Compare To Other Formula Brands?
Bubs Organic Grass Fed vs. Similac Organic
Both Bubs Grass Fed and Similac Organic are certified organic and Non-GMO. Here are a few main differences between the two formulas:
Bubs Organic contains probiotics and prebiotics, Similac does not
Bubs Organic has added whey protein, Similac does not
Bubs Organic dairy is sourced from 365 day grass fed cows
Bubs Organic contains Organic Whole Cow's Milk, Similac uses nonfat milk
Bubs Easy Digest Goat Milk vs. Similac Pro Sensitive
Bubs Easy Digest Goat Milk and Similac Pro Sensitive both contain prebiotics and are Non-GMO. In my Bubs formula review, I found these high level differences between the two formulas:
Similac Pro Sensitive has added sugar, Bubs Goat Milk does not
Similac Pro Sensitive has added corn syrup, Bubs Goat Milk does not
Bubs Goat Milk has Whole Goat Milk and added whey protein, Similac does not
Bubs Supreme vs. Gerber Good Start Gentle Pro
Bubs Supreme and Gerber Good Start Gentle Pro both contain prebiotics and probiotics, along with added nucleotides and whey protein. Here are the key differences between these two formulas:
Bubs Supreme does not contain soy oil, Gerber Good Start contains soy oil
Gerber Good Start contains 2′-FL HMO, a prebiotic similar to what is in breastmilk
Bubs Supreme does not contain 2′-FL HMO
Bubs Toddler Goat Milk vs. Kabrita Toddler Goat Milk
Within my Bubs goat milk formula review, I found that both Aussie Bubs and Kabrita are very similar. They have added whey protein and lactose, along with prebiotics. Neither contain added sugar, maltodextrin, or corn syrup. Both are also Non-GMO. The main differences in these formulas includes:
Bubs Toddler Goat Milk formula contains canola oil, Kabrita contains soybean oil and palm kernel oil
Bubs Toddler formula has 17 vitamins and minerals, Kabrita has 22 vitamins and minerals
Is Bubs Baby Formula Right For My Child?
Bubs Baby Formula is nutritionally complete, with 3 different options for infants and 2 options for toddlers. With their stage 1 and stage 2 options, there is a good option for each stage of your baby's growth and development. If you're looking for an Australian made formula with non-GMO ingredients and Clean Label Project Purity Award, then Aussie Bubs infant formula may be right for you and your child.
Where Can I Buy Aussie Bubs Formula?
You can buy Aussie Bubs formula on their website as a one-time purchase or you can use their subscription service to save 10%. You will receive free shipping for orders over $80. You can also order through Target, Amazon, or Thrive, or in store at many local locations. Use their store locator to find your nearest store.
Subscriptions will automatically renew monthly from the date of the initial order. You can cancel your subscription at any time, but must cancel at least 2 days prior to the next shipment.
Bubs Formula FAQs
Is Aussie Bubs FDA Approved?
Yes, Aussie Bubs Toddler formulas are FDA label compliant and they are also produced in Aussie Bubs' fully company owned and controlled, FDA registered site.

Recently, The US Government & FDA have approved Bubs Australia Infant Formula products to be imported to the US to support the infant formula shortage that is currently going on. All of the Bubs Australia Infant Formula products are produced in the same US FDA registered and fully company owned facility as our Aussie Bubs Toddler Formula.
Is Bubs Formula Safe?
Yes absolutely! From this Bubs Australia review, I can conclude that Bubs formula is a good formula brand, and is a safe formula choice for your baby and toddler. They are committed to high quality ingredients and have obtained two organic certifications in Australia for their grass fed infant formula.
Where Is Bubs Formula Made?
Bubs Australia products are produced in a US FDA registered and fully company owned facility in Australia.
Is Aussie Bubs A Clean Formula?
Yes! All Bubs & Aussie Bubs formula products have received the Clean Label Purity Award. This means they contain no corn syrup, maltodextrin, growth hormones, artificial sweeteners, chemicals, pesticides, colours or preservatives.
What Does Aussie Bubs Formula Taste Like?
Bubs Organic Formula Review: The organic grass fed formula tastes similar to regular cows milk and is not too metallic. The formula contains DHA and ARA from plants for improved taste. Being sourced purely from plants, the Omega-3 has no fishy aftertaste. There is no fish oil smell which you might find in other formula products that contain fish oil.

Bubs Goat Formula Review: The goat milk formula has a smooth and fresh taste. Goat milk has naturally smaller fat and protein molecules which mix together easily and resemble those of breast milk. This will give a mild, slightly sweet flavor without any sign of fishy odor or flavor.
What are the benefits of Bubs formula?
I love that Bubs offers options to best fit your child. You can opt for a gentle, easy to digest goat formula or an organic grass fed formula. Having these options makes this formula more readily available to a wide range of families. The option to choose a formula with both prebiotics and probiotics is extremely beneficial for optimal digestion and gut health. 

The Goat Milk formula is beneficial for babies experiencing:
* Cow milk sensitivity
* Bloating and constipation
* Colic symptoms such as excessive spit up
* Diarrhea or loose stool
* Reflux 
* Skin inflammation and irritations
* Congestion 
How long is Bubs formula good for?
If you store in a cool, dry place under 25 degrees Celsius / 77 degrees Fahrenheit, the formula will have a full shelf life. Use the formula within 4 weeks of opening. It is not recommended to freeze the formula.

The goat milk formula can be stored in the fridge once opened to extend it by another couple of weeks.
Does Bubs formula have heavy metals in it?
No, Bubs formulas do not contain heavy metals. The Clean Label provides evidence-based verification to give parents peace of mind in knowing that their child is obtaining pure nutrition, free from any heavy metals.
More Helpful Baby Formula Guides!
Final Thoughts
I hope that you found these Aussie Bubs formula reviews for grass fed, goat milk, supreme, and toddler formula to be helpful! If you've been asking yourself, "Is Bubs Organic formula good?" or "Is Bubs goat milk formula good?" my answer would be yes! Overall these formulas seem to be a good fit for most children and are nutritionally complete.
As with any baby formula, please consult your pediatrician before starting a new formula or switching between formulas.