Bobbie Formula Review
This post may contain affiliate links. As an Amazon Associate, I earn from qualifying purchases. Please read my disclosure.
In this Bobbie Formula review I take an honest look at this FDA reviewed organic formula that is for term babies 0-12 months and was founded and is run by moms like you and me! Find out what sets Bobbie Infant Formula apart from other brands, how it compares to the European formula brands, as well as the pros and cons, so you can determine if this formula is the best for your child.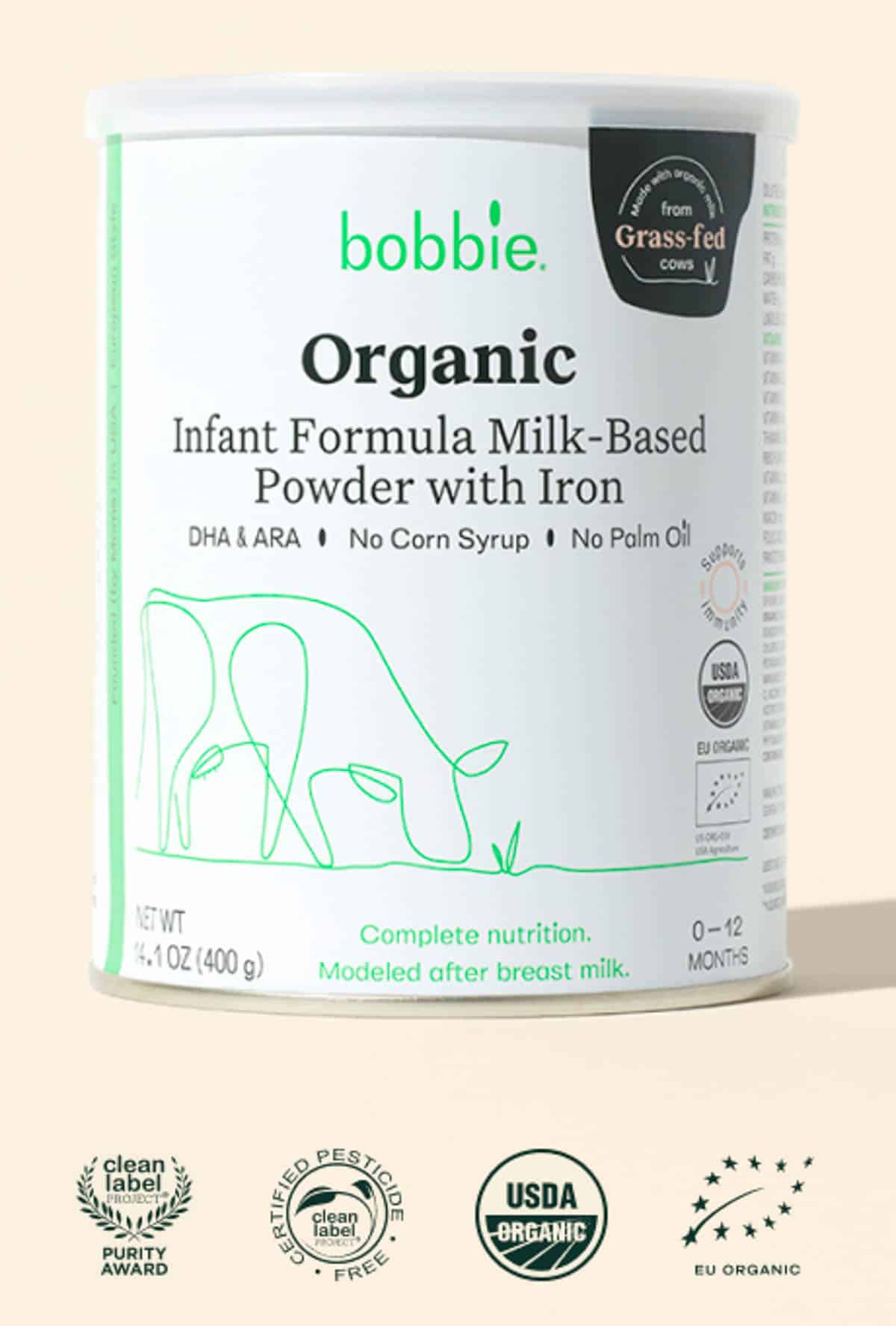 New parents and seasoned pros, I know that finding the right formula for your child is not an easy task. When I was a new mom, I did extensive research online, spoke to doctors, consulted other mothers and friends, and found out so much about the formula industry, so that I could give my daughter the best baby formula possible. Now, I've done all the research so that you don't have to!
While breastfeeding is always the first and the most natural option for baby, it is not always possible for all mothers to exclusively breastfeed, or breastfeed their babies at all. Breastfeeding can be extremely challenging, mentally and physically taxing, and if you are considering supplementing or transitioning to formula, that is 100% ok. Even with lactation consultants, and other outside help, 83% of women turn to formula for some period of time. I firmly believe that breast is not best, FED is best.
For me, nursing was one of the most physically and emotionally challenging parts of motherhood, and at 8 months old, I weaned my daughter from the breast to formula.
This all means that first time mothers concerned for their mental health, seasoned pros, and others need a good choice infant formula company they can trust!
As a result, I have developed a working list of the best organic baby formulas that meet these guidelines, and Bobbie Infant Formula (good news!) is one of the best! It is a new formula brand in the infant formula market that is making quite a splash in the US market.
In this Bobbie Formula Review I will provide you with all the information you need to make an informed decision regarding whether or not this formula is the right choice for your baby!
What Is Bobbie Formula?
Bobbie Infant Formula is a USDA Organic and Non-GMO milk-based infant formula (for babies aged 0-12 months) with added iron. It was founded in the beginning of 2018 in San Francisco. The protein for the formula comes from pasture raised organic cows that spend 42% or more of their time in the pasture than US Organic requirements.
This formula includes DHA Omega-3, but it is not the kind that is extracted using hexane. Instead it is sustainably sourced algae-based DHA that is extracted using water. This new formula company also makes the only US formula with 20mg of DHA per 100kcal.
You won't find any palm oil or soy oil in this formula. Instead the fats, which are a necessary ingredient for your baby's growth, include a combination of organic coconut oil, organic canola oil, and organic sunflower or safflower oil (which means it's non-GMO and has no persistent pesticide use).
When I was researching the best baby formulas, I came to a few conclusions. In my opinion:
Organic baby formula is best.
European baby formulas go through more stringent regulations.
Avoid processed refined sugars, syrups, and syrup solids.
Avoid oils extracted using hexane (DHA, ARA).
Avoid carrageenan, an added stabilizer.
Avoid synthetic ingredients
And the great news is, Bobbie meets all of these criteria!
Featured Partner Offer
Shop Bobbie Organic Infant Formula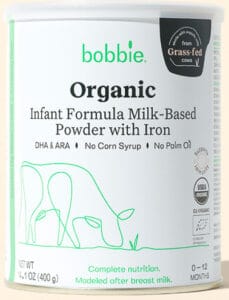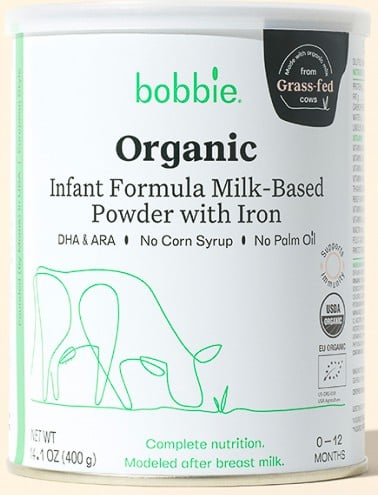 USDA Organic, Non GMO, Clean Label Project Purity Award, Formulated with Organic Valley milk
EU style infant formula
Meets all FDA requirements
Founded and led by moms
No corn syrup, maltodextrin, or palm oil

Modeled after breast milk, easy on tummies
What Makes Bobbie Formula Different From Other Formula Brands?
1. Founded By Moms With A Great Mission
When you're a mom struggling to find the best infant formula options for your baby, and you can't find one that you like the best, you start your own infant formula company!
Laura Modi and Sarah Hardy, the founders of Bobbie Formula, are moms like you and me. Tired of the negativity surrounding formula feeding, which they faced first hand, they wanted a better option, quality product to give to their children. Together they developed a European-style infant formula. In partnership with food scientists and medical experts, who are also parents, they set out to give their children the best in nutritional standards when a safe alternative to breast milk was needed for their own babies.
The Bobbie team knows the saying, "breast is best," and while they agree that breast milk is the most nutritional source for babies, it is not always the best choice for each family or mother due to a wide range of circumstances. Every parent and child has their own unique feeding journey. As a result, all parents, U.S. parents and beyond, should be able to give their children the best, most nutritious, and safe formula.
In addition to creating an exceptional formula, in our review of Bobbie formula we found that the Bobbie company has committed to support 25 breast cancer survivors and pre-vivors who have undergone mastectomies and lumpectomies with a free year of Bobbie.
2. European Formula Standards Founded In The USA
Bobbie's formula recipe is comparable to European formula brands, and has adopted many of the EU formula standards. Bobbie is a great alternative for American parents if you are looking for U.S. formulas that meet FDA regulations while being similar to European formula brands (with super fast shipping from US warehouses, there's no concern about supply chains!)
3. The Only Sugar Is Lactose
You won't find any added sugars; that includes added corn syrup, sugar solids, or maltodextrin in Bobbie Formula! Bobbie organic formula uses lactose, which is the naturally occurring sugar in milk and breast milk.
4. Water Extracted DHA Omega-3
DHA Omega-3 is an important nutrient that helps brain development. Bobbie infant formula uses an algae-based DHA that does not use hexane for extraction. It is water extracted DHA and meets the EU standard of 20mg/100 calories (the US does not have a set DHA nutritional requirement for infant formula!). It provides your child with the benefits of this essential fatty acid for brain and eye development.
5. Formulated For Easy Digestion
Bobbie is a formula modeled after breast milk, which means that they add whey protein to the organic cow's milk to ensure that the whey to casein ratio matches that of mature breastmilk (60% whey and 40% casein). Formulas that have too much casein protein compared to breastmilk may cause babies to become constipated. Bobbie formula's similarity to the whey:casein ratio of breastmilk helps to support easy digestion.
6. High Quality Ingredients
Bobbie baby formula uses the highest quality ingredients, and they also test their formulas regularly for over 400 toxins (including heavy metals, pesticide residues, and plastics). This is why they are the first US based infant formula to have received the Clean Label Project Purity Award and have Pesticide Free certification.
If you are thinking of testing Bobbie, but don't want to commit to a full subscription yet, you can try the Bobbie starter pack, which will provide you with 2 cans of Bobbie organic formula to have on hand for just $40 and free shipping (almost a 25% discount!) This should last for a week if your baby is exclusively formula fed, and longer if you are just supplementing. Bobbie does not provide free samples (or a free can of Bobbie formula), but the starter pack is a great way to do a Bobbie formula trial!
What Ingredients Are In Bobbie Formula?
Bobbie's European style recipe is modeled after breastmilk with main ingredients being 57% carbohydrates, 28% fats, 11% proteins, and 2% vitamins and minerals. In our Bobbie organic formula review, you will find some of the main Bobbie formula ingredients, along with what makes Bobbie's ingredients unique.
Organic Pasture Raised Dairy
Bobbie sources their organic milk from USDA organic farms, ensuring that all of their formula milk comes from pasture-raised organic cows. Bobbie organic infant formula includes organic skim milk and whey protein, which helps make the whey:casein ratio more in line with breastmilk. Bobbie's lactose and whey are also sourced from small, organic farms here in the US.
DHA Omega-3 & Healthy Fats
Bobbie infant formula includes Omega 3 fats extracted from algae using water – no hexane extraction used! For the other fats, A combination of organic coconut oil, canola oil, and organic sunflower or safflower oil make up the fat content of this infant formula. You won't find any palm oil or soy oil here!
Key Nutrients
Bobbie formula includes iron, which is critical for red blood cell function and brain development. Bobbie formula's iron content complies with the FDA standards for iron in infant formula. In addition to other critical vitamins and minerals (like B Vitamins, Vitamin C, Vitamin E, etc), Bobbie baby formula includes a healthy amount of Vitamin D which is important for bone development and immune function.
Check out their ingredient dossier for a complete list of Bobbie formula nutrition facts and ingredients, and why each one is important to putting together the optimal infant formula.
How To Make Bobbie Formula
Is Bobbie formula easy to prepare? What are the mixing instructions for Bobbie organic infant formula? If you're wondering about Bobbie formula preparation – you're in luck. This formula is super easy to make! Here are the Bobbie formula mixing instructions:
Wash your hands with soap and water, and get a clean bottle.
Add filtered or boiled water (essentially, clean drinkable water) first, then add the powder. You'll want to use 1 unpacked, level scoop of baby formula powder for every 2 fluid ounces of warm water. Make sure the water isn't warmer than 100 degrees F.
Shake for 30 seconds to mix. Serve immediately. Discard any unused formula after 1 hour.
Pros: What I Like About Bobbie Baby Formula!
Uses a European Style Recipe
Is USDA Organic
Meets most European nutritional standards for infant formula
Manufactured in the United States (Vermont!)
The company is founded and led by moms!
Mimics the why-to-casein ratio of mature breastmilk
Uses dairy from pasture raised cows
Includes DHA sourced from algae and extracted with water.
Includes ARA
Uses a fat blend that includes coconut oil
No Corn Syrup
No Maltodextrin
No Palm Oil
Mixes well, does not get foamy
Included added iron, an important mineral for baby's growth.
Non-GMO
Gluten-Free
Easy to try Bobbie formula through their starter bundle
Bobbie formula subscription makes it convenient to get your formula, but a subscription is not required to purchase their formula, providing flexibility for parents.
Best customer service ever!! Bobbie formula's customer service team is made up of US based women/moms, some with newborns. Which means you'll have someone who can both help you and relate to what you're going through when you reach out to Bobbie. The Bobbie Care Team is available via text or email 7 days a week (Mon-Fri 7am-5pm PST and Sat-Sun 9am-1pm PST).
Cons: Other Things To Consider
Does not include added prebiotics, probiotics.
May not be a good option for babies who cannot digest cow's milk or have known food allergies.
How Does Bobbie Formula Compare To Other Formula Brands?
Bobbie Formula vs. HiPP Formula
Both of these formulas are organic, and have high quality ingredients. And both formulas don't have any added sugar or syrup solids. Both also contain DHA & ARA. Here are the high level differences between Bobbie and HiPP:
Bobbie is made in the US, HiPP is made in Europe
Bobbie has one stage of formula for the first 0-12 months of life, HiPP has multiple stages
Bobbie is FDA regulated, HiPP is not (HiPP is regulated by the European Commission)
Bobbie has no prebiotics or probiotics, HiPP has both
Bobbie has no palm oil, HiPP contains palm oil.
Bobbie vs. Similac
Both Bobbie and Similac have no syrup solids or added sugar, and use lactose as the primary carbohydrate. However, Bobbie has a 60:40 whey:casein ratio, while Similac has a 48:52 whey:casein ratio. Bobbie is also Organic and Non-GMO, while Similac is not. See this Bobbie Formula vs. Similac Formula comparison guide for more details!
Bobbie vs. Enfamil
Bobbie and Enfamil are both established baby formula brands that don't have any added sugars and contain DHA. Here are some of the key differences between the two formulas:
Enfamil has a large variety of formulas to choose from when it comes to your baby – and they have a non-organic and an organic version. Bobbie has one formula designed to meet the needs of babies 0-12 months and is organic and non-GMO.
Enfamil contains palm oil, Bobbie does not.
Enfamil organic has a 20:80 whey:casein ratio, while Bobbie organic has a 60:40 whey:casein ratio, making Bobbie easier for babies to digest.
Both mix well, but Enfamil has a more metallic taste to its formula.
Bobbie vs. Kendamil
Both of these formulas are organic, and are FDA regulated (through operation fly formula, Kendamil can be sold in the US and is available in Target stores). Kendamil has both a non-organic and an organic version, whereas Bobbie only has an organic version. Both formulas have no palm oil, no sugar or syrup solids, and include DHA. See this Bobbie vs. Kendamil Formula comparison guide for more details!
Is Bobbie Right For My Child?
Bobbie is a nutritionally complete, milk-based infant formula intended for full term, healthy infants (0-12 months of age). If you're looking for a European-style formula that is manufactured in the United States, then Bobbie baby formula may be right for you and your child.
Bobbie is not recommended for your baby if your child is premature, or has a cow's milk allergy.
Where Can I Buy Bobbie Formula? How Does The Bobbie Subscription Work?
You can purchase Bobbie Organic Infant Formula on their website as a one time transaction, or you can use their subscription service. You can choose between 2, 4, 8, or 10 cans to be shipped to your home. They provide a feeding guide on their website to help you determine how many cans you will need each month. You can also order Bobbie formula through Target stores, or purchase it at the store directly.
Subscriptions auto-renew each month and you have the ability to dial it up or down depending on your needs. Standard shipping is FREE with subscriptions and you can even change the address if you'll be traveling with your baby. You can also cancel at any time.
Through our Bobbie organic infant formula review, we have found that subscribing is a great option that will help ensure you always have enough formula when you need it! It helps to check one more thing off your parenting list. You can reach them on social media @Bobbie plus their customer service team is available by text, phone or email M-F, 7am pst to 5pm pst.
Bobbie Formula FAQs
Is Bobbie formula safe? Is bobbie a good formula brand?
Yes absolutely! Bobbie infant formula is absolutely a good formula brand, and is a safe formula choice for your baby. They are FDA regulated and founded and manufactured here in America. Bobbie's formulation was created in partnership with nutrition experts, and they are committed to high quality ingredients, all of which are USDA organic certified.
Where is Bobbie Formula made?
Bobbie baby formula is made in the US! Bobbie formula's manufacturer is an experienced formula maker (Perrigo) that has been manufacturing infant formulas for over 35 years. If you're wondering who makes Bobbie formula, it's both Bobbie and Perrigo: Bobbie created the recipe and formulation, and Perrigo is the co-manufacturer. Perrigo is based in Vermont and Ohio and ensures that USDA Organic, Kosher, and FDA quality standards are met.
Is Bobbie formula FDA approved?
Bobbie baby formula meets all FDA requirements! All formulas marketed in the United States must be FDA reviewed and meet federal nutrient requirements. There must be a minimum concentration of 30 essential nutrients in all infant formulas marketed in the United States, and any added ingredients must be proven to be safe. The FDA also makes sure that manufacturing facilities are kept clean, safe, and each batch is monitored, and recorded for quality.

Once the FDA has determined that a baby formula meets all the applicable regulations, then the formula is allowed to be sold in the US. Bobbie is FDA regulated, and is the first European style baby formula to be FDA regulated here in the US!
What age is Bobbie formula for?
Bobbie is designed specifically for babies 0-12 months of age.
What does Bobbie formula taste like? What formula tastes like breastmilk?
Bobbie infant formula is designed to be as close to breastmilk as possible. That includes both the ingredients and the taste of the formula. Bobbie has a smooth, mild taste, that is slightly sweet – similar to breastmilk. It also tastes much less metallic than most other formulas, making it taste as close to breastmilk as possible.
Is Bobbie good for easy digestion? Does Bobbie make your baby gassy?
If your baby is prone to spit up and gas, Bobbie might be a good option for your child. This is because Bobbie is designed specifically for easy digestion! There are two specific things about Bobbie baby formula that make it easy to digest: 1) It doesn't include palm oil (which can cause gas), and 2) It has a 60:40 whey:casein ratio – this can both reduce spit up and gas, and make the formula easy for sensitive tummies to digest.
Does Bobbie have palm oil?
No Bobbie does not contain palm oil! Most formulas include palm oil because it contains "palmitic acid" which is found in breastmilk. However, palm oil is not necessary in baby formula. Bobbie has managed to achieve a fat composition similar to breastmilk without including palm oil!
How many bottles does a can of Bobbie organic formula make?
Each can includes 14.1 ounces of powder and makes about 106 fluid ounces of formula. That's about thirteen 8 ounce bottles.
Can bobbie be used for combo feeding?
Absolutely! Bobbie is designed to support any feeding journey and all types of feeding needs. That's why their subscription is super flexible and they also allow you to purchase formula on an as-needed basis (without a subscription!) Bobbie is great for combo feeding, for transitioning from breastmilk to exclusive formula feeding, for exclusive formula feeing from birth, and just about any type of feeding situation you might be in!
How many cans do you need a month? How much formula should I order?
Using the Bobbie formula feeding guide, it is recommended to get between 8-10 cans per month for formula fed only infants. I would honestly recommend ordering a couple of cans extra each month just to make sure you don't run out of formula (because that can be stressful!)
How long is Bobbie formula good for?
Bobbie has a long shelf life! The formula is good for two years from manufacture so you don't have to worry about it going bad early, and you can order a few cans in each order, since you have plenty of time to use it up!
How much does Bobbie formula cost?
Bobbie formula price: Each can of formula costs about $24. The fewest number of cans you can purchase is 2, for a total of $48 plus the cost of shipping.
Where can I buy bobbie formula in stores?
Bobbie formula is currently at Target stores nationwide! You can buy Bobbie organic baby formula at Target in store or online, or you can also purchase find Bobbie milk formula directly on their website.
More Helpful Baby Formula Guides!
Final Thoughts
I hope you found this Bobbie Formula Review helpful! If you're asking yourself, "Is Bobbie formula worth it?", my answer would be yes! It's absolutely worth it if it works for your baby! If your baby is a full term infant, with no specific allergies or intolerances (e.g. CMPA or lactose intolerance), then Bobbie infant formula could be a great option for your child.
As with any baby formula, please consult your pediatrician before starting a new formula or switching between formulas. And if you have any questions, please comment below or send me an email – I respond to every question I get! You can also FOLLOW ME on FACEBOOK, TWITTER, INSTAGRAM, and PINTEREST to see more delicious, healthy, family-friendly food!
14 responses to "Bobbie Formula Review"