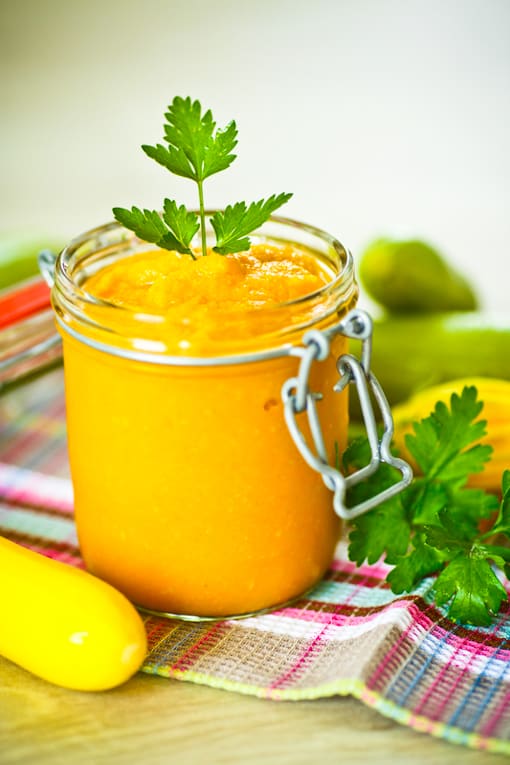 Veggies mixed with fruit is always bound to be a hit in our household. Zucchini and carrots are already pretty mild / on the sweeter side, so when paired with some apples, it becomes a true sweet treat! I often mix this puree with Layla's oatmeal in the morning and she loves it!
Baby Food Recipes: Zucchini, Apple and Carrot Puree
1 ice cube = 1oz food!
Ingredients
1

pound

organic zucchini

1/2

pound

organic carrots

2

organic fuji apples

6oz each

12

oz

water
Instructions
Wash all the produce. Cut zucchini in half lengthwise and cut each half into 8 pieces.

Peel carrots. Cut in half lengthwise and cut each half into 8 pieces.

Cut apples in half, remove seeds and stem. Cut each half into 8 pieces.

Add carrots and water into a large pot. Turn on high and cook 8 minutes, stirring occasionally.

Add zucchini and apples and cook another 3-5 minutes.

Pour everything into a blender, puree until smooth.

Pour into ice cube trays, allow to cool, wrap/cover, and freeze.

Thaw in the fridge the night before use, or thaw by putting the ice cube in a bowl over a bowl of hot water on the counter to defrost.
TAGS: baby food recipes
13 responses to "Baby Food Recipes: Zucchini, Apple and Carrot Puree"