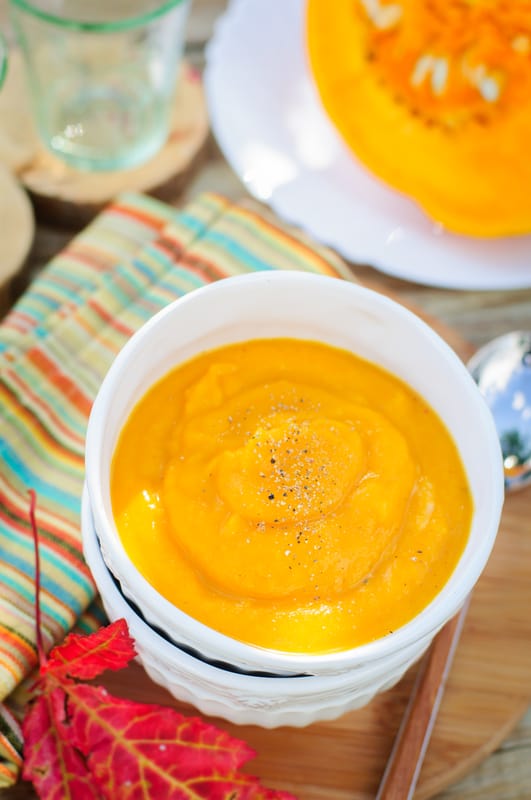 This is one of Layla's absolute favorite purees! She can eat roasted butternut squash all day long. That's right – roasted and caramelized butternut squash for your little ones – how delicious does that sound?
It takes a while to make – you have to let the butternut squash roast in the oven for an hour, then you have to peel off the outside and get all the flesh into the blender (this can get messy) and then puree and freeze. So basically: make this in bulk!
Another tip: save yourself the cleanup and use parchment paper on your sheet tray – that way you won't be scrubbing the caramelized goodness of butternut squash off your sheet tray for days 🙂
Butternut squash is another nutritional powerhouse: rich in Vitamin A, Vitamin C, potassium and fiber – it's so good for babies (and adults too!)
Baby Food Recipes: Butternut Squash Puree
1 ice cube = 1oz food!
Ingredients
2

medium sized organic butternut squash

16

oz

water

divided
Instructions
Preheat oven to 400F

Cut squash in half lengthwise, remove seeds.

Place squash flesh side down on a sheet tray covered with parchment paper.

Pour 8oz water onto the parchment paper.

Roast for about an hour until tender. The squash should be bubbling and caramelized.

Allow to cool 10-15 minutes until you can hold it without a problem.

Peel off the outside skin and put flesh into a blender with 8oz water. Puree until smooth.

Pour into ice cube trays, allow to cool, then wrap/cover and freeze.

Thaw in the fridge the night before use, or thaw by putting the ice cube in a bowl over a bowl of hot water on the counter to defrost.
Notes
Spice up your baby's food! Serve with a pinch of cinnamon, nutmeg, allspice or ginger. Adapted from
BabyLove
TAGS: baby food recipes
15 responses to "Baby Food Recipes: Butternut Squash Puree"