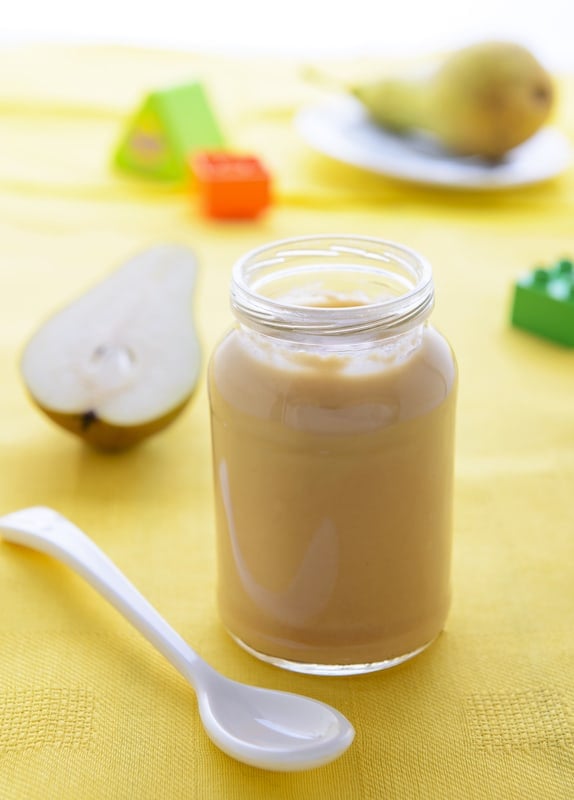 This recipe is one of Layla's absolute favorites. Initially, I think the texture of pear weirded her out (because it's very different from avocado and sweet potato), but once she got used to it she couldn't get enough. Pear mixed with oatmeal is a sure thing in our house. A little trick: I mix pear with green beans (or other green veggies she might not like) to help get her used to them, and she gobbles it up!
And pear is so good for your little ones! Loaded with fiber and Vitamin C – pear helps reduce constipation in babies and keeps their immune systems strong. I make pear in BULK and keep it in our freezer because we go through it so quickly. Luckily, with this recipe, you can easily make pear puree any time you need it!
For more information, 150+ recipe ideas and ways to help develop your baby's palate and turn them into a healthy foodie (vs. a true picky eater), check out my Baby Food Cookbook here! 
Or, are you looking for ideas for healthy, easy family meals that your little one can eventually help prepare in the kitchen? If so, pick up a copy of my newest cookbook: Kid Chef Junior (will arrive on your doorstep on October 9th 2018!)
Lastly, if you're looking for a healthy formula that you can mix this puree with to feed to your little one, this post will help you find the best organic formulas on the market today!
Homemade Baby Food Recipes: Pear Puree
1 ice cube = 1oz of food!
Ingredients
5

organic pears

4-6

oz

water

for a thicker puree, use less water
Instructions
Wash fruit. (Any type of pear will do - I use Bosc or Bartlett).

Cut pears in half and remove seeds and stem. Cut each half into 6 pieces.

Put pear and water into a large pot. Turn the burner on high and cover with a lid.

Cook for 8 minutes, stirring occasionally.

Blend in a blender, puree until smooth.

Pour into ice cube trays, allow to cool, wrap/cover, and freeze.

Thaw in the fridge the night before use, or thaw by putting the ice cube in a bowl over a bowl of hot water on the counter to defrost.
Notes
Spice up your baby's food! To pear puree, you can add a pinch of ginger powder, a pinch of cinnamon, or even a bit of mint. Adapted from
BabyLove
TAGS: baby food recipes
21 responses to "Homemade Baby Food Recipes: Pear Puree"