Homemade Baby Food Recipes: Avocado Puree
This post may contain affiliate links. As an Amazon Associate, I earn from qualifying purchases. Please read my disclosure.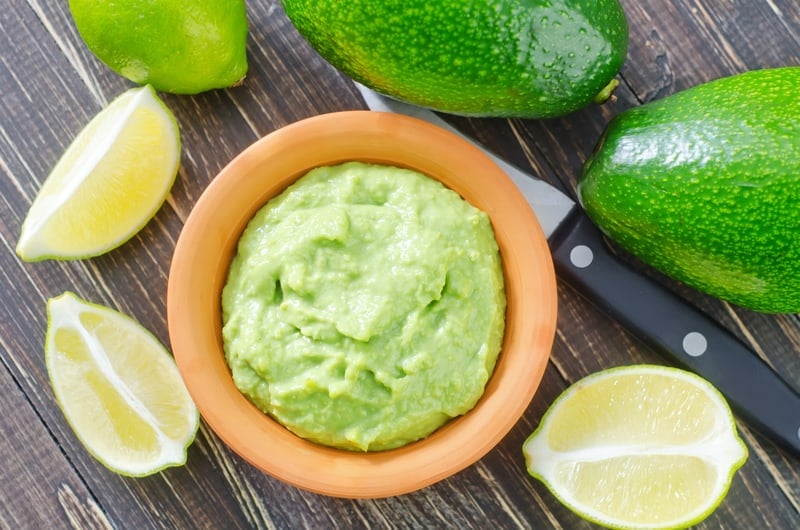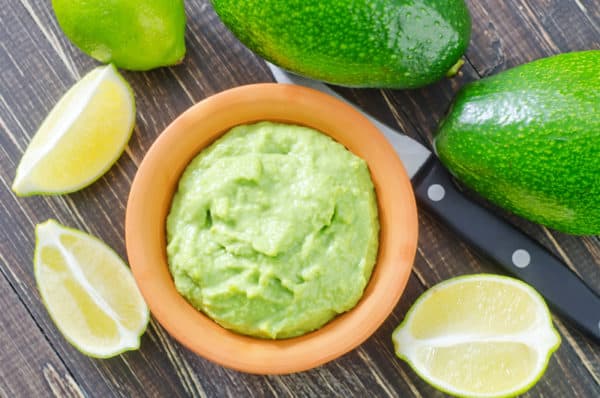 About 2 months ago, we gave Layla her first solid food: Avocado! Since then she has had a variety of fruits and veggies: Sweet potato, Butternut squash, Zucchini, Carrot, Fuji Apples, Plums, Pears, Bananas, Green Beans, Peas, Spinach, Broccoli, Pumpkin, Apricot… and we've also given her Oatmeal and Organic Whole Milk Plain Yogurt. She has turned into a wonderful eater! Gobbles up almost everything we give her (peas and green beans have to be disguised in yogurt with a little bit of pear, but then she downs them like you wouldn't believe).
And since I've been making all of her food at home from scratch, I thought I'd start a Baby Food Recipes section on my blog!
I'll be adding the baby food recipes in the order that we introduced them to Layla – to the extent that I can remember 🙂 Avocado was definitely first – because it was the easiest, and because it's so nutritious for your little ones.
1/5th of an avocado has only 50 calories but 20 vitamins and minerals! Talk about nutrient dense. Avocados also contain:
Folate
Fiber
Potassium
Vitamin E
Iron
Healthy fats that help with brain and nervous system development
I mashed up the avocado raw, and fed it directly to her mixed with a little bit of breast milk (you can also mix it with formula or water to thin it out at first). Here's how she reacted 🙂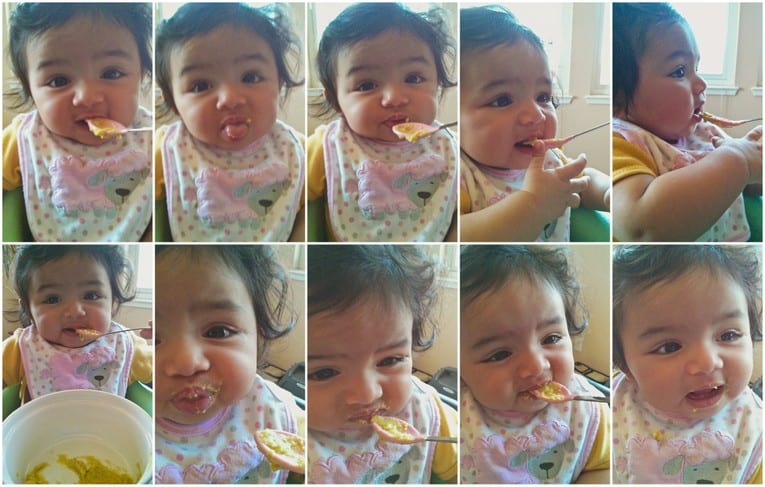 The first time she was like "what are you giving me??" but soon she couldn't get enough avocado. It's definitely one of her favorites. And since avocado gets oxidized so easily, I actually tried freezing it and it worked great!
I used these Mumi & Bubi
ice cube trays for freezing. I love them because they come with a cover, a recipe book, and the cubes are super easy to get out. One ice cube = 1oz of food. And once I started making this puree in bulk, I used a Vitamix to puree large quantities of it at the same time – which was super convenient!
Also, if you can afford it, I'd recommend using 100% organic ingredients for your baby's food. That way you can leave the peels on various fruits and veggies (e.g. you won't have to peel apples and pears before pureeing them), and it's much more nutritious for your baby.
Of course, there will be times when you're on the go and need a healthy pre-made option for your little one. And in those cases, I'd recommend buying one of the pouches on my list of the healthiest baby food pouches!
Below is my recipe for super simple avocado: a perfect first food for babies!
Looking for 150+ more baby and toddler food recipes? Check out my Baby Food Cookbook here!
Thinking about switching to formula and looking for the best organic formulas to feed your baby? Click here!
Or, are you looking for ideas for healthy, easy family meals that your little one can eventually help prepare in the kitchen? If so, pick up a copy of my newest cookbook: Kid Chef Junior (will arrive on your doorstep on October 9th 2018!)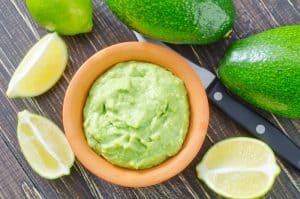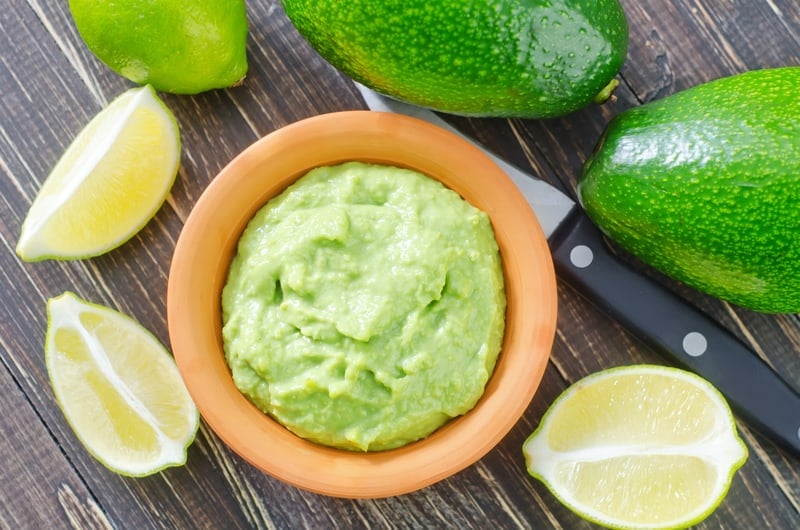 Print Recipe
Baby's First Food: Avocado Puree
Avocado is a perfect first food for baby! Healthy fats for their development, and also amazing texture and flavor.
Instructions
If Serving Fresh / Immediately
Mash the avocado with a fork or blend it in a food processor.

Mix with breastmilk, formula or water to reach desired consistency.
If Freezing
Mash the avocado with a fork or blend it in a food processor.

Divide into ice cube trays, wrap/cover, and freeze.

Thaw in the fridge the night before use, or thaw by putting the ice cube in a bowl over a bowl of hot water on the counter to defrost.

Once defrosted, mix with breastmilk, formula or water to reach desired consistency
Notes
Each ice cube = 1oz of food. Also, as your baby gets used to solids, you don't have to thin out the avocado at all.
202 responses to "Homemade Baby Food Recipes: Avocado Puree"