Avocado Peanut Butter Smoothie (Vegan, Keto)
This post may contain affiliate links. As an Amazon Associate, I earn from qualifying purchases. Please read my disclosure.
This avocado peanut butter smoothie tastes like a milkshake but it's packed with plant-based protein and heart-healthy fats. Enjoy this keto smoothie for a quick on-the-go breakfast or healthy snack! It also happens to be vegan and gluten-free too!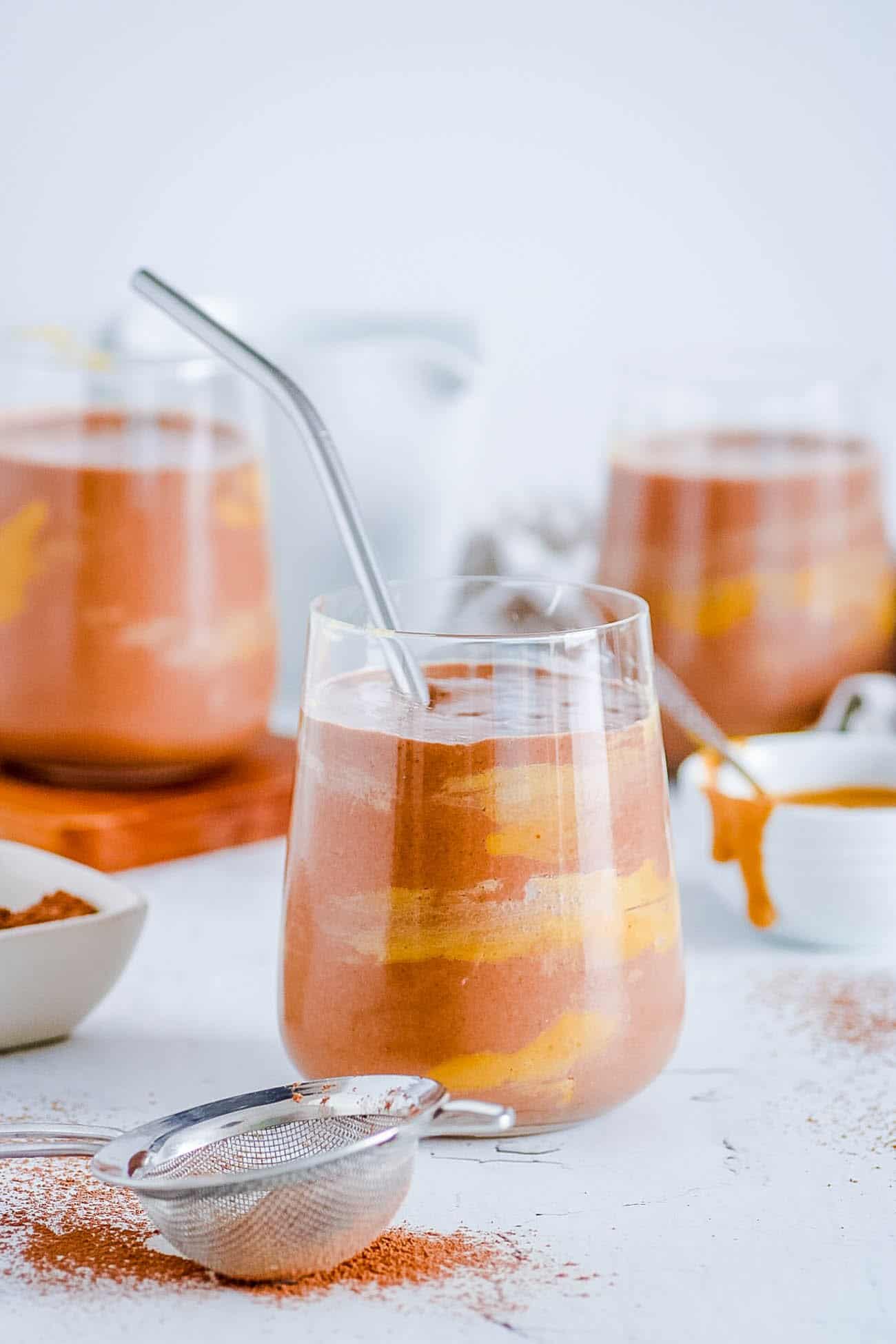 Smoothie lovers rejoice! This keto peanut butter shake is a much-needed break from scrambled eggs and bacon. Smoothies are a great way to pack in nutrients, especially for picky kids. It tastes like they're drinking a Reese's peanut butter cup, not an avocado!
You can make this peanut butter keto smoothie in 5 minutes. It's perfect for weekday mornings or as a pick-me-up when you hit an afternoon slump. Most blenders are dishwasher-safe which makes clean-up a breeze. I just rinse out the base and place it into my dishwasher.
Latest Recipe Video!
Perhaps my favorite thing about smoothies is how simple they are to customize. If you prefer a different sweetener, nut butter, or liquid base – that's totally fine! It's hard to mess up this low carb peanut butter smoothie. Smoothies are very forgiving. You can easily adjust them to be sweeter, thicker, or healthier. Move over avocado toast, this low-carb breakfast will make you swoon!
👩‍🍳 Why This Recipe Works
Filled with healthy ingredients and no added sugar!
Tastes like a decadent milkshake
Perfect for chocolate lovers
This low-carb smoothie is dairy-free, vegan, and sugar-free!
Less than 7 grams of net carbs
Easy recipe with only 6 ingredients
A great alternative to carb-heavy fruit smoothies
Add a scoop of low carb protein powder for even more protein.
Best peanut butter avocado smoothie ever!
🥘 Ingredients
This avocado peanut butter smoothie recipe requires only six ingredients plus ice! You can find all of them at your local grocery store.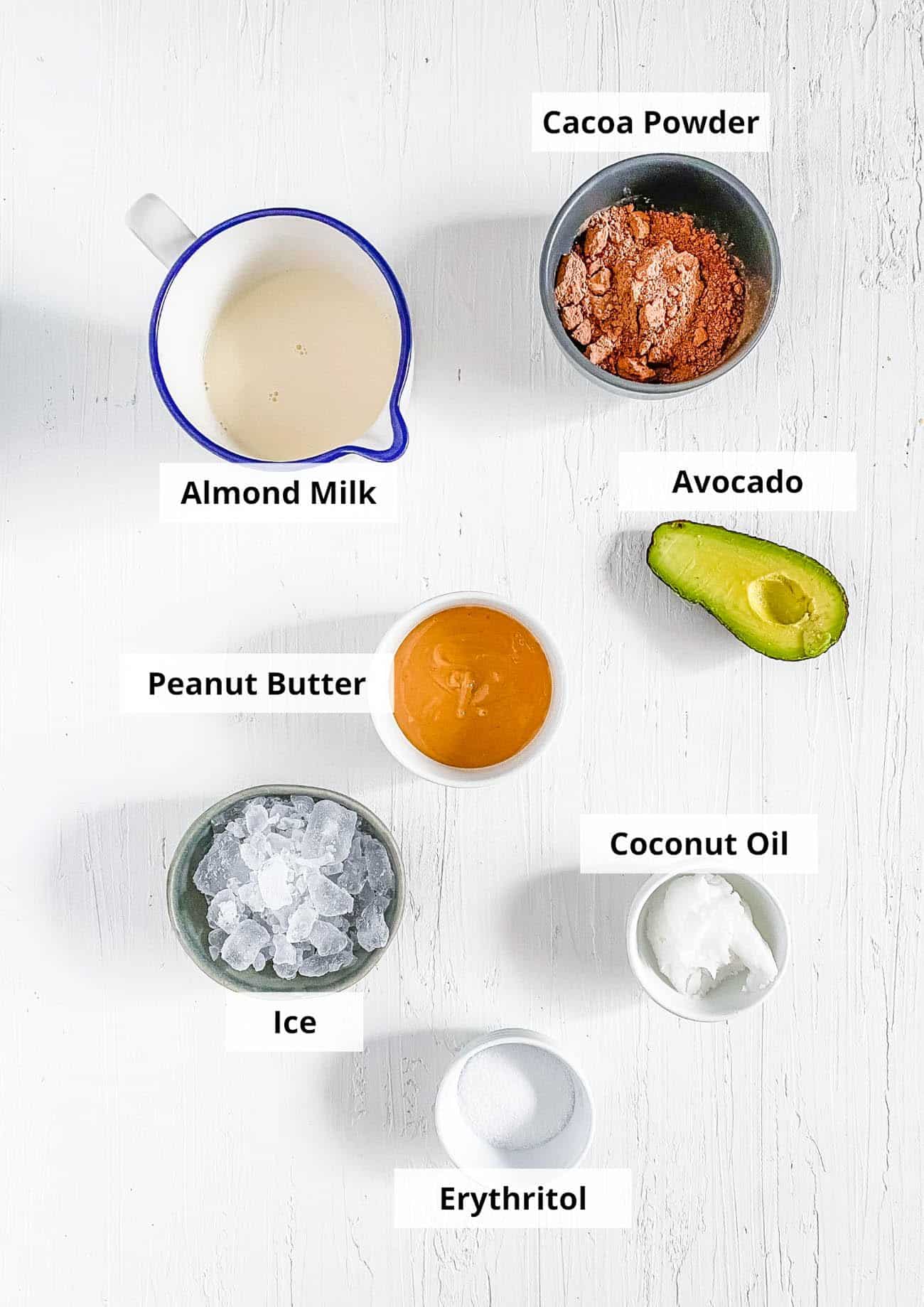 Peanut Butter: If you're on the keto diet, be sure to use unsweetened peanut butter. Sugar adds unwanted carbs. Natural peanut butter brands typically avoid sugar but check the ingredient list just in case. If you're looking to cut calories, powdered peanut butter is a good option but you will lose some of the creaminess.
Unsweetened Cocoa Powder: For an intense chocolate flavor, use dark cocoa powder. If you have a high-speed blender, you could also throw in some keto chocolate chips!
Erythritol: I prefer the taste of this sugar replacement, but you can swap it out with your favorite. A few drops of liquid stevia or monk fruit works great too. Just keep adding until you reach the desired sweetness.
Coconut Oil: Coconut oil makes this easy peanut butter smoothie oh-so-creamy!
Avocado: This secret ingredient has a mild taste and creamy flesh perfect for smoothies. It thickens this avocado smoothie recipe, but all you taste is peanut butter flavor! Look for a ripe avocado that gives slightly when you press on it.
Unsweetened Almond Milk: Almond milk has a mild flavor and creamy texture. Be sure to buy unsweetened to avoid added sugar. The almond milk also keeps this recipe plant based, so not only is this shake keto friendly, it happens to be a healthy vegan smoothie too!
Ice: Many smoothies use a frozen banana as a thickener. A fresh banana has over 20 grams of net carbs. Ice cubes add no carbs and thicken it up nicely! A scoop of keto ice cream works well for extra creaminess and to turn this peanut butter avocado smoothie into more of a dessert.
📖 Variations
Healthy breakfasts shouldn't be boring! Customize this keto chocolate peanut butter smoothie however you please!
Milk: Hemp, soy, flax, and coconut milk are all great low-carb options. If you're not on the keto diet, whole milk works great too. You can also use 1/2 cup of heavy cream and 1/2 cup of water for a super creamy smoothie!
Sweetener: Stevia and monk fruit are good options. Start with less because you can always add more but you can't take it out. For a natural sweetener, try maple syrup or light agave. Keep in mind, any sugar based sweetener wont be low-carb.
Nut Butter: Almond butter, sunflower seed butter, and cashew butter are all great options.
Protein: Add a tablespoon of chia seeds, flax seeds, hemp seeds, or low-carb protein powder!
Greens: I haven't tested this recipe with greens yet, but my gut says a handful of spinach would blend in nicely.
Toppings: Top with keto whipped cream and cacao nibs!
🔪 Instructions
This keto peanut butter chocolate smoothie comes together in a snap!
Blend Ingredients: Combine all ingredients in a high speed blender and blend on high until smooth and creamy!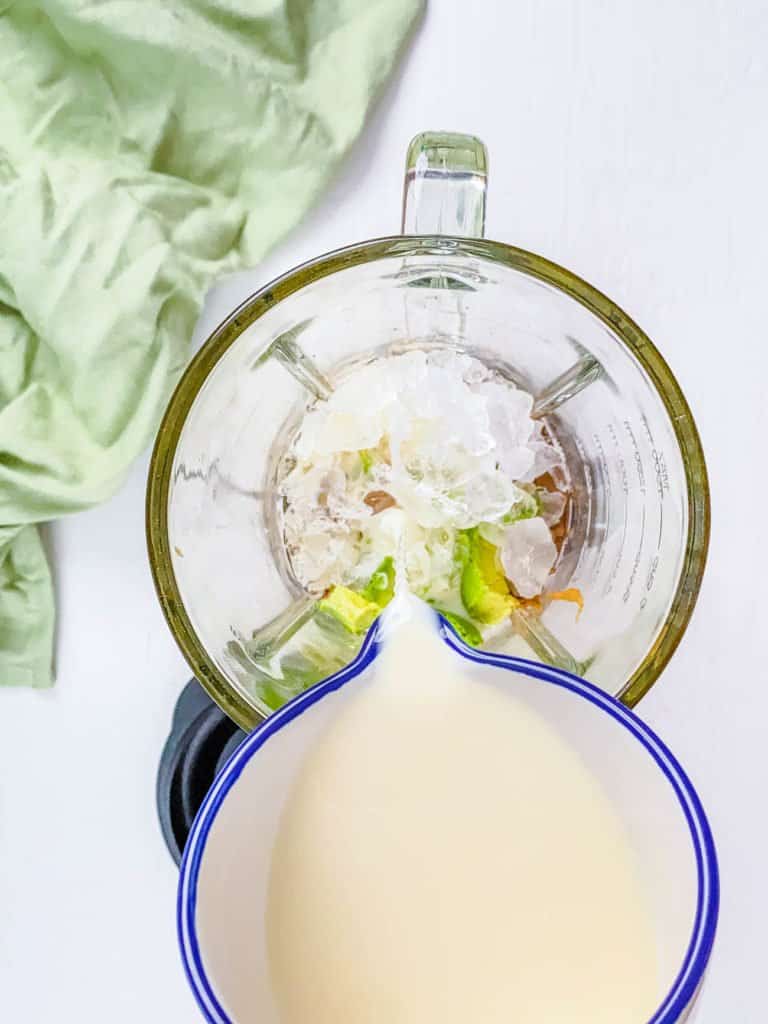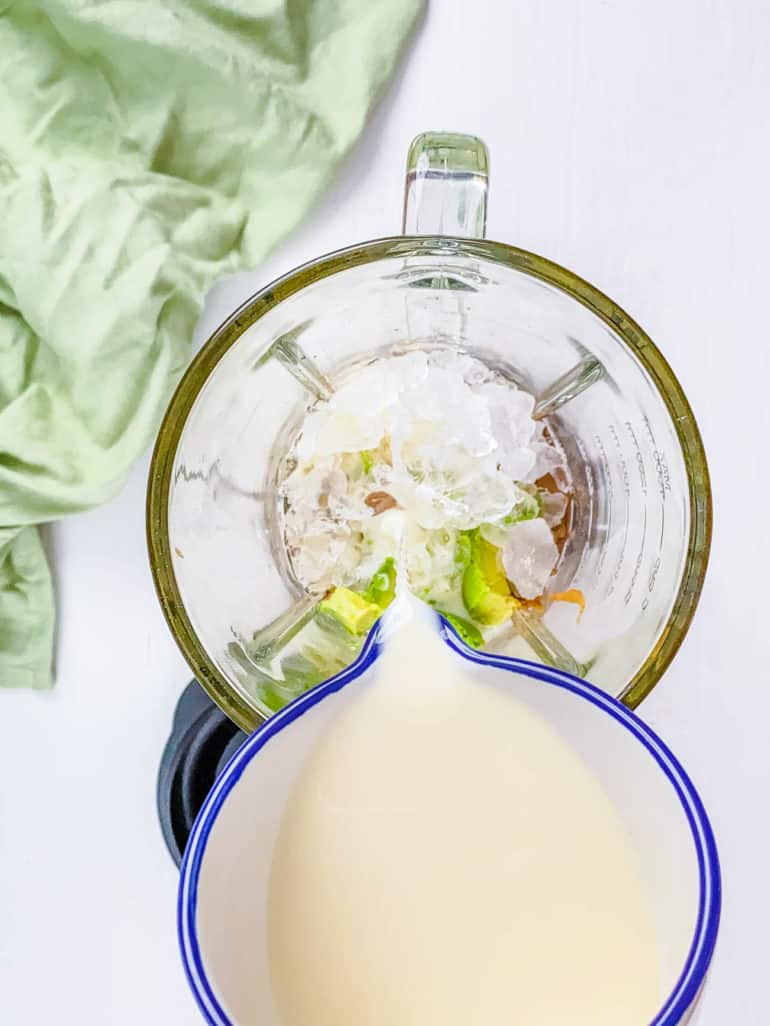 Taste & Adjust: Taste the smoothie to make sure it's sweet enough for you. Add more sweetener if desired. For a thicker smoothie, add more ice. Serve: Pour the healthy peanut butter smoothie into a glass and enjoy!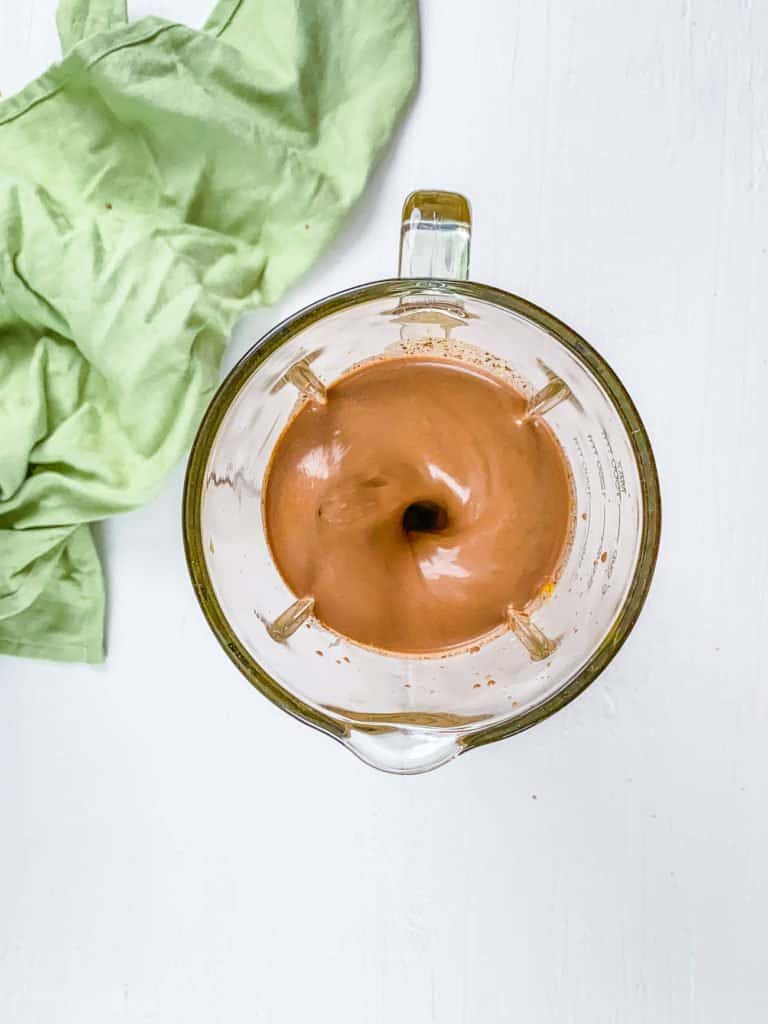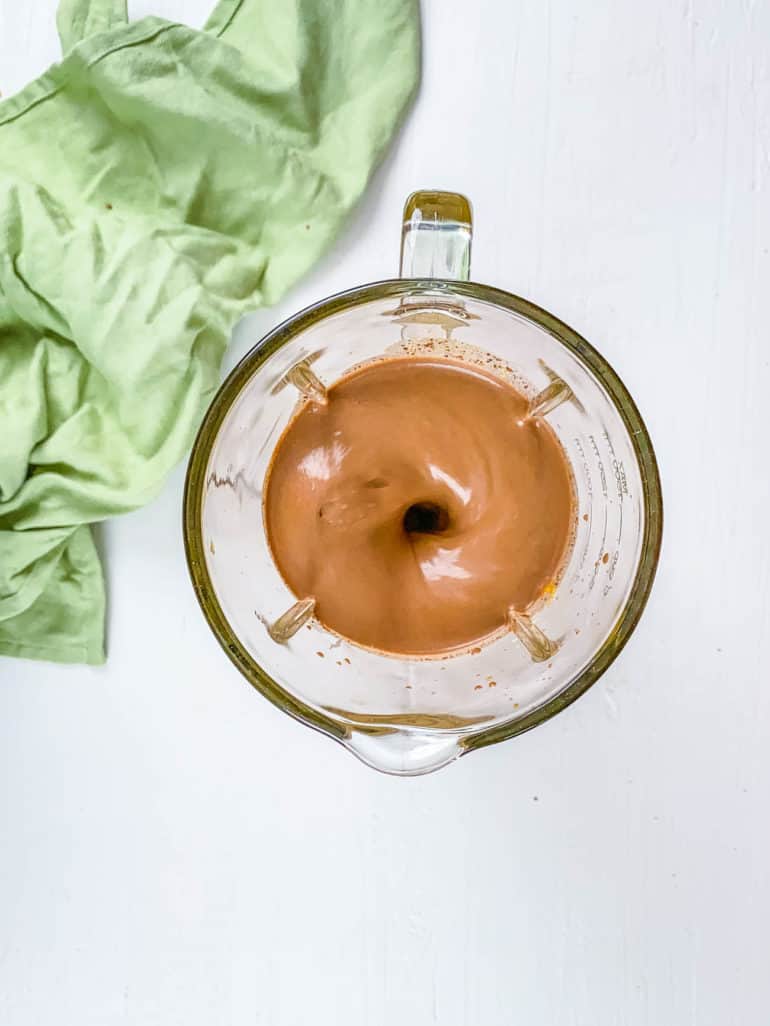 ❓ Recipe FAQs
Why do you put avocado in a smoothie?
An avocado is a nutrient powerhouse! They're rich in fiber, heart-healthy fats, and a variety of vitamins. They also have a creamy and mild flesh that thickens up a smoothie nicely. If you pair the avocado with strong flavors like peanut butter and chocolate, you won't even know it's there!
Is peanut butter okay for the keto diet?
Unsweetened peanut butter makes a great addition to the keto diet. Peanut butter is high in fat and protein yet low in carbs. Be sure to avoid added sugar and eat the spread in moderation for best results.
Can I drink smoothies on the keto diet?
Yes, smoothies can be low-carb and delicious! Be sure to avoid smoothies that are packed with fruit juice and high-carb fruits like bananas and mangoes. Instead, look for smoothies with low-carb ingredients like peanut butter, avocado, coconut milk, raspberries, etc. This keto peanut butter smoothie is perfect for a low carb diet!
How do you thicken a smoothie?
There are multiple ways to thicken a smoothie. Ice, frozen fruit, avocado, chia seeds, nut butter, cottage cheese, tofu, and flax seeds are all great options! Alternatively, you can simply add less liquid for a thicker smoothie.
💭 Expert Tips
If you don't have a blender, a food processor will work too!
If you're not on a low-carb diet, you can substitute half of a frozen banana for the ice. This will result in a creamy smoothie with no icy bits.
To make your peanut butter chocolate smoothie thicker, start with only 3/4 cup of almond milk.
Delicious smoothies are best made fresh! I don't recommend storing them for later.
For a keto milkshake, substitute keto ice cream in place of the ice. Reduce the almond milk to 1/2 cup and then add enough ice cream to make it thick!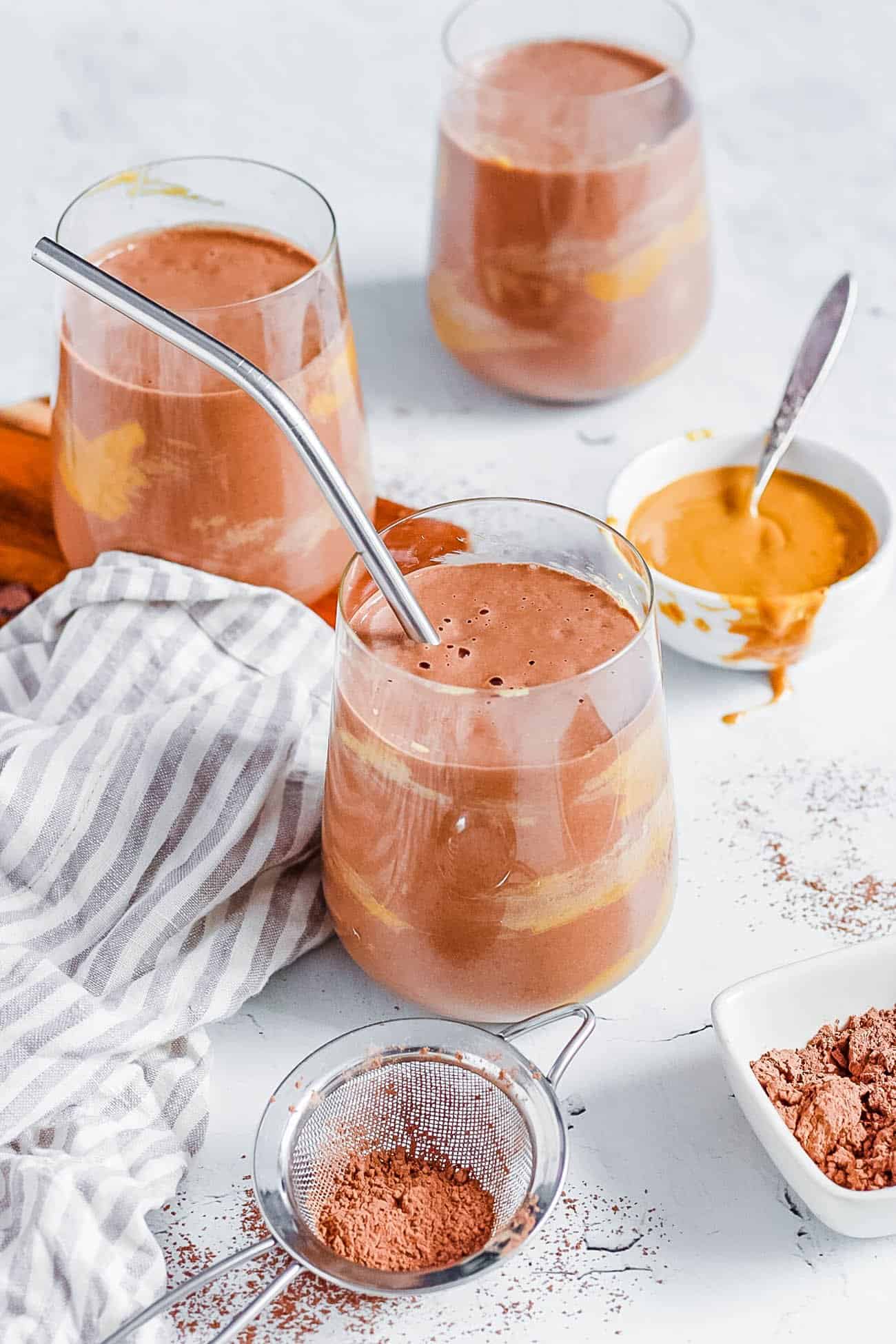 🥤 More Smoothies & Healthy Recipes!
LOVE THIS RECIPE? Please leave a 5-star rating 🌟 in the recipe card below and/or a review in the comments section further down the page!
You can also FOLLOW ME on FACEBOOK, TWITTER, INSTAGRAM, and PINTEREST to see more delicious, healthy, family-friendly food, and if you have any questions, I'm here to help!
📋 Recipe Card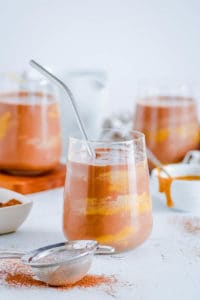 Print Recipe
Avocado Peanut Butter Smoothie
This avocado peanut butter smoothie tastes like a milkshake but it's packed with plant-based protein and heart-healthy fats. Enjoy this keto smoothie for a quick on-the-go breakfast or healthy snack.
Instructions
Add all ingredients into a high speed blender and blend on high for 3-4 minutes.

Adjust sweetness to taste by adding a little more sweetener if preferred.

Pour into a glass and serve with a sprinkle of cocoa powder if desired.
Notes
Almond milk can be substituted with coconut milk or you can use ½ cup cream and ½ cup water if you want to keep the drink nut free.
This smoothie is packed with healthy fats and protein to keep you feeling fuller for longer.
You can also add 2 tsp chia seeds to add additional antioxidants, minerals, fiber, and omega-3 fatty acids.
Adjust the thickness of the smoothie by adding additional almond milk.
Nutrition
Serving:
1
cup
|
Calories:
324
kcal
|
Carbohydrates:
16
g
|
Protein:
10
g
|
Fat:
29
g
|
Saturated Fat:
11
g
|
Polyunsaturated Fat:
5
g
|
Monounsaturated Fat:
12
g
|
Sodium:
281
mg
|
Potassium:
563
mg
|
Fiber:
9
g
|
Sugar:
3
g
12 responses to "Avocado Peanut Butter Smoothie (Vegan, Keto)"