Broccoli Smoothie
This post may contain affiliate links. As an Amazon Associate, I earn from qualifying purchases. Please read my disclosure.
This quick, creamy broccoli smoothie is packed with hidden veggies and naturally sweet flavors thanks to the addition of mango and banana. Enjoy this healthy smoothie as the perfect breakfast for busy mornings or for a satisfying afternoon snack. The best part? This easy recipe is ready in just 5 minutes!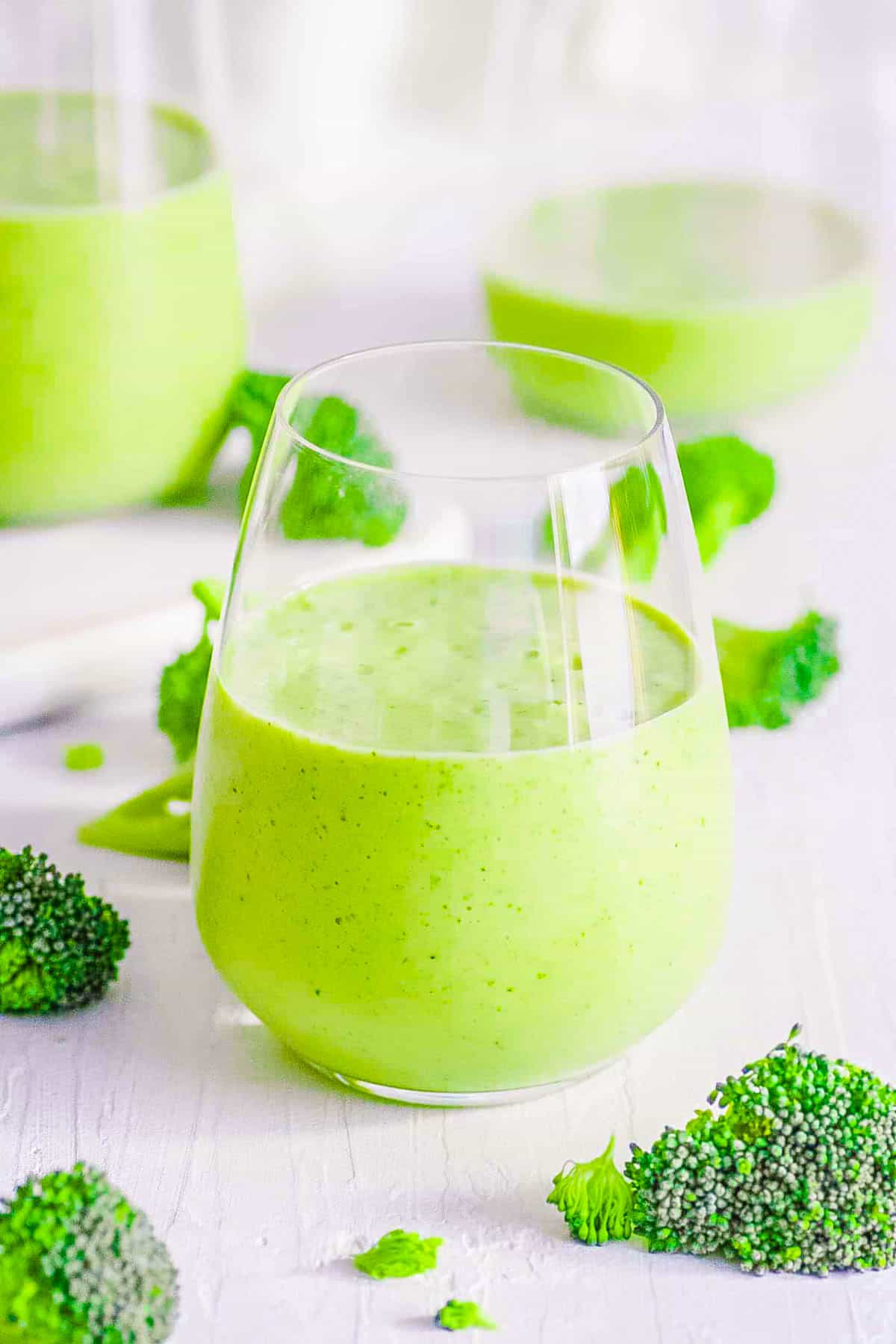 In need of a pick-me-up for a healthy breakfast or post-workout snack? This easy broccoli smoothie with banana is one of our favorite ways to get some greens in the morning!
It is the perfect morning smoothie when we're craving something nutritious and filling. We like to enjoy this smoothie by itself or with other breakfast and healthy snack recipes.
Latest Recipe Video!
You might be wondering, can you put broccoli in a smoothie? While it might not be one your typical veggies to add to smoothies, broccoli actually blends beautifully when combined with other ingredients and turns into a creamy, thick, rich treat.
Green veggies are nutrient-dense, help boost immunity, and are filled with antioxidants, and this magic broccoli smoothie is an easy way to incorporate more green vegetables into your daily diet! While this green vegetable has a slightly bitter taste, it's masked by the sweeter fruits in this recipe.
Thanks to the creamy yogurt, tropical mango, and sweet banana, you will barely even notice the broccoli in this healthy green smoothie recipe. This is a great recipe for getting picky eaters to eat more veggies, but it's also perfect for anyone who wants to eat more greens in general!
(And if you're looking for different ways to mix things up in the morning, be sure to try our arugula smoothie, this tomato smoothie, our apple carrot smoothie, and our blueberry pineapple smoothie!)
👩🏽‍🍳 Why This Recipe Works
Healthy & delicious smoothie recipe
Naturally gluten-free
Tons of health benefits & antioxidants
High in protein
Great way to use up leftover broccoli
Vegan option
Kid-friendly
Super versatile – easy to customize
Best broccoli smoothie recipe ever!
🥘 Ingredients
This recipe calls for just 6 simple ingredients, all of which can be found at your local grocery store. For the full measurements, and nutrition info, be sure to scroll down to the recipe card at the bottom of the post.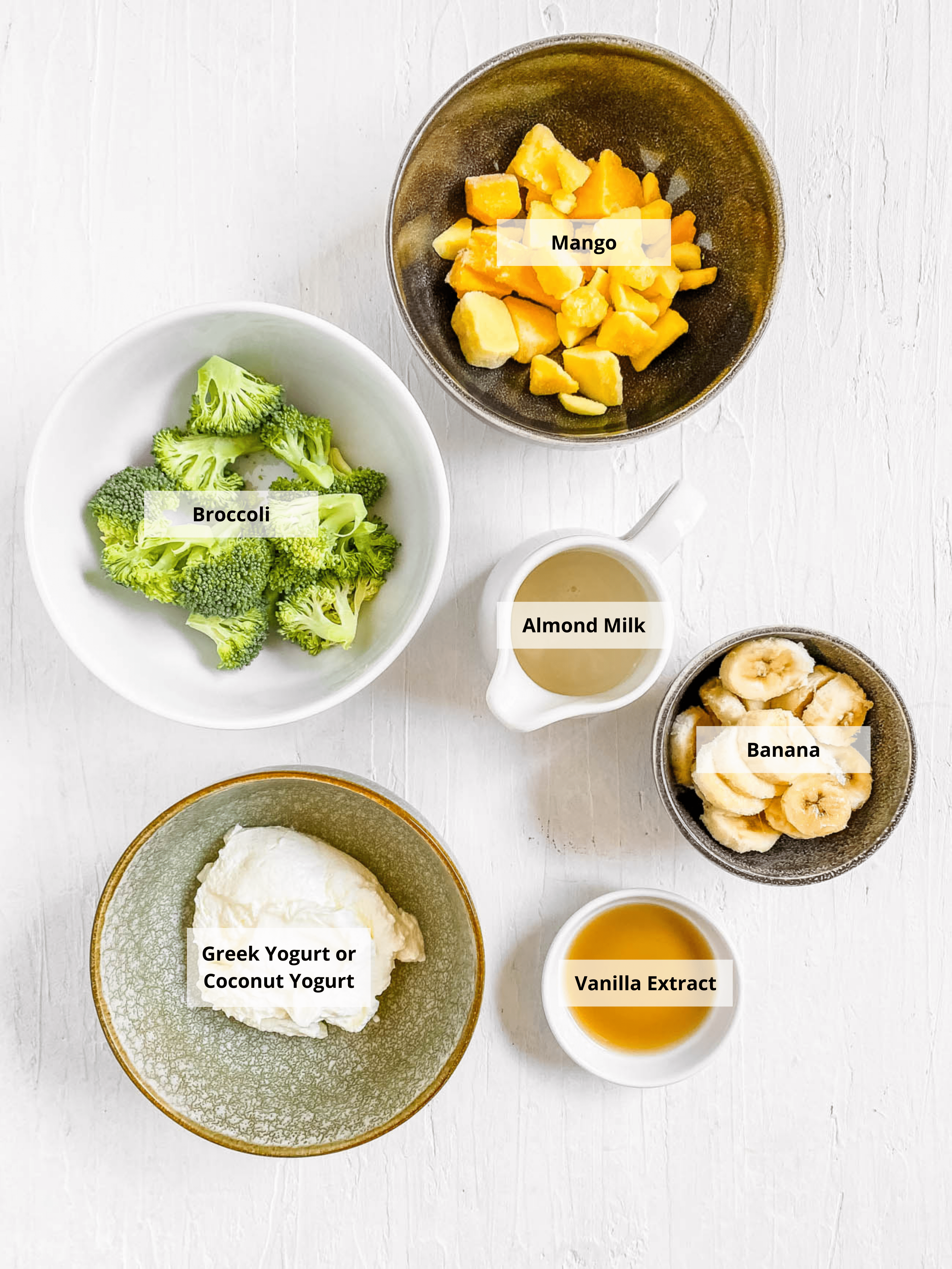 Broccoli: For this creamy smoothie, you can use either a cup of raw broccoli florets or cooked broccoli. Frozen broccoli will also work!
Mango: I recommend using frozen unsweetened mango chunks to save on prep time. Mango is loaded with Vitamin C! Frozen ingredients make it so that you don't have to add ice to your broccoli detox smoothie to cool it down.
Medium Banana: Bananas are rich in potassium and are an excellent source of nutrients. We used a medium frozen ripe banana for this bright green smoothie with broccoli. Thanks to the fresh fruit, you don't need to add sugar or coconut sugar (or any sweetener) to this recipe!
Milk: We used unsweetened almond milk for this recipe, but you can any kind of milk. If you're not vegan, you can use low-fat milk or skim milk. For a plant-based option, try unsweetened coconut milk, oat milk, flax milk, etc. If you don't want to use milk, you can also use coconut water and a splash of lemon juice. I don't recommend using fruit juices like orange juice or pineapple juice as that would increase the sugar content of this recipe without adding any nutrients.
Vanilla Extract: Vanilla extract adds natural sweetness without needing sugar.
Yogurt: Greek yogurt is full of calcium and protein. Feel free to use dairy-free yogurt (like unsweetened coconut yogurt) for a vegan option.
📖 Variations
Vegan Broccoli Smoothie: Use unsweetened coconut yogurt in place of the Greek yogurt.
Mix-Ins: Make this healthy superfood smoothie more nutritious by adding some omega-3 fatty acids like some chia seeds, hemp hearts, flax seeds, or even nuts & nut butters. You can even change up the fruits – instead of mango and banana, feel free to add in your favorite fruits. Pears, apples, dates, and berries would all work well. Feel free to use frozen fruit if you can't find fresh!
Raw Broccoli Spinach Smoothie: To give this vegetable shake even more nutrition, add your favorite leafy greens along with a handful of baby spinach!
Additional Protein: Add a scoop of your favorite vegan protein powder, or feel free to add 1 tablespoon of nut butter – peanut butter or almond butter would both work well in this healthy broccoli smoothie recipe.
Broccoli Pineapple Smoothie: Instead of the mango, add 1/2 to 3/4 cup chopped pineapple!
Add Ice Cubes: For a smoothie with more of a "slushy" feel, add a few ice cubes into this recipe before blending.
Smoothie Bowl Recipe: Pour the blended smoothie mixture into a bowl and top with granola, nuts, fresh fruit, desiccated coconut, raw honey, etc.
Broccoli Milkshake: For more of a dessert option, add vanilla ice cream or vegan vanilla ice cream to this broccoli banana smoothie!
🔪 How To Make A Broccoli Smoothie
Blend Ingredients: First, place all of the ingredients in a high-speed blender and blend until smooth. Adjust the sweetness to suit personal taste.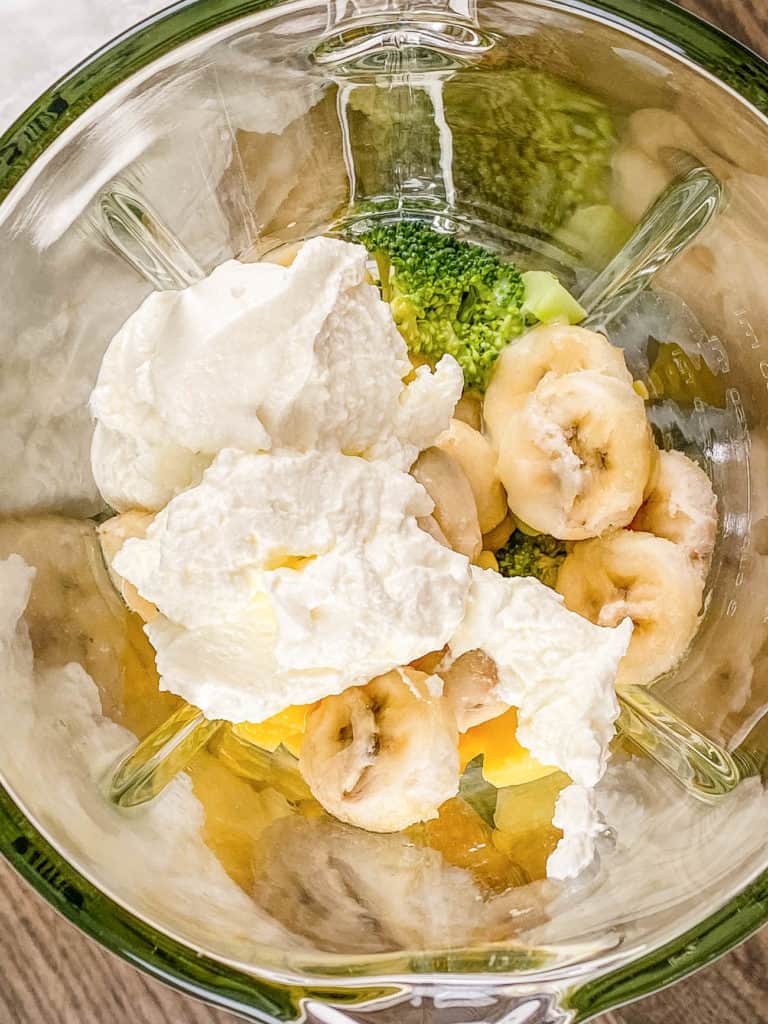 Serve: Serve this broccoli shake immediately!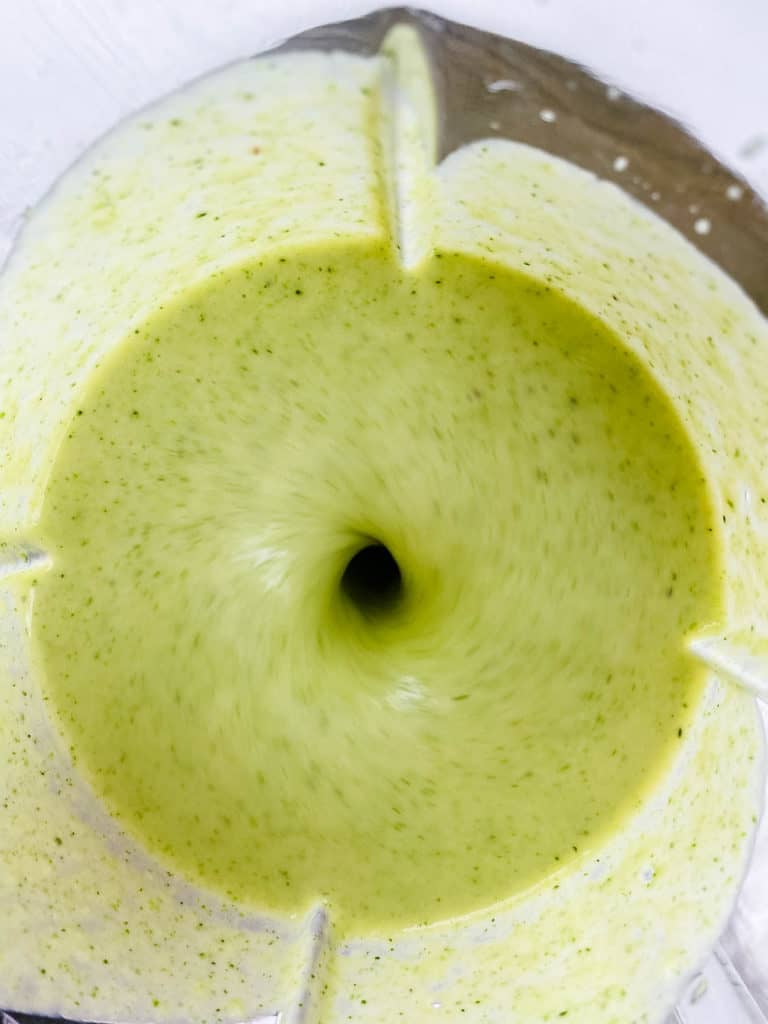 ❓Recipe FAQs
Is blending broccoli good for you? Are broccoli smoothies good for you?
Yes! Blending broccoli can be a great way to get the health benefits of this cruciferous vegetable. One cup of broccoli has only 30 calories, but is packed with a variety of vitamins and minerals including: Vitamins C (which helps boost your immune system), Vitamin K (essential for bone health) Folate (for cell function), Potassium (helps prevent heart disease), and Iron (for oxygenation of red blood cells).

This superfood also contains powerful antioxidants including Sulforaphane, which may protect against various types of cancers. Broccoli can help to lower blood pressure and stabilize blood sugar. It is also an excellent source of dietary fiber, and even contains protein!
Is it good to drink vegetable smoothies every day?
Absolutely! Vegetable smoothies are a great way to incorporate more veggies into your diet, and get all of the health benefits that raw vegetables have to offer including: fiber, antioxidants, vitamins and minerals. While you shouldn't only drink vegetable smoothies all day, having one per day is a great part of a balanced diet.
Should broccoli be cooked before adding it to a smoothie?
No, in fact, you shouldn't cook any vegetables before adding them to smoothies for two reasons:
1) Cooking veggies releases more of their water content, which will make your smoothie too watery and runny
2) Raw vegetables retain more of their nutritional value and vitamins/minerals, while cooked vegetables can lose some of those nutrients.
What vegetables should I add to my smoothie?
The best vegetables to put in smoothies are typically green vegetables since they tend to take on the flavor of the fruits and other smoothie ingredients you've combined it with. You can make easy veggie smoothies with spinach, kale, other leafy greens, and broccoli, but you can also try cauliflower, sweet potatoes, carrots, pumpkin, beets, squash and zucchini!

When it comes to figuring out what fruits and vegetables are good to blend together – I recommend adding heartier, sweeter fruits to balance out the flavors of the vegetables – like bananas, apples, and pears.
What should you not mix in a smoothie?
Technically, you can add just about any ingredient into a smoothie. But I recommend staying away from high sugar / high calorie ingredients like fruit juices, flavored yogurts, ice cream, frozen yogurt, and sweeteners like honey, maple syrup, agave, etc. Sweeteners are the biggest thing to stay away from – you don't need it in most yummy veggie smoothies because fruit is already naturally sweet.
Can you put frozen broccoli in a smoothie?
Yes! You can either just use pre frozen broccoli (which is cheaper and sometimes even more nutritious than fresh broccoli), or you can buy a large batch of fresh green broccoli florets and freeze the rest in the freezer for future uses. You can make a frozen broccoli smoothie and it will taste just like if you had made it with fresh broccoli!
💭 Expert Tips
Tips for adding vegetables to smoothies: Make sure to use a high speed blender. Vegetables are tougher to blend than fruits, so using a high quality blender like a Vitamix which can completely pulverize the vegetables is important!
Add your liquid first! This will ensure no bits of fruits or veggies get stuck in your blender's blades, and results in smoothie with a super creamy texture.
If you're looking to make a broccoli juice recipe, you would want to use a vegetable juicer, not a blender, and omit the milk, vanilla and yogurt from this recipe.
When making kid-friendly smoothie recipes, the key is to add the ingredients in proportions your kids will accept. If your kids are really sensitive to the flavor of broccoli, add a little more banana or mango to smooth it out. Never add sweeteners or added sugar to kids' smoothies – use fruit as a natural way to make their smoothies sweet.
Serve this drink immediately: This broccoli and banana smoothie will last for up to one day in the fridge, but if you don't serve it immediately, it will separate. So if you blend it and then wait to serve, be sure to stir it up before serving so it's fully combined!
Freeze your banana for more creaminess: If you freeze your banana ahead of time, you'll end up with an even smoother, thick and creamy broccoli magic smoothie.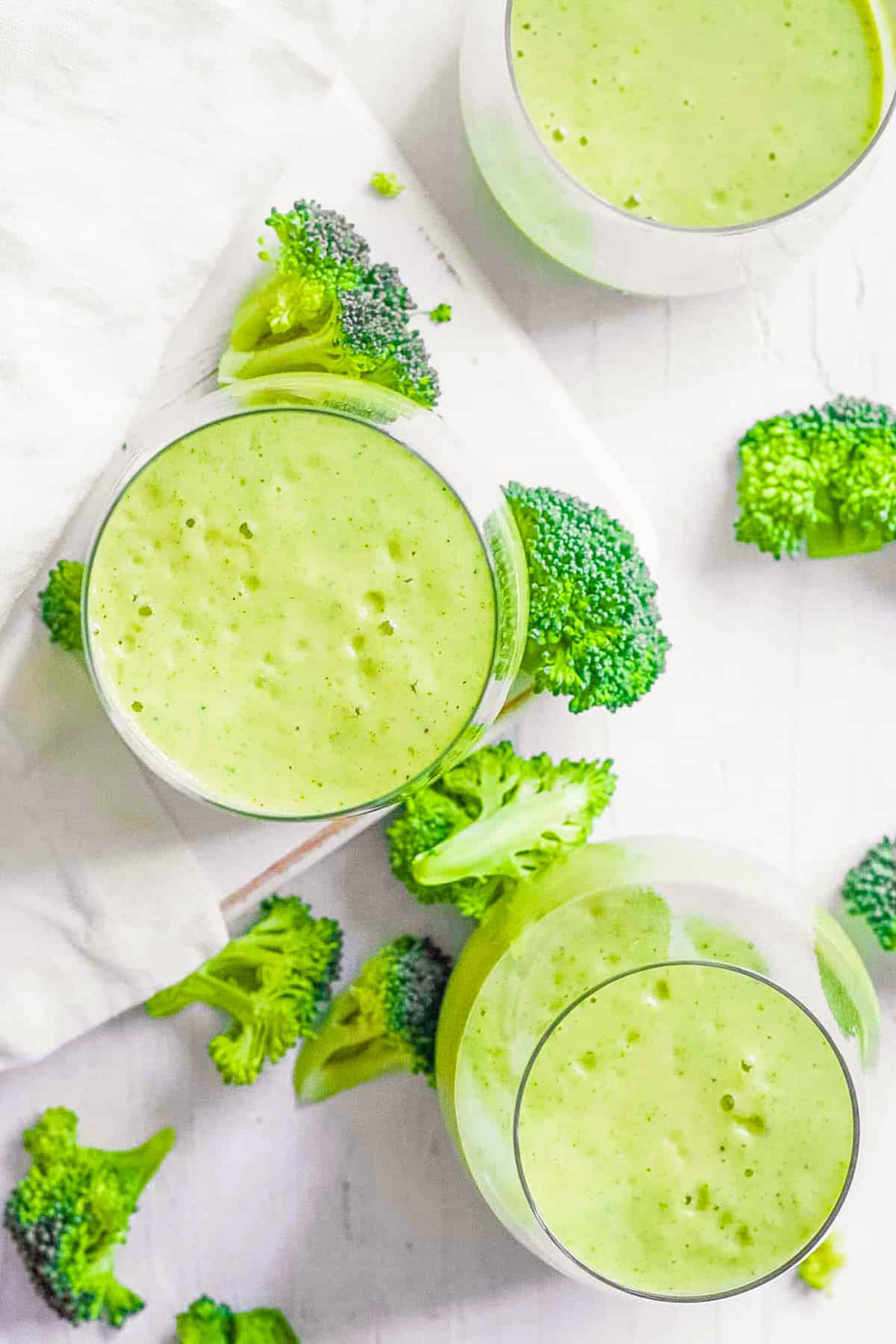 🥤More Healthy Smoothies!
Looking for more smoothies with vegetables you can't taste? Try some of these delicious vegetarian smoothies!
LOVE THIS RECIPE? Please leave a 5-star rating 🌟 in the recipe card below and/or a review in the comments section further down the page!
You can also FOLLOW ME on FACEBOOK, TWITTER, INSTAGRAM, and PINTEREST to see more delicious, healthy, family-friendly food, and if you have any questions, I'm here to help!
📋 Recipe Card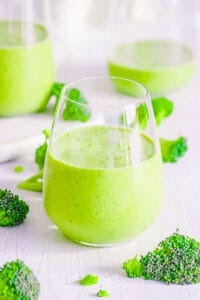 Print Recipe
Broccoli Smoothie
This quick, creamy broccoli smoothie is packed with hidden veggies and naturally sweet flavors thanks to the addition of mango and banana. Enjoy this healthy smoothie as the perfect breakfast for busy mornings or for a satisfying afternoon snack. The best part? This easy recipe is ready in just 5 minutes!
Instructions
Add all the ingredients to a high-speed blender and blend for three minutes or until smooth.

Adjust sweetness to suit personal taste.
Notes
Make sure the banana slices are frozen so the smoothie is thick, creamy, and smooth.
Always adjust the sweetness to suit individual tastes.
Maple syrup can be used as a substitute for coconut sugar.
Using a high-speed blender will result in a very smooth and fluffy smoothie.
To make this vegan, use unsweetened, plain coconut yogurt instead of Greek yogurt.
Nutritional information includes coconut sugar.
Nutrition
Serving:
1
smoothie
|
Calories:
173
kcal
|
Carbohydrates:
30
g
|
Protein:
9
g
|
Fat:
3
g
|
Saturated Fat:
1
g
|
Polyunsaturated Fat:
1
g
|
Monounsaturated Fat:
1
g
|
Cholesterol:
3
mg
|
Sodium:
165
mg
|
Potassium:
462
mg
|
Fiber:
4
g
|
Sugar:
20
g
18 responses to "Broccoli Smoothie"