Apple Carrot Smoothie
This post may contain affiliate links. As an Amazon Associate, I earn from qualifying purchases. Please read my disclosure.
Try this immune-boosting apple carrot smoothie for a quick, on-the-go breakfast or afternoon pick-me-up! This refreshing smoothie is jam-packed with beta-carotene and essential vitamins. Dairy-free, vegan, & gluten-free!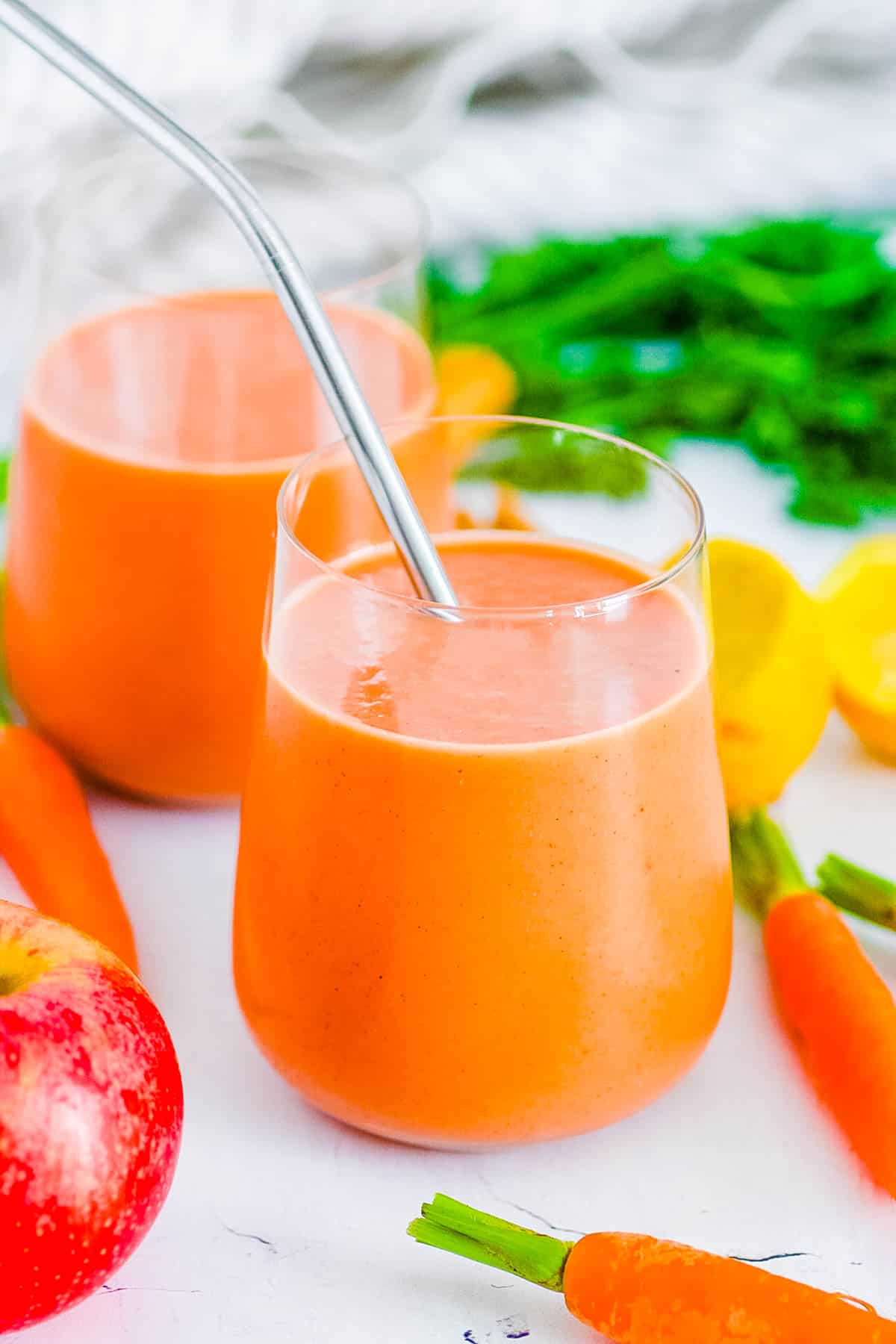 As much as I love waffles, pancakes, and delightful breakfast carbs, sometimes I just want a refreshing, nutrient-packed breakfast. A cold, frosty breakfast smoothie is just the thing. There's something about kickstarting my day with fruits and veggies that brightens my mood.
This carrot apple smoothie is perfectly sweet with no refined sugars! Fresh apple and banana naturally sweeten it, and fresh lemon juice brightens it up. It tastes more like a summertime treat than a hydrating, vitamin-packed drink.
Latest Recipe Video!
Breakfast smoothies are one of my favorite things to make in the morning because they're super easy, filling, and are great if you need something to take with you on the go.
Try this apple banana carrot smoothie next time you need an energizing pick-me-up. It only takes six ingredients and 8 minutes of your time! It's the perfect balance between sweet and healthy.
👩‍🍳 Why This Recipe Works
Great way to start the day!
Naturally sweet with no added sugars
A healthy snack or breakfast
Packs a nutritional punch
Easy to customize
Thick, smooth, and creamy
Bright color from the carrots
Hydrating morning smoothie
Part of a healthy diet
Best carrot and apple smoothie ever!
🥘 Ingredients
This vegan carrot apple smoothie requires simple ingredients found at your local grocery store. See the notes below for variations and the recipe card for nutritional information.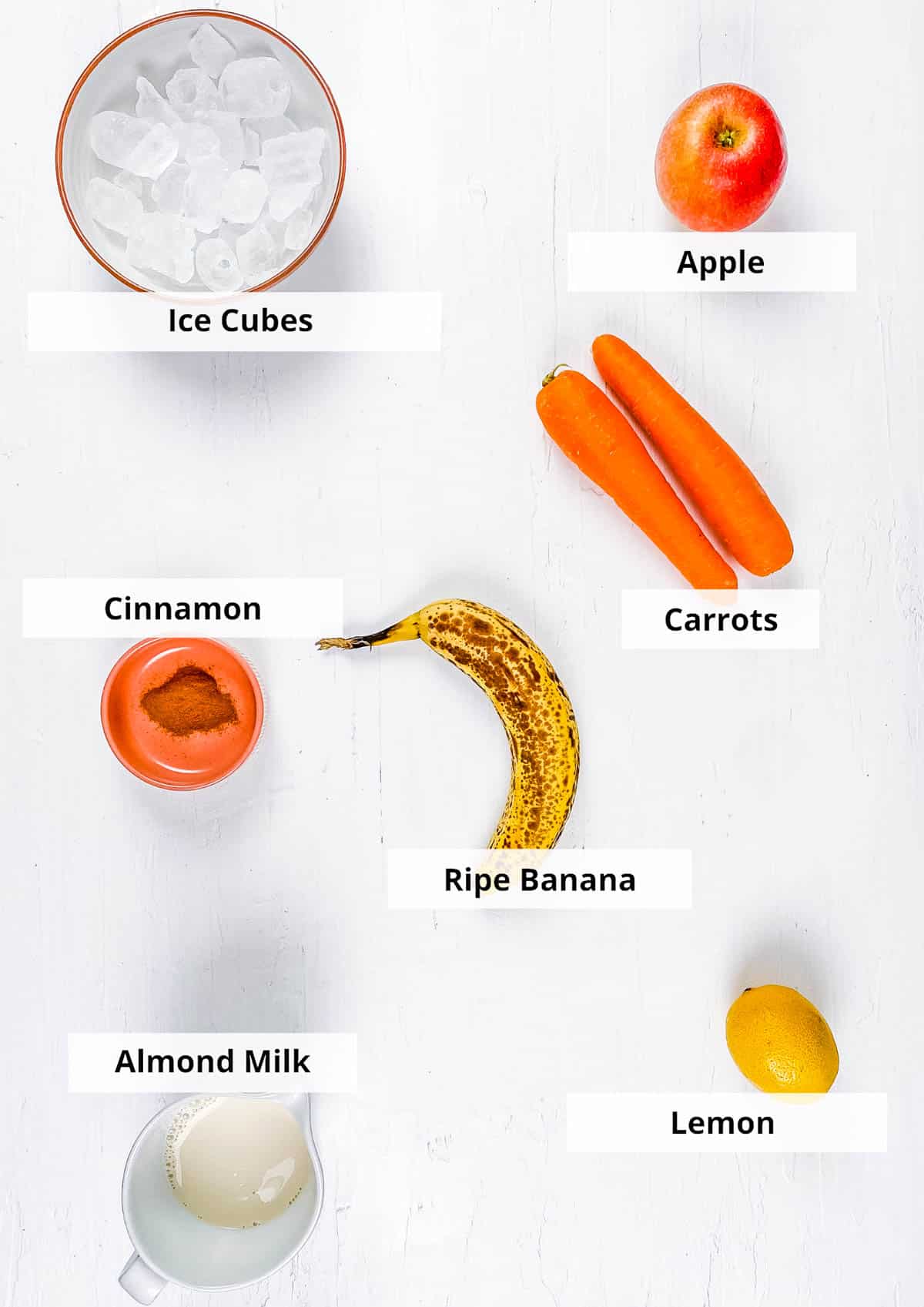 Apple: Apples provide fiber, antioxidants, and vitamin C. If you have a high-speed blender, there's no need to peel it. The peel is a good source of nutrients. I like to use a Fuji or Honeycrisp apple, but any kind will do. Just keep in mind if you use a granny smith apple, the smoothie won't be as sweet. If you don't have apples on hand, you can also use applesauce!
Carrots: I prefer to peel large carrots, because the peel tastes bitter. Without the peel, fresh carrots are naturally sweet. Baby carrots also work if you don't want to peel and dice them.
Banana: I recommend a ripe, frozen banana for natural sweetness. Unripe bananas are chalky and flavorless. When a banana ripens, its starch converts to natural sugar. A frozen banana will keep the smoothie thick and cold.
Almond Milk: Unsweetened almond milk has a creamy texture and mild flavor that's ideal for smoothies and has no added sugar.
Cinnamon: Adds spice and warmth to the smoothie. It also provides plenty of disease-fighting antioxidants with anti-inflammatory properties.
Lemon Juice & Ice Cubes: Acidity enhances the sweetness of the apple and carrots. Just be sure to use a fresh lemon, it's affordable and so much better! Don't forget the ice – it keeps the smoothie nice and cold and adds a creamy texture.
📖 Variations
This 5-minute breakfast smoothie is easy to customize! Switch up your smoothie routine and try one of these simple, nutritious variations.
Apple Beetroot Carrot Smoothie: Add a peeled and diced beet along with the other ingredients. Adjust the milk if you need a thinner smoothie.
Change The Milk: Any plant-based milk works in this veggie smoothie! Try coconut milk, soy milk, or oat milk. Or use coconut water for added potassium.
Carrot Apple Ginger Smoothie:

Add a small knob of peeled ginger root to the blender. Remember, fresh ginger root is healthy but pungent. Less is more – so start with a little bit because you can always add more to taste. Feel free to try fresh turmeric instead!

Carrot Apple Spinach Smoothie: Add 1-2 cups of fresh baby spinach to the blender with the rest of the ingredients!
Change The Fruits: If you don't like banana (or don't have any), try frozen peaches, pineapple or mango.
High Protein Carrot Smoothie: Add 1-2 scoops of vanilla protein powder, Greek yogurt, chia seeds, flax seeds, or nut butter along with the rest of the ingredients to add up to 20 grams of protein per serving!
🔪 Instructions
Here's how to make this apple carrot smoothie recipe:
Blend Fruit & Veggies: First blend the apple, small chunks of carrots, and banana until smooth. This will give you a smoother consistency. Add a splash of almond milk if necessary.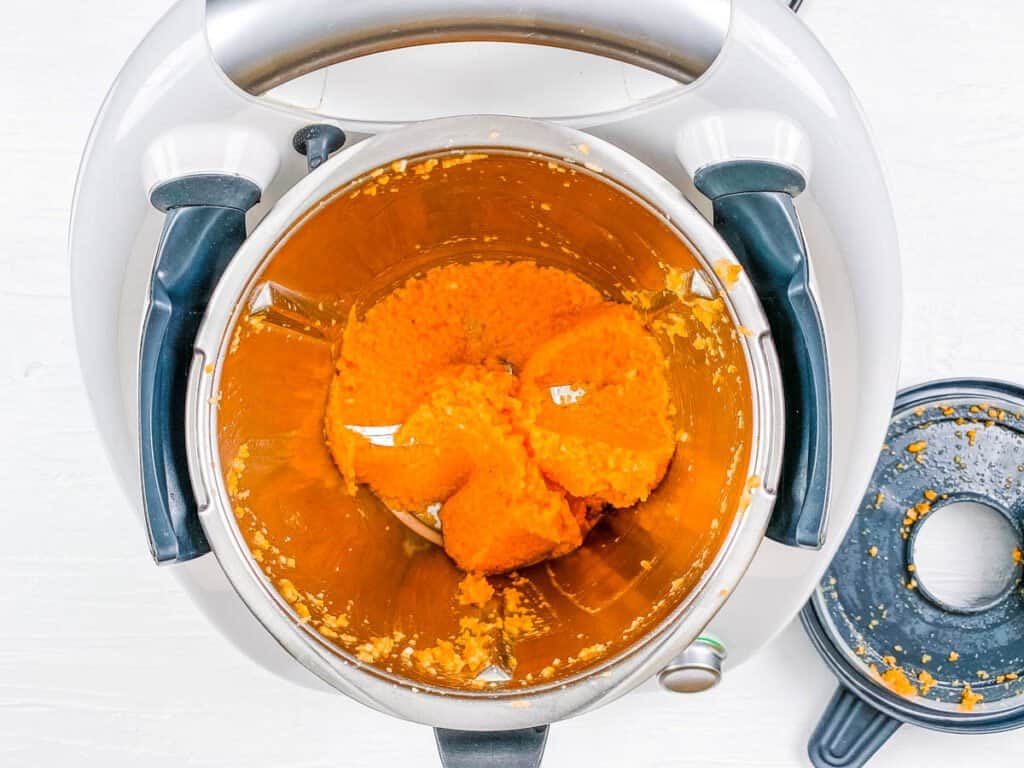 Add Remaining Ingredients: Add the almond milk, cinnamon, lemon juice, and ice to the blender. Blend until smooth.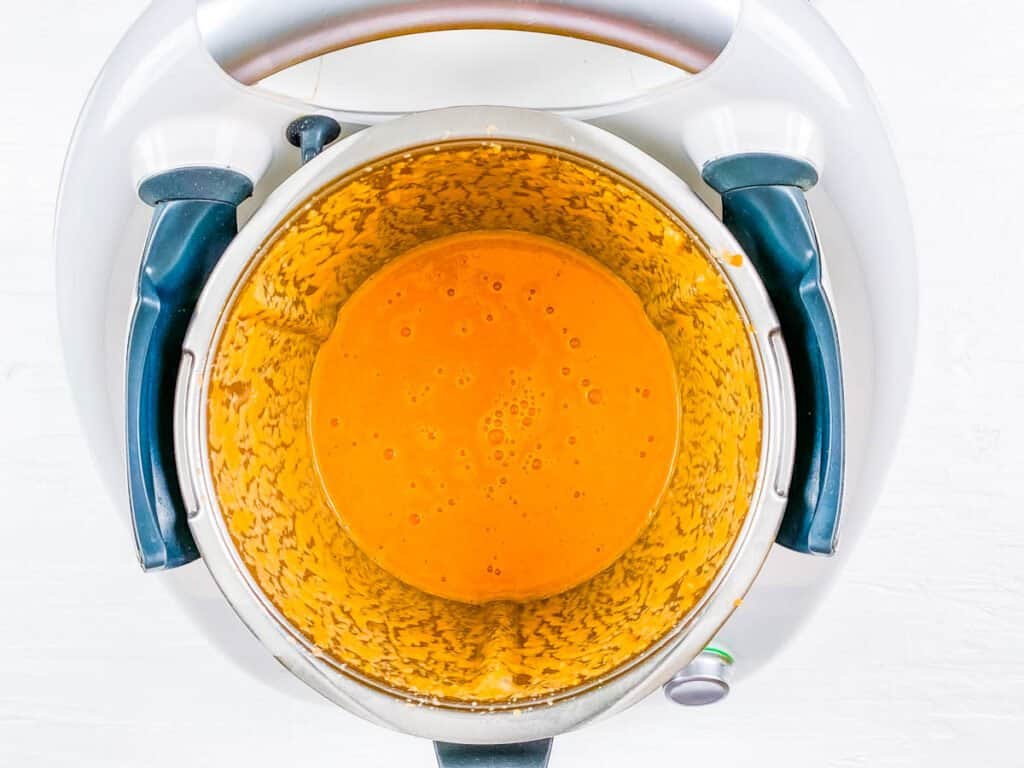 Adjust & Pour: If the smoothie is too thick, add a little more almond milk to thin it out. Pour the smoothie into two glasses or one tall glass and enjoy immediately.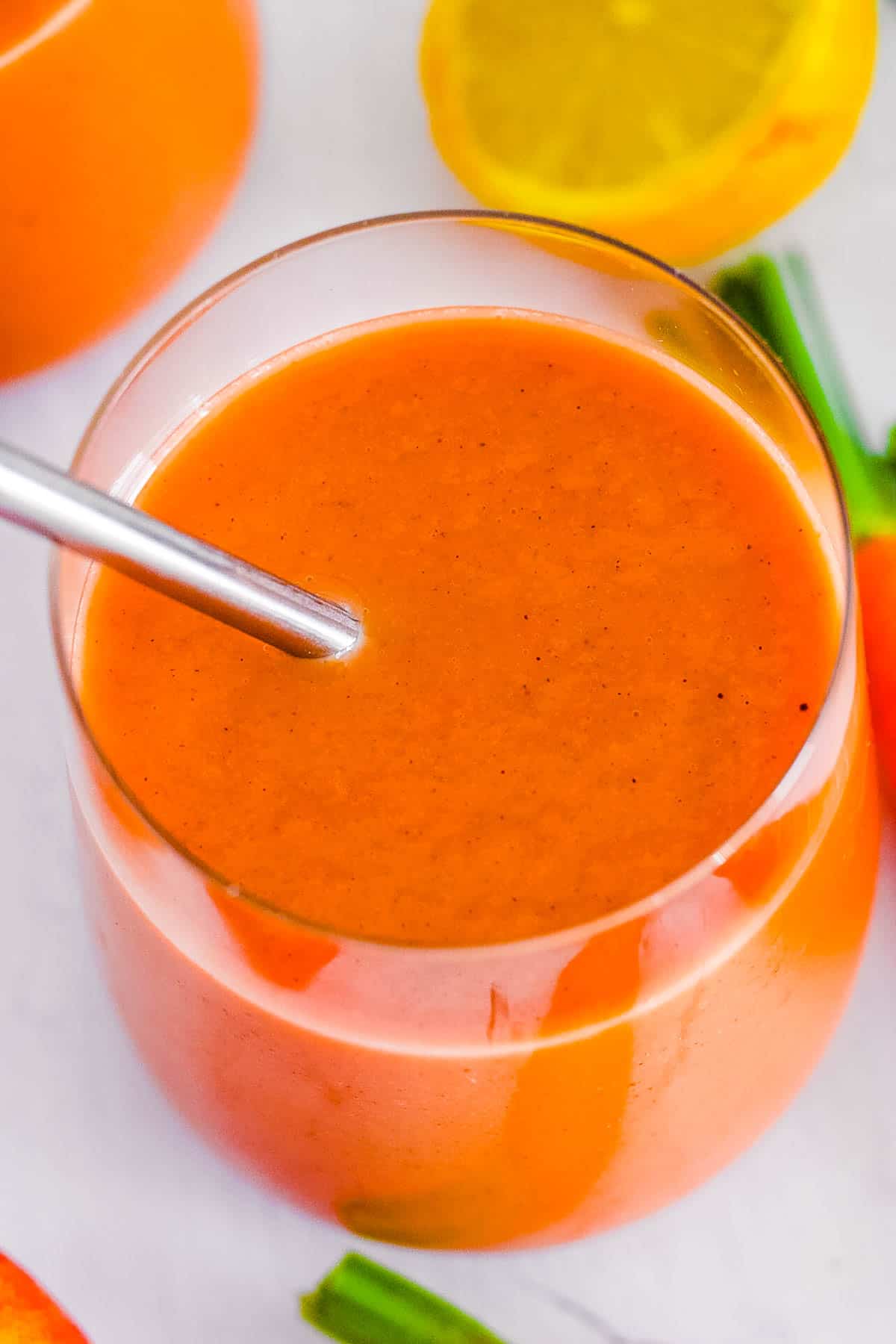 ❓ Recipe FAQs
Can you put carrots in a smoothie?
Absolutely! Carrots are naturally sweet and pair well with apples, strawberries, mangoes, pineapple, oranges, and bananas. They're a great way to pack in extra nutrients, fiber, antioxidants, and beta carotene. Just be sure to use a high-speed blender for a smooth consistency.
Is a carrot apple smoothie healthy?
Yes! This easy carrot smoothie is packed with health benefits. It's made with whole foods and no added sugars. Carrots provide calcium and vitamin K, which are vital for strong bones. Apples provide fiber and disease-fighting antioxidants that reduce the risk of cancer and heart disease. Cinnamon is loaded with anti-inflammatory antioxidants too!
How many calories are in a simple carrot apple smoothie?
One serving of this healthy apple carrot smoothie has only 146 calories!

Can I use frozen carrots?
Yes, frozen carrots work great too! No need to thaw them out first. Just add more almond milk if the smoothie is too thick.
Do I need to peel carrots before adding them to a smoothie?
I recommend peeling them first. The peel tastes slightly bitter and thus, so will your smoothie!
💭 Expert Tips
For best results, use a high-speed blender. It will do a better job blending the carrot into a smooth consistency.
Wait to add the milk. If you blend the carrot, apple, and banana first, the blades will puree the fruit much better.
If you want a sweeter smoothie without adding sugar, swap the almond milk for freshly squeezed navel orange juice.
Use fruits & veggies: It's important to create a smoothie with fruits and vegetables. If you only use vegetables, the smoothie won't taste sweet. And if you only use fruits, the smoothie will be too high in natural sugars with nothing lower on the glycemic index to balance it out!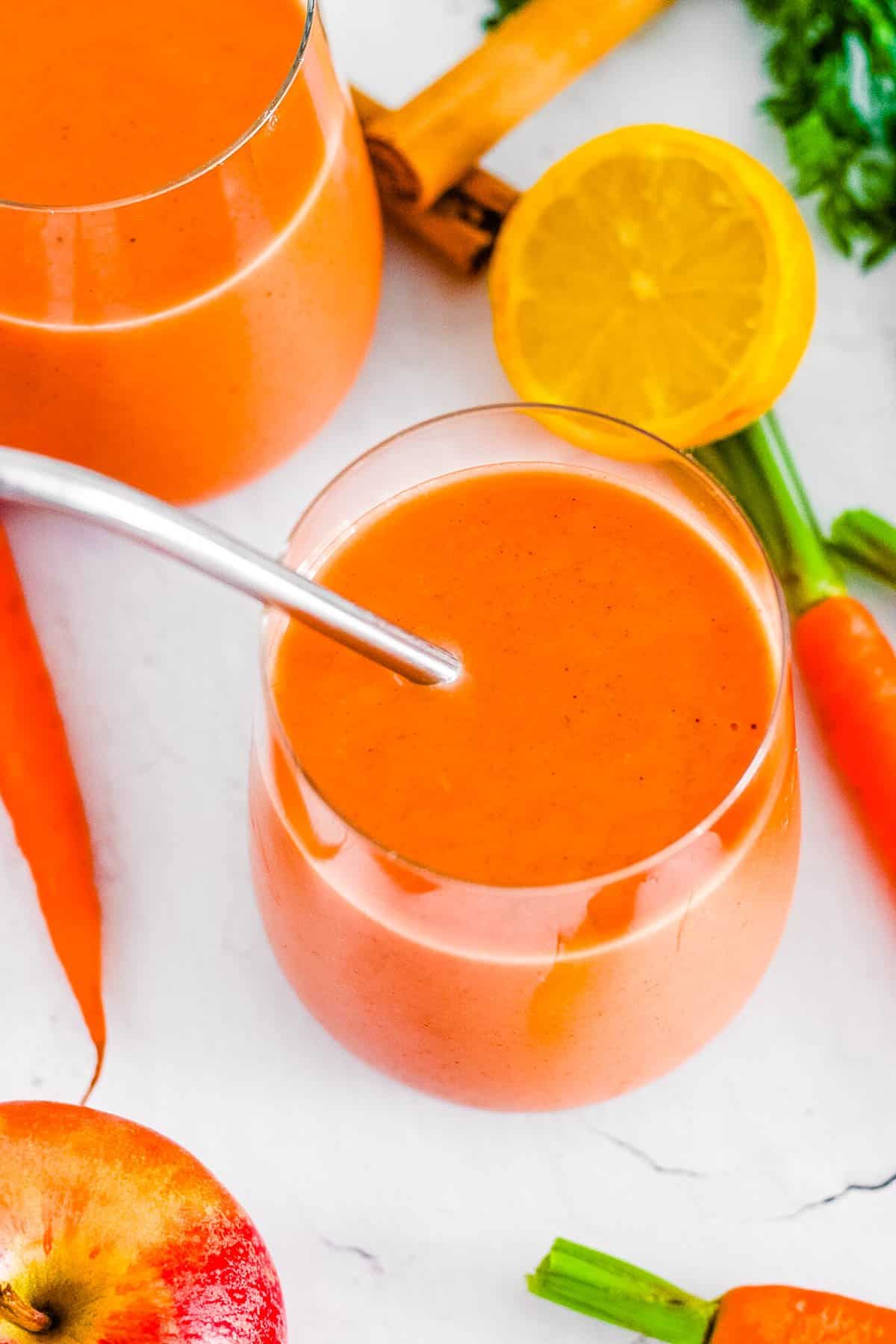 🍓 More Healthy Smoothie Recipes!
Tasty smoothies don't have to be unhealthy! Here's some green smoothies, fresh fruit smoothies, and more!
LOVE THIS RECIPE? Please leave a 5-star rating 🌟 in the recipe card below and/or a review in the comments section further down the page!
You can also FOLLOW ME on FACEBOOK, TWITTER, INSTAGRAM, and PINTEREST to see more delicious, healthy, family-friendly food, and if you have any questions, I'm here to help!
📋 Recipe Card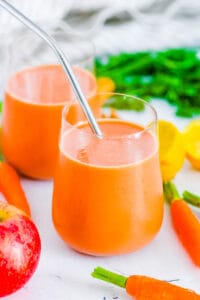 Print Recipe
Apple Carrot Smoothie
Try this immune-boosting apple carrot smoothie for a quick, on-the-go breakfast or afternoon pick-me-up! This refreshing smoothie is jam-packed with beta-carotene and essential vitamins. Dairy-free, vegan, & gluten-free!
Instructions
Place the apple, carrots, and banana into a high-speed blender and blend until smooth.

Add all remaining ingredients and continue to blend.

Adjust thickness by adding more almond milk if needed.

Pour into 2 glasses and serve immediately.
Notes
Note: There is zero added sugar in this smoothie recipe! All of the sugar listed in the nutrition information is natural sugar from the apples, bananas and carrots. 
Any plant-based milk will work in this recipe.
Feel free to add 1-2 scoops of vegan vanilla protein powder to add up to 20 grams of protein to this smoothie!
Slicing and freezing the banana will give the smoothie a thick consistency.
Serve immediately as leftovers don't keep well.
Blending the apple and carrots first ensures a smoother consistency.
Nutrition
Serving:
1
glass
|
Calories:
146
kcal
|
Carbohydrates:
33
g
|
Protein:
2
g
|
Fat:
2
g
|
Saturated Fat:
0.1
g
|
Polyunsaturated Fat:
1
g
|
Monounsaturated Fat:
1
g
|
Sodium:
209
mg
|
Potassium:
512
mg
|
Fiber:
6
g
|
Sugar:
20
g
8 responses to "Apple Carrot Smoothie"