Oat Milk Pancakes
This post may contain affiliate links. As an Amazon Associate, I earn from qualifying purchases. Please read my disclosure.
Here's a simple, no-fuss pancake recipe that's light, fluffy, and dairy-free! These oat milk pancakes make the ultimate short stack. They taste just as good as regular pancakes, but without the need for dairy or eggs. Trust me, it's a game-changer for your breakfast routine!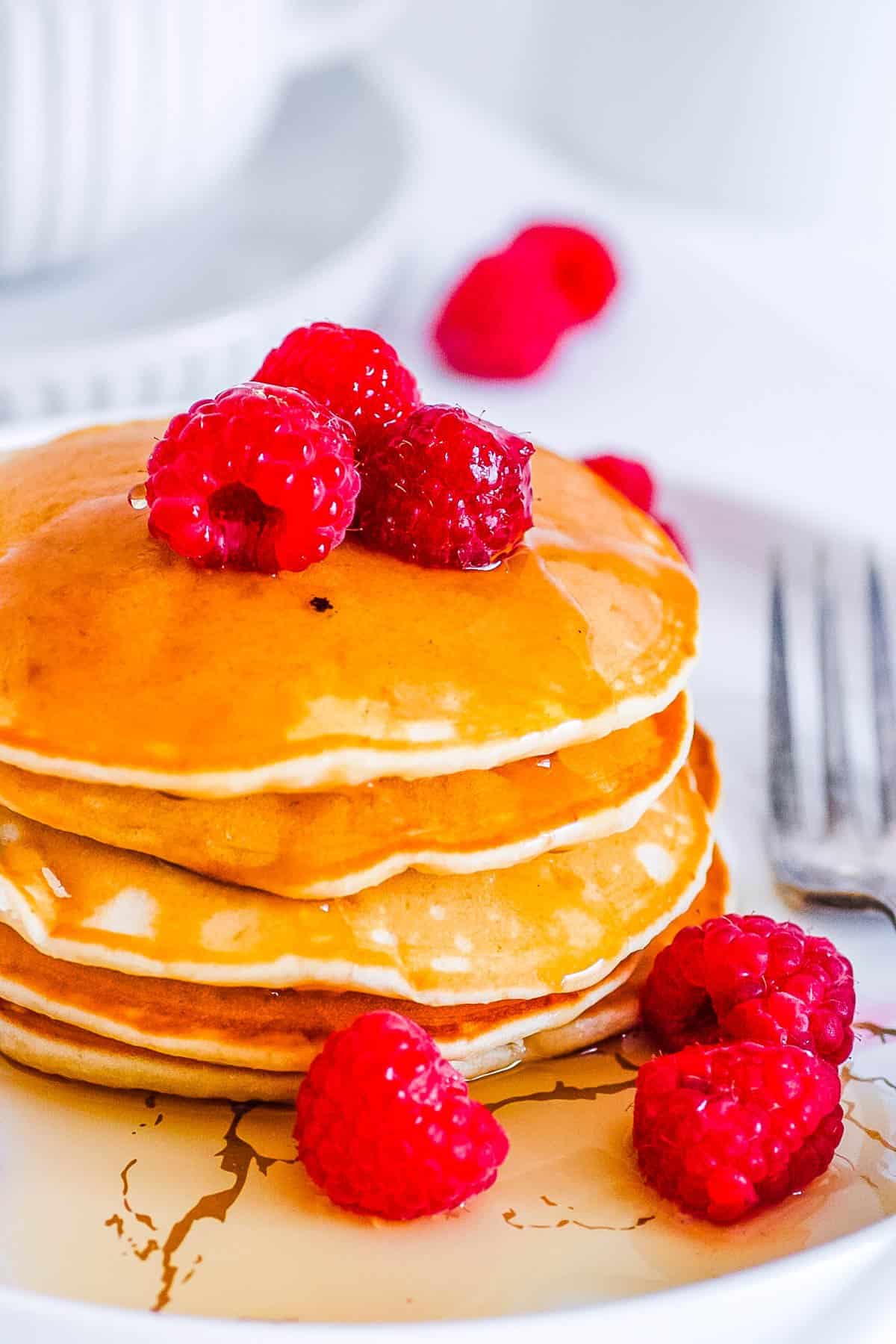 Pancakes are a classic breakfast staple, but they can often be packed with unhealthy ingredients. That's why I've created this fluffy oat milk pancake recipe, a healthier twist on the classic version!
This recipe uses oat milk, a plant-based alternative to dairy, and swaps out refined sugar for coconut sugar, giving you a deliciously sweet treat without the guilt!
You might be wondering, can you make pancakes with oat milk instead of regular milk? Will it still work? The answer is yes!
What sets these pancakes apart is the use of mashed ripe banana and a touch of vanilla extract, which add a depth of flavor that's truly irresistible. Plus, the recipe is versatile – you can use all-purpose flour, gluten-free flour, or even oat flour to suit your dietary needs. The result? Fluffy, golden pancakes that are not only good for you but taste amazing too. Trust me, once you try these, you'll never go back to the traditional recipe!
I get that mornings are busy, but this easy fluffy pancake recipe is totally doable – because it's ready in just about 30 minutes! They're also great for meal prep: make a big batch of these easy oat milk pancakes on Saturday and freeze the leftovers. All you have to do is pop one in the microwave, and your plant-based breakfast is ready!
The best part? These pancakes are not just delicious but also nutritious. They're an excellent source of fiber and are lower in sugar than traditional pancakes, making them a healthier choice. It's seriously one of my favorite recipes that makes the perfect breakfast every single time.
Serve them with a hefty drizzle of maple syrup, a dollop of yogurt, or a sprinkle of your favorite fruits and nuts. They're also a fantastic way to sneak in some fruit for the kids! So why not give this recipe a try? I can't think of a better way to kickstart the day.
👩🏽‍🍳 Why You'll Love Fluffy Oat Milk Pancakes
Plant-Based: This oat milk pancakes recipe is completely plant-based, making it a perfect choice for vegans, vegetarians, and anyone looking to make easy weekday breakfasts.
Delicious: With this recipe, you'll always end up with fluffy pancakes and taste incredible! They're far better than any pancake mix out there and make for an easy and delicious weekday breakfast.
Family Friendly: These pancakes are not only delicious, but they're also family-friendly. Kids will love the sweet taste and fluffy texture, and parents can feel good knowing they're serving a healthy, dairy-free breakfast.
Lower Sugar: With only a quarter cup of coconut sugar or granulated sugar, these pancakes are a lower sugar option compared to classic American buttermilk pancakes or store-bought pancake mixes. This makes them a healthier choice for those watching their sugar intake.
Crowd-Pleaser: These easy fluffy pancakes are a guaranteed crowd-pleaser. Whether you're hosting a brunch or making breakfast for the family, these pancakes are sure to be a hit. Plus, they're versatile enough to be customized with your favorite toppings or mix-ins.
Latest Recipe Video!
🥘 Ingredients
Whipping up a batch of these healthy vegan oat milk pancakes couldn't be easier! All you need are a handful of simple ingredients that can be found at your local grocery store. Plus, many of them are pantry staples, so you might already have them on hand!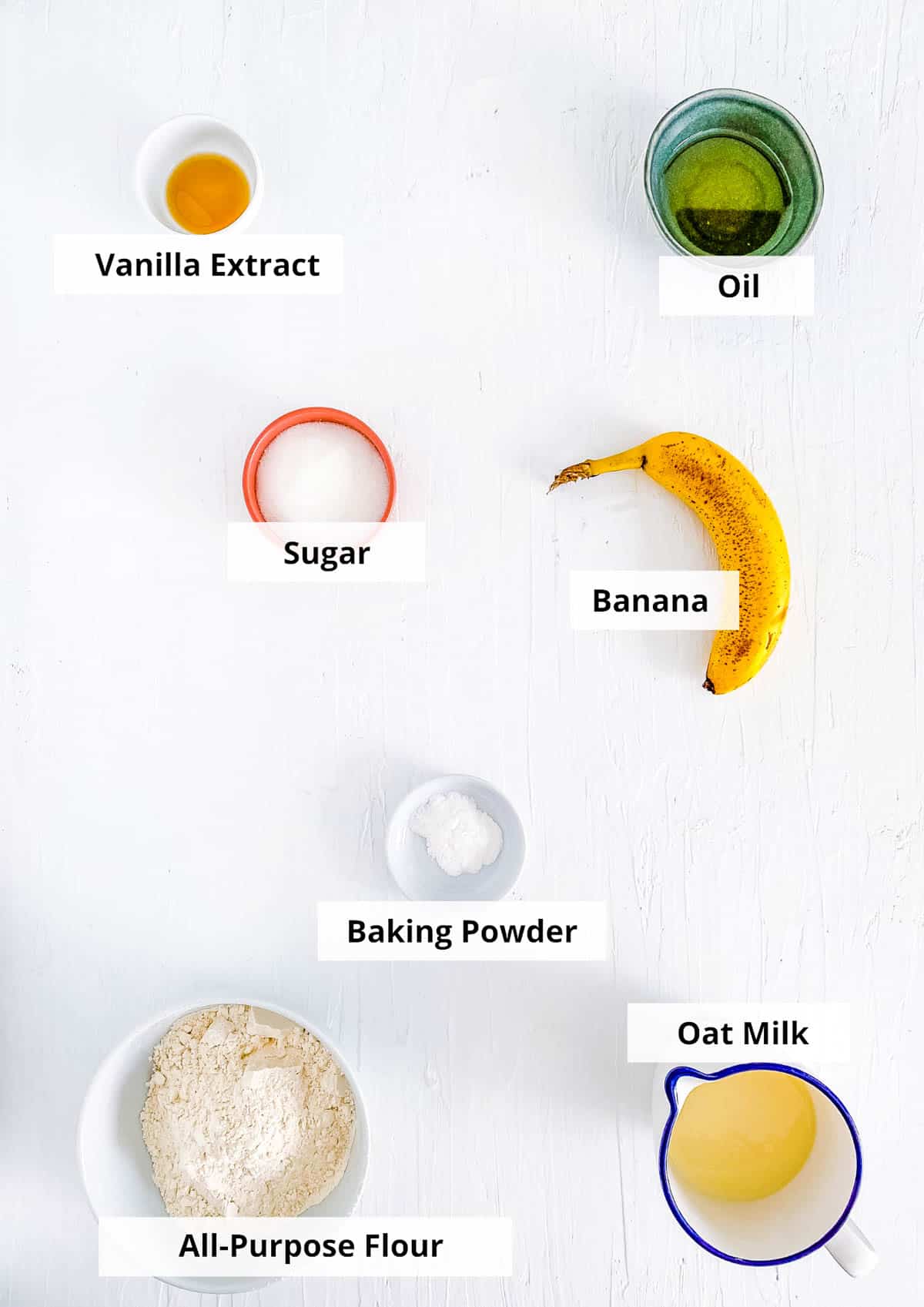 All-Purpose Flour: This is the foundation of our pancakes, providing structure and texture. It has the right amount of protein for a light but sturdy pancake
Baking Powder: This is our leavening agent. It's a mixture of baking soda and cream of tartar and reacts with the oat milk to create bubbles in the batter, making our pancakes light and fluffy.
Coconut Sugar: This natural sweetener gives our pancakes a subtle sweetness. Feel free to reduce the sugar by half for an even healthier option.
Oat Milk: This plant-based milk is super creamy compared to regular milk and makes our pancakes moist and tender. It also reacts with the baking powder to help our pancakes rise. Plus, using room temperature oat milk means these pancakes are dairy-free! Oatly is one of my favorite brands.
Mashed Ripe Banana: This acts as a binder in our pancakes, similar to an egg. Plus, it adds a delicious hint of banana flavor, and you don't even need to use chia egg or flax eggs in this vegan version of pancakes!
Vanilla Extract: This enhances the flavors of our other ingredients and adds a touch of warmth to our pancakes.
Oil: This helps to keep our griddle cakes from sticking to the pan and adds a bit of richness to the batter. A neutral oil like vegetable oil works best.
🍲 Ingredient Substitutions
Flour: You can use a gluten-free flour mixture, whole wheat flour, or oat flour as a substitute for regular flour and for a healthy alternative. It's a great way to incorporate more fiber and whole grains into this delicious dairy-free pancake option.
Coconut Sugar: You can also go for cane sugar, brown sugar, or maple syrup to sweeten these griddle cakes.
Oat Milk: This recipe calls for oat milk, but you can use any other non-dairy milk that you prefer. Many different kinds of milk would work, including almond milk, soy milk, or even coconut milk.
Mashed Ripe Banana: If you're not a fan of bananas, you can substitute it with unsweetened applesauce.
Vanilla Extract: If you don't have vanilla extract on hand, you can use almond extract instead.
Oil: Any neutrally flavored oil that you like can be used in place of the oil in this recipe. You can even use melted coconut oil or vegan butter. I don't recommend olive oil because it has an overpowering flavor.
🔪 How To Make Oat Milk Pancakes
Ready to whip up this delicious and dairy-free pancake recipe? For a more detailed guide and nutritional facts, check out the recipe card below! Here's how to make pancakes with oat milk:
Combine Dry Ingredients: Start by placing the flour, baking powder, and sugar into a large mixing bowl. Whisk these ingredients until they are well combined.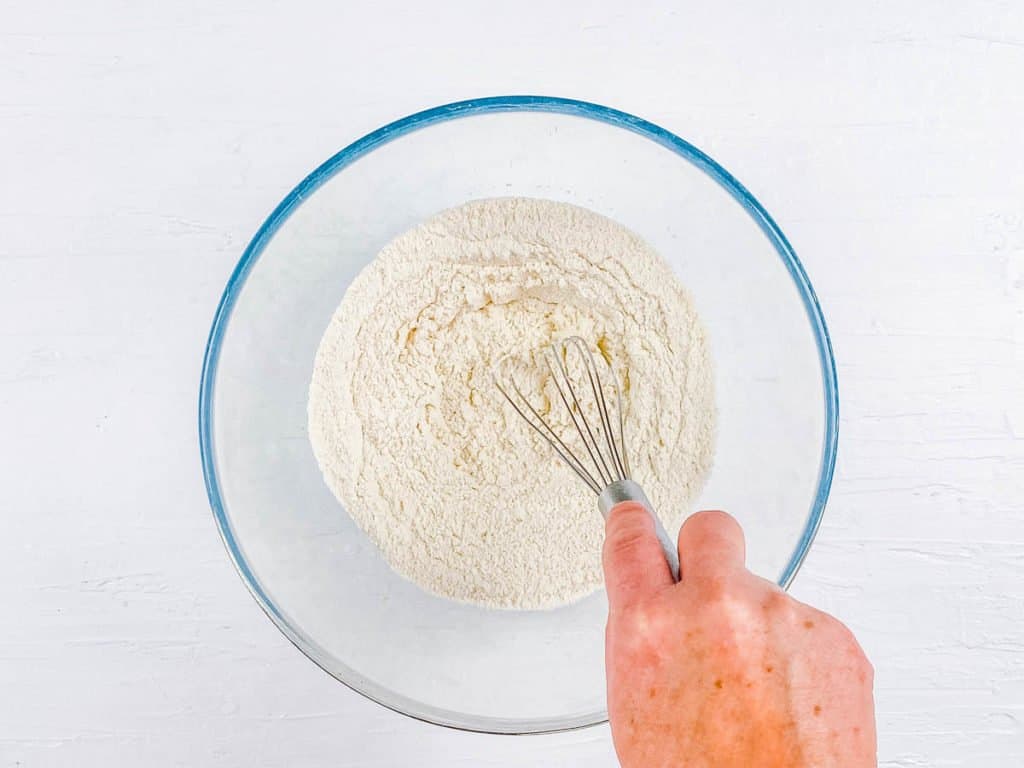 Combine Wet Ingredients: In a separate bowl, combine the cup of oat milk, mashed banana, oil, and vanilla.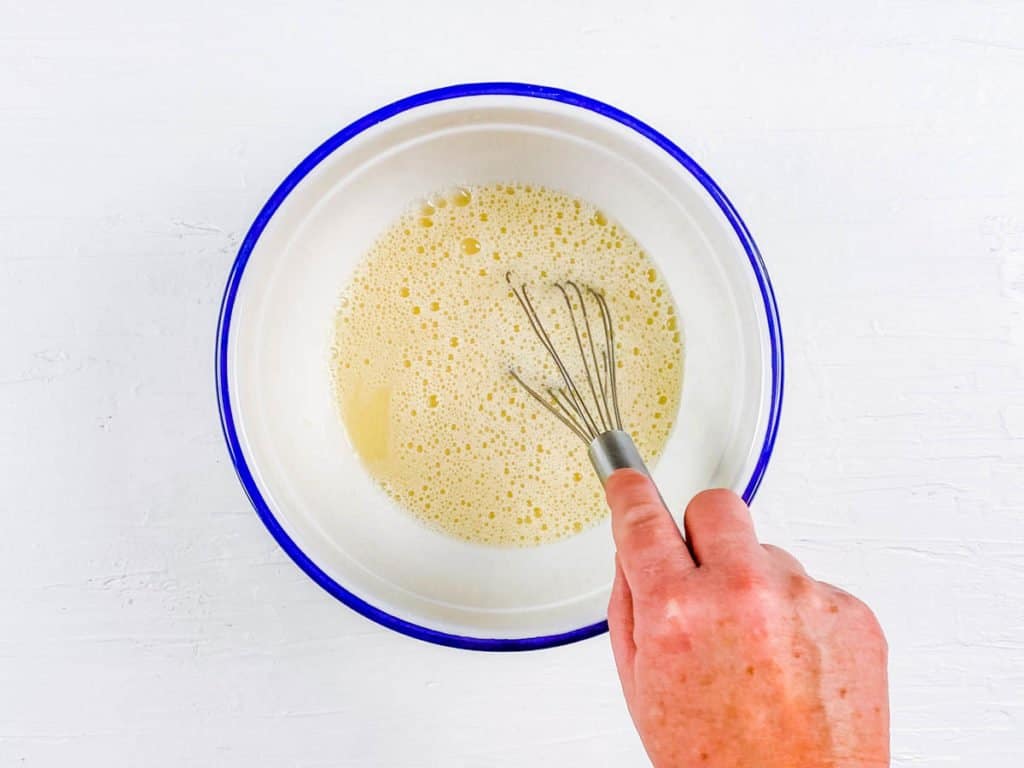 Combine Wet & Dry: Pour the wet ingredients into the dry ingredients. Whisk these together until they are well combined for a smooth batter.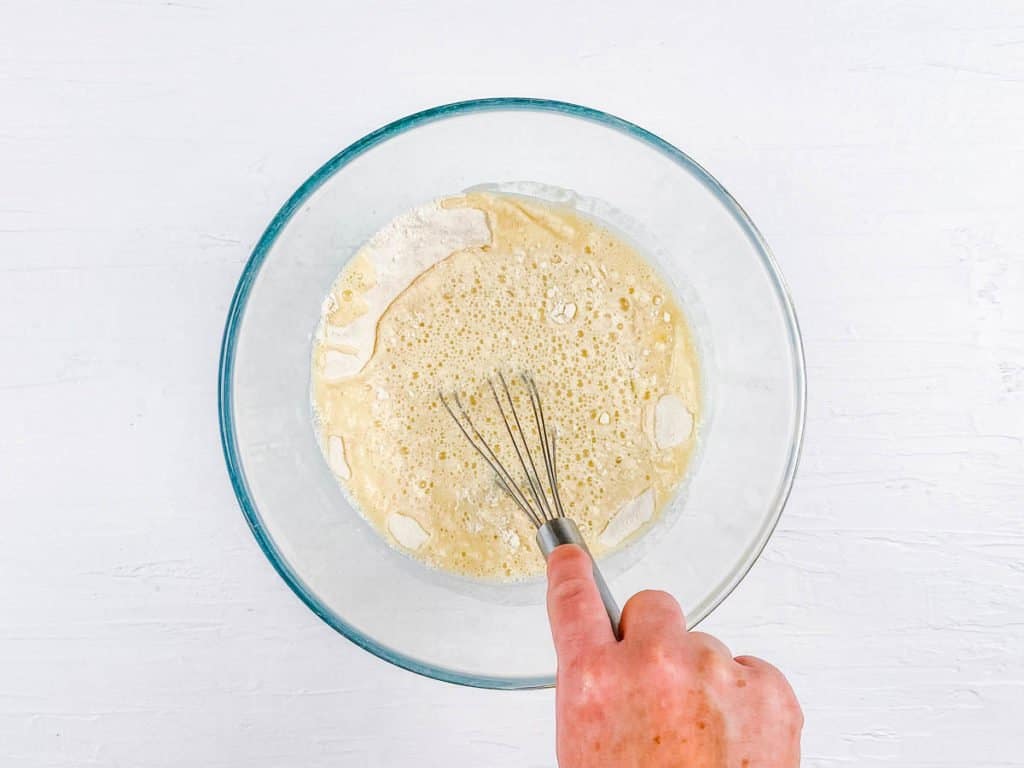 Rest Pancake Batter: Set your dairy free pancake batter aside and let it rest for 10 minutes before using.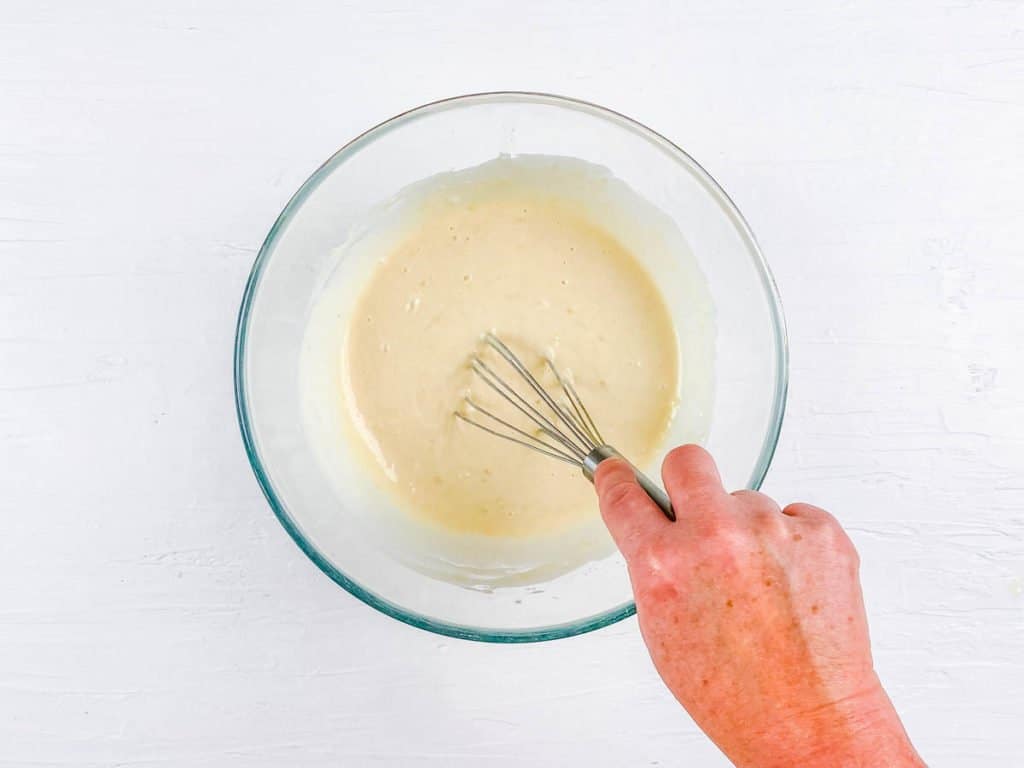 Heat The Skillet: Lightly spray a large skillet over medium heat with nonstick cooking spray.
Cook Pancakes: Drop 1/4 cup of the batter into the skillet and cook until little bubbles begin to form.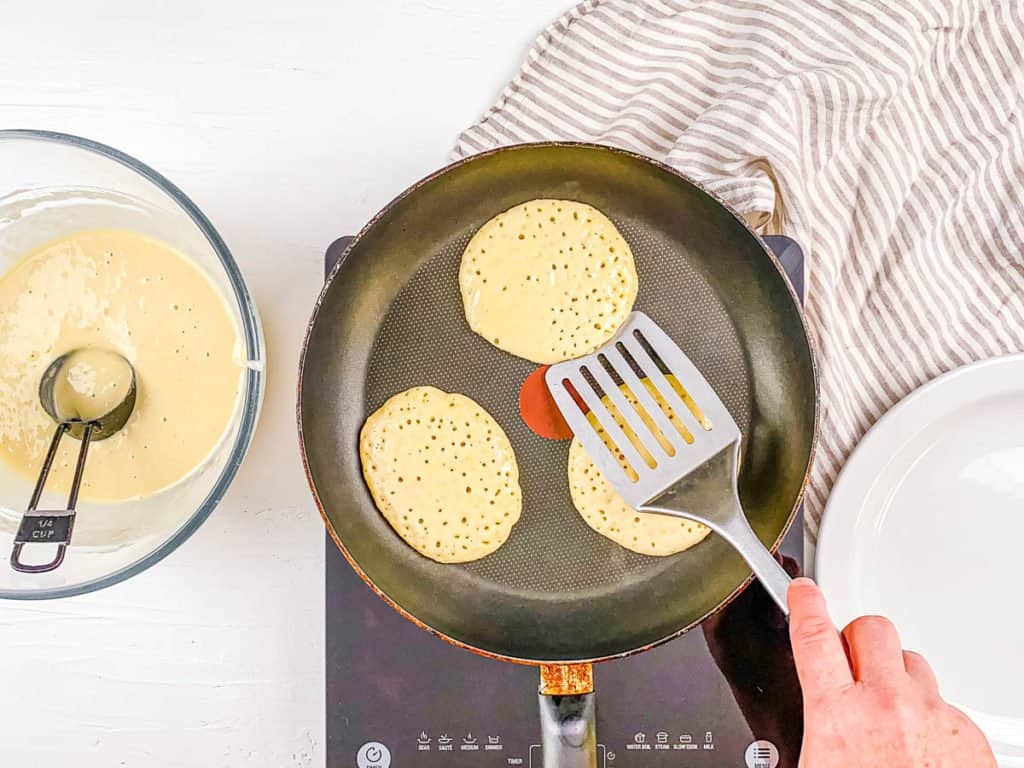 Flip The Pancakes: Flip and continue to cook for an additional 3-4 minutes or until golden brown.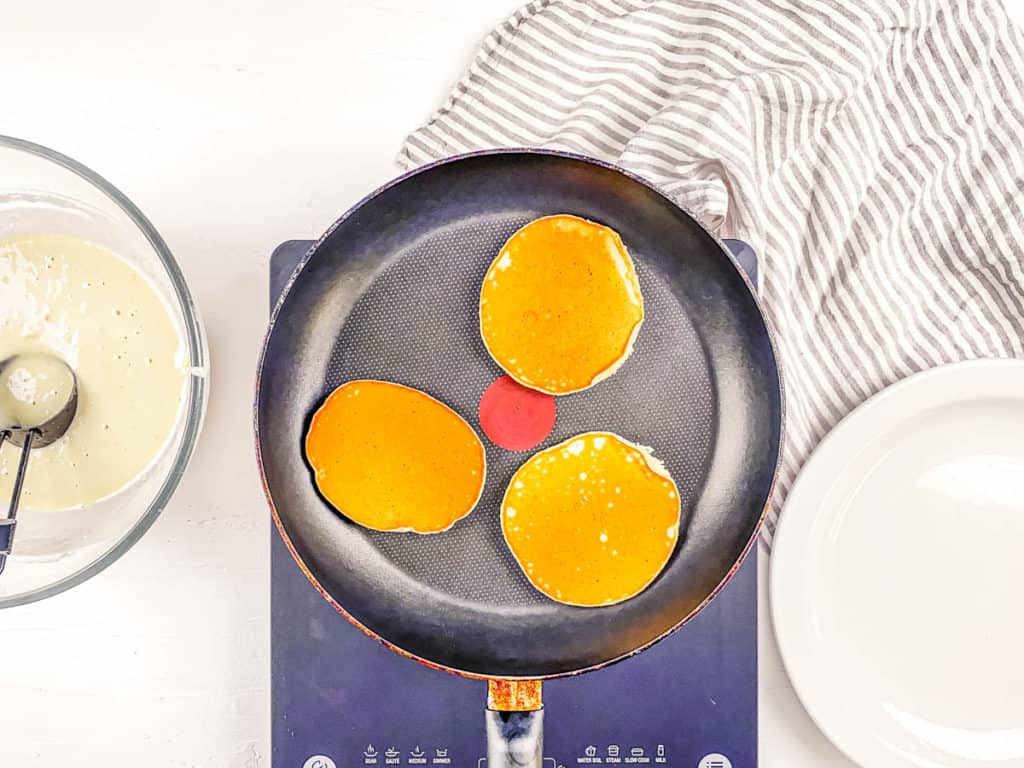 Repeat & Enjoy: Repeat until all the batter is used. Enjoy these thick fluffy pancakes with your favorite toppings!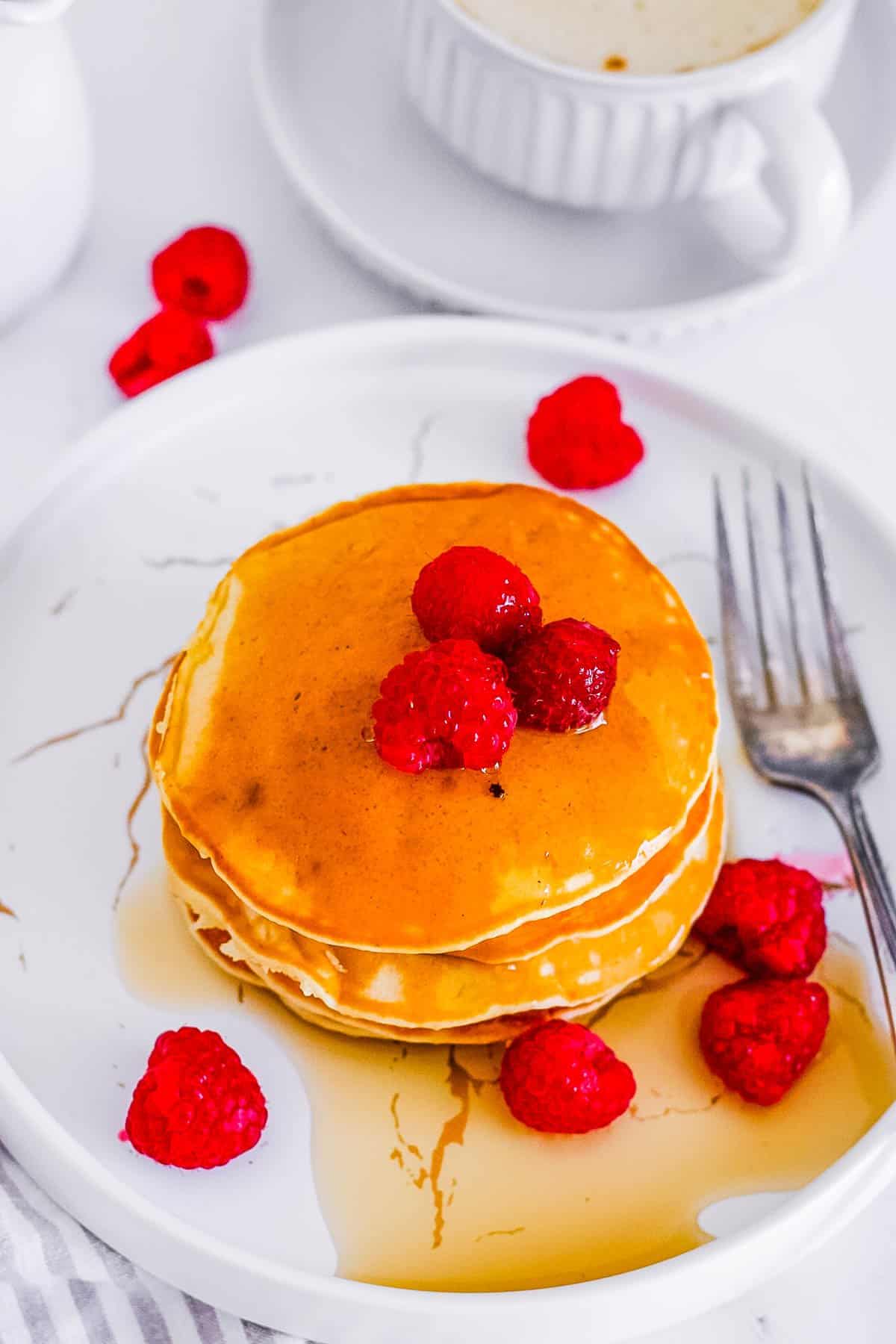 💭 Expert Tips
Rest The Batter: Remember to let the batter rest for at least ten minutes before cooking. This allows the baking powder to activate, resulting in fluffier pancakes.
Plan Ahead: You can make the pancake batter up to a day in advance. Just store it in an airtight container in the fridge until you're ready to use it.
Avoid Overmixing: Be careful not to overmix the pancake batter. A few small lumps are fine and will make sure that your pancakes are light and fluffy.
Use A Non-Stick Pan: For best results, cook your pancakes in a non-stick frying pan. This will make these healthy pancakes easier to flip and prevent them from sticking.
📖 Variations
This pancake recipe with oat milk is easy to customize. Try one of these simple variations!
More Toppings: We love adding a variety of toppings to this homemade dairy free pancakes recipe! You can top with banana slices, fresh fruit, chocolate chips, fresh berries, granola, chopped nuts, apple curd, peanut butter or other nut butter, and coconut whipped cream. These additions will certainly make your breakfast more colorful and flavorful!
Blueberry Pancakes: Love fruit in your pancakes? Stir fresh blueberries into the batter. Avoid frozen blueberries as they release too much liquid when cooked. This variation will give you a burst of fruitiness with every bite!
Chocolate Chip Pancakes: If you're a fan of chocolate, this variation is for you! Drop chocolate chips onto the cakes already in the skillet and gently use your fingers to push them into the batter. Flip and cook as directed. This prevents the chocolate from burning and gives you a sweet surprise in every bite!
Almond Milk Pancakes: While oat milk makes delicious pancakes, almond milk is a great dairy free alternative too! Try substituting almond milk for oat milk in this recipe. The almond milk will give your pancakes a slightly nutty flavor that's equally delicious.
Buttermilk Pancakes: You can even make some delicious buttermilk pancakes by substituting the oat milk 1:1 with some buttermilk. Add your favorite mix-ins to the batter before cooking them! Keep in mind, this version won't be dairy-free.
Oatmeal Pancakes: Consider using some oatmeal instead of plain flour to make oatmeal pancakes that are fluffy and delicious. You'll get great pancakes that go with everything!
Oat Milk Pancakes With Egg: If you're not vegan or allergic to eggs, you can swap the mashed banana with an egg. This will give your pancakes a more traditional flavor and texture.
🍽 Serving Suggestions
Who doesn't love a good stack of pancakes? These homemade oat milk pancakes are a super versatile, delicious breakfast. Here are some of my favorite ways to serve these fluffy delights, grouped into different meal categories for your convenience:
Easy Breakfast Or Weekend Brunch: Start your day right with these fluffy dairy-free pancakes. Serve them with a side of fresh breakfast fruit salad or a mixed berry smoothie for a balanced and nutritious classic pancake breakfast. You can even drizzle some vegan honey on top before serving!
Dessert: Who said pancakes are only for breakfast? These healthy oat milk pancakes with no egg can be served as a sweet treat too! Top them with a dollop of this chocolate banana ice cream or a drizzle of maple syrup for a delicious dessert.
Snack: Looking for a quick and easy snack? These oat milk pancakes are perfect! Serve them with a side of fresh berries or banana slices for a healthy and satisfying snack.
🙌 Dietary Adaptations
This oat milk pancakes recipe is already vegan, dairy-free, and can easily be adapted to be gluten-free. Here's how you can adapt the recipe to suit your dietary preferences:
Gluten-Free Option: The recipe calls for all-purpose flour, but you can easily substitute this with your favorite gluten-free flour blend or oat flour to make these pancakes gluten-free.
Lower Sugar Option: For a lower sugar option, feel free to omit the sugar or reduce it by half. If you choose to use only half the sugar, each serving will contain just about 12 grams of sugar. And if you decide to go with a no added sugar version, each serving will have only around seven grams of sugar.
🫙 Storage Directions
To Refrigerate: Any leftover pancakes can be stored in an airtight container in the refrigerator for up to two days. Separate the layers with parchment paper so that they don't stick together.
To Freeze: These vegan griddle cakes freeze beautifully. Make extra pancakes and place them in a ziploc bag or cover with plastic wrap. Freeze for up to three months for a quick Saturday morning breakfast.
To Reheat: To reheat your pancakes, simply place them on a microwave-safe plate and heat on a medium setting for about a minute. Alternatively, you can also reheat them in a non-stick pan on the stovetop over medium-high heat until they're warmed through.
❓Recipe FAQs
Is oat milk actually good for you?
Yes, oat milk is packed with essential minerals, vitamins, and soluble fiber! It is also lactose-free, soy-free, and nut-free, making it an excellent choice for those with specific allergies. For the healthiest choice, opt for unsweetened oat milk to avoid any added sugars.
What is the best substitute for milk in pancakes?
Any unsweetened plant based milk actually will work well as a substitute for cow's milk in pancakes! I like choosing milks with a slightly thicker texture and neutral flavor, to mimic cow's milk. Oat milk is actually my favorite milk alternative to use, followed by almond milk.
How does oat milk affect the taste of pancakes?
Oat milk imparts a slightly sweet, nutty, oaty flavor to the pancakes, which tastes great. It also adds a subtle creaminess to these cakes.
Can you use oat milk in pancake mix?
Typically yes, you should be able to substitute oat milk for regular milk when making pancake mix – just use it as a 1:1 substitution for the amount of milk the pancake mix calls for.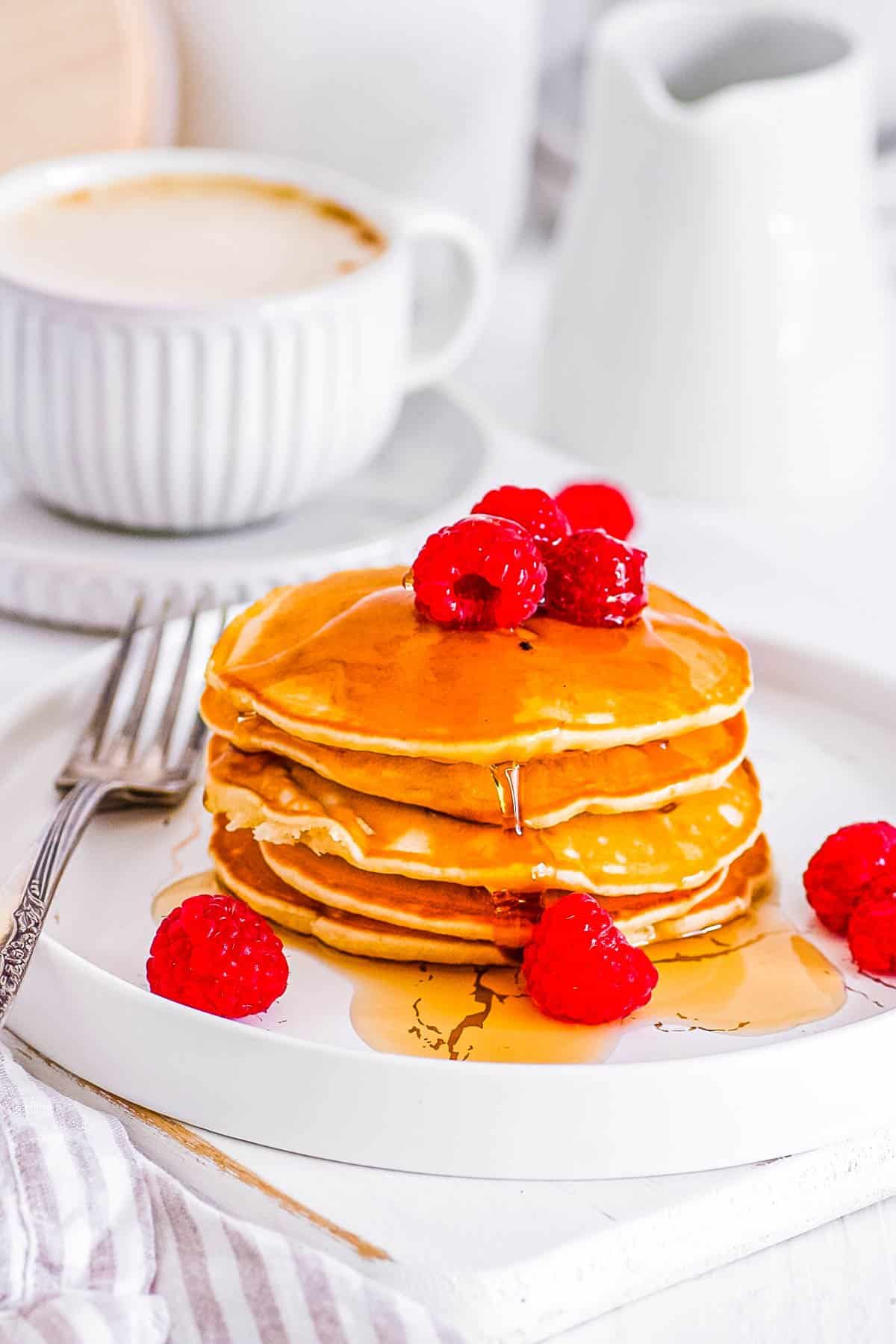 🥞 More Pancake Recipes!
Love this plant based breakfast recipe? Please leave a 5-star rating 🌟 in the recipe below and/or a review in the comments section further down the page!
You can also FOLLOW ME on FACEBOOK, TWITTER, INSTAGRAM, and PINTEREST to see more delicious, healthy, family-friendly food, and if you have any questions, I'm here to help!
📋 Recipe Card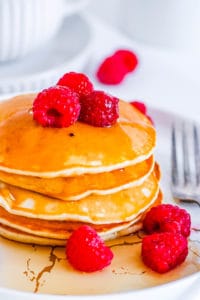 Print Recipe
Oat Milk Pancakes
Just a simple, no-fuss pancake recipe that's light, fluffy, and dairy-free! These oat milk pancakes make the ultimate short stack. They taste just as good as regular pancakes, but without the need for dairy or eggs.
Instructions
Place the flour, baking powder and sugar into a mixing bowl and whisk until well combined.

In a separate bowl whisk together all remaining ingredients.

Pour the wet ingredients into the dry ingredients and whisk until well combined.

Set aside and allow the batter to rest for 10 minutes before using.

Lightly spray a skillet with spray oil and heat over medium heat.

Drop ¼ cup of batter into skillet and cook until bubbles begin to form, flip and continue to cook for a further 2-3 minutes or until lightly golden brown.

Repeat until all batter has been used
Notes
To make these pancakes gluten-free, sub the flour for gluten-free flour.
Pancake batter can be made 24hrs before using and stored in an airtight container in the fridge.
Pancakes, once cooked, can be stored in the fridge for up to 4 days.
For a lower sugar option, omit the coconut sugar or cut it by half. When using only half the sugar, you'll end up with 12 grams of sugar per serving; when using no sugar, you'll end up with only 7 grams of sugar per serving! 
Serve with your favorite toppings such as maple syrup, lemon juice, berries, nut butter, whipped coconut cream or even crushed nuts.
Nutrition
Serving:
2
pancakes
|
Calories:
301
kcal
|
Carbohydrates:
44
g
|
Protein:
4
g
|
Fat:
12
g
|
Saturated Fat:
1
g
|
Polyunsaturated Fat:
3
g
|
Monounsaturated Fat:
7
g
|
Trans Fat:
1
g
|
Sodium:
24
mg
|
Potassium:
224
mg
|
Fiber:
2
g
|
Sugar:
17
g
16 responses to "Oat Milk Pancakes"