Air Fryer Pancakes
This post may contain affiliate links. As an Amazon Associate, I earn from qualifying purchases. Please read my disclosure.
This no-fail pancake recipe will brighten up your weekend! Air fryer pancakes are simple, fluffy, and make a delicious, family friendly breakfast. Forget babysitting the stove, these perfect pancakes in the air fryer are easier than ever and are ready in less than 20 minutes!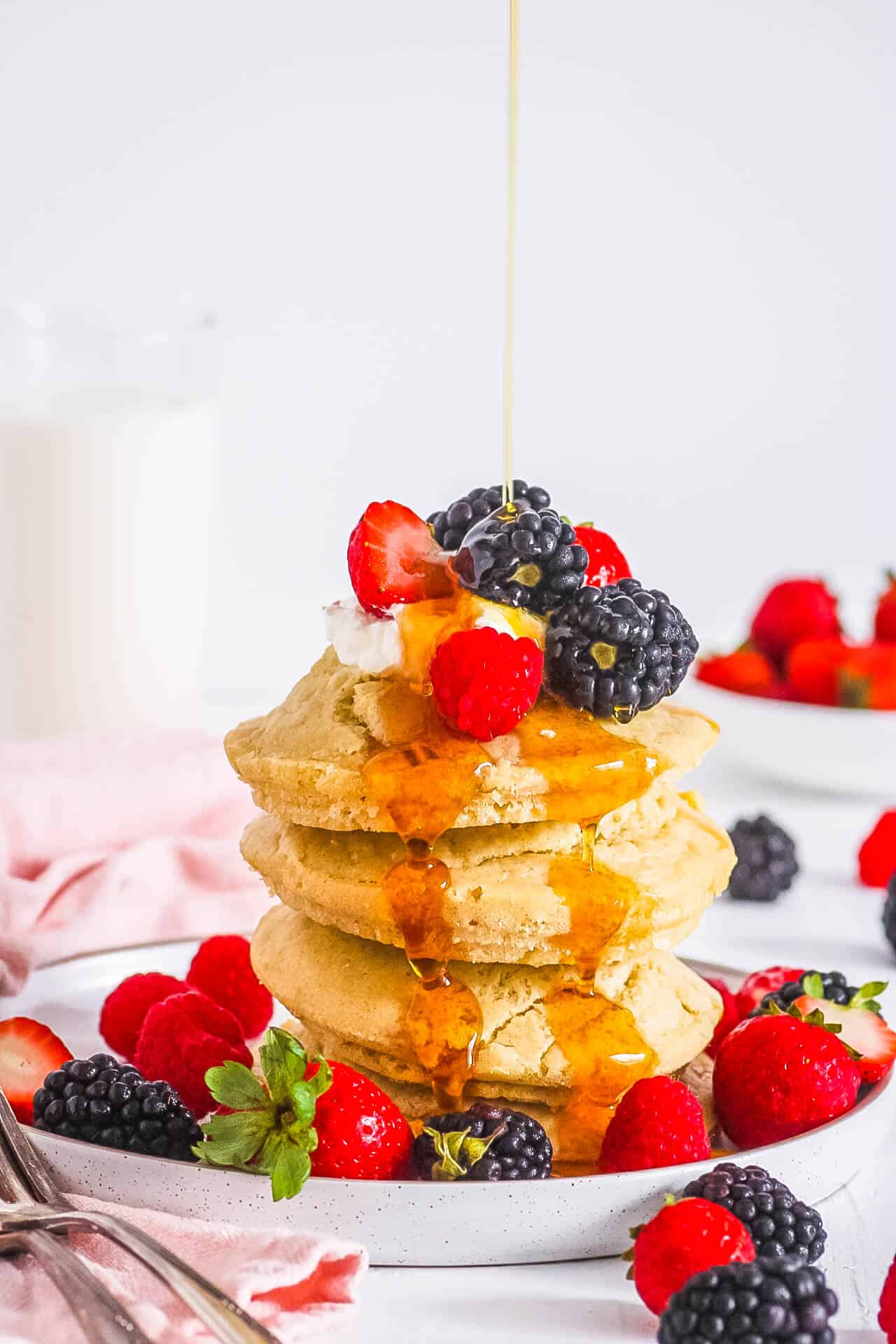 There's nothing I want more Saturday morning than a beautiful stack of fluffy pancakes drizzled with maple syrup!
Homemade air fryer pancakes are everything you want and more! They're a good choice when you crave pancakes without the hassle. No watching for bubbles, no flipping, and no burnt bottoms or an imperfect first pancake – just perfect pancakes every time.
Skip the box mix, this air fryer pancakes recipe is just as simple. It's as straightforward as mixing the wet ingredients with the dry ingredients. And since your air fryer does all the work, you can even scramble up some eggs in the meantime! Breakfast win.
Weekend mornings just got better!
👩‍🍳 Why This Recipe Works
A delicious breakfast in less than 30 minutes
Great for batch cooking – freeze leftover pancakes for busy mornings
Way better than instant pancake mix
The fluffiest pancakes every time
Pancakes in the air fryer are easy to customize!
Kid-friendly & delicious
Perfect round shape for every pancake
Best air fryer pancake recipe ever!
Latest Recipe Video!
🥘 Ingredients
You only need eight pantry staples for these easy air fryer pancakes. You can find the following ingredients at your local grocery store. For full nutrition facts and ingredient quantities, see the recipe card below.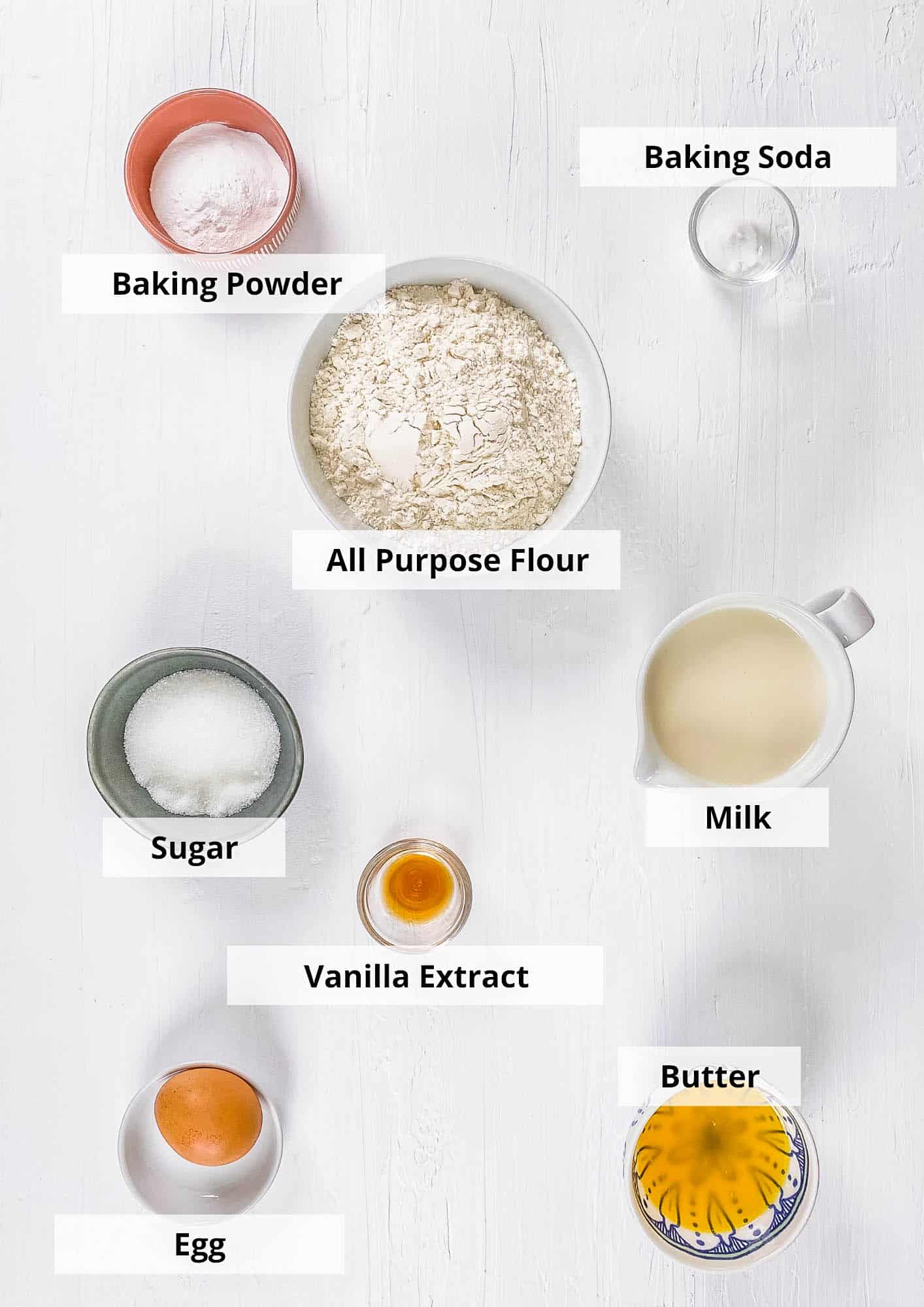 All-Purpose Flour: It's best to use all-purpose flour for this pancake recipe. All-purpose flour will give you the fluffiest results, but you can use alternative flours for a healthier option (see variations below).
Baking Powder & Baking Soda: Leavening is essential for homemade pancakes. It's what produces carbon dioxide bubbles and therefore, light and airy pancakes.
Sugar: To sweeten this delicious breakfast food! Brown sugar or coconut sugar work great too. You can add a pinch of salt to bring out the sweetness even more.
Low-Fat Milk: Milk thins out the batter a bit so it has the right consistency. If you can't tolerate dairy milk, almond or oat milk are good options.
Egg: Eggs provide structure to these delicious pancakes, so they don't just fall apart.
Vanilla Extract: A teaspoon of vanilla extract enhances all the ingredients!
Butter: Melted butter makes air-fryer pancakes rich, tender, and moist. If you don't have butter, vegetable oil or olive oil works great too!
🔪 Instructions
Air fryer recipes are so easy! Here's how to make pancakes in an air fryer. Follow these simple instructions for perfect pancakes every time.
Combine Dry Ingredients: Preheat your air fryer to 330 degrees F. Sift dry ingredients together – combining the flour, baking powder, baking soda, and sugar in a large bowl. Set aside.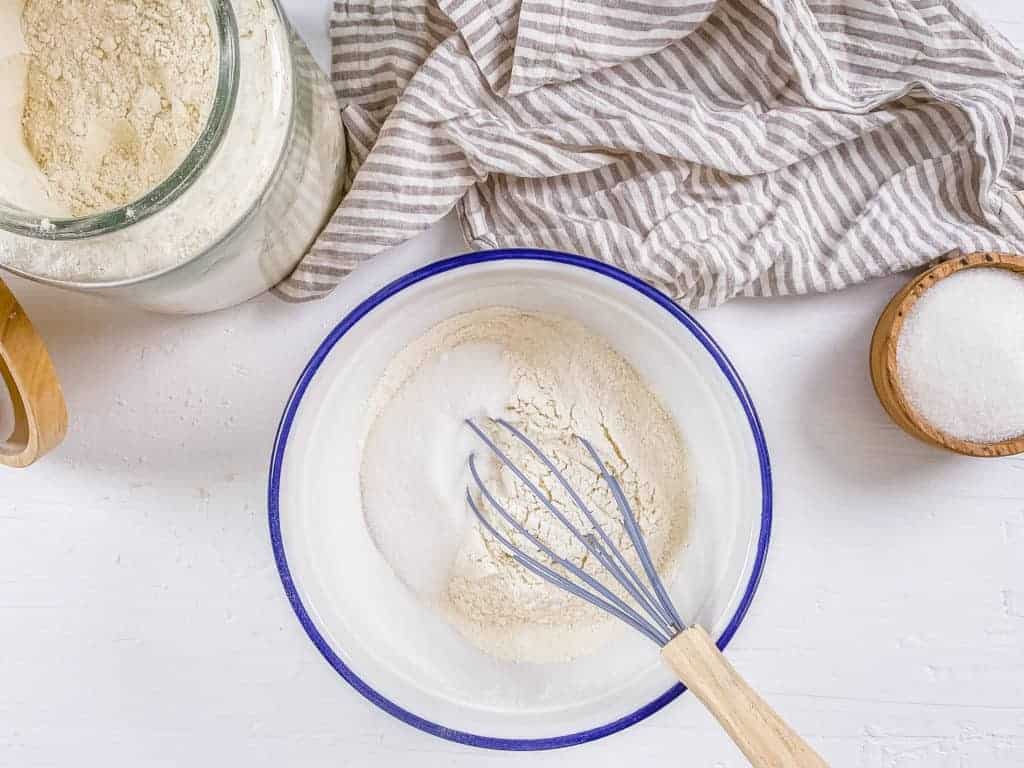 Combine Wet Ingredients: In a medium bowl, whisk together the egg, milk, vanilla, and melted butter.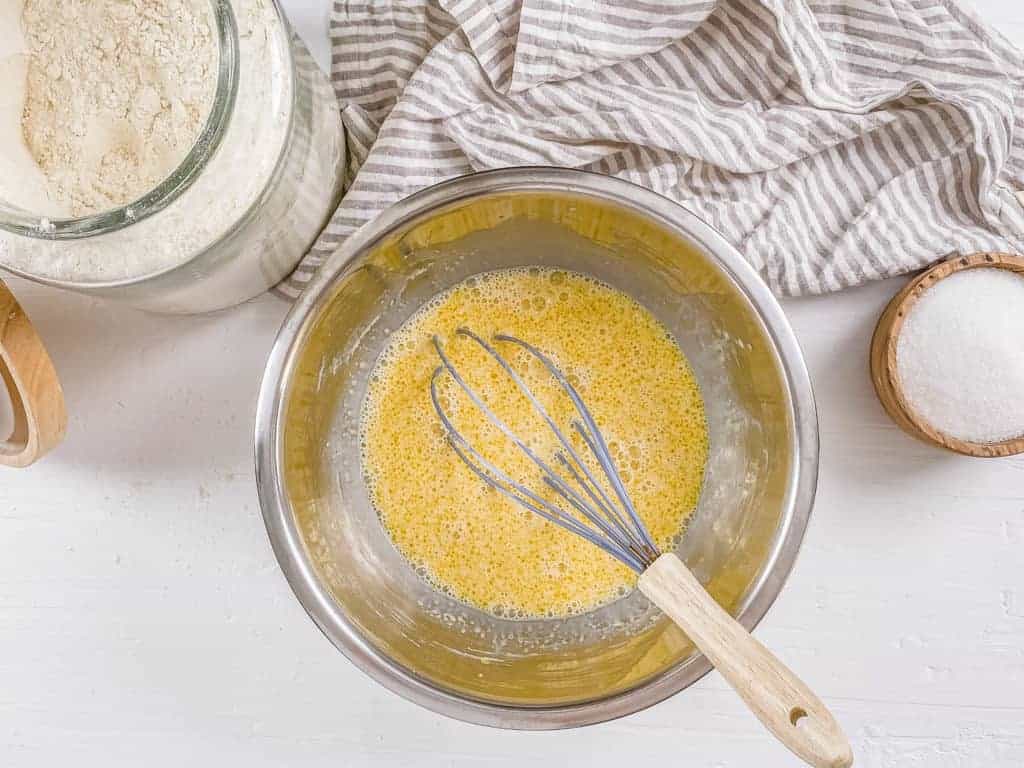 Make Pancake Mixture: Pour the milk mixture into the flour mixture and whisk until just incorporated. Don't over mix or the pancakes can get chewy. Let the batter rest for 5 minutes.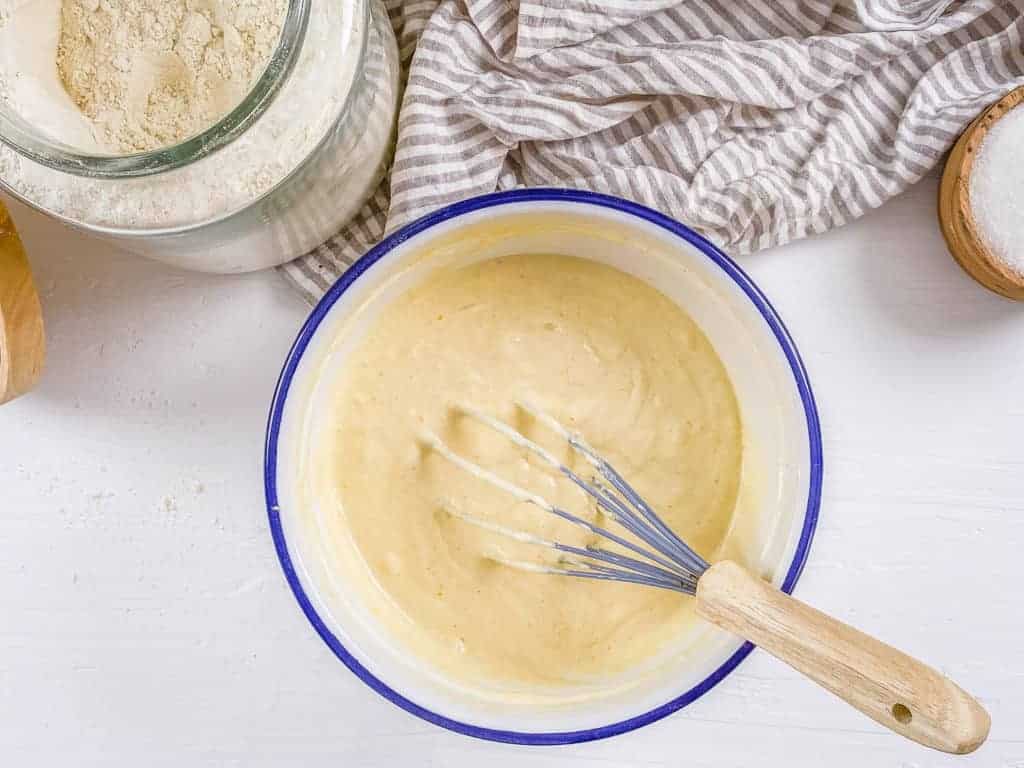 Pour Pancake Batter Into Pans: Lightly spray four 4-inch round springform pans with cooking spray or olive oil spray. Scoop 1/2 cup of pancake batter into each tin and place on the air fryer tray.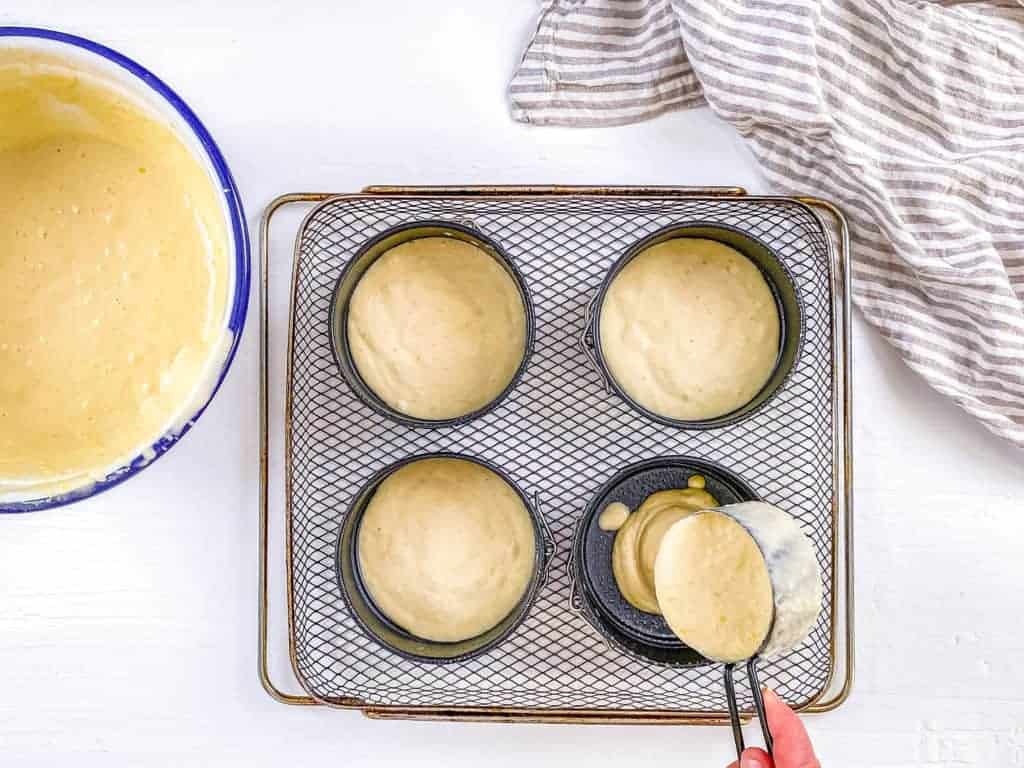 Cook Pancakes: Place basket into the air fryer and air fry pancakes for 10 to 12 minutes. Let them cool for a couple of minutes before removing them.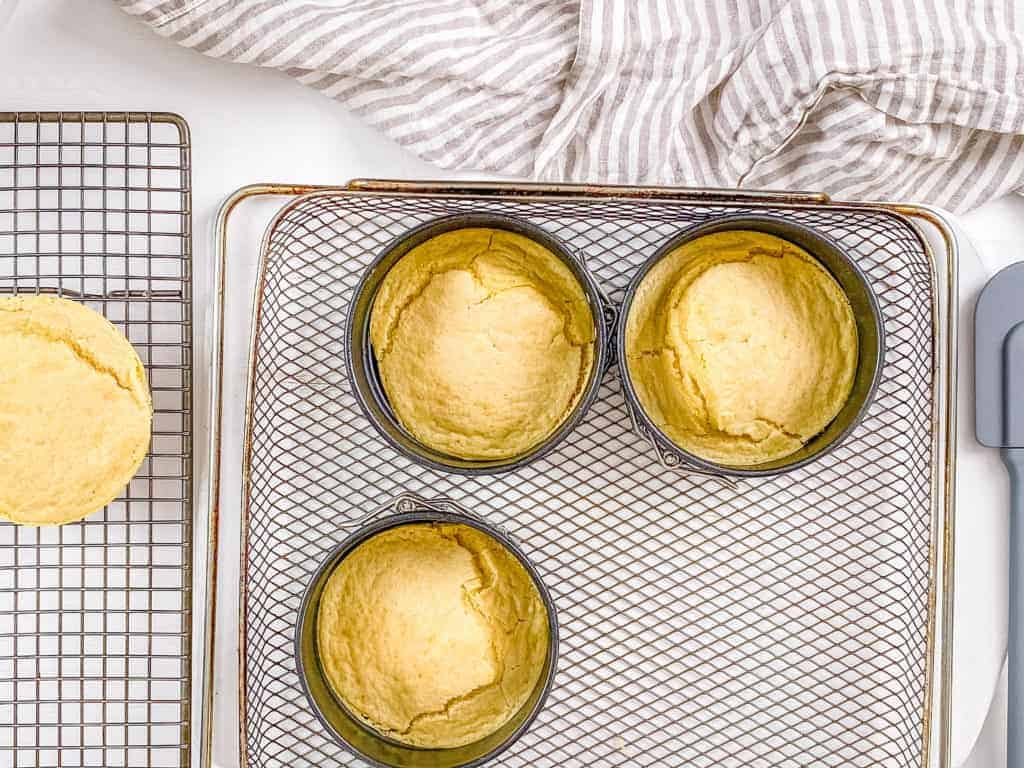 Repeat with the remaining batter: Once the pancakes have cooled in the springform tins, remove them and let them cool completely on a wire rack. The air fryer makes a perfect pancake every time!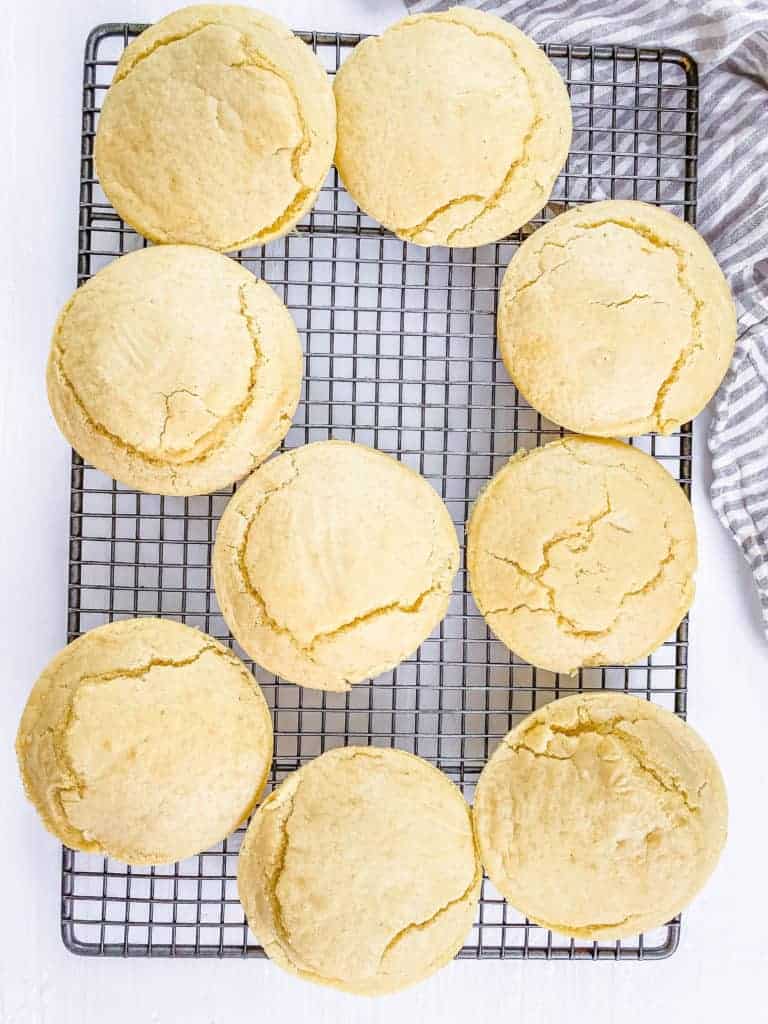 Serve: Serve pancakes with lots of maple syrup and fresh berries! They taste amazing with all your favorite breakfast foods!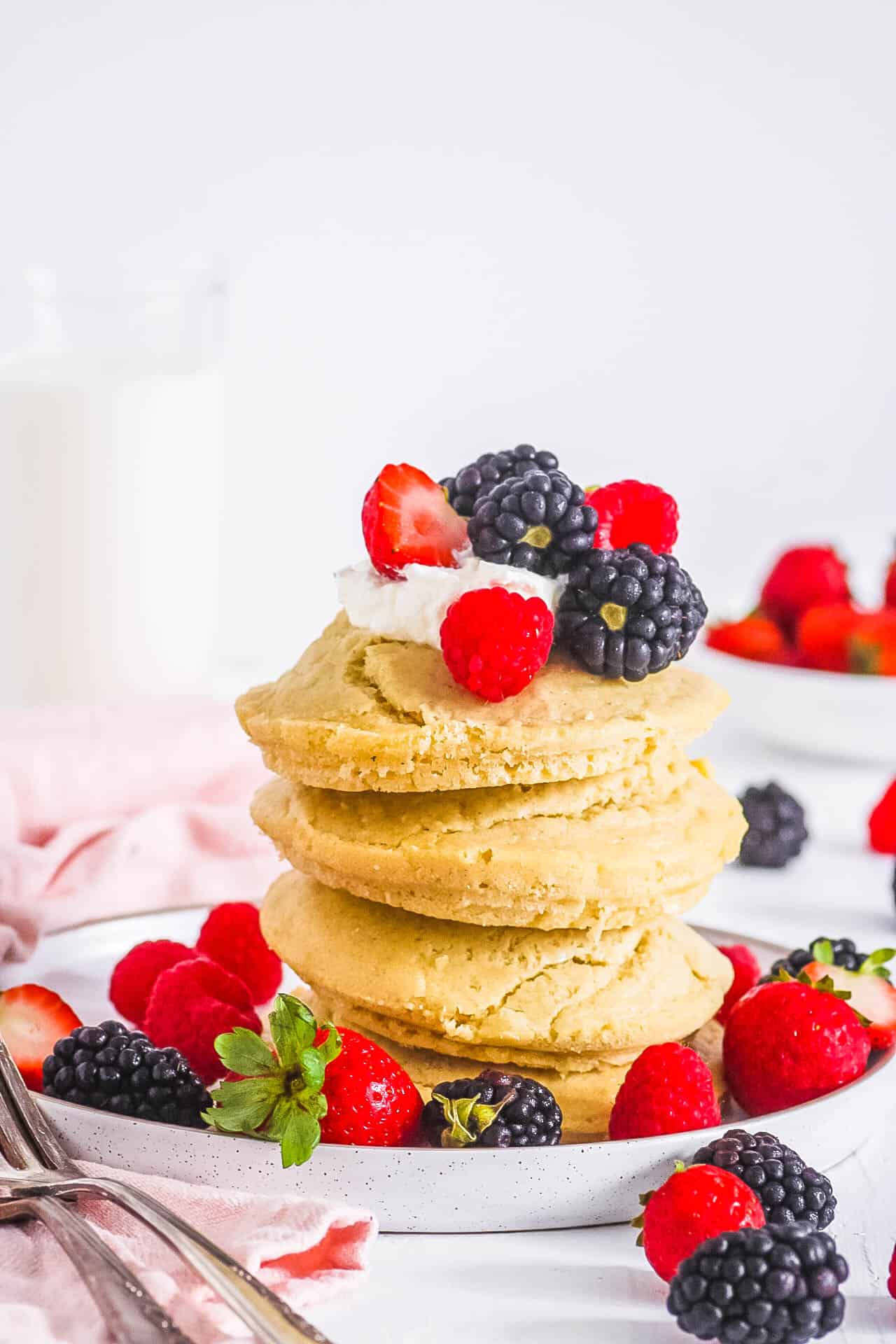 Best Toppings For Air Fried Pancakes
This pancakes air fryer recipe tastes great with so many different toppings! Here are some of our favorites:
Sweet Toppings & Drizzles: Chocolate chips, maple syrup, vegan honey, strawberry simple syrup, blackberry simple syrup, peach simple syrup, vegan nutella, pear compote, whipped cream, jam, and apple curd are just a few options that will turn these pancakes into a decadent treat!
Crunchy Toppings: Sprinkle on some low calorie granola or high protein granola, chopped nuts, or pumpkin seeds or sunflower seeds.
Nut Butters: Try peanut butter, almond butter, pumpkin seed butter, or this white chocolate hazelnut spread.
Fresh Toppings: Fresh berries or other fresh fruits, sliced banana, shredded coconut, or even fresh fruit compotes all taste great.
💭 Expert Tips
Check the pancakes at the ten minute mark. If they need longer, add two more minutes. The cook time can vary depending on the type of air fryer.
If you don't have 4-inch springform tins, mini aluminum tin cups or aluminum pans work too! If you go with the aluminum pans, don't throw them away! You can use them multiple times, just hand wash and hand dry them, and they'll be ready to go the next time.
For thinner pancakes, pour only 1/4 cup of the batter into the pans. Reduce the baking time to 7-8 minutes.
Be careful not to overmix the batter! Over-mixed batter will make heavy and dense pancakes.
Use this recipe for batch cooking and meal prep: I like to make a batch of these air fryer pancake bites on the weekend to use during the week. I freeze them in plastic bags and then reheat them in the microwave.
For best results, and evenly cooked pancakes, make sure the batter is spread evenly in each of your pans. Use a 1/2 cup measuring cup to make sure you're using the same amount of batter for each pancake. After pouring the batter, if you tap the springform or aluminum pan lightly on the countertop a few times. the batter should even out on its own.
Don't stack your pans: Place the pans into your air fryer in a single layer. Do not stack them or your air fryer flapjacks won't cook properly.
📖 Variations
Vegan Air Fryer Pancakes Stack: Replace the milk with plant milk, the butter with vegan butter, and the egg with a chia or flax egg.
Make It Healthier: Use oat flour or whole wheat flour instead of all purpose and reduce the sugar by half to 1/8 cup! For a fall take, add a teaspoon of pumpkin pie spice to the batter.
Gluten-Free Air Fryer Pancake Recipe: Replace the all-purpose flour with a gluten-free all-purpose flour blend. I recommend Bob's Red Mill 1:1 All-Purpose Flour for its gluten-like taste and texture.
Blueberry Pancakes: Stir fresh blueberries into the pancake batter. Avoid frozen blueberries, because they release too much liquid and weigh down the batter. Add a teaspoon of lemon zest and a tablespoon of lemon juice for lemon blueberry pancakes.
Chocolate Chip Pancakes: Place chocolate chips into the thick batter after you pour it into the tins. Carefully press the chips into the batter.
Air Fryer Frozen Pancakes: If you want, you can put frozen pancakes into your air fryer! Simply place them into the air fryer basket without overlapping and fry for 3 to 5 minutes or until heated through.
❓ Recipe FAQs
Can you make pancakes in an air fryer?
Yes!! Of course you can! And honestly, I like the air fry method for pancakes better than the stovetop method, because you get perfectly round, perfectly cooked pancakes every time. And the best thing is, you can make pancakes in the air fryer using a pancake mix or a batter made from scratch as we've done in this recipe!
How do I use pancake mix in the air fryer?
You can totally make air fried pancakes using pancake mix! To do this, make the pancake batter as directed on the box. Pour the batter into the lightly greased tins and air fry for 5 to 7 minutes. Different brands will have different cook times, so it's best to check the pancakes early and then if they still aren't done, add two more minutes. Learn more about microwave air fryer combo guideline.
What pans can I use in my air fryer oven?
Any oven-safe container or pan will also work in the air fryer. Glass, metal, ceramic, and silicone containers all work great. Just be sure they're small enough to fit into your air fryer.
How should I store air fried pancakes? Can I freeze airfryer pancakes?
You can store these pancakes in the fridge or freezer – they freeze really well and are a great option for batch cooking and meal prep!

To store in the fridge: Let these soft pancakes cool to room temperature, then place them in a ziptop bag or airtight container. Store them in the refrigerator for up to 3 days.

To freeze: Place the cooled pancakes in a freezer-safe container or bag and freeze for up to 3 months. To reheat, microwave one pancake at a time in 20-second increments until warmed through.
Can you cook pancakes on parchment paper in the air fryer?
Technically yes, you can, but I wouldn't recommend it! I'm sure you've seen the viral TikTok video where people are making pancakes on parchment paper in the air fryer, but it doesn't really work that well in reality!

If you cook pancakes on parchment paper in the air fryer it will likely be messy, the pancakes may stick to the parchment paper, and you won't get perfect round pancakes. So I wouldn't follow that method! Use springform pans or small aluminum pans when making pancakes in the air fryer and you'll be happy with the result!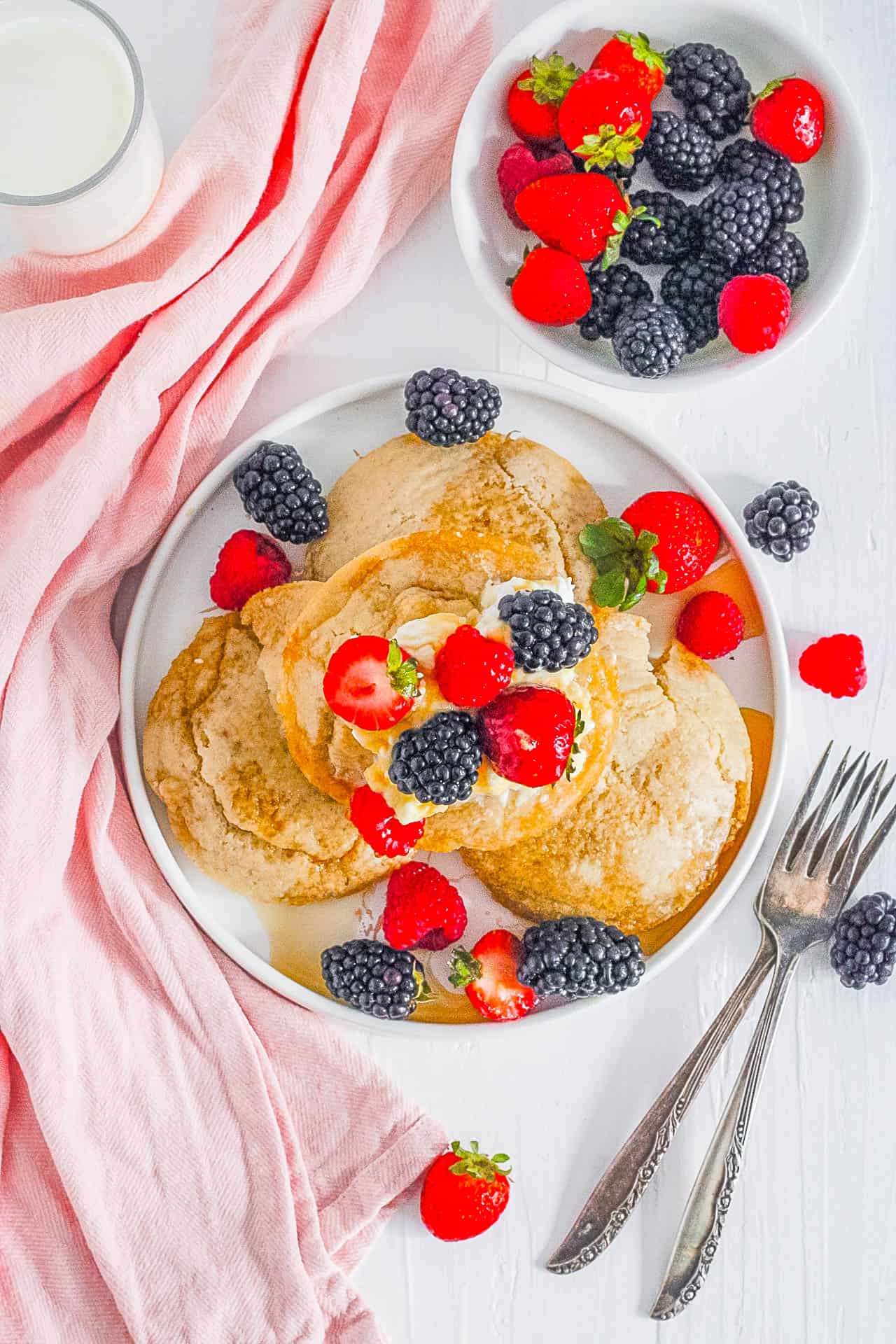 🥞 More Easy Pancake Recipes!
Love this plant based breakfast recipe? Please leave a 5-star rating 🌟 in the recipe below and/or a review in the comments section further down the page!
You can also FOLLOW ME on FACEBOOK, TWITTER, INSTAGRAM, and PINTEREST to see more delicious, healthy, family-friendly food, and if you have any questions, I'm here to help!
📋 Recipe Card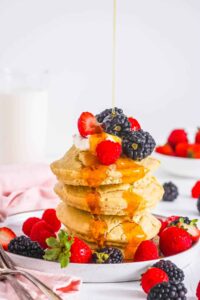 Print Recipe
Air Fryer Pancakes
This no-fail pancake recipe will brighten up your weekend! Air fryer pancakes are simple, fluffy, and kid-friendly. Forget babysitting the stove, these pancakes are easier than ever.
Instructions
Preheat the air fryer to 330 degrees F / 170 C while preparing the pancake batter.

Sift the flour, baking powder and soda into a large mixing bowl.

Add the sugar and whisk together. Set aside.

Whisk together the milk, egg, vanilla and butter.

Pour the milk mixture into the flour mixture and whisk until smooth.

Lightly spray four 4-inch round springform tins with oil. Scoop ½ cup batter into each tin and place on the airfryer tray.

Cook in the air fryer for 10-12 minutes. Allow the pancakes to rest in the tin for 2-3 minutes before removing and cooling on a cooling rack.

Repeat with remaining batter. Batter makes 10 pancakes.

Serve pancakes topped with a drizzle of maple syrup and fresh berries.
Notes
Cook time may vary depending on the appliance used.
If you are unable to find small springform tins you can also use small foil trays.
To make this recipe gluten free substitute the all purpose flour with gluten free flour.
You can substitute the milk with full cream or any plant based milk to suit your needs.
Pancake batter can be prepared the night before and stored in the fridge. Remove from the fridge 20 minutes before use to come to room temperature.
Pancakes can be frozen for up to 3 months.
Nutrition
Serving:
1
pancake
|
Calories:
180
kcal
|
Carbohydrates:
27
g
|
Protein:
5
g
|
Fat:
6
g
|
Saturated Fat:
3
g
|
Polyunsaturated Fat:
1
g
|
Monounsaturated Fat:
1
g
|
Trans Fat:
1
g
|
Cholesterol:
31
mg
|
Sodium:
91
mg
|
Potassium:
272
mg
|
Fiber:
1
g
|
Sugar:
7
g
16 responses to "Air Fryer Pancakes"