Caramel Nice Cream (Best Healthy Ice Cream!)
This post may contain affiliate links. As an Amazon Associate, I earn from qualifying purchases. Please read my disclosure.
Try this guilt-free, creamy, healthy caramel nice cream to satisfy your sweet tooth! This smooth and luscious "ice cream" is made with blended frozen bananas, dates, and vanilla. Vegan, gluten-free, & plant-based. Customize with your favorite toppings like salted caramel sauce or sprinkles!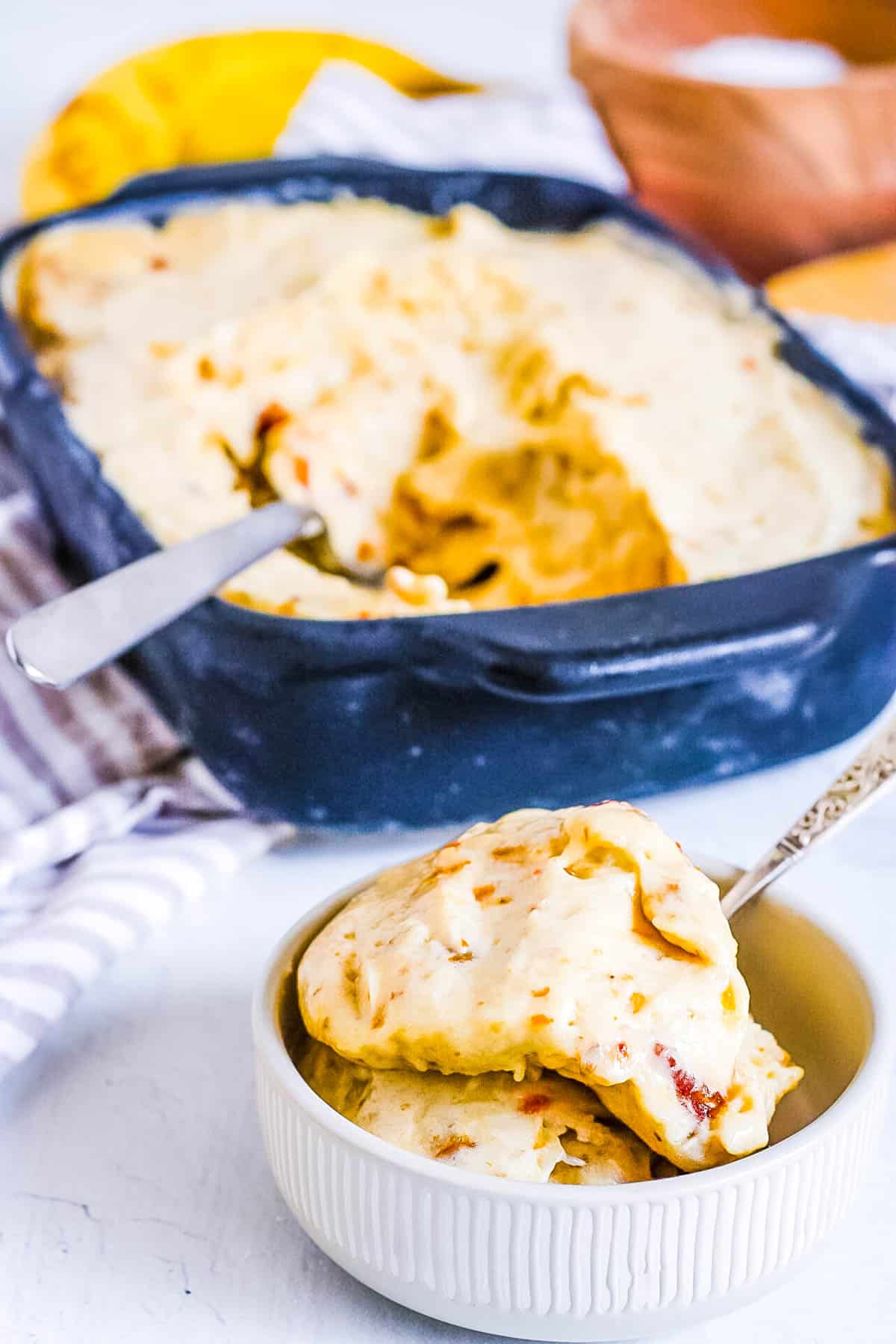 If you haven't heard of nice cream before, you're in for a treat! Frozen bananas blend into a smooth and creamy mixture that resembles ice cream. The flavor opportunities are endless, with different mix-ins, toppings, and sweeteners.
In this caramel nice cream recipe, I use soaked dates to achieve that caramel-like sweetness you know and love! It's indulgent and decadent, with no refined sugars or weird ingredients. It turns out you can have your cake and eat it too.
Latest Recipe Video!
Next time you're craving something sweet, try this salted caramel nice cream. It's actually just bananas and dates! It's naturally dairy-free, vegan, gluten-free, & plant-based!
Making this vegan ice cream is a great activity for kids too. Kids can help slice the bananas, place them onto a sheet pan, and drop them into the blender. And help devour it, of course!
👩‍🍳 Why This Recipe Works
Healthy yet decadent dessert
Creamy texture & smooth consistency
Bananas are easy on your digestive system
Texture of soft serve
Simple to customize (lots of topping options!)
Made with natural ingredients
Rich, caramel flavor
Easy to make & kid-friendly
Best vegan ice cream ever!
🥘 Ingredients
This caramel banana "ice cream" requires only four simple ingredients without the use of an ice cream maker!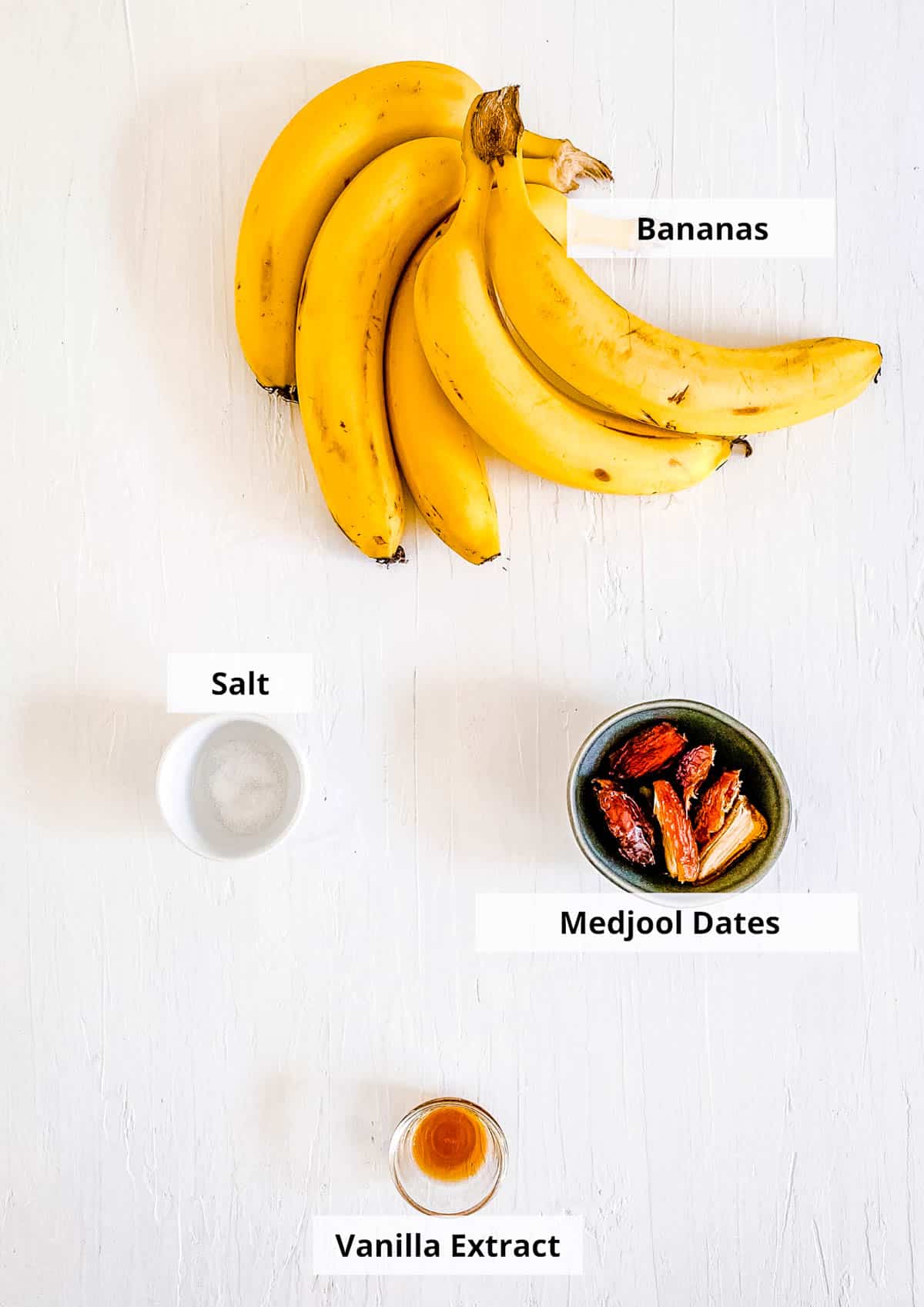 Bananas: Ripe bananas are naturally sweet and creamy, which makes them the perfect base for ice cream. Avoid green bananas since their starch hasn't converted to sugar yet. They taste chalky and bitter instead of sweet.
Medjool Dates: Dates are naturally high in sugar but jam-packed with nutrients, fiber, and antioxidants too! They have a caramel-like flavor and low calorie cinnamon rolls that softens when soaked. Find them in the produce section or near the dried fruit.
Vanilla Extract: Caramel and vanilla are a match made in dessert heaven.
Salt: A little bit of salt accentuates the sweet flavors of the nice cream.
📖 Variations
Mix-Ins: You can add whatever you like to nice cream! The sky is the limit. Sprinkles, nuts, matcha powder, chocolate chips, cocoa powder, peanut butter, frozen berries, cacao nibs, shredded coconut, sandwich cookies, chocolate sauce, vegan caramel sauce, almond butter, and frozen pineapple are great options!
Caramel Pecan Ice Cream: Stir in chopped pecans along with a drizzle of vegan caramel sauce!
Flavors: This recipe creates a caramel flavor but you can easily change it. Simply leave out the dates and add the flavors you like. Mint, strawberry, chocolate, and vanilla are popular options.
Sweeteners: Bananas are already sweet so it doesn't take much! Try honey, maple syrup, agave, soaked dates, brown sugar, date syrup, or protein powder.
Caramel Nut Ice Cream: Stir in chopped peanuts (or your favorite nut!)
Make Your Own Homemade Caramel Sauce: You can actually make a healthier vegan caramel "sauce" by stirring together 1 tablespoon of almond or peanut butter, maple syrup to taste, and a little bit of water to get the consistency you like!
🔪 How To Make Caramel Nice Cream
Freeze Bananas: Arrange the sliced banana coins onto a tray without them touching. Cover with plastic wrap & freeze overnight.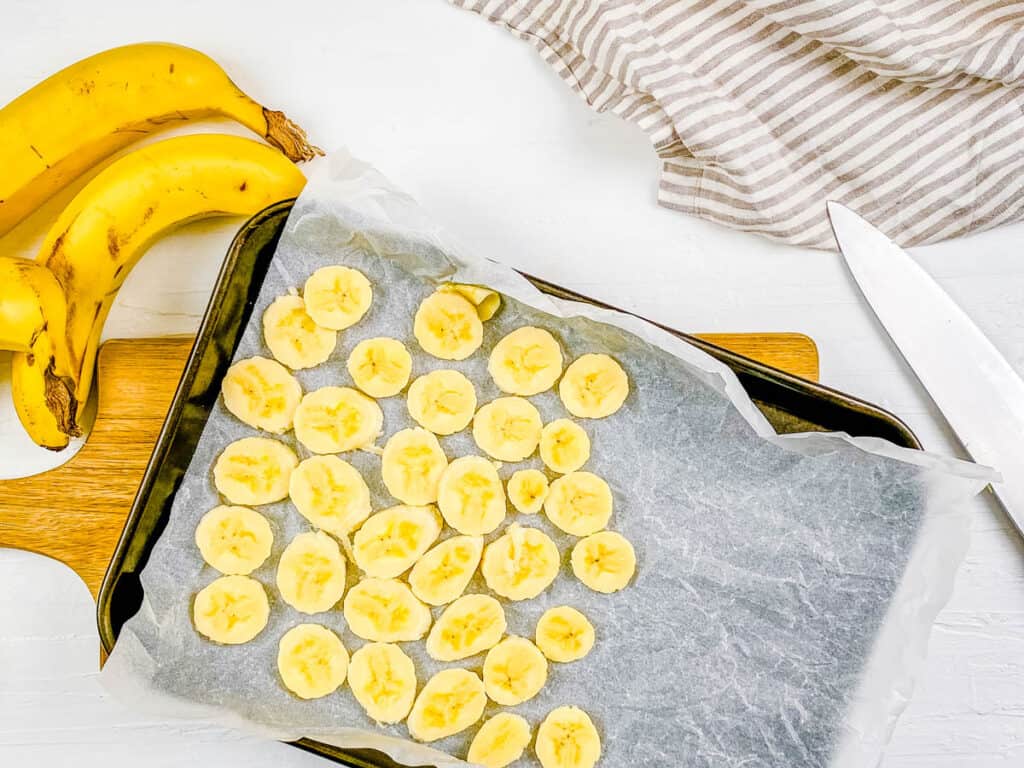 Soak Dates: Place the pitted dates into a small bowl and cover with hot water. Soak for 10 minutes.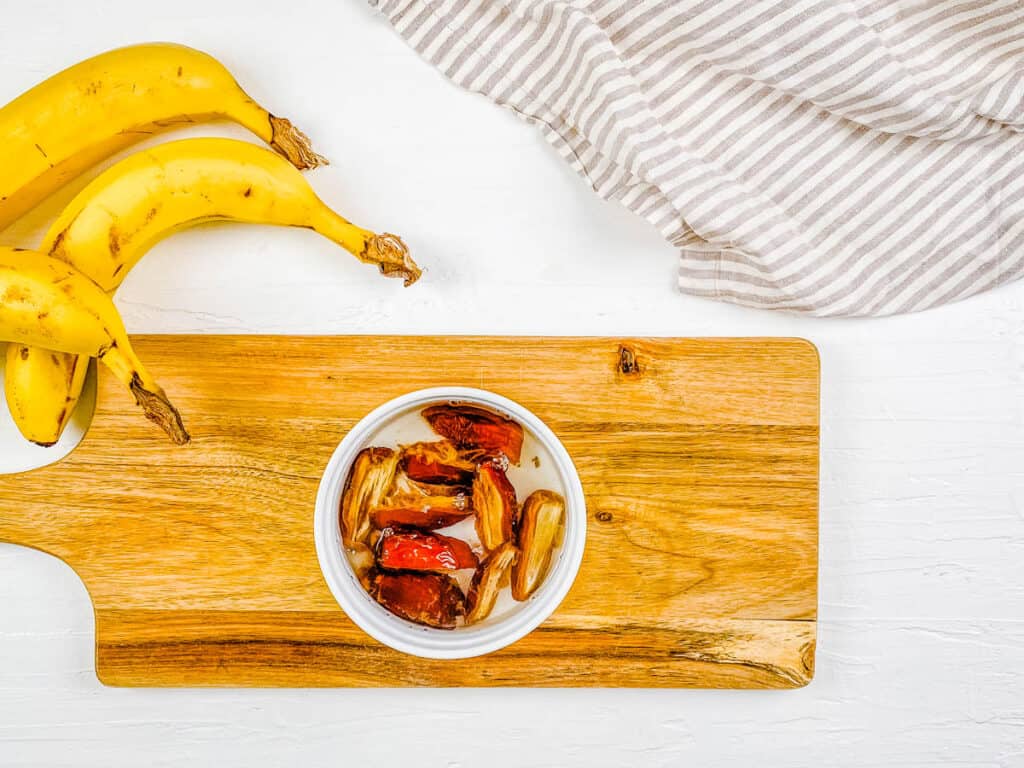 Drain Dates: Drain the dates and place into a food processor or high-speed blender with the remaining ingredients.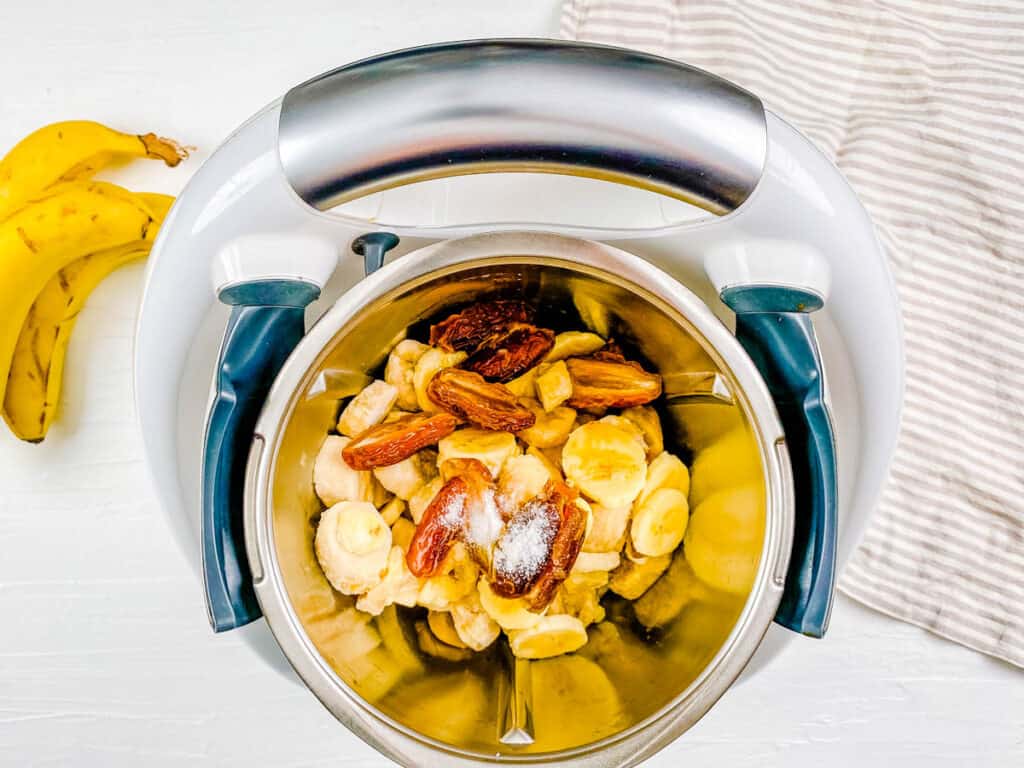 Blend Ingredients: Blend on high for 1 to 2 minutes. Stop the blender and carefully scrape down the sides with a rubber spatula. Blend again, just until smooth.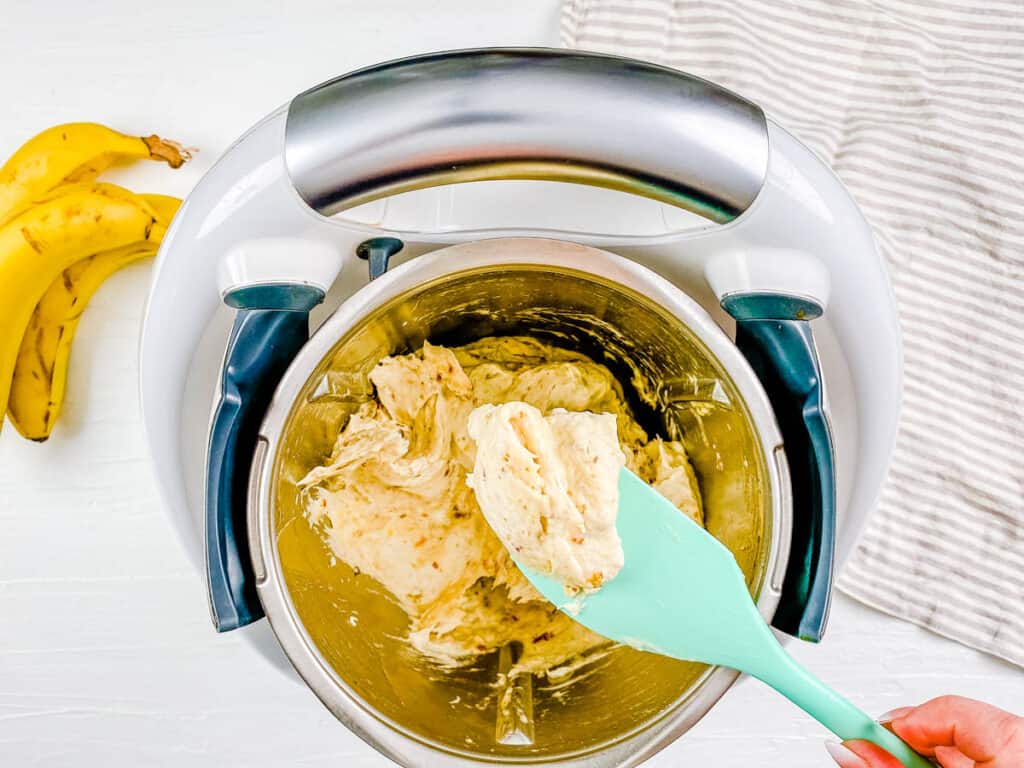 Serve Vegan Caramel Ice Cream: Enjoy immediately if you like a soft serve texture, or scrape the mixture into a flat freezer-safe container and freeze up to 5 hours, depending on how hard and scoopable you like your ice cream.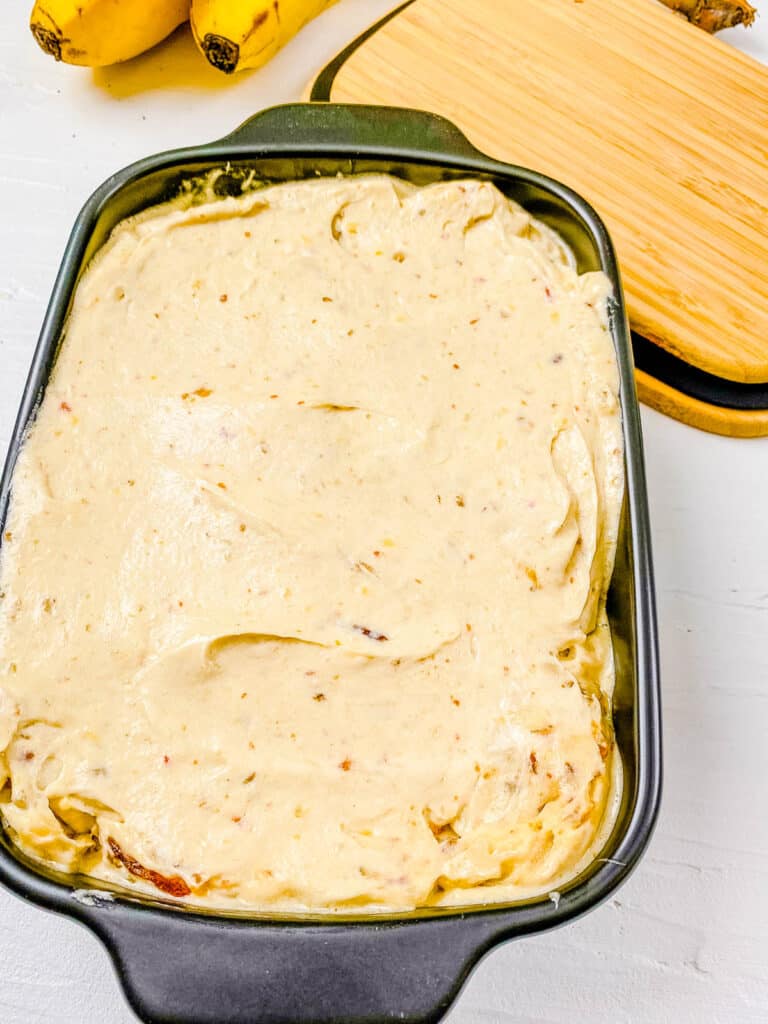 ❓ Recipe FAQs
Why is it called nice cream?
Nice cream is basically a healthier version of ice cream! Traditional nice cream is a cold, creamy mixture made from blended frozen bananas. It has the texture and consistency of soft-serve ice cream, but it has no dairy, fat, or added sugar. It's "nicer" to your waistline and overall health than ice cream, this is why it's referred to as nice cream.
Is nice cream healthy?
Yes, but it largely depends on what's in it. Nice cream recipes with added ingredients like cookies or sweeteners are going to be less healthy overall, but are still typically healthier than regular ice cream, since the main ingredient is still bananas!

This caramel swirl nice cream is super healthy, because it only uses plant-based ingredients that are naturally sweet or creamy like bananas, fresh berries, dates, or nut butter.
How long does nice cream last?
Store nice cream in the freezer in an airtight container. For best results, enjoy within 3 months of freezing it. It will freeze hard, so be sure to leave it out for 20 to 30 minutes before you try to scoop it.
Does nice cream taste like bananas?
It depends on the flavor you make! Plain nice cream does taste like bananas, but once you add other flavors to it, it masks the banana flavor.
💭 Expert Tips
Use Ripe Bananas: Be sure to use ripe bananas for a smooth nice cream base! Unripe bananas aren't sweet or creamy in texture.
Freezing The Bananas For Creamy Ice Cream: Slice the bananas thin to help them freeze faster. Thin banana slices blend up nice and smooth too.
Use A Good Quality Blender: You want all of the ingredients to get completely pureed for a creamy texture and consistency! If the bananas aren't blending, add a splash of almond milk to the food processor to get things going.
Great For Using Old Banans: Don't let bananas go to waste! If your bananas are ripe, slice and freeze them ahead of time. Throw the banana slices into a ziplock bag and freeze until ready to use.
Modify The Consistency: You can enjoy this soft serve or for a firmer consistency, freeze for an hour or two then enjoy!
Thaw Leftovers Slightly Before Serving: If you make a big batch and save leftovers for later, be sure to thaw the ice cream slightly in the fridge (for about 15 minutes) before serving so it's not super icy.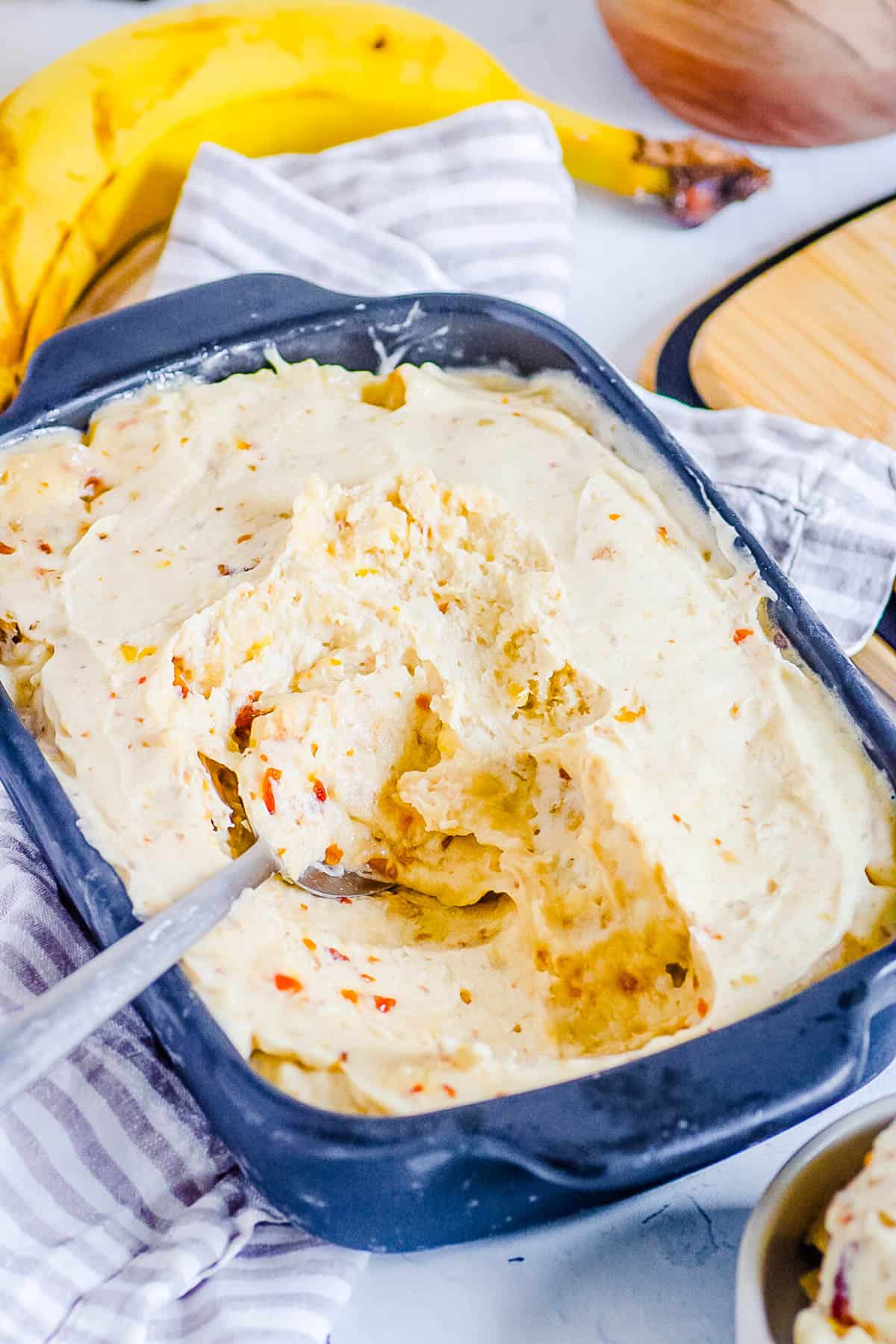 🍦 More Ice Cream Recipes!
LOVE THIS RECIPE? Please leave a 5-star rating 🌟 in the recipe card below and/or a review in the comments section further down the page!
You can also FOLLOW ME on FACEBOOK, TWITTER, INSTAGRAM, and PINTEREST to see more delicious, healthy, family-friendly food, and if you have any questions, I'm here to help!
📋 Recipe Card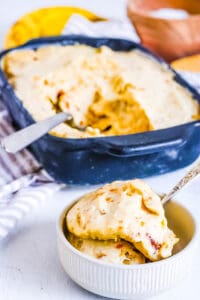 Print Recipe
Caramel Nice Cream
Try this guilt-free, creamy, healthy caramel nice cream to satisfy your sweet tooth! This smooth and luscious "ice cream" is made with blended frozen bananas, dates, and vanilla. Vegan, gluten-free, & plant-based!
Instructions
Arrange the sliced bananas onto a tray without the pieces touching. Cover with plastic wrap and freeze overnight.

Place the pitted dated into a small bowl and cover with hot water. Soak for 10 minutes.

Drain the dates and place into a food processor along with all remaining ingredients.

Blend on high for 1-2 minutes. Scrape down the sides if needed and blend again.

Serve and enjoy immediately or scrape out into a flat container, cover and freeze for 2-5 hours depending on the preferred consistency.
Notes
Use ripe bananas as they provide fuller flavor than green bananas.
Slicing the bananas thinly helps to freeze faster and also helps the nice cream to be super smooth when blended.
If you're having trouble blending the nice cream add a little non dairy milk to the food processor when blending.
Leftovers can be stored in an airtight container in the freezer for up to 3 months.
Feel free to add any toppings and mix-ins you like! Salted caramel sauce, chocolate sauce, chocolate chips, sprinkles, nuts, nut butter or fresh or frozen fruit all taste great!
Nutrition
Serving:
0.5
cup
|
Calories:
156
kcal
|
Carbohydrates:
40
g
|
Protein:
2
g
|
Fat:
0.4
g
|
Saturated Fat:
0.1
g
|
Polyunsaturated Fat:
0.1
g
|
Monounsaturated Fat:
0.03
g
|
Sodium:
98
mg
|
Potassium:
520
mg
|
Fiber:
4
g
|
Sugar:
28
g
14 responses to "Caramel Nice Cream (Best Healthy Ice Cream!)"