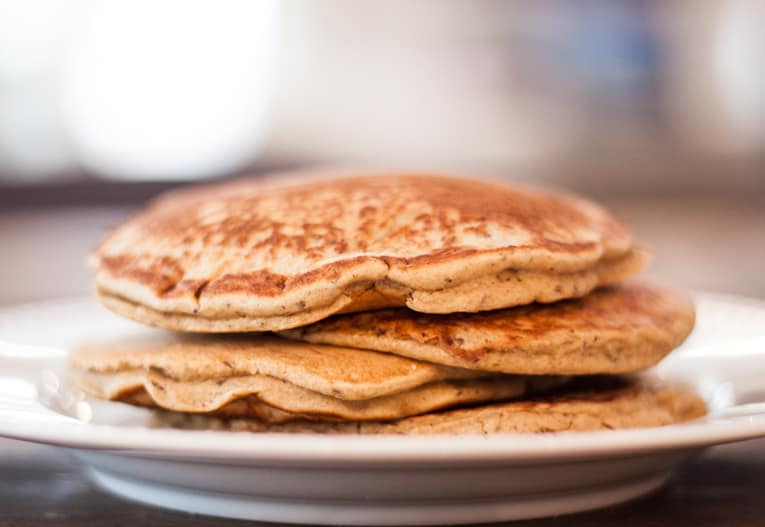 The husband and I both LOVE pancakes.
But, I never eat pancakes.
Why?
Because they're usually packed with refined carbs, sugar, and feel more like a treat than a healthy breakfast. Usually if I'm at a restaurant and I order pancakes for breakfast, I'm hungry just a couple hours after I've eaten thanks to that carb high and crash (which happens after you've eaten refined/white flour carbs or sugar).
So, for a while now, I've been searching for a healthy pancake recipe that TASTES like a treat, but is actually good for you.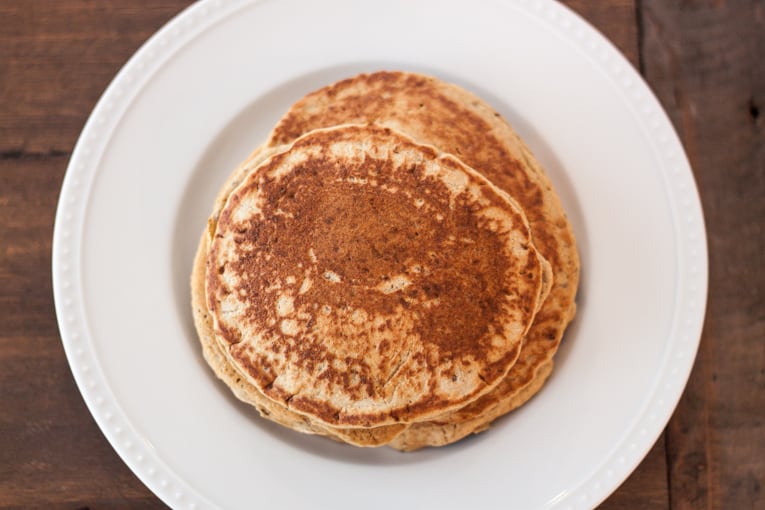 And finally, I've created one!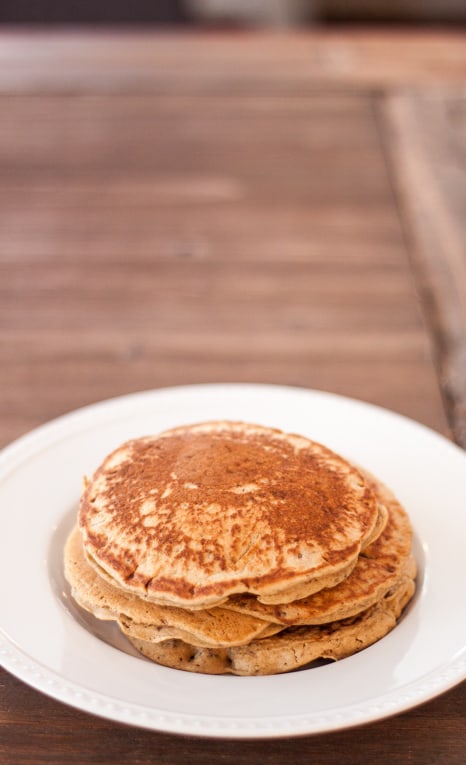 These pancakes are light, fluffy, perfectly chewy, slightly sweet, and so good for you! They are made with oat flour and sprouted wheat flour, which keeps you full much longer than white flour thanks to their fiber and protein. There's very little sugar added per pancake (only 1 tbsp honey for the whole recipe), but they are still slightly sweet. And the texture is absolutely perfect. It's kind of like eating a bowl of oatmeal in the form of a pancake.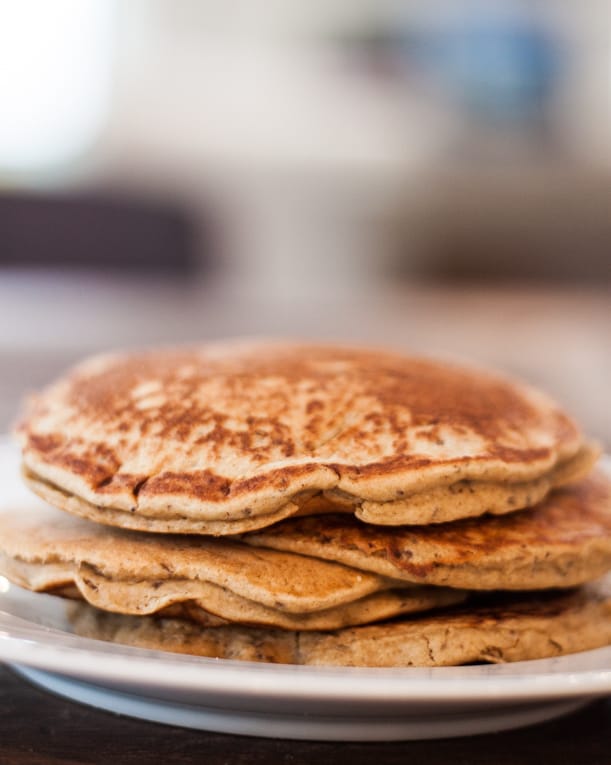 I like serving these with a little bit of stewed pears on top: which are literally just chopped up pears with the skin on, simmered with a couple tbsp water and a sprinkle of cinnamon in a small pot until they are soft and the sugars have caramelized (about 5-10 min).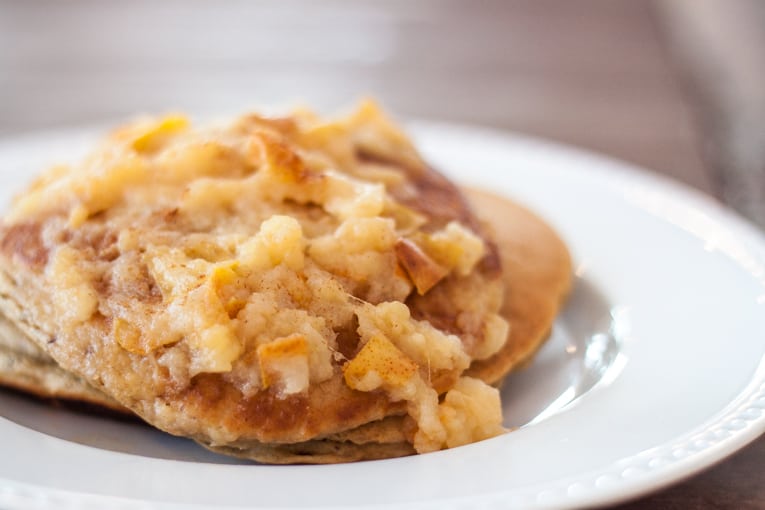 Layla LOVED these pancakes, and the husband did too! And he is picky about his pancakes.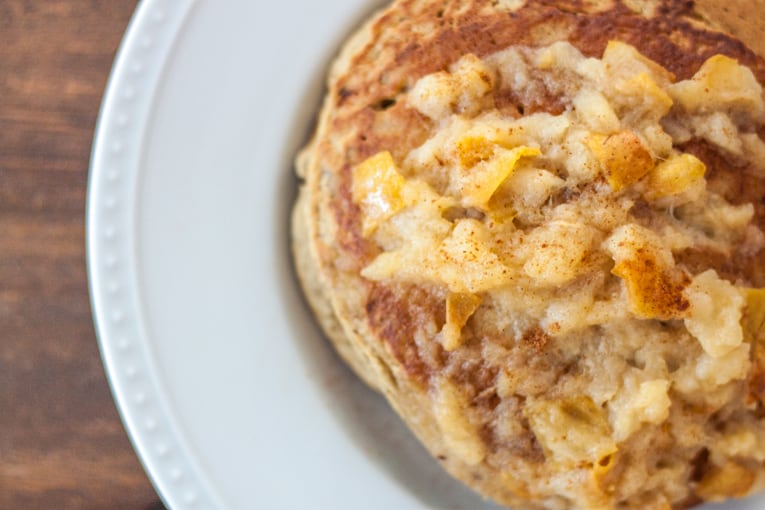 To make these gluten free, just use gluten free oat flour. You can also make these vegan by using flax eggs instead of regular eggs! To make a flax egg, add 1 tbsp ground flaxseed to 2.5 tbsp water in a small bowl, let sit for 5 min and then add to your recipe like you would a regular egg. You can use flax eggs as a 1:1 replacement for regular eggs.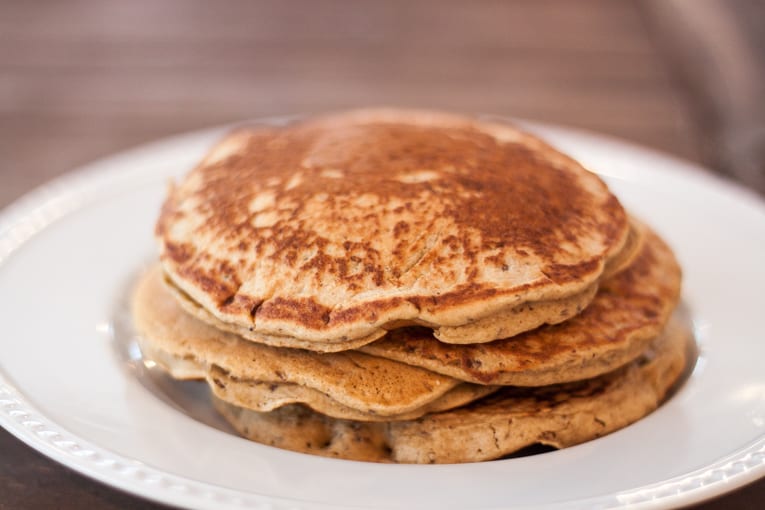 And while these pancakes taste great with the stewed pears on top…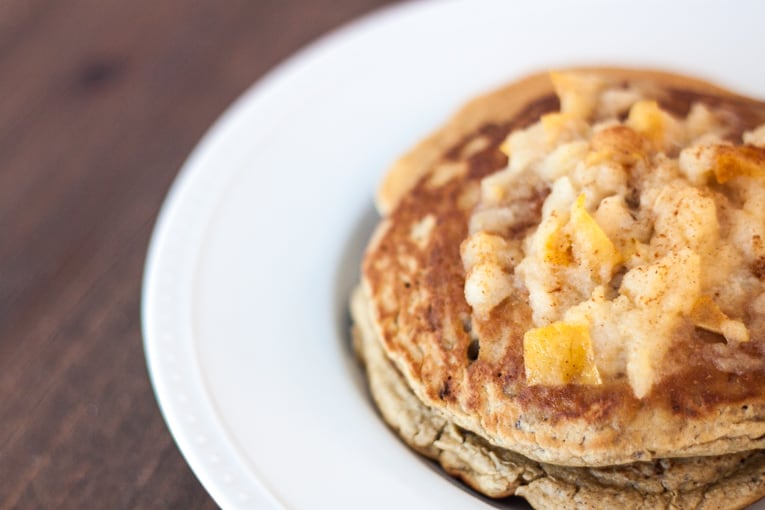 You can also enjoy them plain, with nut butter on top, with fresh berries, or just about any topping you like! With only 140 calories, 3g Fiber and 5g protein per pancake, this is a breakfast you can feel great about eating!
Healthy Oat and Sprouted Wheat Pancakes
Makes 8 pancakes. 1 serving = 1 pancake. Nutritional Info Per Serving with flax eggs: 140 Calories, 4.8g Fat (0.9g Saturated), 165.6mg Sodium, 21.5g Carbs, 3.2g Fiber, 4.5g Sugar, 5g Protein
Ingredients
1.5 cups oat flour and sprouted wheat flour (you can do 1/2 and 1/2 or all oat flour to make these gluten free)
1 tbsp honey
2 tsp baking powder
1/2 tsp baking soda
1/2 tsp salt
1.25-1.5 cups of 1% milk
2 flax eggs or 2 regular eggs
1 tsp vanilla
2 tbsp canola oil or olive oil
Instructions
In a large bowl, sift together the flour, baking powder, baking soda, and salt.
In another bowl, combine the milk, honey, vanilla, eggs and oil, mix until smooth.
Fold the wet ingredients into the flour mixture until combined.
Spray a griddle or skillet with olive oil cooking spray.
Heat over medium low heat.
Pour or scoop the batter onto the griddle, using about 1/4 cup for each pancake and cook until bubbly on top and golden on the bottom, about 4 minutes.
Flip and cook until golden on the bottom, about 2 more minutes. Serve hot.
https://pickyeaterblog.com/healthy-oat-and-sprouted-wheat-pancakes/
Recipe by: The Picky Eater, pickyeaterblog.com
TAGS: breakfast, entrees, gluten-free, kid friendly recipes, quick meals, vegan, vegetarian
11 responses to "Healthy Oat and Sprouted Wheat Pancakes"