Strawberry Simple Syrup
This post may contain affiliate links. As an Amazon Associate, I earn from qualifying purchases. Please read my disclosure.
Fresh sweet strawberries, sugar and lemon combine to create this easy, homemade strawberry simple syrup. It's a perfect addition to cocktails, mocktails, lemonade, or sparkling water – great for both kids and adults!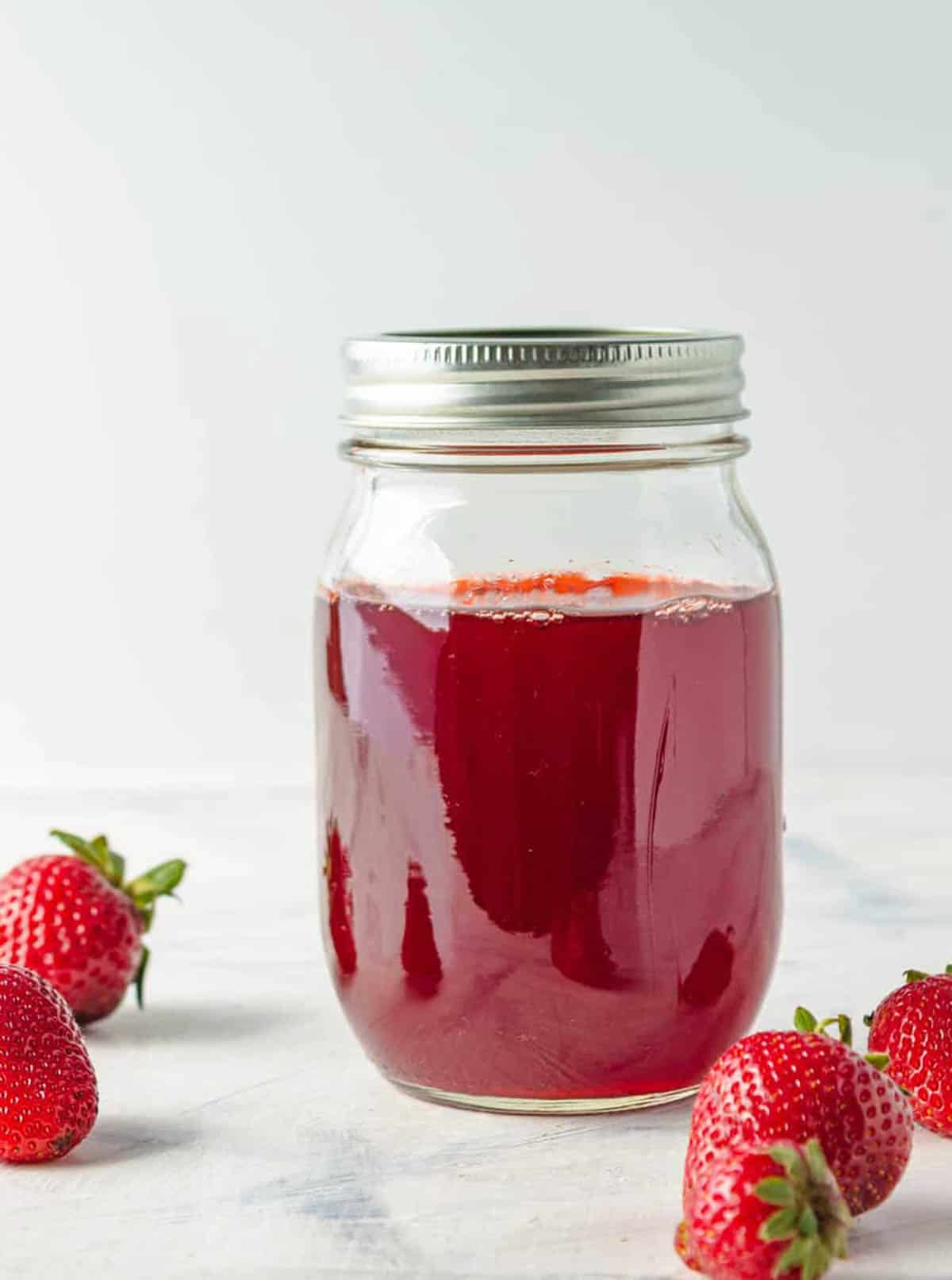 Fruit flavored syrup recipes are some of my favorite simple syrup recipes to make. You can literally infuse them with any flavors you want, and they are always super easy to make! One of my go-to syrups is this strawberry simple syrup recipe. It's great any time of year – whether it's the peak of strawberry season or not!
This 3 ingredient strawberry simple syrup was originally created when we came home from a long hot day of picking berries. We combined it with chilled sparkling water to create something light and refreshing that the whole family could enjoy.
You'll love it too, as it's the perfect compliment to just about any recipe. It works in drinks like cocktails, iced tea, lemonade, and even recipes like this Starbucks dragon drink copycat recipe or drizzled on top of this strawberry smoothie bowl or banana smoothie bowl.
But it's also delicious added to breakfast and brunch items, like these baked oats without banana and air fryer pancakes. The possibilities really are endless with this fruit simple syrup recipe!
👩🏽‍🍳 Why This Recipe Works
Super easy recipe
A great addition to your favorite drinks
Requires just 3 simple ingredients
Great alternative to regular simple syrup
Packed with sweet strawberry flavor
Naturally vegan & gluten free
Make homemade delicious strawberry syrup in just a few steps!
🥘 Ingredients
You literally only need 3 basic ingredients for this easy strawberry syrup! You'll need granulated sugar or white sugar, fresh strawberries, and lemon juice. That's it!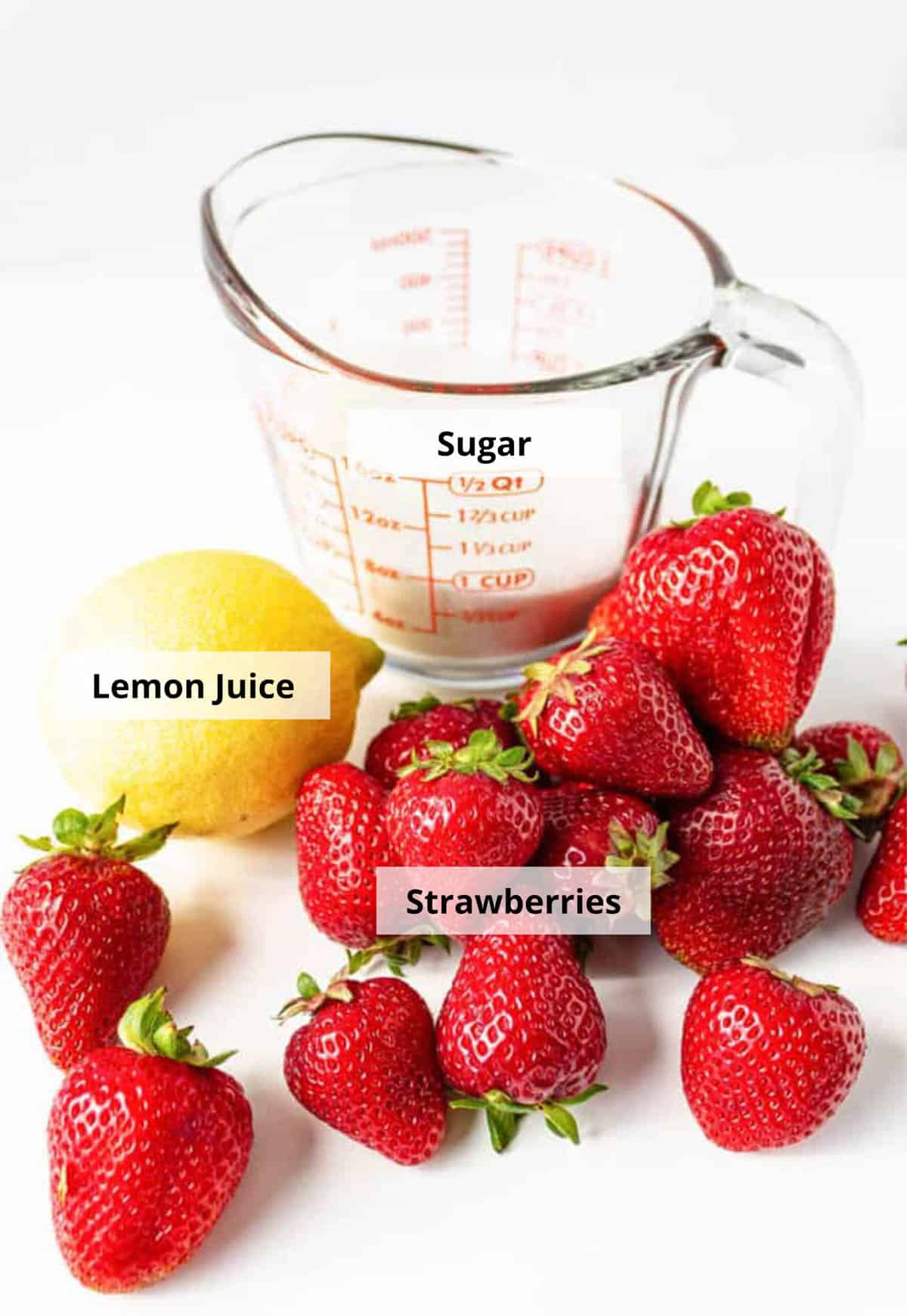 🔪 Instructions
Making regular simple syrup from scratch can be done in 3 easy steps. Simple syrup is just equal parts water and sugar – and then you can infuse it with anything you like (fresh fruit, fresh herbs, spices, teas, etc.).
To make any simple syrup: 1) Add sugar and water to a small saucepan, heat over medium heat. 2) Stir continuously until sugar is dissolved into the water. 3) Let the mixture cool completely, and then pour it into an air-tight glass jar or container.
You'll see that these same steps are needed for this homemade fruit syrup for drinks! Here's how you make this recipe for strawberry simple syrup:
Prep Fruit: Wash strawberries. Remove tops and slice into small pieces.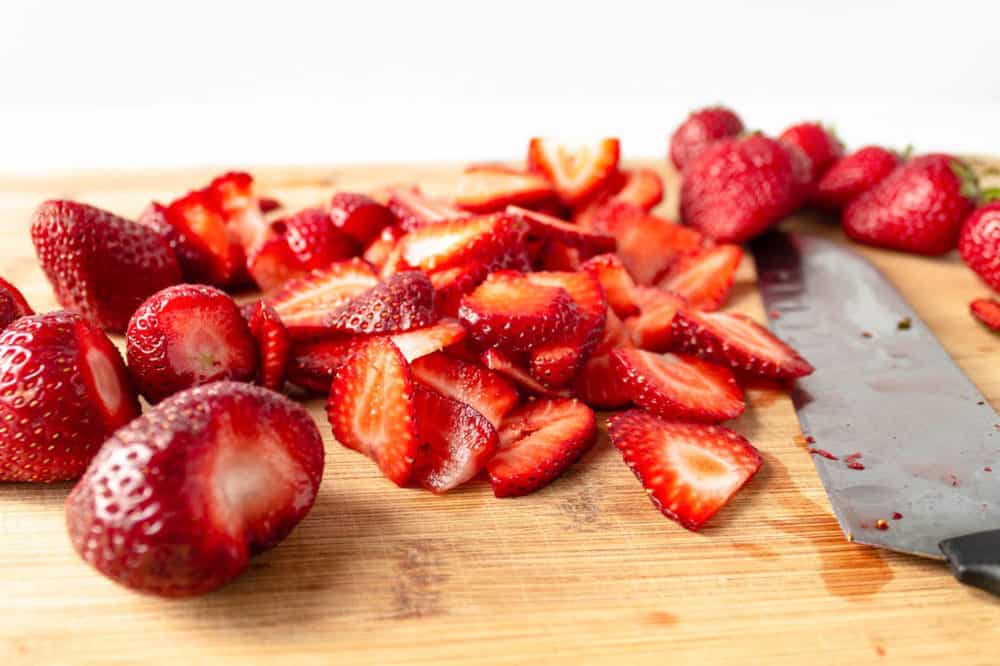 Cook Strawberries: In a medium saucepan, dissolve sugar with 1 cup of water over medium low heat, swirling occasionally. Add strawberries and lemon juice.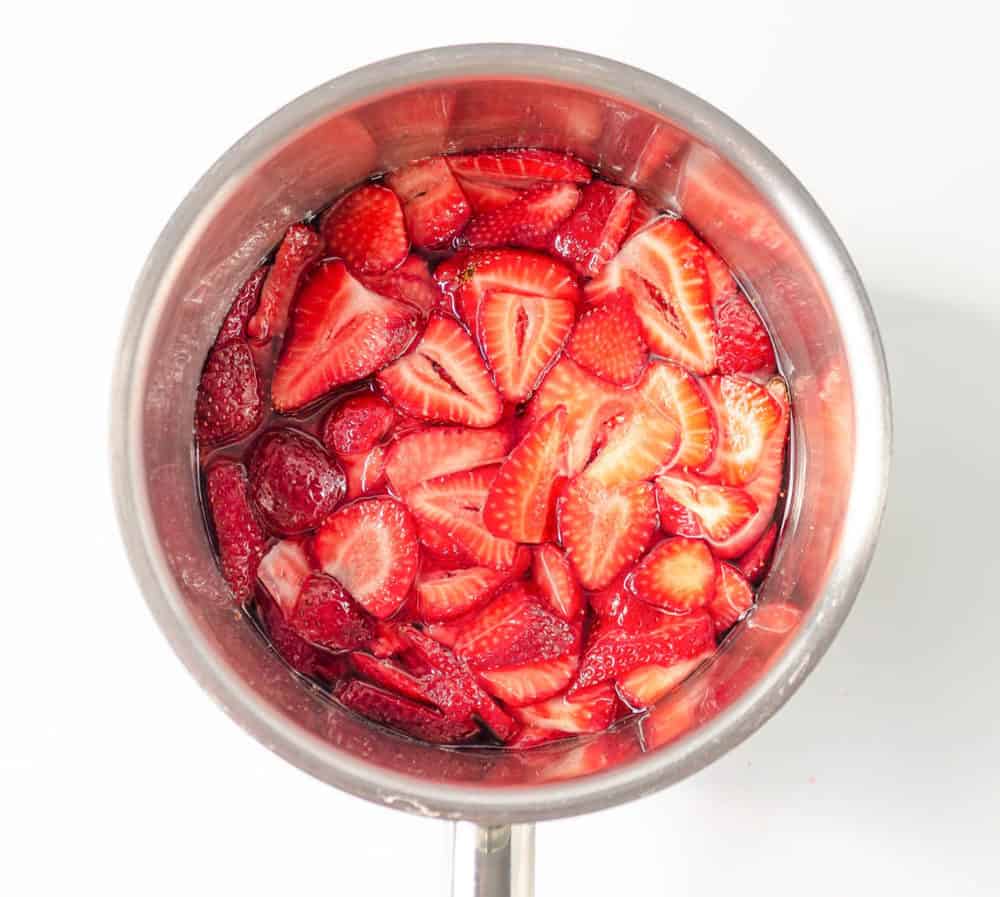 Simmer: Cook at a simmer for about 10 minutes until strawberries are mostly disintegrated and the sugar dissolves. Allow to sit for 30 minutes.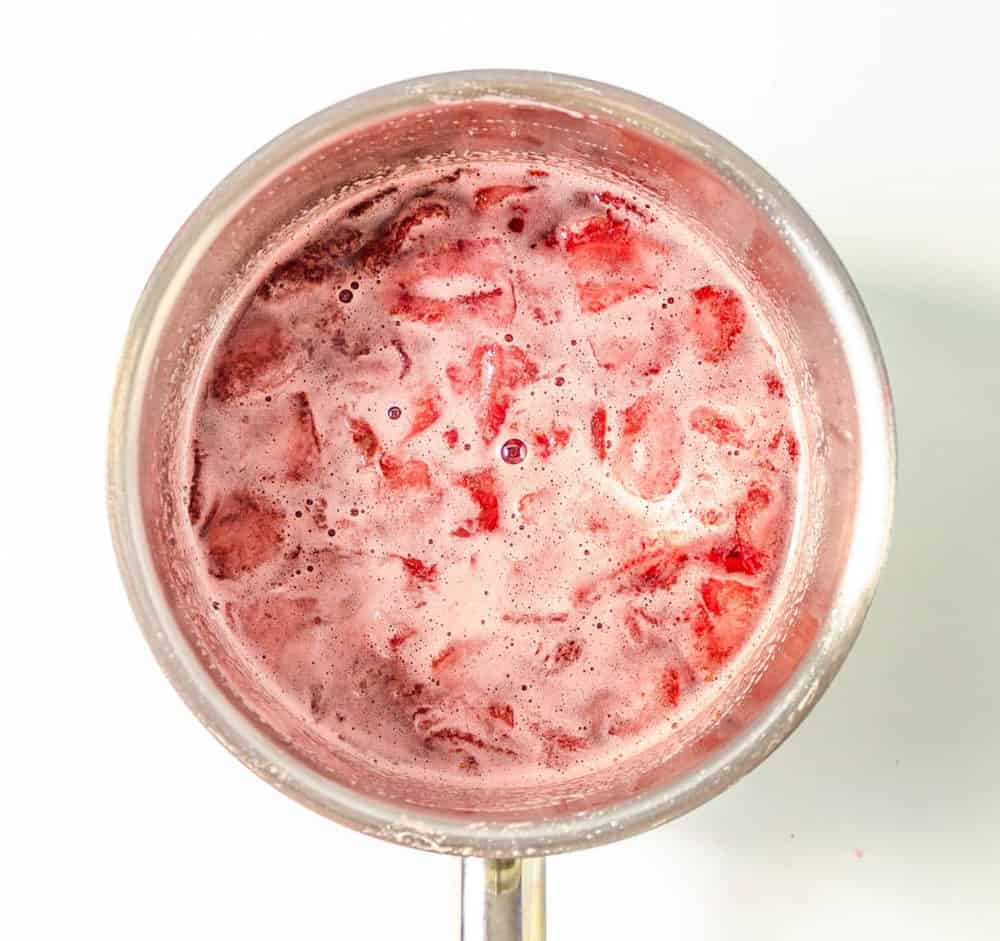 Strain: Strain through a fine mesh sieve.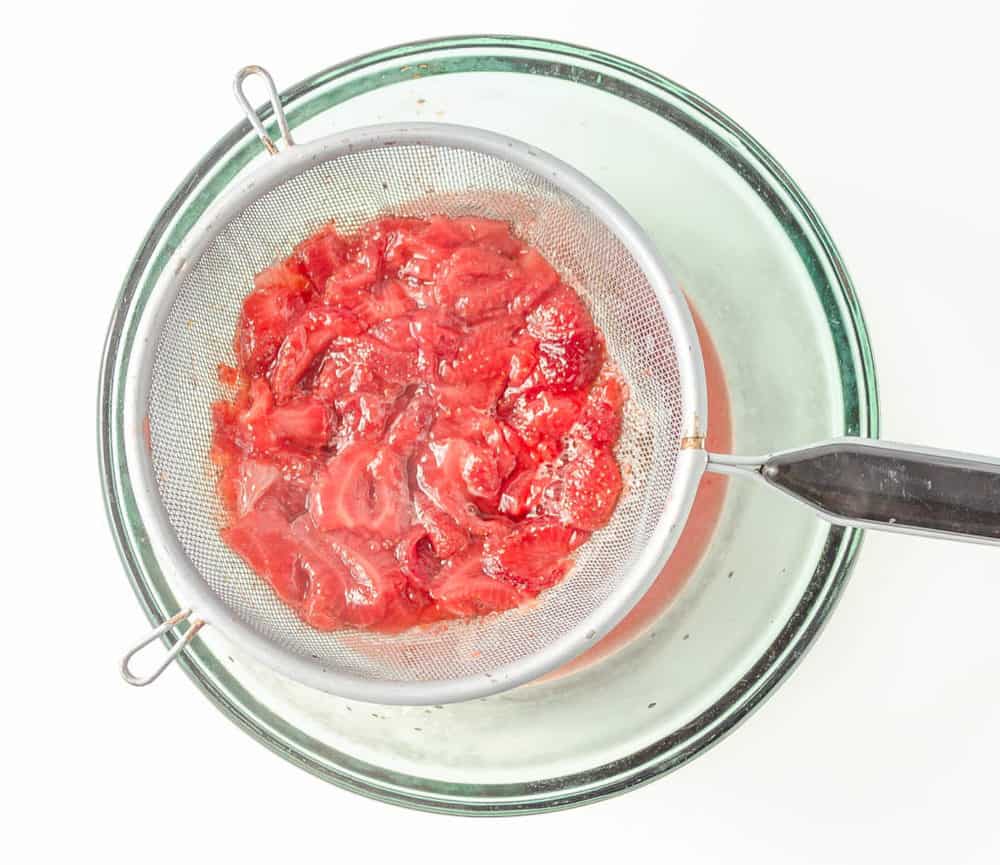 Store: Store strawberry lemon simple syrup in glass jar or bottle in the fridge until cold.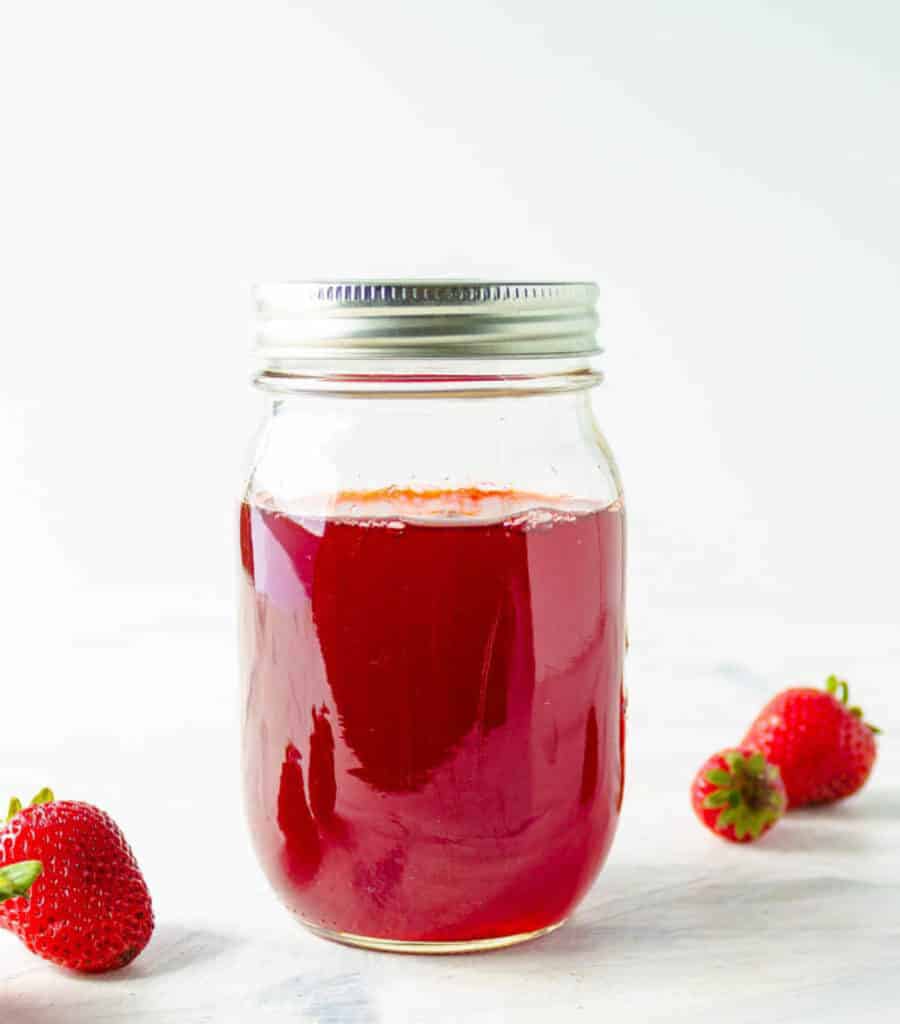 Serve As Needed: To serve, mix about 2 tablespoons of strawberry sugar syrup with about 8 fl oz / 140 ml club soda (or lime/lemon flavored sparkling water). Serve cold or at room temperature.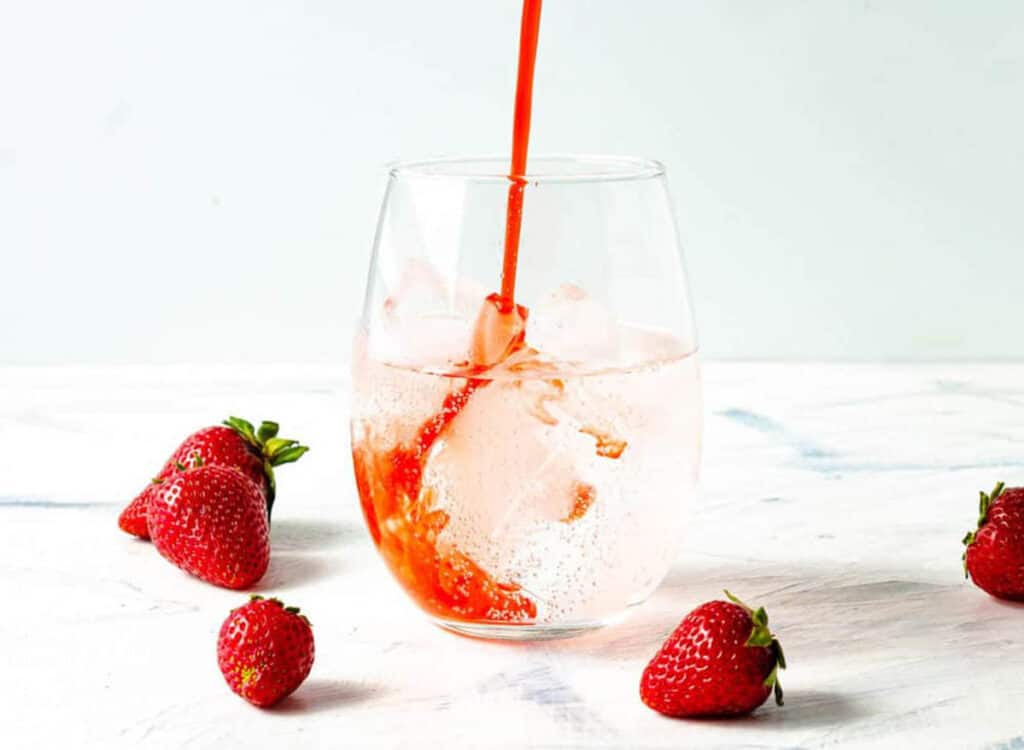 💭 Expert Tips
Use hot processing: This is heating the sugar + water together on the stovetop vs. heating the water first and then adding the sugar. This is the preferred method of making simple syrup, because it helps the syrup to last longer.
Make sure your water doesn't boil because then some of it will evaporate, changing the sugar-to-water ratio.
To make sugar free simple syrup: Instead of granulated sugar, use granulated monk fruit or monk fruit syrup to make skinny strawberry syrup for drinks or other recipes
For a thicker syrup, you can use a 1:2 ratio of water to sugar, instead of using an equal amount of sugar and water
Make sure you let the syrup cool completely before transferring it to a glass container for storage.
Don't use cloudy syrup: If this sweet syrup becomes cloudy or moldy, it has gone bad (and in that case, throw it out!)
📖 Variations
How do you use strawberry syrup? While my go-to use for this simple strawberry syrup recipe is to add it to soda water, I have used this liquid sweetener in a bunch of different ways! Here are some of my favorite ways to use this homemade strawberry syrup recipe:
Add it to lemonade, coffee, or iced tea (1 tbsp per 8oz)
Drizzle it over ice cream
Add it to whipped cream!
As a replacement for soda syrup
Add it to a fruit salad
Add it to a smoothie
Create strawberry flavored cocktails like a strawberry margarita, strawberry mojitos
Create strawberry flavored mocktails and kid-friendly drinks like strawberry soda or strawberry lemonade
Drizzle it on top of sponge cake or strawberry shortcake
Use a different fresh berries and make this blackberry simple syrup
Use it instead of maple syrup or pancake syrup as a topping for pancakes or on this healthy french toast
❓Recipe FAQs
How long does homemade simple syrup last in the fridge?
Typically, simple syrup will last for 2-3 weeks in the fridge when stored in an airtight container. That goes for this strawberry infused simple syrup too!
Can you freeze simple syrup?
Yes! To freeze this fresh strawberry syrup (or any simple syrup), let it cool completely, then transfer it into an ice cube tray. Wrap & cover the tray, and then place in the freezer. It will keep for up to 3-4 months in the freezer.

When you're ready to use it, just pop out the number of ice cubes of strawberry drink syrup you need, and let them thaw in the fridge before warming gently on the stovetop or microwave.
Can you make simple syrup with other fruits?
Absolutely! You can infuse simple syrup with pretty much anything you like: all berries work well, as do stone fruits like peaches & nectarines. You can also use warm spices or ginger!
Is strawberry simple syrup healthy?
It depends on what type of drink or recipe you're adding it to! One tablespoon of this fruit infused simple syrup has 6 grams of sugar and 30 calories, so if you stick to one tablespoon or less, then it can be a healthy way to sweeten up any recipe!

Also, this recipe provides a way to flavor drinks without any artificial flavors or colors, and most strawberry drink flavoring does contain both artificial flavors and colors, making this strawberry flavored syrup a healthier option when used in moderation!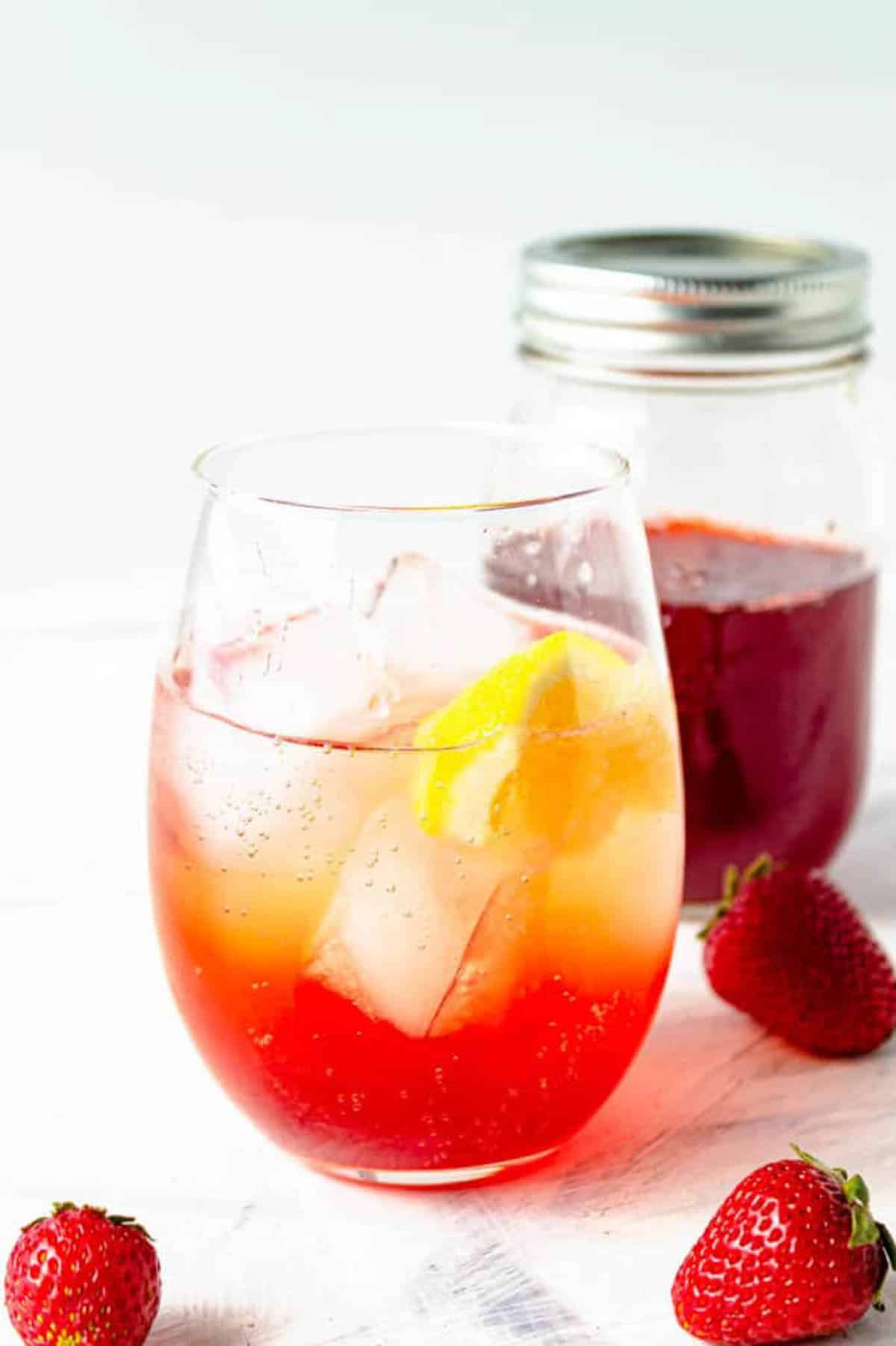 🍹 More Delicious Recipes!
Love this recipe? Please leave a 5-star rating 🌟 in the recipe below and/or a review in the comments section further down the page!
You can also FOLLOW ME on FACEBOOK, TWITTER, INSTAGRAM, and PINTEREST to see more delicious, healthy, family-friendly food, and if you have any questions, I'm here to help!
📋 Recipe Card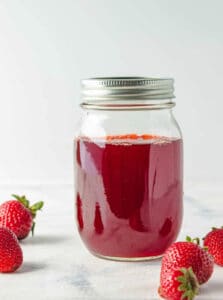 Print Recipe
Strawberry Simple Syrup
Fresh strawberries, sugar and lemon combine to create this homemade strawberry simple syrup. It's a perfect addition to cocktails, mocktails or even just a homemade strawberry soda – great for both kids and adults!
Instructions
Wash strawberries. Remove tops and slice into small pieces.

In a medium saucepan, dissolve sugar with 1 cup / 240ml water over medium low heat, swirling occasionally.

Add strawberries and lemon juice. Cook at a simmer for about 10 minutes until strawberries are mostly disintegrated.

Allow to sit for 30 minutes. Strain through a mesh sieve. Store in glass jar or bottle in the fridge until cold.

To serve, mix about 1-2 tbsp syrup with about 8 fl oz/140ml sparkling water (or lime/lemon flavored sparkling water)
Notes
Hot processing (heating the sugar + water together on the stovetop) is the preferred method of making simple syrup, because it helps the syrup to last longer.
Make sure your water doesn't boil because then some of it will evaporate, changing the sugar-to-water ratio.
For a thicker, heavier syrup, you can use a 2:1 sugar-to-water ratio
Make sure you let the syrup cool completely before transferring it to a glass container for storage.
This syrup can be used in cocktails and other drinks in a 1:1 replacement for soda syrup.
Syrup stores for up to 2-3 weeks in the fridge.
This syrup may not freeze completely because of the sugar content, so I recommend storing it the fridge and using it while it's still fresh.
If the syrup becomes cloudy or moldy, it has gone bad (and in that case, throw it out!)
Uses And Variations
While my go-to use for this simple syrup recipe is to add it to sparkling water, I have used strawberry simple syrup in a bunch of different ways! Here are some of my favorites:
Add it to lemonade or iced tea (1 tbsp per 8oz)
Drizzle it over ice cream
Add it to whipped cream!
Add it to a smoothie
Mix it into cocktails or mocktails
Use it instead of maple syrup as a topping for pancakes or french toast
Nutrition
Serving:
1
tablespoon
|
Calories:
26.5
kcal
|
Carbohydrates:
6.9
g
|
Protein:
0.1
g
|
Potassium:
14.9
mg
|
Fiber:
0.2
g
|
Sugar:
6.7
g
18 responses to "Strawberry Simple Syrup"