Strawberry Juice
This post may contain affiliate links. As an Amazon Associate, I earn from qualifying purchases. Please read my disclosure.
Make the most of peak-season strawberries with this sweet, refreshing, easy strawberry juice recipe! With just two ingredients, this hydrating drink is jam-packed with antioxidants and feel-good nutrients. Vegan, gluten-free, and refined sugar-free!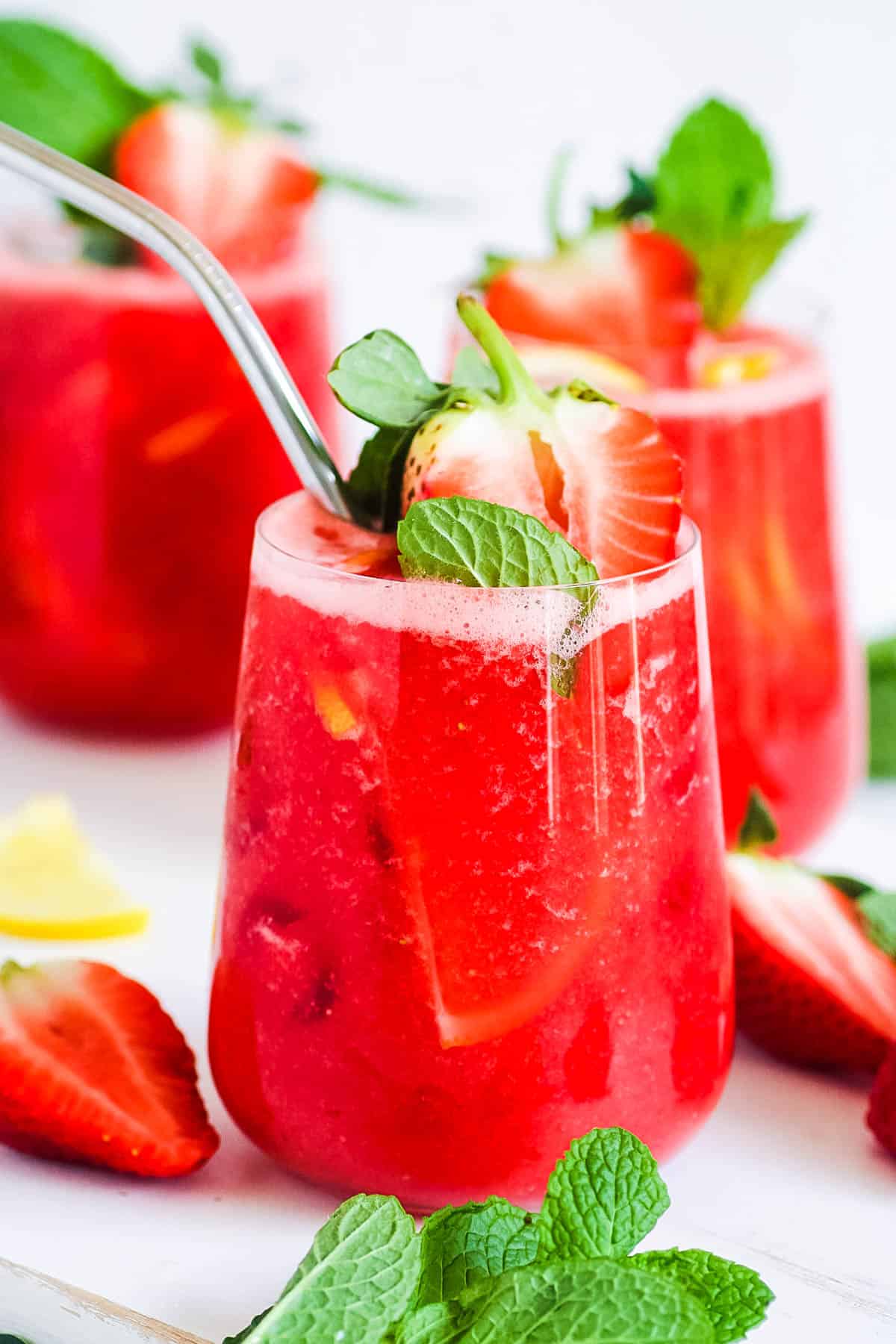 Every summer we go strawberry picking at our local strawberry farm. The berries are deep red, sweet as nectar, and I always leave with at least four overflowing baskets. Is there really such a thing as too many strawberries? I think not.
You can simmer them into jam, throw them into pies, or my absolute favorite, squeeze them into an energizing, nutrient-packed strawberry drink. Strawberries are rich in immune-boosting vitamin C, antioxidants, and essential vitamins.
Latest Recipe Video!
Healthy strawberry juice is super simple to make, and will totally satisfy your sweet tooth. You don't need an industrial sized juicer, fancy equipment, or lots of time. Just blend the berries, strain them, and enjoy with lots of ice! Perfect for hot summer days and poolside parties, but you can really enjoy this drink any time of year!
In the summer, we make it with fresh strawberries, and when it's not strawberry season, we make it with frozen strawberries which tastes just as good!
👩‍🍳 Why This Recipe Works
Rich in vitamin C & folic acid
All natural fruit drink
5 grams of fiber per serving
No need for fancy equipment like a juicing machine
May help lower blood pressure
Super healthy for you, and tastes great
Easy way to get a serving of fruit for the day
Ready in 10 minutes, only 2 fresh ingredients needed!
Made with fresh fruit juice, naturally sweet, no added sugar!
🥘 Ingredients
This fresh strawberry drink recipe requires two simple ingredients, plus water and ice! You can find all of these ingredients at all grocery stores.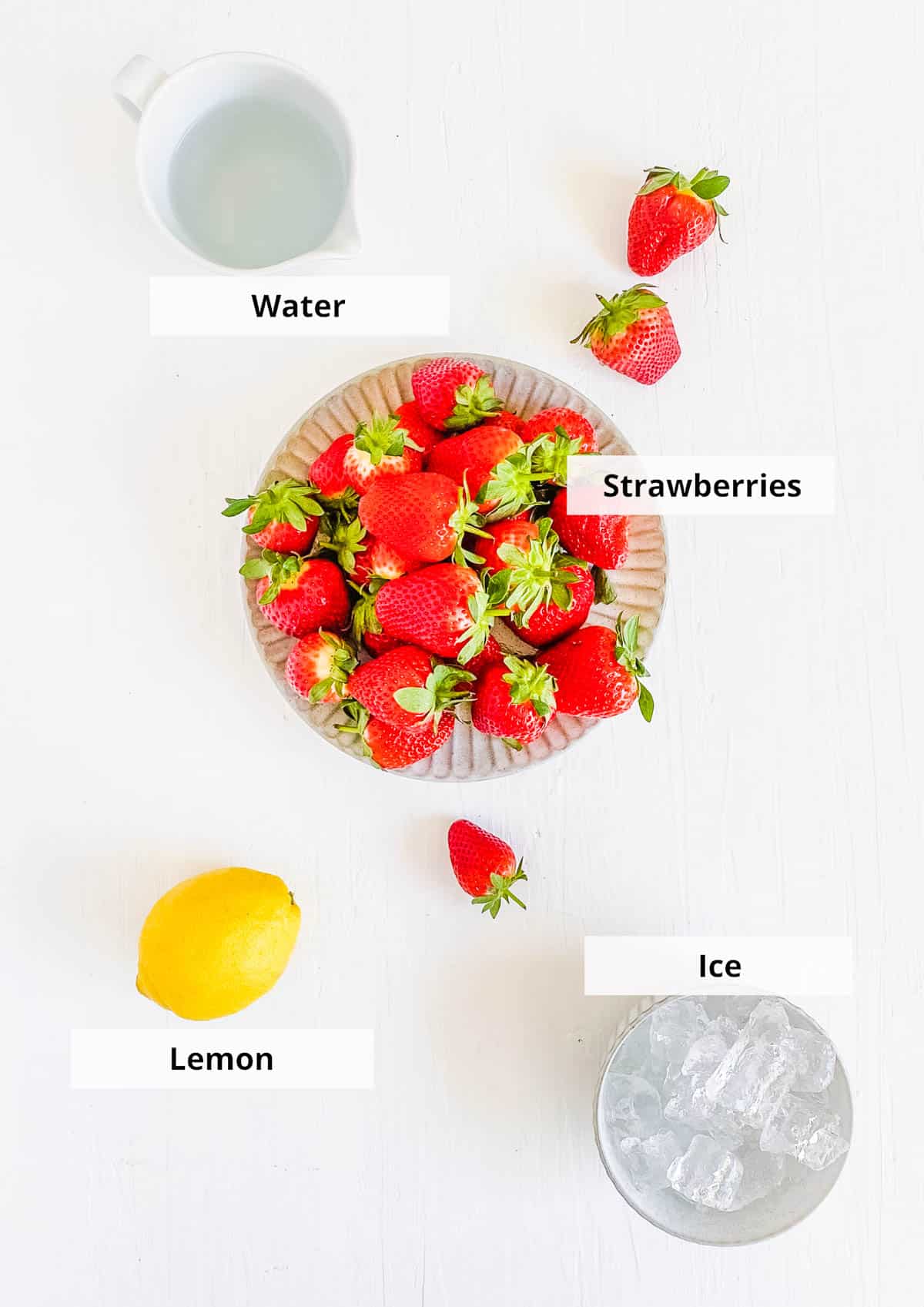 Fresh Strawberries: Whenever possible, use ripe in-season berries because they're naturally sweet and juicy. If it's not strawberry season, that's okay too! If you find the strawberries aren't as sweet, you can always sweeten the juice with maple syrup or light agave.
Lemon Juice: A squeeze of fresh lemon juice accentuates the flavor of the strawberries! Skip the bottled kind, trust me on this one. Fresh lemons are affordable and far better.
Water & Ice: Use ice cold water and serve with plenty of ice cubes for a refreshing drink!
📖 Variations
This homemade strawberry drink is easy to customize – there are so many different ways to make it! Here are a few refreshing combinations.
Strawberry White Cranberry Juice: Combine 1/2 cup of the fresh juice with 1/2 cup of white cranberry juice. Serve with plenty of ice!
Strawberry Kiwi Juice: Add three peeled kiwis to the blender with the strawberries.
Strawberry Orange juice: Add 1/4 cup of freshly squeezed orange juice into the blender with the berry juice.
Strawberry Lemonade Juice: Add 1/4 cup of lemonade into the blender with the berry juice. I like any organic lemonade that's low in sugar!
Strawberry Watermelon Juice: Add 4 cups of fresh watermelon cubes to the blender.
Strawberry Milkshake: For more of a decadent, dessert-like treat, add a scoop of vanilla ice cream (or vegan ice cream to keep this recipe vegan friendly) into the blender and blend with the strawberries!
🔪 Instructions
Learn how to make strawberry juice with this simple, no-fail recipe!
Cut Strawberries: Remove the green stems, then wash and dice the fresh berries.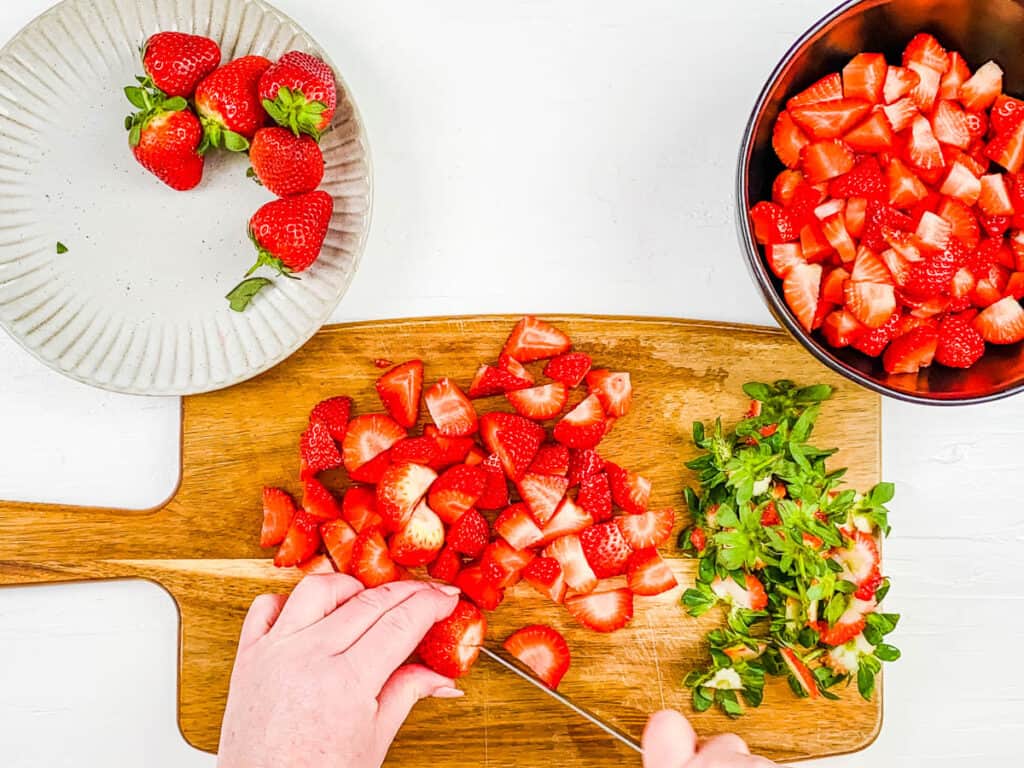 Blend Ingredients: Add the strawberries, lemon juice, and half cup of water to a high-speed blender and blitz until smooth.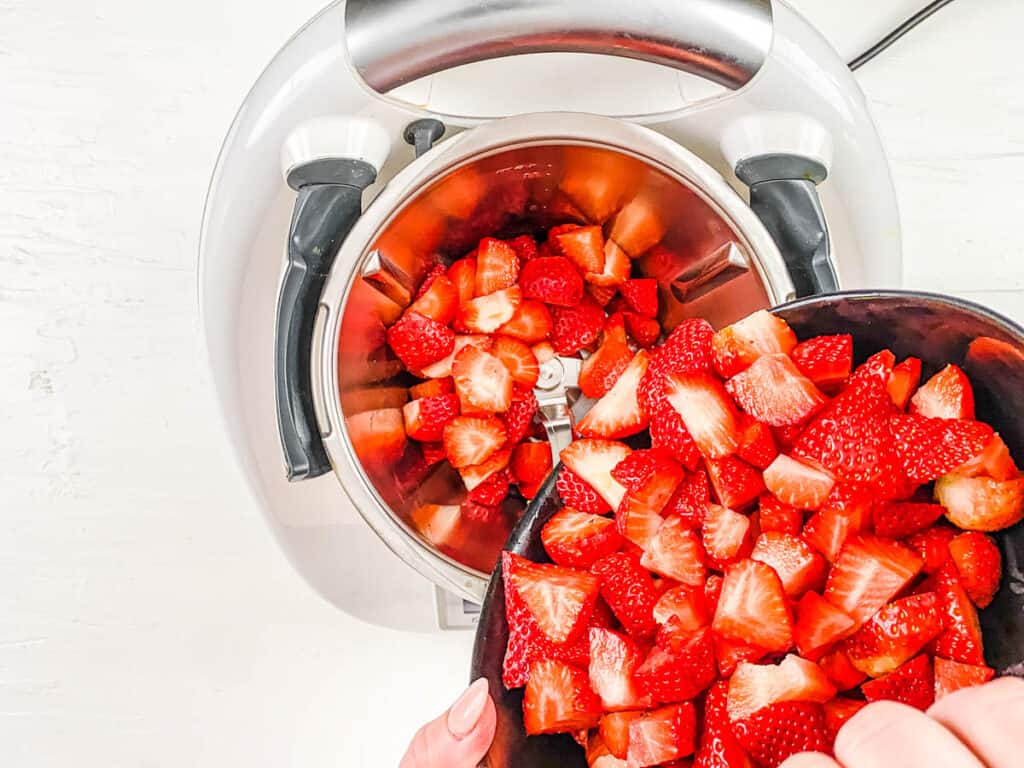 Adjust Consistency: Add more water if desired, then blend again if needed.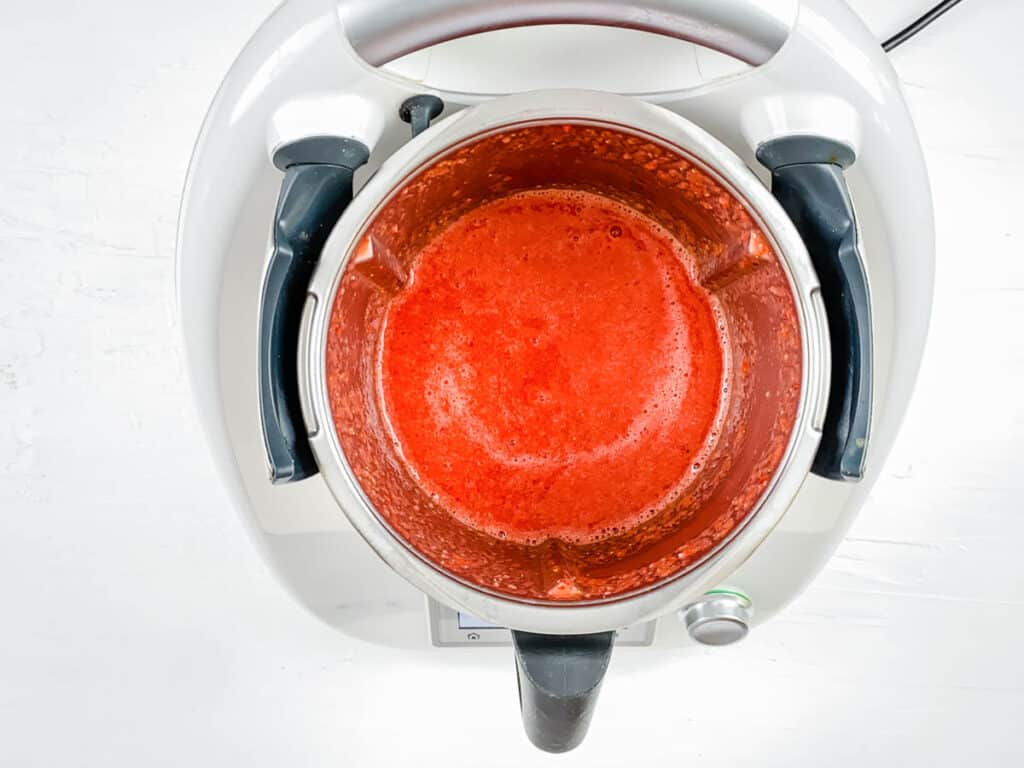 Strain Juice: Pour the juice through a fine-mesh strainer or nut milk bag for a smooth consistency.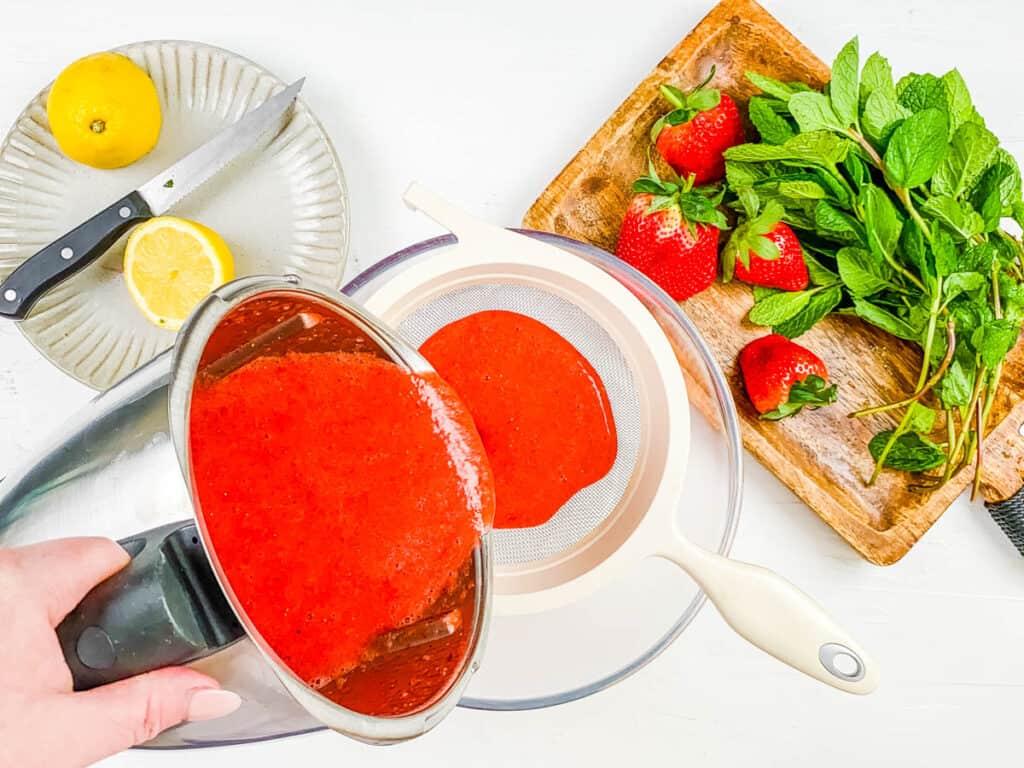 Pour & Serve: Add the ice cubes to serving glasses and top with 100% pure strawberry juice. Enjoy!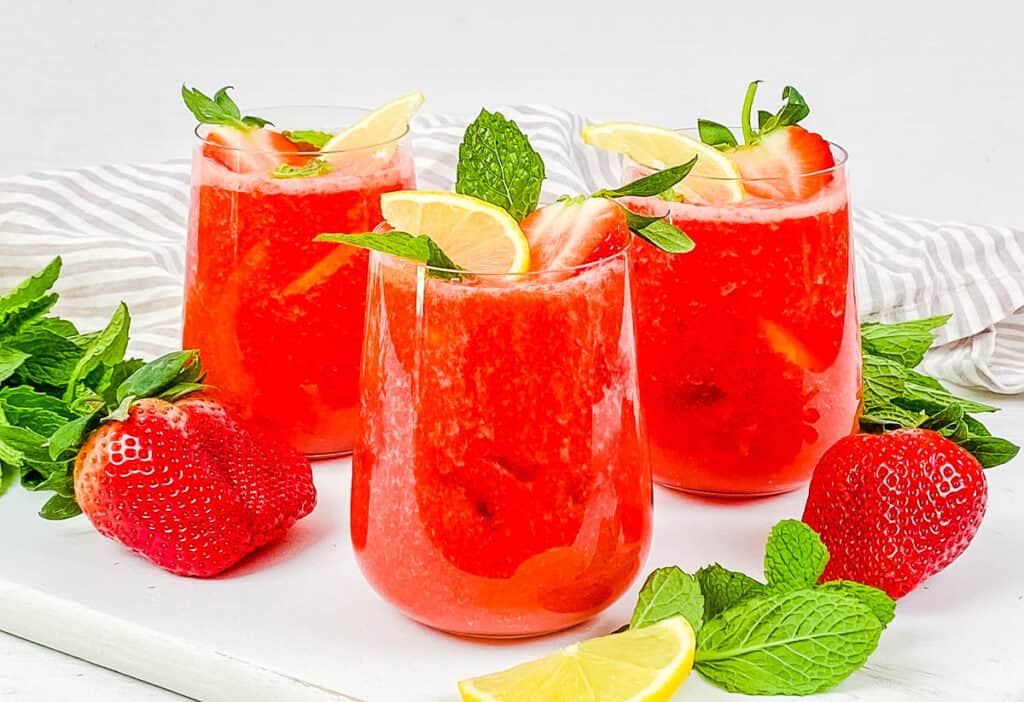 ❓ Recipe FAQs
Is fresh strawberry juice good for you?
Yes! This fresh juice is full of health benefits. It's rich in vitamin C, which helps with skin inflammation, boosts your immune system, and helps the body heal itself.

It's also a good source of disease-fighting antioxidants (like ellagic acid – a powerful anti-inflammatory antioxidant) and beneficial plant compounds.

Additionally, strawberries are low in carbs and calories, but high in dietary fiber. Fiber helps control blood sugar levels, so you don't have to worry about a blood sugar spike and crash when you enjoy this juice!
Can you juice strawberries?
Yes! You can juice strawberries one of two ways. Feed them into a juicer, or blend the strawberries in a blender or food processor and strain the mixture.
How long is homemade strawberry juice good for?
Homemade juice is best enjoyed fresh, but it can be stored in an airtight container or mason jar in the refrigerator for up to 2-3 days. Give it a good stir before serving.
Can I freeze this juice?
Yes! It's easy to freeze! Pour leftover juice into ice cube trays, then transfer the frozen ice cubes to a ziplock bag. Add the strawberry ice cubes to iced tea, lemonade, or smoothies for a refreshing drink!
Does strawberry juice stain?
Unfortunately, yes! It's difficult to remove strawberry stains due to their tannins, but it's not impossible. Treat the stain immediately with Oxiclean stain remover, or for a more natural option, use a vinegar-water mixture.
💭 Expert Tips
If you a sweeter juice, stir in some maple syrup, honey, simple syrup, or agave syrup. Brown sugar or white sugar can be used but it won't dissolve all the way since it's not a liquid.
For best results, use ripe strawberries. If the strawberries aren't sweet, the juice won't be either! I like to wait until organic strawberries go on sale and use those. They have a full, sweet flavor. Frozen strawberries also work well because they're frozen when they're at their peak ripe-ness.
Straining is optional: If you don't mind small seeds and pulp, you don't have to strain the strawberry mixture.
Feel free to experiment with more fruit combinations! For extra nutrients, try adding mango, melons, pineapple, watermelon, berries, oranges, or apples to the blender with the strawberries. Or for a sweeter juice, substitute the water with mango juice or orange juice for your strawberry beverage.
For a tropical take, substitute the lemon juice with lime juice and use coconut water.
Use the leftover strawberry pulp in smoothies or to make fruit leather.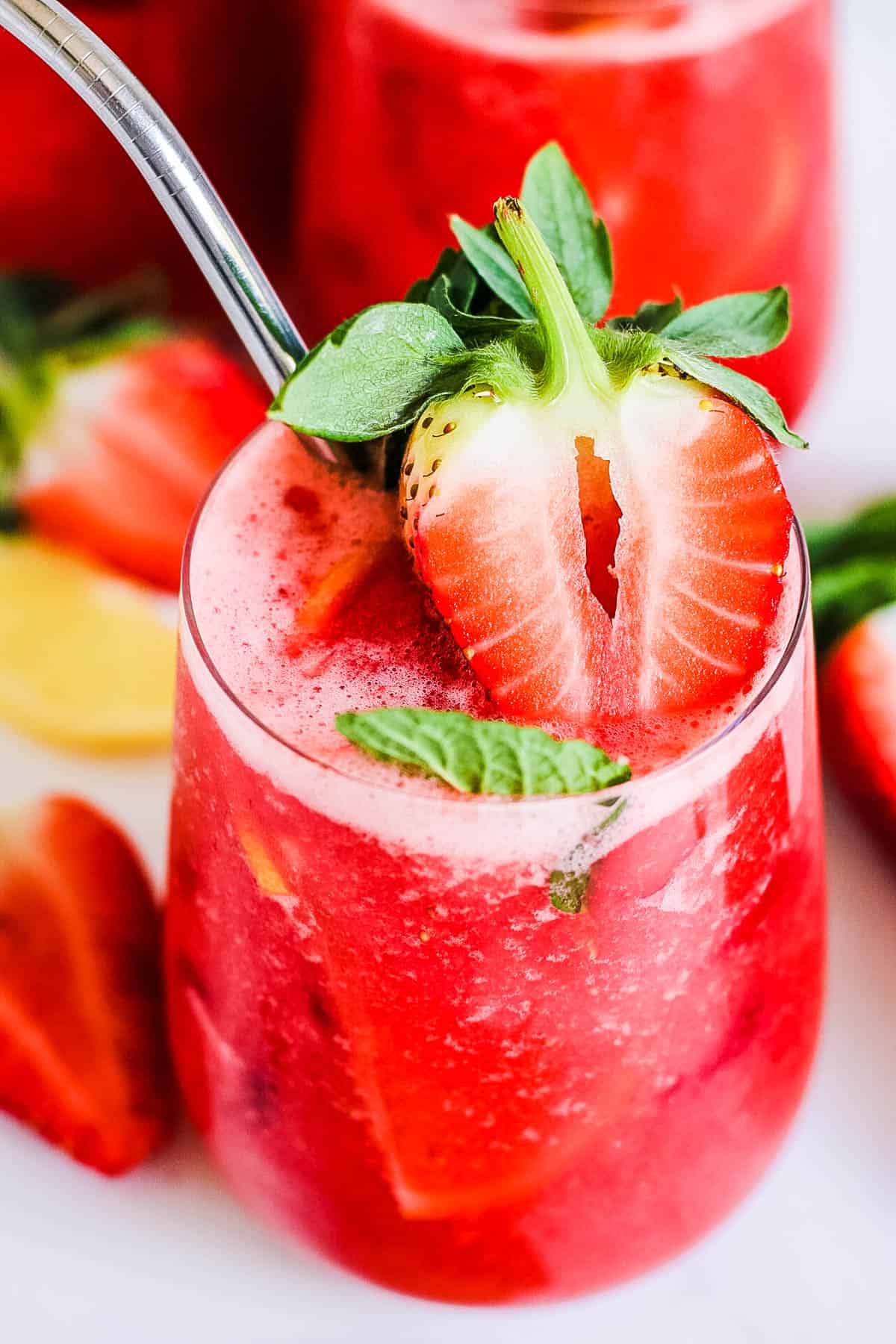 🍓 More Strawberry Recipes!
📋 Recipe Card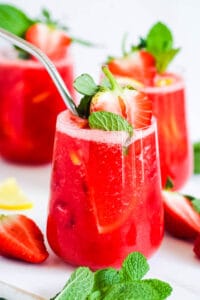 Print Recipe
Strawberry Juice
Make the most of peak-season strawberries with sweet and refreshing strawberry juice recipe! With just two ingredients, this hydrating drink is jam-packed with antioxidants and feel-good nutrients. Vegan, gluten-free, and refined sugar-free!
Instructions
Remove the stems, wash, and dice the strawberries.

Add the diced strawberries, lemon juice and water to a high speed blender and blitz until smooth.

Adjust consistency by adding additional water if desired.

Pour the strawberry juice through a strainer or nut bag to remove the seeds and froth.

Add ice cubes to serving glasses and top with strawberry juice.
Notes
Leftover strawberry juice can be stored in an airtight container in the fridge for up to 2 days, however it is best consumed immediately.
Strawberry juice can also be frozen in ice cube trays to be used at a later date.
If you prefer your strawberry juice a little sweeter try adding some honey, maple syrup or agave nectar.
Use organic strawberries for the fullest flavor.
If you don't mind the seeds you can skip straining the juice.
For a more tropical feel you can add lime juice and coconut water.
Nutrition
Serving:
1
cup
|
Calories:
73
kcal
|
Carbohydrates:
18
g
|
Protein:
2
g
|
Fat:
1
g
|
Saturated Fat:
0.04
g
|
Polyunsaturated Fat:
0.4
g
|
Monounsaturated Fat:
0.1
g
|
Sodium:
2
mg
|
Potassium:
351
mg
|
Fiber:
5
g
|
Sugar:
11
g
10 responses to "Strawberry Juice"