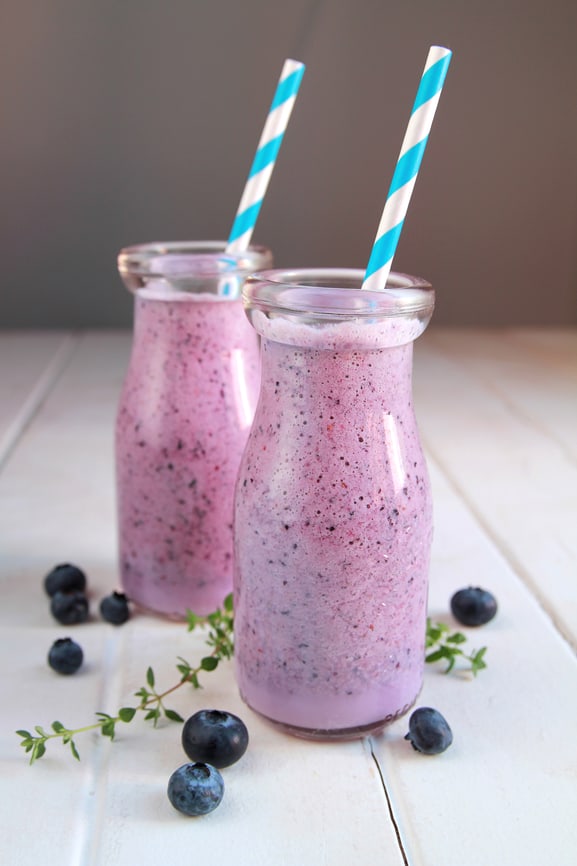 Summer is the perfect time for smoothies. I remember when I was a kid, my mom would make strawberry-banana "milkshake desserts" in the summer.
I had no idea that they were just strawberries, bananas, a bit of plain yogurt, and ice – no milk or sugar actually involved! But thanks to the creaminess from the yogurt and sweetness from the banana, it tasted just like a milkshake.
This recipe takes inspiration from my mom's healthy tricks from my childhood. This smoothie packs an antioxidant punch from the frozen wild blueberries and spinach (or kale – your choice!), has natural sweetness from the bananas and pineapple, and added protein from some plain Greek yogurt.
You can enjoy it as a light breakfast, healthy dessert or post-workout snack for under 200 calories!
Blueberry Banana Blast Smoothie
Nutritional Info Per Serving: 162 Calories, 2g Fat (0.2g Saturated), 58mg Sodium, 31.5g Carbs, 5.4g Fiber, 20.5g Sugar, 7.7g Protein
Ingredients
1

cup

frozen wild blueberries

1

fresh or frozen banana

1/4

cup

fresh cut pineapple

3

oz

nonfat plain Greek yogurt

1

cup

baby spinach

or kale

1

tbsp

ground flaxseed

1/2

cup

skim milk

1/2

cup

water

1/4

cup

ice

optional
Instructions
Place all ingredients in a blender and blend until smooth.
TAGS: breakfast, gluten-free, kid friendly recipes, quick meals, smoothies, snacks, vegetarian
25 responses to "Blueberry Banana Blast Smoothie"