Raspberry Smoothie
This post may contain affiliate links. As an Amazon Associate, I earn from qualifying purchases. Please read my disclosure.
This healthy raspberry smoothie recipe is the perfect breakfast, quick lunch, or afternoon snack! It's made with just 4 ingredients and is ready in less than 5 minutes!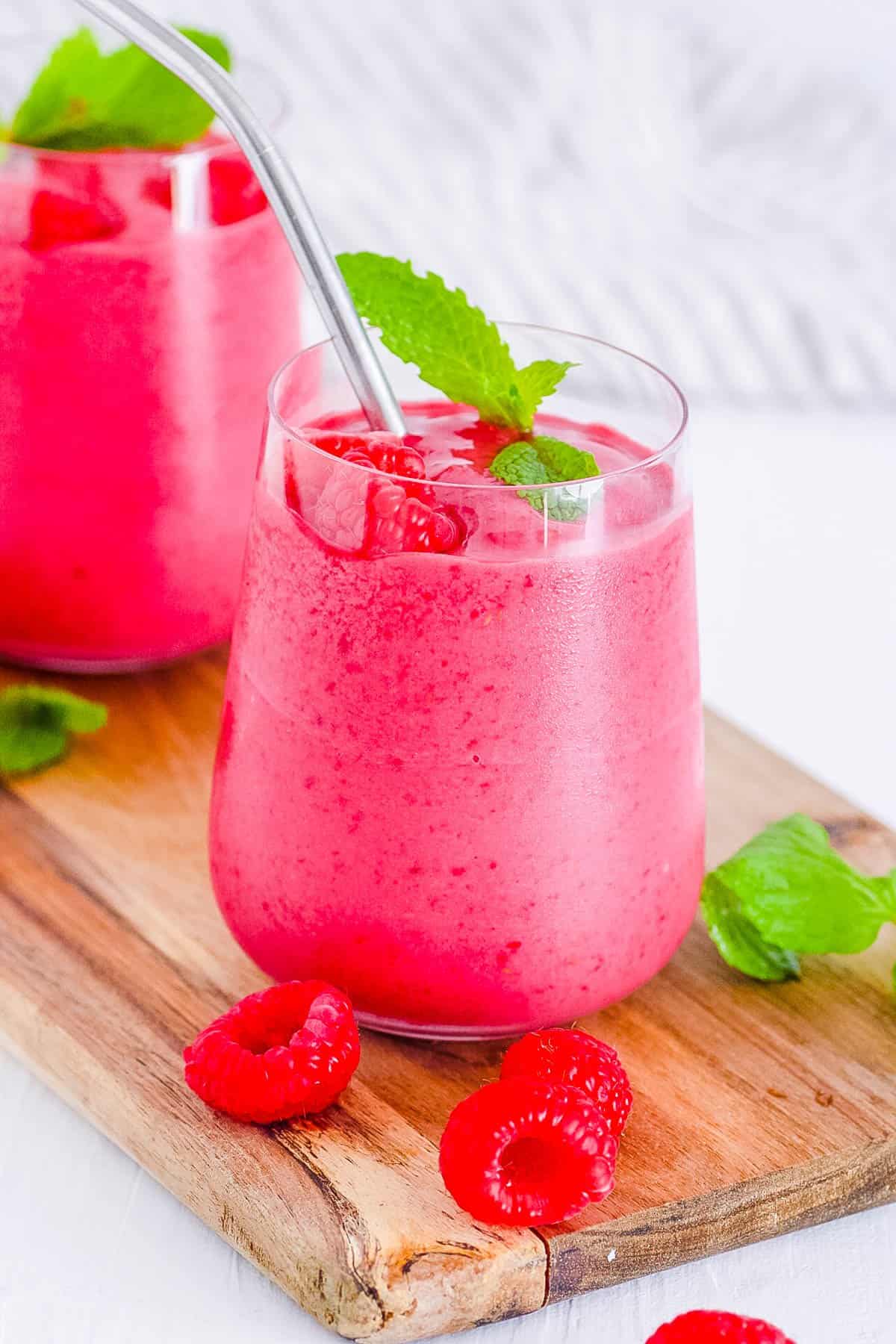 This delicious raspberry smoothie recipe is a great way to eat a nutritious snack on the go. It's filled with fresh fruit and is super easy to make. It's vegan, gluten free, kid-friendly, and requires almost no prep. You won't be able to put it down!
If you've had a long day or an even longer week, now is the perfect time to enjoy this delicious combination of flavors for a quick and tasty snack. It is one of my favorite recipes using frozen raspberries and is so easy and healthy to boot! This easy raspberry smoothie is made without yogurt, dairy, or processed sugar.
This dairy-free smoothie is hydrating while satisfying your sweet tooth. We often make it on busy mornings or when I need an afternoon pick-me-up. It's a quick and easy drink that is ready to go when you are!
👩🏽‍🍳 Why You'll Love This Raspberry Smoothie
Fresh & Naturally Sweet: Thanks to the natural sweetness of banana and maple syrup, this banana raspberry smoothie without yogurt has bright and sweet flavors. You can make it with frozen or fresh raspberries, making it a year-round treat!
Simple Ingredients: All you need is frozen raspberries, bananas, almond milk (or another plant milk), lime juice, and maple syrup. It's one of those easy recipes you'll want to make again and again!
Kid-Friendly: My kids love this thick smoothie. They particularly welcome it for snack time or as part of a nutritious, quick breakfast, or even as a healthy dessert! It really is the best raspberry smoothie ever!
Allergy-Friendly: This delicious smoothie is naturally vegan, gluten-free, dairy-free, and can easily be made nut-free (just use non-nut-based plant milk).
Latest Recipe Video!
🥘 Ingredients
This smoothie with raspberries requires only 4 simple ingredients! See the recipe card below for full ingredient details and nutrition information.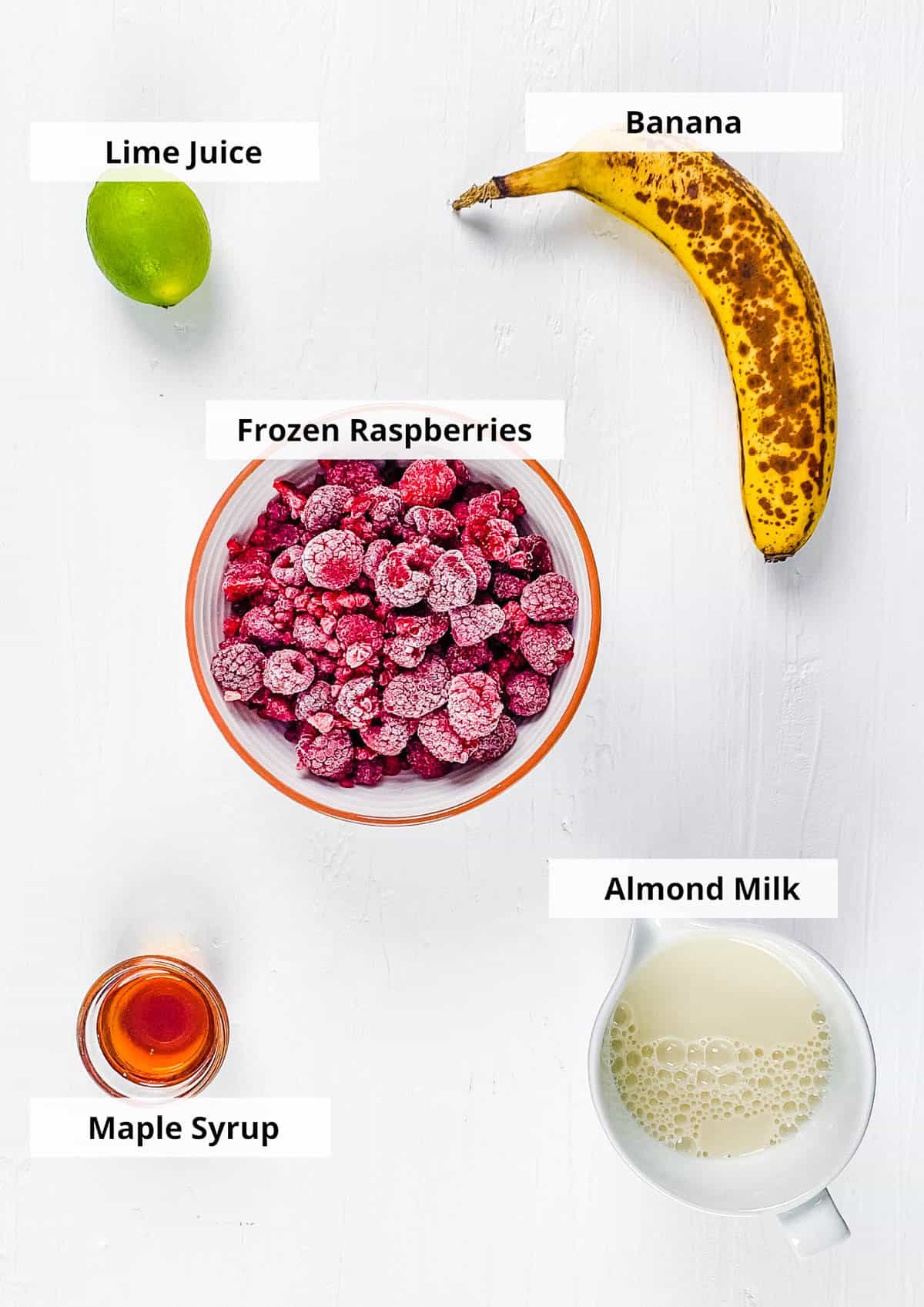 Frozen Raspberries: You will need 2 cups. Find frozen red raspberries in the frozen section of your local grocery store. One of the best things about frozen berries is that they're flash frozen at their peak ripeness, which gives this recipe the most delicious flavor.
Banana: You'll need one large banana, which thickens and makes this non-dairy smoothie creamy. Bananas also add sweetness, so choose an overripe banana for a sweeter flavor. The more ripe the banana is, the sweeter the smoothie will be.
Lime Juice: Freshly squeezed lime juice goes incredibly well with raspberries and is a wonderful balance to the sweetness.
Almond Milk: Provides the smoothie with a smooth consistency and creamy texture. Use unsweetened almond milk to keep the added sugars low.
Maple Syrup (Optional): If you are looking for a sweeter smoothie, a touch of maple syrup adds natural sweetness. Otherwise, this red raspberry smoothie with almond milk can be a bit tart.
🍲 Ingredient Substitutions
Fresh Raspberries: Fresh raspberries can work in place of frozen. If using fresh, however, add a cup of ice to the blender along with the berries for a smooth and frosty texture.
Frozen Bananas: Add an extra creamy and frosty element to this low calorie smoothie by using frozen banana chunks instead of fresh ones.
Different Type Of Milk: Any variety of your favorite plant milk will work. Unsweetened soy milk, cashew milk, oat milk, or coconut milk are some of my favorites. You can also use juice like orange juice or apple juice for this recipe but doing so will make it pretty sweet, and will increase the added sugar in this raspberry breakfast smoothie. Another lower-sugar alternative is coconut water.
Added Sweeteners (Optional): Coconut sugar, a touch of honey, or agave can also naturally sweeten this low calorie raspberry smoothie.
🔪 How To Make A Raspberry Smoothie
Making this easy smoothie without milk takes only 2 simple steps! Here's how to make a raspberry smoothie:
Blend Ingredients: Add all ingredients into a high-speed food processor or blender and blend until smooth.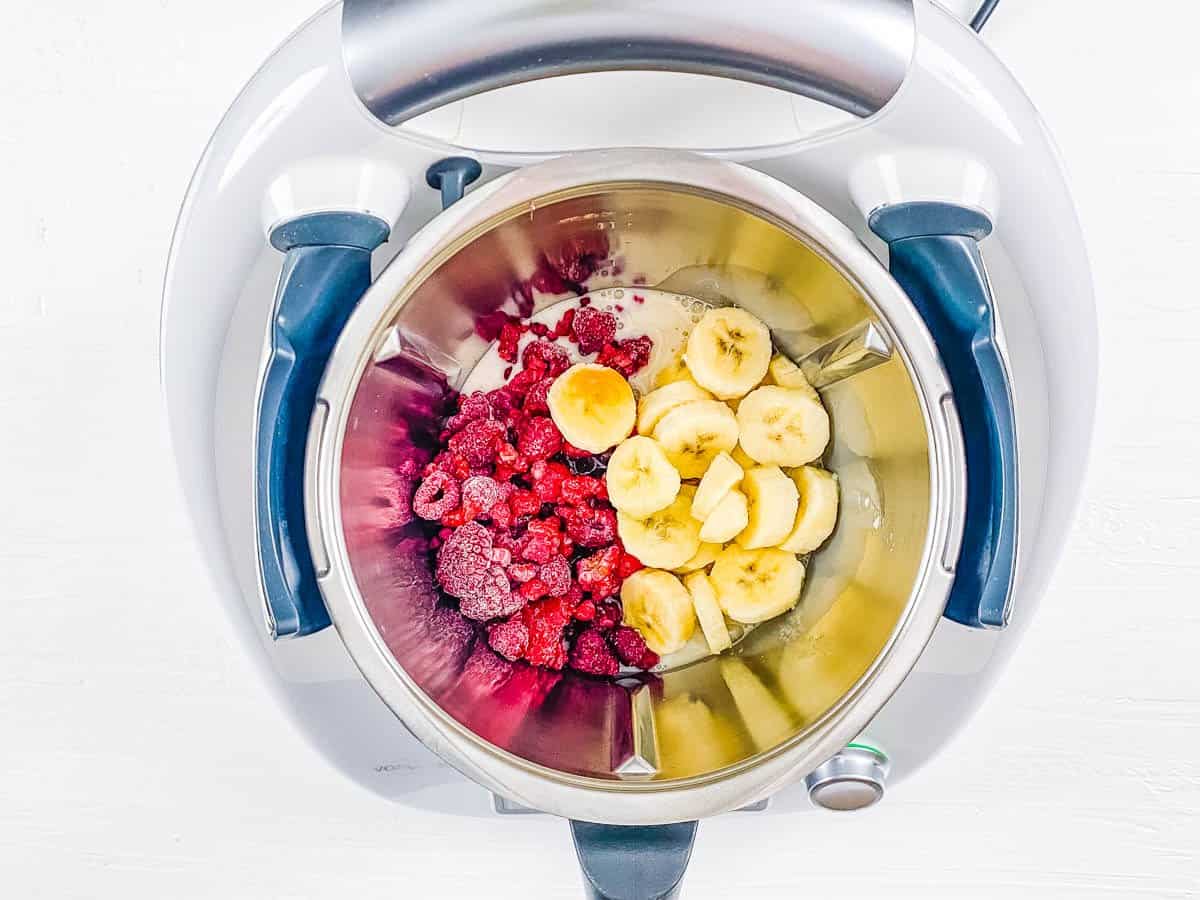 Adjust And Serve: Adjust sweetness to taste by adding maple syrup if needed. If you find this frozen raspberry smoothie is a little thicker than desired, just add additional almond milk until you've reached the desired consistency. Serve cold!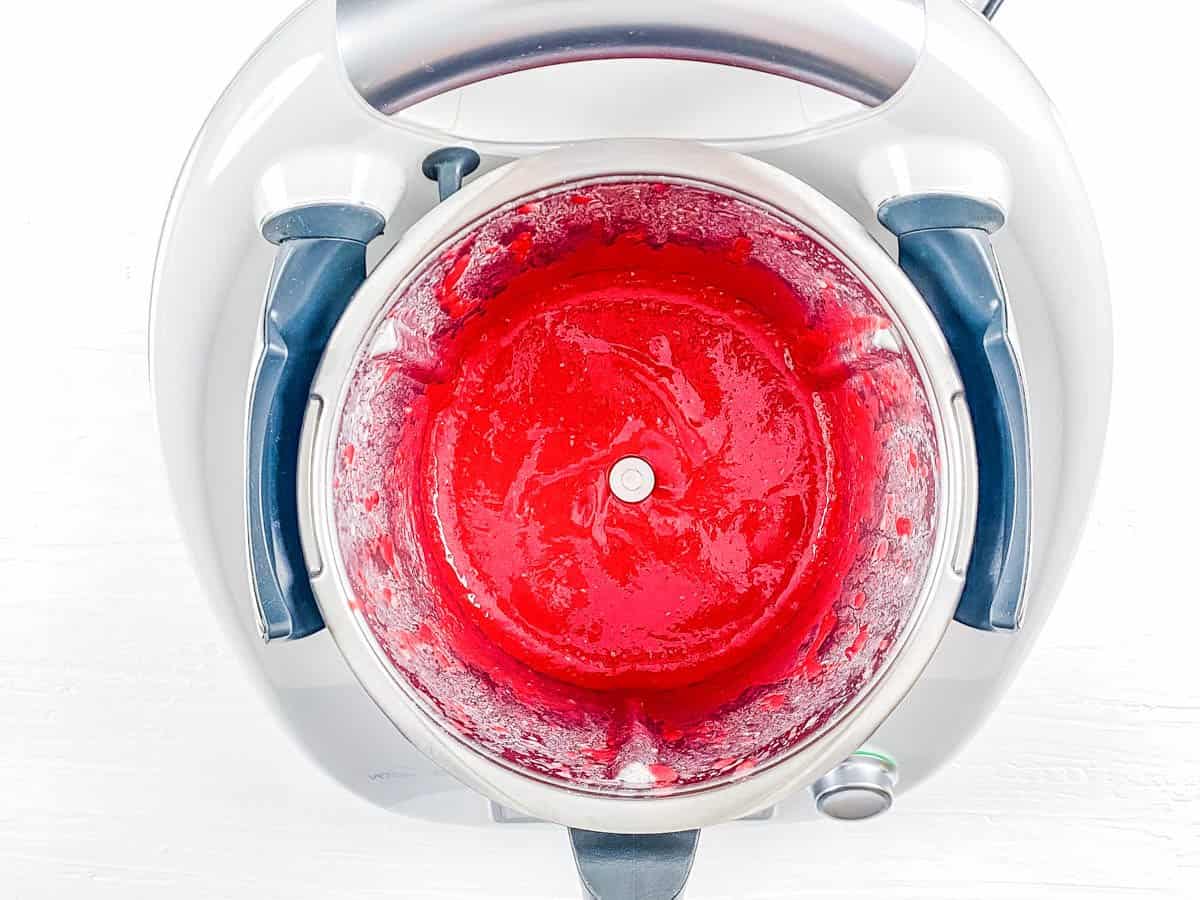 💭 Expert Tips
Lime Juicing Tip: To get as much lime juice out of fresh limes, roll them on the counter with your palm or microwave them for 15 seconds before juicing.
Use a High-Speed Blender: For an ultra-smooth consistency, use a high-speed blender. Start at a low speed and gradually increase to high for a thorough blend. If needed, stop and scrape down the sides to ensure all ingredients are incorporated.
Add the Maple Syrup After Blending: The fruit may be sweet enough that you don't need it! Blend the maple syrup in after tasting this raspberries smoothie and add a little bit at a time until you get the sweetness level you prefer.
📖 Variations
There are so many great ways to customize this smoothie recipe with raspberries. Here are some of our favorite raspberry smoothie ideas:
Mixed Berry Smoothies: Other fresh berries taste great in this recipe. Make a raspberry strawberry smoothie by substituting 1 cup of raspberries with strawberries. You can also make a raspberry blueberry smoothie by substituting frozen blueberries for 1 cup of raspberries.
Raspberry Mango Smoothie: Add 1/2 cup frozen mango to this recipe, then blend with the other ingredients.
Raspberry Protein Smoothie: Turn this drink into a raspberry protein shake by blending 1 scoop of protein powder into the smoothie. Unsweetened protein powder or vanilla protein powder are both great picks. If using vanilla, however, adjust the amount of maple syrup accordingly.
Raspberry Spinach Smoothie: Blend a handful of spinach in with the smoothie ingredients for an extra nutritional boost! I love using baby spinach, but baby kale can also blend into this vegan raspberry smoothie very nicely!
Raspberry Yogurt Smoothie: Vanilla Greek yogurt, vegan yogurt, plain yogurt, or even plain Greek yogurt all taste amazing in this raspberry breakfast smoothie while adding extra nutrition, creaminess, and thickening power.
Raspberry Shake Recipe: Turn this recipe into a raspberry milk shake by adding 1/4 cup of vanilla ice cream to the ingredients before blending!
To add extra heart healthy fats, fiber, and protein, you can also blend in 1 tablespoon of hemp seeds, chia seeds, flax seeds, almond butter, peanut butter, or sunflower seed butter.
🍽 Serving Suggestions
You might be wondering: what goes well with a raspberry smoothie? The answer is – so many things! Enjoy a cup of this raspberry banana smoothie for a snack or as part of a healthy breakfast. Here are some of our favorite ways to serve this drink:
As Part Of A Bigger Spread: On larger appetite mornings, this drink is fantastic served with healthy french toast, avocado toast with tomato and egg, peanut butter banana overnight oats, oatmeal, or a pistachio muffin.
As A Refreshing Drink: On warm summer days, this banana and raspberry smoothie is fantastic enjoyed pool-side or as an after-school or summer camp snack all on its own.
Smoothie Bowls: You can also make a raspberry smoothie bowl with this recipe. Just pour the raspberry smoothies into bowls and top them with sliced bananas or other fresh fruit like diced pineapple, apples, or pears, rolled oats, almonds, coconut, mini chocolate chips, more fresh raspberries, honey, maple syrup, or whatever you have on hand.
🫙 Storage Directions
Refrigeration: Keep any leftover smoothie in an airtight container in the refrigerator for up to 24 hours. Stir it thoroughly before serving because the smoothie will separate while chilling.
Freezing: You can also freeze this raspberry fruit smoothie for up to three months. To thaw, let it sit on the counter for a couple of hours or in the refrigerator overnight, then reblend and serve.
❓Recipe FAQs
Are homemade berry smoothies healthy?
Raspberry smoothies are super healthy and have many benefits! This drink is filled with vitamins and minerals like calcium, potassium, antioxidants, and vitamin C that help boost your immune system.

It's also loaded with dietary fiber which is great for your digestive system. Lastly, this smoothie with frozen raspberries is low in calories. One serving has only 134 calories and 10 grams of fiber!
How Do I Make A Raspberry Smoothie Without Seeds?
1) Once you have blended your smoothie, strain it through a mesh strainer before serving.
2) Use a really high-quality blender like a Vitamix, that actually pulverizes the seeds so that you don't have to strain it!
What fruits go well with raspberries?
So many different fruits go well with raspberries. Peaches, blueberries, strawberries, bananas, and peaches are a few that naturally complement them. This list is definitely not extensive, however, so have fun experimenting with pairing raspberries with different fruits.
What not to do when making a smoothie?
When making a smoothie, always read your blender's operating instructions. If your high-speed blender directs you to place different types of ingredients in the blender in a certain order, always add the ingredients accordingly. Otherwise, always blend the smoothie until it has reached your desired texture and sweeten it to taste with maple syrup or another natural sweetener.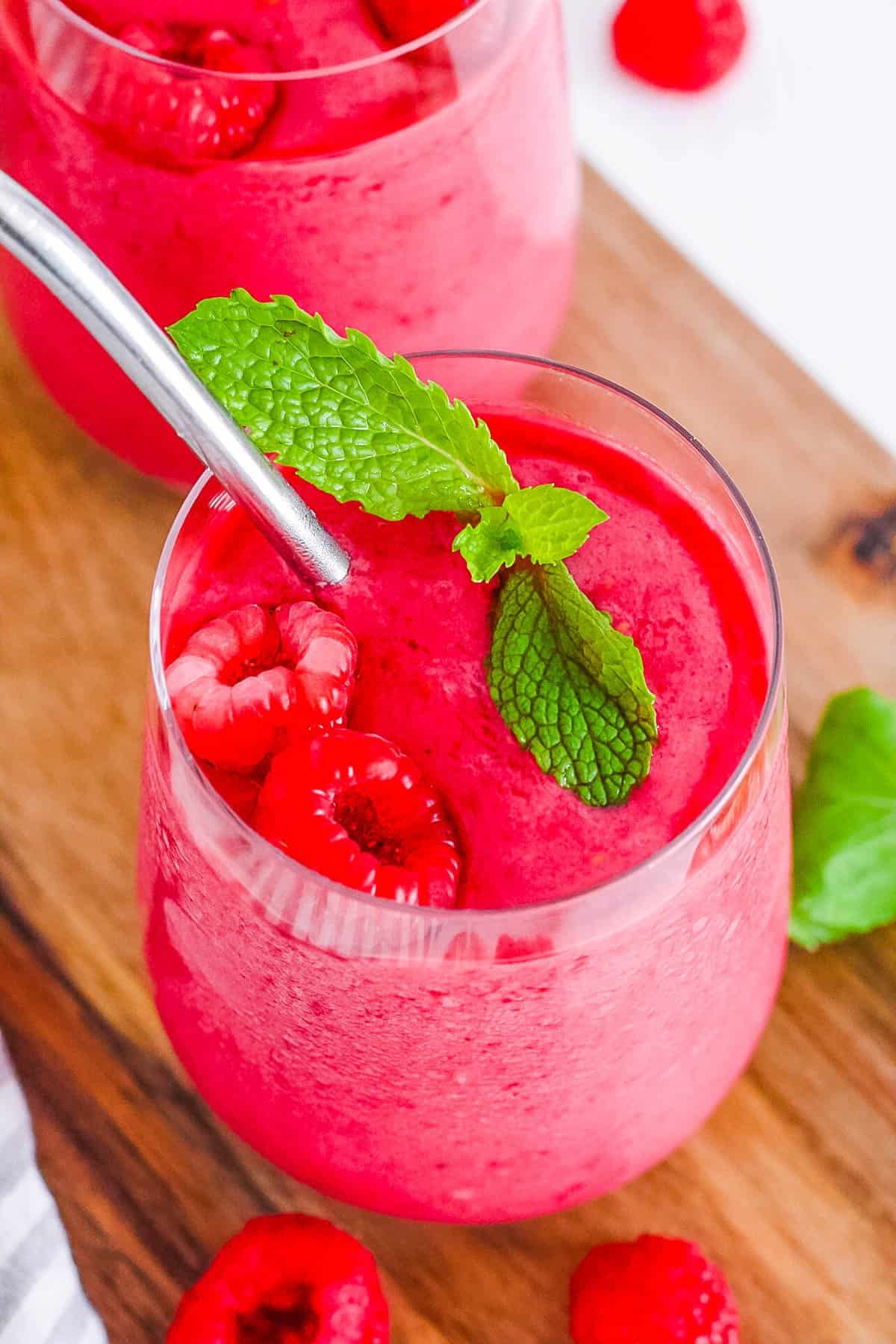 🥤 More Healthy Smoothie Recipes!
Love this healthy smoothie recipe? Please leave a 5-star rating 🌟 in the recipe below and/or a review in the comments section further down the page!
You can also FOLLOW ME on FACEBOOK, TWITTER, INSTAGRAM, and PINTEREST to see more delicious, healthy, family-friendly food, and if you have any questions, I'm here to help!
📋 Recipe Card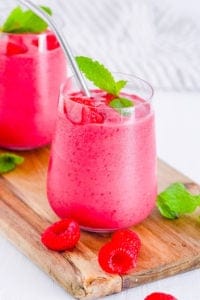 Print Recipe
Raspberry Smoothie
This healthy raspberry smoothie recipe is the perfect breakfast, quick lunch, or afternoon snack! It's made with just 4 ingredients and is ready in less than 5 minutes!
Instructions
Add all ingredients into a high speed food processor or blender and blitz until smooth.

Adjust sweetness to taste by adding more maple syrup if needed. If you find the smoothie is a little thicker than desired, add additional almond milk until desired consistency.
Notes
To Use Fresh Berries: add 1 cup of ice to the blender before blitzing to thicken the smoothie.
Adjusting the Sweetness: Adjust the sweetness to suit your taste by increasing or decreasing the amount of maple syrup. Note: Nutritional information does not include maple syrup.
Milk Choice: Any plant-based milk will work for this recipe. Almond milk, oat milk, soy milk, and cashew milk are some of my top recommendations.
Variations:

Add a scoop of vanilla protein powder to add a protein boost.
Add a tablespoon of chia seeds or hemp seeds for extra fiber and healthy fats.
Add a scoop of almond butter or sunflower seed butter for extra plant-based protein and healthy fats. 
Nutrition
Serving:
1
cup
|
Calories:
134
kcal
|
Carbohydrates:
29
g
|
Protein:
3
g
|
Fat:
2
g
|
Saturated Fat:
1
g
|
Polyunsaturated Fat:
1
g
|
Monounsaturated Fat:
1
g
|
Sodium:
164
mg
|
Potassium:
401
mg
|
Fiber:
10
g
|
Sugar:
13
g
32 responses to "Raspberry Smoothie"