Dragon Fruit Smoothie
This post may contain affiliate links. As an Amazon Associate, I earn from qualifying purchases. Please read my disclosure.
This vibrant dragon fruit smoothie is a refreshing and tropical way to kickstart your morning. Dragon fruit, banana, mango, and coconut chunks blend into a sweet, plant-based smoothie, the perfect on-the-go breakfast or healthy snack!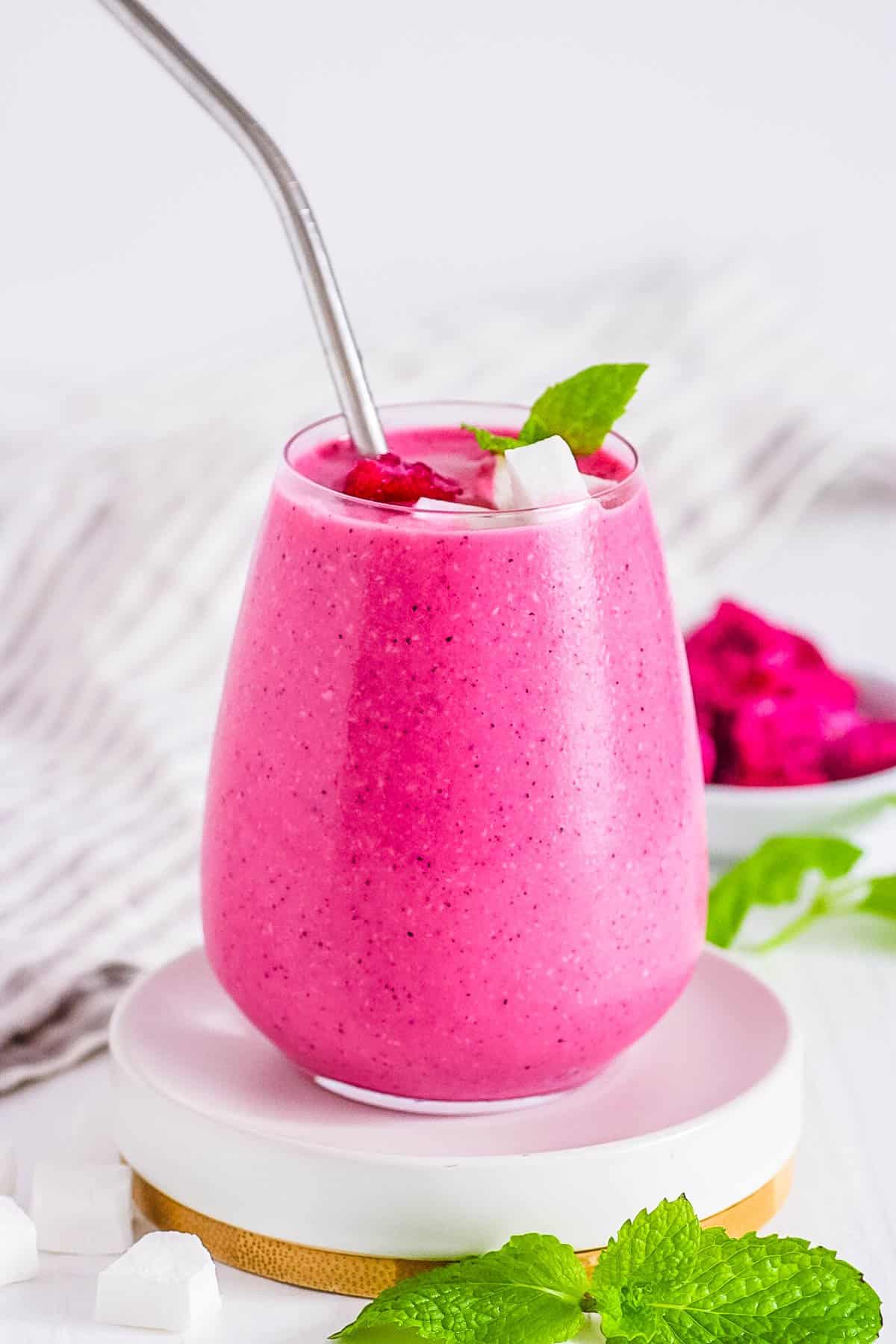 Believe it or not, dragon fruit's gorgeous color isn't what I love most about this smoothie! Dragon fruit, also known as pitaya, packs a nutritional punch. It has a good amount of fiber, antioxidants, and prebiotics but is low in fat and calories.
This healthy dragon fruit smoothie recipe is a delicious and easy way to add nutrients to your breakfast. Even my picky kids love it, and thanks to its bright magenta color, pitaya has grown in popularity and accessibility.
While you can typically find this fresh fruit at the grocery store, I prefer to buy it frozen. Found near the other frozen fruits, frozen pitaya is sweet with a rich magenta color, and is ready to use with no peeling or chopping required!
🙋🏽‍♀️ What Is Dragon Fruit?
Native to Central America, dragon fruit comes in lots of different varieties, but the two main varieties of dragon fruit are white and pink. This tropical fruit is unique, colorful, and a wonderful base for smoothies or smoothie bowls.
Pink dragon fruit, used in this recipe, has a red or pink flesh with a sweet taste. White dragon fruit has white flesh with tiny black seeds on the inside and has a mild flavor that is less sweet. Frozen dragon fruit has a bright magenta color, is easy to find, and is perfect for smoothies.
👩🏽‍🍳 Why You'll Love This Recipe
Natural Vibrant Color: This dragon fruit banana smoothie has zero artificial colors or dyes. The beautiful pink hue comes from the dragon fruit, making this a colorful drink without color additives.
Kid-Friendly Fiber: One 100-gram serving of dragon fruit has only 60 calories with 3 grams of fiber! Kids will love the sweet, tropical flavor, and pink color, you'll love that this smoothie has fiber, immune-boosting Vitamin C, and no added sugar.
Quick and Easy: I love how quickly this tropical dragon fruit smoothie comes together. It's ready in only 5 minutes! Easiest. Breakfast. Ever.
Gluten-Free and Vegan: This dragon fruit recipe is made with only whole foods and plant-based milk. Bananas and mango add natural sweetness, making this recipe gluten-free, refined sugar-free, and vegan.
Budget-Friendly: Make several dragon fruit smoothies at home with a few, store-bought, fresh ingredients for a similar cost as one ​​dragon fruit shake or a frozen dragon fruit smoothie bowl at a smoothie bar or fruit bowl restaurant. Enjoy the color, nutrients, and fun of pitaya anytime!
Latest Recipe Video!
🥘 Ingredients
This easy smoothie recipe with dragon fruit requires only a few healthy ingredients! See the recipe card for the full nutrition info.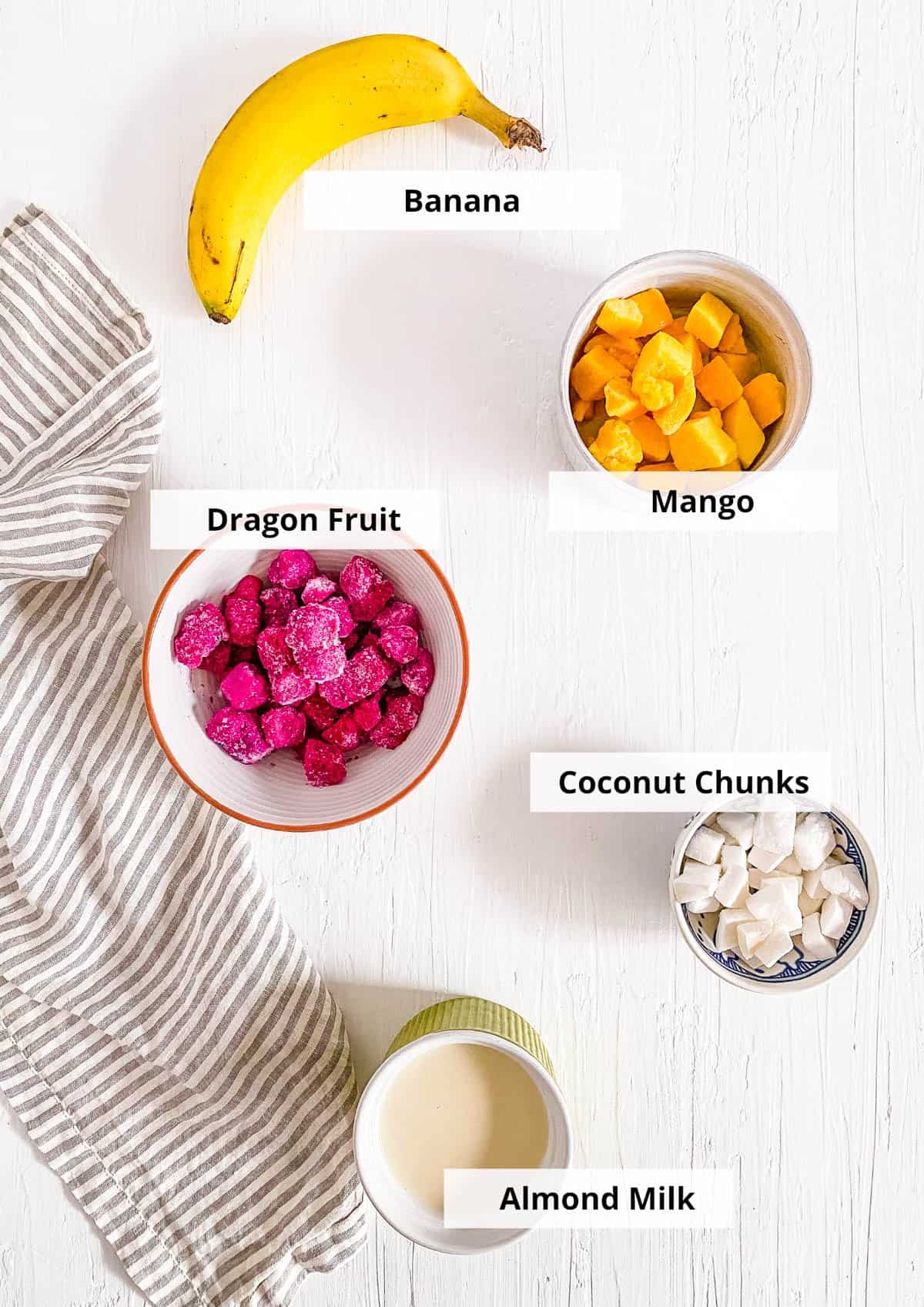 Dragon Fruit: The featured fruit in this recipe! Pink dragon fruit can be found in the frozen section of your grocery store. While you can use fresh dragon fruit, I prefer frozen because it cuts down on prep time – frozen fruit requires no peeling or dicing!
Bananas: Bananas are a natural way to add sweetness to this pink dragon fruit smoothie, plus they make it creamy too! For best results, use ripe bananas.
Mango: Mango adds sweetness and flavor to tropical smoothies with dragon fruit. Mangoes are rich in vitamins A, C, and K for a healthy immune system.
Almond Milk: Any unsweetened plant-based milk works great. Coconut milk and oat milk are great options for this dragon fruit milkshake.
Frozen Coconut Chunks: A little bit of coconut adds more creaminess to this vegan pitaya smoothie recipe. Frozen coconut chunks are cut, peeled, and frozen coconut meat. Not all stores carry them, but I can always find them at Trader Joe's, optional.
Maple Syrup (Optional): If you prefer a sweeter smoothie, maple syrup adds natural sweetness and blends well with fruits, optional.
🍲 Ingredient Substitutions
Coconut Water: Use coconut water in place of plant-based milk. Look for varieties without added sugar or flavors to keep this smoothie free from added or refined sugars.
Pineapple Juice: Replace half of the milk with pineapple juice for added sweetness and an additional fruit flavor.
Milk: If you don't need this smoothie to be vegan, you make this dragon fruit smoothie with milk – whole milk, lowfat, or nonfat will all work.
Pineapple or Strawberry: Use the same amount of frozen pineapple or strawberry instead of frozen mango.
Agave or Honey: Use agave or honey in place of maple syrup for natural sweetness. Or omit the maple syrup altogether for a less sweet smoothie.
🔪 How To Make Dragon Fruit Smoothies
Here's how to make this mango dragon fruit smoothie.
Add Ingredients: Add the mango, frozen pitaya, banana, coconut chunks, and almond milk to a high powered blender or food processor.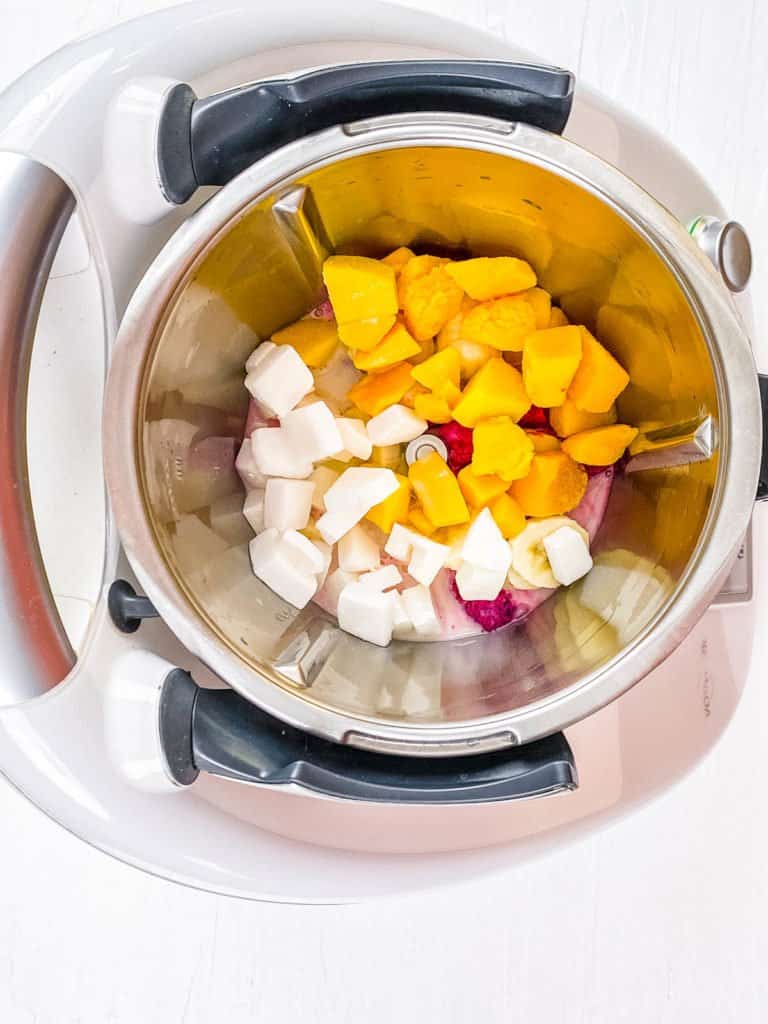 Blend: Blend the ingredients until smooth and creamy.
Adjust Sweetness: Taste your pitaya smoothie, if you like it a bit sweeter, add one tablespoon of maple syrup and blitz one more time.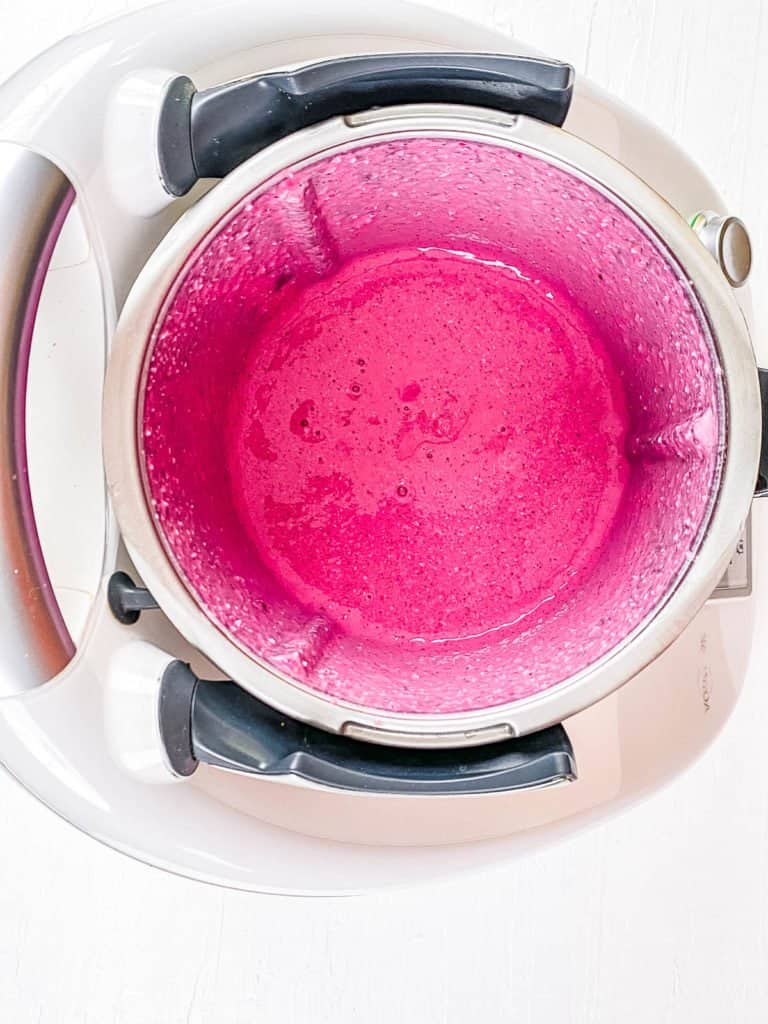 Serve: Pour this beautiful smoothie into a glass and enjoy immediately!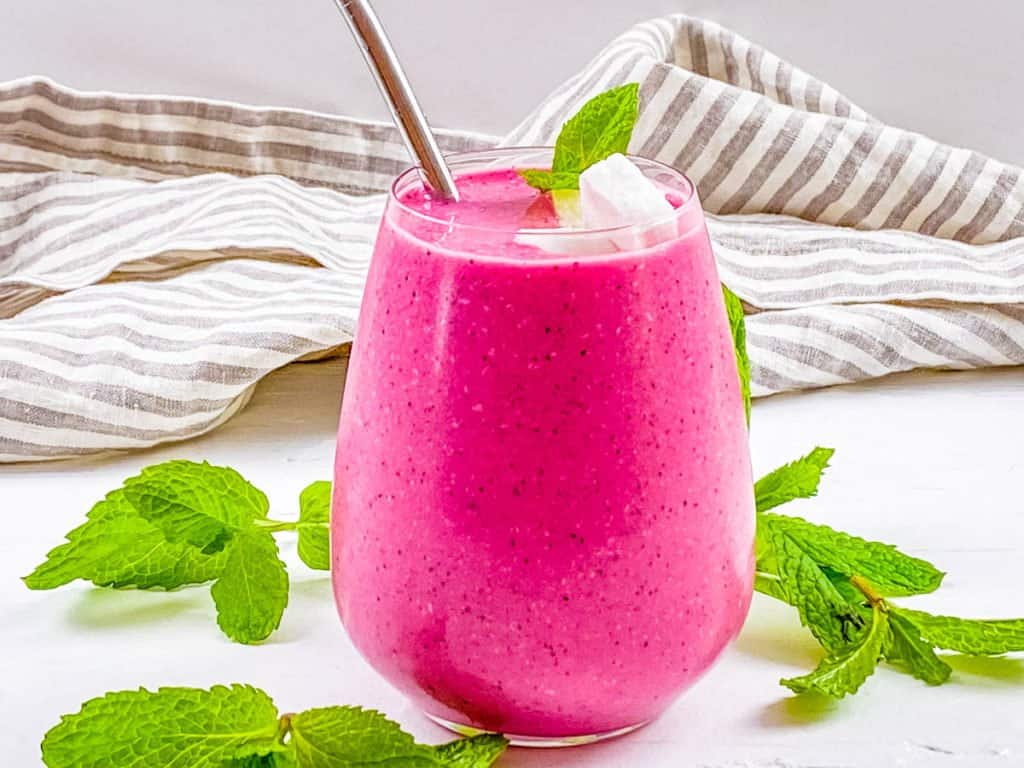 💭 Expert Tips
Use A High-Speed Blender Or Food Processor: For a creamy texture, banana dragon fruit smoothies blend best in a high-powered blender or food processor. Begin blending by using the pulse feature of your blender to begin mixing larger pieces of this frozen colorful fruit, then switch to a medium-high blend setting.
Personalize Thickness: Adjust the thickness of this smoothie to your personal preference by increasing or decreasing the frozen fruit by ¼ cup.
Use Frozen Fruit: Using frozen dragon fruit and mango, or an equal amount of other frozen fruits, gives this smoothie a refreshing chill without the icey or gritty texture of adding ice cubes. If you use only fresh fruit, your tropical smoothie with dragon fruit won't be thick and creamy.
Make Dragon Fruit Popsicles: You can also freeze the mixture into popsicles using a popsicle mold. Perfect for hot summer days or an easy way to use leftover smoothies.
📖 Variations
This recipe is easy to customize! Try one of these delicious variations.
Dragon Fruit Protein Smoothie: Add one serving of plant-based protein powder or whey protein before blending. Or try hemp seeds, chia seeds, or nut butter to pack in protein.
Mixed-Fruit Tropical Smoothie: I love that smoothies are customizable! Change up the fruits in this smoothie by mixing multiple fruits in place of the mango. There are so many fruits that go well with dragon fruit, you have a lot of options. Dragon fruit pairs well with pineapple, blueberries, strawberries, raspberries, oranges, papaya, coconut, or kiwi.
Yogurt Smoothie: For extra creaminess and protein, add 1/2 cup of Greek or dairy-free yogurt for easy dragon fruit yogurt smoothies.
Pitaya Smoothie Bowls: Reduce the milk to 3/4 cup and pour the smoothie into a bowl. Top with fresh kiwi fruit, pitaya, high protein granola, sliced banana, dried coconut, or bee pollen! This pitaya bowl is perfect if you love toppings or want to involve your family in personalizing their bowl.
🍽 Serving Suggestions
There are so many options when you're looking at what to eat with a dragon fruit smoothie! You can serve this smoothie on its own as a breakfast or snack, but if you're looking for a more filling meal, here are some of our favorite foods to pair it with:
🫙 Storage Directions
To Store: Smoothies are best enjoyed immediately but can be stored if necessary. You can store any leftover smoothie in the refrigerator in an airtight container for up to two days. But since the fruit is no longer frozen, the smoothie won't have the same texture.
To Enjoy Leftovers: Be sure to stir the leftover smoothie first before drinking it or blend in an extra handful of frozen dragonfruit or mango to make the smoothie frosty.
❓Recipe FAQs
What does dragon fruit taste like?
This exotic fruit is also referred to as pitaya or strawberry pear. It comes from a fruit-bearing cactus in South America and typically has pink skin with green scales and bright pink or red flesh. Ripe dragon fruit has a slightly sweet flavor similar to a pear, with a soft texture.
What are the benefits of a dragon fruit smoothie?
Dragon fruit is packed with health benefits. It's high in immune-boosting vitamin C and antioxidants. It's also high in fiber (7 grams per cup), magnesium, and Vitamin E!
What can you put with dragon fruit to make it taste better?
Dragon fruit's mild taste pairs well with a variety of tropical fruits. Since it's not overly sweet, it pairs well with naturally sweet fruits like bananas, mango, blueberries, and pineapple. Try mixing two or more fruits into this easy dragon fruit smoothie such as banana and mango or banana, strawberry, and blueberry with pineapple juice.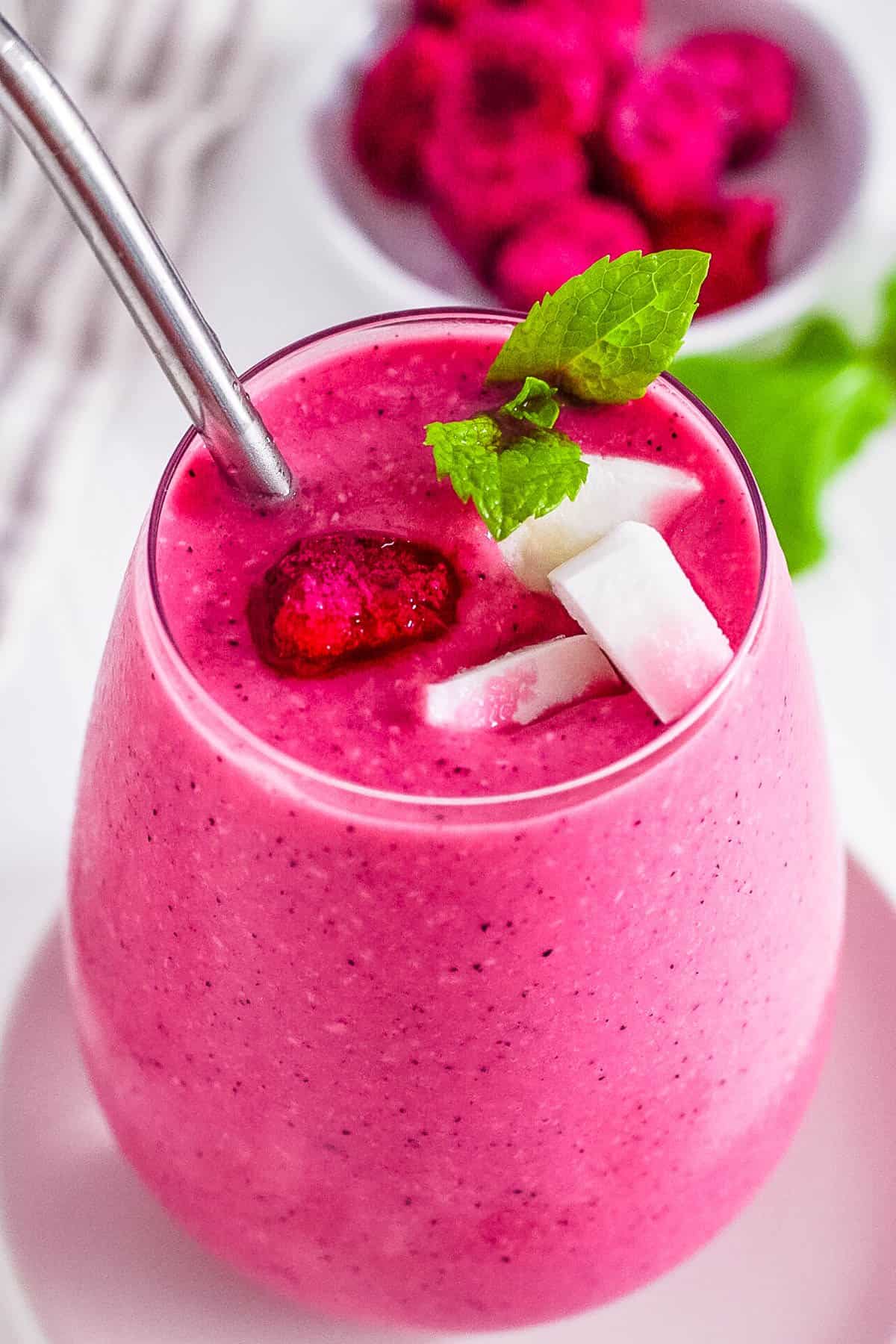 🥤 More Smoothie Recipes!
Love this healthy smoothie recipe? Please leave a 5-star rating 🌟 in the recipe below and/or a review in the comments section further down the page!
You can also FOLLOW ME on FACEBOOK, TWITTER, INSTAGRAM, and PINTEREST to see more delicious, healthy, family-friendly food, and if you have any questions, I'm here to help!
📋 Recipe Card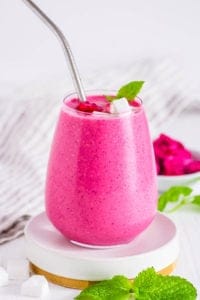 Print Recipe
Dragon Fruit Smoothie Recipe
This vibrant Dragon Fruit Smoothie is a refreshing, tropical way to kickstart your morning. Dragon fruit, banana, mango, and coconut chunks blend into a sweet, plant-based smoothie, the perfect on-the-go breakfast or healthy snack!
Ingredients
1

cup

Cubed and frozen dragon fruit

1

Fresh banana

1

cup

Cubed and frozen mango

½

cup

Frozen coconut chunks

optional

1

cup

(237 ml) Unsweetened almond milk

1

tbsp

Maple syrup

to taste, optional
Instructions
Add all ingredients into a high-speed food processor. Blitz until smooth.

Blend in up to 1 tablespoon of maple syrup to taste, if needed.
Notes
To Enjoy Leftovers:

Be sure to stir the leftover smoothie first before drinking it or blend in an extra handful of frozen dragonfruit or mango to make the smoothie frosty.
Nutrition
Calories:
131
kcal
|
Carbohydrates:
20
g
|
Protein:
1
g
|
Fat:
5
g
|
Saturated Fat:
3
g
|
Polyunsaturated Fat:
1
g
|
Monounsaturated Fat:
1
g
|
Sodium:
119
mg
|
Potassium:
211
mg
|
Fiber:
3
g
|
Sugar:
15
g
16 responses to "Dragon Fruit Smoothie"