Vegan Bagels
This post may contain affiliate links. As an Amazon Associate, I earn from qualifying purchases. Please read my disclosure.
Making homemade bagels may seem daunting but it's actually quite simple! I've perfected this delicious vegan bagels recipe for foolproof, chewy bagels every single time! Slather on some peanut butter or vegan cream cheese for a filling breakfast or make them into a sandwich for a delicious lunch.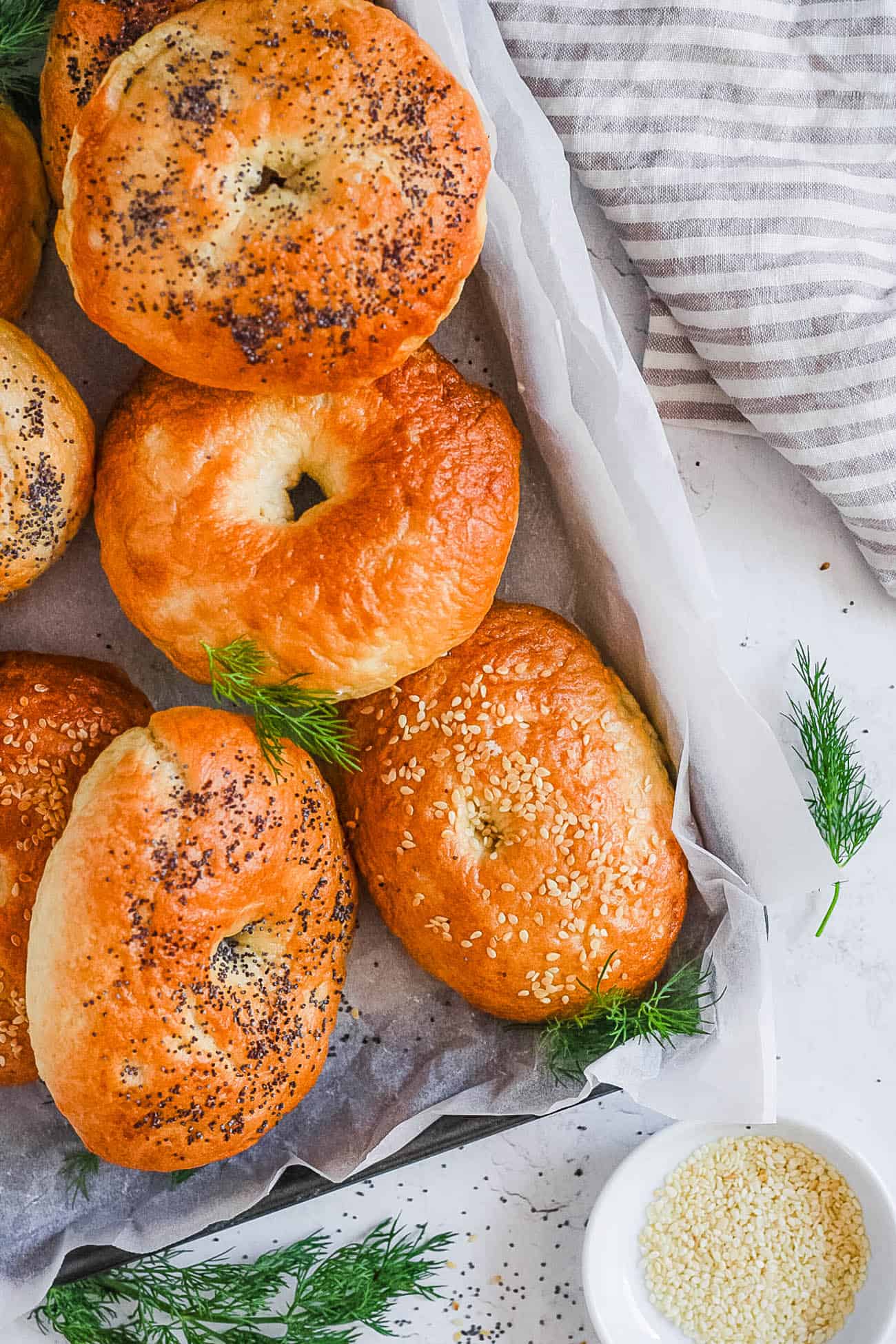 I can't think of anything more uplifting than a bite of toasted bagel with vegan cream cheese. Bagels are universally adored for their chewy but light texture. They taste amazing on their own but make a perfect vehicle for delicious toppings. If you can put it on a sandwich, it will taste even better on a bagel sandwich!
Bagels are an excellent option for a vegan diet, but you have to be careful. Many bagel brands are brushed with egg wash to achieve their golden brown exterior. Most don't contain eggs in the bagel dough (only an egg bagel will have eggs in the dough), but you do have to watch out for sneaky animal products. For this super easy vegan bagel recipe, I brush the tops with soy milk instead of egg wash to achieve that golden hue.
Yeast-risen bread can intimidate even the best of bakers but don't worry! I take all the guesswork out of homemade vegan bagels with this foolproof recipe. Homemade bagels are worlds better than store-bought and they freeze perfectly. This means even if you can't finish eight bagels within four days, all your hard work won't go to waste. Enjoy these bagels anytime of the day, they're perfect for the whole family!
Latest Recipe Video!
👨‍🍳 Why This Recipe Works
Easy recipe
Homemade bagels are better than store-bought
No weird ingredients or preservatives
Perfect for delicious vegan toppings
Only 4 ingredients
Dairy-free and egg free
These are the best bagels, even if you aren't vegan
Freeze extras for later
Made with vegan ingredients
🥘 Ingredients
This recipe can be made with just a handful of simple ingredients, easily found at most major retailers and grocery stores!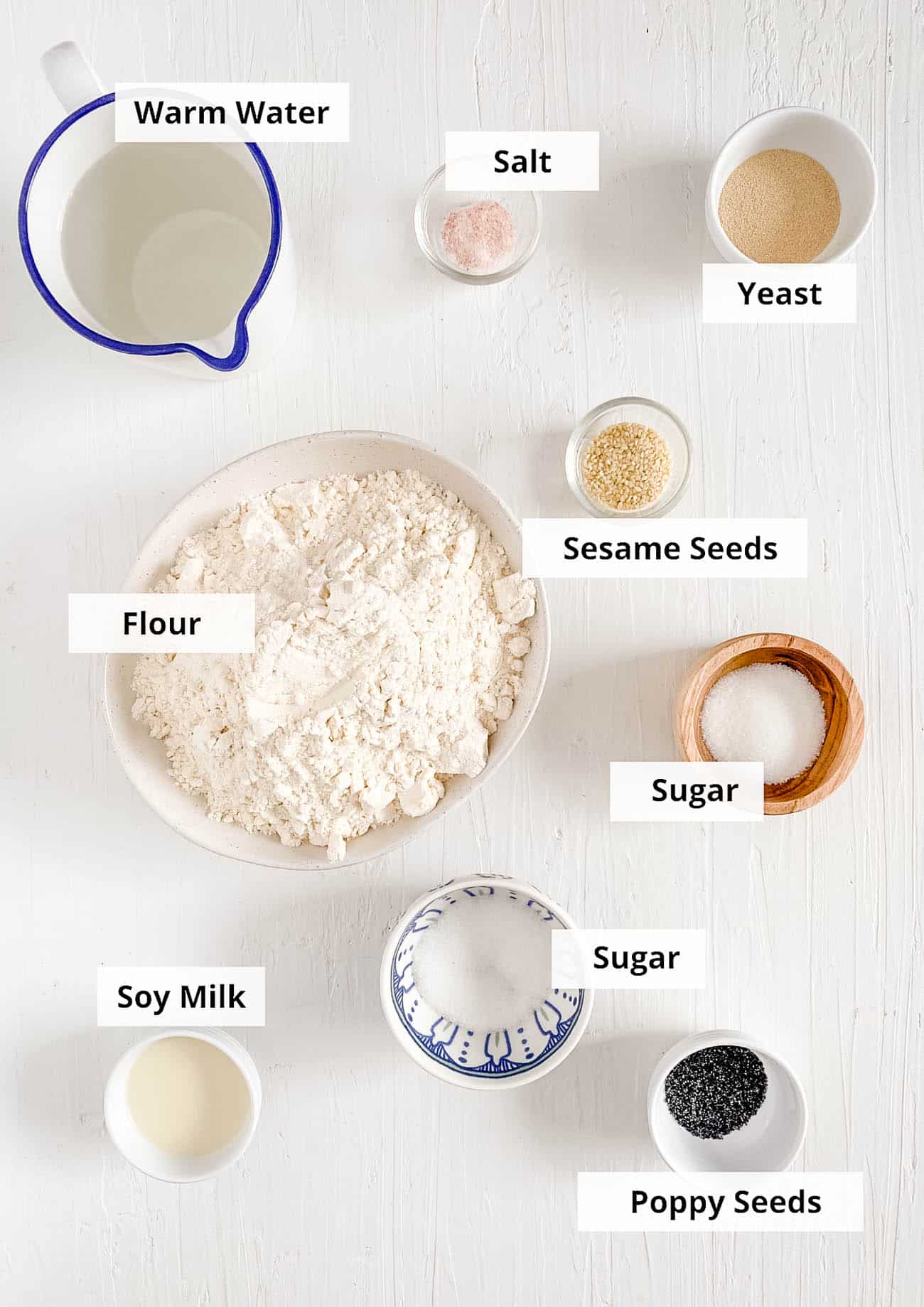 Yeast: Yeast will create tiny air bubbles and cause the dough to rise! You can use both instant or active dry yeast for this recipe. Both can be found in the baking aisle in your grocery store. The key is to use fresh (recently bought, unopened) yeast.
Warm Water: It's essential to use warm water here. Water that's above 130 degrees can kill the yeast, while cold water won't activate the yeast quickly enough.
Sugar: Yeast feeds on sugar which is then released as carbon dioxide. This activates the yeast for a crave-worthy texture in these chewy, slightly fluffy bagels.
Flour: Both all-purpose flour and bread flour will work for this healthy vegan bagels recipe. Bread flour will give you a chewier texture though. I haven't tried this recipe with whole wheat flour, but I imagine it could work but may result in a denser bagel. On the plus side, you would get some healthy whole grains in!
Salt: Salt is essential to homemade bread. Bread without salt will taste bland. It doesn't take much, but it makes all the difference!
📖 Variations
You can change up this easy vegan bagels recipe with a variety of flavors! Here are some of our favorites:
Peanut Butter: Slice and toast your bagel, then spread on peanut butter for added protein. Add blueberry jam, marmalade or even cranberry preserves or a twist on the typical PBJ!
Bagel Sandwiches: Homemade bagels make excellent sandwiches. Try avocado, red onion, cucumber, and hummus, vegan cheddar and tomato, chickpea salad, BBQ jackfruit, or tofu and veggies! You can also just go simple and classic by spreading vegan cream cheese and homemade vegan carrot lox on your bagels!
Savory Toppings: Top bagels with sesame seeds, caraway seeds, poppy seeds, sea salt, dried minced onions, dried minced garlic, or everything bagel seasoning.
Cinnamon Swirl: For a sweet bagel, sprinkle the tops with cinnamon sugar before going into the oven. Mix together equal parts brown sugar and regular sugar then mix in cinnamon to taste. For a lighter cinnamon flavor add one teaspoon, and for a stronger flavor add two. You can also make cinnamon raisin bagels by adding 1/8-1/4 cup raisins into the batter before baking!
Maple Syrup: I also like to add sugar to the boiling water for an even better texture. You can substitute maple syrup for this if you prefer.
Gluten Free Vegan Bagels: While we haven't tested this, I think that a 1:1 gluten free baking flour would work in this recipe. If you try it with a gluten free 1:1 baking flour, let me know how it turns out!
🔪 Instructions
Activate yeast: Combine the yeast, sugar, and 1/2 cup of warm water in your mixing bowl. Cover it and place in a warm place so the yeast can do its thing!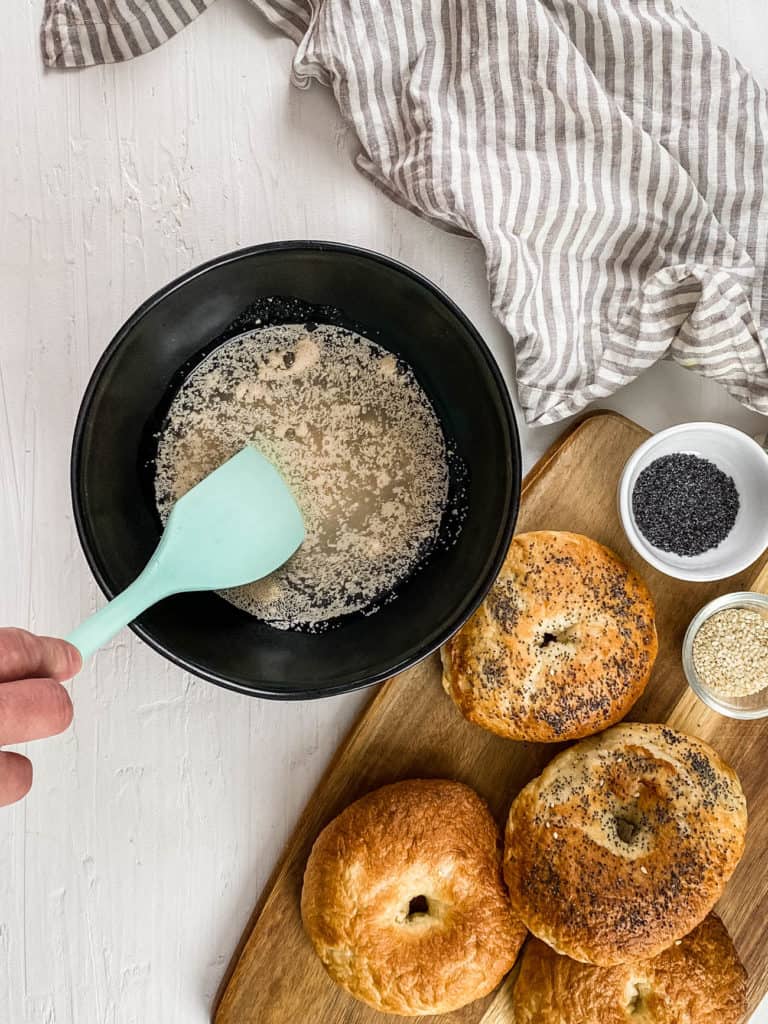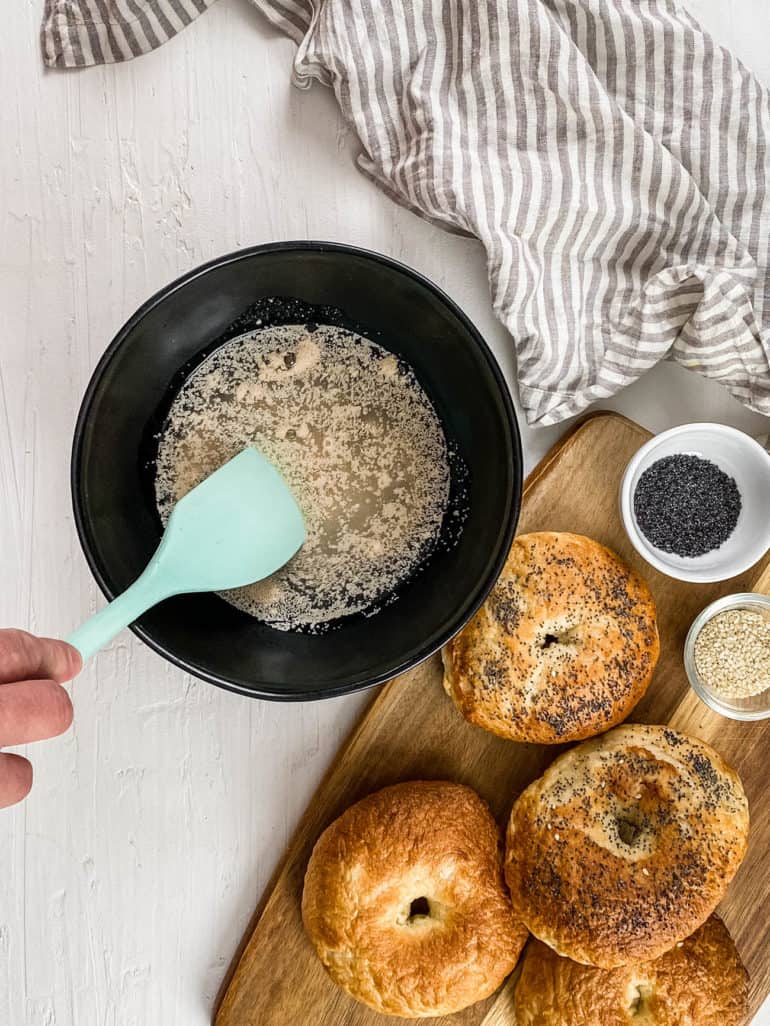 Combine dry ingredients: Whisk together the flour and salt then set it aside.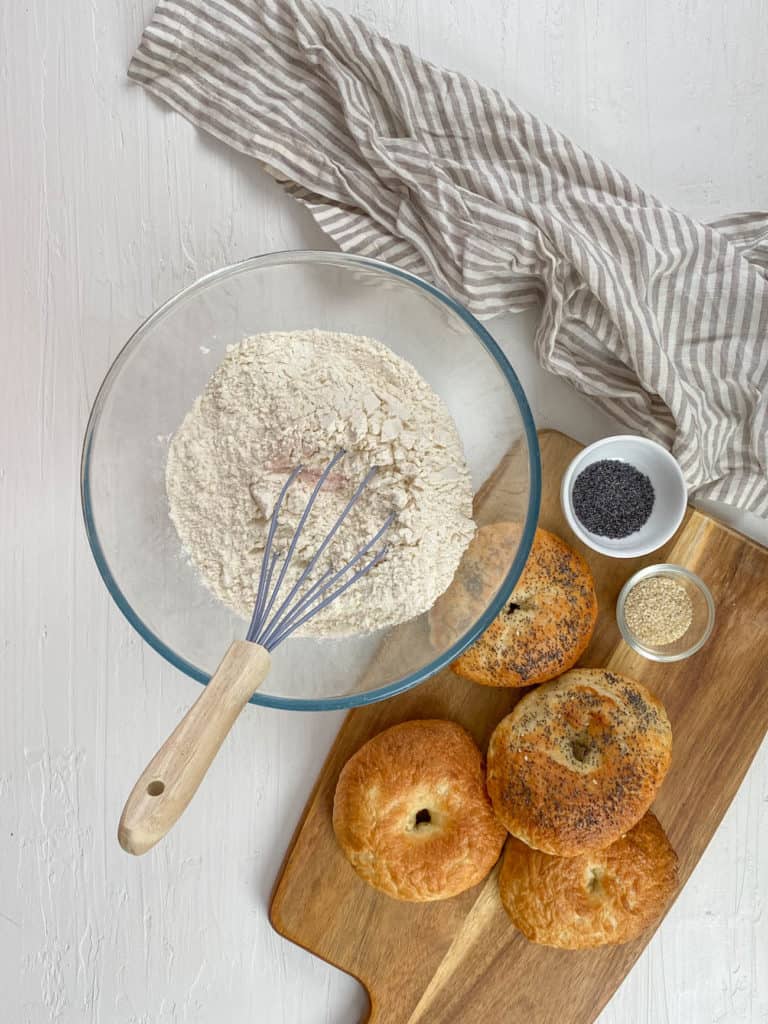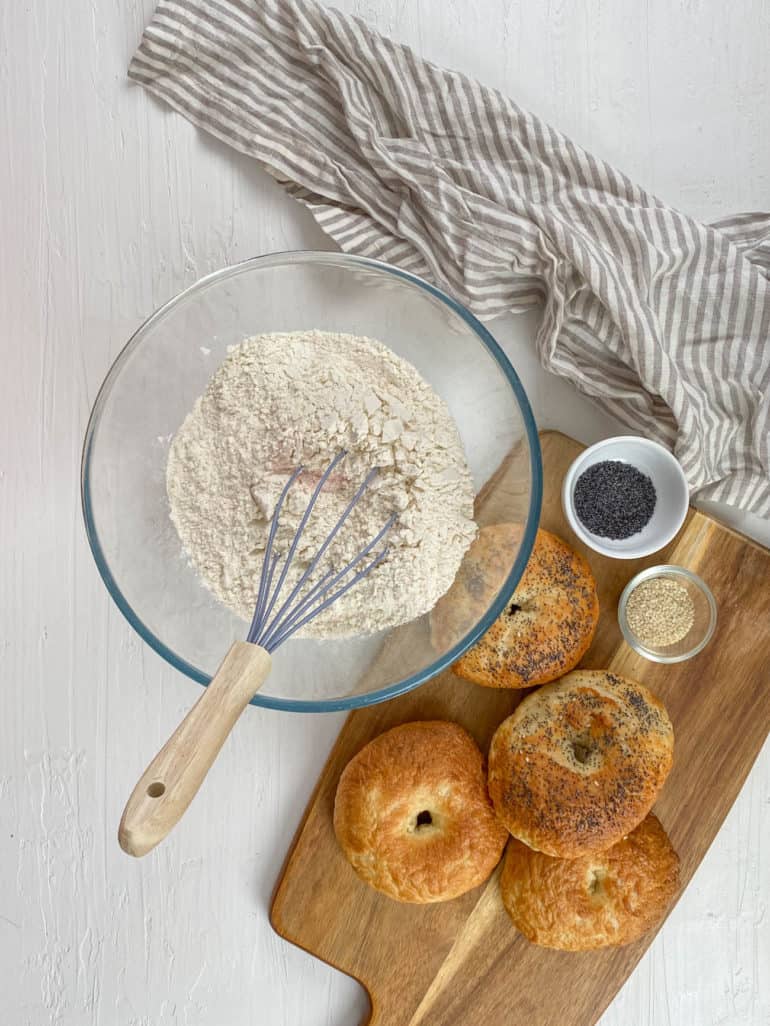 Add yeast mixture: Once the yeast is foamy, add it to the flour mixture with the remaining water.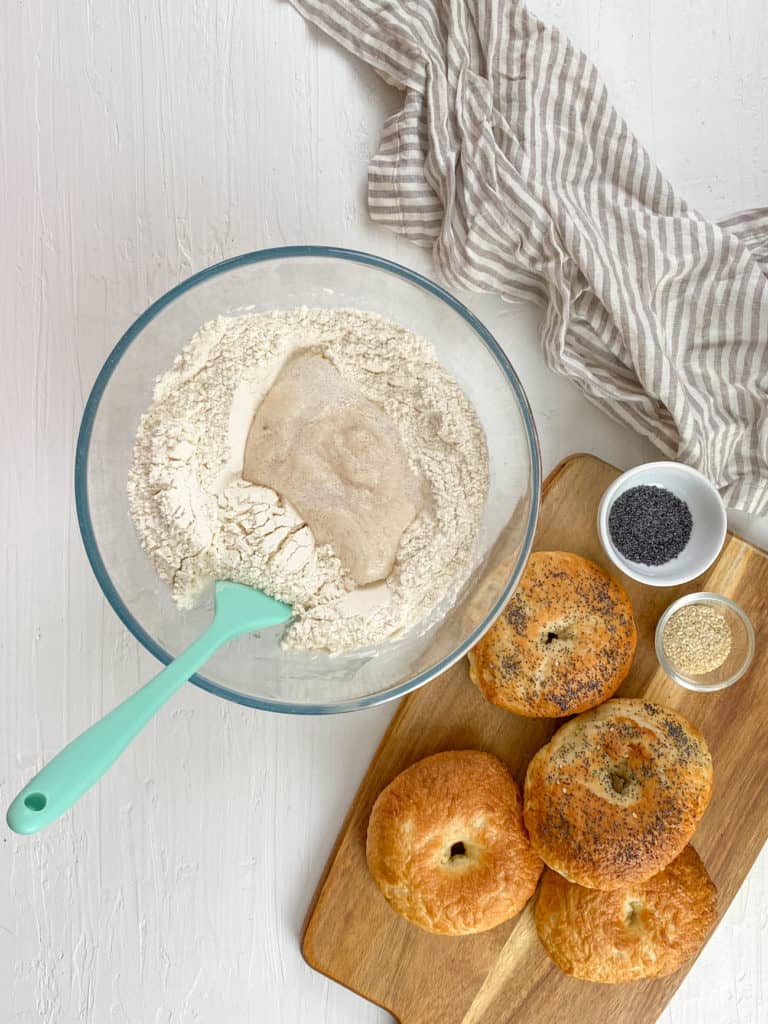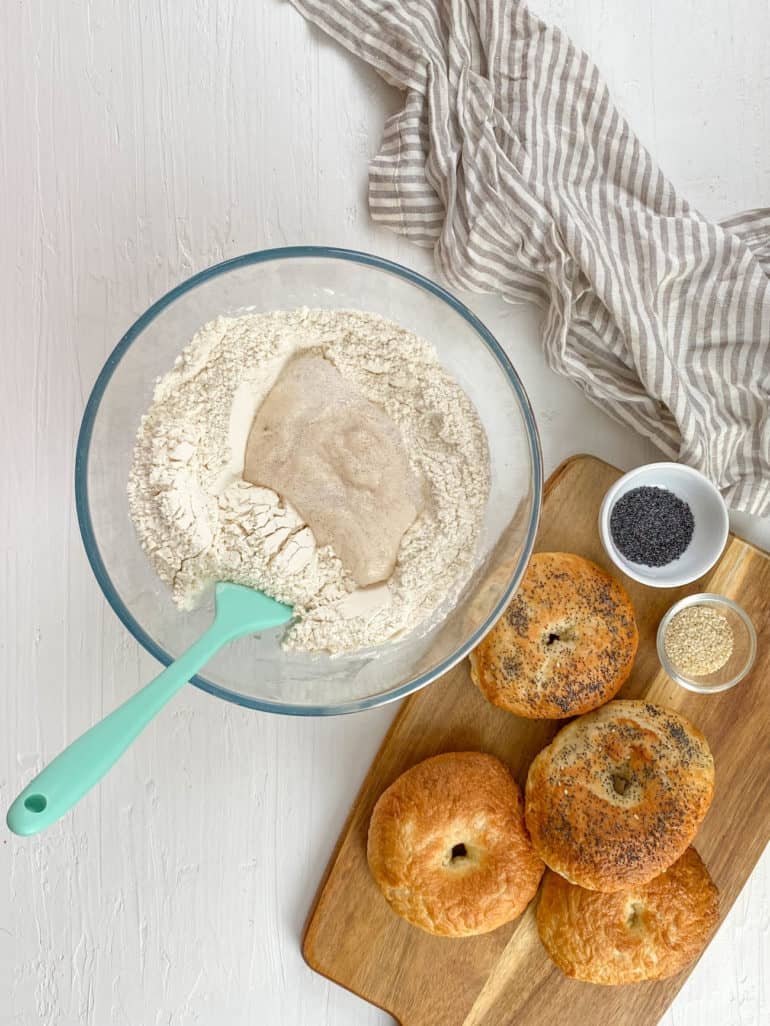 Make & knead dough: Stir to make the dough then move it to a lightly floured work surface. Knead the dough with your hands for 10 minutes until smooth.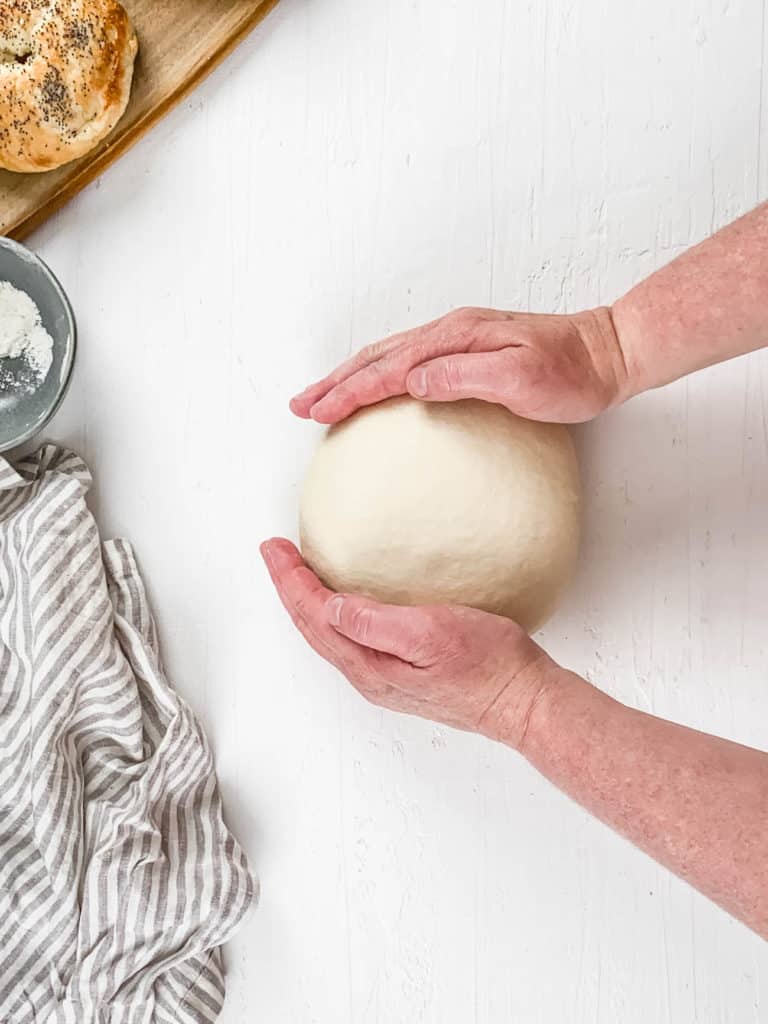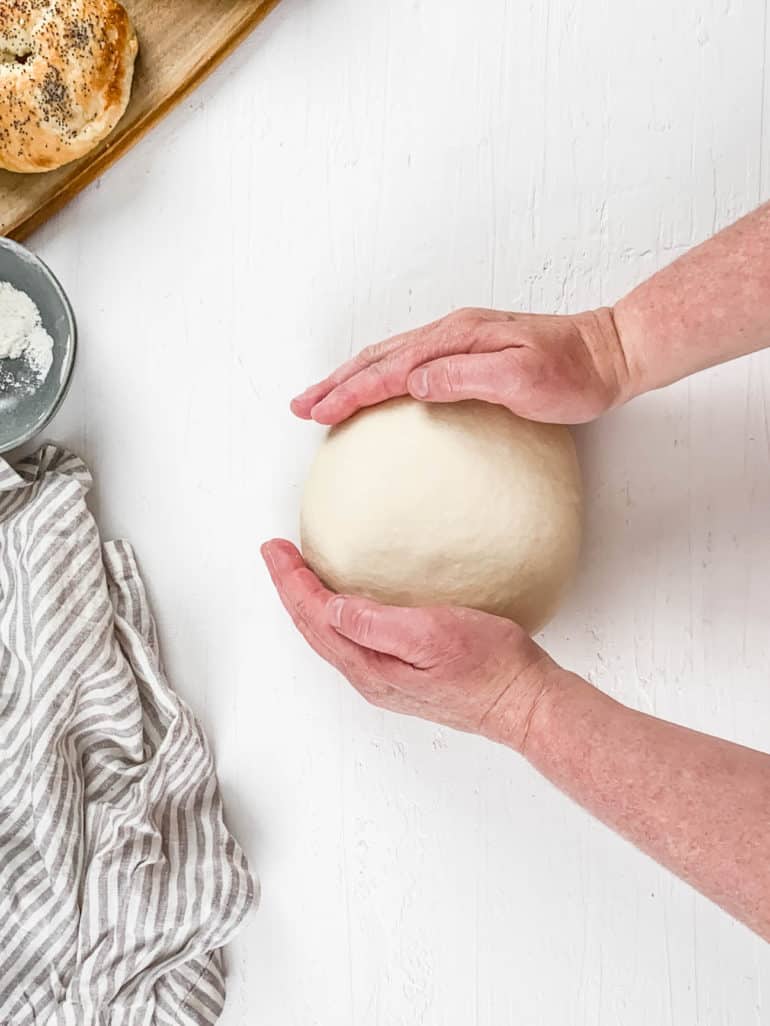 Let dough rise: Place the dough into a lightly oiled large bowl to prevent it from sticking. Cover the bowl and place it in a warm spot like a sunny window to let the dough rise.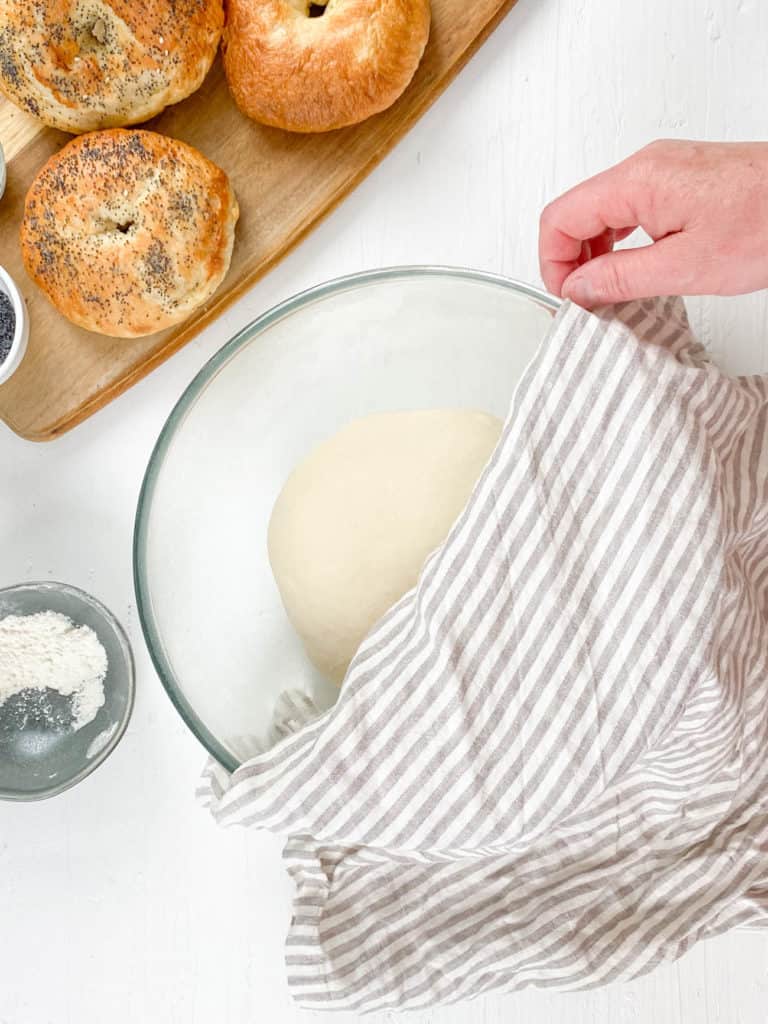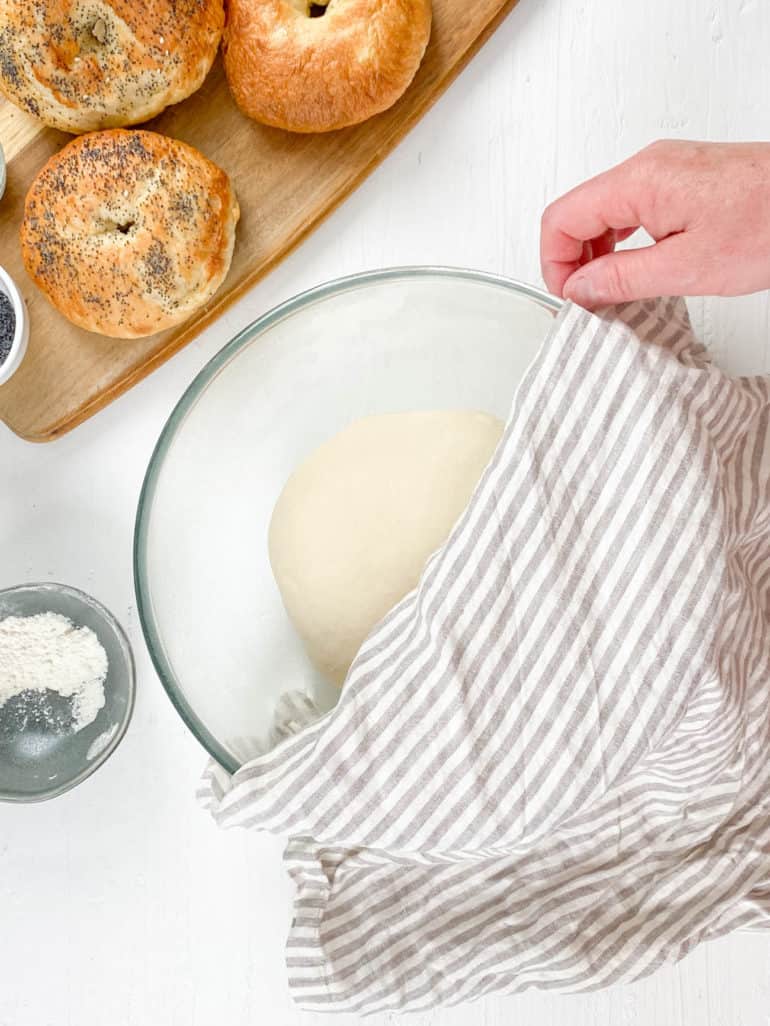 Shape and cut dough: Once the yeasted dough has doubled in size, knock the air out with your hands then shape it into a log. Cut it into eight equal pieces and roll them into balls.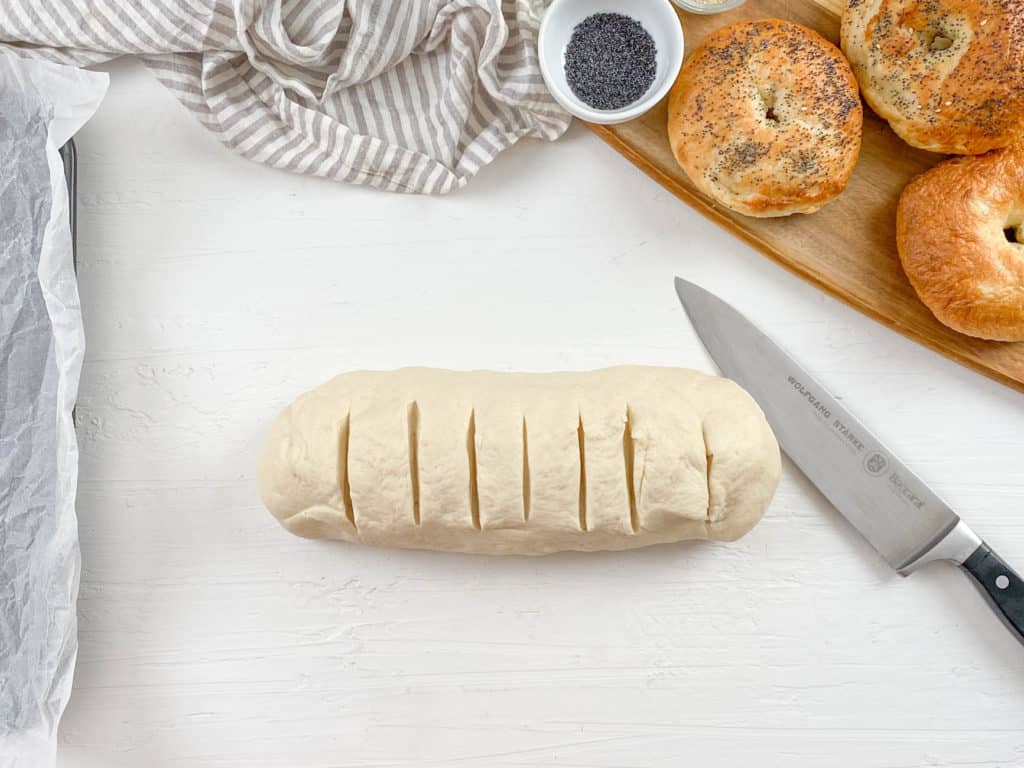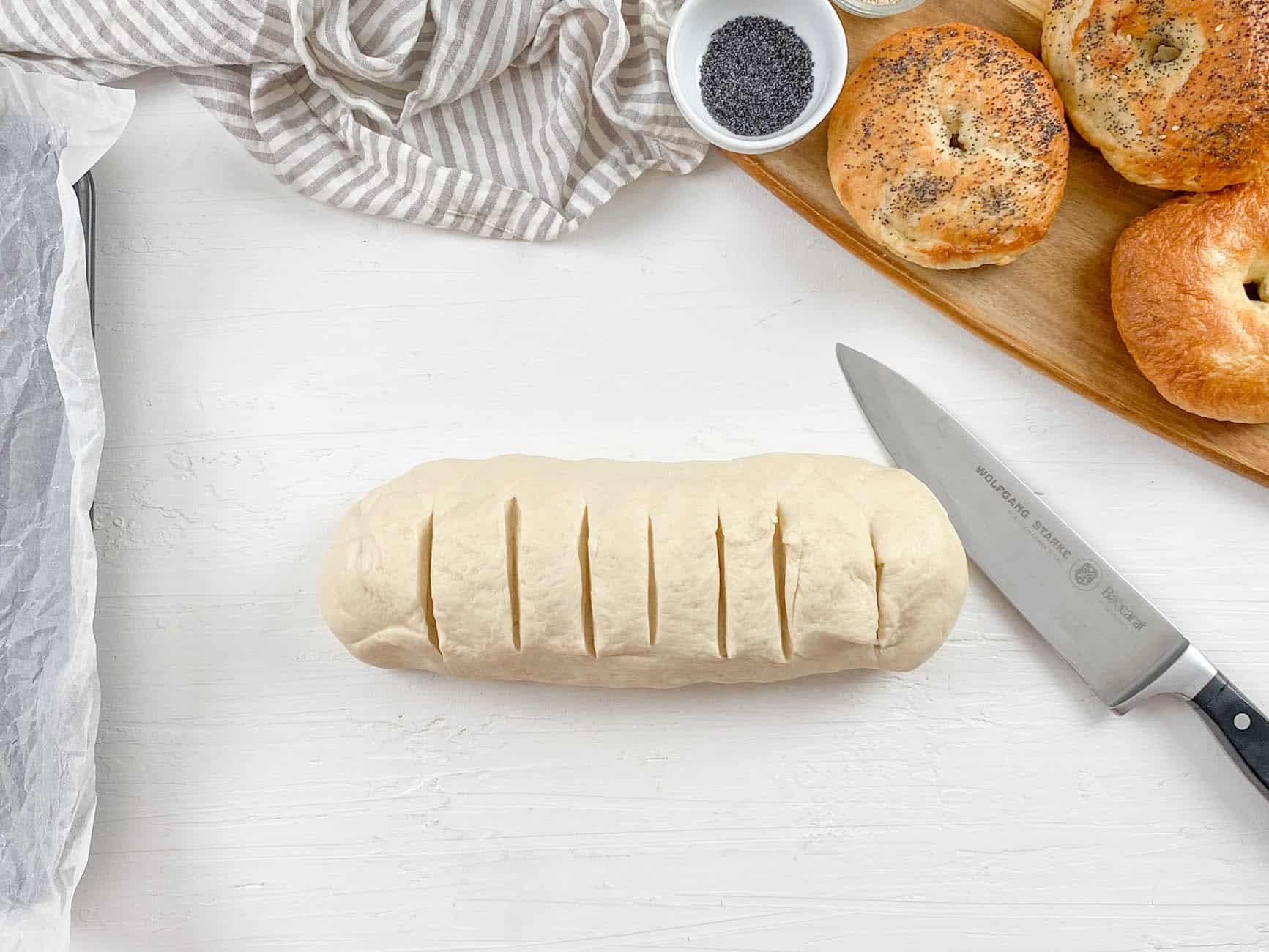 Make Bagel Shapes: Use a wooden spoon to poke a hole in each ball and then gently stretch it out with your fingers.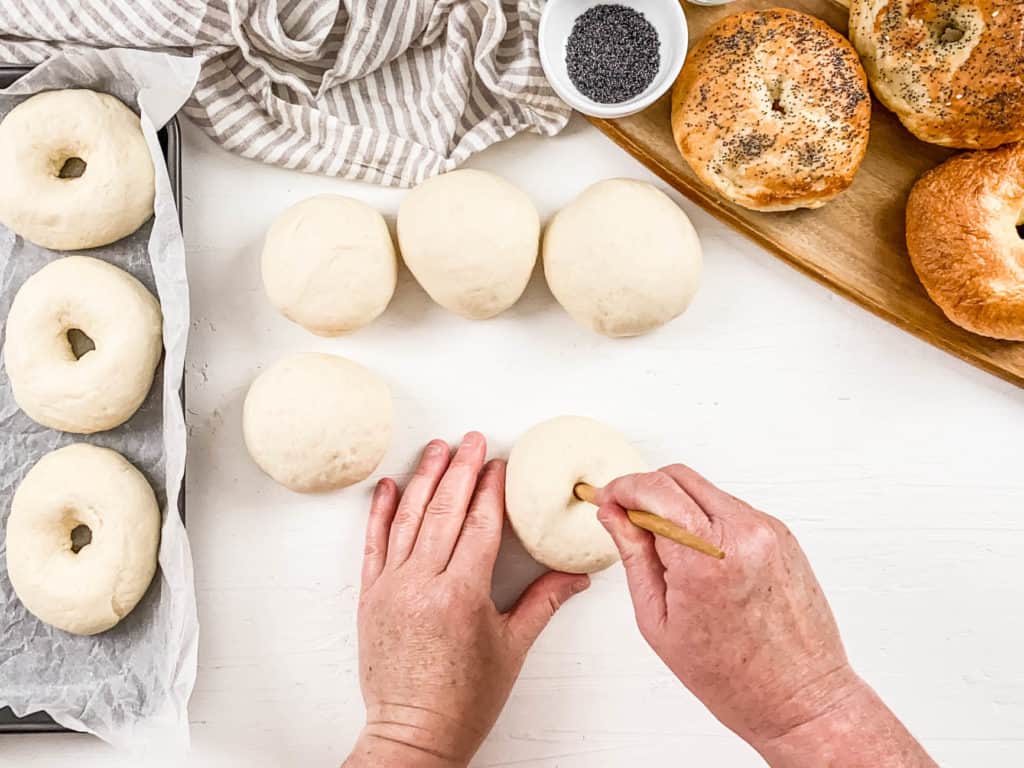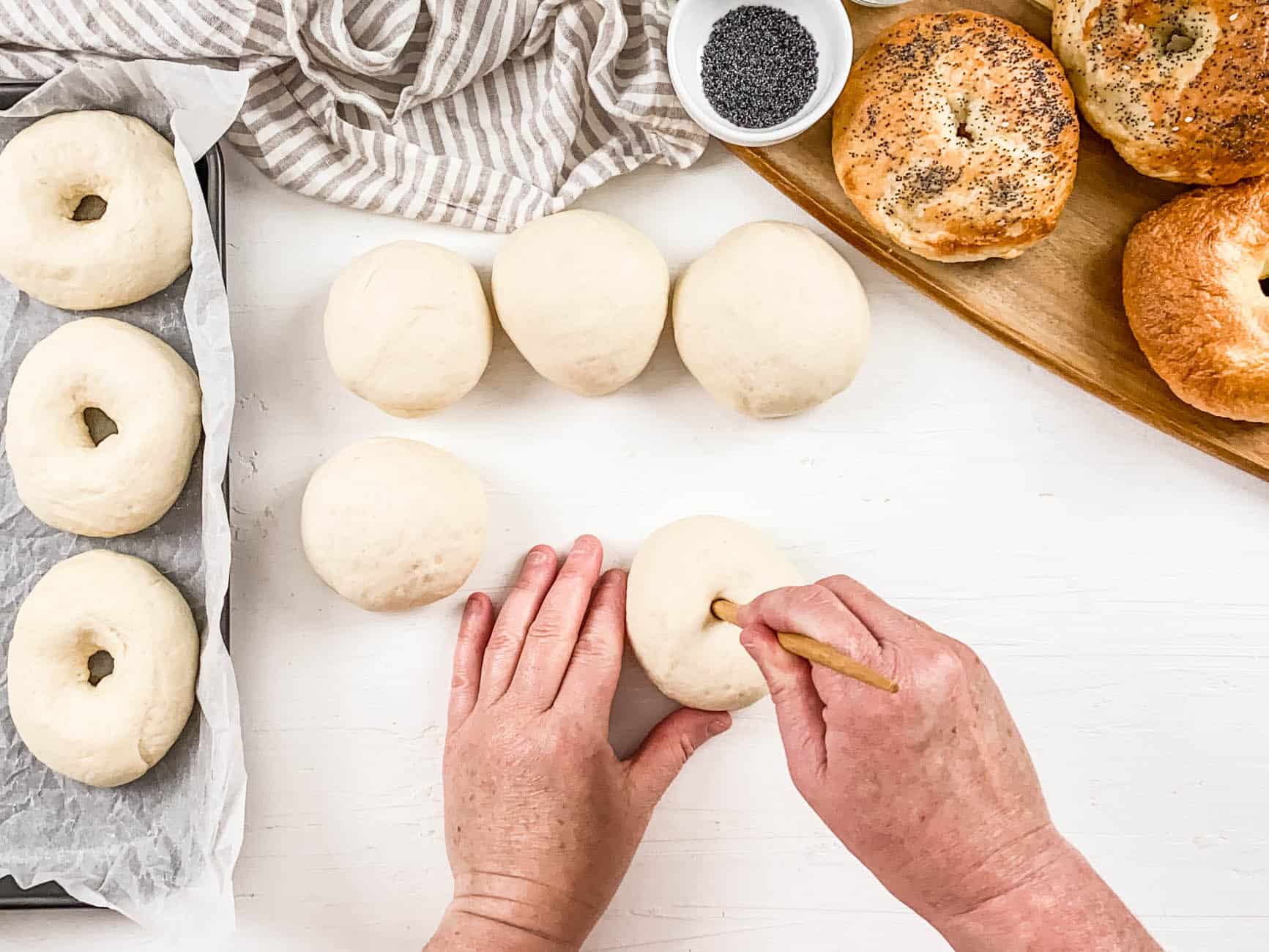 Bagel water bath: Let the bagels rise and rest some more while you bring a large pot of water to a boil.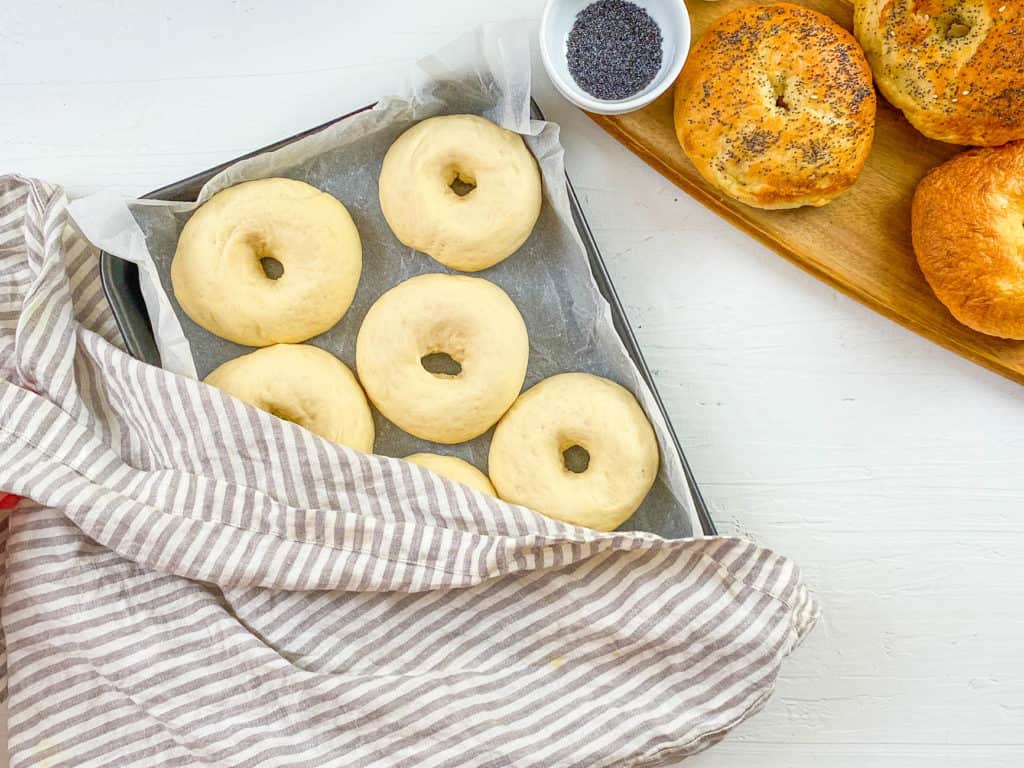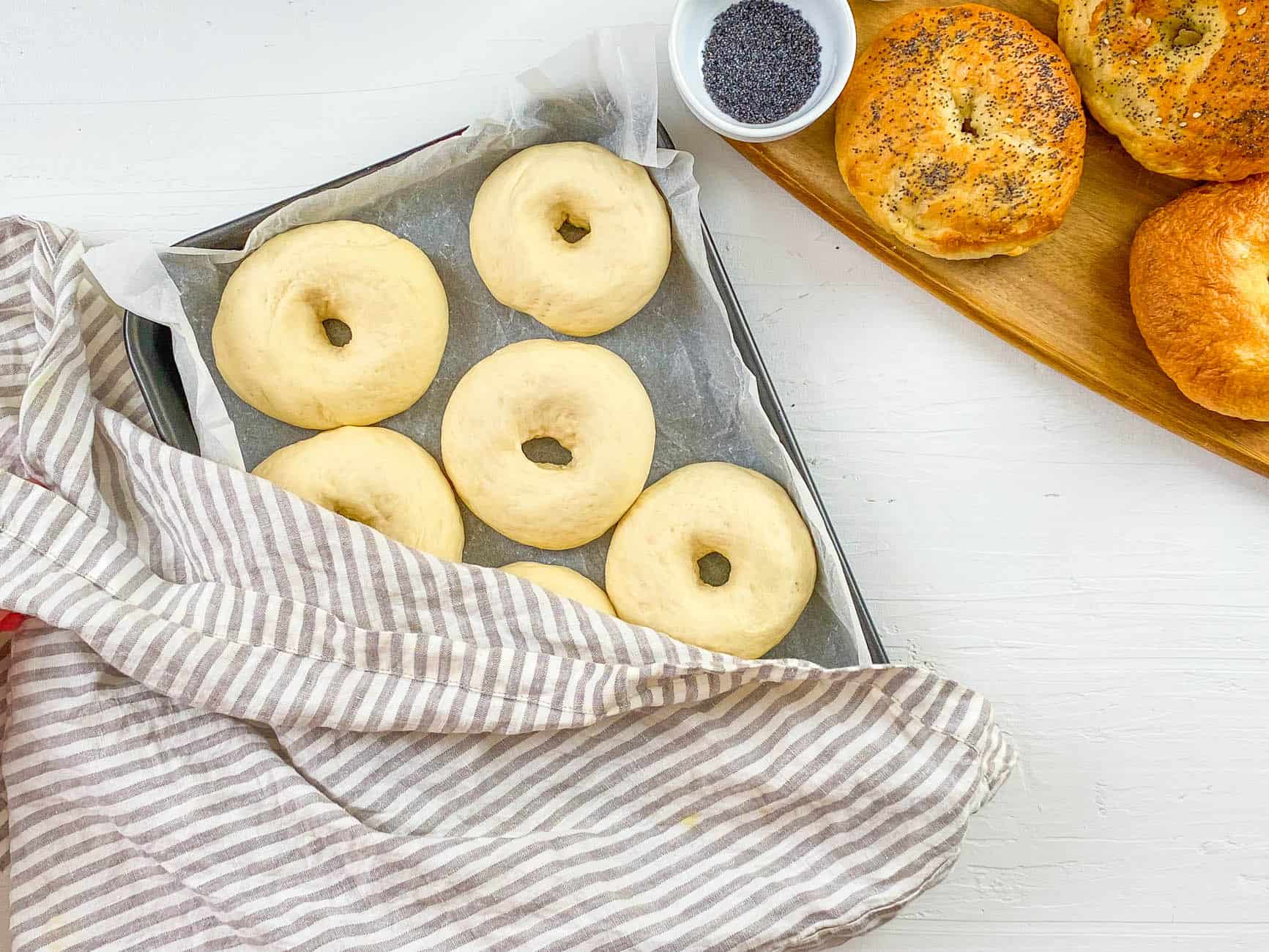 Boil Bagels: Boiling bagels is essential for a crisp exterior but chewy texture on the inside. Add a little bit of sugar to the water bath to help caramelize the bagels while they're boiling (optional). Boil bagels for one minute per side then place on a lined baking sheet (with parchment paper).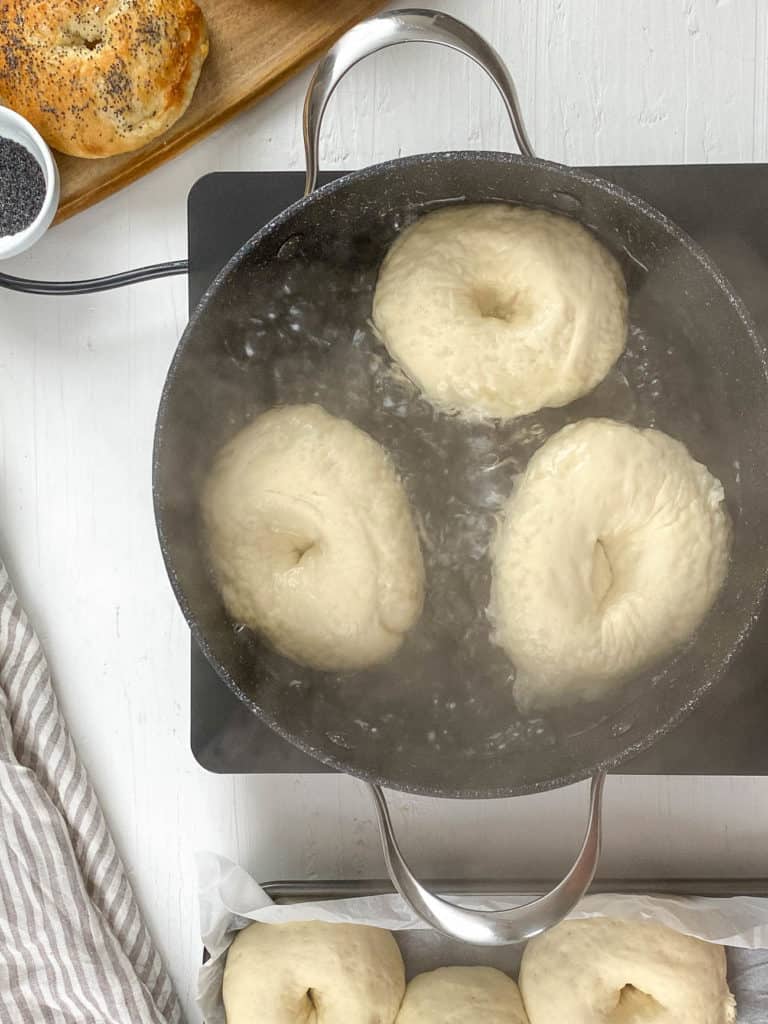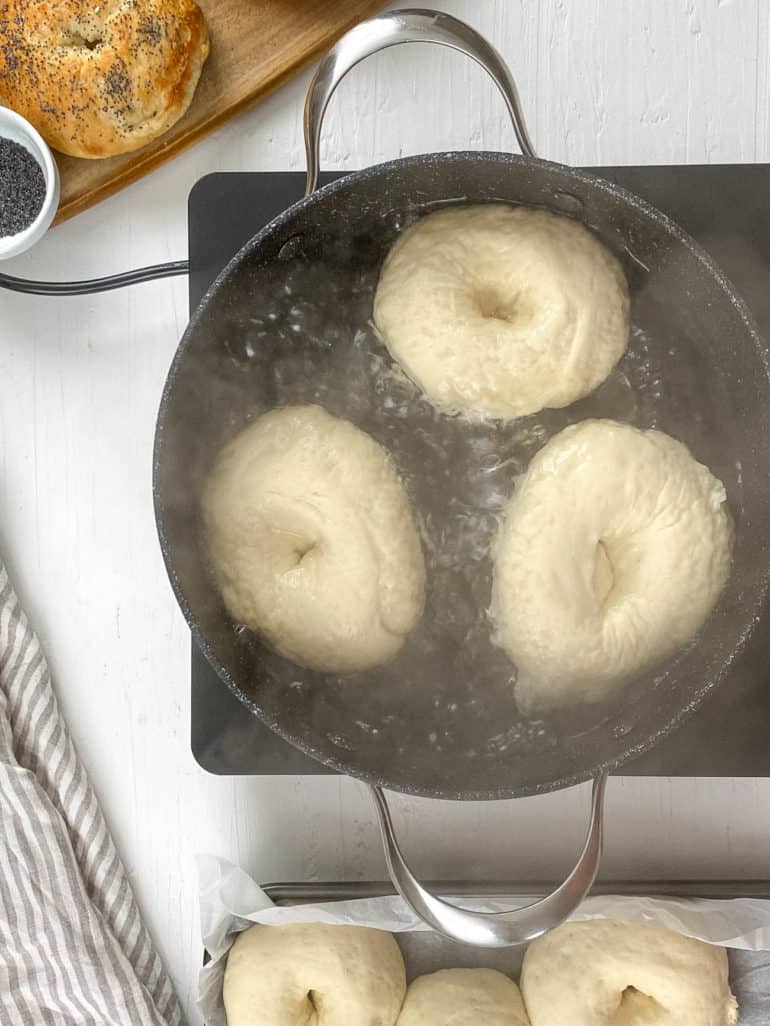 Coat & bake: Brush each bagel with soy milk, then top with your favorite toppings! Bake in 390F/200C preheated oven for 20-25 minutes.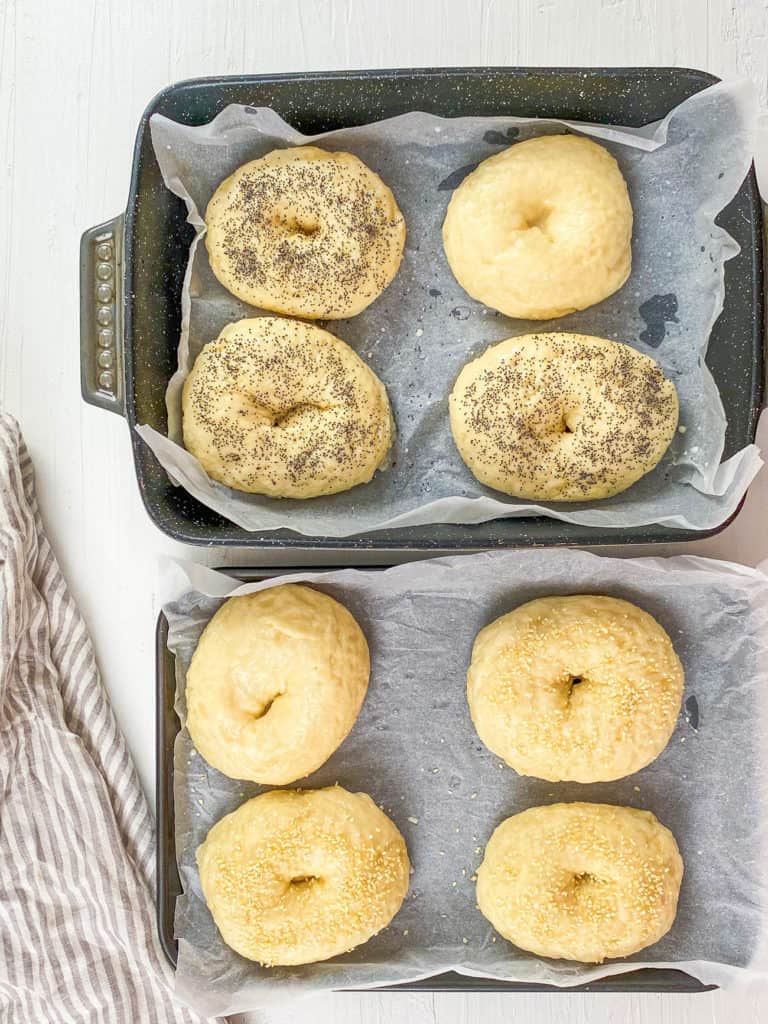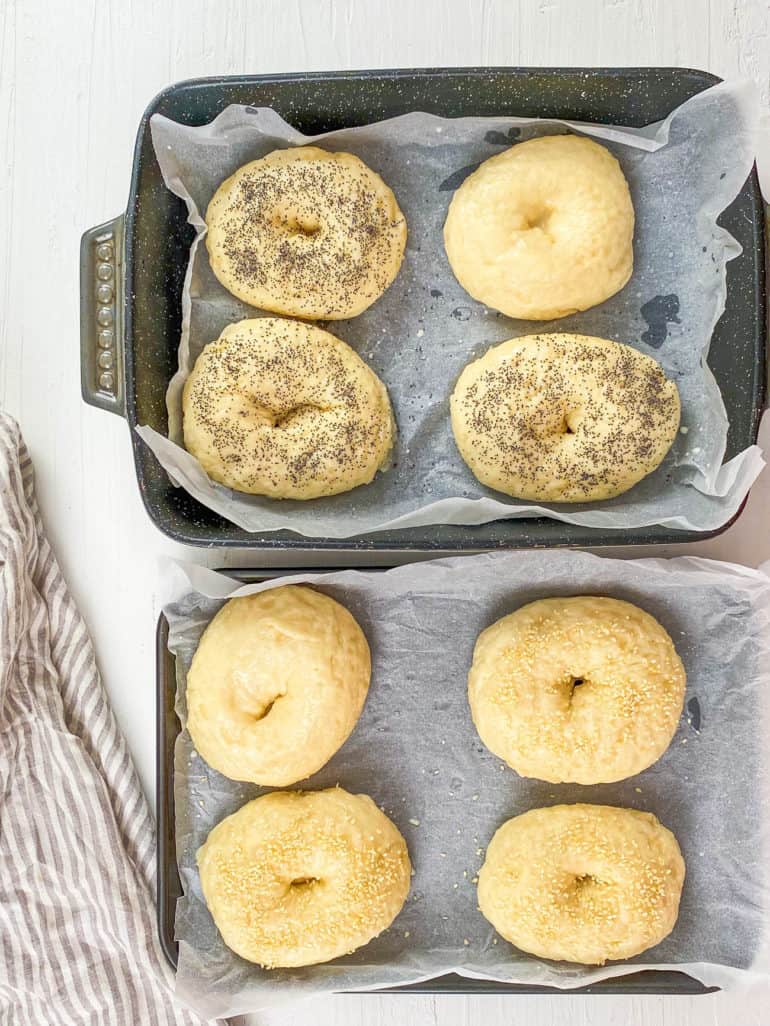 Allow to cool: Once bagels are done, remove them from the oven and let cook on a rack before slicing. If you try to slice them while they're hot, they will get smooshed!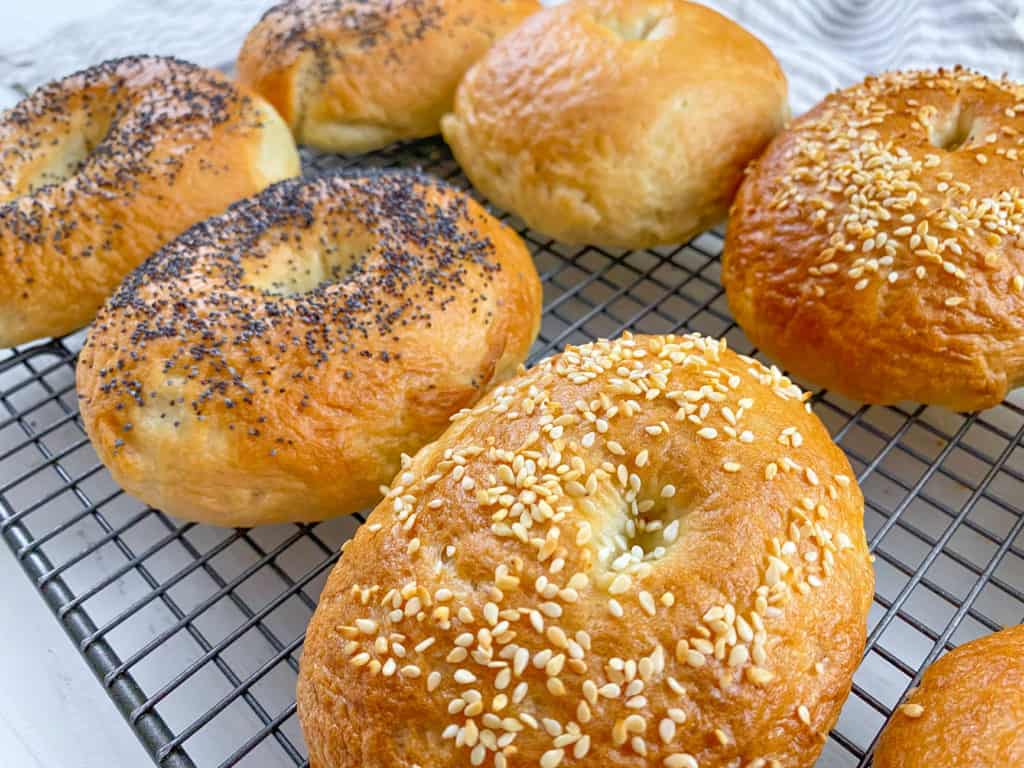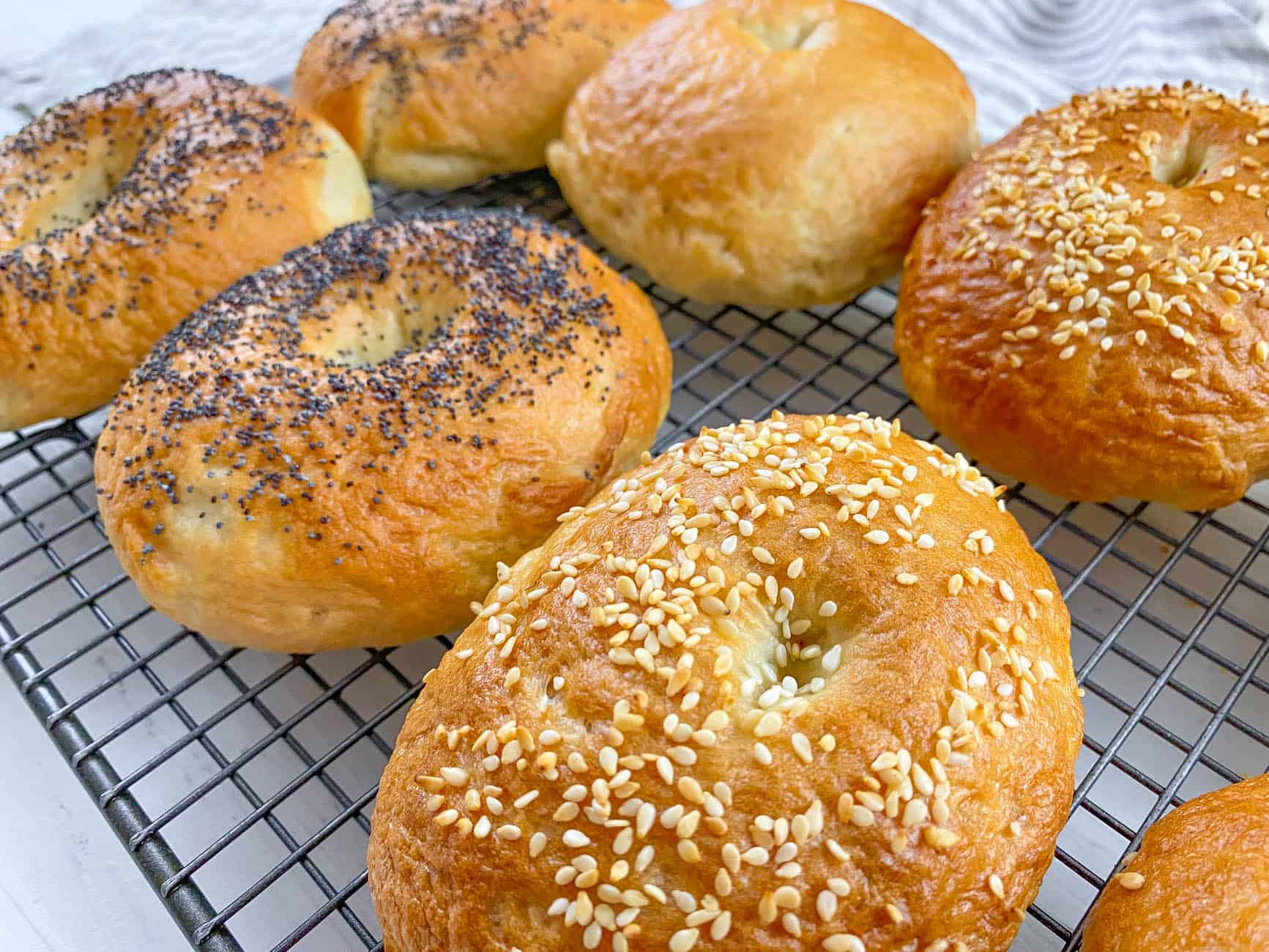 ❓ Recipe FAQs
How do I store vegan bagels?
Once the bagels are completely cool, place them into a ziptop bag or airtight container and store them on the counter, at room temperature, for up to four days for best results. Storing in the refrigerator will cause the bagels to dry out faster.
Why do you boil bagels before baking?
Boiling the bagels is what gives them their well-loved texture. You will not achieve a thick and chewy exterior without it. This is what sets bagels apart from regular bread.
Can I freeze bagels?
Yes! Bagels freeze incredibly well. You can freeze them whole or slice them first so they're ready to go into the toaster. Place them in a freezer-safe ziptop bag or airtight container and use them within three months. Defrost in the fridge overnight, then warm in a toaster or toaster oven before eating and enjoying!
Is it cheaper to make homemade bagels?
Yes, bagels are made with basic ingredients like flour, yeast, sugar, and salt. They're more affordable to make at home, especially compared to a specialty bagel shop or a cafe like Panera.
💭 Expert Tips
Don't rush the rise! If you cut this time short, you may end up with dense bagels.
You need warm water for the yeast to activate: The water needs to be around 105 degrees F / 40 C.
Let the dough rise in a warm spot for best results.
Be sure to keep the dough covered so the top doesn't try out.
Boil the these vegan-friendly bagels for an entire minute on each side. This is what makes them chewy!
Boiling the bagels in water with sugar gives a lovely surface caramelization when cooked.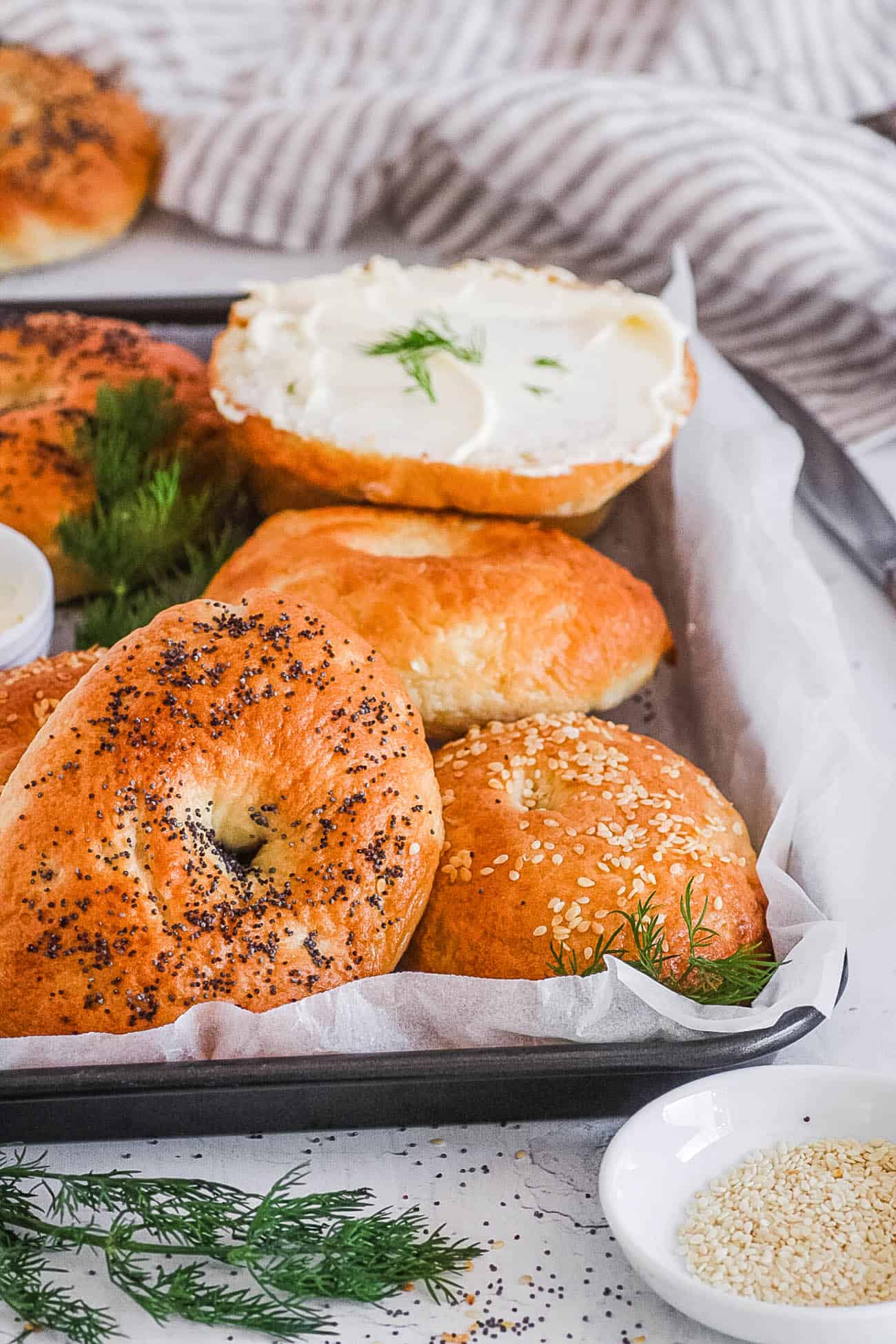 🍞 More Bread Recipes!
LOVE THIS RECIPE? Please leave a 5-star rating 🌟 in the recipe card below and/or a review in the comments section further down the page!
You can also FOLLOW ME on FACEBOOK, TWITTER, INSTAGRAM, and PINTEREST to see more delicious, healthy, family-friendly food, and if you have any questions, I'm here to help!
📋 Recipe Card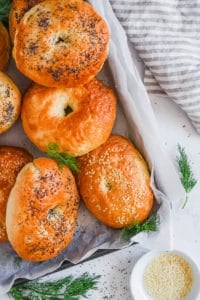 Print Recipe
Vegan Bagels
Homemade bagels may seem daunting but they're actually quite simple. I've perfected this vegan bagels recipe for perfect, chewy bagels every single time!
Ingredients
Toppings:
soy milk

1

tbsp

sugar

optional
Instructions
In a mixing bowl mix together the yeast, sugar and ½ cup warm water. Set aside for 10 minutes, covered in a warm place and allow the yeast mixture to start to bubble.

In a separate mixing bowl add the flour and salt, whisk together until well combined.

Once the yeast has started to bubble add it to the flour along with remaining 1 cup of water.

Stir the ingredients to make your bagel dough. Then, place the dough onto a lightly floured workspace (cutting board, countertop, etc).

Knead the dough for 10 minutes until smooth.

Place the dough into a lightly oiled bowl, cover and allow to rise in a warm place for 1 hour.

Once the dough has doubled in size, knock the air out, shape into a log and cut into 8 equal parts.

Shape each piece of dough into balls. Use a chopstick or end of a wooden spoon, make a hole in the center of each ball, stretch it out slightly with your fingers.

Allow the bagels to rest while you bring a large pot of water to the boil with 1 tbsp sugar if using.

Preheat oven to 390 degrees F / 200 C

Boil bagels for 1 min on each side. Remove and repeat with remaining bagels.

Place on a baking tray lined with parchment paper. With a pastry brush, coat each bagel with a thin layer of soy milk and sprinkle with desired topping (sesame seeds, poppy seeds, sunflower seeds etc.).

Bake in preheated oven at 390 degrees F / 200 degrees C for 20-25 mins.

When cooked through, remove and allow to cool on a cooling rack before slicing and serving.
Notes
The water needs to be around 105F/40C to help the yeast to activate.
Ensure dough is kept in a warm place to allow it to double in size.
Boiling the bagels in water with sugar gives a lovely surface caramelization when cooked.
Bagel toppings differ from person to person and the options are endless from poppy seeds to sesame seeds, pepitas, sunflower seeds, coarse salt to caraway seeds.
Nutrition
Serving:
1
bagel
|
Calories:
223
kcal
|
Carbohydrates:
46
g
|
Protein:
7
g
|
Fat:
1
g
|
Saturated Fat:
1
g
|
Polyunsaturated Fat:
1
g
|
Monounsaturated Fat:
1
g
|
Sodium:
296
mg
|
Potassium:
94
mg
|
Fiber:
2
g
|
Sugar:
3
g
12 responses to "Vegan Bagels"