Superfoods for Babies and Recipe Ideas
This post may contain affiliate links. As an Amazon Associate, I earn from qualifying purchases. Please read my disclosure.
If you're looking for superfoods for babies, this post will provide you a list of the baby superfoods you will want to have on hand so that you can fill your babies small tummy with nutrient rich foods! Plus find some simple to make recipes using these ingredients!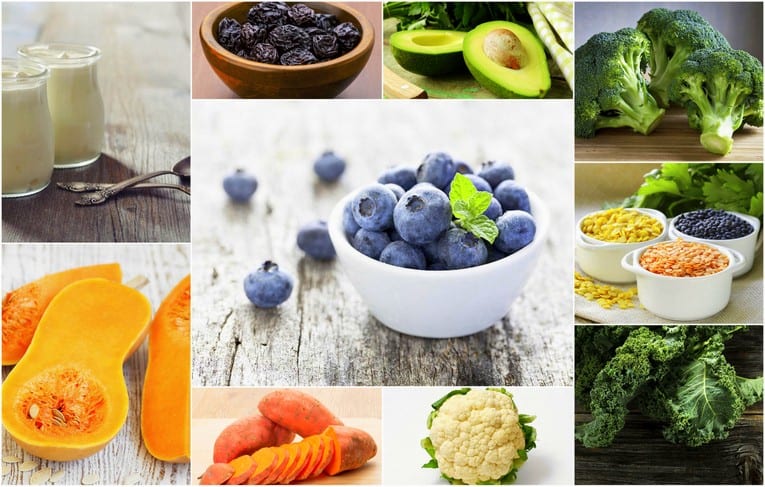 Babies don't eat that much in a given day because their tummies are so small. Which is why it's important to make sure that the foods they do eat are packed with nutrients. But honestly, these 10 foods could be considered "the top 10 superfoods for anyone" – not just for babies!
So what is a "superfood"?
Superfoods are whole foods that are nutrient powerhouses, pack large doses of antioxidants and polyphenols, are easily digestible, and full of fiber and a complex blend of vitamins and minerals. After looking at this list, I came up with a "menu" for babies that incorporates pretty much every single one of these food items into her diet each day!

What are the most nutritious foods for babies?
Blueberries
What are the health benefits of blueberries for babies?
These little gems are bursting with antioxidants and flavonoids, which benefit your baby's eyes, brain, and even urinary tract.
They are high in fiber, vitamin C, vitamin K, and manganese. They have the most antioxidants of all the fruits. They can help with brain function and memory, which is excellent for baby!
Blend or mash them into my blueberry smoothie recipe, which you can mix with yogurt or oatmeal for a healthy breakfast.
Organic Whole Milk Plain Yogurt For Babies
How does organic whole milk plain yogurt benefit my baby?
This creamy delight is rich in calcium, vitamin D, and gut-soothing live cultures (probiotics). Be sure to buy the whole milk variety – your baby needs the extra fat and calories. And don't get any fruit-flavored versions – they have way too much sugar. Stick to plain, organic, whole milk and mix in your own fruit purees as needed.
Remember that whole milk plain yogurt should be given to babies at least 6 months or older. It does not replace formula or breast milk at this stage.
Prunes
How are prunes healthy for babies?
These dried plums have TONS of fiber and antioxidants, and are great to add into your baby's diet especially when they're first switching over to solids. Prunes also offer protein, vitamin B6 (which helps to process protein), potassium which helps to balance fluids, and vitamin K which helps with healthy blood. If your baby is constipated, prunes are a natural laxative that can help to relieve pain.
Try this apple & prune puree to keep your little one regular.
Prunes can be high in sugar, so it's best to mix them with other purees.
Avocado
Why are avocados good for babies?
The perfect first food for your baby, avocados are rich in healthy fats that help boost brain development. Avocados have a wide assortment of vitamins and minerals including vitamins C, E, and K, B vitamins, magnesium, zinc, and manganese. They are also a great source of fiber. While they don't contain much protein, the healthy poly and mono-unsaturated fats provide your baby with needed calories in a healthy plant-based form.
Preparing an avocado puree for your baby is just about the easiest puree you can make. All you need is a ripe avocado and a fork! Both my children loved avocado when they were babies, and had no problem gobbling it up!
Broccoli
How does broccoli benefit my baby?
This cruciferous veggie contains fiber, folate, calcium, and tons of antioxidants. In addition, broccoli contains vitamins A, C, K, B6 and folate, and minerals including iron and zinc. Iron and zinc are essential for your babies growth and development.
Get your baby used to this (and other green veggies early), and you're sure to train their tastebuds to enjoy healthy food!
I mix broccoli, cauliflower and spinach together to get a superfood veggie blend. Then I'll often mix that into my lentil stew for a hearty dinner for my kids when they were babies.
Lentils
What are the health benefits of lentils for babies?
All legumes have a healthy combination of protein & fiber which is great for your baby. But lentils have the added benefit of becoming mushy when you cook them for long periods of time, which means no pureeing needed! combine lentils with yogurt for a high protein, high fiber nutrient rich lunch or dinner!
You can introduce lentils to your baby around 6 months old. Because babies begin to lose iron around the age of 6 months, introducing lentils that are high in iron at this age is great for your baby!
Kale
How do you add kale to your babies food?
Kale can be a tough green to eat. However, when it's chopped, cooked, and mixed with other foods, your baby can easily enjoy this powerhouse of a leafy vegetable!
Kale is one of the most nutrient dense foods around! It is packed with vitamins A, C, and K, as well as calcium. The added calcium helps your baby build strong bones.
It's also a great source of iron, folate, and has all of the antioxidant benefits of the cruciferous veggie family. Kale, swiss chard, and other leafy greens are great to introduce to your baby. Make a leafy green and lentil stew for your baby – you can use any green veggie in the soup and it will taste great.
Cauliflower
How does cauliflower benefit my baby?
Cauliflower is yet another cruciferous veggie with a milder flavor that's very baby friendly. Make a healthy "mashed potato" for your little one.
Cauliflower is full of vitamin C with helps your baby absorb iron. It's also an excellent source of vitamin K and B vitamins. It's rich in antioxidants that support your baby's organ function and immune system. Not only that, cauliflower is another superfood that helps with constipation.
Sweet Potato
A great first or second food for your baby, sweet potatoes are good source of potassium, vitamin C, fiber and an excellent source of beta-carotene. They are also one of the best sources of vitamin A which helps with your baby's vision.
You can't go wrong with this simple sweet potato puree recipe.
Butternut Squash
How does butternut squash help with my baby's growth and development?
Butternut squash is full of healthy vitamins and minerals that can help your baby's development in a variety of ways. It is rich in vitamin A for eyesight. High in B vitamins for healthy blood. And it's packed with vitamin C for healthy skin. In addition, it is rich in vitamin E for brain development.
Butternut squash also contains beta carotene, and this is another super-easy-to-digest first food that babies tend to adore. Caramelize this squash in the oven and then puree, baking it in the oven will add a depth of flavor your baby will adore.
How do you prepare these superfoods for babies throughout the eating stages?
6 to 9 Months:
Cook the food well, and create a puree. You can serve the puree to your baby with a spoon. As they get closer to 9 months, you want to encourage them to self feed. This helps your baby become more independent with their own feeding. It also helps with their motor development. Your baby will also have the opportunity to explore different textures.
9 to 12 Months:
Once your baby has reached 9 months, it's a good time to introduce bite sized pieces of food that they can feed to themselves. This works great with avocado, sweet potato, butternut squash, and very well cooked broccoli, and cauliflower. Your baby will also be developing their pincer grasp, which allows them to pick these foods up with their thumb and fingers.
You can also provide your baby with a spoon, for their purees, and encourage them to spoon feed themselves. This will get a bit messy, but is important to teach your child how to scoop and bring the spoon to their mouth before the contents fall off.
12-24 Months:
Once your baby has reached 12 months, now is a good time to give them bite sized pieces of soft food, and provide them with a fork to use to pick it up, and bring it to their mouth. Model for your baby how this is done. If your child is not interested right away, that's okay! They may go between using their fingers, and their utensils. Give them the opportunity to try out using the fork, but don't over pressure your little one if they go back to their fingers. As they get older continue to offer it, until it becomes natural.
Once your baby is used to purees, you can start giving them chunkier versions of these same foods and start mixing them together with spices.
What superfoods are best for baby brain development?
Plain Whole Milk Greek Yogurt: As mentioned above, plain whole milk yogurt is a superfood. It is also one of the best foods for your baby's brain development. The healthy fats help develop brain cells and provide probiotics which help build a strong microbiome.
Avocado: The healthy poly mono-unsaturated fats in avocados contribute to brain cell development.
Whole Grain Cereals: When providing your baby with whole grain cereals opt for oats, quinoa, and barley that are ground and blended into a fine powder. Then add to boiling water to create a creamy puree. Feel free to mix with whole milk yogurt, breast milk, or formula. These whole grains offer fiber and protein that helps with your baby's brain development.
Apples: This popular fruit contains quercetin which stimulates brain activity!
Lentils: This high protein legume contains fiber, iron and protein; the combination of which is beneficial for baby's brain development.
Leafy Greens: As mentioned above, leafy greens are one of the superfoods for babies. They provide lutein and Vitamin K which helps with brain activity.
Superfoods For Babies: Feeding Schedule
Here is the basic menu I created for my kids starting at 6-7 months old. It makes it easy to incorporate almost every single one of these superfoods into your baby's diet each day. These baby food recipes are easy to prepare and make it easy to create your own healthy baby food at home.
This menu is perfect for babies aged 6-12 months, but honestly you could follow this for years to come with some modifications (e.g. chunkier foods, more spices added, more variety in cuisines, etc.).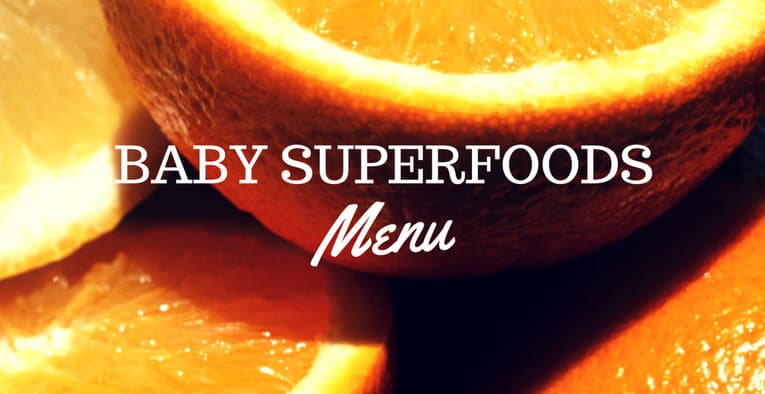 Breakfast: 7-8oz food
2-3oz Blueberry "smoothie" with oatmeal; 2-3oz apple & prune with oatmeal
12:30pm Lunch: 7-8oz food
3oz Broccoli, Spinach, Cauliflower Puree + 2oz Lentil Stew + 2oz Yogurt + 1oz Oatmeal (to thicken if needed)
3:00pm Snack: 2-4oz food
1-2oz Avocado + 1-2oz quinoa or whole wheat pasta
5:30pm Dinner: 7-8oz food
3oz Sweet Potato + 2oz Butternut Squash + 2oz Oatmeal
OR
4oz Leafy Greens + Lentil Soup + 2oz Cauliflower/Potato + 2oz Quinoa or Brown Rice
Baby Superfood Recipes
This "menu" makes it so easy to add superfoods into your babies' diet, it will seem like no effort at all and will hopefully take some of the stress and pressure off when it comes time to start solid foods. Here are all the recipes you need to start incorporate these superfoods for babies into your child's daily diet.
Breakfast for Baby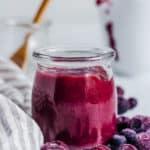 Blueberry Baby Food
This healthy, antioxidant-rich, blueberry puree for baby is made with sweet blueberries, crisp Fuji apples, creamy banana, and delicious mango, but also comes in a simple, 2 minute version with just blueberries and water. Serve up either for a homemade treat your baby will love!
View this recipe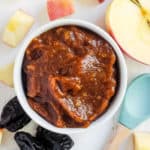 Prune Puree Baby Food
This simple recipe for prune baby food puree will quickly become one of your baby's favorites. Full of healthy antioxidants and fiber, prune puree helps keep baby regular!
View this recipe
Lunch for Baby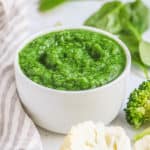 Vegetable Puree for Baby: Broccoli, Cauliflower, and Spinach
A nutrient rich vegetable puree for baby with three of the healthiest green vegetables. Broccoli, cauliflower, and spinach have tons of health benefits and essential nutrients for young babies. This green vegetable puree has a mild flavor baby will love! Make sure your baby gets their veggies by introducing this puree into their daily repertoire!
View this recipe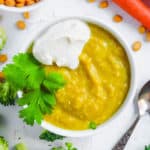 Baby Lentil Recipe: Veggies and Lentils Baby Food Puree
Lentils, rice and veggies in a "stew" are one of the easiest meals to make for your little one. This baby lentil recipe in India is called "khichdi." With some added spices for additional flavor, and a variety of veggies this is a one pot complete meal for baby.
View this recipe
Snack for Baby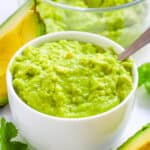 Avocado Puree: Baby's First Food
Creamy avocado puree is a great first food for your baby! Avocados are super healthy, packed with essential nutrients for growth and development. This simple recipe requires no special equipment and is ready in less than 5 minutes! Avocado baby food is one of the easiest purees you can make for your baby, and will quickly made your list of favorite baby food recipes! And the best part? Babies love it!!
View this recipe
Dinner for Baby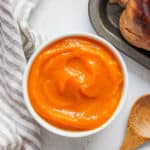 Baby Food Recipes: Butternut Squash Puree
This butternut squash baby food puree is rich in flavor, vitamins, and minerals for your little one! It's a simple puree recipe that has a naturally sweet flavor your baby will love! A delicious stage 1 food to introduce to your baby.
View this recipe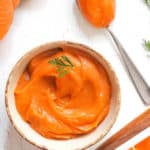 Baby Food Recipes: Sweet Potato Puree
This simple to make, sweet potato baby food recipe is an easy puree that is quick, easy and great for babies 6 months of age or older! It's popular first food for babies, and is packed with vitamins and nutrients!
View this recipe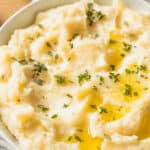 Healthy Mashed Potatoes
This healthy mashed potatoes recipe is the ULTIMATE comfort food! Russet potatoes, cauliflower, garlic, and fresh herbs come together to make creamy, rich, dairy-free, vegan mashed potatoes that are the perfect side dish any time of the year!
View this recipe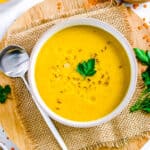 Lebanese Lentil Soup
Rich, flavorful, easy Lebanese lentil soup (shorbet adas) is warming and hearty, perfect for a family-friendly weeknight meal. Made with red lentils, vegetables, spices, and lemon juice, this easy dish is healthy, vegan, and naturally gluten free too!
View this recipe
I can't wait to hear how your little ones like these recipes!
Check Out These Other Baby Food Guides and Tips!
22 responses to "Superfoods for Babies and Recipe Ideas"