The Top 10 Baby Superfoods and Recipe Ideas
This post may contain affiliate links. Please read my disclosure.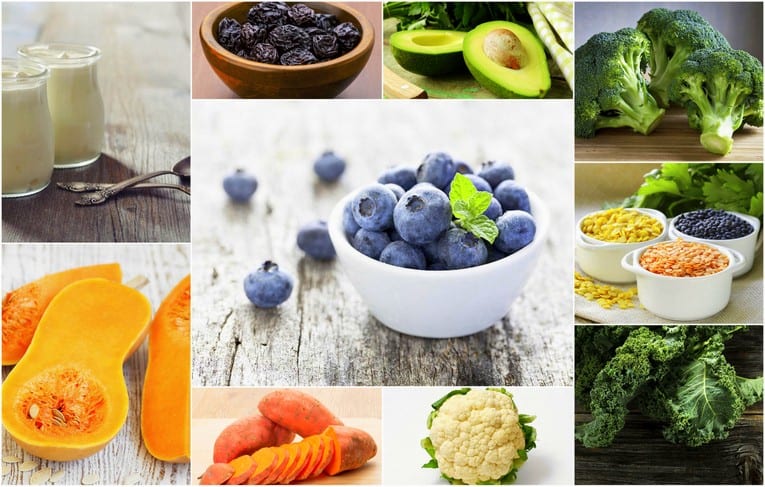 Babies don't eat that much in a given day because their tummies are so small. Which is why its important to make sure that the foods they do eat are packed with nutrients. But honestly, these 10 foods could be considered "the top 10 superfoods for anyone" – not just for babies!
So what is a "superfood"? Superfoods are whole foods that are nutrient powerhouses, pack large doses of antioxidants and polyphenols, are easily digestible, and full of fiber and a complex blend of vitamins and minerals. After looking at this list, I came up with a "menu" for Layla that incorporates pretty much every single one of these food items into her diet each day!
But first, let's talk through the superfoods quickly:

1) Blueberries: These little gems are bursting with antioxidants and flavonoids, which benefit your baby's eyes, brain, and even urinary tract. Blend or mash them into my blueberry smoothie recipe, which you can mix with yogurt or oatmeal for a healthy breakfast.
2) Whole Milk, Plain, Organic Yogurt: This creamy delight is rich in calcium, vitamin D, and gut-soothing live cultures (probiotics). Be sure to buy the whole milk variety – your baby needs the extra fat and calories. And don't get any fruit-flavored versions – they have way too much sugar. Stick to plain, organic, whole milk and mix in your own fruit purees as needed.
3) Prunes: These dried plums have TONS of fiber and antioxidants, and are great to add into your baby's diet especially when they're first switching over to solids. Try this apple & prune puree to keep your little one regular.
4) Avocado: The perfect first food for your baby, avocados are rich in healthy fats that help boost brain development. This avocado puree is simple to make and your little one will gobble it up!
5) Broccoli: This cruciferous veggie contains fiber, folate, calcium, and tons of antioxidants. Get your baby used to this (and other green veggies early), and you're sure to train their tastebuds to enjoy healthy food! I mix broccoli, cauliflower and spinach together in this "get your greens" puree – which I often mix into my lentil stew for a hearty dinner for Layla.
6) Lentils: All legumes have a healthy combination of protein & fiber which is great for your baby. But lentils have the added benefit of becoming mushy when you cook them for long periods of time, which means no pureeing needed! Try this Indian Lentil Stew mixed with yogurt – your baby will love it!
7) Kale: A great source of iron, folate, and all of the benefits of the cruciferous veggie family – kale, swiss chard, and other leafy greens are great to introduce to your baby. Make this recipe (minus the cayenne) for your baby – you can use any leafy green in the soup and it will taste great.
8) Cauliflower: Yet another cruciferous veggies with a milder flavor that's very baby friendly. Make a healthy "mashed potato" for your little one using this recipe!
9) Sweet Potato: A great first or second food for your baby, sweet potatoes are good source of potassium, vitamin C, fiber and an excellent source of beta-carotene. You can't go wrong with this simple sweet potato puree recipe.
10) Butternut Squash: Rich in beta carotene, this is another super-easy-to-digest first food that babies tend to adore. Caramelize this squash in the oven and then puree, it adds a richness your baby will adore.
Once your baby is used to purees, you can start giving them chunkier versions of these same foods and start mixing them together with spices. Here is the basic menu Layla has been on since she was about 6-7 months old – it makes it easy to incorporate almost every single one of these superfoods into your baby's diet each day. This menu is perfect for babies aged 6-12 months, but honestly you could follow this for years to come with some modifications (e.g. chunkier foods, more spices added, more variety in cuisines, etc.).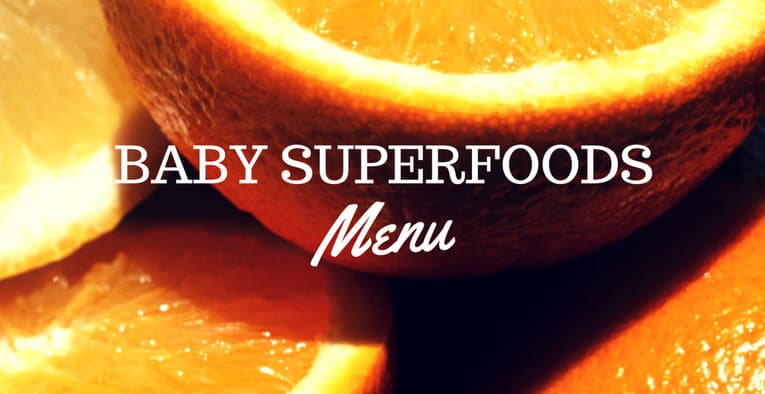 Breakfast: 7-8oz food
2-3oz Blueberry "smoothie" with oatmeal; 2-3oz apple & prune with oatmeal
1230pm Lunch: 7-8oz food
3oz Broccoli, Spinach, Cauliflower Puree + 2oz Lentil Stew + 2oz Yogurt + 1oz Oatmeal (to thicken if needed)
300pm Snack: 2-4oz food
1-2oz Avocado + 1-2oz quinoa or whole wheat pasta
530pm Dinner: 7-8oz food
3oz Sweet Potato + 2oz Butternut Squash + 2oz Oatmeal
OR
4oz Leafy Greens + Lentil Soup + 2oz Cauliflower/Potato  + 2oz Quinoa or Brown Rice
This "menu" makes it so easy to add superfoods into your babies' diet, it will seem like no effort at all and will hopefully take some of the stress/pressure off when it comes time to start solid foods. I can't wait to hear how your little ones like these recipes!
22 responses to "The Top 10 Baby Superfoods and Recipe Ideas"