45 Baby Dinner Recipes for A Happy Eater
This post may contain affiliate links. As an Amazon Associate, I earn from qualifying purchases. Please read my disclosure.
Looking for some simple baby dinner recipes that aren't just for baby? These family recipes are simple to make, easy for baby to eat, and totally delicious for the whole family! Make mealtime simpler with one meal that satisfies everyone around the table!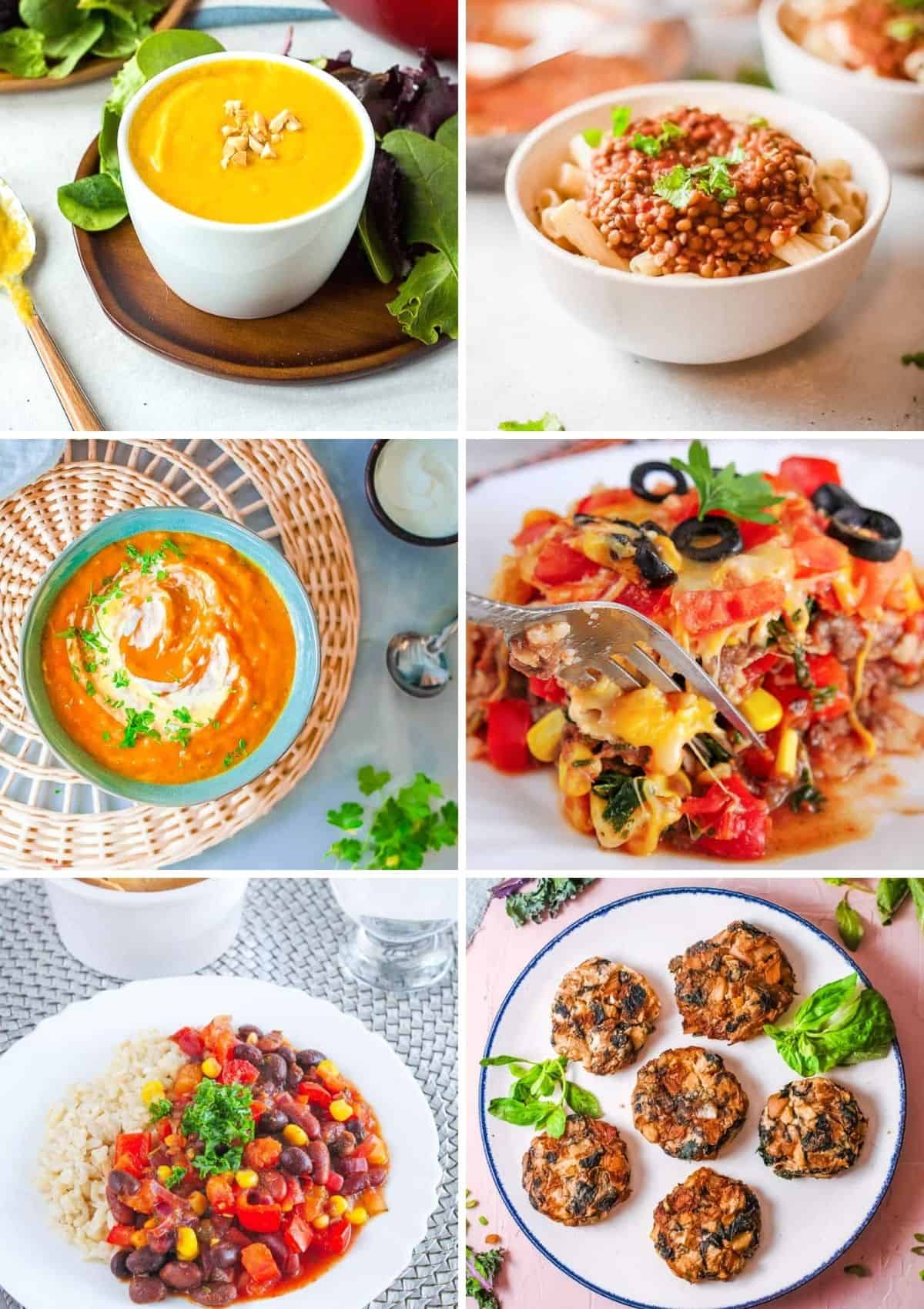 As your baby gets older, and especially after 12 months – they can really just eat what you eat! Between 8-12 months, I started giving both of my kids tastes of everything we were eating (with the exception of milk, honey and nuts) to start easing them into it. They didn't love everything at first, but now both of them are very open and excited eaters – we all eat the same thing for dinner most nights!
The only modification I make is to sometimes decrease the "heat" (mainly cayenne pepper or crushed red pepper) in the version I give my kids, but all other spices remain the same as what's on our dinner plates!
If you're baby isn't quite ready for solids, be sure to check out my post about the best organic baby formulas or if you're started making homemade baby purees be sure to check out these baby food recipes that my kids both loved when they were just starting out on solids.
Tips For Making Easy Baby Dinner Recipes
Start with Tastes: Before you jump right into feeding your baby the same meals you are eating, start by giving them small tastes of what you are eating at the dinner table. Try eating at the same time as them to start to get them interested in what you are eating, and encourage their curiosity.
Reduce the Heat: The key you first start to serve your baby the same meals that you are eating is to reduce the heat, both the temperature and the spice. If a recipe calls for cayenne pepper, or another type of hot spice, take it out of the recipe, and instead sprinkle it on your own portion. Or remove a small portion for baby, and then add the spice to the rest of the dish. It's also important to make sure that when you serve baby their food, that it is warm but not hot. Always test the temperature before serving to your baby.
Serve Leftovers: One meal can last a long time for your baby, so don't be afraid to serve them leftovers. Yesterday's dinner, could be tomorrows lunch and dinner the next day!.
Muffin Tin Meals: A fun way to serve baby a perfectly portioned dinner is with muffin tin meals. Think breakfast egg bites, or use the muffin tin to portion small amounts of food for baby to try.
Freezer Meals: Baby does not need a large portion. So divide their food into small portion sizes, and freeze the rest to have as an easy dinner option on a busy night!
Helpful Tools for Feeding
These helpful tools and equipment will help baby transition to mealtime with the family with ease.
Here is the list of about 30 recipes my kids regularly will eat and enjoy. It saves me time because I don't make them something separate for dinner (or snacks in the case of smoothies/guacamole) — we all just eat the same thing!
What Can I Make For Dinner For My One Year Old Baby?
When your baby is old enough to mash foods with their gums, or drink with a straw, they can begin transitioning from purees to more sophisticated foods! In fact, they can have most of the foods you are preparing for yourself or the rest of the family with a few modifications.
Refrain from giving your baby foods that include the following ingredients:
Nuts or Nut Butters
Milk or Cheese (until after 12 months)
Honey
Raw Fruits or Vegetables (choking hazard)
Hard Candy or Popcorn (choking hazard)
Fruit Juice
Sugary Treats
Smoked or Cured Meats
Fish with a High Mercury Count
Refined Grains
Smoothies
Smoothies are a great way to pack in lots of nutrition into a simple to eat meal for baby. Add vegetables, fruit, and milk when baby is over 12 months. Make sure to leave out nut butters and nut milks for allergy reasons.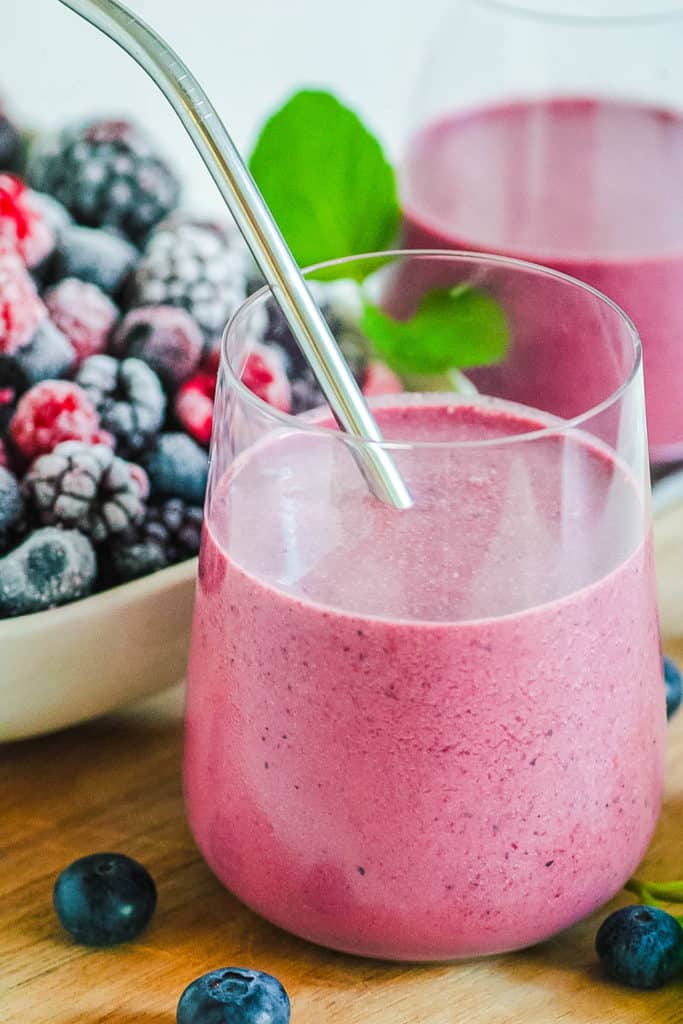 Soups
Another delicious meal that baby can easily enjoy are soups! Especially those that are smooth and creamy like this butternut squash soup with ginger! Baby can also eat chunkier soups as long as they are able to gum the vegetables and beans easily. If baby is under one year old leave out any dairy for their serving.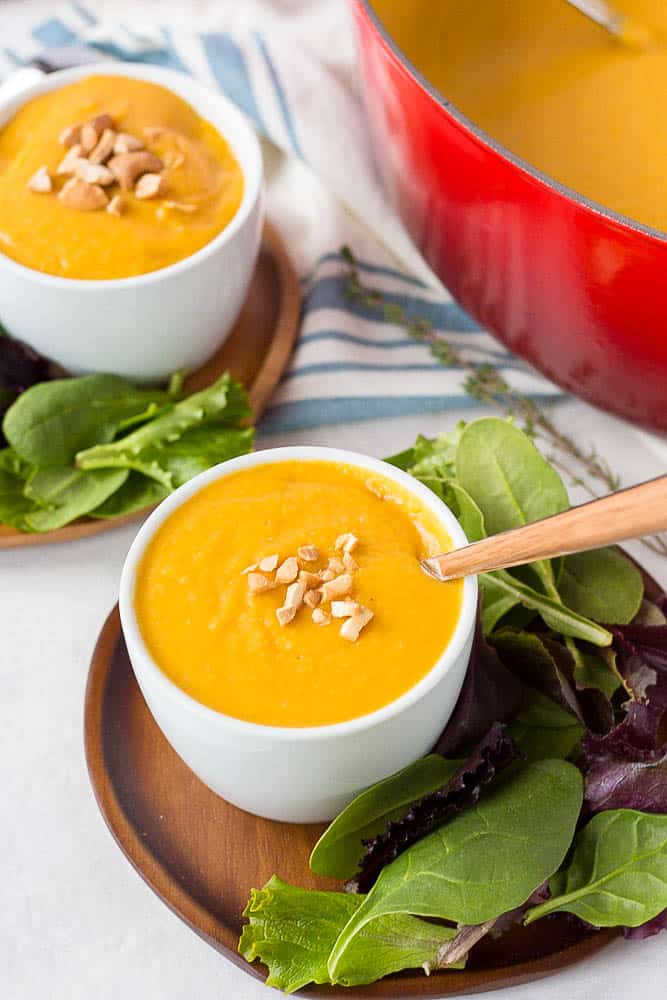 Patties and Veggie Burgers
Instead of serving baby the whole patty or veggie burger in a bun with all the toppings, simply cut a portion of the burger into bite sized pieces that they can pick up with their fingers and mash with their gums. Makes for great self-feeding baby dinner recipes!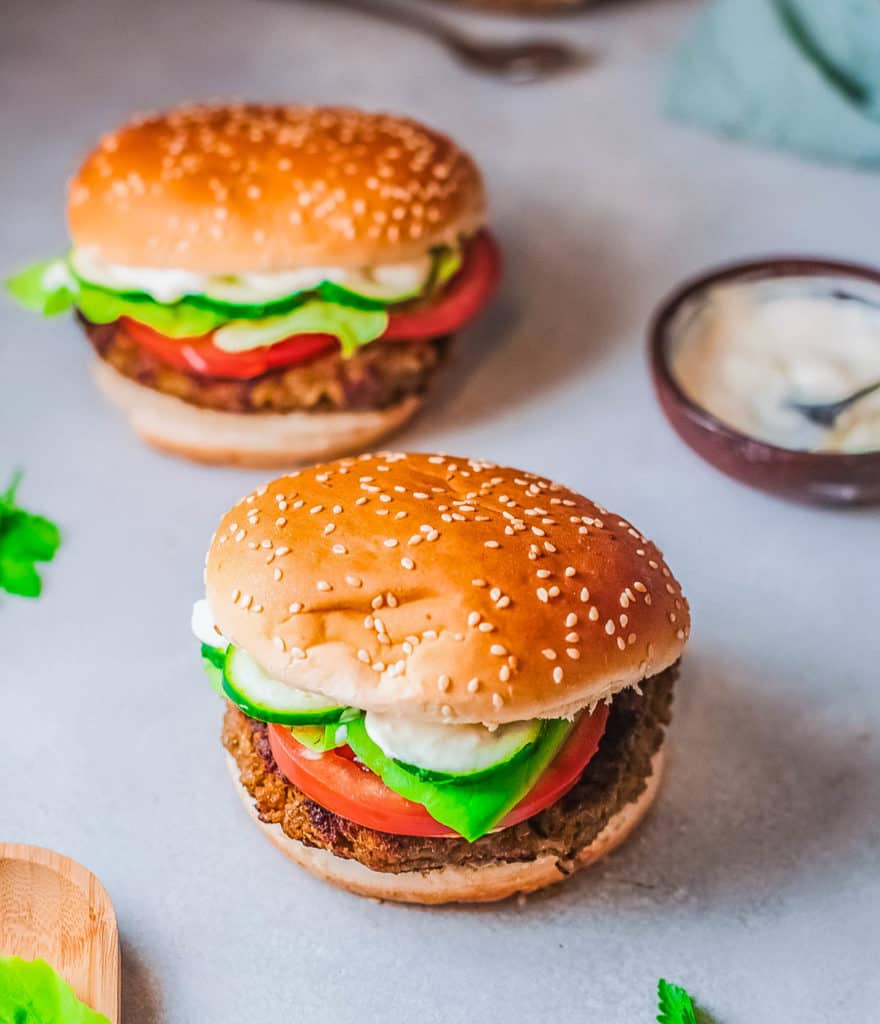 Curry and Lentils
Curries don't have to be spicy, so they are perfect for baby with lots of soft vegetables, and healthy plant proteins like chickpeas, lentils, and beans, served in a creamy sauce that baby will love. Serve with a side of brown rice for extra nutrition and fiber!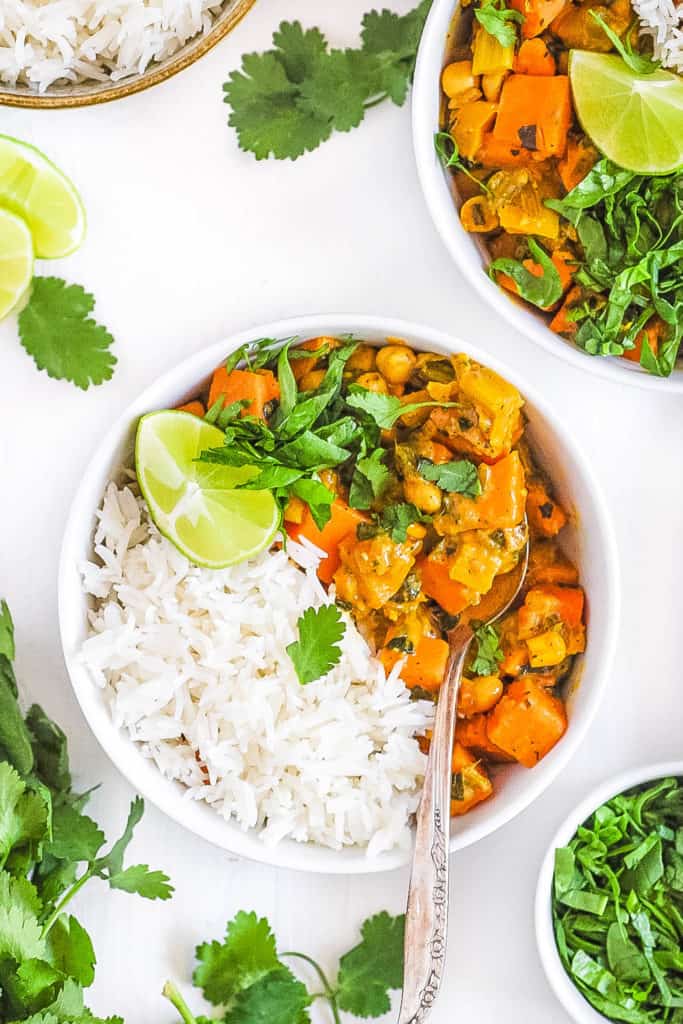 Vegetable Dishes
Pack in the veggies with these healthy and hearty baby dinner recipes. You may want to cook the vegetables down more so that they are softer for your baby to eat. Cut into small bite sized portions before serving.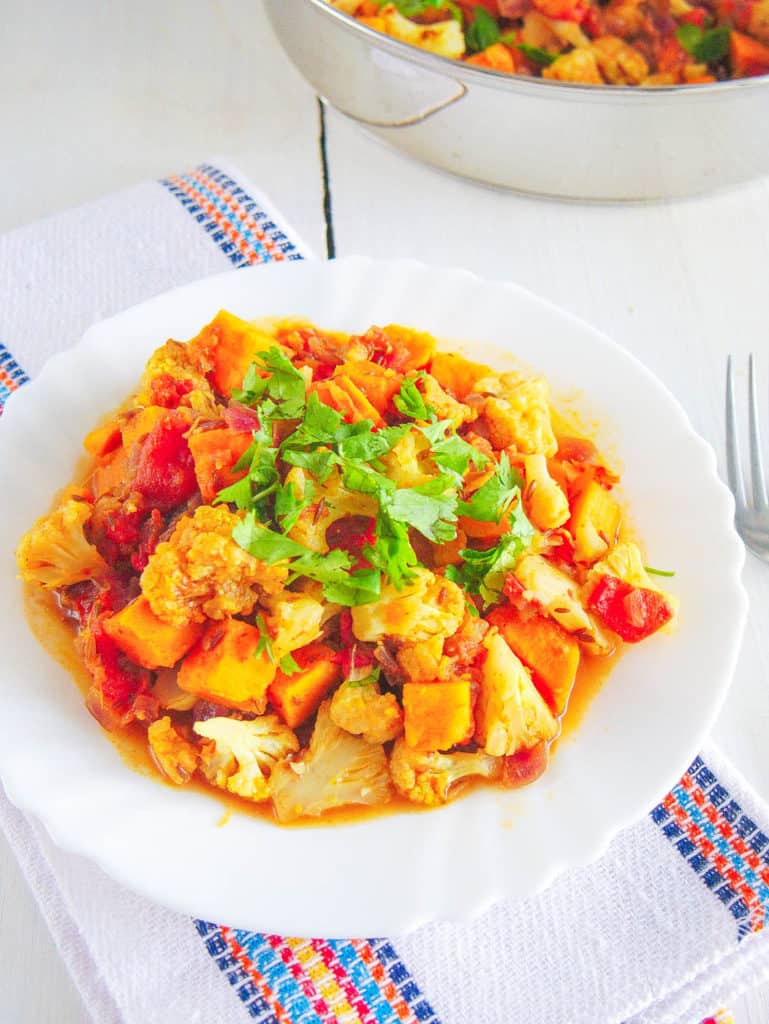 Pasta Dishes
Pasta recipes are a delicious choice for baby! Make sure that the pasta is cooked well enough that baby can gum and chew small pieces. Prior to serving to baby, cut the pasta and any vegetables into small bite sized pieces.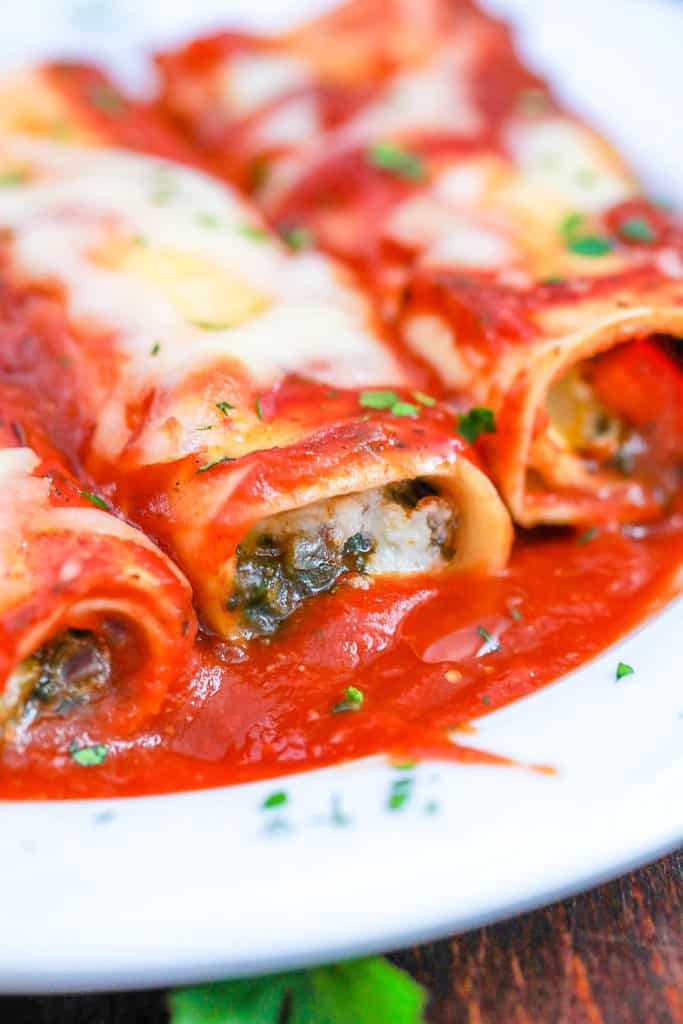 Casseroles
Always a family favorite, savory casseroles are one of my favorite baby dinner recipes that are great for adults and older kids too! Cooked down, and easy to eat, make sure that it isn't too hot before serving to baby.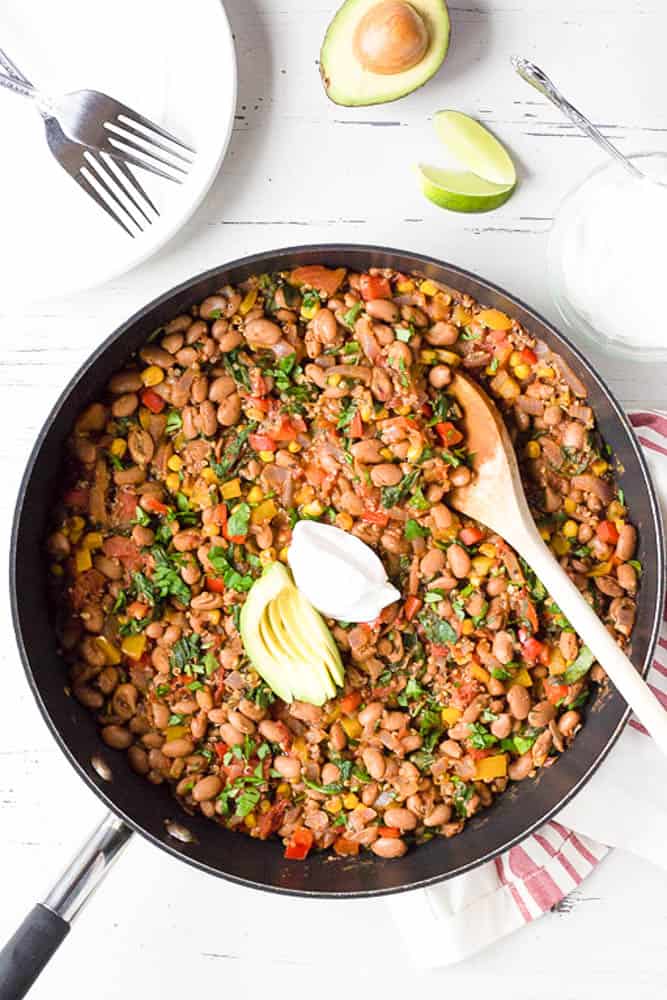 I hope you were able to find some inspiration to simplify meal time for your family while feeding your baby!
More Kid Friendly & Baby Food Recipes!
If you have tried these baby dinner recipes or any other recipe on my blog, then please rate it and let me know how it turned out in the comments below! You can also FOLLOW ME on FACEBOOK, TWITTER, INSTAGRAM, and PINTEREST to see more delicious, healthy, family friendly food!
6 responses to "45 Baby Dinner Recipes for A Happy Eater"