Guyanese Roti (Paratha Oil Roti Recipe)
This post may contain affiliate links. As an Amazon Associate, I earn from qualifying purchases. Please read my disclosure.
Guyanese roti is a popular flatbread in India and parts of the Caribbean, served alongside bold and flavorful dishes. Enjoy this hot and flaky flatbread with curries, meat stews, or slathered in butter! All you need is a hot skillet and a handful of simple ingredients.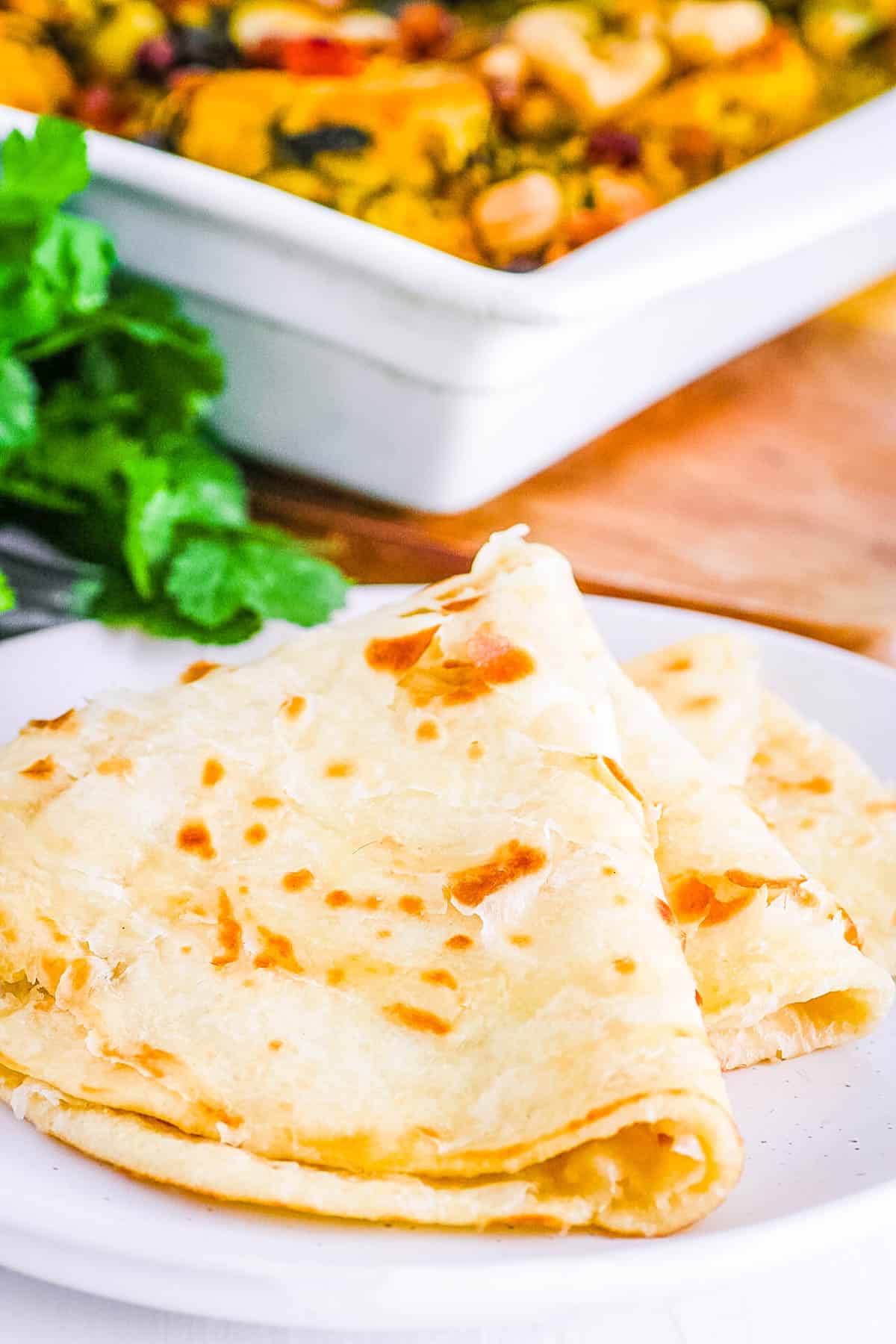 Guyanese oil roti is one of my favorite sides for chutney, stir-fries, and curry. Flour, baking powder, salt, water, and oil are kneaded together to create a soft dough. The dough is then rolled out and cooked in a hot skillet to create flaky layers.
Latest Recipe Video!
Guyana is a country in South America where roti is a popular staple served with any type of meat or stew. It's popular in other Caribbean countries like Trinidad, Tobago, Grenada, and Jamaica, but it originated in South Asia. It goes by different names with slight variations such as paratha roti and sada roti.
Guyanese roti and curry is a wildly popular combo, and for good reason! The rich and fragrant taste of curry powder complements the mild taste of the paratha. It's the perfect vehicle to sop up all the leftover sauce! While this paratha roti recipe requires many steps, they are all very simple!
👩‍🍳 Why This Recipe Works
Authentic recipe
Simple recipe made with pantry staples
Use it to sop up sauce
Delicious roti, Guyanese style!
Made with only 5 ingredients
Best roti to make at home
Easy to follow recipe
🥘 Guyanese Roti Ingredients
This easy Guyanese oil roti requires only five pantry staples! Find the full list of ingredients and nutrition facts at the bottom of this post within the recipe card.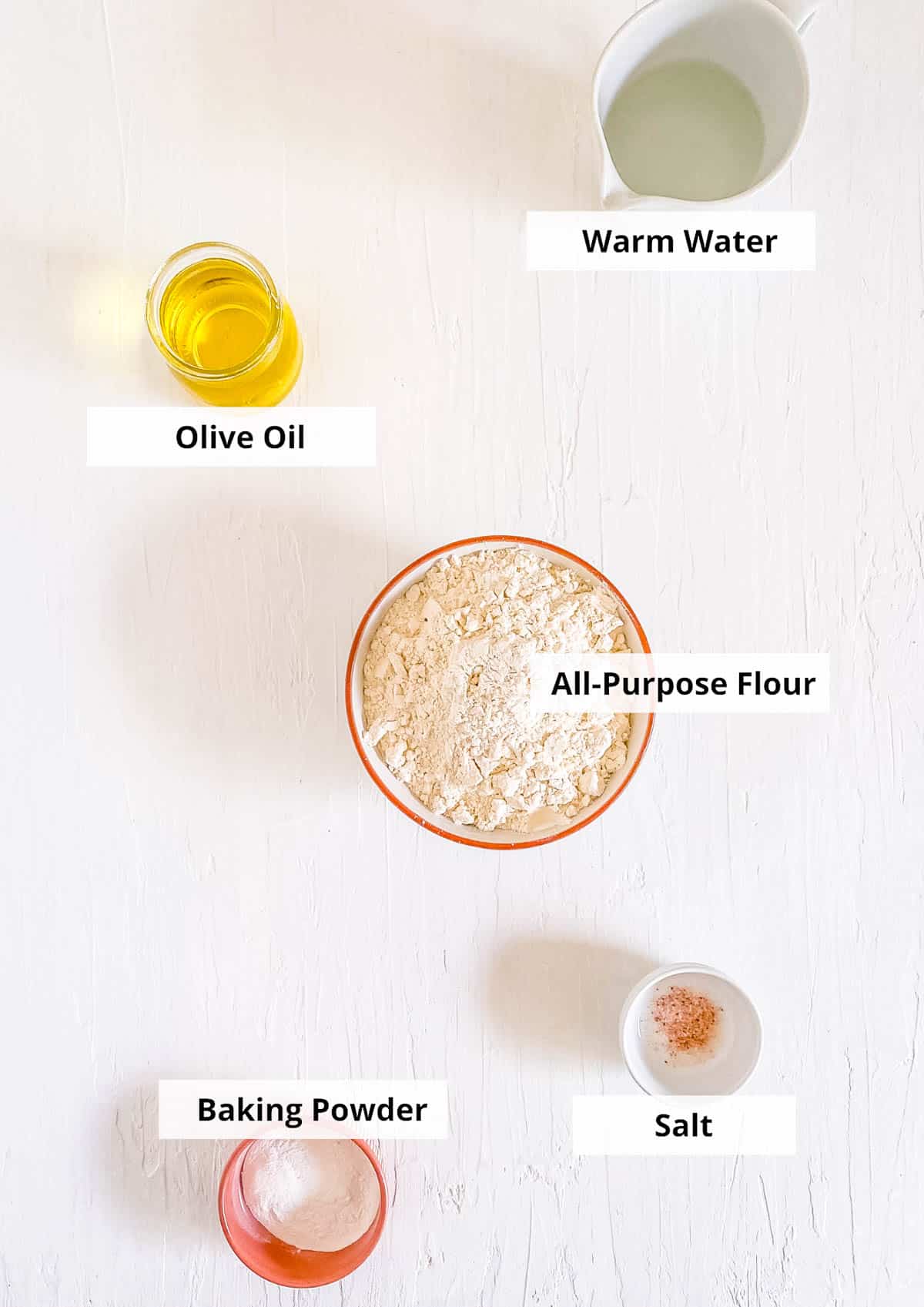 All-Purpose Flour: The base of this Guyanese roti recipe is all-purpose flour. Feel free to replace 3/4 cup with whole wheat flour for a nutty flavor and more fiber.
Baking Powder: Baking powder is a leavening agent that creates carbon dioxide bubbles. This causes the air pockets and bubbles once it hits the hot pan.
Salt: Bread is bland without a small amount of salt! Don't leave it out.
Warm Water: Water moistens the flour to create the roti dough.
Oil: Oil creates a soft roti that's not stiff or dry. Use a neutral flavored oil like canola or vegetable oil, or ghee works great too.
📖 Variations
Gluten-Free Roti: Replace the all-purpose flour with a 1:1 gluten-free all-purpose flour blend. My favorite brand is Bob's Red Mill 1:1 All-Purpose Flour in the blue bag.
Guyanese Oil Roti With Yeast: While yeast isn't a traditional ingredient, it ensures the paratha stays soft and flaky. Add 1/4 teaspoon of rapid rise yeast to the dry ingredients then follow the recipe as directed.
🔪 How To Make Guyanese Roti
Here's how to make the best paratha oil roti dough!
Whisk Dry Ingredients: In a large bowl, whisk the all-purpose flour, baking powder, and salt.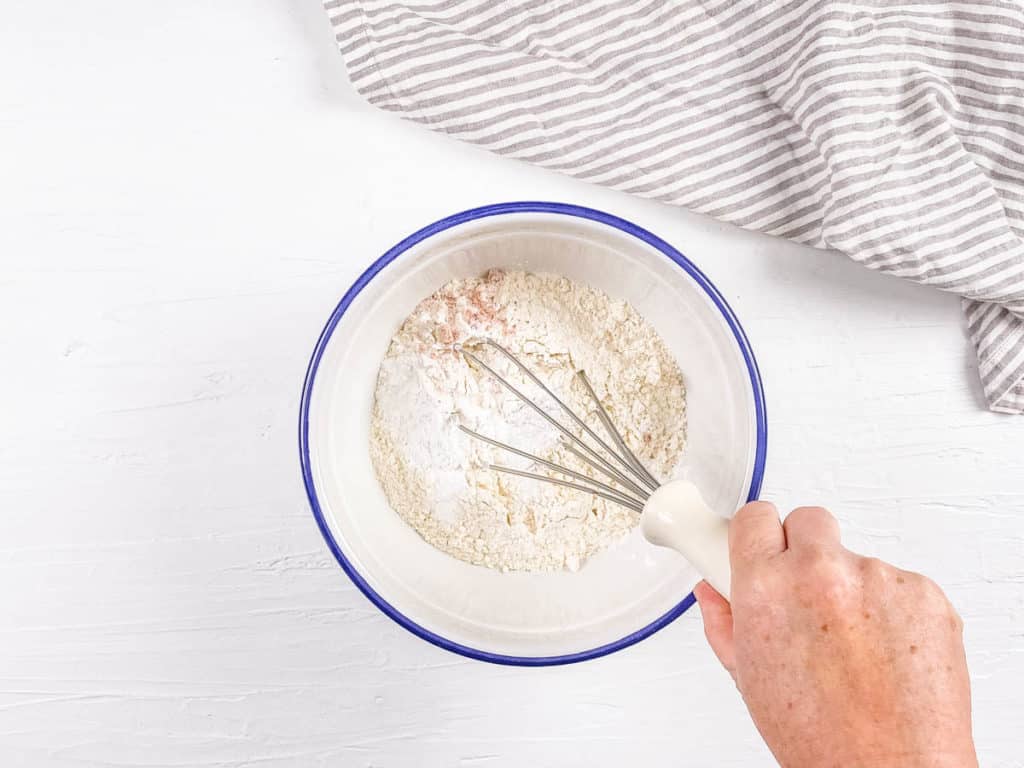 Make Dough: Add enough water to create a sticky dough. Use a rubber spatula or your bare hands to combine the mixture. Add more water if the dough is dry.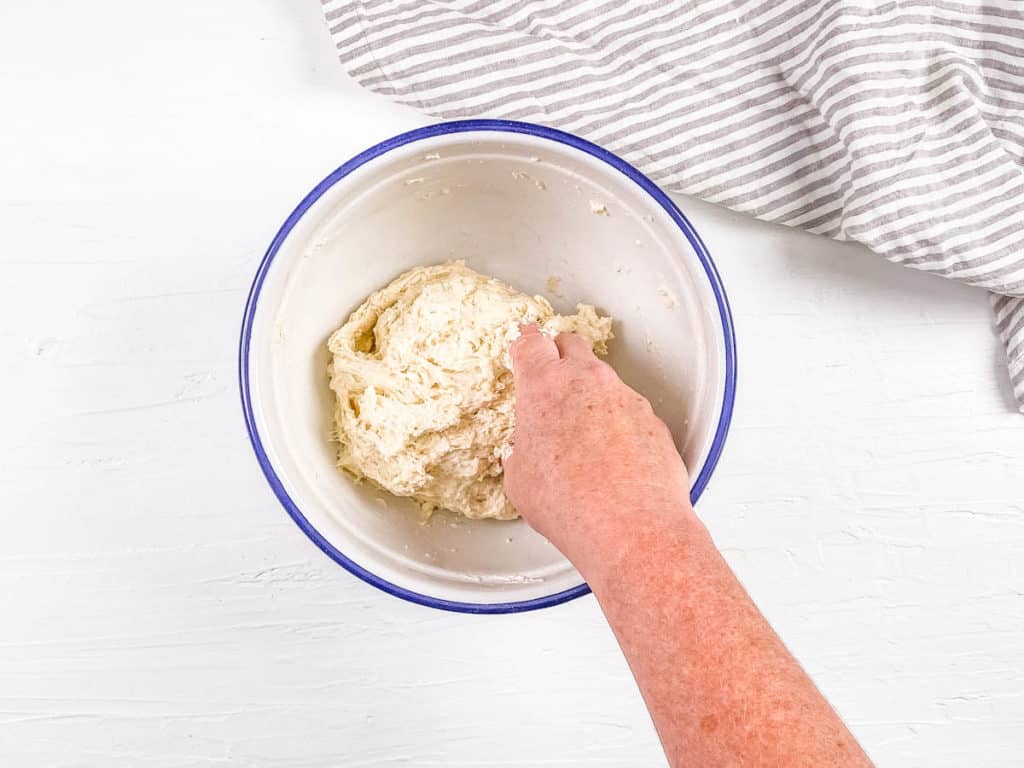 Knead Dough: Sprinkle flour onto your work surface and place the soft dough on it. Knead for 2 to 3 minutes.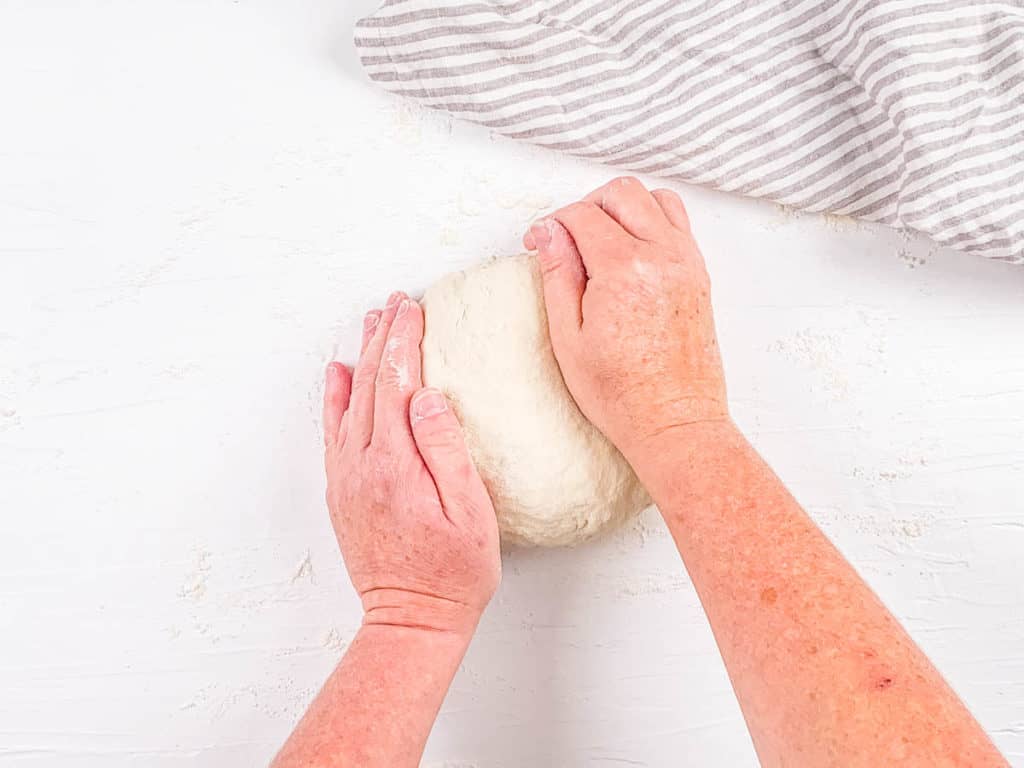 Let Dough Rest: Cover with a damp paper towel and let the dough rest for 30 minutes.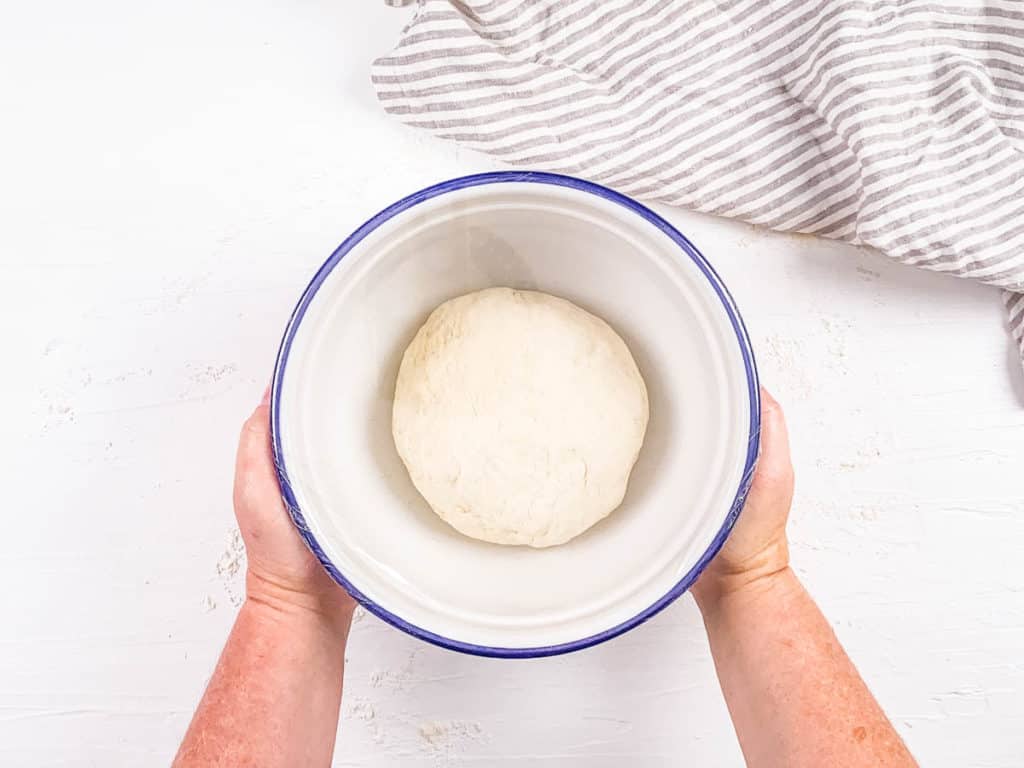 Cut Dough: Cut the dough into 5 equal pieces.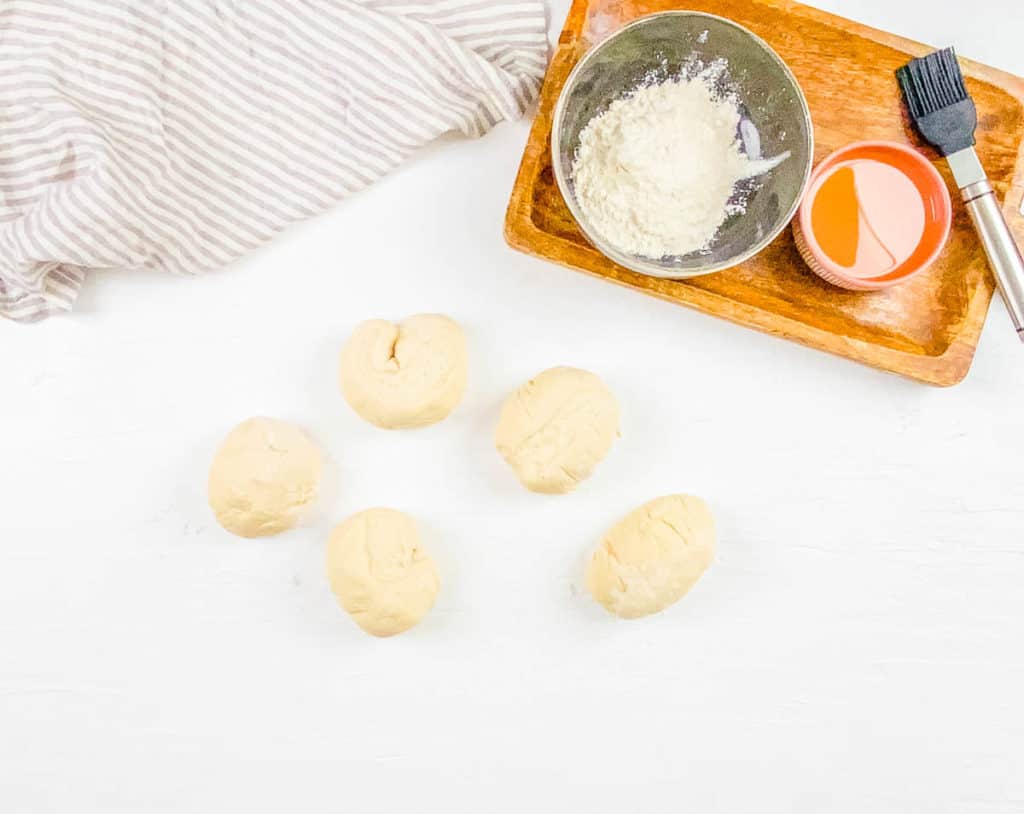 Roll Dough: On a lightly floured work surface, use a rolling pin to roll one of the small balls into a thin, flat circle.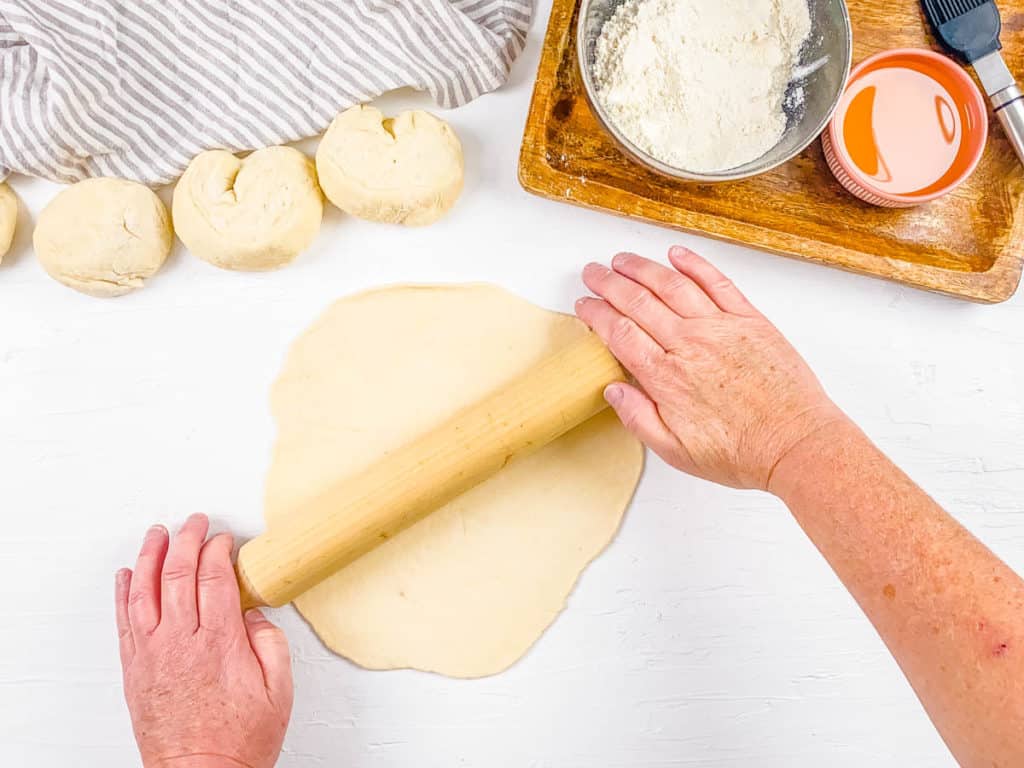 Brush With Oil: Brush a thin layer of oil over the top of the dough.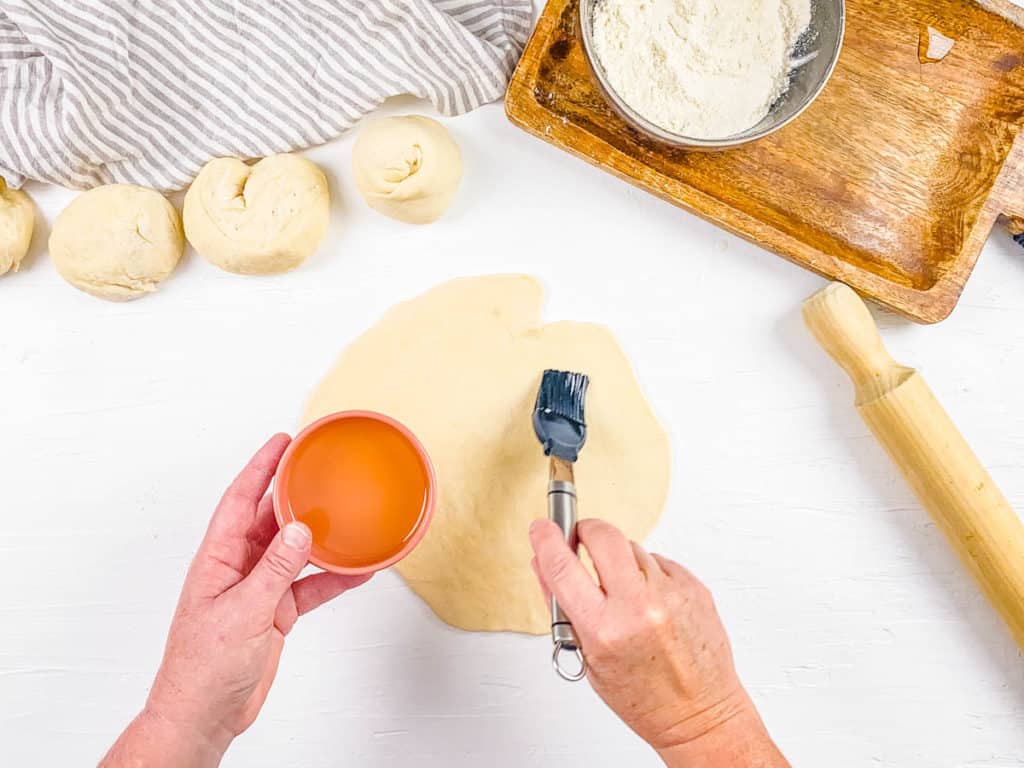 Cut the dough: Use a sharp knife to cut the dough from the center to the edge.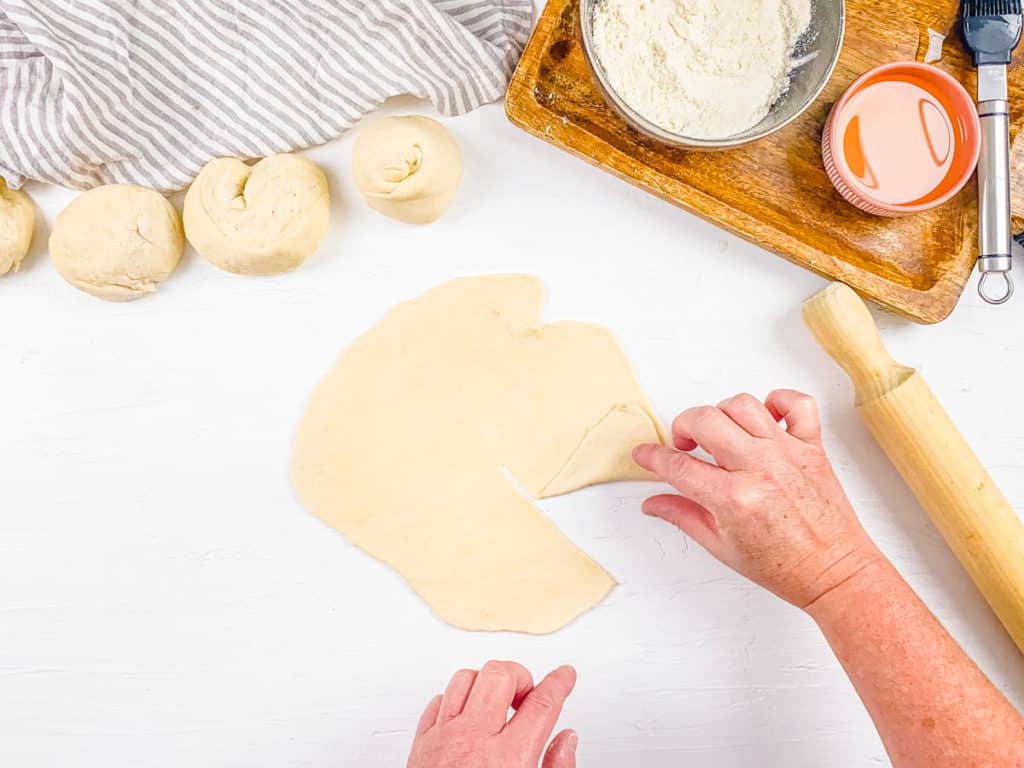 Form Cone & Repeat: Roll the dough into a cone shape by tucking the edges into the center. Repeat with the rest of the dough balls.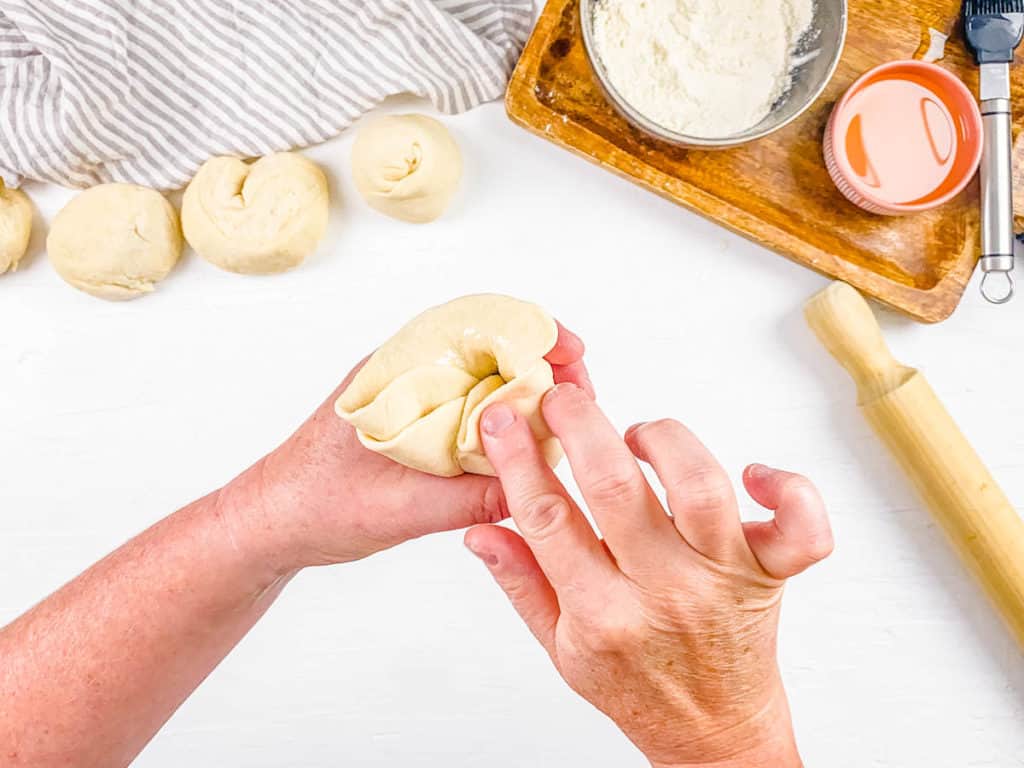 Let Dough Rest: Cover the dough with a damp cloth and let it rest again for 30 minutes.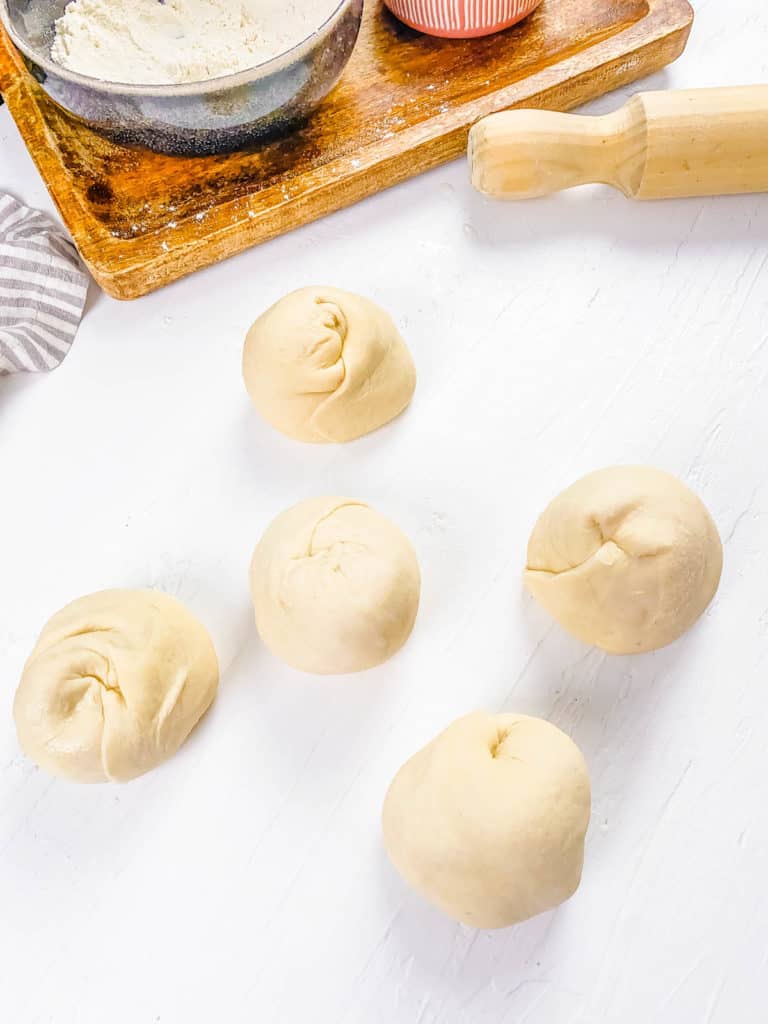 Roll Dough Again: Preheat a large nonstick or cast iron skillet over medium high heat. Sprinkle work surface with extra flour and roll one of the dough balls into 1/8 inch thickness.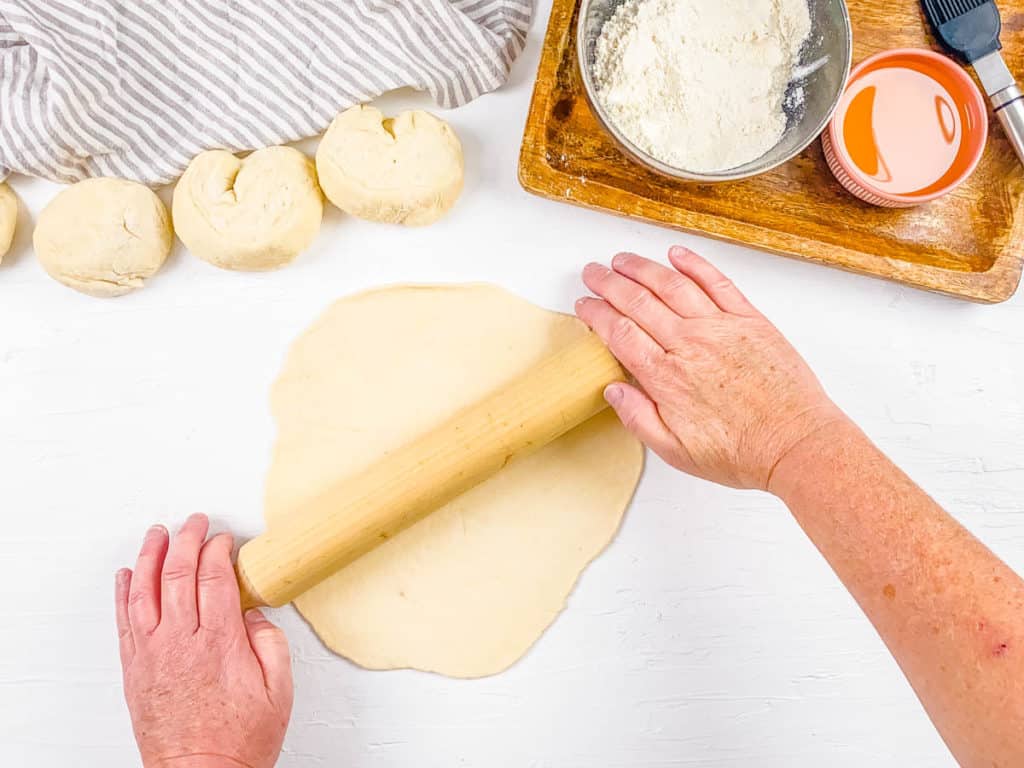 Cook Roti: Cook the roti on the hot frying pan until small air pockets form, about 30 seconds. You should see light brown spots forming too.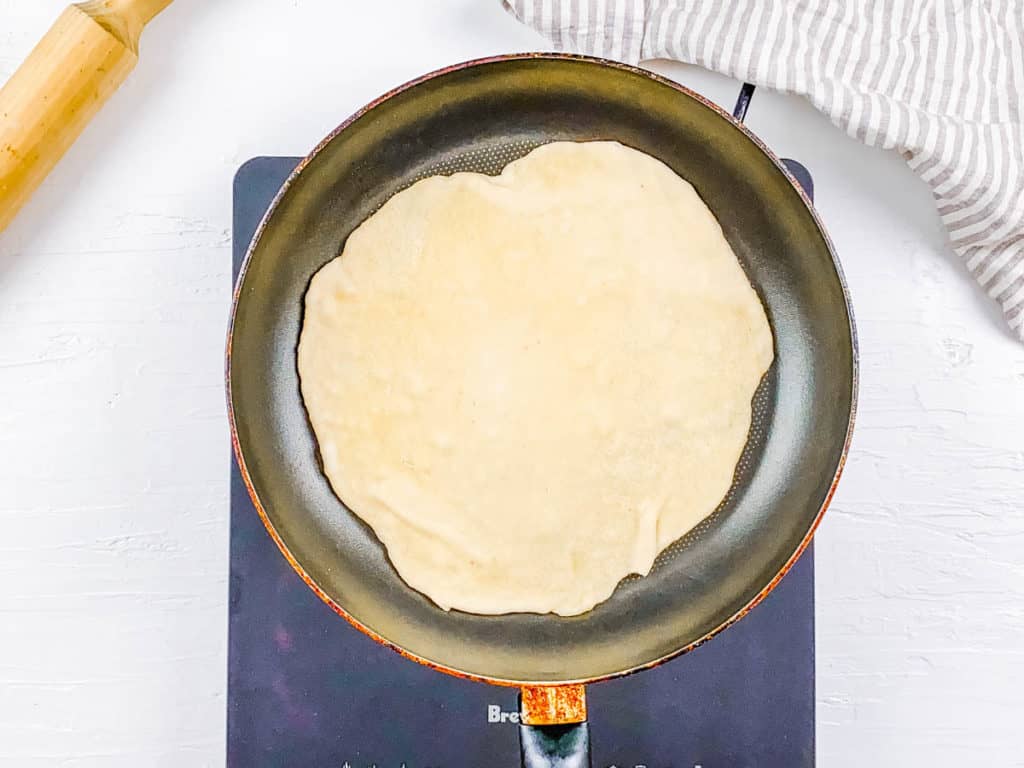 Flip Roti: Carefully turn the hot roti over and brush with oil. Cook for another 30 seconds then flip it over one more time. Lightly brush the top with oil as it cooks for 30 more seconds.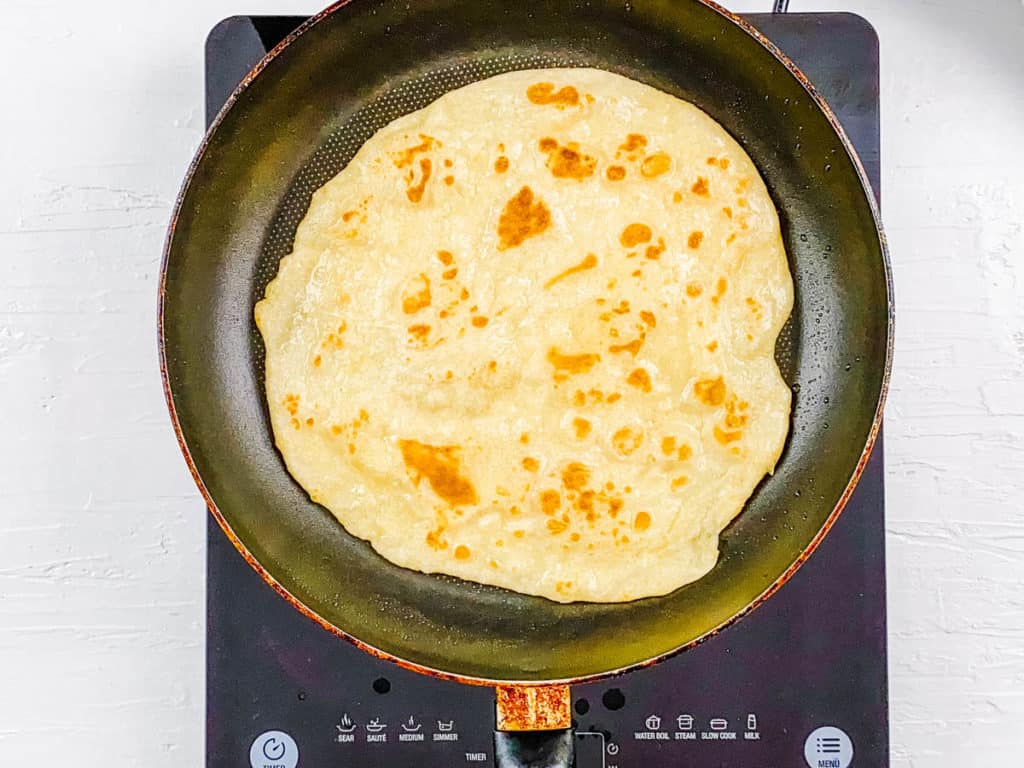 Clap The Roti: Remove the Guyana roti from the heat and place in a container with a lid. Shake for a minute or so to loosen the layers.
Serve Warm: Enjoy warm with your favorite curry dish!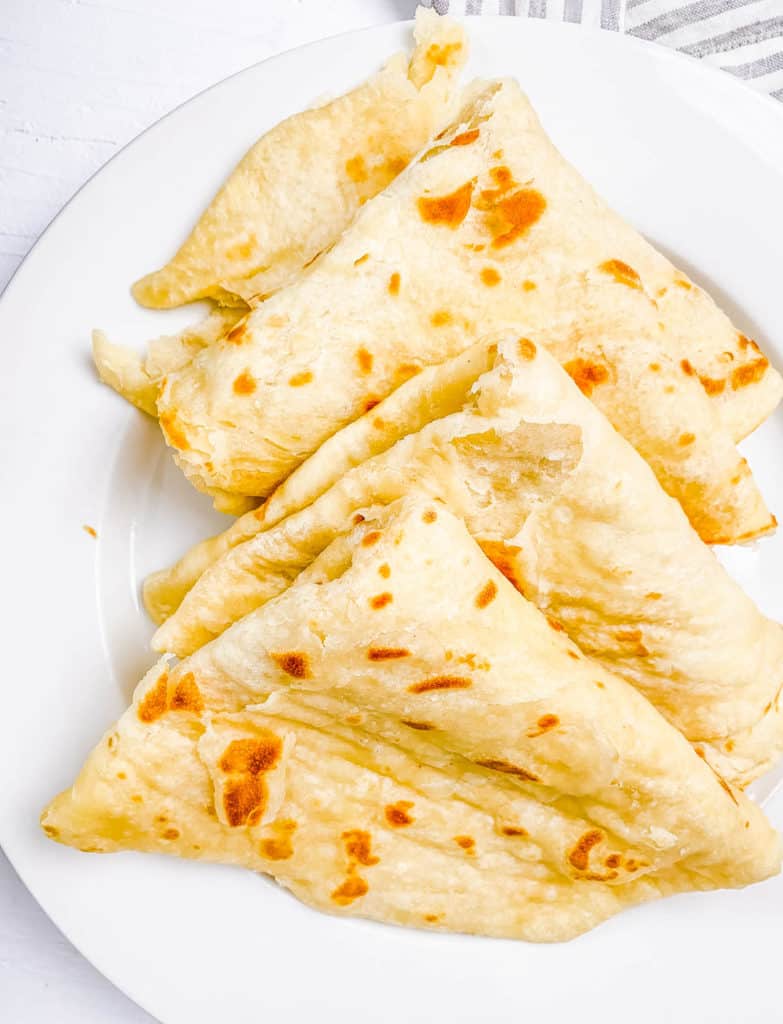 ❓ Recipe FAQs
What does it mean to clap the roti?
Clapping is a Guyanese term that means to throw the roti into the air and clap it with the palms of your hands. It's intended to release any air bubbles and create a flaky roti!
Do I need yeast for making roti?
No, Guyanese style roti isn't traditionally made with yeast. It's an optional ingredient that ensures the paratha comes out soft and flaky, especially if it's your first time making it.
What's the best pan for cooking Guyanese roti?
Traditionally Guyanese paratha (oil) roti is cooked on a tawa, a large round cast iron pan. If you don't have a tawa, a large cast-iron skillet or crepe pan work great too.

What type of fat should I use for Guyanese style roti?
Any neutral flavored fat works great. I recommend canola oil, vegetable oil, or ghee, a clarified butter with a nutty, caramelized flavor.
💭 Expert Tips
Be sure to let the dough rest. If the dough is difficult to roll out or springs back, it needs to rest longer.
Prepare the dough up to 3 days ahead of time. Store in the refrigerator in an airtight container until ready to use. Let the dough come to room temperature, then cook as directed.
Store cooked paratha wrapped in a clean towel inside a zip-top bag for up to 4 days.
Reheat Guyana roti in the microwave in 10-second increments until just warm.
The flour to water ratio is vital to a perfect roti. The dough should be sticky and not dry, but easy to handle.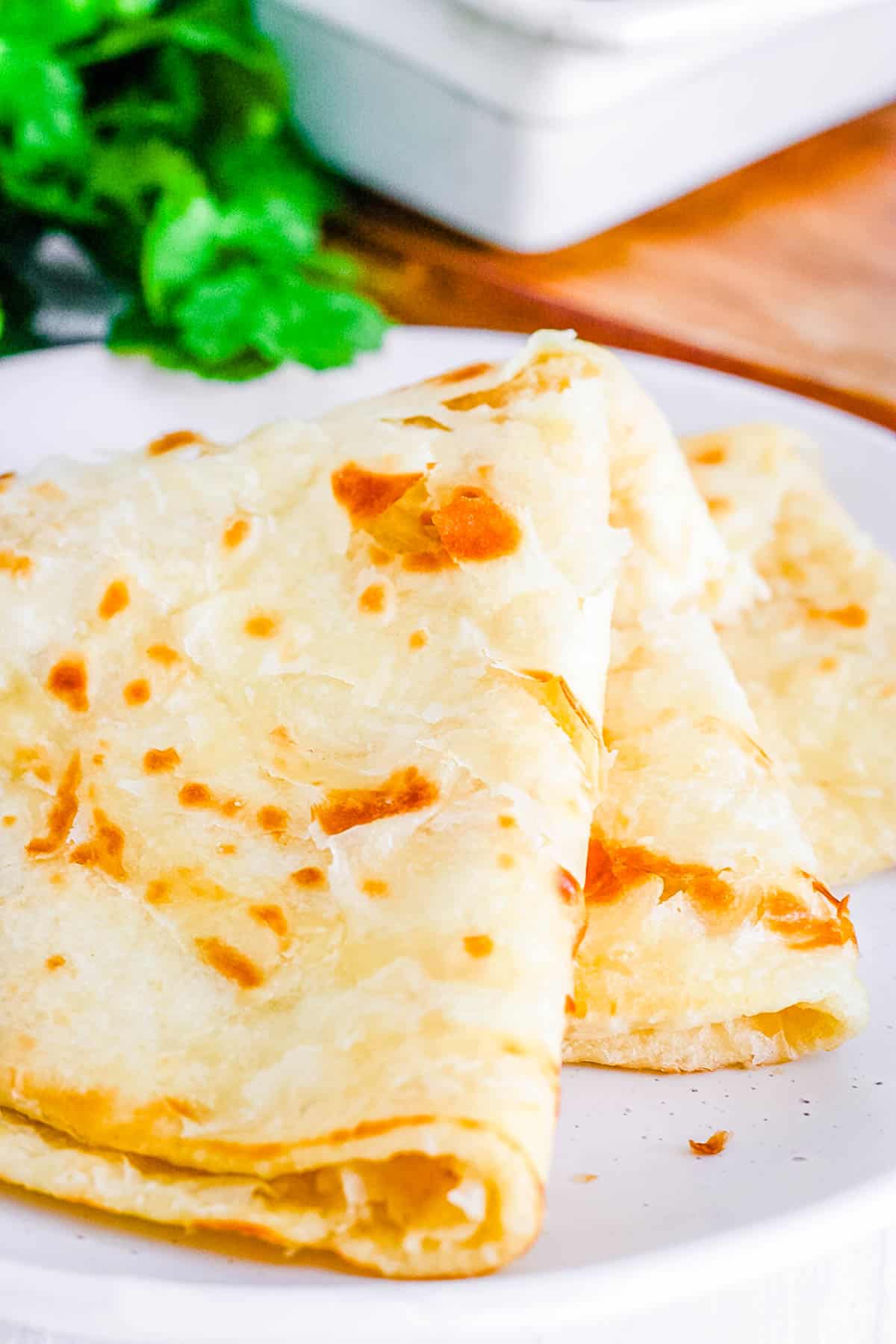 🍲 More Delicious Curry Recipes!
LOVE THIS RECIPE? Please leave a 5-star rating 🌟 in the recipe card below and/or a review in the comments section further down the page!
You can also FOLLOW ME on FACEBOOK, TWITTER, INSTAGRAM, and PINTEREST to see more delicious, healthy, family-friendly food, and if you have any questions, I'm here to help!
📋 Recipe Card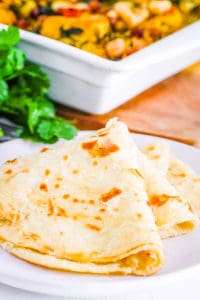 Print Recipe
Guyanese Roti Recipe
Guyanese roti is a popular flatbread in India and parts of the Caribbean, served alongside bold and flavorful dishes. Enjoy this hot and flaky flatbread with curries, meat stews, or slathered in butter! All you need is a hot skillet and a handful of simple ingredients.
Instructions
Whisk together the flour, baking powder and salt.

Add 1 cup of warm water and mix to form a slightly sticky dough. Add additional water if the dough is too dry.

Place the dough on a lightly floured surface and knead for 2-3 minutes.

Cover and rest the dough for 30 minutes.

After the dough has rested, cut into 5 equal parts.

Take one ball of dough and roll it out thin on a lightly floured bench.

Brush a thin layer of oil over the top surface of the dough.

Using a knife cut the dough from the center to the outside edge.

Roll the dough to form a cone, tucking the ends into the center.

Repeat with remaining dough.

Cover and allow the dough to rest for a further 30 minutes.

Preheat a large skillet over medium heat.

Roll one dough ball on a lightly floured surface to approx ⅛ inch thickness.

Cook on the preheated skillet until small air pockets/bubbles start to form, approx 30 seconds.

Turn the roti over and brush lightly with oil. Cook for a further 30 sec and flip the roti over again to cook for another 30 seconds. Lightly brush with oil.

Remove from the heat and 'clap' the roti. This can be done with your hands however many find the roti too hot to handle so you can place the roti in a container with a lid and shake it for 1 minute to loosen the layers and release the air pockets.

Serve warm with your favorite curry.
Notes
Add the water in stages when mixing the dough. You want the dough to be slightly sticky but not dry.
Resting the dough helps the dough to relax making it easier to roll.
You may want to keep the dough covered with a damp towel when not working with it to stop it from drying out if you are in a warm climate.
Keep the cooked roti warm while cooking the remaining dough.
Roti is best served warm.
Substitute all-purpose flour for gluten-free flour to make this recipe gluten-free.
Leftover roti can be stored, covered, in the fridge for up to 4 days. Microwave for 30 – 40 seconds to reheat.
Nutrition
Calories:
427
kcal
|
Carbohydrates:
48
g
|
Protein:
6
g
|
Fat:
23
g
|
Saturated Fat:
2
g
|
Polyunsaturated Fat:
7
g
|
Monounsaturated Fat:
14
g
|
Trans Fat:
1
g
|
Sodium:
238
mg
|
Potassium:
229
mg
|
Fiber:
2
g
|
Sugar:
1
g
10 responses to "Guyanese Roti (Paratha Oil Roti Recipe)"