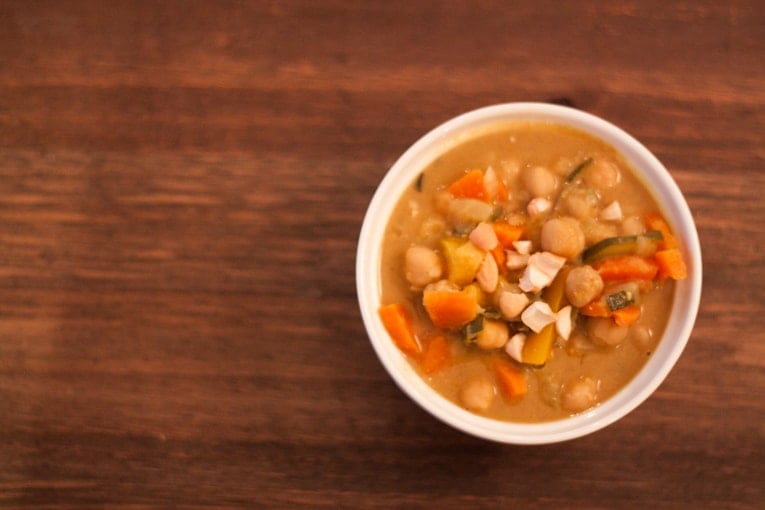 Sauces made with nut butter are a total hit in this house. The husband loves them, Layla loves them, these types of sauces are super easy to make and they are rich and delicious while still being healthy! Win-win.
This particular curry uses chickpeas instead of the traditional tofu that you'd see in a Thai curry, and I really enjoyed the change of pace. It's packed with flavor thanks to the garlic, onions, and warm spices like cumin, cardamom and coriander. Ground peanut powder adds a richness without all of the calories of peanut butter (more on that in a sec!), and coconut milk turns that peanut powder into a creamy, thick sauce that all of the veggies and chickpeas just soak right up.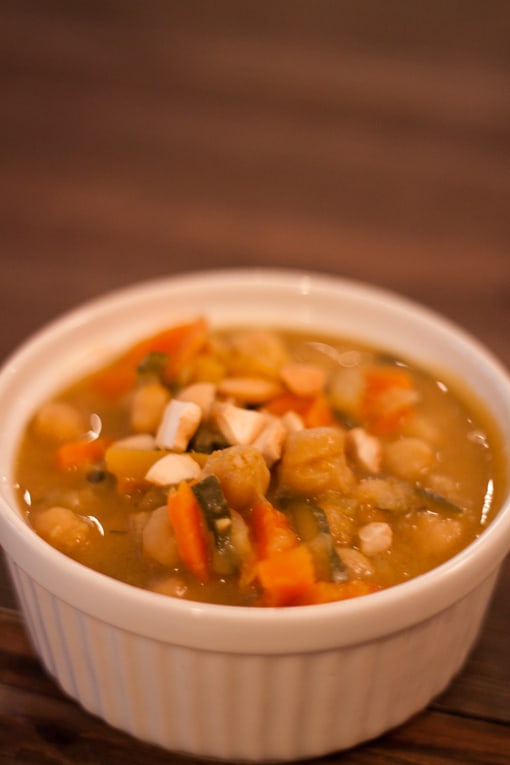 You can serve it over brown rice, quinoa, eat it as a "stew" on its own, or serve it with naan or roti! It's really versatile and a one-pot dish, which makes clean-up that much easier. I topped ours with roasted chopped cashews, and we ate it with brown rice on the side.
But my secret ingredient for this recipe is this amazing Peanut Protein Powder from Naked Nutrition. (Just a little tip – I'm giving away some free Naked Nutrition products here!) Unlike most of the low calorie peanut butter options like BetternPeanutButter or PB2 which are either super processed with tons of random ingredients, and have added sugar, Naked Nutrition's peanut protein powder has just one ingredient: Roasted Peanuts! There is no added sugar, salt, artificial sweeteners, flavors, thickeners, or colors. 2 tbsp have only 50 calories, 6g protein and 2g fiber. It's the perfect addition to anything you need peanut flavor for but don't want all of the calories of regular peanut butter!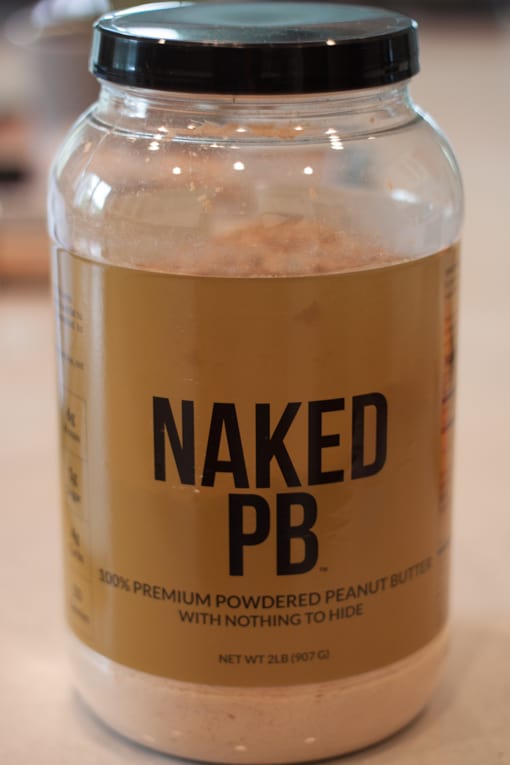 This ingredient added such a richness to the curry, it felt like I was eating a dish that had been cooking all day long. This recipe makes a TON of food, so we ate this for leftovers later in the week and then I also froze a big batch to save for later (it freezes great!) Hope you enjoy this recipe as much as we did!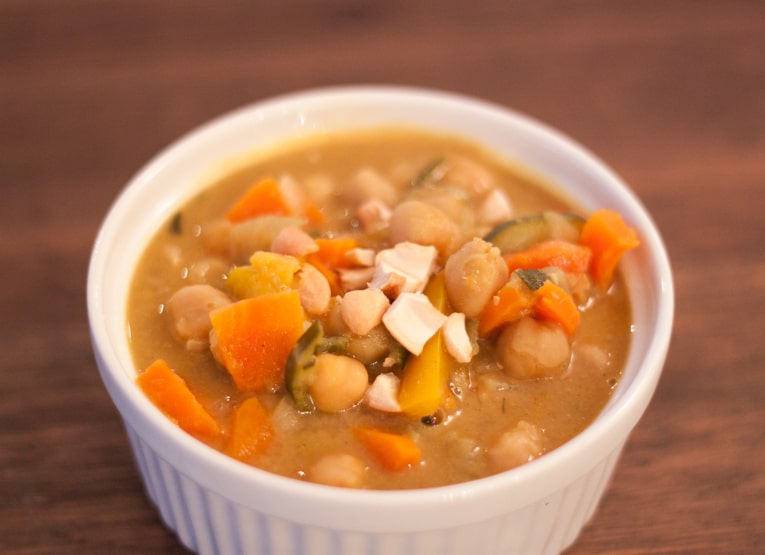 Thai Peanut Curry with Chickpeas
Nutritional Info Per Serving: 194 Calories, 3.7g Fat (1.5g Saturated), 495mg Sodium, 34.8g Carbs, 7.4g Fiber, 3.8g Sugar, 7.3g Protein
Ingredients
1

red onion

diced

10

cloves

of garlic

minced

1

inch

piece of ginger

minced

1

tsp

olive oil

3

tsp

ground cumin

3

tsp

ground coriander

1

tsp

cinnamon

1

tsp

cardamom

1/8-1/4

tsp

cayenne

1

tsp

turmeric

4

tbsp

ground peanut powder

2 15

oz

cans light coconut milk

1/2-1

cup

low sodium vegetable broth

2

yellow peppers

sliced

4

carrots

cut into quarters and sliced

3

zucchini

cut into quarters and sliced

3 15

oz

cans of chickpeas

½

tsp

salt

or more to taste

2

tsp

brown sugar

Chopped Roasted Cashews

1 tsp per serving
Instructions
Heat olive oil in a large pan over medium heat. Add onions, garlic and ginger and saute until the onions are translucent.

Add all of the spices and let them toast for 1 min, stirring constantly

Add the coconut milk and peanut powder

Add rest of the ingredients (broth through sugar)

Bring to a boil, cover and reduce to a low simmer for at least 30 minutes, but the dish can be simmered as long as 1-2 hours

Top each serving with 1 tsp chopped roasted cashews
TAGS: entrees, gluten-free, indian recipes, kid friendly recipes, thai recipes, vegan, vegetarian
6 responses to "Thai Peanut Curry with Chickpeas"