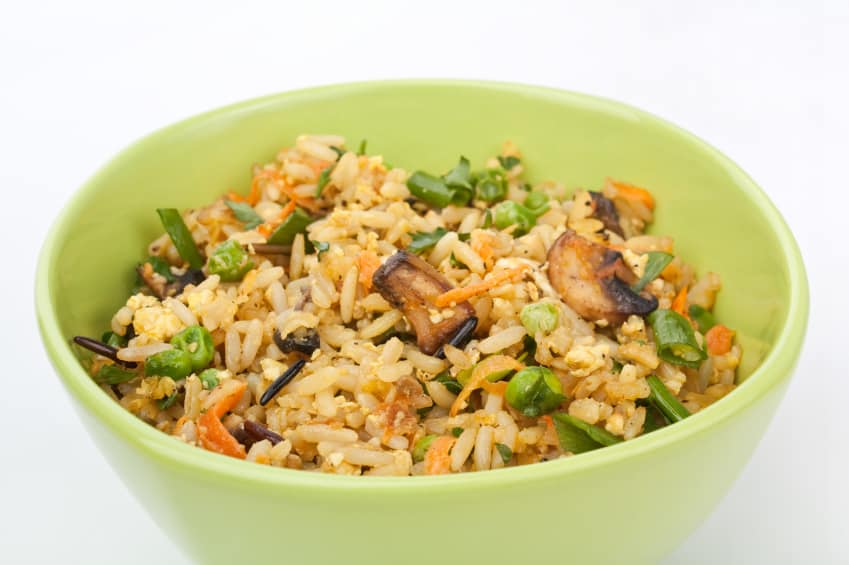 Fried rice has always been one of mine and the husband's favorite Asian dishes. I usually avoid it at restaurants because it's just full of fat, made with white rice (empty calories!) and is so easy to eat a ton of without even realizing it. I was convinced that I could make a healthier version of fried rice that still tasted as sinful as the original recipe. The husband was skeptical.
But with a few secret swaps: tofu and edamame for the egg/meat traditionally used, and brown rice instead of white rice — this recipe turned out great! Thanks to the veggies, lean protein and healthy grains, this dish is also a one-pot meal. Hope you like it as much as we did!
Healthy Fried Rice with Edamame, Veggies, and Tofu
Nutritional Info Per Serving: 240 Calories, 5.8g Fat (1g Saturated), 320.2mg Sodium, 38.3g Carbs, 4g Fiber, 2.7g Sugar, 9.5g Protein
Ingredients
1

tbsp 

olive oil

3

large cloves garlic

minced

1

tbsp 

minced ginger

1/2

cup

- 3/4 cup diced red onion

4

cups

leftover cooked brown rice

or freshly cooked minute brown rice

3/4

cup

finely diced red pepper

Equals about 1 red pepper

1/8

cup

frozen peas

1/4

cup

shredded carrots

3/4

cup

cooked

shelled edamame (I use the frozen kind and just defrost it - works great)

1/2

cup

fresh or frozen

thawed, corn

6

ounces

firm tofu

cut into 1/4-inch cubes 

3

tbsp 

low-sodium soy sauce

2-3

tbsp 

Thai Red Curry Sauce

I use Trader Joe's version

1/8

cup

sliced green onion

for topping
Instructions
Heat 1 tablespoon of oil in a wok or large skillet until very hot (over medium high heat)

Add the garlic, red pepper, onion, and ginger and cook, stirring, until softened and aromatic, about 2 to 3 minutes.

Add the rice, edamame, corn, carrots, peas and tofu and cook, stirring, until heated through, about 5 minutes.

Add the soy sauce and incorporate thoroughly

When cooking is almost complete, add the Thai Red Curry Sauce and top with green onion. 
TAGS: asian recipes, entrees, gluten-free, kid friendly recipes, quick meals, vegan, vegetarian
28 responses to "Healthy Vegetable Fried Rice"