37 Rice Cooker Recipes
This post may contain affiliate links. As an Amazon Associate, I earn from qualifying purchases. Please read my disclosure.
These 37 rice cooker recipes offer something for everyone, with vegetarian, vegan, and gluten-free ideas! Whether you are craving a healthy breakfast, wholesome dinner, or sweet dessert, a rice cooker can get the job done and save you time and energy. With this helpful list, you'll have a delicious meal or snack prepared with minimal effort!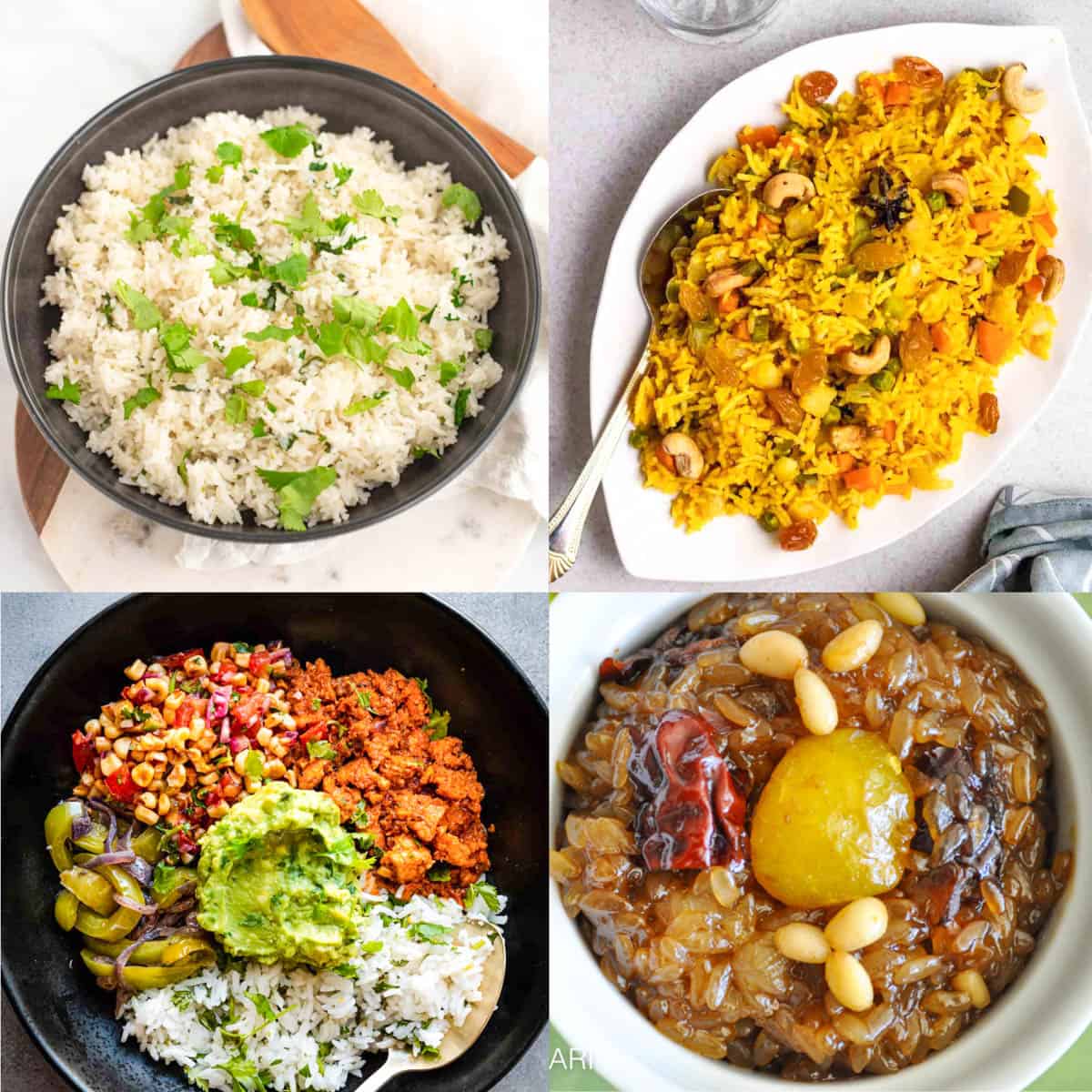 While this list of rice cooker dishes will focus mostly on rice-based recipes, you can also find inspiration for oatmeal, pancakes, eggs, burrito bowls, and so much more! Sure, rice cookers do make the perfect rice, but the options definitely do not end there. Keep reading to learn about all the fun and tasty things to cook in a rice cooker!
First on the list is this fragrant Indonesian rice, which will fill your home with the lovely aroma of coconut, lemongrass, and ginger. This is one of the best rice cooker ideas to try out when you're craving something new and unique!
Vegans and non-vegans can both enjoy this nasi uduk betawi, as it is customizable and can be paired with a range of proteins like tofu or chicken. It's gluten-free, too!
Ready in under 30 minutes, this healthy and flavorful rice dish is the perfect meal for a busy weeknight. Plus, it's budget-friendly and full of nutrients.
Calories: 424 — Fiber: 2 grams — Protein: 10 grams
Thanks to its perfect balance of fluffy rice and robust flavor, this Mexican rice cooker recipe will quickly become a new favorite in your household.
Made with gluten-free and plant-based ingredients, this simple recipe can be enjoyed by many.
It is the perfect side dish to pair with tacos, burritos, enchiladas, or nachos. Requiring only 5 minutes of prep time and 30 minutes of cooking time, it is easy to see why it's a fan favorite.
Calories: 170 — Fiber: 1 gram — Protein: 3 grams
With just a handful of ingredients, you'll have one of the tastiest rice cooker desserts ever!
Being that this contains honey and soy sauce, it is not naturally vegan or gluten-free but if you have any dietary restrictions you can definitely make adjustments. Swap the honey for molasses and use coconut aminos.
Everyone will be so impressed with this sweet rice! While it does require more time than other recipes on this list, it is totally worth it!
Calories: 266 — Fiber: 2 grams — Protein: 4 grams
Making cilantro lime rice has never been easier, thanks to the rice cooker! It is a real treat for the taste buds with the fragrant cilantro and tangy lime juice.
If you've been wanting to make burrito bowls a little more exciting, this is a great option for you. The simple ingredients are all vegan and gluten-free, too!
In just 30 minutes you will have perfect white rice loaded with fresh citrus flavor. Be sure to add this to your list of simple rice cooker recipes to try!
Calories: 171 — Fiber: 1 gram — Protein: 3 grams
You only need jasmine rice, coconut milk, salt, and water to make this easy recipe! In just 25 minutes, you'll have one of the best rice cooker recipes packed with irresistible coconut flavor.
If you love rice, but have been craving something a little more exciting and flavorful, you definitely need to give coconut rice a try!
I love how many recipes it can be paired with and find it especially delicious with Thai food! Try it out with yellow curry or pad thai as the main course.
Calories: 355 — Fiber: 1 gram — Protein: 6 grams
You'll have a healthier alternative to fried rice, made in the rice cooker. The best part? This savory one-pot fried rice only takes 10 minutes of prep time.
This simple dish is made with Chinese sausage, chicken broth, soy sauce, egg, butter, and fish sauce. However, if you have dietary restrictions, you could definitely make this recipe both vegan and gluten-free with a few changes.
You will love the blast of umami flavor that is infused into this rice! It is a must to add to your list of easy rice cooker meals!
Calories: 367 — Fiber: 2 grams — Protein: 13 grams
Ready to enjoy in under one hour, this warm and comforting vegetable biryani is a must try! If you've been wanting to cook more meals in a rice cooker, let this be the inspiration to get you started.
It is made with all vegan ingredients and can serve 8, making it a perfect choice for a meal with family or hosting a special dinner.
With a fragrant blend of spices like turmeric powder, cinnamon, ginger, cardamom, bay leaf, and chili powder, it is easy to see why this is a total crowd-pleaser. Everyone will be coming back for seconds with this easy weeknight dinner.
Calories: 260 — Fiber: 4 grams — Protein: 6 grams
This tasty burrito bowl is ready to eat in just 30 minutes. Cilantro-lime rice is accompanied by fajita veggies, guacamole, and an optional charred corn and tomato salsa.
With a customizable recipe like this, you can keep things vegan using black beans or sofritas. If you want some meat, add grilled chicken or carne asada.
This bowl is nutrient-rich and perfect for meal prep! Make it for lunch or dinner, and save the leftovers for the next day or two.
Calories: 261 — Fiber: 3 grams — Protein: 4 grams
This comforting and easy spanish rice only calls for a few key ingredients including a can of tomatoes, one small onion, cumin, and garlic powder. The warm spices paired with the fluffy rice, make this a fan favorite amongst easy rice cooker recipes.
Spanish rice is a great vegan, gluten-free side dish that can be transformed into a main dish with the addition of protein and some healthy fats like avocado.
I specifically love that this rice is so versatile. Throw it in enchiladas, burritos, tacos, and so much more.
Calories: 304 — Fiber: 3 grams — Protein: 7 grams
Have you been looking to venture into making healthy rice cooker recipes, but not sure where to start?
If you are brand new to cooking in the rice cooker, it is best to begin with the very basics! Follow along with these helpful step-by-step instructions for a basic rice recipe using 2 cups of rice and 4 cups water.
This 10 minute white rice is an easy way to practice using your rice cooker. From there, you can play around with different flavors and types of rice.
Calories: 338 — Fiber: 1 gram — Protein: 7 grams
This southwest-style quinoa requires only 2 steps: combine all ingredients in your rice cooker and then press start! It is so simple and will definitely become one of your new favorite rice cooker recipes.
Anyone who is short on time and needs something quick to whip up will love this recipe! While it cooks for one hour you can clean up or get other things checked off your list!
Easily mix in or top with all of your favorites, for a hearty, satisfying meal that everyone will enjoy.
Calories: 221 — Fiber: 9 grams — Protein: 10 grams
This list of rice maker recipes would not be complete without a sushi rice tutorial! It comes together just like regular rice, but at the end of cooking you will pour ​​seasoned vinegar over the cooked grains and toss gently.
This is a must-try recipe for anyone who is looking to level up their sushi with homemade rice! You can prepare all your other sushi ingredients while the rice cooks, and then assemble with seaweed and pair with a fun dipping sauce!
I think you'll be pleasantly surprised by how easy this sushi rice recipe is to make!
Calories: 178 — Protein: 3 grams
Rice cooker vegetable Thai curry is better than takeout! Not only is it healthier, but it is also loaded with cozy warm spices and creamy coconut milk.
This delicious dish includes fish sauce, which could be swapped for a vegan alternative. It also includes brown sugar, but feel free to omit this if you prefer a sugar-free recipe.
The next time you are craving comfort food, try out this fragrant rice cooker meal idea! It is easy, nourishing, and family-friendly.
Infuse long-grain rice with chicken broth, lemon juice, saffron, butter, and kosher salt for the most enticing, fragrant side dish!
This is the best recipe to try out if you want to level up plain white rice and impress guests! Use vegetable broth and plant-based butter for a vegan option, if needed.
Side dish recipes for a rice cooker have never been more tasty or easy! If you're already making white rice, this is a great way to take things up a notch with minimal effort.
Calories: 206 — Fiber: 1 gram — Protein: 4 grams
Rice cooker one pot meals don't have to stop at just rice based recipes! This mac & cheese is a delicious rice cooker meal that will hit the spot every single time.
This is a vegetarian's dream, loaded with medium cheddar and cream cheese. It takes a classic kid's dish and elevates it to something the whole family will enjoy.
You will love how quick this comes together, with only 20 minutes total from start to finish. Pair with so many different sides!
Calories: 511 — Fiber: 2 grams — Protein: 22 grams
Save time and money with vegan beans and rice! Using just one pot and budget-friendly ingredients, you get a winning side dish or main meal.
Naturally vegan and gluten-free, this is a versatile recipe that accommodates many dietary preferences.
With just 35 minutes, you will have a hearty, flavorful dish. Vegan rice cooker recipes like this definitely deserve a spot on your weekly meal rotation!
Calories: 300 — Protein: 8.5 grams
This is the easiest version of rice pudding ever! If you have been looking for dessert recipes for a rice cooker, you do not want to skip over this one.
It is sweet and creamy, to satisfy all your sugar cravings. If you love warm, comforting desserts then this is the one for you!
You only need 4 ingredients to make this dessert, and it is a lot healthier than processed store bought alternatives. Easily made vegan, too!
Calories: 328 — Protein: 9 grams
Combine brown rice with creamy coconut milk, turmeric, black pepper, garlic powder, onion powder, and salt for a simple vegan curry rice. Add in favorite veggies like broccoli and carrots, plus chickpeas for protein.
Unlike many vegetarian and vegan recipes, this one is also nut-free and soy-free! Regardless of your diet, you can likely enjoy this dish!
Ready and on the table in 30 minutes, you have an easy recipe that tastes great, satisfies everyone, and requires minimal clean-up.
Long grain rice, kidney beans, tomatoes, and garlic combine for one of the easiest meals to make in a rice cooker! You are sure to be obsessed with the flavor and simplicity of this recipe.
Whether you are vegan or simply looking to cut down on meat where you can, these red beans and rice are perfect! Plus, since it is ready in just 20 minutes it's the ultimate lazy dish for those tired days.
Thanks to the fiber and protein in this recipe, you'll feel full and satisfied! Pair with tortilla chips and guacamole for extra deliciousness.
Calories: 335 — Fiber: 10 grams — Protein: 14 grams
This cheesy broccoli rice is love at first bite. I'm warning you now, a pot of this rice will not last long in any household – it is that delicious!
Short-grain rice pairs with butter, cheese, garlic, onions, and broccoli for one of the creamiest gluten free rice cooker recipes around! Make it vegetarian by using vegetable broth instead of chicken broth.
While it is super easy to make in the rice cooker, you can also make this recipe in a slow cooker or Instant pot! Plus, you can play around with different types of cheese for new flavors.
This herb lemon rice recipe transforms simple ingredients into the most incredible side dish! Fluffy rice is seasoned with lemon zest and dried herbs, for bold flavor with every bite.
Basmati rice has a lower glycemic index, which is great if you are looking to reduce blood sugar spikes. Plus, this is naturally vegan and gluten-free.
With only 5 minutes of prep, there is no reason to not try this lemon rice! Add it to your list of rice cooker rice recipes, and make it the next time you want something equally easy and flavorful.
Calories: 207 — Fiber: 1 gram — Protein: 3 grams
Toss in the ingredients, press start, and walk away as this delicious turmeric rice cooks to perfection.
Turmeric is a great way to add anti-inflammatory foods into your diet! It has so many health benefits aside from its gorgeous golden color. Not to mention, this side dish is gluten-free and vegetarian.
If you love easy side dishes that add a pop of flavor and color to the dinner table, you are sure to love this rice!
Calories: 243 — Fiber: 1 gram — Protein: 7 grams
Nutritious and delicious, this apple cinnamon one pot oatmeal is the dream breakfast! It is warm and cozy for those colder fall and winter mornings, while also being customizable with seasonal fruit all year long.
It is gluten-free and vegan, as long as you use GF certified oats! The added cinnamon will also help to keep blood sugar levels at bay.
Who doesn't love a 30 minute breakfast? If you have busy mornings but still crave something healthy and hearty this oatmeal is perfect.
Calories: 292 — Fiber: 8 grams — Protein: 7 grams
Parmesan cheese, arborio rice, fresh garlic, and half and half are a few of the ingredients in this risotto that make it rich and creamy! In 40 minutes total you will have an easy side dish to pair with veggies and protein.
This is naturally gluten-free and vegetarian, lacking no flavor at all! It makes 4 servings so the whole family can enjoy this as part of a healthy lunch or dinner.
While higher in calories, I promise it is worth it! It is super customizable so you can swap out ingredients or add in some veggies for more dietary fiber.
Calories: 568 — Fiber: 3 grams — Protein: 17 grams
We've got another oatmeal recipe to feature on this list, but this time using cinnamon and brown sugar. A match made in heaven!
This easy recipe is vegan as is, so just use gluten-free oats if needed. Within 20 minutes you'll have 2 servings of oatmeal for a comforting breakfast.
While you probably expect rice recipes for rice cookers, I'm telling you it is absolutely perfect for creamy, cozy oatmeal. Give this nourishing dish a try!
Calories: 215 — Fiber: 6 grams — Protein: 6 grams
Rice cooker congee is a rice porridge that you can enjoy for breakfast or as comfort food when sick. With just 6 simple ingredients and 10 minutes of prep, this hands-off meal will easily become a new favorite!
While this recipe calls for chicken broth and chicken pieces, you can definitely play around with the ingredients and make it your own! It is super customizable and versatile to match all your dietary needs and preferences.
It is hot, cozy, and nourishing – what's not to love about this amazing congee?!
Calories: 70 — Fiber: 0.3 grams — Protein: 2 grams
Steel cut oats, water, and salt (optional) … that's all you need to make this basic oatmeal! From there, you can mix in your favorite fruits, toppings, nuts, and seeds.
All you oatmeal lovers, get excited for this new way of making oats! Instead of grabbing your pots and pans, simply put the ingredients together in the rice cooker for a convenient breakfast on those busy mornings.
If your rice cooker has delayed timer capabilities, you can prepare this oatmeal the night before and have it warm and ready to go in the morning!
There is something so fun and exciting about rice pilaf. It doesn't require much extra time or effort versus regular rice but has so much more flavor and texture.
This is a great gluten-free recipe to serve as a side dish for family dinner, or to bring to a party or special occasion.
Finely diced and chopped veggies will add a great boost of nutrients to the rice, parsley and vegetable bouillon powder come in with the flavor! As far as vegetarian rice cooker recipes go, this is an absolute winner.
Learn everything you need to know about how to cook hard-boiled eggs in a rice cooker with these helpful cooking tips! All you need is eggs, water, and a bowl of ice water for afterwards.
This is a great method to try out if you haven't had good luck with the traditional style for hard-boiled eggs. Making them in a rice cooker provides a more straight-forward, consistent result!
If you have a special occasion or brunch coming up, you'll love this easy approach for eggs! Whip together deviled eggs, egg salad, and so much more.
Mushroom lovers, this one's for you! Cream of Mushroom condensed soup combines with beef broth, sliced mushrooms, and rice for a rich, flavorsome side dish.
If you need an easy side or appetizer to serve your family or for hosting a party, this mushroom rice is a great choice. Try it out with shiitake mushrooms and green onions for a fun Asian flair.
Within 45 minutes you'll have a wholesome, hearty rice dish that makes a great alternative to mushroom risotto. It is a beautiful dish that you are sure to receive lots of compliments on.
Make the fluffiest Japanese style bread using the rice cooker! It has a light toast on the outside and subtle sweetness on the inside.
This is a great recipe for any bread lover out there! It is a fun swap for traditional buns and rolls to pair with breakfasts, soups, and more. Plus, it is vegan and can be made gluten-free!
It might seem daunting, but this is actually a super easy way to make bread. With 15 minutes of prep time and 30 minutes of cooking time, it is a no brainer to give this a try.
Calories: 160 — Fiber: 1.2 grams — Protein: 4.4 grams
Classic banana bread ingredients come together and bake in the rice cooker for about 90 minutes. This is such a fun and unique way to make a tasty quick bread for breakfast, snack, or dessert.
If you want a hands-off, comforting recipe, give this banana bread a try!
Banana bread has always been a favorite of mine, and making it in the rice cooker makes it extra fluffy and moist!
Japanese-style cheesecake is super fluffy and convenient, with no oven needed! It has a sweet cheese flavor and light texture.
For best results, I do suggest keeping the eggs and dairy but you can probably get away with using a gluten-free flour.
Within 1 hour you'll have a dreamy dessert to share with friends and family, as it serves 8! Or hide it away to enjoy all to yourself for a meal prep dessert.
Make an enormous, fluffy pancake in the rice cooker! This breakfast or brunch option is sure to bring a smile to your face and make your taste buds super happy.
It is made with all-purpose flour, baking powder, white sugar, eggs, and low-fat milk, for a fantastic vegetarian breakfast that can be topped with fresh berries, whipped cream, and maple syrup.
There really is no reason to not love this giant pancake! Not only is it visually appealing, it is filling and delicious too!
Calories: 222 — Fiber: 1 gram — Protein: 8 grams
This 25-minute, protein-packed vegan pasta recipe is about to become your new go-to meal!
Unlike many pasta dishes, this one is oil-free! Plus, it can be made with gluten free noodles and low sodium broth.
I love how nourishing and wholesome this recipe is, and you can make extra to have as leftovers for lunch the next day!
Calories: 346 — Protein: 15.6 grams
This beautiful chocolate cake is super easy to make! It pairs perfectly with a cup of coffee for a slow afternoon or as a sweet, decadent dessert after dinner.
You'll be happy to know that this rich, moist cake contains no eggs or dairy so it can be enjoyed by vegans and non-vegans alike.
If you're having one of those where your sweet tooth is calling out for dessert, look no further than this chocolate-y cake! Customize it with your favorite toppings like powdered sugar, vanilla glaze, or chocolate icing.
Calories: 155 — Fiber: 1 gram — Protein: 2 grams
Enjoy a one pot Indian dish made with rice, ripe tomatoes, spices & herbs! Pair with raita or plain yogurt for a healthy meal.
This is a great recipe for anyone who is short on time, as it only takes 25 minutes total.
I love the wholesome ingredients and simple steps for this tomato rice. It is definitely one of those easy one pot rice cooker meals you'll want to make on repeat!
Calories: 461 — Fiber: 3 grams — Protein: 7 grams
🍚 More Delicious Rice Based Recipes!
14 responses to "37 Rice Cooker Recipes"