Vegan Mincemeat
This post may contain affiliate links. As an Amazon Associate, I earn from qualifying purchases. Please read my disclosure.
Homemade vegan mincemeat with fresh & dried fruit, warm spices, and brandy! Enjoy it inside mince pies, on top of vegan ice cream, or mixed into your favorite muffins. It makes an extra-sweet gift around the holidays, but is also delicious any time of year!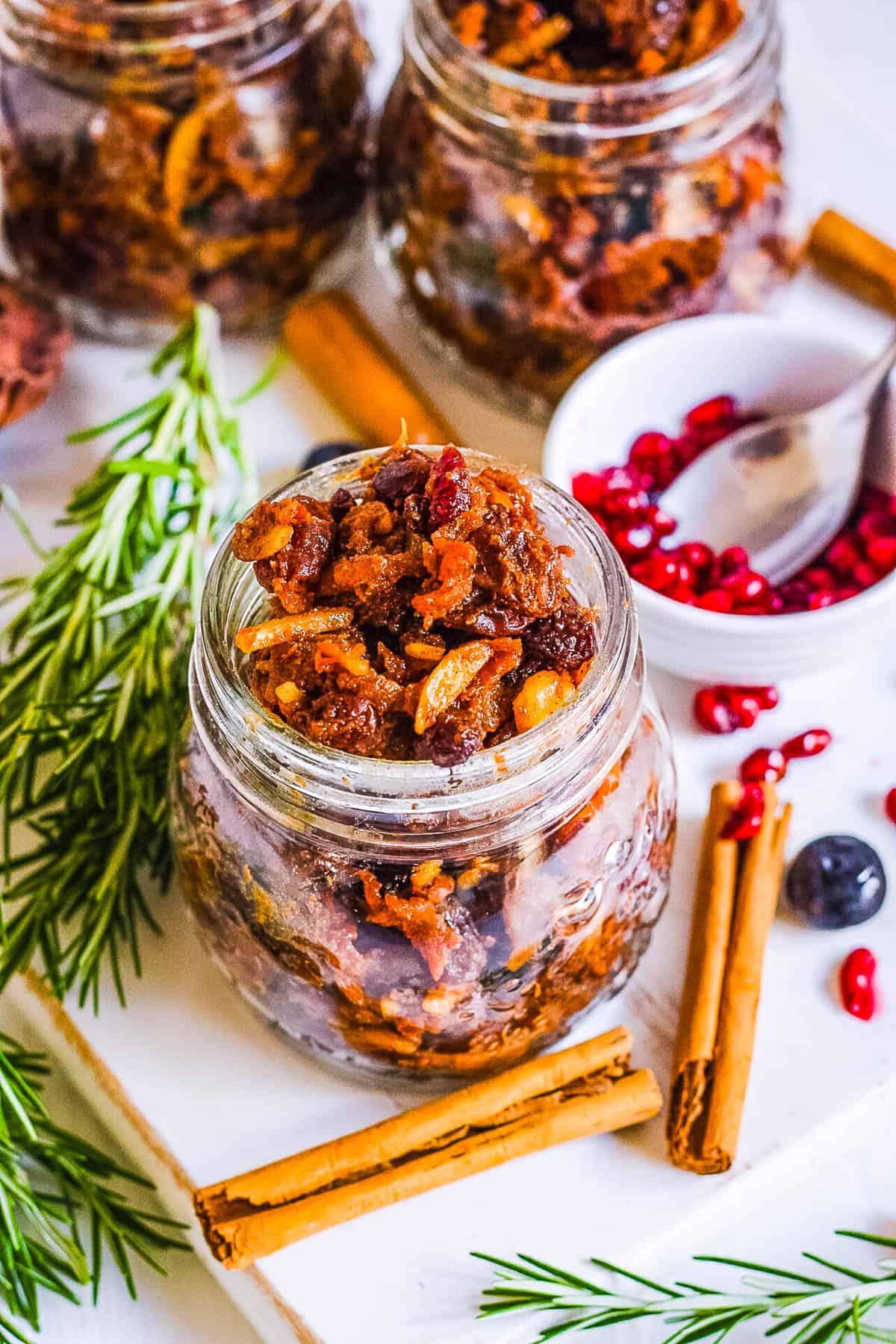 A traditional pie filling in Britain, mincemeat is a mixture of dried fruit, sugar, spices, and brandy. This festive treat is typically made with beef suet or butter but tastes just as good (if not better) with coconut oil! Despite the name, it's not made with meat!
I love to make vegan mince around the holidays. It makes a thoughtful gift for Christmas time, is super easy to make your own mincemeat at home, and tastes worlds better than store-bought mincemeat.
Latest Recipe Video!
This vegan mince recipe is ready in just under 20 minutes. All the ingredients simmer in a pot until the house smells fragrant and fall-like, then the mixture goes straight into jars!
Vegetarian mincemeat also makes an extra-sweet addition to vegan muffins, tarts, thumbprint cookies, or crisps and crumbles. Or for a simple dessert, just generously scoop onto vegan ice cream. Yum!
👩‍🍳 Why This Recipe Works
Best vegetarian mince meat
Quick and easy to make
Use in homemade mince pies
Sweet & festive
Ready in under 20 minutes
Perfect for Christmas Eve
No animal products or animal fat
Makes the best mince pies!
🥘 Ingredients
This vegan mincemeat recipe calls for simple ingredients found at your local grocery store. For the full recipe and nutritional information, see the recipe card below!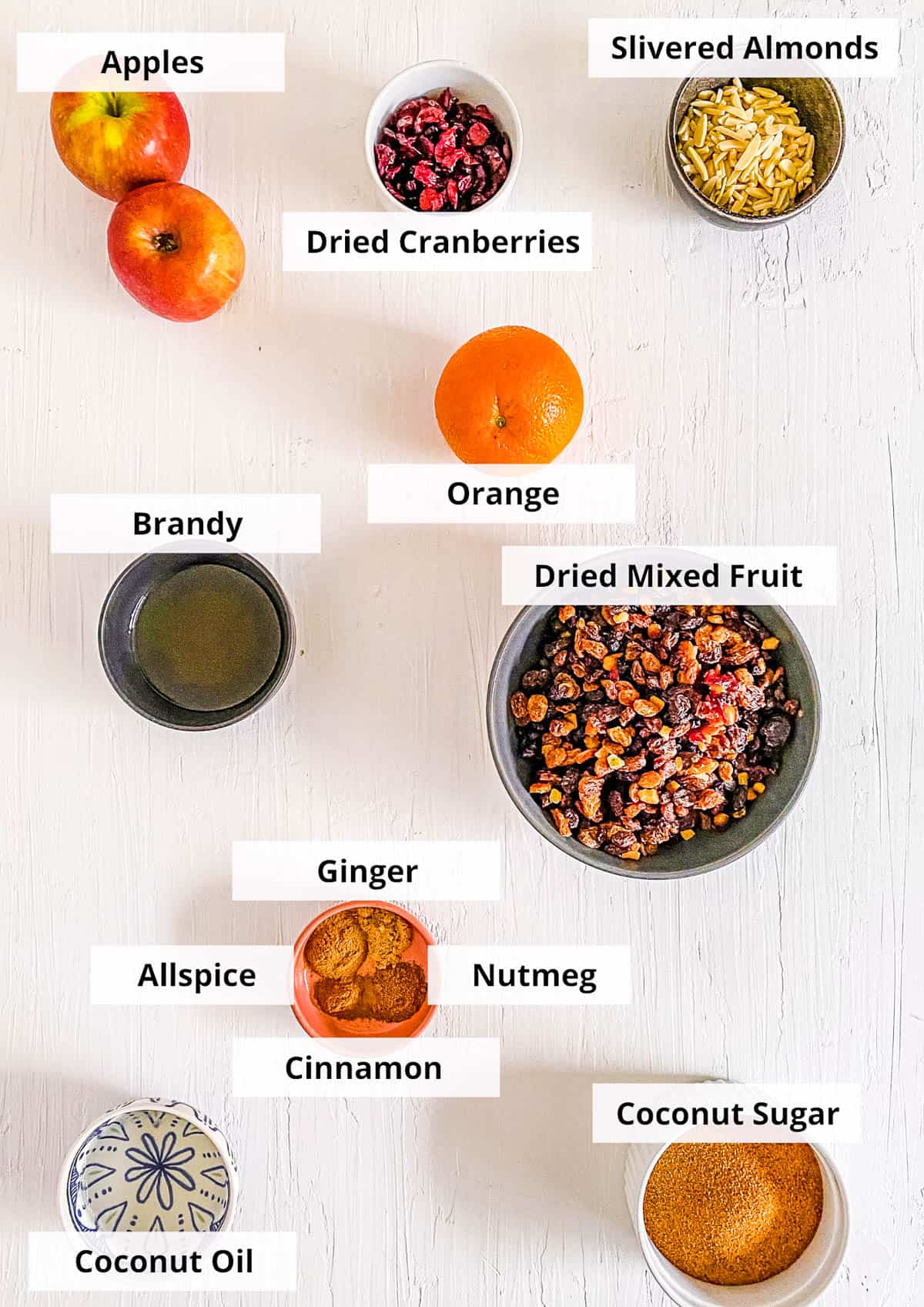 Apples: Any variety of fresh apple works here, but I prefer sweet-tart apples like honey crisp or pink ladies. Grating the apple helps it cook quickly. You can also try other fresh fruits like pears or even cherries to mix things up!
Orange Zest: Adds a bright pop of citrus flavor. Save the leftover oranges or squeeze the juice of one into the pot for more orange flavor.
Slivered Almonds: Almonds add good texture and a nutty flavor.
Dried Mixed Fruit & Dried Cranberries: Look for a bag of dry fruit already mixed together. Raisins, golden raisins, dried cherries, dried prunes, and dried apples are good options. You can't make vegan mince without cranberries – the sweet-tart cranberry flavor is a must!
Coconut Oil: In place of animal suet. Vegetable suet or vegan suet can also be used for dairy-free mincemeat. It's made from vegetable oils like sunflower oil and palm oil.
Coconut Sugar: To sweeten the vegetarian mincemeat.
Spices & Brandy: Ginger, allspice, cinnamon, and nutmeg add a warm, festive touch, and brandy adds a robust, citrus kick.
📖 Variations
Change Up The Sweetener: Swap the coconut sugar with white sugar, brown sugar, or maple syrup.
Christmas Mince Pies: Roll out vegan pie dough and cut into 3-inch circles with a round cookie cutter. Gently place the circles into each cavity of a muffin tin. Add homemade mincemeat filling to the middle of each vegan pastry. If desired, top each pie with a layer of pastry crust. Bake for 15 to 20 minutes at 350 degrees Fahrenheit. Dust the cooled pies with icing sugar.
Sugar Free Mincemeat: For no added sugar mincemeat, replace the coconut sugar with monk fruit or stevia (start with 1/4 to 1/3 the amount of monk fruit or stevia compared to the coconut sugar and add more as needed to taste!) This will reduce both the sugar and calories in this yummy treat.
Try A Different Alcohol:

Swap the brandy with rum, whiskey, port, or Cointreau.
🔪 Instructions
Plant based mince is ready in less than 20 minutes! Here's detailed instructions to walk you through it.
Grate Apples, Add Remaining Ingredients: Grate the apples with the skin on and transfer to a large saucepan. Add everything but the brandy to the pot.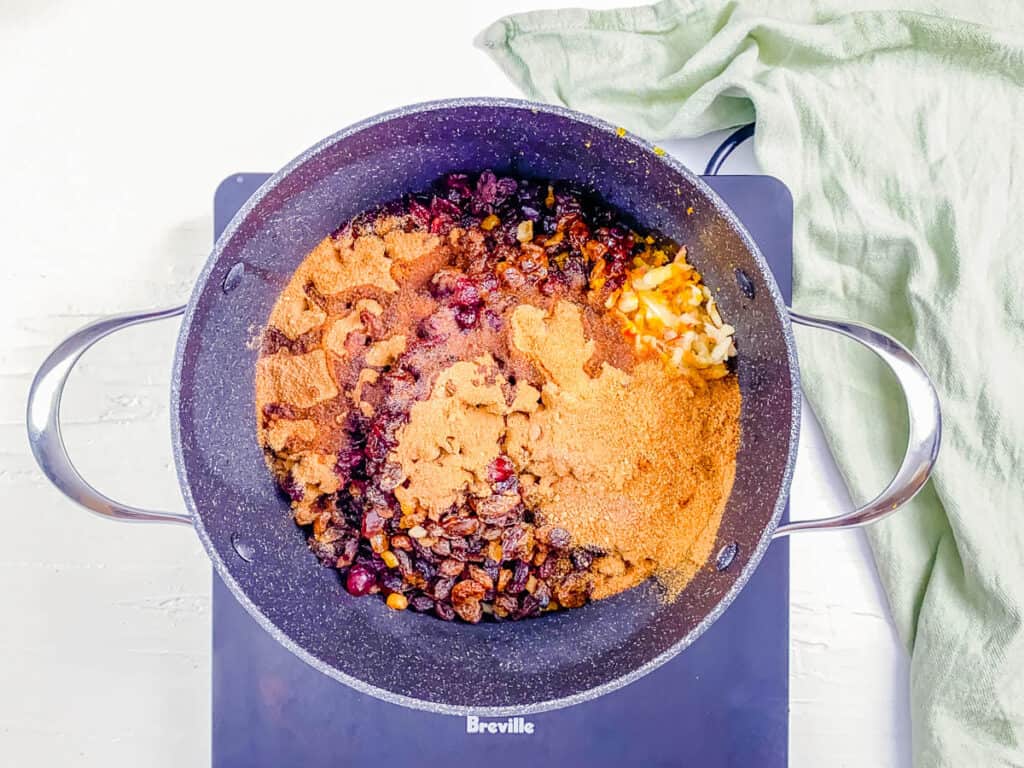 Cook Mincemeat: Heat the pot over medium heat for 10 minutes, stirring until the sugar melts, the apple cooks through, and the liquid reduces.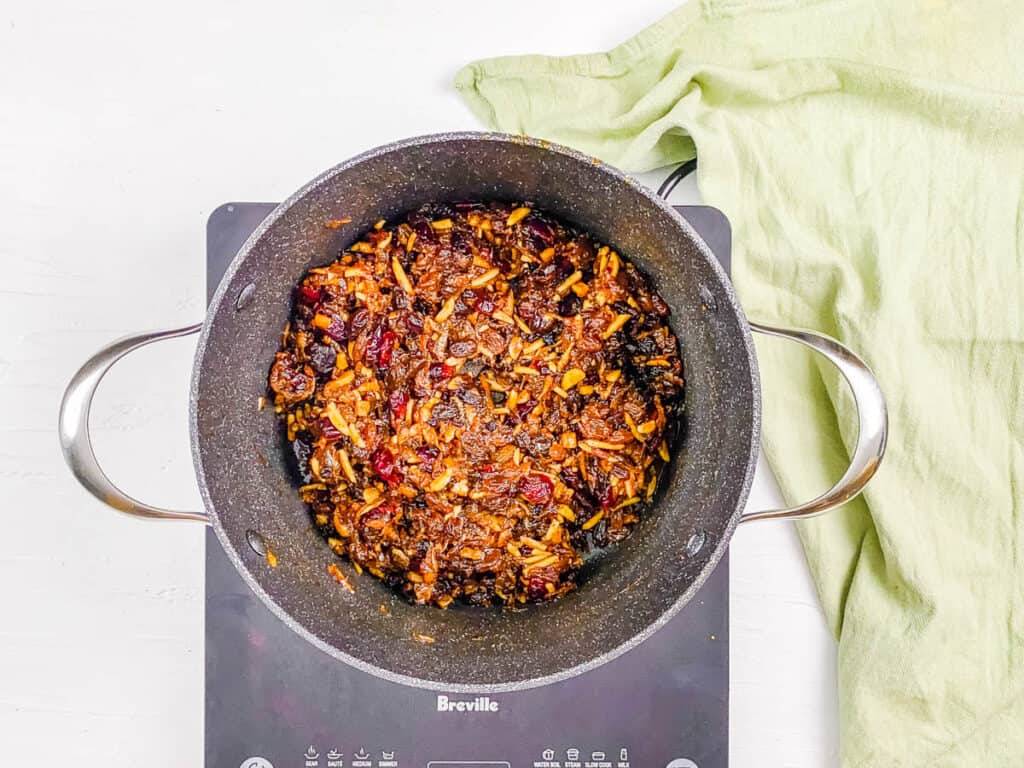 Add Brandy: Remove the pot from the heat and add the brandy. Give it a good stir.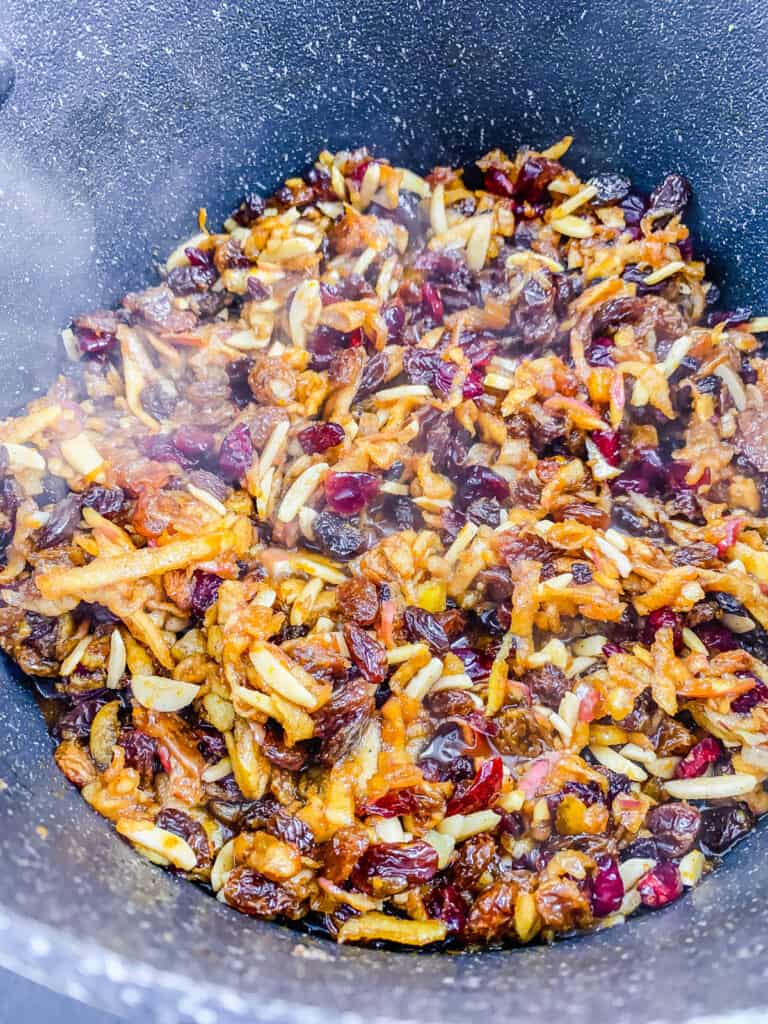 Let Mixture Cool: Let the mixture cool to room temperature before scooping into sterilized jars or an airtight container. Store the jars of vegan mincemeat in the refrigerator for up to one month.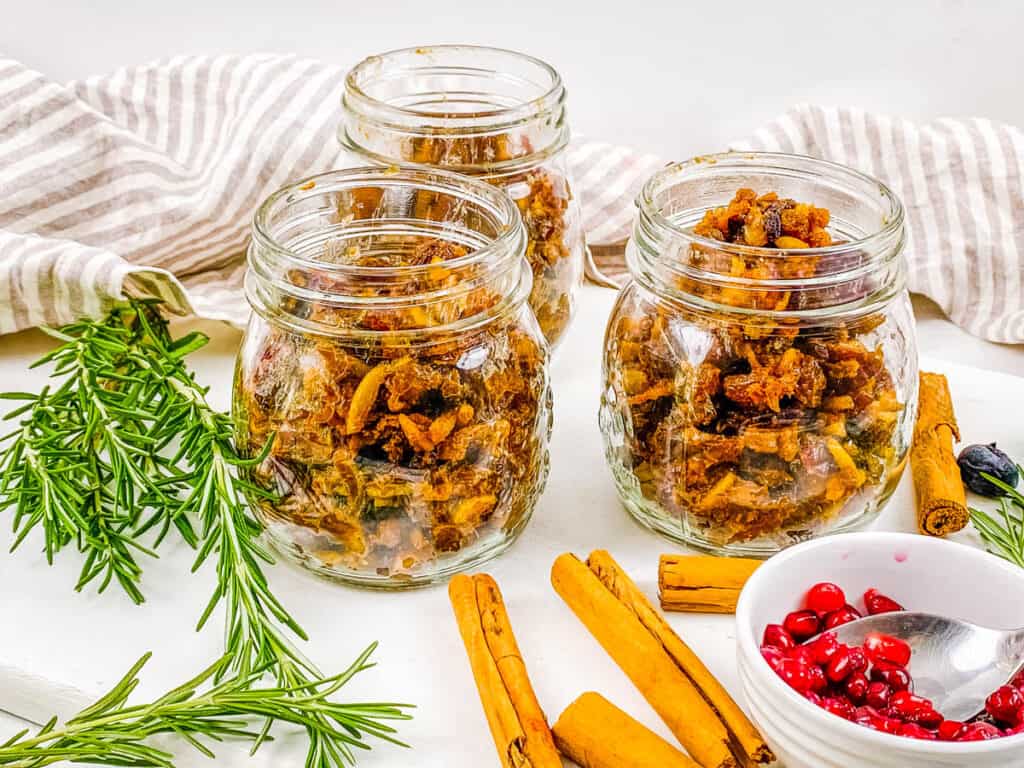 ❓ Recipe FAQs
What is mincemeat?
Mincemeat is a spiced fruit chutney commonly used as pie filling in mince pies. It's a holiday staple in England and Great Britain. It's a cooked mixture of fresh and dried fruit, beef suet, citrus zest, warm spices, sugar, and brandy. Despite its name, it doesn't contain meat, although it used to!
Is there meat in mincemeat?
Traditional mincemeat in the late 1500's did contain meat. The sugar and alcohol preserved it. Nowadays, store-bought mincemeat doesn't contain meat, but oftentimes has beef suet. Suet is fat from around a cow's kidneys. The easiest way to make mincemeat vegan is to just replace the suet with plant based coconut oil!
What ingredients are in vegan mincemeat?
This dairy free mincemeat contains apples, dried fruit, orange zest, slivered almonds, coconut sugar, spices, coconut oil, and brandy! Coconut oil is used in place of animal fat.
What alcohol do you use in mincemeat?
This sweet mincemeat recipe calls for brandy, but rum, port, and Cointreau are good options too! If you don't cook or consume alcohol, swap with apple juice.
💭 Expert Tips
For best results, use sterilized jars to store the mincemeat. This prevents bacteria from getting into the mince. To sterilize, simply wash the jars with hot soapy water before you use them, or run them through your dishwasher.
For a kid-friendly option, swap the brandy for apple juice, orange juice, or another fruit juice.
For a more citrusy flavor, add the juice of an orange when cooking. Increase the cook time to 12 minutes to help reduce the extra liquid.
Don't use old dried fruit that's been in the pantry since last winter. Fresh, plump dried fruits that haven't been opened will give you the best end product.
If the mixture is still too liquidy, cook it for a few more minutes. This mincemeat recipe without meat will thicken as it cools.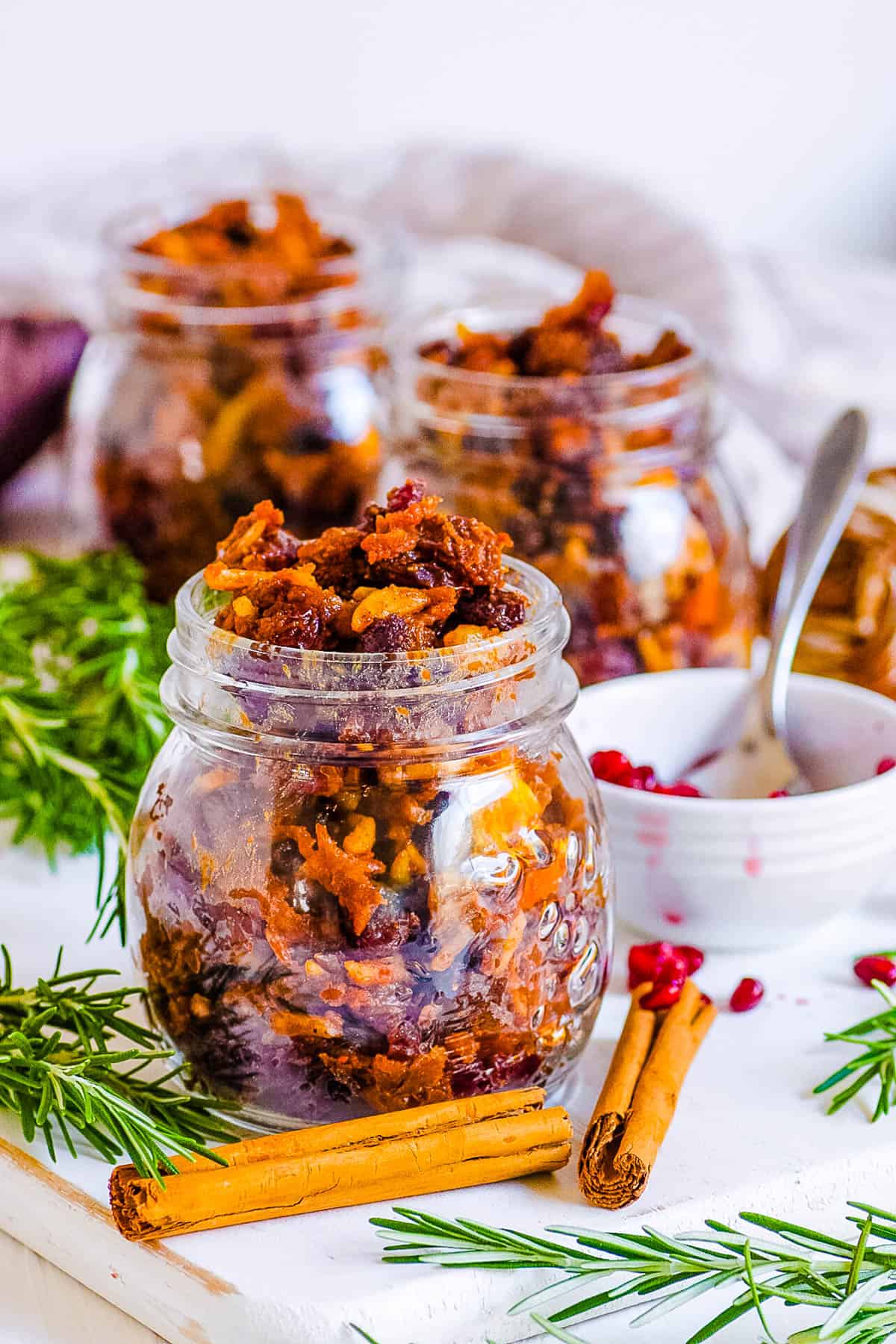 🎄 More Festive Vegan Recipes!
📋 Recipe Card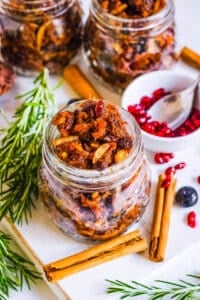 Print Recipe
Vegan Mincemeat
Homemade vegan mincemeat with fresh & dried fruit, warm spices, and brandy! Enjoy it inside mince pies, on top of vegan ice cream, or mixed into your favorite muffins. It makes an extra-sweet gift around the holidays, but is also delicious any time of year!
Ingredients
2

apples

2

oranges, zested

(you won't be using the orange juice or the actual orange, just the zest of two oranges)

½

cup

slivered almonds

3

cups

dried mixed fruit

½

cup

dried cranberries

⅓

cup

coconut oil

1

cup

coconut sugar

1

tsp

ginger, ground

1

tsp

allspice

2

tsp

cinnamon, ground

1

tsp

nutmeg, ground

⅓

cup

brandy
Instructions
Grate the apples, including the skin and add to a large pot.

Add all other ingredients to the pot except for the brandy.

Heat over a medium heat for 10 minutes, stirring constantly until the sugar has melted, the apple is cooked through and the liquid has reduced.

Remove from the heat, add the brandy, and stir through.

Allow to cool completely before storing in sterilized jars.

Store the jars of mincemeat in the fridge for up to a month.
Notes
Ensure jars are sterilized before adding the mincemeat.
This recipe does contain alcohol so it's not really suitable for children. For a kid friendly version, you can substitute the brandy with apple juice instead.
To make this with more of a citrus flavor add the juice of 1 orange when cooking and increase the cooking time to 12 minutes.
Nutrition
Serving:
0.25
cup
|
Calories:
118
kcal
|
Carbohydrates:
17
g
|
Protein:
1
g
|
Fat:
5
g
|
Saturated Fat:
3
g
|
Polyunsaturated Fat:
0.4
g
|
Monounsaturated Fat:
1
g
|
Trans Fat:
0.001
g
|
Sodium:
17
mg
|
Potassium:
88
mg
|
Fiber:
2
g
|
Sugar:
12
g
10 responses to "Vegan Mincemeat"