Vegan Lemon Tart
This post may contain affiliate links. As an Amazon Associate, I earn from qualifying purchases. Please read my disclosure.
A vegan lemon tart with a nutty crust and sweet, tangy lemon curd filling. It's a simple but elegant dessert even dairy-lovers can't resist. Sweetened with maple syrup & dates, this tart is vegan, gluten-free, & refined-sugar-free!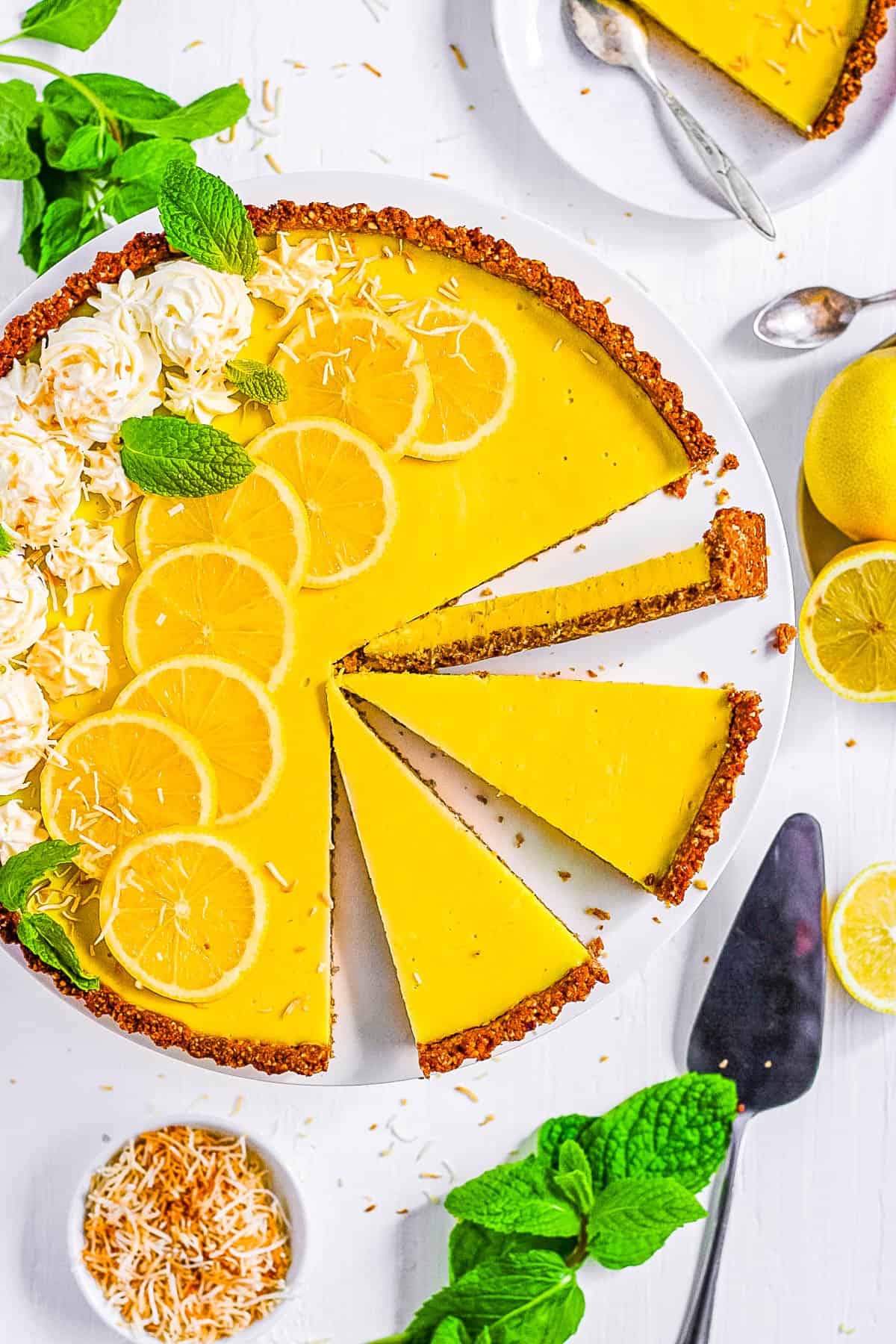 Nothing screams spring more than lemon recipes! With a crunchy and nutty crust made from crushed cashews, pecans, and oats but held together with dates, this eggless lemon tart recipe is naturally sweet and full of nutrient-rich ingredients.
Latest Recipe Video!
Traditionally lemon tarts are made with plenty of butter, eggs, sugar, and lemon juice. My vegan lemon curd filling is made with fresh and zippy lemon juice whisked into rich coconut cream, making this vegan lemon tart recipe gluten-free, dairy-free, & totally guilt-free!
It's the perfect dessert for summer brunch, Mother's day, Easter, or any time of the year really! With its creamy lemon filling and crumbly crust, nobody will know this luscious, sweet and tangy vegan tart is actually healthy. Decorate with fresh berries, lemon slices, or coconut whipped cream. Everyone will think you bought it out of a pastry case at a fancy bakery!
👩‍🍳 Why This Recipe Works
With no silken tofu, this recipe is soy-free!
Rich lemon custard filling
Delicious but healthy lemon tart
Gluten-free tart recipe
Kid-friendly
Beautiful yellow color
Easy recipe anyone can make
Tastes like lemon bars
Perfect combination of tangy and sweet!
🥘 Ingredients
This vegan lemon tart recipe requires simple ingredients found at your local grocery store! Find the full list of ingredients and nutrition facts at the bottom of this post.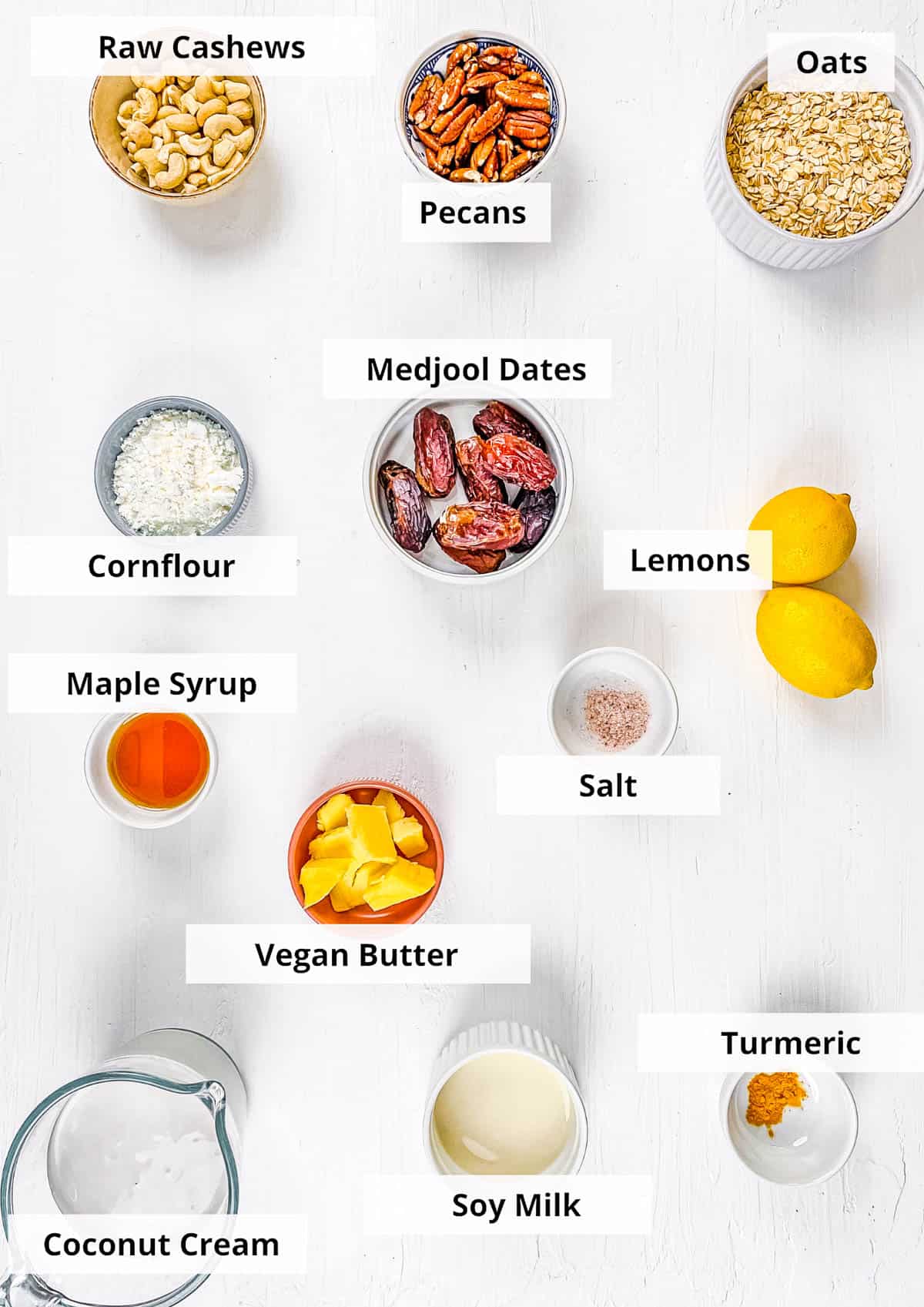 Nuts: Crushed cashews and pecans make the base of the crust. Nuts are packed with heart-healthy unsaturated fats, Omega-3's and plenty of fiber! They are a delicious addition to desserts, especially vegan pie crust.
Oats: Oats are a healthier, gluten-free option compared to plain flour. We blend the oats into oat flour which helps bind this flaky gluten-free crust together.
Salt: A little bit of salt goes a long way – salt adds flavor and enhances sweetness.
Vegan Butter: Since the nuts already contain plenty of healthy fat, you only need two tablespoons of vegan butter! Coconut oil can also be used.
Medjool Dates: Dates are naturally very sweet and sticky. They work double duty, as a sweetener and a binder!
Maple Syrup: Maple syrup is used to sweeten both the crust and the filling. It is a vegan friendly sweetener and contains antioxidants that cane sugar doesn't.
Cornflour: Cornflour is another name for corn starch. You can substitute arrowroot starch or one and a half tablespoons of agar agar powder too.
Soy Milk: Any plant-based milk can be swapped for soy milk – just make sure it's unsweetened! Coconut milk and almond milk are a couple of my favorites.
Fresh Lemons: Fresh lemon juice makes the best vegan lemon tart! And don't forget to zest the lemon, it adds so much bright lemon flavor.
Coconut Cream: Not to be confused with cream of coconut. Coconut cream is similar to coconut milk but it's much thicker with a higher fat content. It's not sweetened! It creates a luscious lemon curd without the need for egg yolks, sour cream, or cream cheese.
Turmeric: A pinch of turmeric gives this dessert its vibrant yellow color.
📖 Variations
Here are a few simple variations of this eggless lemon curd tart recipe!
Toppings: Toppings are both delicious and beautiful! Fresh strawberries, coconut whipped cream, lemon slices, fresh mint, edible flowers, fresh fruit, chopped nuts, and granola are great options for a garnish.
Vegan Lemon Meringue Tart: Top the tart with vegan meringue made from aquafaba.
Vegan Mini Lemon Tarts: Use silicone muffin molds to make this recipe into mini tarts. Press the crust into each muffin mold and bake until golden brown. Pour the filling into each mold and refrigerate overnight. Carefully push the vegan lemon tartlets out of the molds and serve.
Vegan Meyer Lemon Tart: Use Meyer lemons! They have a sweet, floral taste.
No-Bake Vegan Lemon Tart: After you press the crust mixture into the tart pan, refrigerate instead of baking it. Pour the vegan lemon curd filling into the crust as directed and refrigerate until set up.
🔪 Instructions
Make Tart Crust: Preheat your oven to 350 degrees Fahrenheit. Place the crust ingredients into a food processor.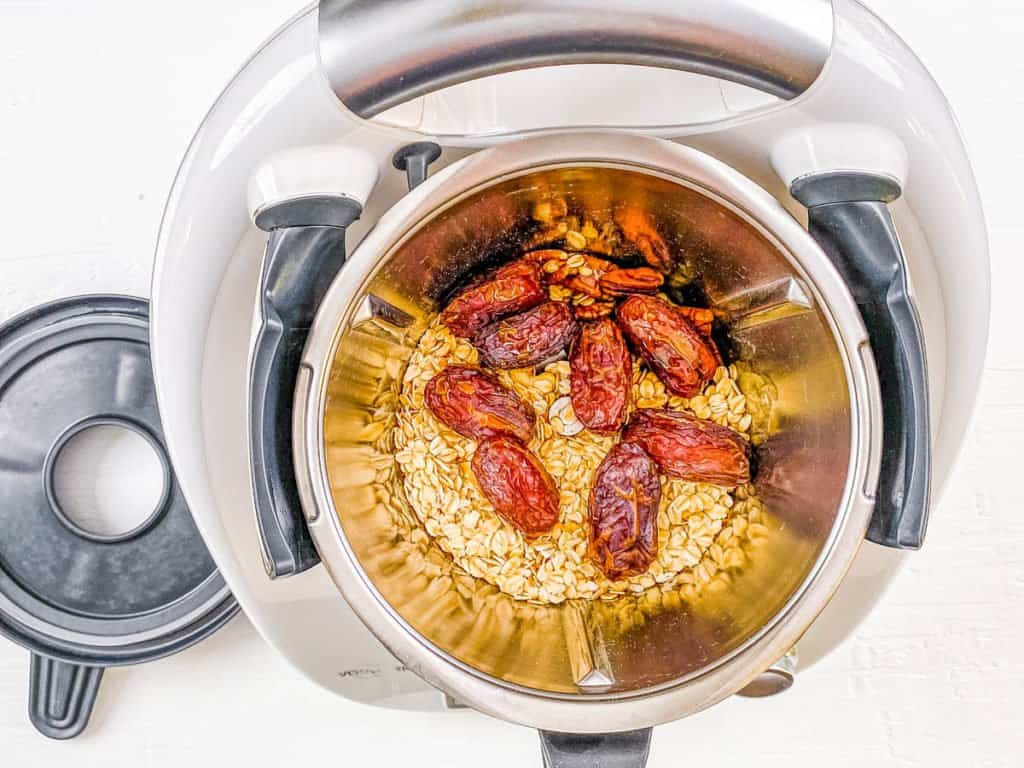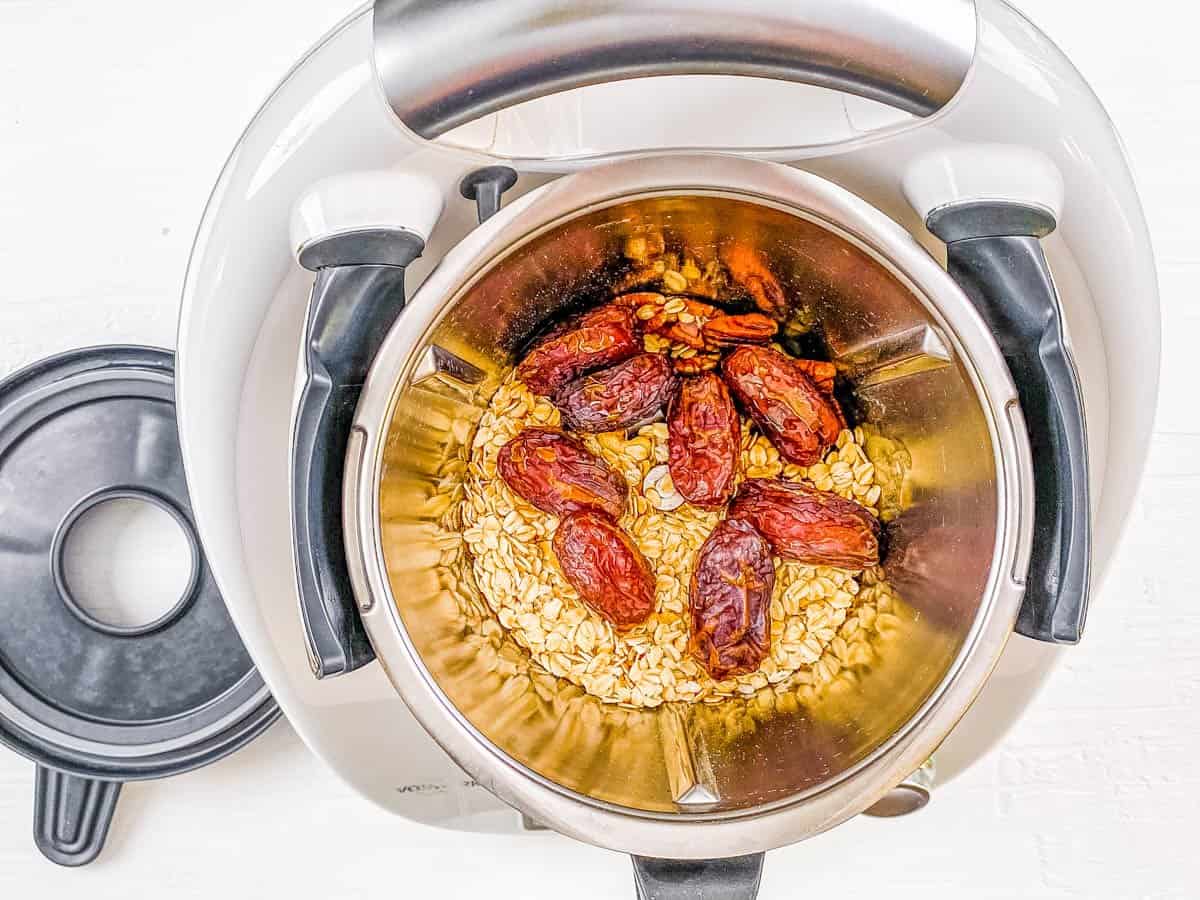 Pulse until the mixture comes together, about 3 to 5 minutes. Stop and scrape down the sides with a spatula as necessary.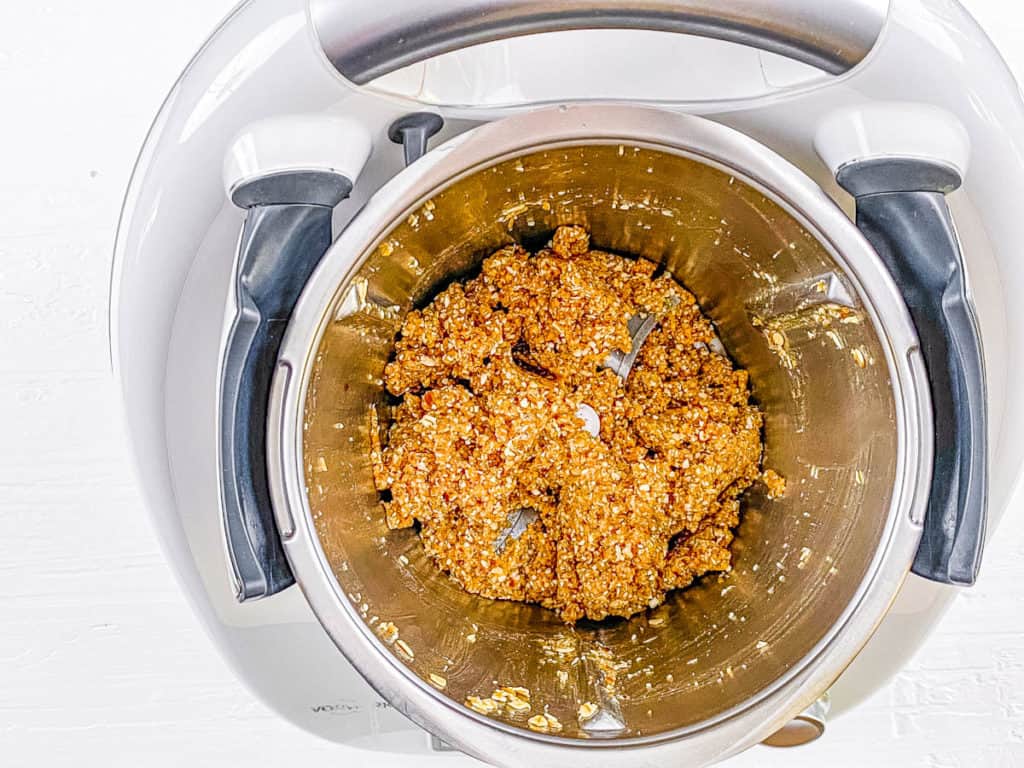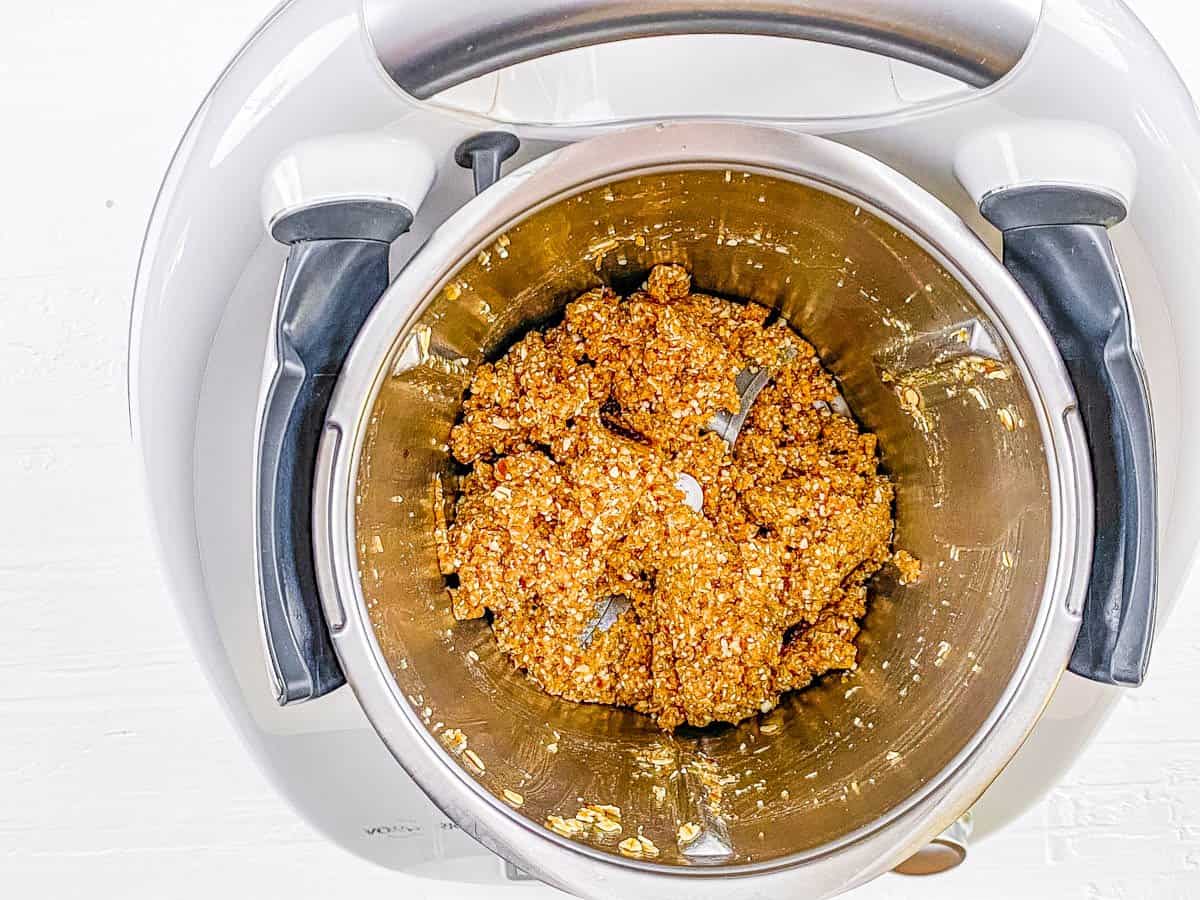 Press Into Tart Tin: Evenly drop the crust mixture into the tart pan and press firmly until it's completely covered.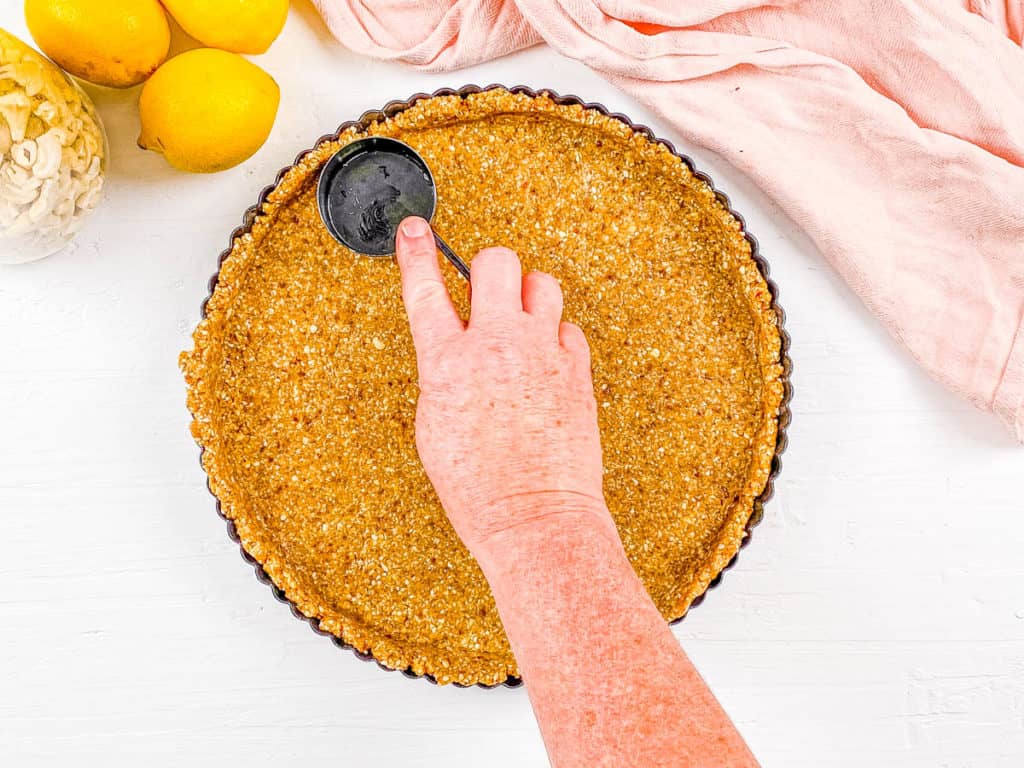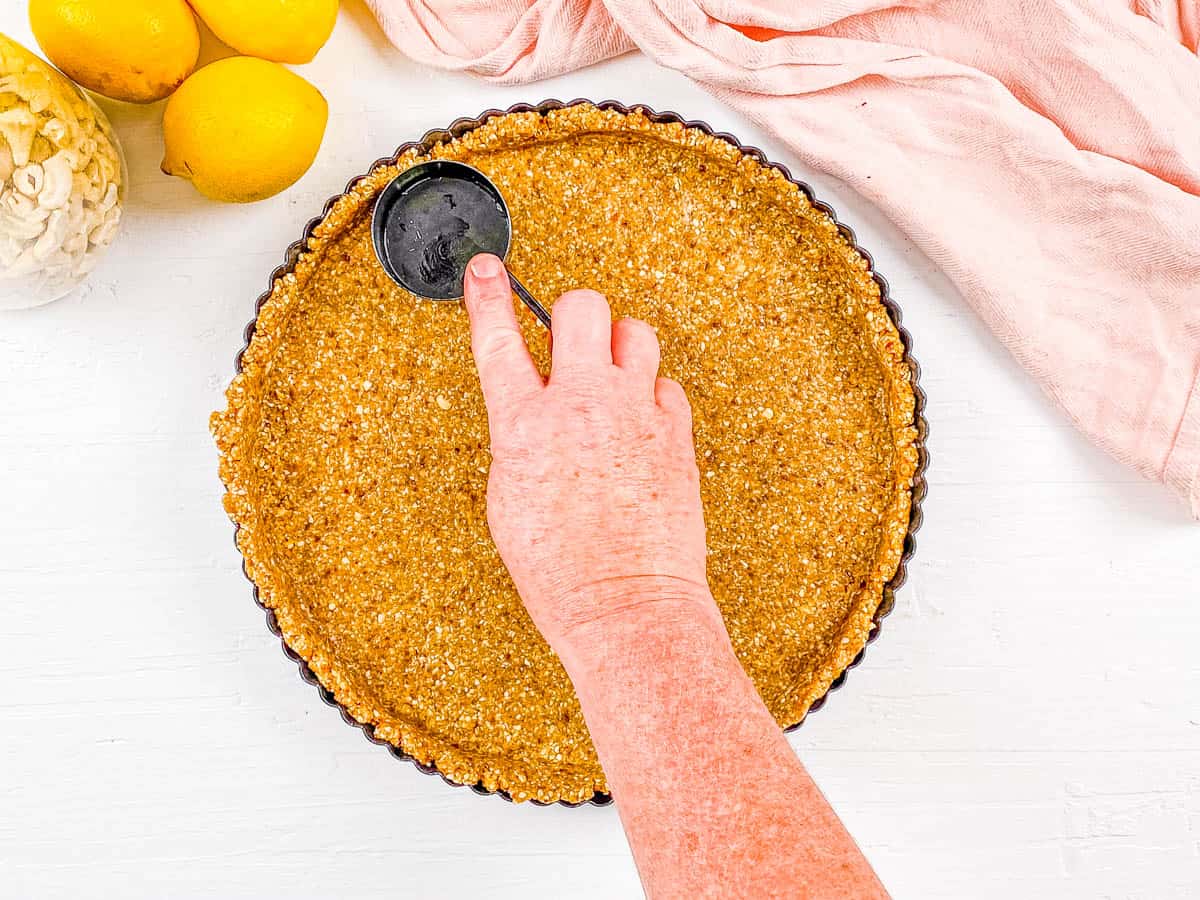 Trim The Edges Of The Crust & Bake Lemon Tart Shell: Bake crust until lightly golden – about 8 to 10 minutes. Carefully remove from the oven and set aside to cool.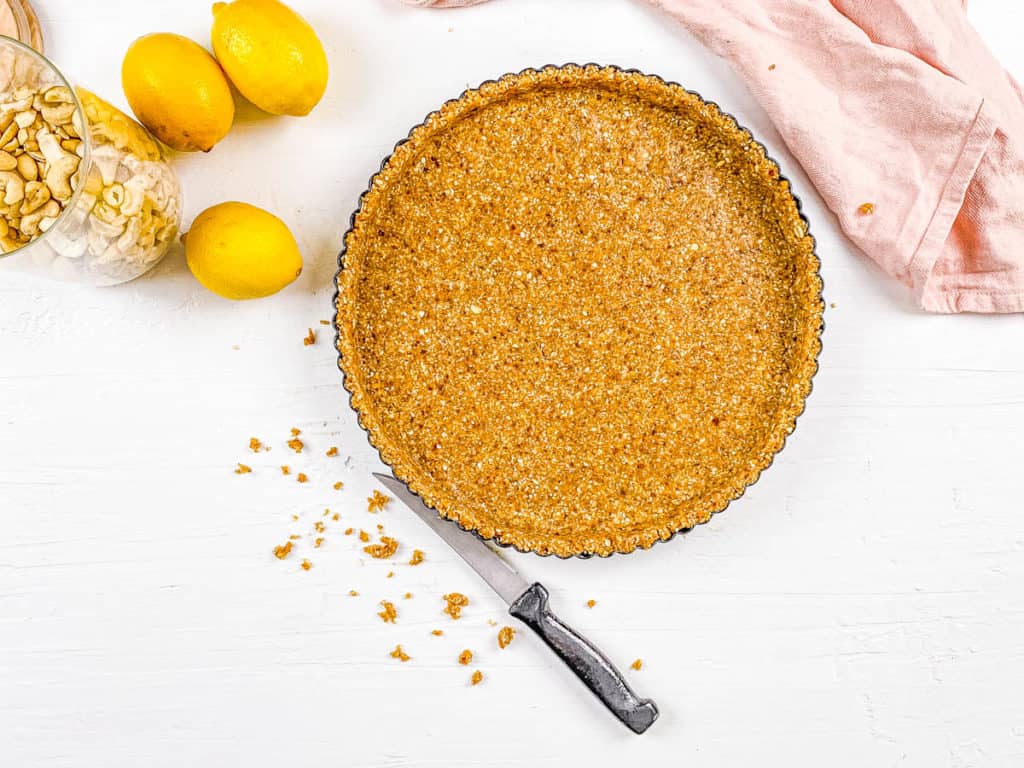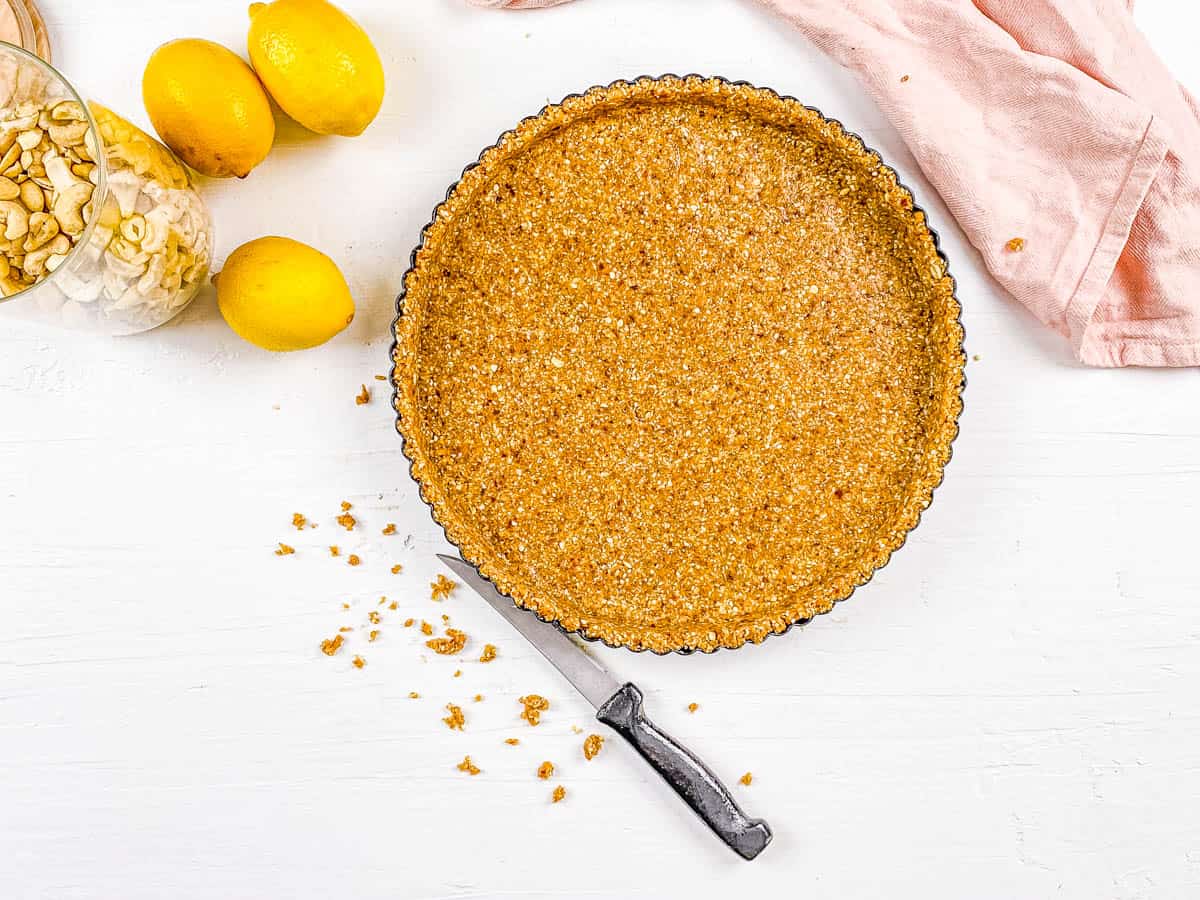 Make Slurry: In a large bowl, combine the cornflour and soy milk to make a slurry.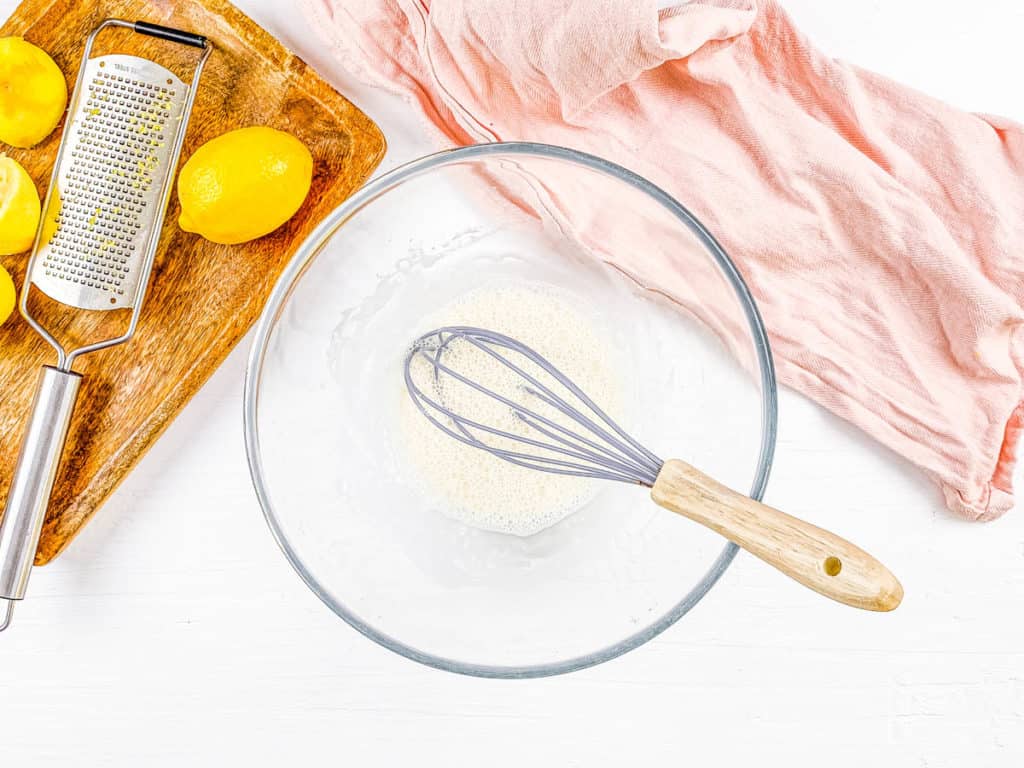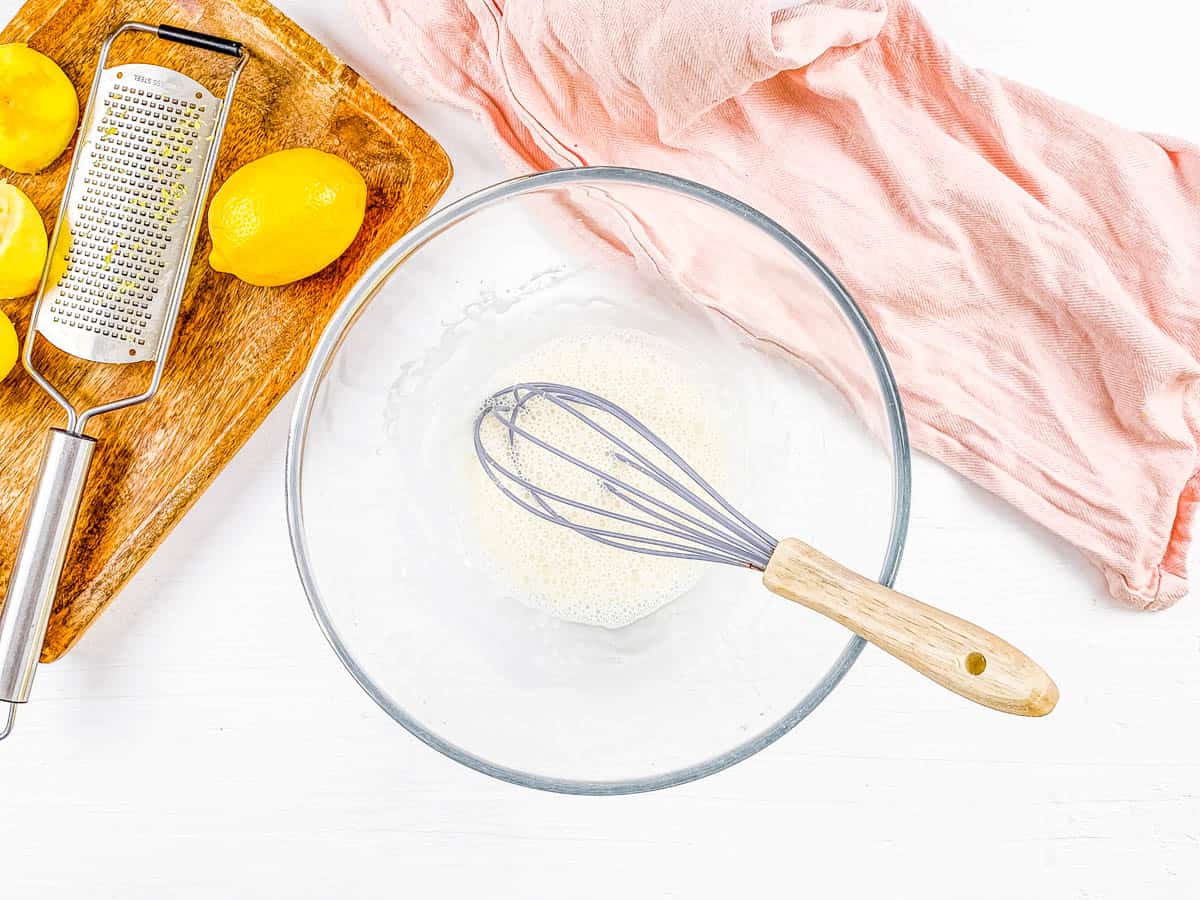 Combine Filling Ingredients: Whisk the lemon zest, fresh lemon juice, maple syrup and coconut cream into the slurry mixture. If using, add turmeric now too.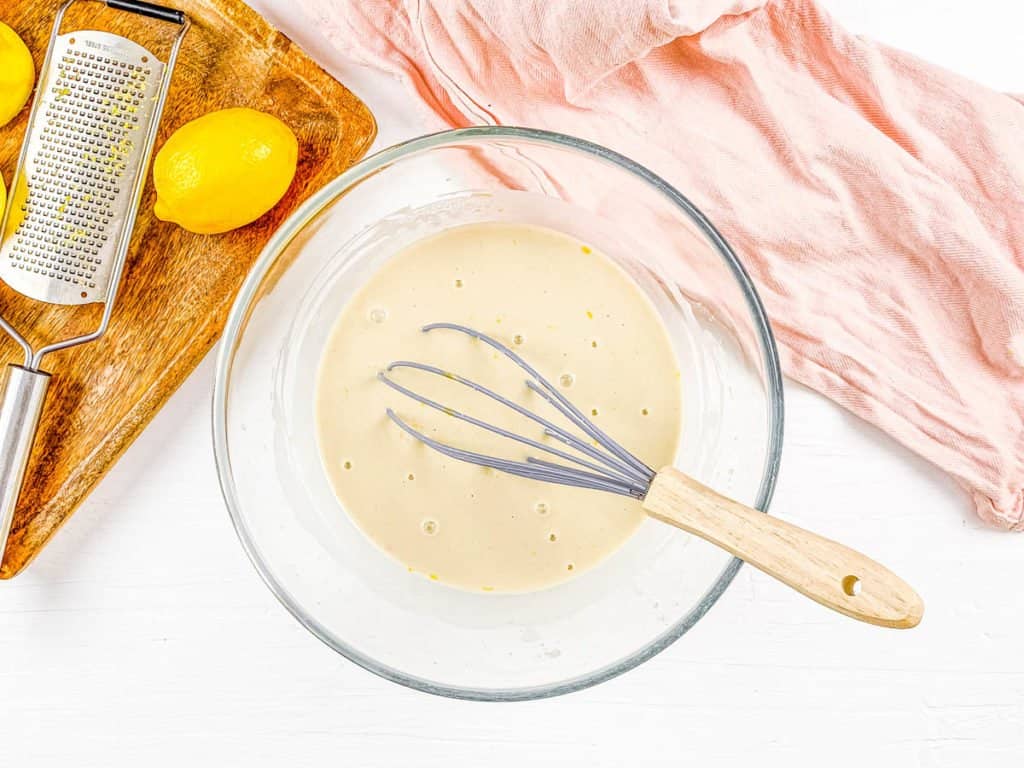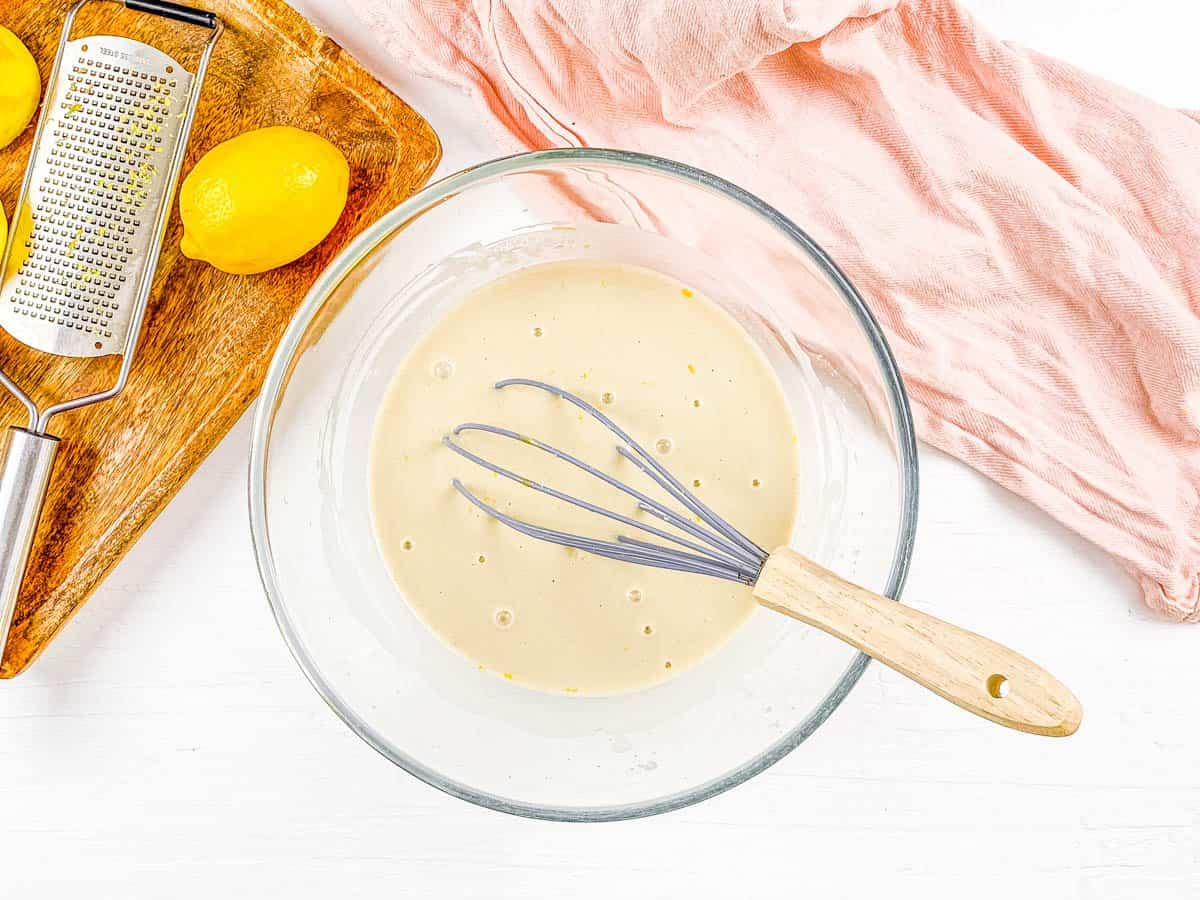 Cook Creamy Filling: Pour the tart filling into a medium saucepan and whisk over medium heat until it thickens.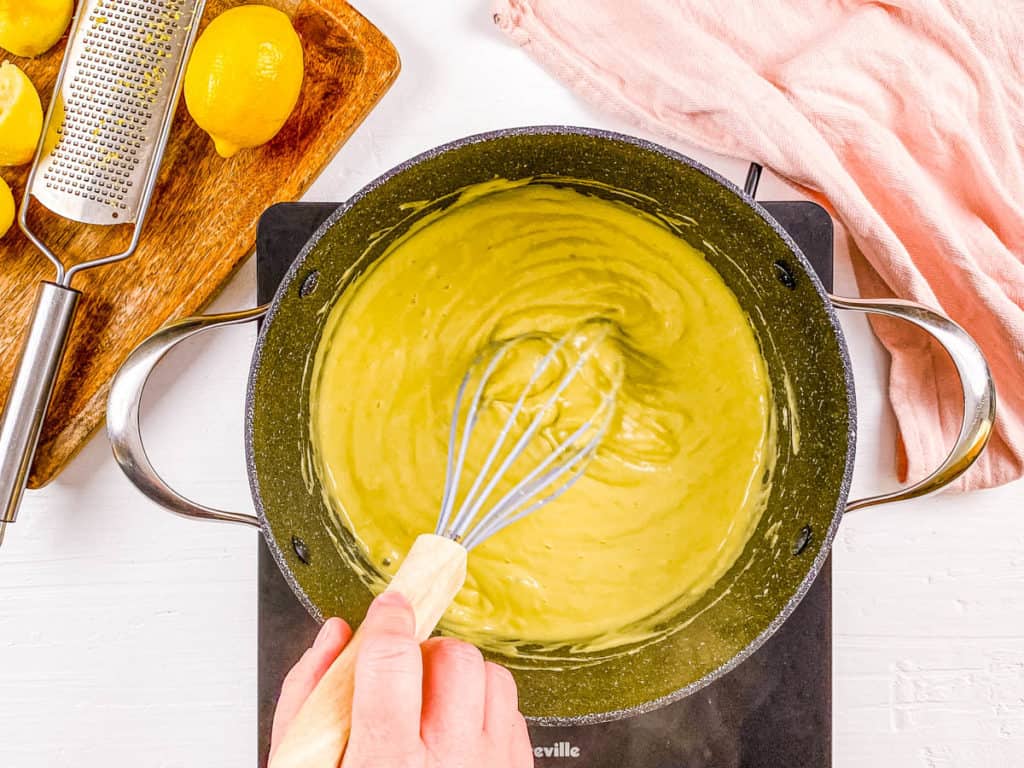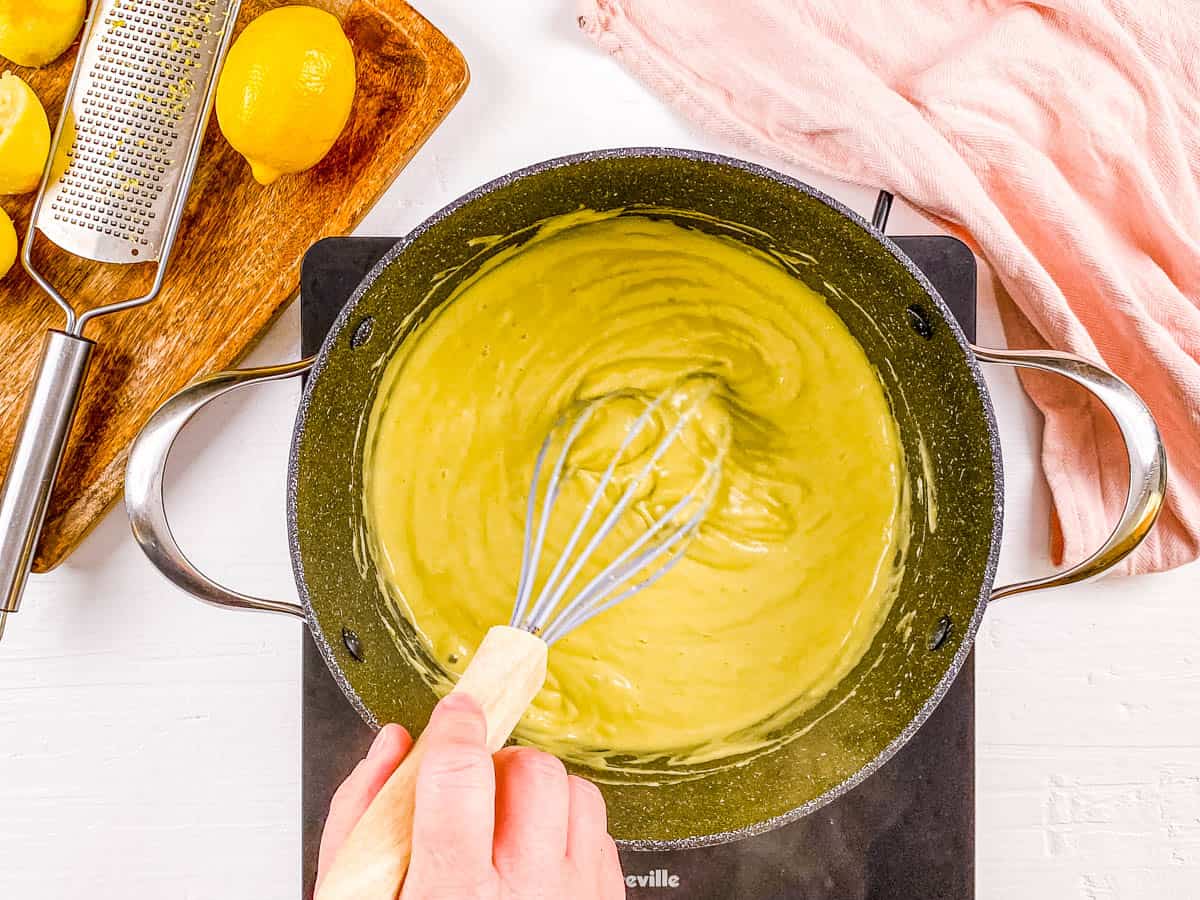 Pour Into Tart Base: Once the mixture thickens, carefully pour it into the pastry crust and smooth off the top.
Chill Vegan Lemon Curd Tart: Carefully place the tart in the refrigerator and let set for at least 2 hours, preferably overnight. Enjoy: Decorate the tart with your favorite toppings and serve!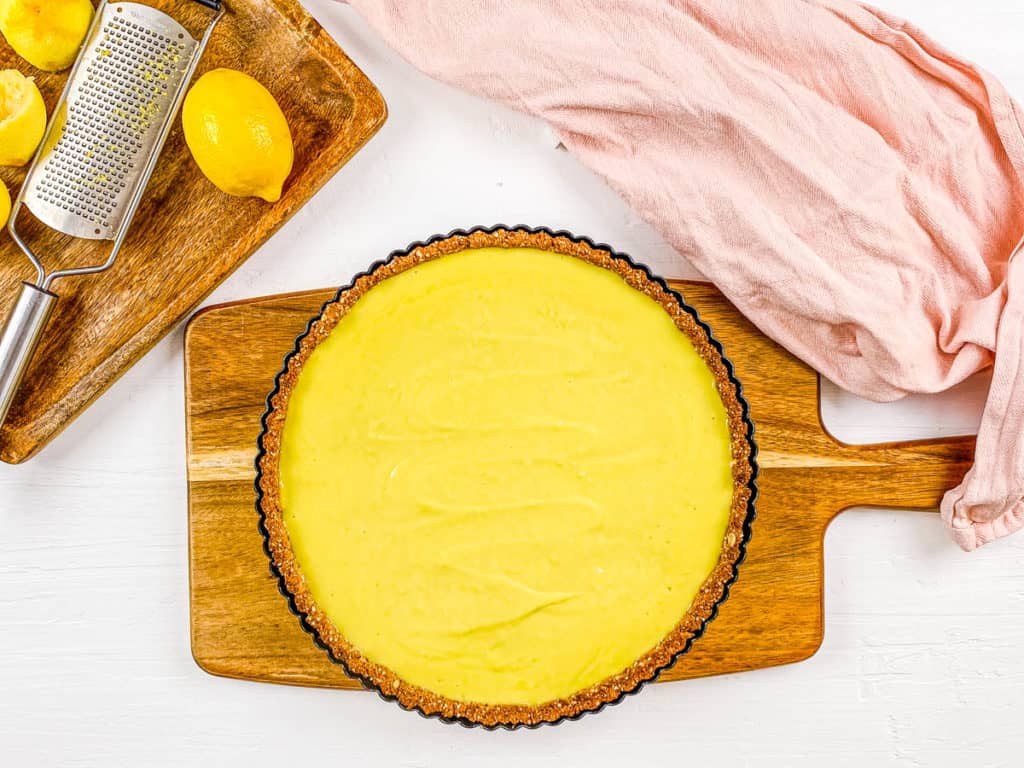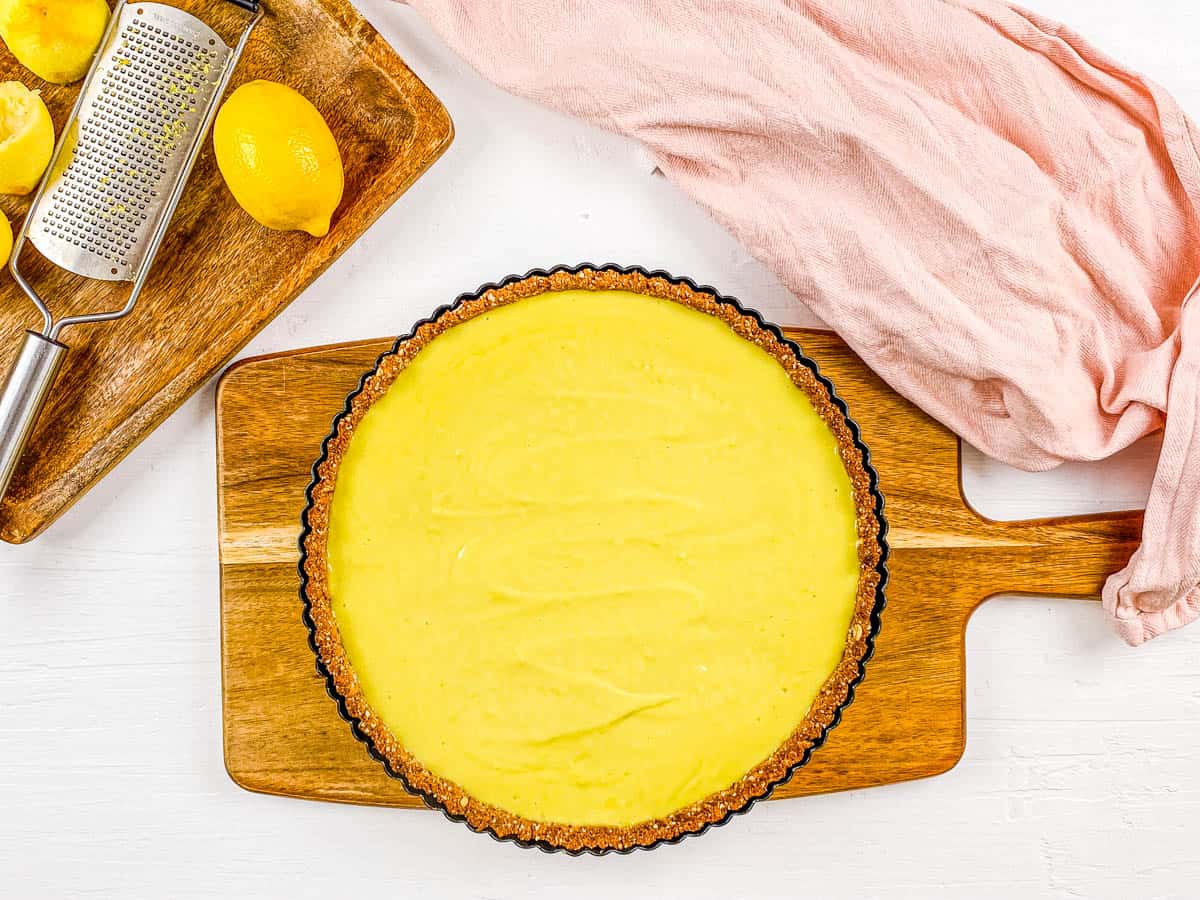 ❓ Recipe FAQs
Is this non-dairy lemon tart healthy?
It's healthier than traditional desserts. It's made with all natural whole food ingredients. The crust consists of heart-healthy nuts, and the custard is made with lemon juice and coconut cream. It's lightly sweetened with maple syrup, making this dessert refined-sugar-free.
How should I store this easy vegan lemon tart?
Transfer any leftover lemon tart slices to an airtight container, and store in the refrigerator. They will keep for 3-5 days.
Does this dairy-free lemon tart need to be refrigerated?
Yes, I recommend refrigerating the tart for at least two hours before serving to allow the curd to firm up. Allowing it to cool to room temperature then chill will give the curd a thick and luscious texture.
Can I freeze this vegan gluten-free lemon tart?
Yes! Be sure to allow it to cool completely, and firm up in the refrigerator. Then, wrap each slice tightly in plastic wrap to ward off any freezer burn. Transfer all of them to another freezer safe container. They will keep in the freezer for up to one month. When ready to defrost, take as many as you like out of the freezer, and transfer to the refrigerator. Allow them to defrost in their plastic wrapping overnight.
💭 Expert Tips
Make sure your heat is low enough that the curd is simmering but not boiling.
Continuously whisk the curd over medium heat until it thickens. Do not want to walk away or let the curd come to a boil. It may take a bit longer for the curd to thicken. Be patient and continue to whisk.
To change things up, try using Meyer lemons which are slightly sweeter than regular lemons!
Feel free to adjust the amount of sugar in this recipe to suit your taste preferences!
For best results, let the vegan lemon custard tart refrigerate overnight. This will give it ample time to set up for easy slicing.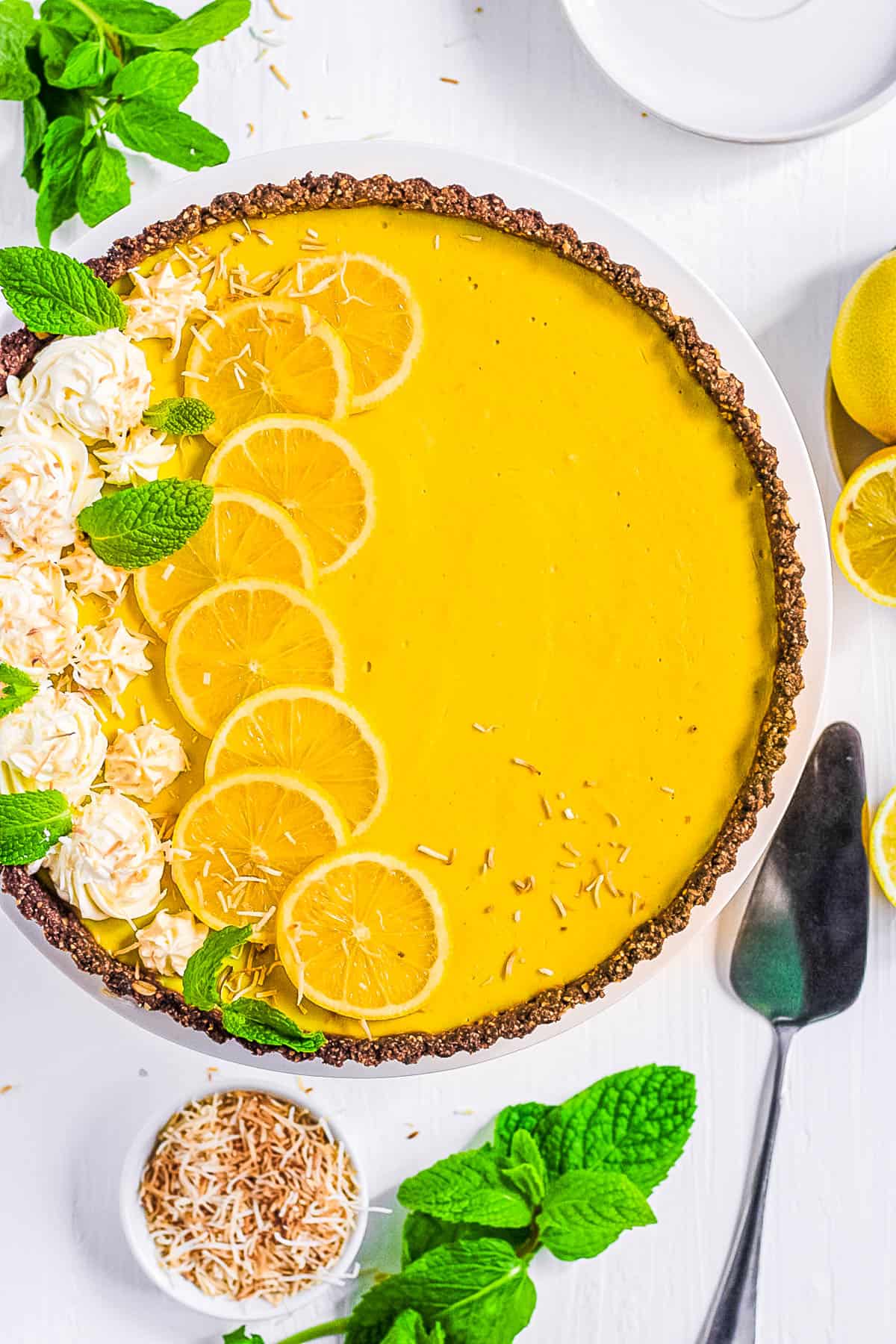 🥮 More Vegan Dessert Recipes!
LOVE THIS RECIPE? Please leave a 5-star rating 🌟 in the recipe card below and/or a review in the comments section further down the page!
You can also FOLLOW ME on FACEBOOK, TWITTER, INSTAGRAM, and PINTEREST to see more delicious, healthy, family-friendly food, and if you have any questions, I'm here to help!
📋 Recipe Card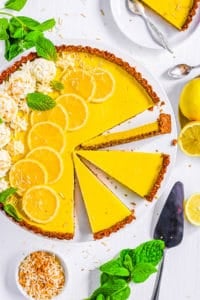 Print Recipe
Vegan Lemon Tart
A vegan lemon tart with a nutty crust and sweet but tangy lemon curd filling. It's a simple but elegant dessert even dairy-lovers can't resist. Sweetened with maple syrup & dates, this tart is vegan, gluten-free, & refined-sugar-free too!
Ingredients
For the Lemon Curd Filling
Equipment
10-inch Flan Tin

Sauce Pan
Instructions
Preheat the oven to 350 degrees F / 176 C.

Place all crust ingredients into a high-speed food processor and blitz until ingredients come together as a dough. This may take anywhere from 3-5 minutes, scraping down the sides throughout this time.

Press the dough firmly and evenly into a 10 inch flan tin, trim the edges of the crust.

Bake in the preheated oven for 8-10 minutes or until lightly golden. Remove from the oven, set aside to cool.

Meanwhile prepare the filling by whisking together the cornflour and soy milk to form a slurry.

Whisk into the cornflour mixture the lemon zest, lemon juice, maple syrup and coconut cream. If using turmeric whisk that into the mixture too.

Pour the filling mixture into a pot and whisk over medium heat until it thickens.

Once thick, pour the filling into the prepared crust and smooth off the top.

Place the tart into the fridge to set for at least 2 hours or overnight.

Once the filling has set, decorate the top of the tart with whipped coconut cream, toasted shredded coconut, lemon slices or any of your favorite toppings.
Notes
Slice the tart into 10 equal pieces once it has set.
Turmeric is added to the filling to add additional color, this is completely optional.
Coconut cream can be substituted with soy or almond milk.
Left-over tart can be stored in an airtight container in the fridge for up to 4 days.
Fresh berries or powdered sugar can also be used to top the tart.
Nutrition
Serving:
1
slice
|
Calories:
286
kcal
|
Carbohydrates:
23
g
|
Protein:
4
g
|
Fat:
22
g
|
Saturated Fat:
13
g
|
Polyunsaturated Fat:
2
g
|
Monounsaturated Fat:
5
g
|
Trans Fat:
1
g
|
Sodium:
69
mg
|
Potassium:
278
mg
|
Fiber:
3
g
|
Sugar:
10
g
24 responses to "Vegan Lemon Tart"