Mini Chocolate Tarts
This post may contain affiliate links. As an Amazon Associate, I earn from qualifying purchases. Please read my disclosure.
Impress your friends with easy-to-master mini chocolate tarts! These chocolate tartlets feature a decadent chocolate ganache filling in a buttery pastry crust with a white chocolate drizzle. You will love these impressive yet portable treats!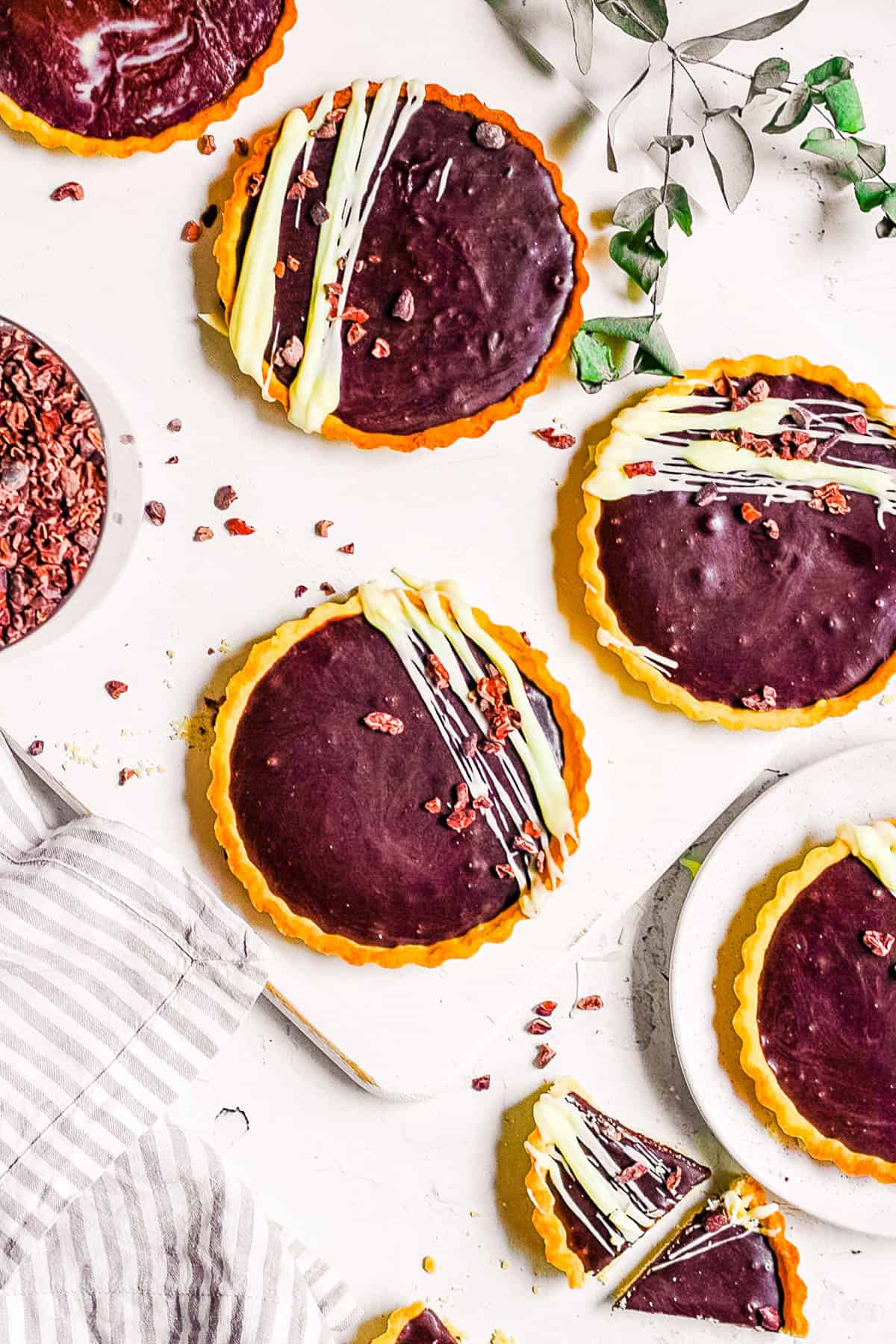 It's no secret I adore all-things chocolate! If it can have chocolate, it WILL have chocolate. These individual chocolate tarts look like they came from a pastry case at a high-end bakery. Nobody has to know they're easy to make! The silky smooth ganache with the buttery crust is divine.
Latest Recipe Video!
I used semi-sweet chocolate, but you can just as easily use dark chocolate for an intense flavor or milk chocolate for a sweet flavor.
These easy mini chocolate tarts freeze well too. Make them ahead of time, freeze, and pull them out a few hours before you plan to serve them.
These show-stopping treats are great for dinner parties, get-togethers, and celebrations. Add festive sprinkles for holiday pizazz! Try red hearts for valentine's day, red & green sprinkles for Christmas, or orange jimmies for fall!
👩‍🍳 Why This Recipe Works
Rich chocolate ganache filling
Beautiful for a special occasion, a dinner party, or afternoon tea
Chocolate lover's dream, will totally satisfy your chocolate craving!
Made with basic ingredients
Kid-friendly
Easy to make with simple steps
Make the chocolate filling as sweet or intense as you like!
🥘 Ingredients
This mini chocolate tart recipe requires simple ingredients found at your local grocery store.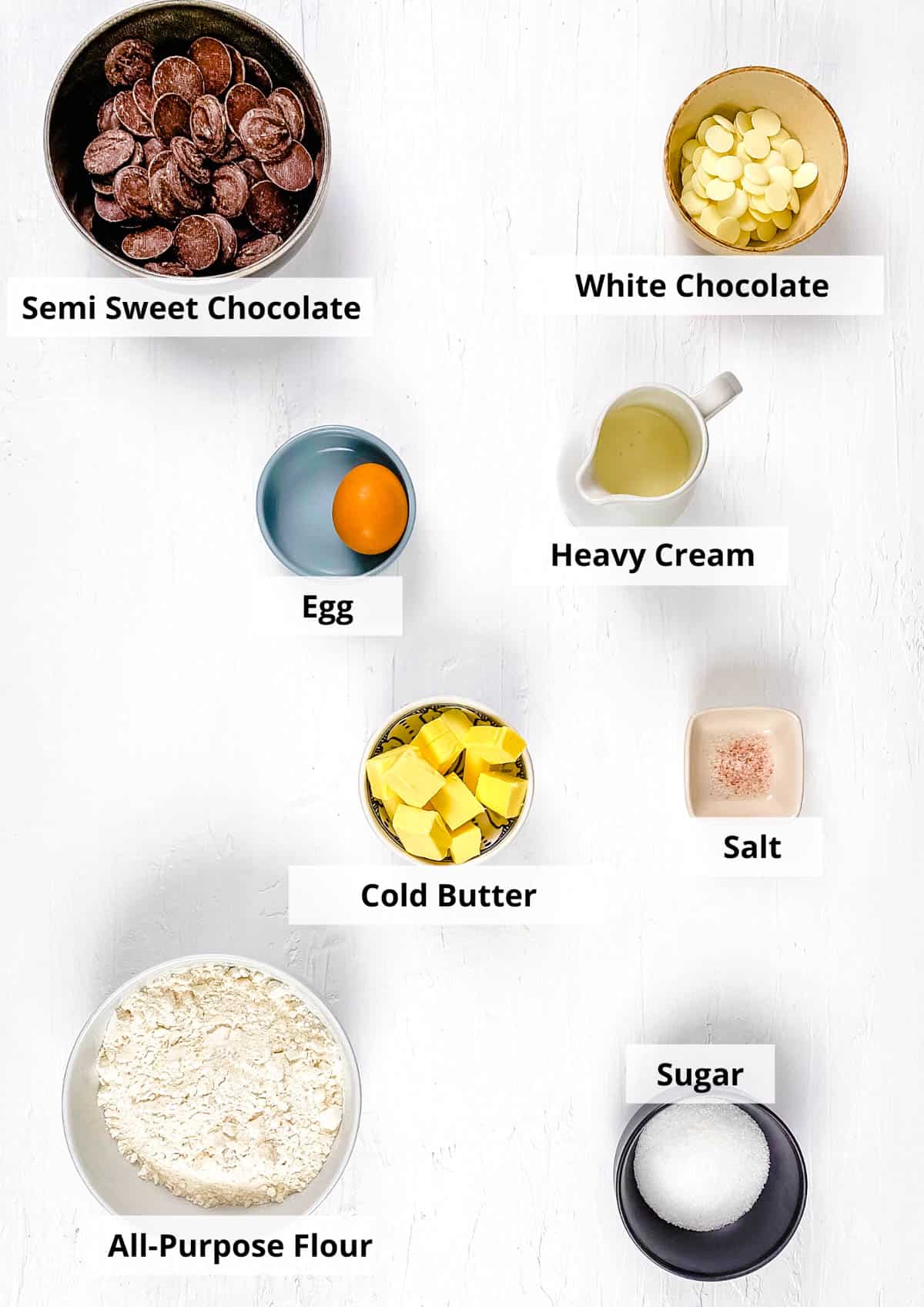 All-Purpose Flour: To make the shortcrust pastry. It has the right amount of protein to give you a sturdy but tender crust.
Sugar & Salt: To sweeten the pastry shells. A little bit of salt actually brings out the sweetness of the sugar even more!
Butter: A whole stick of butter seems like a lot, but it makes a buttery, tender tart crust! Be sure to use cold butter.
Egg: To bind the ingredients together.
Cold Water: Water hydrates the dough, but it's crucial to use cold water. Cold water keeps the butter cold, which is essential for a flaky crust that's not tough.
Semi-Sweet Chocolate: Semi-sweet chocolate is about 53 percent cacao, depending on the brand. If you like an intense chocolate flavor, swap with dark chocolate instead. It's best to use a high-quality chocolate bar like Ghirardelli or Callebaut. Use a chocolate bar, as chocolate chips don't always melt into a smooth consistency.
Heavy Cream: Heavy cream has a high fat content, which creates the richness of the chocolate ganache.
White Chocolate: For drizzling! I like easy-to-use white melting wafers that don't clump or harden too quickly.
📖 Variations
Baked mini chocolate tarts are easy to customize – there are so many different ways to modify this easy dessert! Try one of these droolworthy variations.
Toppings: Try chopped nuts, fresh berries, cacao nibs, whipped cream, sea salt, toffee bits, fresh fruit, smooth caramel, or raspberry sauce.
Chocolate Mousse Mini Tarts: Whip 1 cup of heavy cream to stiff peaks. Fold the whipped cream into the ganache until smooth, then fill the tart crusts. Chocolate mousse tarts need to be refrigerated.
Make It Gluten Free: You can use a gluten-free flour with xanthan gum instead of the all purpose flour – it should work well as a 1:1 substitution.
Mini Chocolate Caramel Tarts: Top each tart with store-bought or homemade caramel. The caramel layer can be on top or bottom.
🔪 How To Make Mini Chocolate Tarts
Pulse Ingredients: Add all the pastry ingredients, except the egg and water, into a food processor. Pulse until it resembles breadcrumbs.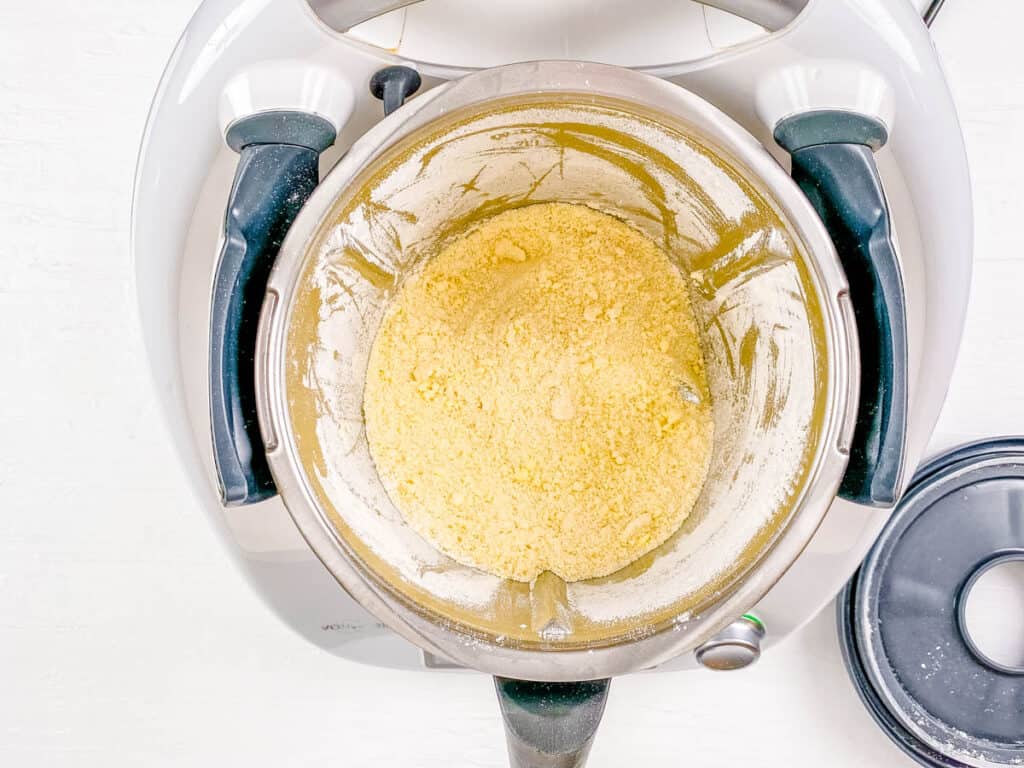 Form Dough: With the machine still running, pour in the egg and drizzle in the water until the mixture just starts to form a ball.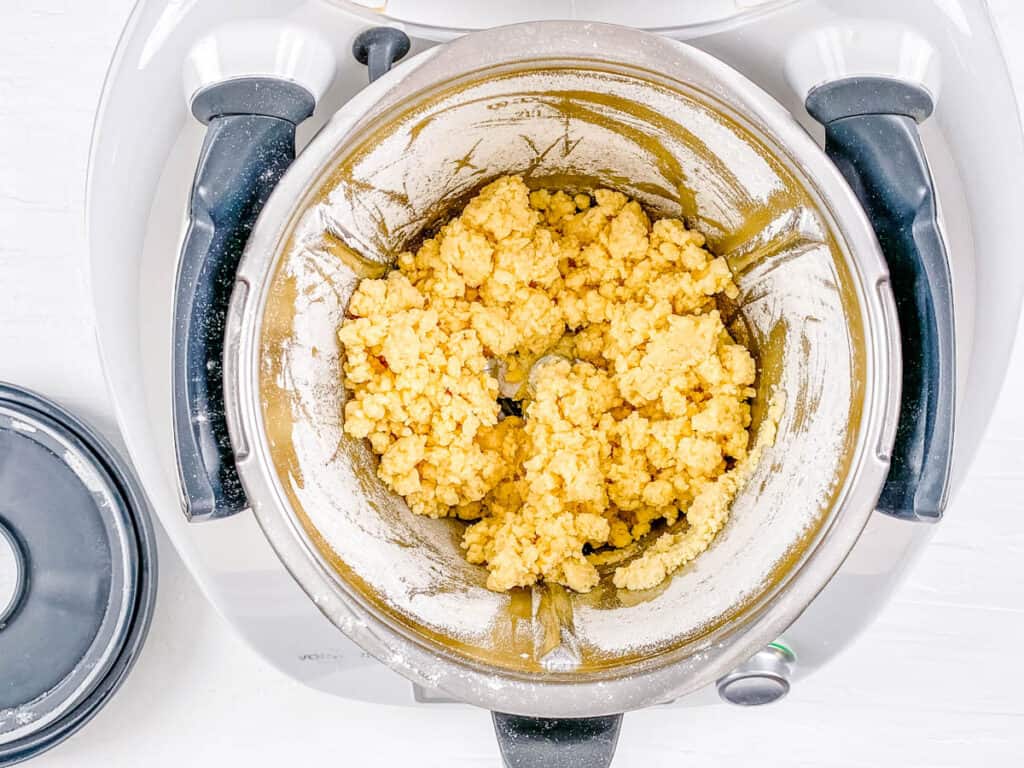 Chill Dough: Transfer the dough to a lightly floured work surface and use your hands to form a ball of dough. Press the ball into a disc shape, wrap it in plastic wrap, and chill for 30 to 45 minutes.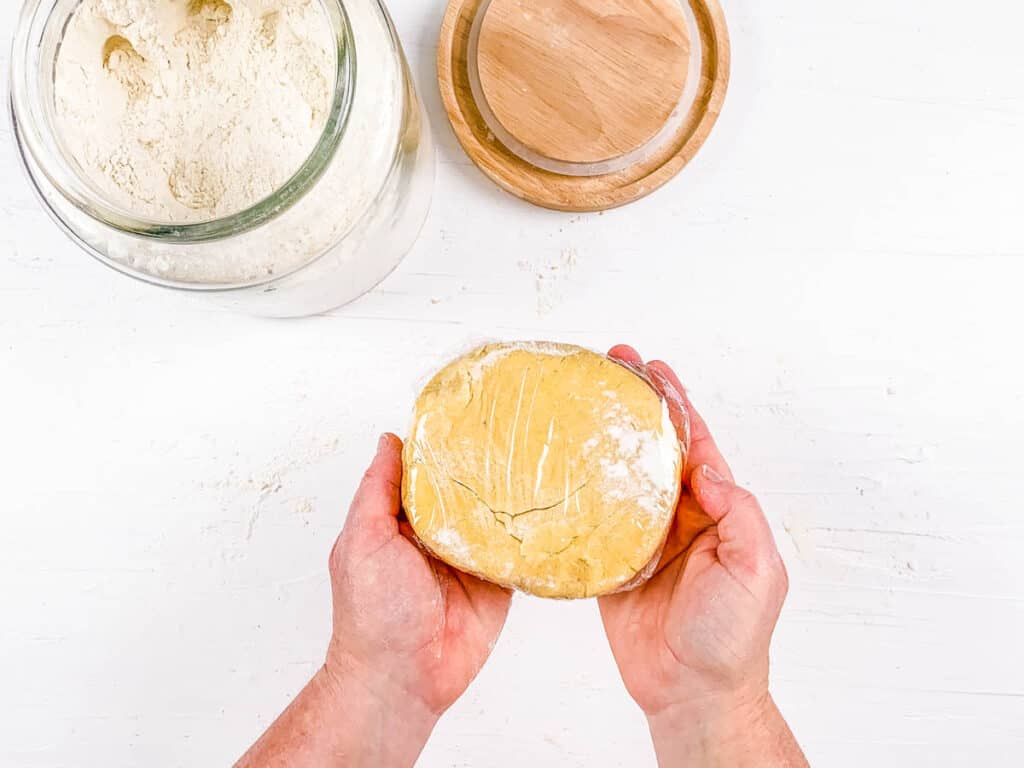 Spray Tart Pan, Roll Out The Dough: Spray the tart tins with nonstick cooking spray, and preheat your oven to 320 degrees Fahrenheit. Clean off a work area and dust it with flour. Roll the pastry dough out on the floured surface to about 1/8 of inch thick.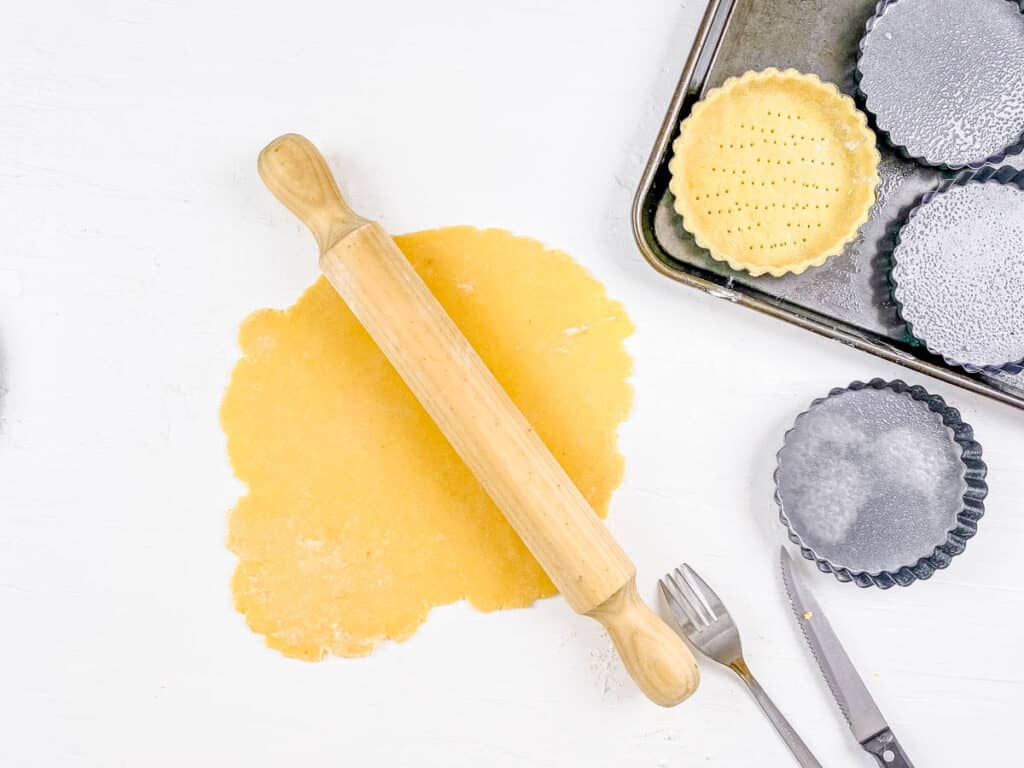 Shape Dough: Cut the dough into circles slightly larger than the tart pans.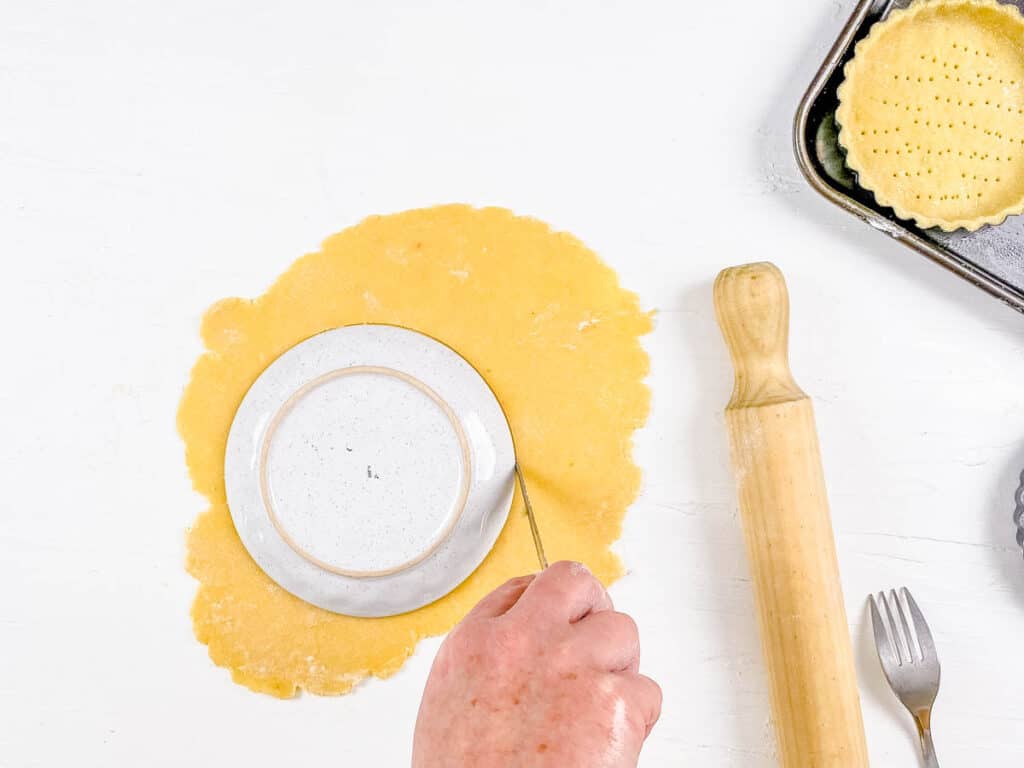 Fill Tart Pans: Place each dough circle into each tart pan. Gently press dough down into the pan to remove any air bubbles. Use a fork to poke holes in the bottom of the tart. Trim any excess pastry hanging off the edges with a sharp knife.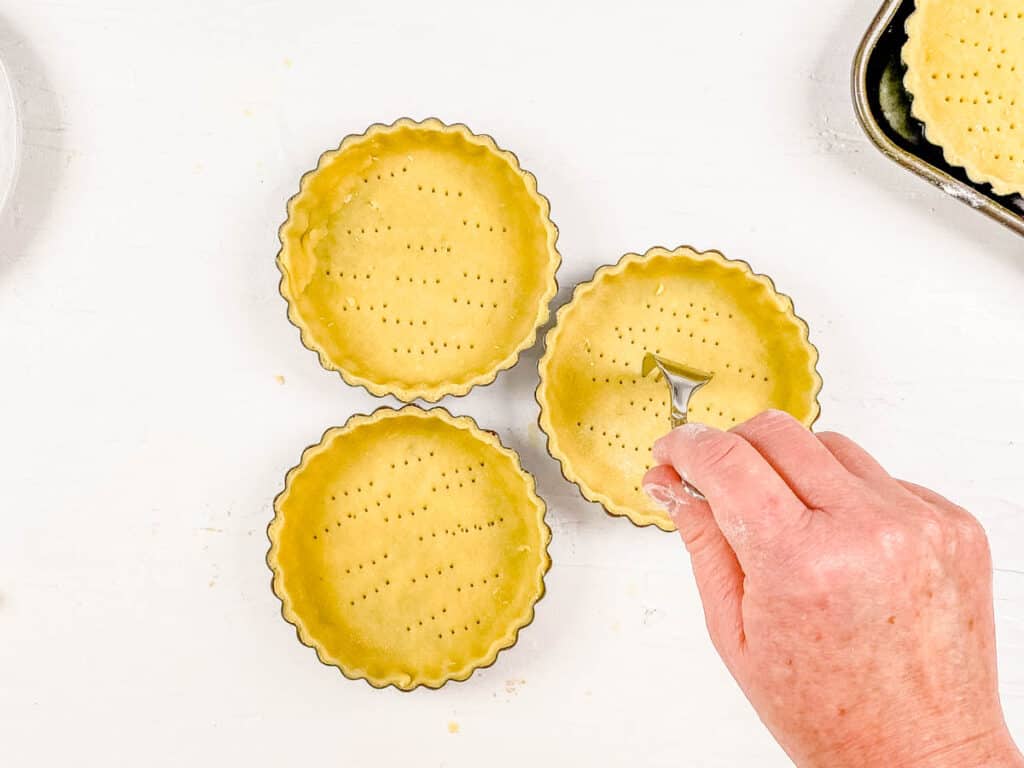 Bake Tart Shells: Place a small piece parchment paper into each pastry crust and fill with rice. Place the tartlet shells on a baking sheet and bake for 15 to 20 minutes, or until lightly golden brown.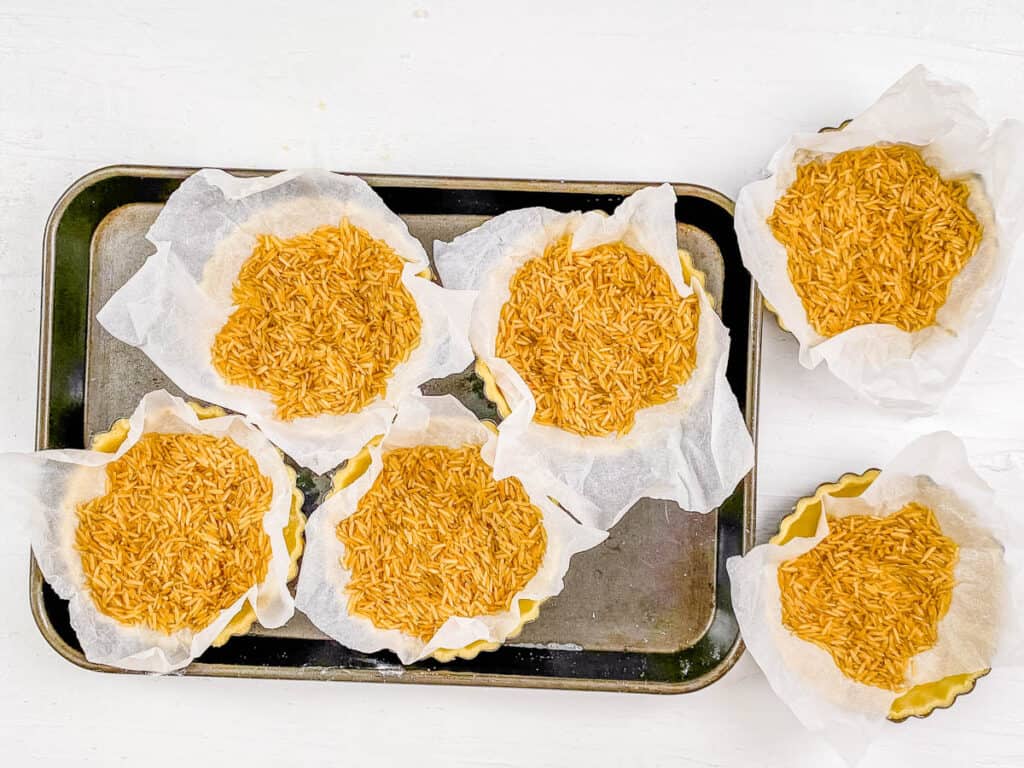 Chop Chocolate: Finely chop the chocolate and place into a large bowl.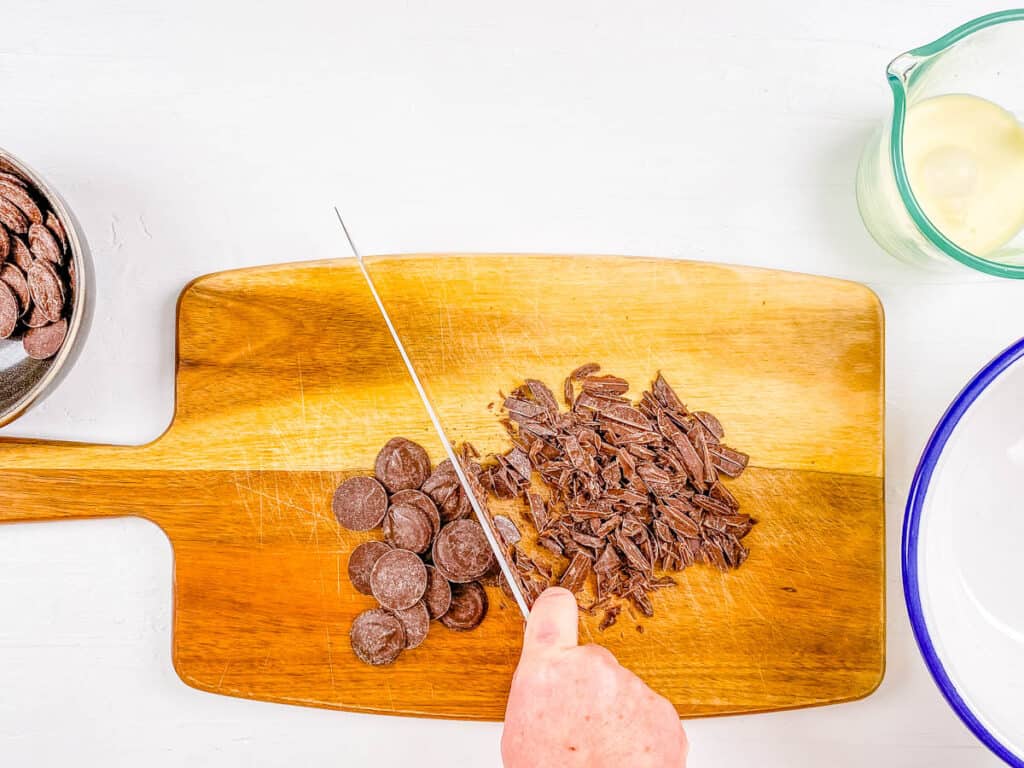 Add Cream: Heat the cream in a microwave-safe glass until it begins to bubble upward but not overflow. Alternatively, you can heat the cream in a small saucepan over medium heat. Pour the hot cream over the chocolate and let it sit for 30 seconds. Stir the melted chocolate with a rubber spatula until completely smooth.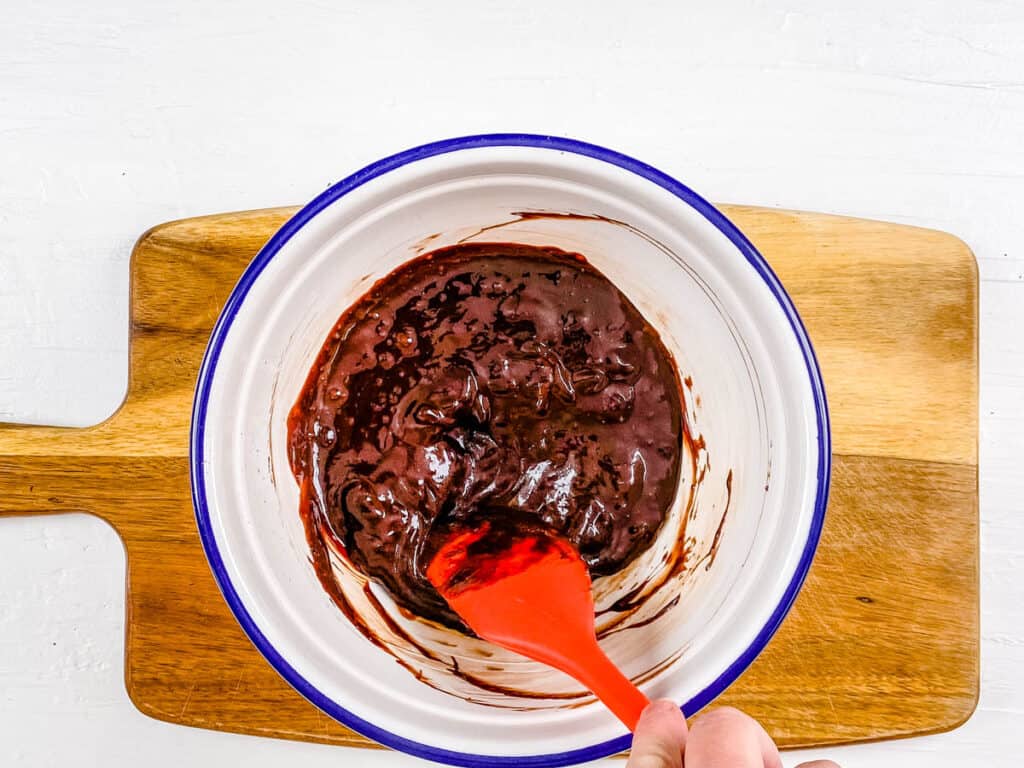 Remove From Oven: Pull the pastry crusts out of the oven, place on a wire rack.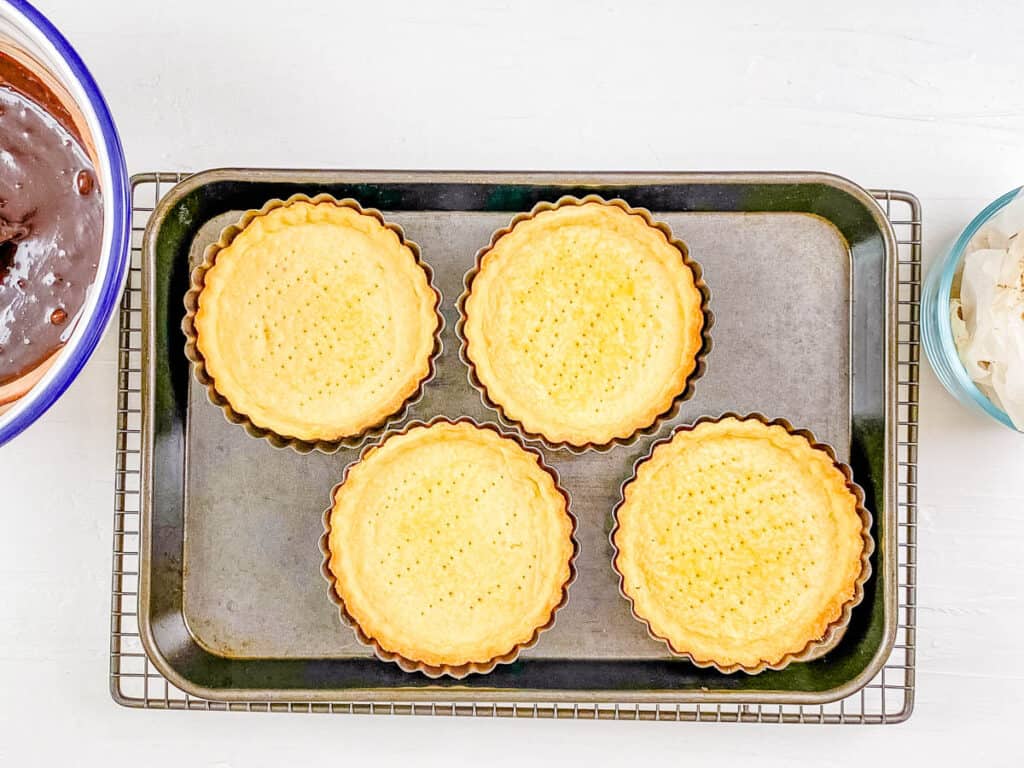 Fill Mini Chocolate Tart Shells: Pour the chocolate mixture into the cooled tart shells.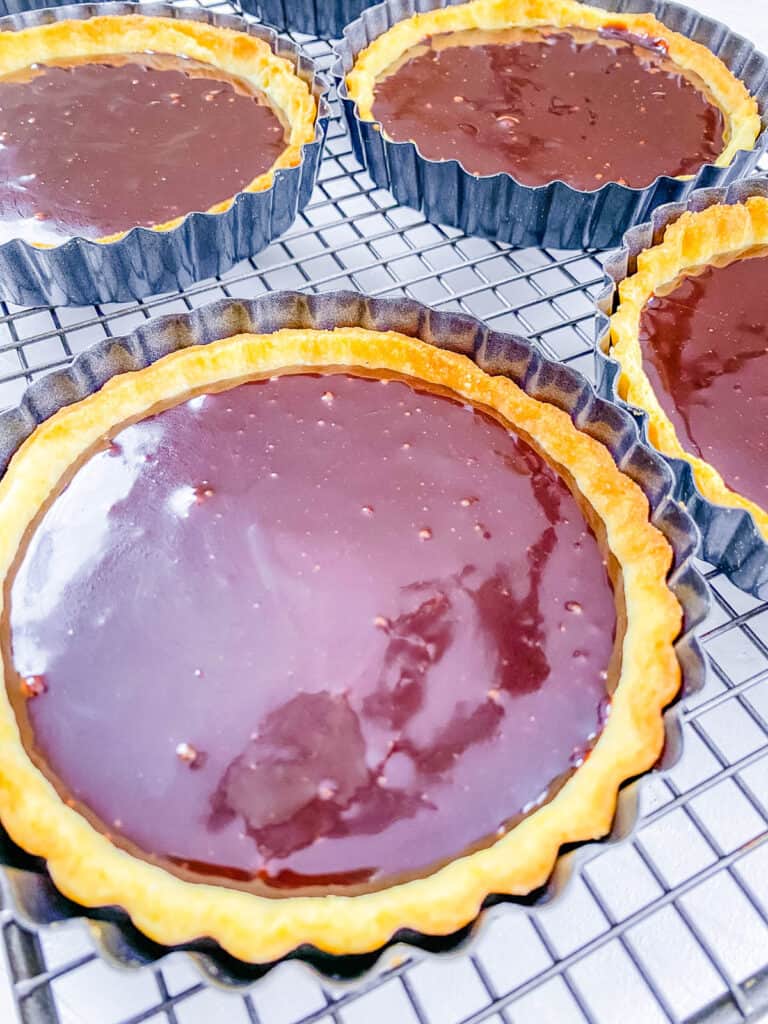 Chill & Serve: Place the chocolate desserts in the fridge for at least 2 hours, preferably overnight. Once these chocolate mini tarts are firmly set, drizzle the tops with white chocolate and enjoy!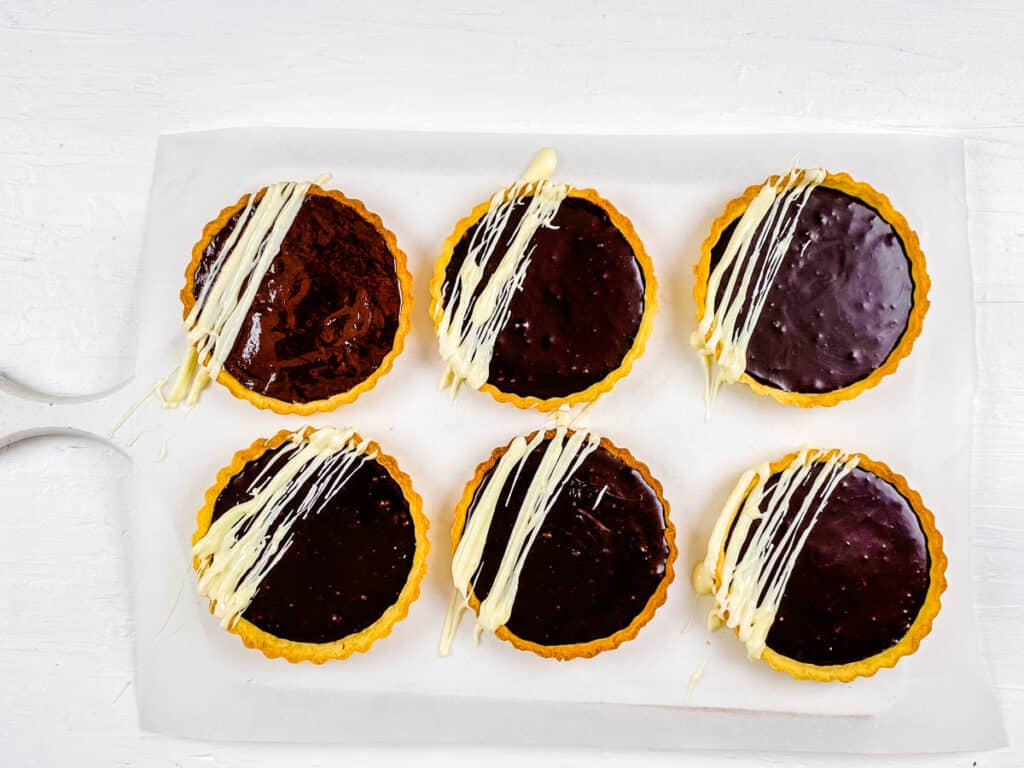 ❓ Recipe FAQs
Can I use store-bought pastry shells instead?
Yes! If you're in a hurry or want to simplify this recipe, buy store-bought pastry shells and skip directly to step 12. All you have to do is make the ganache filling, pour it into the shells, and chill until firmly set.
How should I store these mini tarts?
These mini chocolate ganache tarts taste best within a day of making them. This ensures the shortbread crust stays crisp. Store leftover tarts in an airtight container in the refrigerator for up 3 days.
Can I freeze mini chocolate tarts?
Yes, mini ganache tarts freeze well. Chill the tarts first so they are firmly set, then wrap them in plastic wrap and freeze. For best results, enjoy within 3 months. After that you risk them getting freezer burnt. Thaw the tarts in the refrigerator overnight, then enjoy!
Can I make one large chocolate tart instead?
Yes, if you don't want to make individual tarts, you can make this recipe in one large tart pan instead of small tart pans.
💭 Recipe Tips
Don't skip chilling the chocolate tart before serving because it needs that time to set up all the way.
Remove the tart from the fridge about 15 minutes before serving.
Don't use chocolate chips for the ganache – a high quality chocolate bar melts much better and creates a much smoother consistency!
It's important to add pastry weights like dried rice or beans when you bake the crust. Doing this prevents the bottoms from puffing up too much.
Be sure to use cold butter for the crust. The tiny pieces of butter throughout the crust release steam in the oven, which gives you a light and tender crust.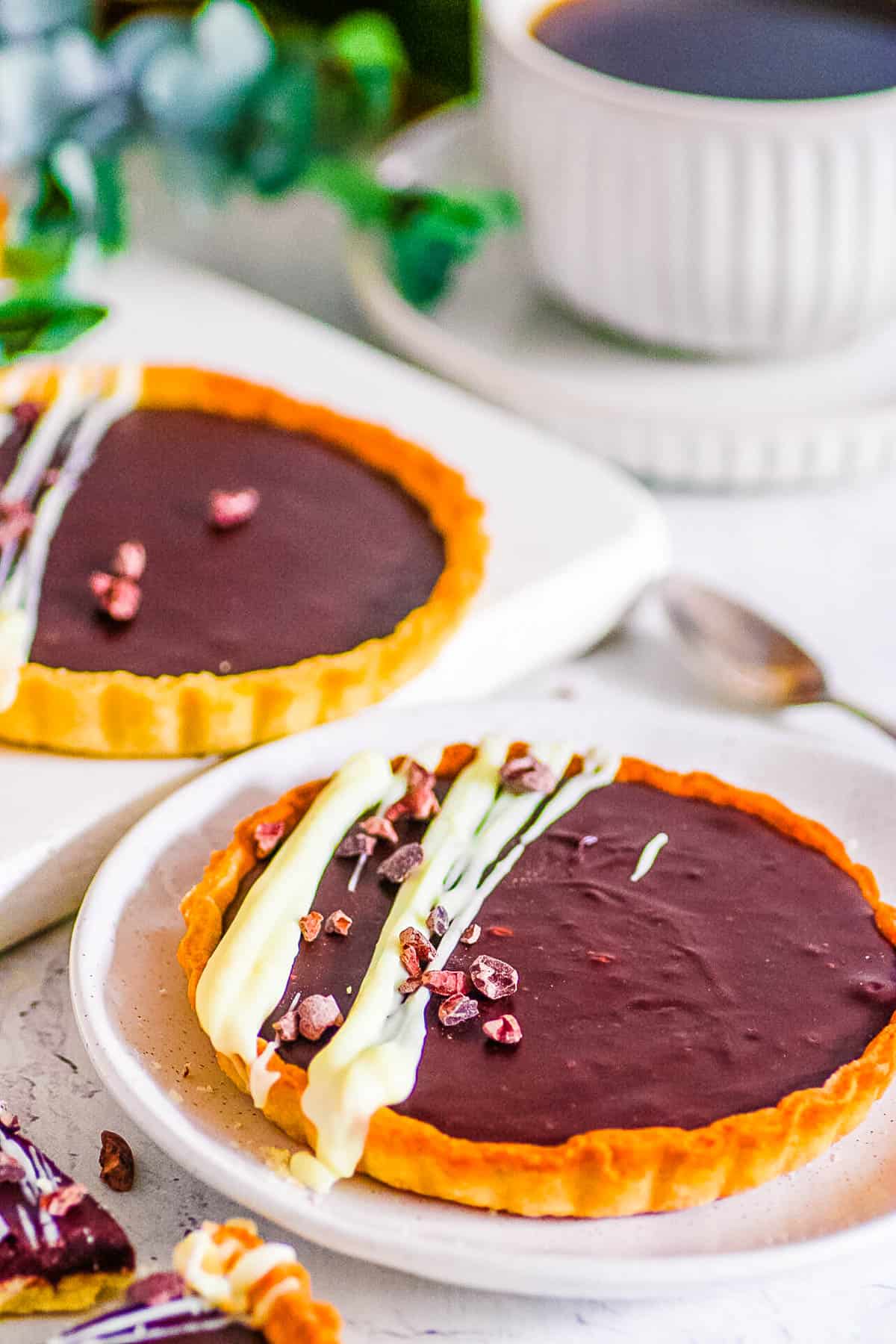 🍫 More Chocolate Dessert Recipes!
LOVE THIS RECIPE? Please leave a 5-star rating 🌟 in the recipe card below and/or a review in the comments section further down the page!
You can also FOLLOW ME on FACEBOOK, TWITTER, INSTAGRAM, and PINTEREST to see more delicious, healthy, family-friendly food, and if you have any questions, I'm here to help!
📋 Recipe Card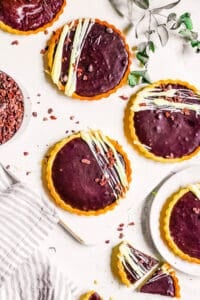 Print Recipe
Mini Chocolate Tarts
Impress your friends with easy-to-master mini chocolate tarts! These chocolate tartlets feature a decadent chocolate ganache filling in a buttery pastry crust with a white chocolate drizzle. You will love these impressive yet portable treats!
Ingredients
Topping Options
¼

cup

white chocolate, melted
Instructions
Add all pastry ingredients, except the egg and water, into a high-speed food processor and blitz until it looks like breadcrumbs.

While the machine is running pour in the egg and slowly add the water until the dough just starts to form a ball.

Turn dough out onto a lightly floured bench, bring the dough together and shape into a ball. Press into a disc shape, cover with plastic wrap and rest it in the fridge for 30-45 minutes.

Lightly spray 6×6 inch tart dishes with nonstick cooking spray.

Preheat the oven to 320 degrees F / 160 C

Roll the dough out to approximately ⅛ inch thickness. Cut the dough into circles a little larger than the tart dishes.

Place the dough circle into the prepared tart dish, gently press to remove any air bubbles. Trim the edges and use a fork to dock the base.

Repeat with remaining dough.

Place a sheet of baking paper into each tart and fill it either with rice or baking beads.

Place the tart dishes on to an oven tray and bake for 15-20 minutes or until lightly golden.

Remove and allow to cool while preparing the ganache filling.

Finely chop the chocolate and place into a mixing bowl.

Heat the cream in a microwave until hot. Pour over the chopped chocolate and stir until completely melted.

Evenly divide the filling amongst the cooked tart bases.

Place into the fridge for 2 hours or overnight to set firmly.

Serve the tarts with a drizzle of melted white chocolate.
Notes
The finer you chop the chocolate the easier it is to melt with the hot cream.
Bake the tart bases until lightly golden.
Chilling the pastry before rolling and cutting reduces shrinkage.
Substitute the all-purpose flour with gluten free flour to make these tarts gluten free.
Using a fork to dock the pastry allow reduces air bubbles in the pastry.
Nutrition
Serving:
0.5
tart
|
Calories:
354
kcal
|
Carbohydrates:
31
g
|
Protein:
4
g
|
Fat:
24
g
|
Saturated Fat:
14
g
|
Polyunsaturated Fat:
1
g
|
Monounsaturated Fat:
7
g
|
Trans Fat:
0.3
g
|
Cholesterol:
53
mg
|
Sodium:
100
mg
|
Potassium:
183
mg
|
Fiber:
2
g
|
Sugar:
16
g
20 responses to "Mini Chocolate Tarts"