Protein Hot Chocolate
This post may contain affiliate links. As an Amazon Associate, I earn from qualifying purchases. Please read my disclosure.
Warm and cozy, this protein hot chocolate is ready in less than 10 minutes! Protein powder, cocoa, and maple syrup make a creamy, vegan-friendly, protein-packed hot cocoa you can feel good about.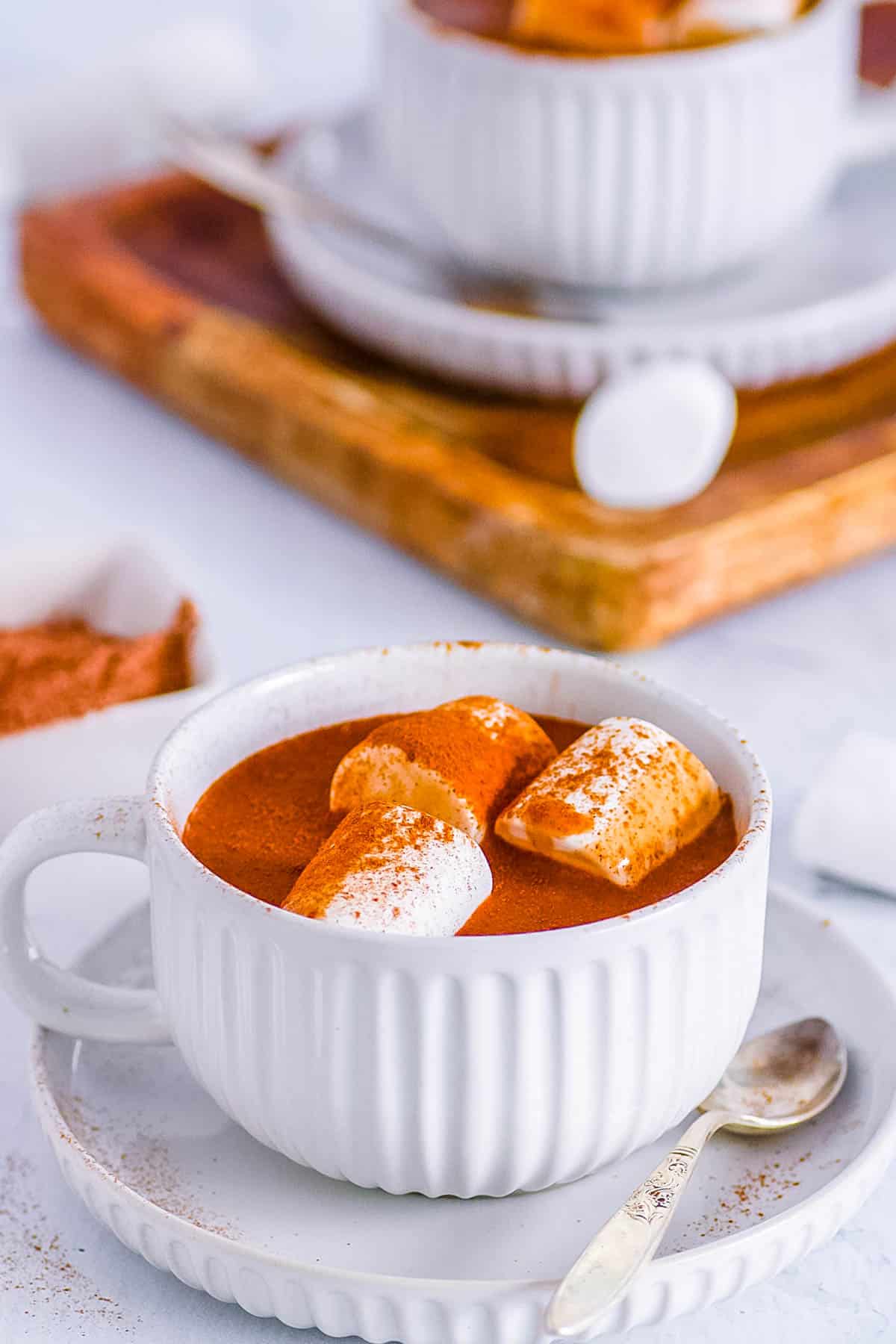 Once you try homemade hot chocolate, it's nearly impossible to drink the store-bought packets of hot cocoa mix. They taste weak and flavorless in comparison, plus it only takes 10 minutes and a few pantry staples to make your own.
For this high protein hot chocolate recipe, I added chocolate protein powder for a boost of feel-good protein! This rich and luscious drink is low calorie, naturally sweetened, and vegan too! Who says you can't have your cake and eat it too? Healthy yet decadent? Yes, please!
Latest Recipe Video!
Make this protein powder hot chocolate even more indulgent with vegan marshmallows, whipped cream, or mini chocolate chips!
👩‍🍳 Why This Recipe Works
10 grams of protein
Easy hot chocolate recipe
Way better and healthier than hot chocolate mix
Perfect consistency
Low calorie hot chocolate
Natural ingredients
Protein promotes muscle growth
Best protein hot chocolate ever!
🥘 Ingredients
Protein hot cocoa requires six simple ingredients that can be easily found at your local grocery store!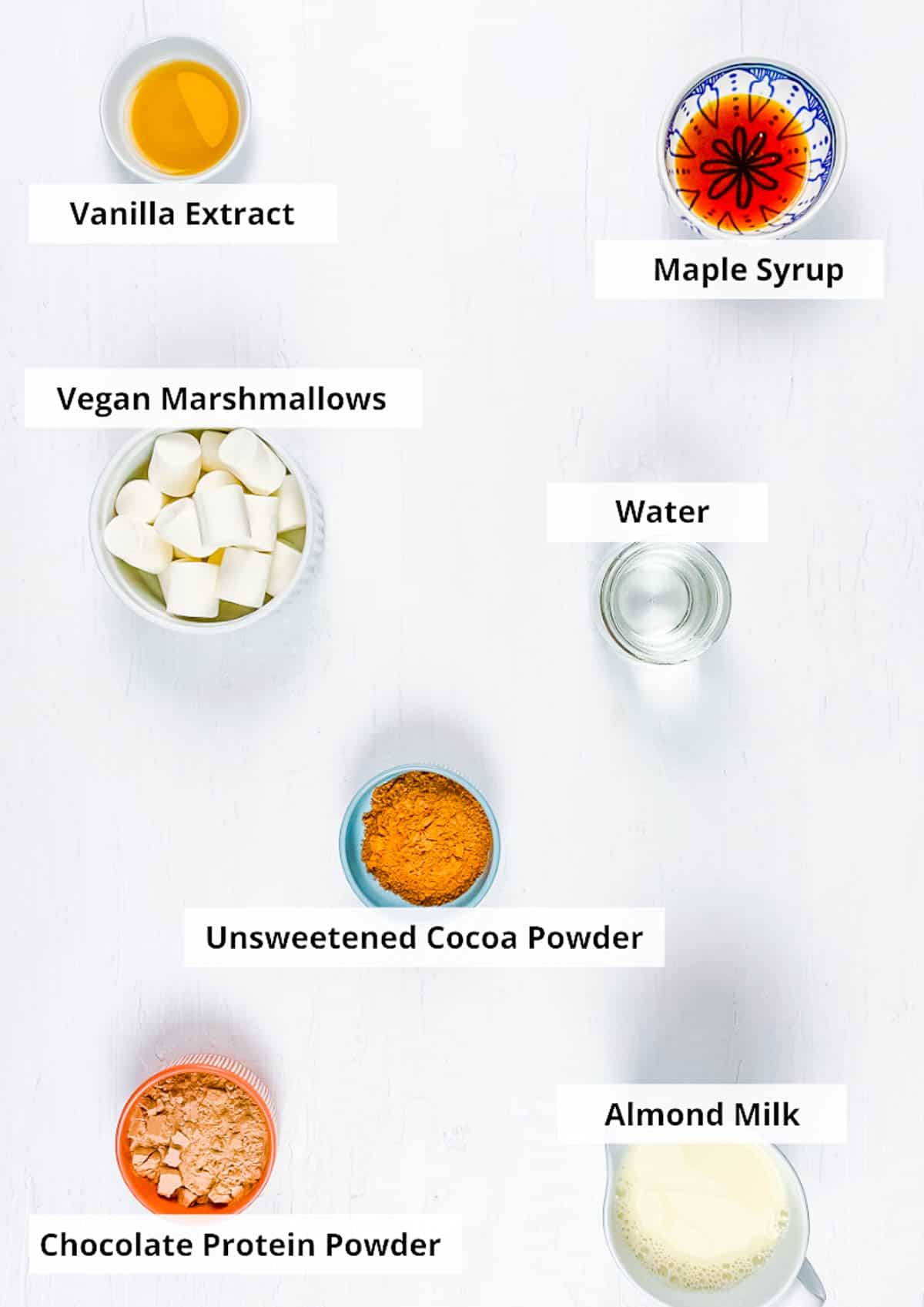 Chocolate Protein Powder: All protein powders taste different, so use your favorite brand! If you're vegan, buy vegan protein like pea protein or hemp protein. Casein protein and whey protein powder are derived from milk. If you're gluten free, purchase a gluten-free brand like Quest protein powder.
Unsweetened Cocoa Powder: For that rich chocolate flavor!
Almond Milk: Unsweetened almond milk is low calorie and creamy with a mild flavor. It's a great non-dairy choice for healthy hot chocolate.
Water: Feel free to swap with more almond milk if you like.
Maple Syrup: Typically, chocolate protein powder has some form of sugar in it, so just a small amount of maple syrup is perfect. If you use unsweetened protein powder, add more maple syrup to taste.
Vanilla Extract: Vanilla enhances the flavor of the cocoa.
Vegan Marshmallows: It's not a hot cocoa recipe without marshmallows!
📖 Variations
There are so many different ways to customize this dairy free hot chocolate protein drink! Try one of these delicious variations.
Milk: Feel free to use your milk of choice. Oat and almond milk are two of my favorite non-dairy milks for hot cocoa, but any of them work great. For a traditional hot chocolate, use whole milk instead of almond milk. Keep in mind, it won't be vegan friendly if you use dairy milk for this recipe!
Sweetener: Sugar, brown sugar, coconut sugar, honey, or maple syrup are great options! Start with less because you can always add more, but you can't take it out.
Protein Powder: Protein powders come in so many unique flavors! Try swapping chocolate protein powder with chocolate mint, caramel, or peanut butter. There are plenty of low carb, gluten-free, and vegan options too! I like ghost protein hot cocoa and they have plenty of vegan options!
Toppings: Mini chocolate chips, crushed peppermint candies, sea salt, coconut whipped cream, crushed cookies, and cacao nibs are all delicious!
Collagen Hot Chocolate: Swap the protein powder with chocolate collagen powder. Keep in mind, it won't be vegan or vegetarian friendly with this variation!
🔪 Instructions
Whisk Dry Ingredients: In a medium bowl, whisk the protein powder and the cocoa powder.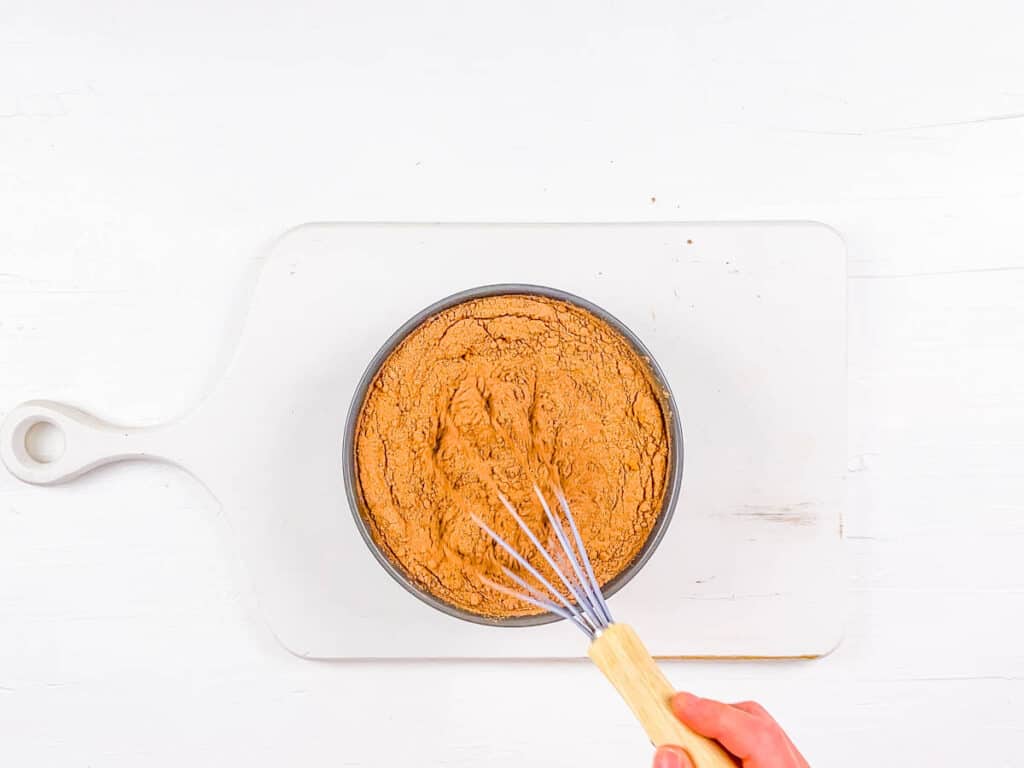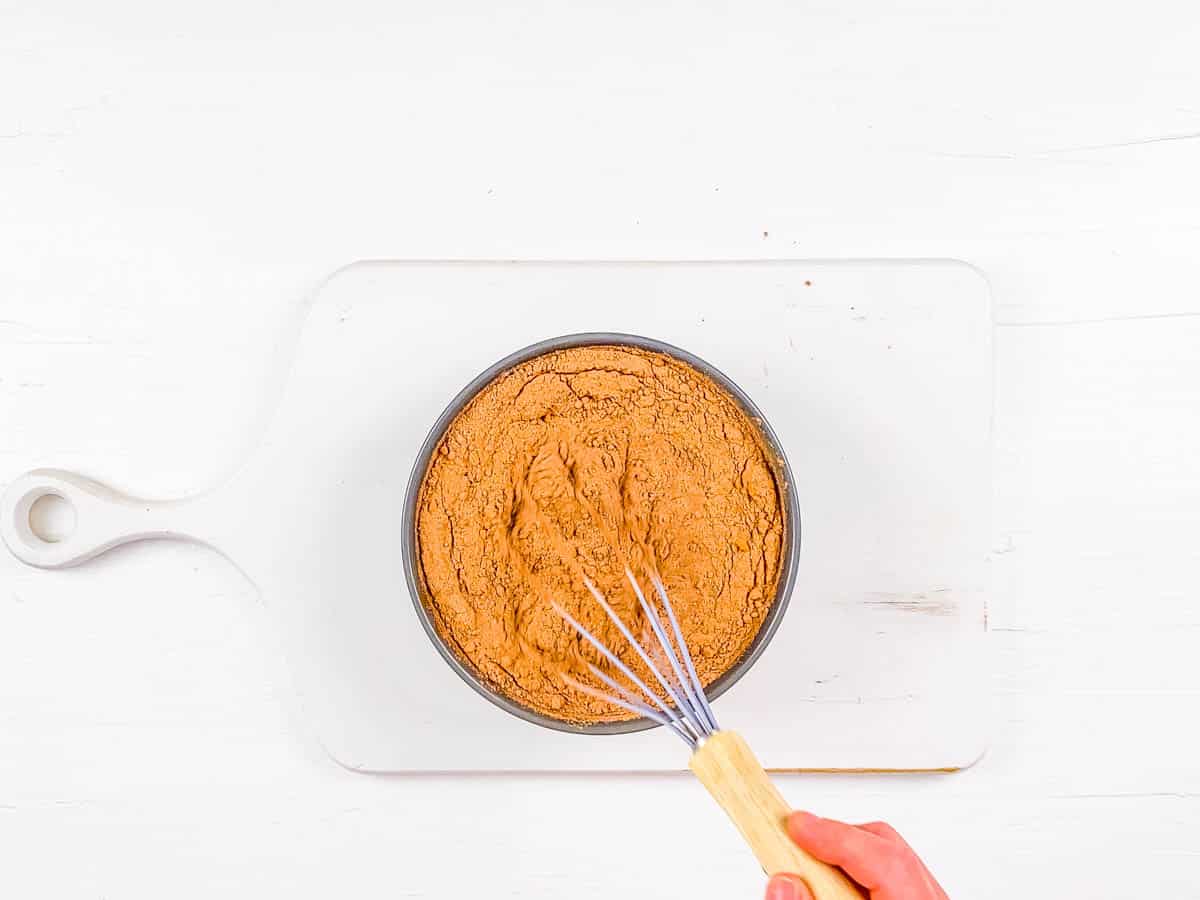 Add Remaining Ingredients: Add the almond milk, water, maple syrup, and vanilla to the bowl. Whisk until well combined.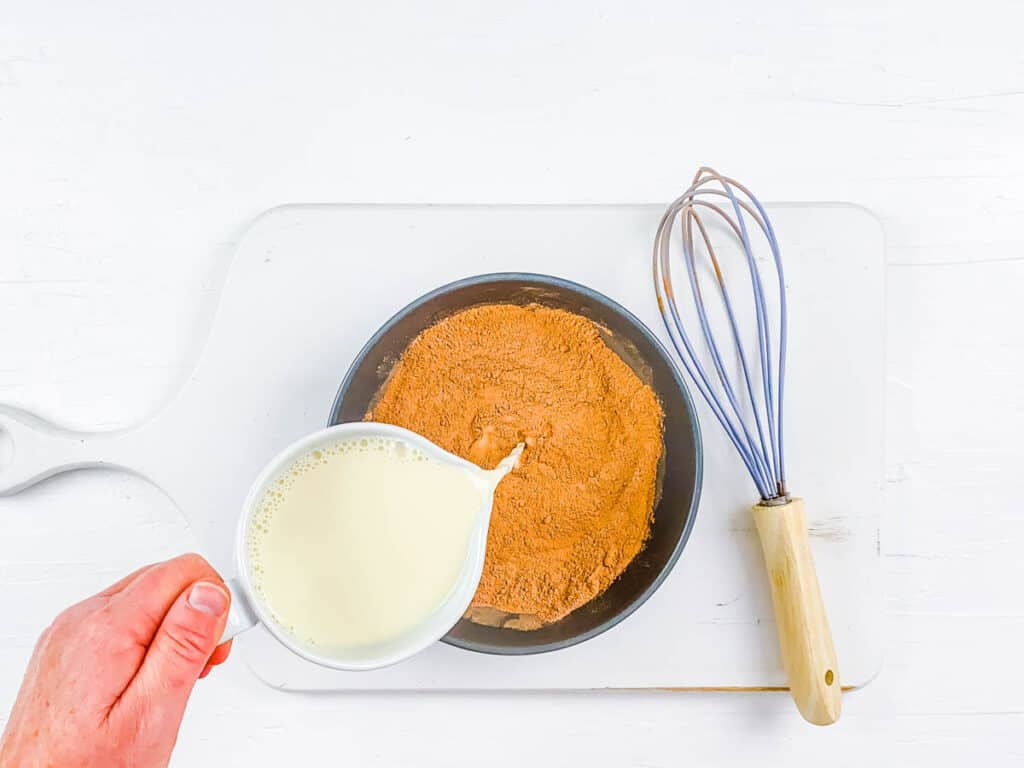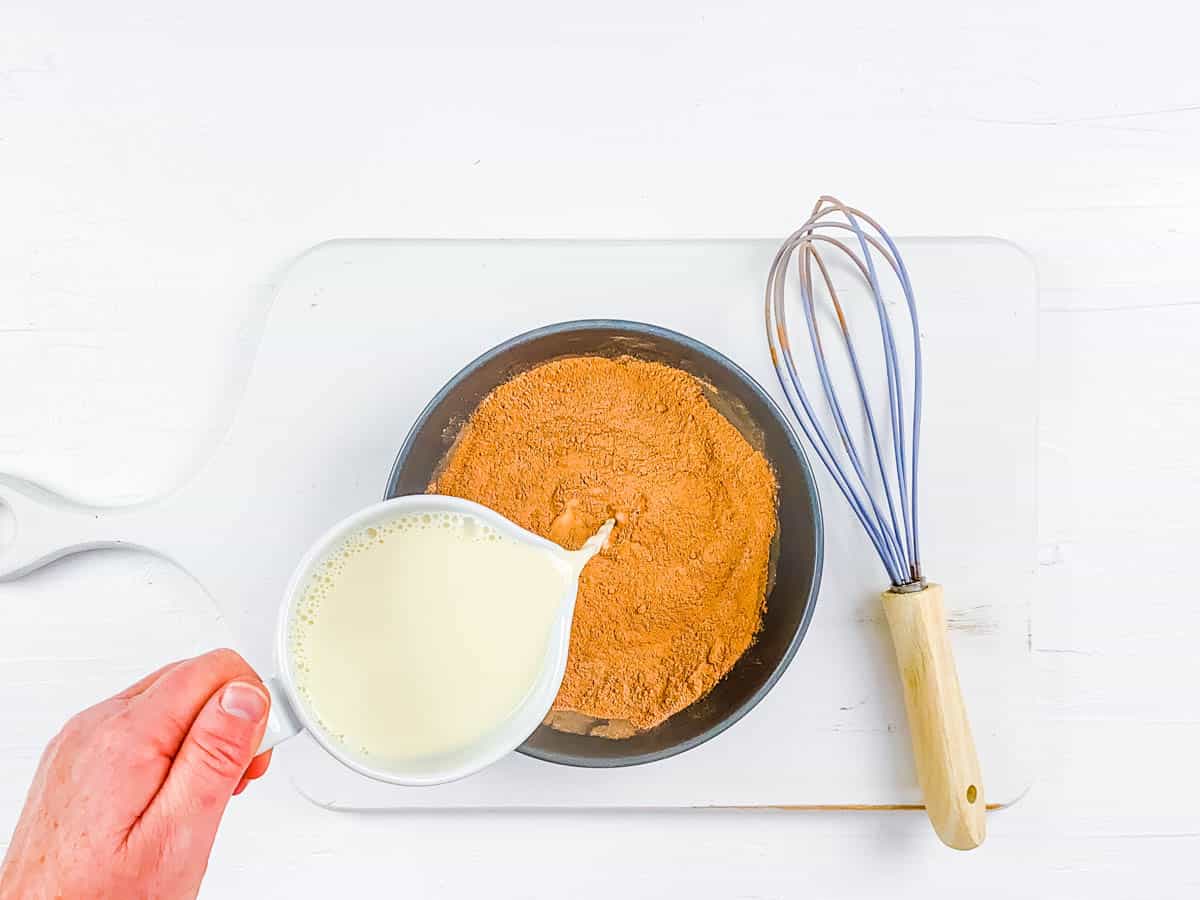 Simmer Hot Cocoa: Pour the chocolate mixture into a small saucepan and bring to a simmer over medium heat. Stir to prevent this low sugar hot chocolate from burning.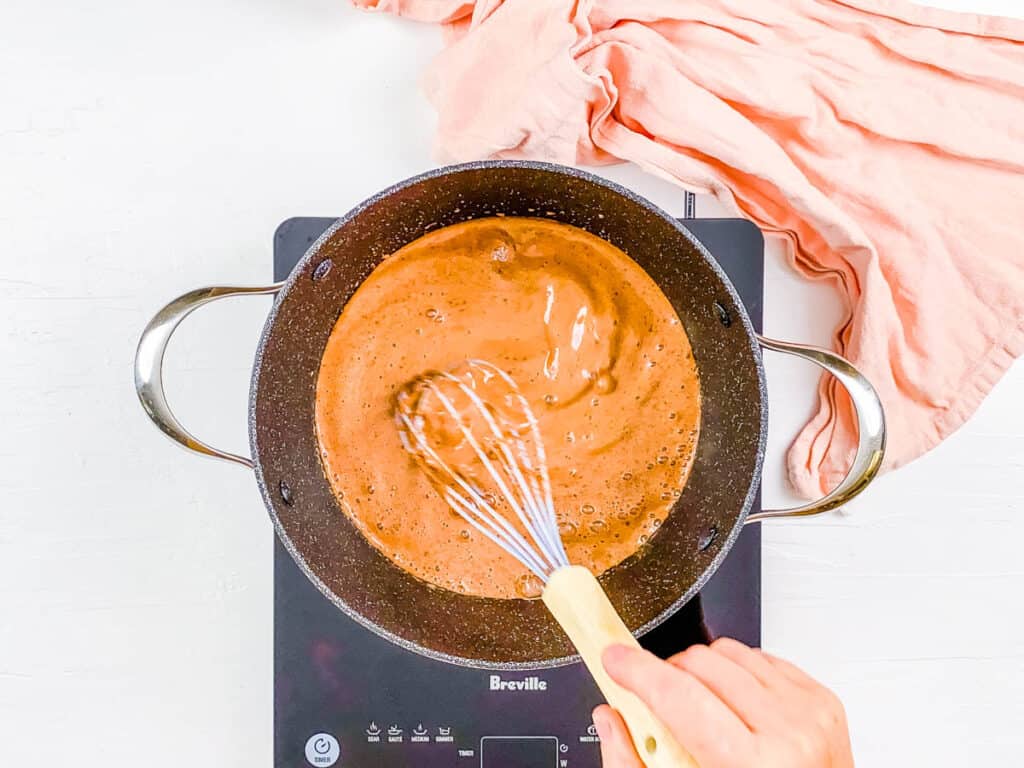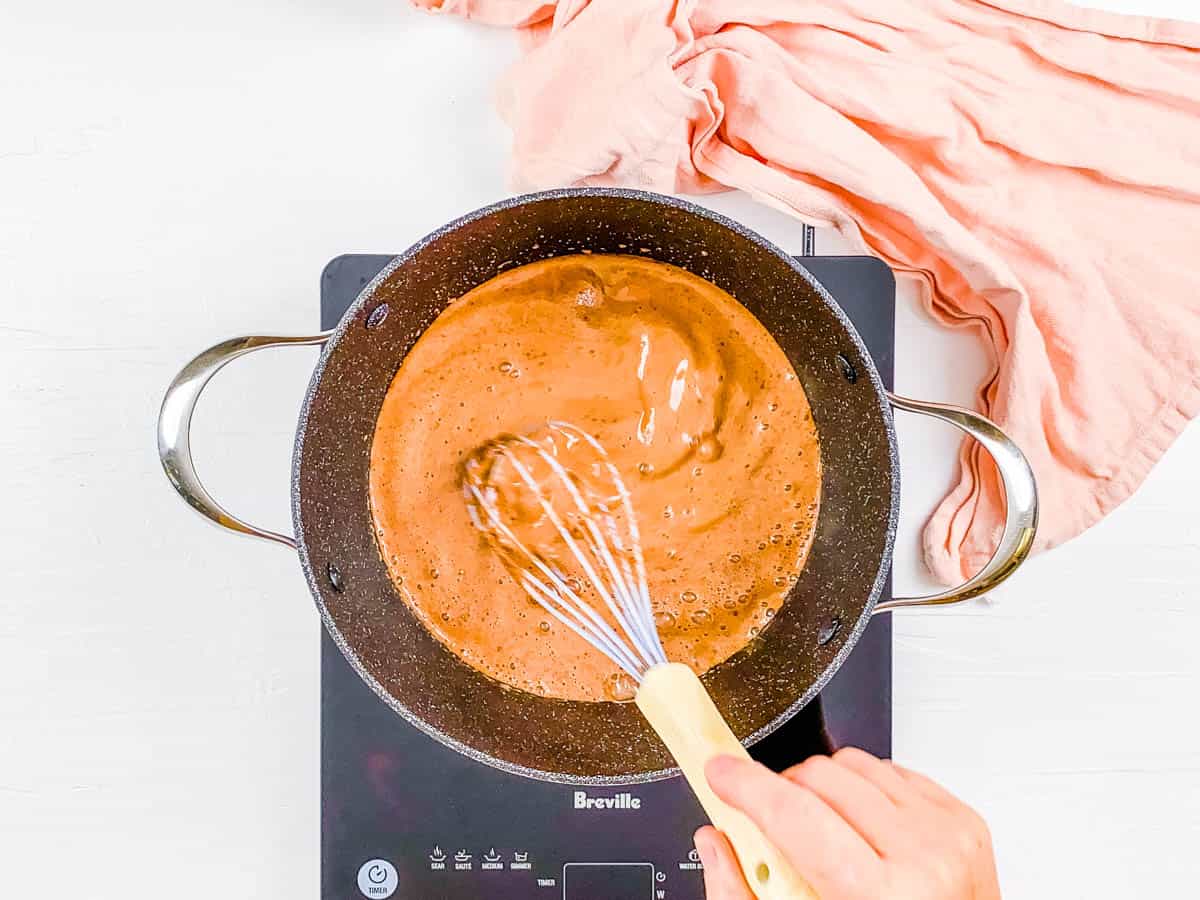 Pour & Enjoy: Carefully pour into two mugs or one large glass and top with plenty of vegan marshmallows. Enjoy!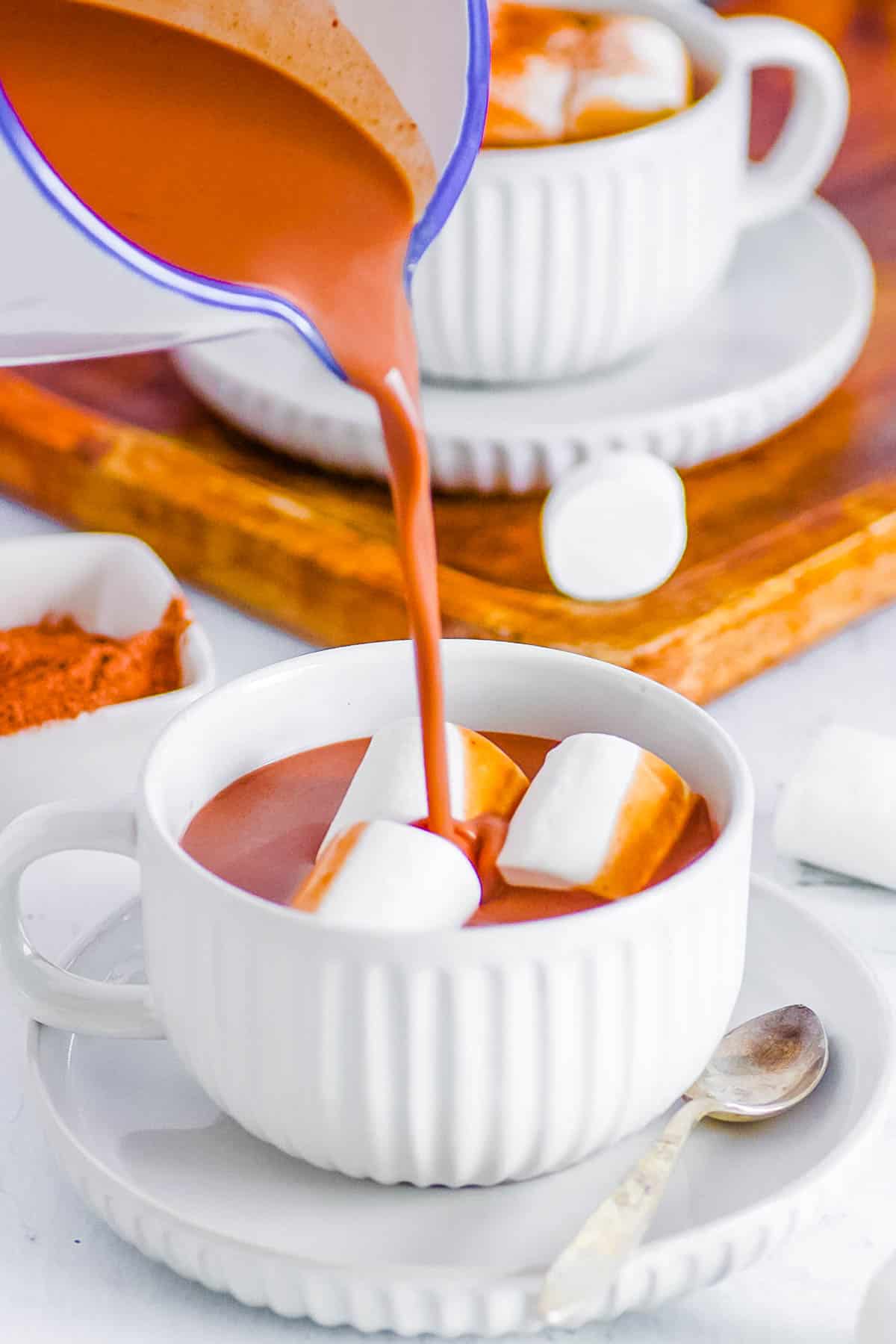 ❓ Recipe FAQs
Can I use protein powder in hot chocolate?
Yes! Protein powder tastes delicious in a hot drink like coffee or hot chocolate. All protein powders taste different, so be sure to buy a brand you like the taste and texture of.
Is hot chocolate a good source of protein?
It depends on the hot cocoa recipe. Most recipes call for whole milk which provides a modest amount of protein. This creamy hot chocolate uses protein powder for a substantial amount of protein — 10 grams per cup!
How should I serve vegan protein hot chocolate?
Replace your post-workout hot chocolate protein shake with this hot beverage instead! Or enjoy it as a decadent treat packed with healthy protein. You can serve it alongside a larger breakfast spread with oatmeal, pancakes, etc, or enjoy it all on its own. It's great for a healthier dessert, topped with with vegan marshmallows or coconut whipped cream too!
Can I store protein hot cocoa?
Store any leftover hot cocoa in a jar with a lid or an airtight container for up to 2 days. Reheat in a small saucepan on the stovetop or in the microwave until hot.
💭 Expert Tips
Technically you can use hot water instead of milk, but the cocoa won't be as creamy! The creamier the milk, the creamier the cocoa!
For a low carbohydrate count, choose a low carb protein powder and swap the maple syrup with a 1:1 sugar substitute.
I don't recommend using cacao powder instead of cocoa powder – as you'll end up with a more bitter chocolate flavor and may need to use more sugar to balance it out.
This recipe is only as healthy as the type of protein powder you choose! For the healthiest option, choose a high quality plant based protein with minimal sugar.
Don't leave the stove when simmering the chocolate mixture. If you don't stir it, the bottom can burn.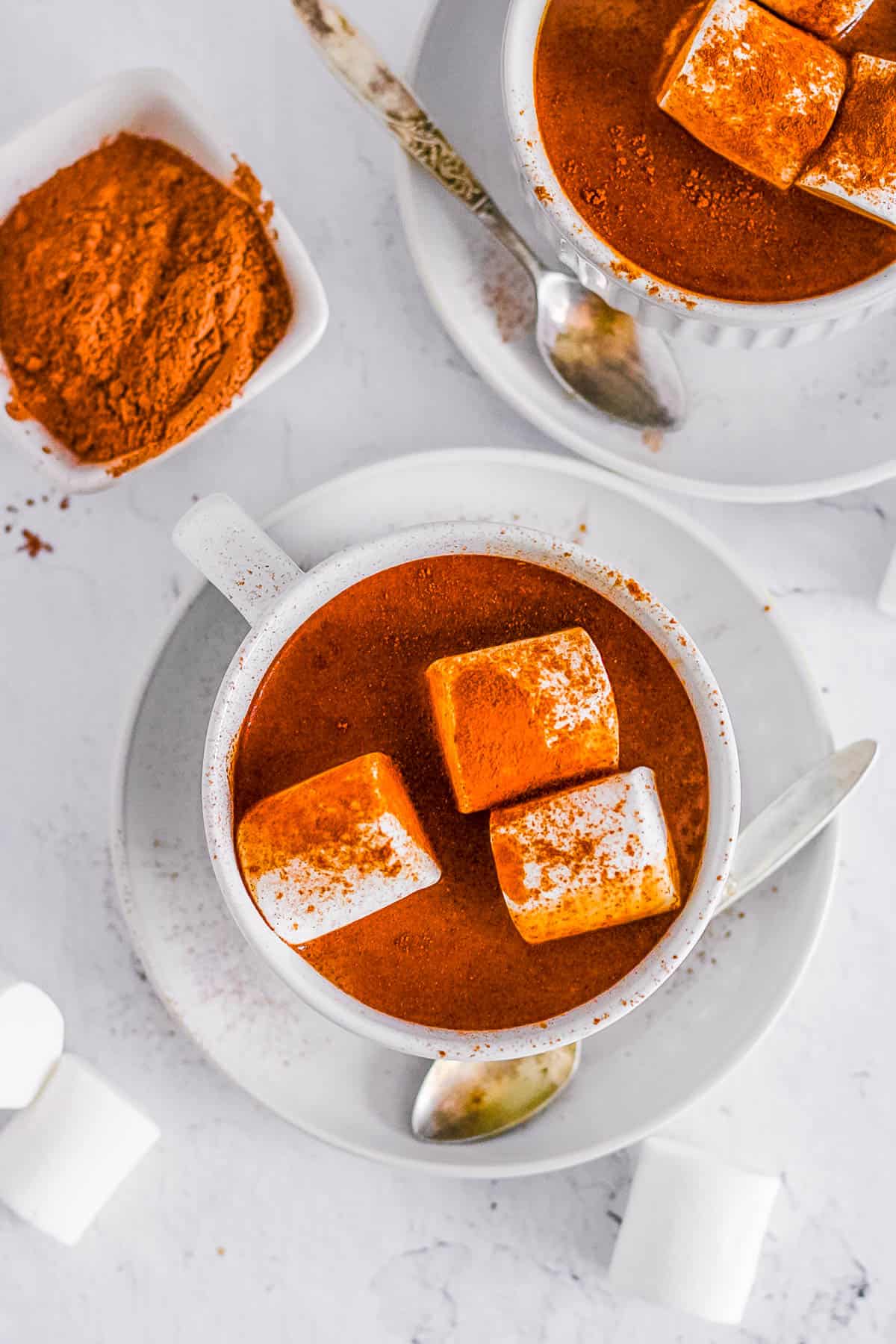 ☕ More Healthy Drink Recipes!
LOVE THIS RECIPE? Please leave a 5-star rating 🌟 in the recipe card below and/or a review in the comments section further down the page!
You can also FOLLOW ME on FACEBOOK, TWITTER, INSTAGRAM, and PINTEREST to see more delicious, healthy, family-friendly food, and if you have any questions, I'm here to help!
📋 Recipe Card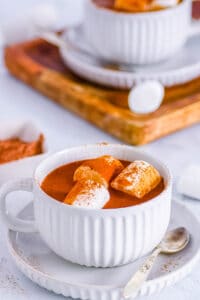 Print Recipe
Protein Hot Chocolate
Warm and cozy, this protein hot chocolate is ready in less than 10 minutes! Protein powder, cocoa, and maple syrup make a creamy, protein-packed hot cocoa you can feel good about.
Instructions
In a medium mixing bowl whisk together the protein powder and cocoa powder.

Whisk all remaining ingredients into the dry ingredients until well combined.

Pour into a small pot and bring to a simmer, stirring while heating to ensure the hot chocolate doesn't burn.

Pour into 2 serving cups and top with vegan marshmallows, if using.
Notes
Adjust the sweetness by adding maple syrup to taste.
Any milk can be used instead of almond milk.
You could try adding 1 tsp orange zest, 1 tsp ground cinnamon or 1 tsp instant coffee granules to add a different flavor.
Dust with cocoa powder or ground cinnamon.
Nutrition
Serving:
1
cup
|
Calories:
123
kcal
|
Carbohydrates:
14
g
|
Protein:
10
g
|
Fat:
4
g
|
Saturated Fat:
1
g
|
Polyunsaturated Fat:
2
g
|
Monounsaturated Fat:
2
g
|
Cholesterol:
16
mg
|
Sodium:
389
mg
|
Potassium:
205
mg
|
Fiber:
5
g
|
Sugar:
7
g
10 responses to "Protein Hot Chocolate"