Beetroot Latte (Pink Latte Recipe)
This post may contain affiliate links. As an Amazon Associate, I earn from qualifying purchases. Please read my disclosure.
Swap out the classic latte for a creamy and nourishing beetroot latte! Warm spices, coconut sugar, and beetroot powder create a cozy yet nourishing cup of morning coffee. This pink latte is the perfect way to start your day! The best part? It's also naturally gluten-free, dairy-free, & vegan!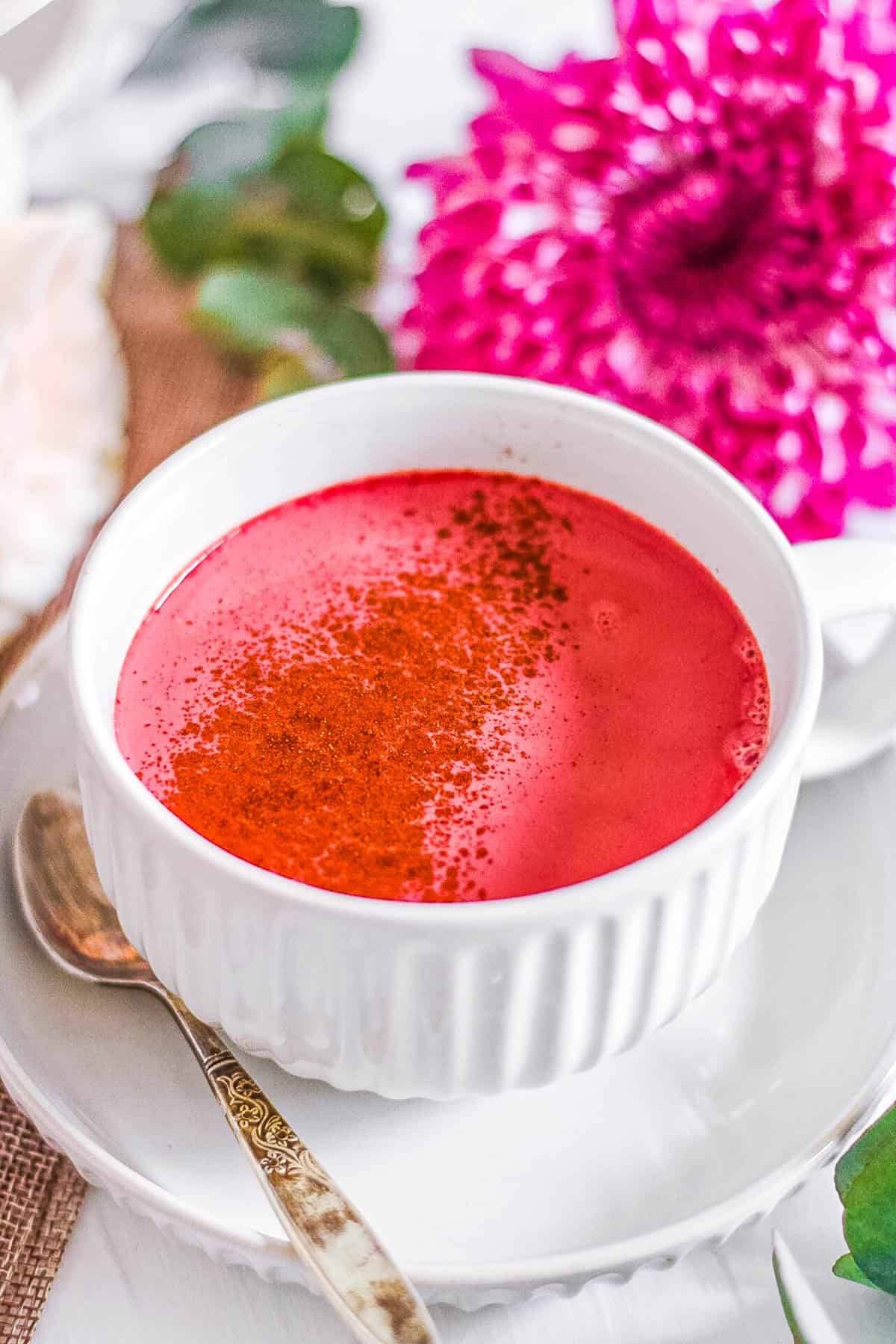 I love the boost of energy my usual coffee gives me, but I can do without the sluggish dip after it wears off. Meet the pink beetroot latte – full of nourishing ingredients for a natural energy boost!
It might seem strange to incorporate the earthy flavors of beets into a latte, but I promise, this recipe tastes amazing and is so satisfying too!
Latest Recipe Video!
Fresh beets are a nutrient-dense root vegetable with a sweet and earthy taste. Beetroot powder is a bright red powder made from dried and ground beets. It tastes delicious in smoothies, hummus, cake, and more, plus it packs a nutritional punch!
My favorite way to use it is in a beet powder latte. This beautiful pink latte is made with warm spices, coconut sugar, and almond milk which makes it naturally gluten-free and dairy-free.
👩‍🍳 Why This Recipe Works
Cozy on a chilly day
Velvety beet latte recipe with a gorgeous color
Numerous health benefits
Can lower blood pressure
A wonderful alternative to regular coffee
Energizing & nutritious
Ready in less than 10 minutes!
Dairy-free & vegan
Mild beet flavor spiced with cinnamon & ginger
Bright pink latte
No caffeine crash afterwards
🥘 Ingredients
This beetroot latte recipe requires three ingredients plus warming spices! Here's what you'll need.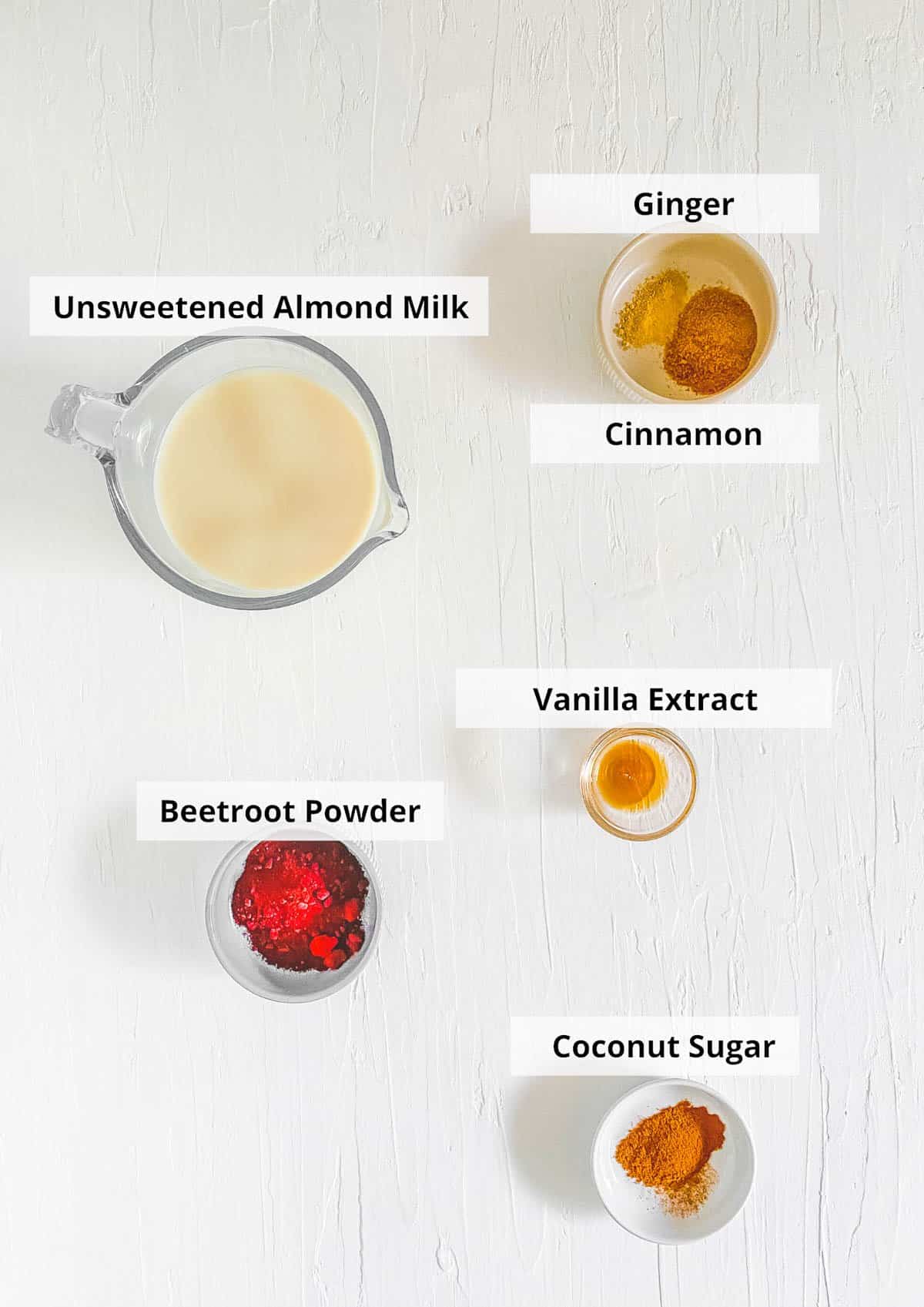 Beetroot Powder: Beetroot powder is a nutrient-packed powder made from dehydrated beets. It's great for the entire body and digestive tract. You can find beetroot powder at specialty grocery stores or on Amazon, or you can make it at home. It's made from dried beets or freeze-dried beet juice. If stored properly, an opened container should last up to a month.
Cinnamon Powder: For a warm and cozy flavor profile!
Ginger Powder: This fall spice pairs so well with cinnamon in this delicious beverage.
Vanilla Extract: For a sweet, vanilla essence!
Coconut Sugar: I only add a teaspoon for a touch of sweetness. If you like a sweeter red beet latte, add 2-3 teaspoons instead. Remember, you can always add more, but you can't take it out.
Unsweetened Almond Milk: Almond milk has a mild taste and creamy texture. It tastes great in lattes and smoothies!
📖 Variations
This beetroot pink latte is easy to customize! Try one of these easy and delicious variations!
Milk: Feel free to swap the almond milk with your choice of milk. Any dairy or plant-based milk works great in this easy beetroot latte. Cashew, oat, soy, almond, and coconut milk are a few of my favorites!
Sweetener: Coconut sugar is a great natural option, but use the sweetener of your choice. Maple syrup, honey, sugar, simple syrup, medjool dates, or brown sugar are all great options!
Beetroot Cacao Latte (Red Velvet Latte): Add cacao powder to the paste before you add the milk. Start with a teaspoon or two! This nutrient-rich elixir is a divine combo! If you want it to taste more like hot chocolate, add additional sweetener.
Beetroot Chai: Add one tablespoon of chai tea syrup to the almond milk. Or you can add chai tea concentrate for a mixture of black tea, sweetener, and spices. It goes exceptionally well with the earthy flavor of beets.
Iced Beetroot Latte: After you boil the beet milk, let it cool in the refrigerator. Once cool, pour the mixture into two mugs and top with lots of ice!
Beetroot Coffee: Add a shot of espresso!
Beetroot Matcha Latte: Add a teaspoon of green tea powder to the beet paste. Matcha lattes are also incredibly nutritious.
🔪 How To Make A Pink Latte
This healthy beet latte is so easy to make – it's ready in just 10 minutes! Here's how to do it:
Make Beetroot Paste: For the first step, combine the beetroot powder, cinnamon, ginger, vanilla, and coconut sugar in a small bowl. Add four tablespoons of almond milk and stir to form a smooth paste.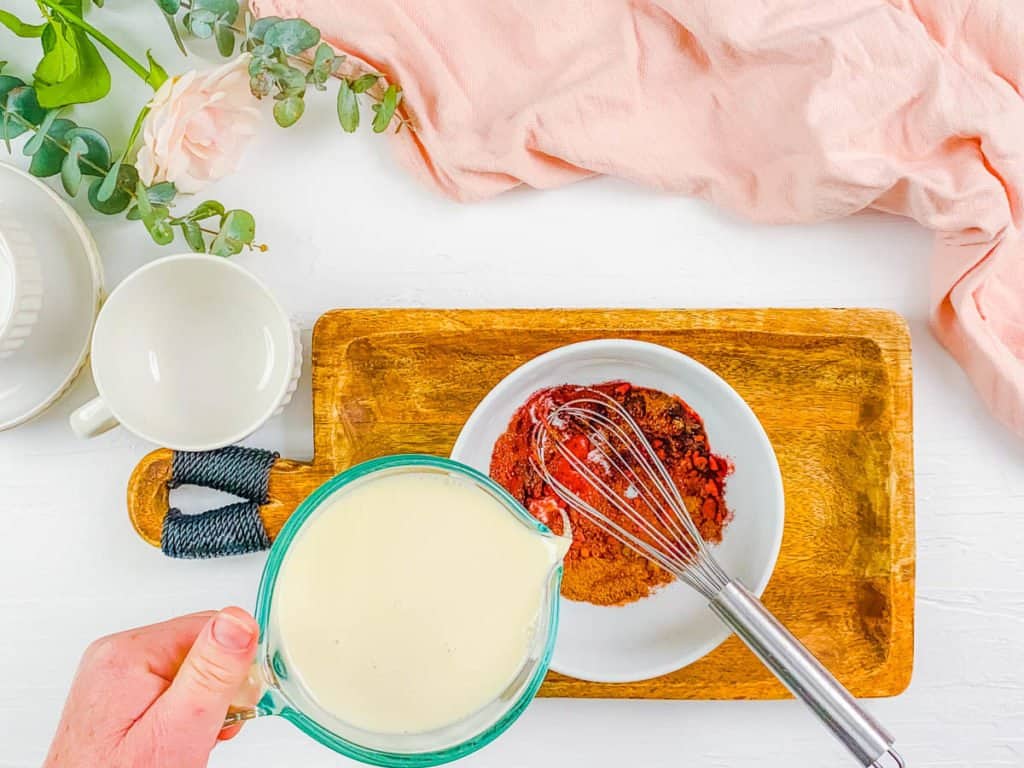 Combine In Pot: Add the paste and remaining almond milk into a small saucepan and whisk until smooth. This ensures the beet powder dissolves. If you skip this step, the latte may be grainy.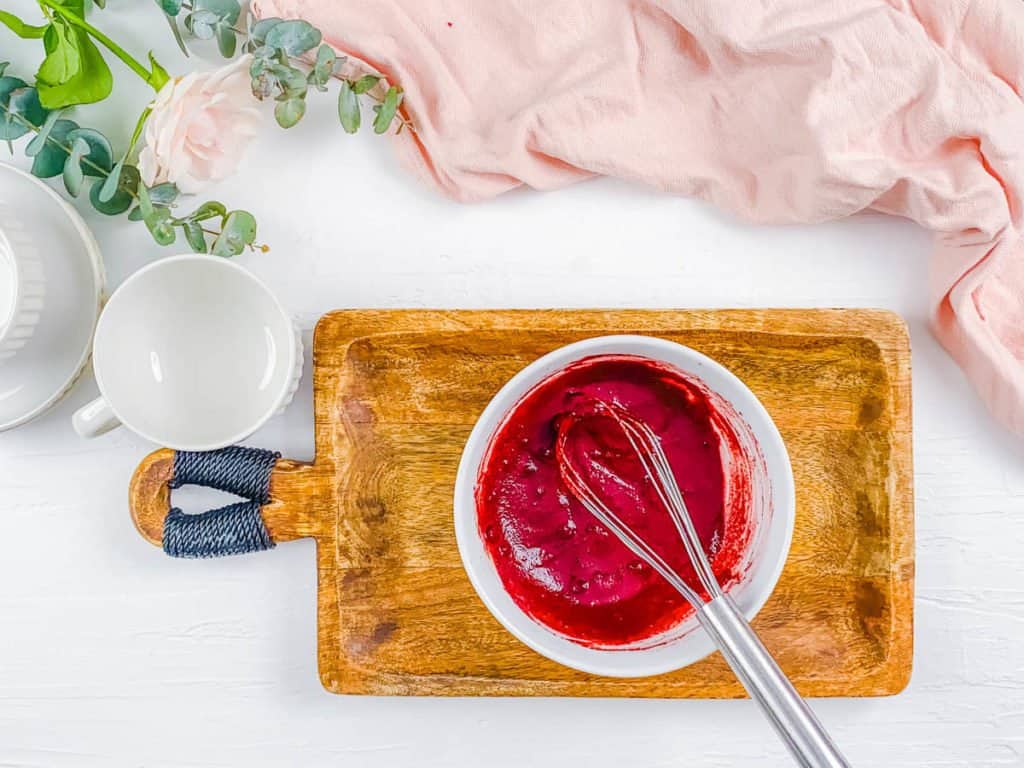 Boil Mixture: Bring the mixture to a boil over medium heat.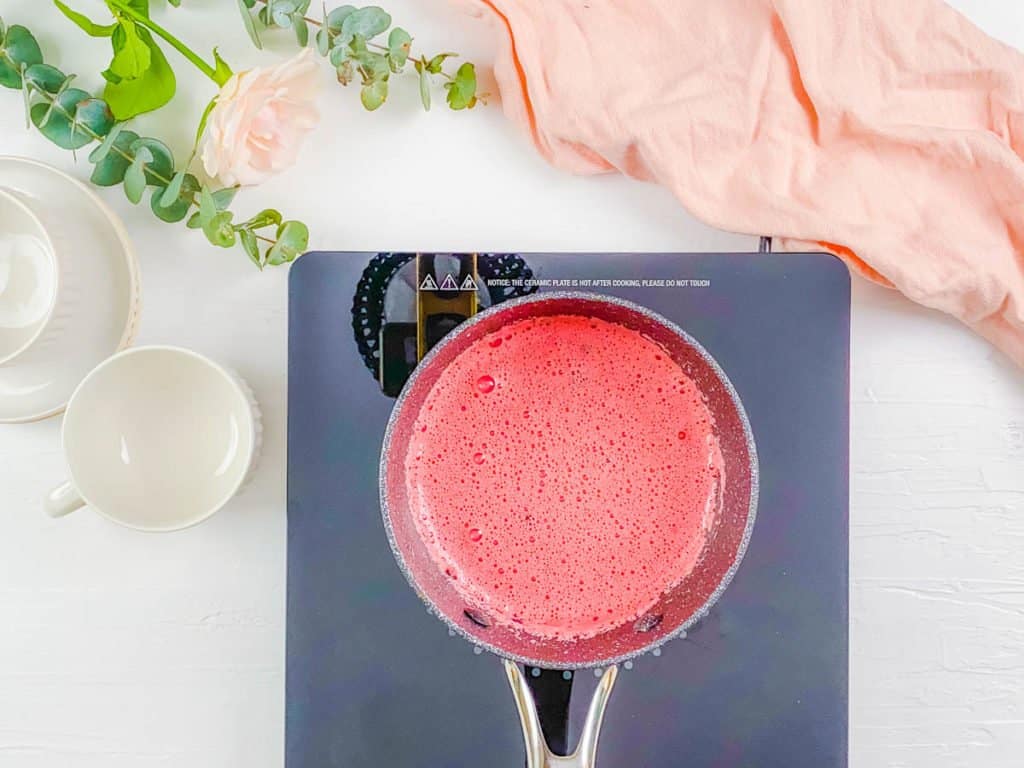 Pour Vegan Beet Latte: Carefully pour the hot drink into two large mugs and top with a sprinkle of cinnamon.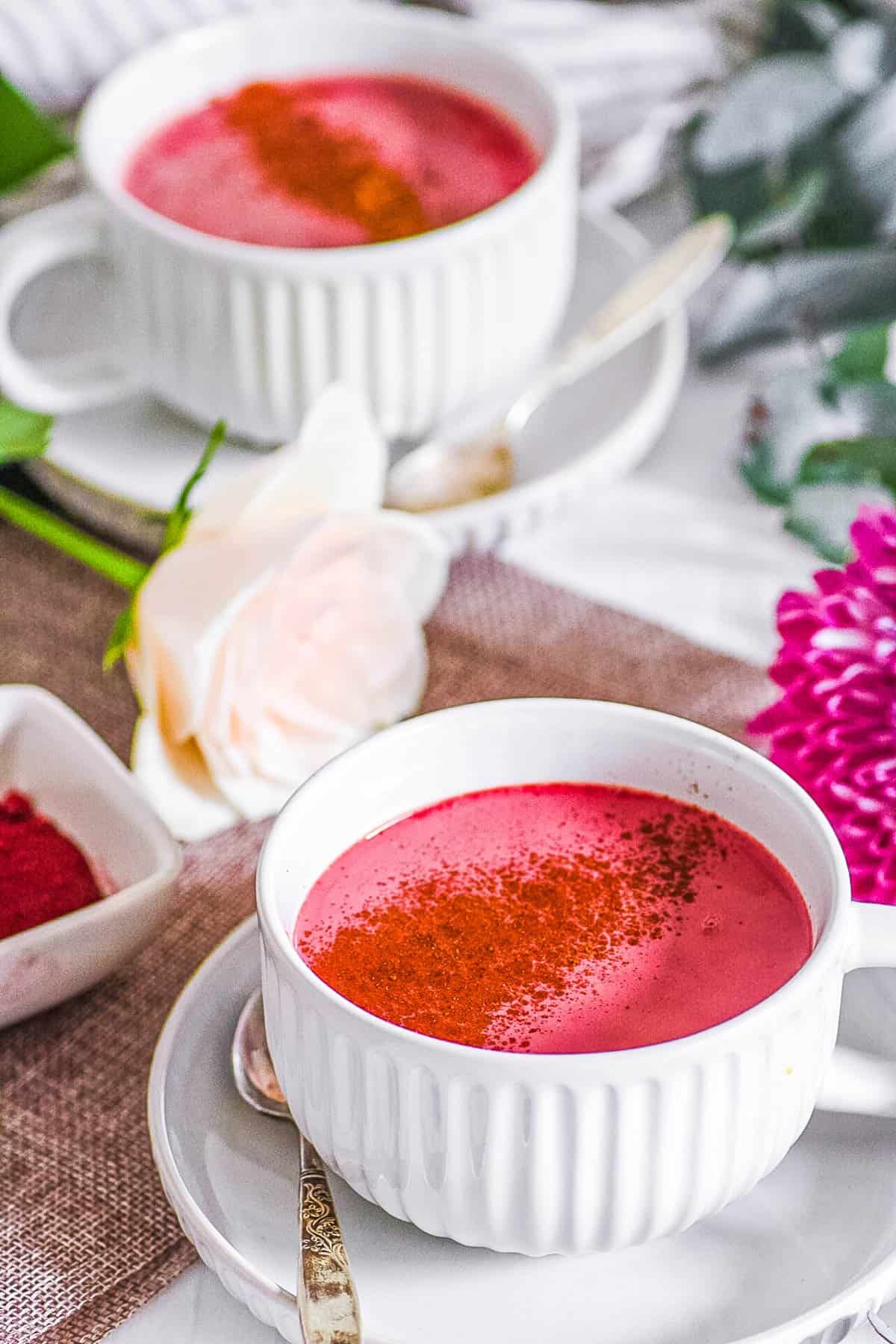 ❓ Recipe FAQs
Are beetroot lattes good for you?
Beetroot lattes benefit your health in many ways! Beetroot powder is full of calcium, iron, vitamin C, and potassium. It also contains plant-derived nitrates that convert into nitric oxide, which help widen blood vessels and increase blood flow. This improves overall heart health and muscle strength.
Can I put beetroot powder in my coffee?
Yes! Be sure to stir beetroot powder into hot coffee or it won't dissolve. If you want to add it to iced coffee, dissolve it in hot milk or water first.
Does beetroot latte have caffeine?
No! Beetroot powder is naturally caffeine-free. It does increase the flow of oxygen in your body, which can help you feel awake. If you want to add caffeine, you can add a shot of espresso.
How else can I use beetroot powder?
Beetroot powder is delicious in all kinds of recipes! Try it in muffins, smoothies, herbal teas, hummus, waffles, pancakes, cake, or chia pudding. Beetroot juice is great for liquid recipes like smoothies, because it's already a liquid and doesn't need to be hydrated.
What does a beet latte taste like?
It does have a slight taste of beets, since you are using beets in it, after all! But overall, it just has a slightly sweet taste as beets are naturally sweet, and tend to take on the flavors of what they're mixed with. This healthy latte is slightly sweet, vanilla-y, earthy, and so delicious!
💭 Expert Tips
For a natural sweetener, use medjool dates / date paste or syrup, maple syrup, or coconut sugar.
For more protein, add one tablespoon of collagen powder to your beetroot powder latte.
The easiest way to dissolve the beetroot powder is to heat it in milk. A great way to do this in the microwave. Just be sure to watch the mixture so it doesn't boil over.
If you like frothed milk, use a handheld milk frother. It you like it really frothy, it's best to use dairy milk.
Beetroot powder has the same health properties as raw beets!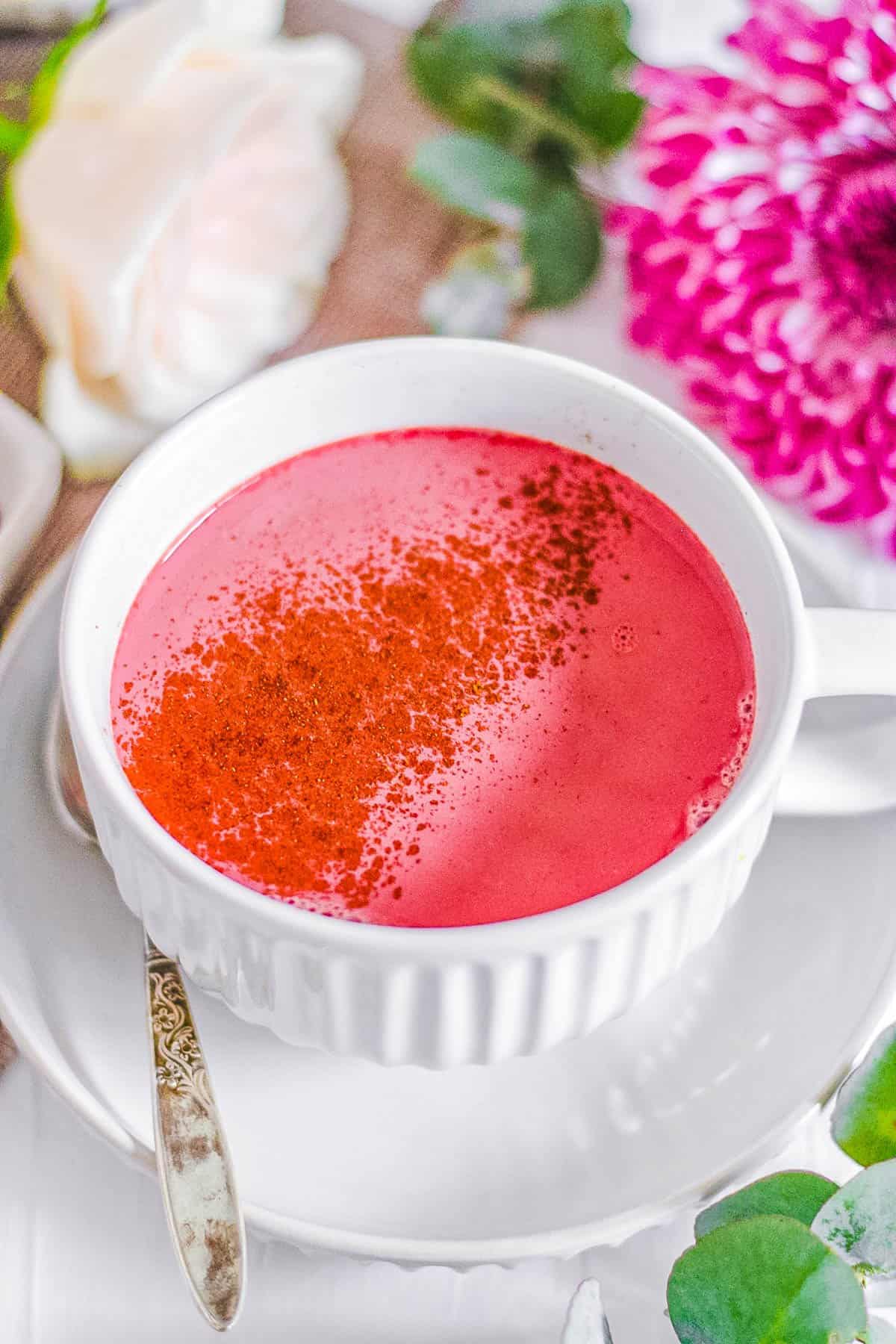 ☕ More Vibrant Latte Recipes!
LOVE THIS RECIPE? Please leave a 5-star rating 🌟 in the recipe card below and/or a review in the comments section further down the page!
You can also FOLLOW ME on FACEBOOK, TWITTER, INSTAGRAM, and PINTEREST to see more delicious, healthy, family-friendly food, and if you have any questions, I'm here to help!
📋 Recipe Card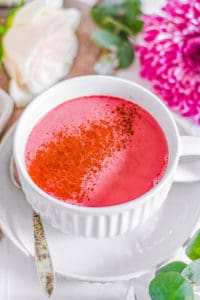 Print Recipe
Pink Latte Recipe (Beetroot Latte)
Swap out the classic latte for a creamy and nourishing beetroot latte! Warm spices, coconut sugar, and beetroot powder create a cozy yet nourishing morning cup. Naturally gluten-free, dairy-free, & vegan!
Instructions
Add the beetroot powder, cinnamon, ginger, vanilla extract and coconut sugar in a small bowl, along with 4 tbsp of almond milk. Stir to form a paste.

Add the paste and remaining almond milk to a small pot and whisk until smooth.

Pour into 2 mugs and top with a sprinkle of cinnamon.
Notes
This pink beetroot latte can be sweetened with fresh medjool date paste (or date syrup), or maple syrup.
Any plant based milk will work in this recipe.
For added protein, feel free to add in 1 tbsp vanilla collagen powder (but keep in mind, this recipe won't be vegan then).
Nutrition
Serving:
1
cup
|
Calories:
52
kcal
|
Carbohydrates:
4
g
|
Protein:
1
g
|
Fat:
3
g
|
Saturated Fat:
1
g
|
Polyunsaturated Fat:
2
g
|
Monounsaturated Fat:
2
g
|
Sodium:
335
mg
|
Potassium:
31
mg
|
Fiber:
1
g
|
Sugar:
2
g
10 responses to "Beetroot Latte (Pink Latte Recipe)"